You'll be painting the ceiling, but your bare floor and walls will need a bit more thought. The go-to solution is bathroom tiles but there are alternatives…
In this article about bathroom tiles and other floor and wall coverings, we cover:
Design choices when tiling a bathroom
Bathroom tiles costings
Choosing bathroom tile sizes
Types of bathroom tiles
Cost of wall panelling and other wall coverings
Cost of polished concrete, vinyl and other floor coverings
With the majority of bathrooms around 10sqm or less in area, the overall impact of the selection of floor and wall covering on the final cost will be minimal.
That said, this is a choice that will have a big impact on the final look. A few decades ago, matching wall and floor finishes used to mean using the same type of tile but in recent years there has been a move back towards only tiling the shower area and painting the remainder.
Another popular option is to tile, or use a wall panelling, half way up the bathroom walls and painting the remainder. Wallpapering dry areas of the bathroom and/or understairs wcs is also possible.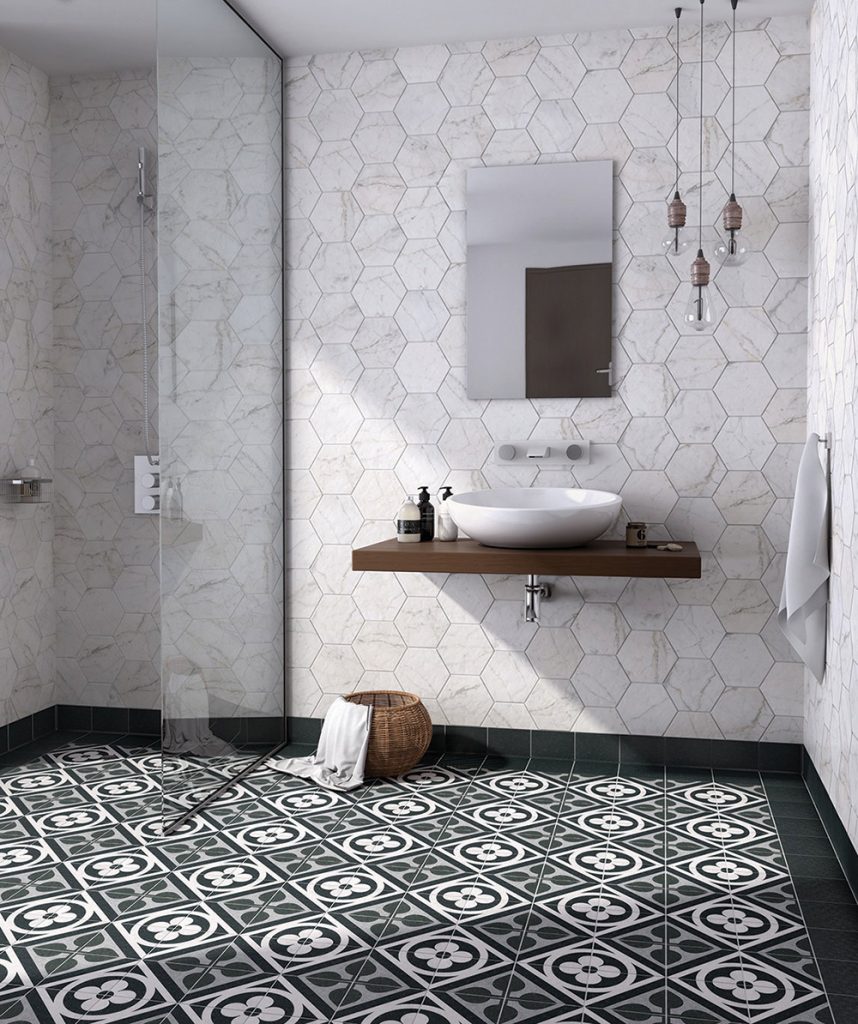 Bathroom tiles
There are few bathrooms that don't have tiles somewhere, possibly because there aren't many alternatives for really wet areas, they're cost effective to install, and they don't wear out under normal conditions.
Tiles come in a huge variety of finishes and design styles to suit all decors, from ceramic, natural stone, wood effect, mosaic, the choice is endless. On the lower end of the cost scale ceramic tiles will cost anywhere up to €30/£25 per sqm while porcelain is around €60/£55 per sqm and stone €80/£75 per sqm.
A rule of thumb is to choose tiles that are in proportion to the room size. Huge marble slabs in a small cloakroom will look out of scale.
Note that a lot of tiles are not slip proof, including porcelain which still proves very popular in residential use. Slip resistance isn't standardised, but many manufacturers will refer to a minimum R9 rating for a slip resistant finish.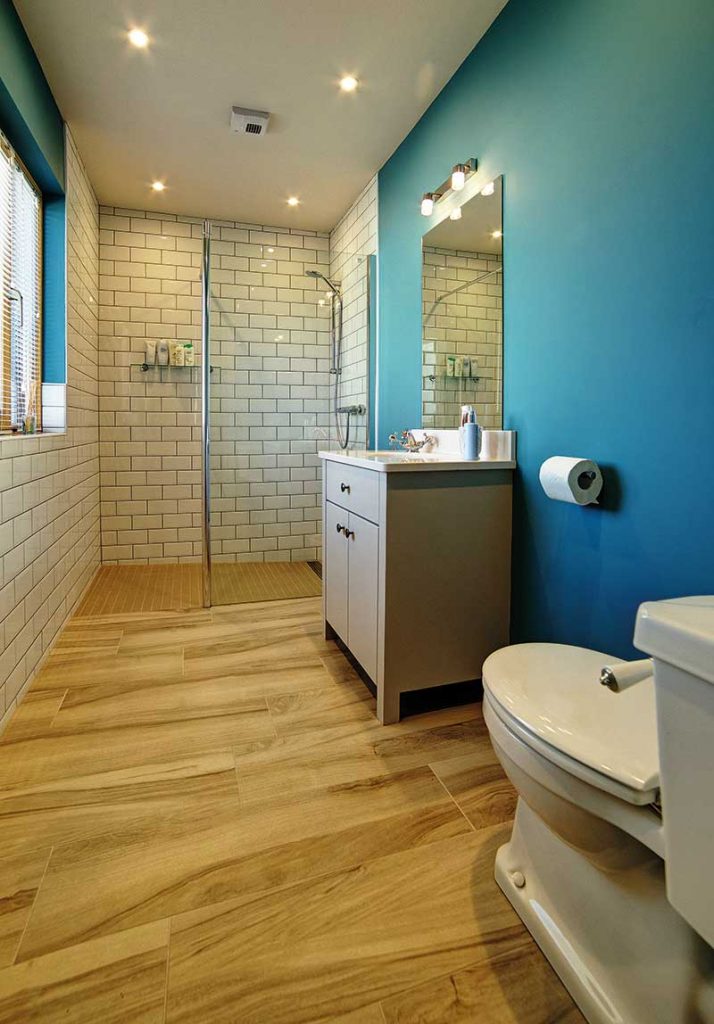 Reclaimed tiles are an eco friendly solution as no further processing or energy use is required. If you are looking to repurpose them yourself, be careful not to chip them during removal and be patient with the cleaning as it will take a while.
Alternatives to bathroom tiles
A budget friendly option is vinyl flooring. It's come a long way from the 1970s and today's product comes in a vast range of colours, patterns, and styles, even stone and wood effects. Luxury Vinyl Tile (LVT) is also much warmer underfoot than tiling and has a foam backing so is less noisy than tiles.
Non slip vinyl sheet surfaces tend to be the finish of choice for wheelchair users but bear in mind not all wetroom trays are suitable for vinyl flooring.
Most common alternative finishes nowadays are polished concrete (€120/£100 per sqm), timber (€50-€80/£40-80 per sqm) and linoleum (<€50/£40 per sqm). Feature panelling (budget at least €/£100 per sqm) and wainscotting type cladding (€60-80/£50-80 per sqm) are making a comeback for walls.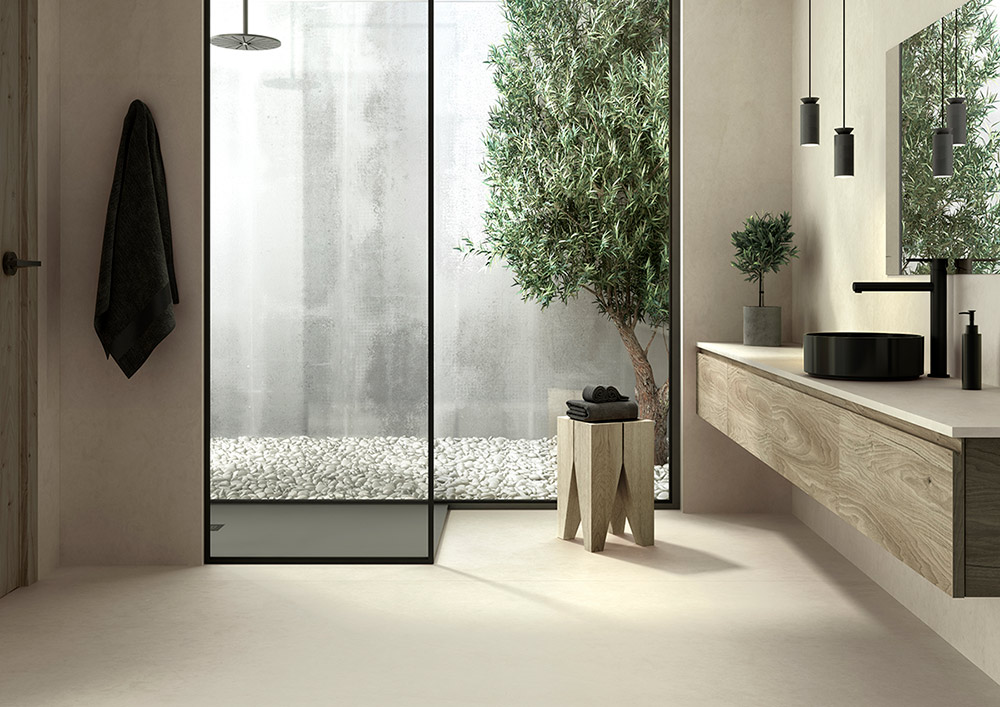 Pretreated cork and bamboo are also popular choices for flooring. Solid wood should be stained with a waterproof finish for bathroom areas.
There are also a variety of natural and eco friendly paints on the market to choose from, just remember to make sure the product specifies that it can be used in a bathroom.