It was always Dom Thorpe's dream to build a contemporary home, but his wife Nicola wasn't convinced it was such a good idea… at least at first.
In this article, we cover:
Benefits of self-building over buying an existing house
Contemporary build design details and finishes, how to choose the right architect
Getting planning permission in an Area of Outstanding Beauty and how it worked with PPS21
Low energy home specification including glazing
Issues with floor to ceiling triple glazed windows
Choice of wood burning stove and why it's not used
How the project was managed and details of site meetings
Top tips for surviving a self-build
Floor plans and podcast
Overview
House size: 335sqm / Plot size: 0.2 acre

Walls: Masonry cavity wall with 150mm blown bead insulation and 62.5mm PIR insulation plasterboard, U-value 0.12 W/sqmK
Floor: Concrete slab with 150mm PIR insulation and 100mm sand:cement screed, U-value 0.12 W/sqmK
Roof: Timber cut roof with 50mm PIR insulation on top of rafter and 200mm sprayfoam insulation between rafters U-value 0.15 W/sqmK
Windows: Triple glazed thermally broken aluminium system, overall U-value of openings (windows and doors) 1W/sqmK
Systems: Whole house mechanical ventilation with heat recovery, oil fired central heating and a secondary wood burning stove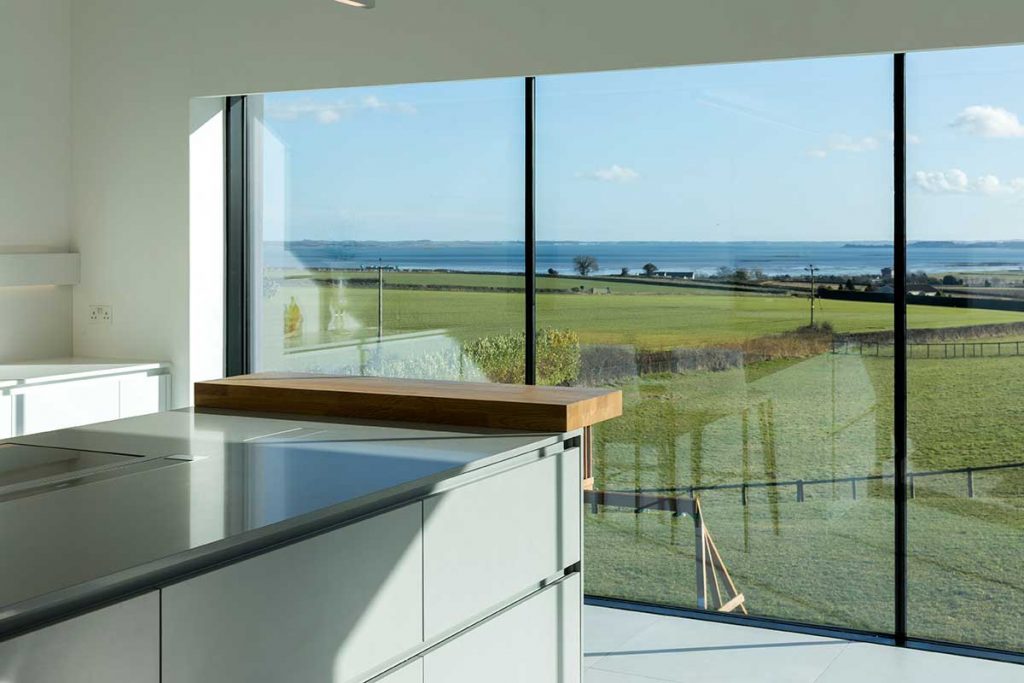 "Ever since I met Dom I knew he wanted to build his home but to me it just sounded like a lot of hassle and stress," says Nicola. "We've both always liked watching Grand Designs houses. It was more the idea of building from scratch that I found daunting."
"We had done what we could with our home and even though we loved what we'd achieved, we knew we could use more room with the three kids. Over a period of 14 years we had renovated our kitchen and ensuite."
"Then I don't know if it was a midlife crisis or what but it was very much me who was encouraging Dom to have a look at sites, to a certain extent I think I got bored with our house. We put it up for sale before we even found the land to build on."
"We'd originally thought of buying a second hand house but to really get what we wanted we realised we had to build new," she adds. "A big appeal for me is that you get a house that's built for your own needs. It'll give us 20 years with minimal upkeep, we won't be renovating room by room as we did in the previous house."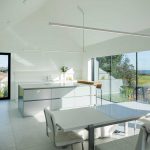 The perfect site for a contemporary build
"Dom looked for land but it was hard to find suitable plots, they were all compromised to a certain extent. When we found the site we were hooked. I knew we would never get this plot again; it was close to work and Belfast, close to the children's school. A two acre site that ticked all the boxes. As soon as we saw it, we put in an offer and thankfully it was accepted."
You could think that with the right plot, the house nearly designs itself. But it's architectural flair that will elevate it to something really special.
"If you want to build a house like any other why bother? From our point of view, if we were going to do this we felt the house should be completely unique, and push the boundaries" says Nicola. "We're fans of contemporary design, the Miami cube box beach house, all white, all glass, painted white throughout. That was our starting point."
Dom had the practical elements of his contemporary new build lined up too, four bedrooms, a Jack and Jill bathroom for two young children, and another two bedrooms both ensuite.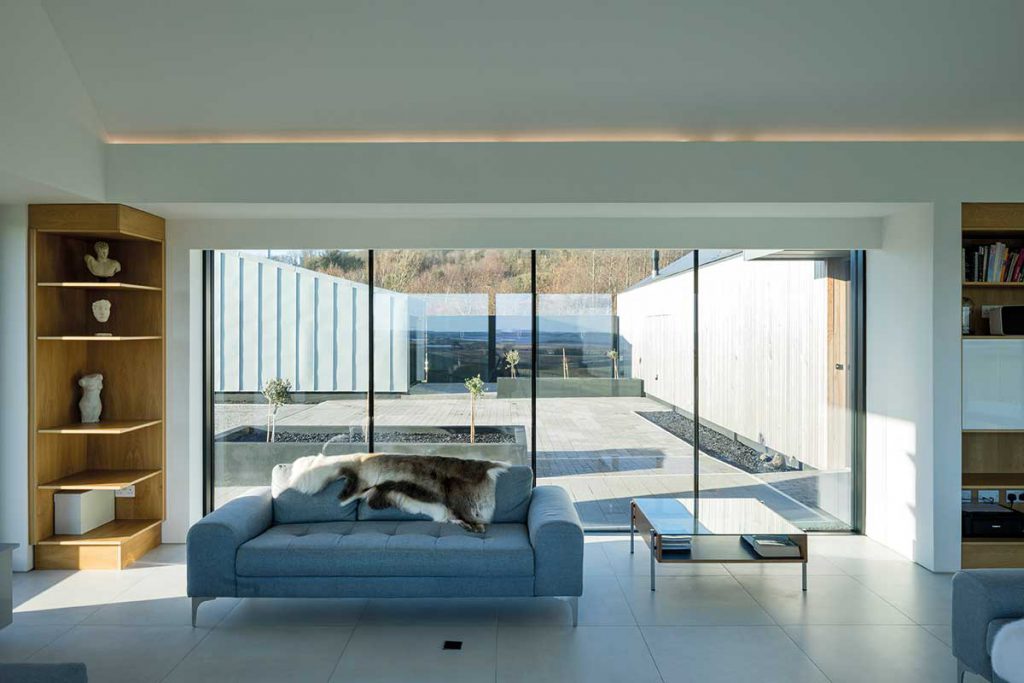 "We looked online for an architect and through sheer luck we found John who was based locally. We didn't want to have to hire an architect from too far away because we knew he'd have to come down regularly for site visits – from the get-go we wanted him to be the one to do the project management. We were amateurs and needed the guidance. Getting someone in from a different county wouldn't have been practical."
'From our point of view, if we were going to do this we felt the house should be completely unique, and push the boundaries'
"We gelled with John's style, we thought 'he's for us'. The first time we met him, we actually brought him to another site, one that wasn't completely perfect, so he was on board early on. Other architects we spoke to were very traditional, not what we were after, we couldn't be happier with the choice we made." And yet the brief wasn't followed to the letter.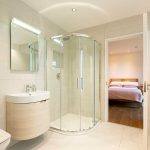 "The end result isn't what we had first imagined. For example we'd asked for stainless steel stairs; we wouldn't want that now but it was on the wish list at the time. We also thought we'd put even more glass into the design but we ended up with less than I expected upstairs, instead we went with concealed soft lighting which helps make those areas more private," Nicola explains.
"As we'd sold our house before we started work, during the design and build stages we were living in rental accommodation, they were both quite dark. That was a great motivator to adding as much glass and light as we could into our new home!"
They did have the zinc roof on their wish list but while John agreed on the finish, he suggested an agricultural shape. "I wasn't fussed on the shape of the barn roof John first suggested so we changed that to a traditional pitched roof. I put my foot down for that one."
"What was on the list and were able to add was a sauna/steam room, it was a real extravagance and we were so privileged to have been able to do it."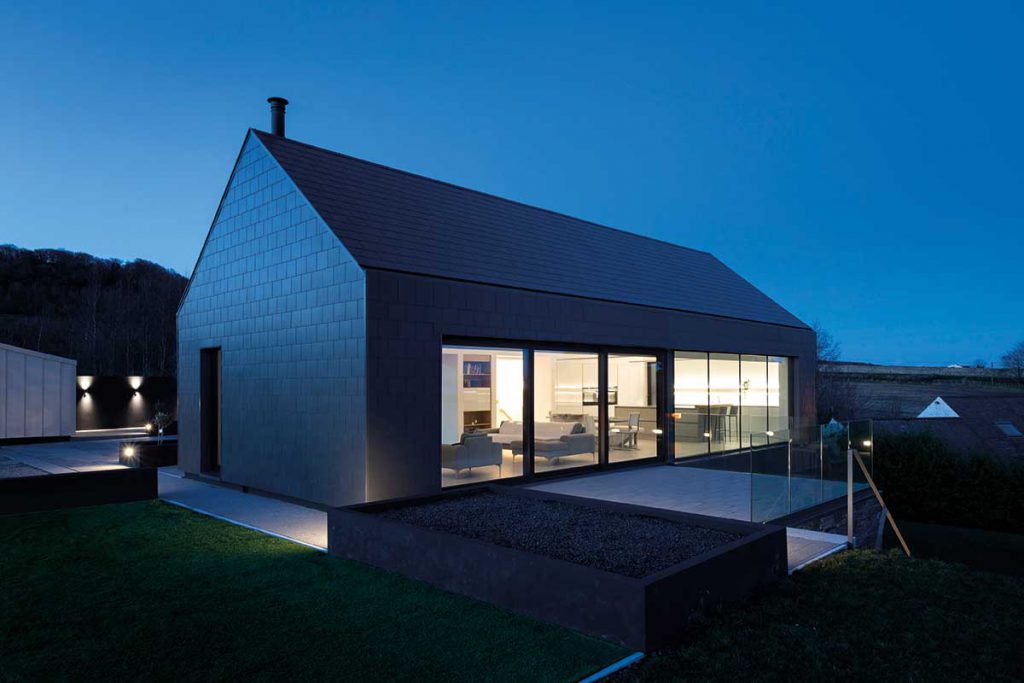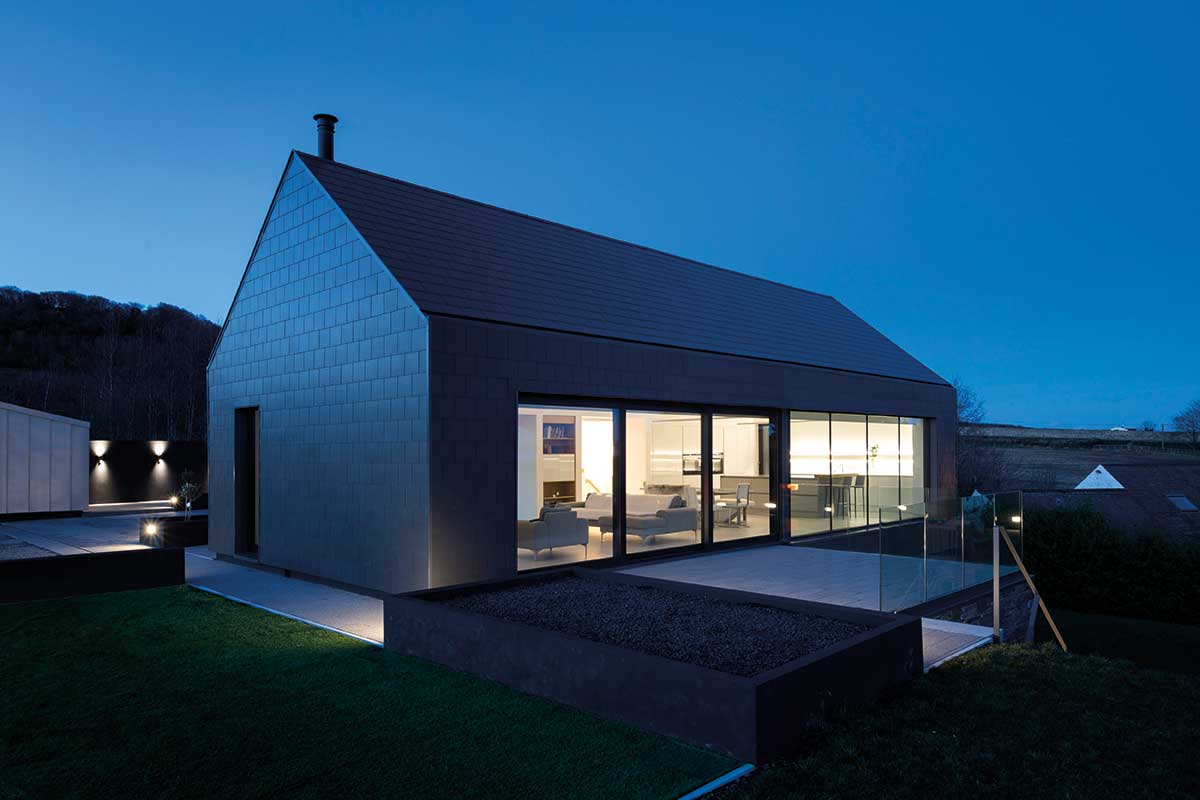 Area of Outstanding Beauty
"At the time we were living in the house across the Lough, part of a development, so we felt really connected to this area and feel so lucky to still be living on the Lough."
"We had to wait 13 months from purchasing the land to getting planning permission because the site is in an Area of Outstanding Beauty. When we bought it, it had Outline Planning Permission, but was a virgin plot so there was no electricity, water connection or wastewater system on the site."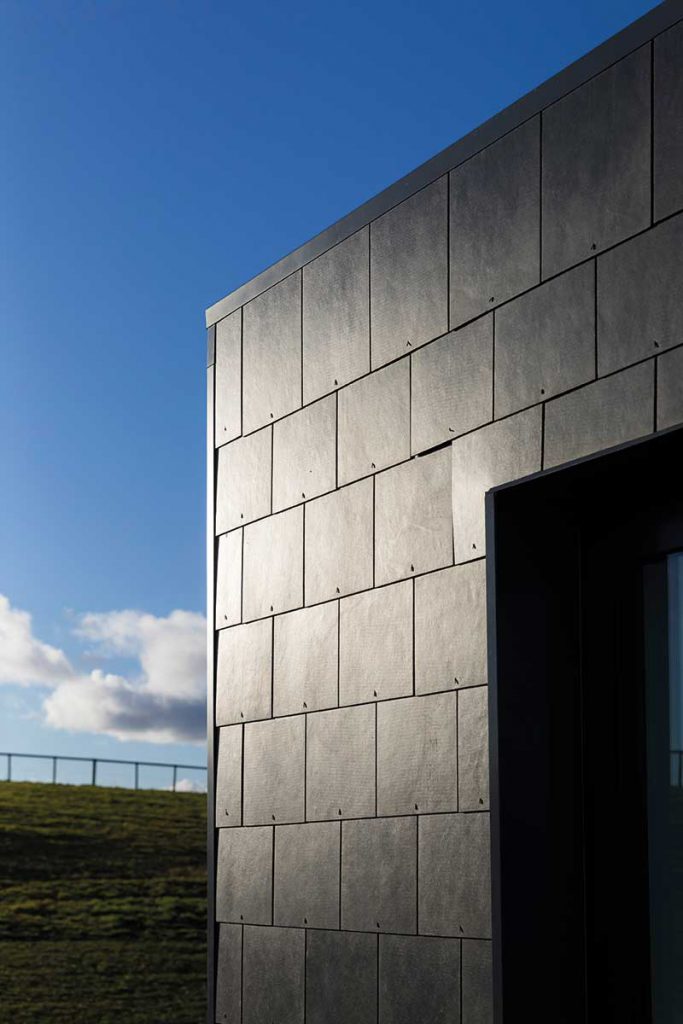 "We're very grateful we got our full planning permission. The planners were particular about the location, we just had to put the house where the planners wanted it to be. Halfway down the hill was the spot, in the corner. It's an unusual choice because it's close to the neighbours and the site is actually quite big. People often ask why we chose to build where we did. But we're tucked in and the house blends in the slope."
Architect's note about planning permission: Site in an area of outstanding beauty; high quality bespoke design complying with PPS21 – CTY 10 Dwelling On A Farm accompanied with a Design and Assessment Statement detailing the concept behind the Clachan Style proposal specific to this site in terms of sloping topography, views towards the Lough, privacy from the road and solar orientation.
"In many ways we felt our architect John was building his dream house – he loves this house – so I do think we got 100 per cent out of him, it was detailed to perfection. He's so fussy at times the builders found him to be too much. On the other hand we were delighted. We'd have no skill in that department so having John on our side made the build go so much more smoothly."
"My husband and I knew instantly we just couldn't do it without him, and he did turn out to be brilliant. We certainly got our money's worth and the more we progressed with the project the more it felt financially advantageous to us. Lighting, where to source tiles, colours, plumbing. Everything about the house he guided us on."
"With three young children and busy work lives, hiring an architect is money more than well spent."
But a meeting of minds on this level is quite exceptional. "I suppose it was lucky our taste and his taste are very similar. We mostly gave him carte blanche, we didn't interfere much and he had fantastic ideas, we trusted him to produce it for us."
Top tips
Gather ideas before you buy the site. Get a feel for what you want, know what you like, take the time to do this before you've even bought your site. We had gathered loads of pictures into a scrapbook, we loved the concealed curtains we saw in a hotel for example, so we had that put in. If you're thinking of building, look about and take pictures and make the ideas you love part of the design remit. I have to admit we like to plan ahead and I'm fastidious. I have to get things right. I even took pictures for the planting scheme off a TV programme. I have all the visuals in a folder with the details. Dom knows every socket and screw in the house!
Don't rush in. If you make rash decisions on bathrooms, sizes and so on, you may come to regret them.
Don't trust the builders 100 per cent to do their job. You need to keep an eye on every detail even if you have an architect overseeing the project. Neither will know exactly what you want and several times we had to re-do things that had been done not as we wished or just didn't look right.
Check the budget daily. We didn't go over by much because we had a fixed price tender and all variations were extra, Dom kept tabs to the last penny. He had total control of the budget and stayed on top of it. If there was something we wanted to add it had to be discussed and okayed by both of us.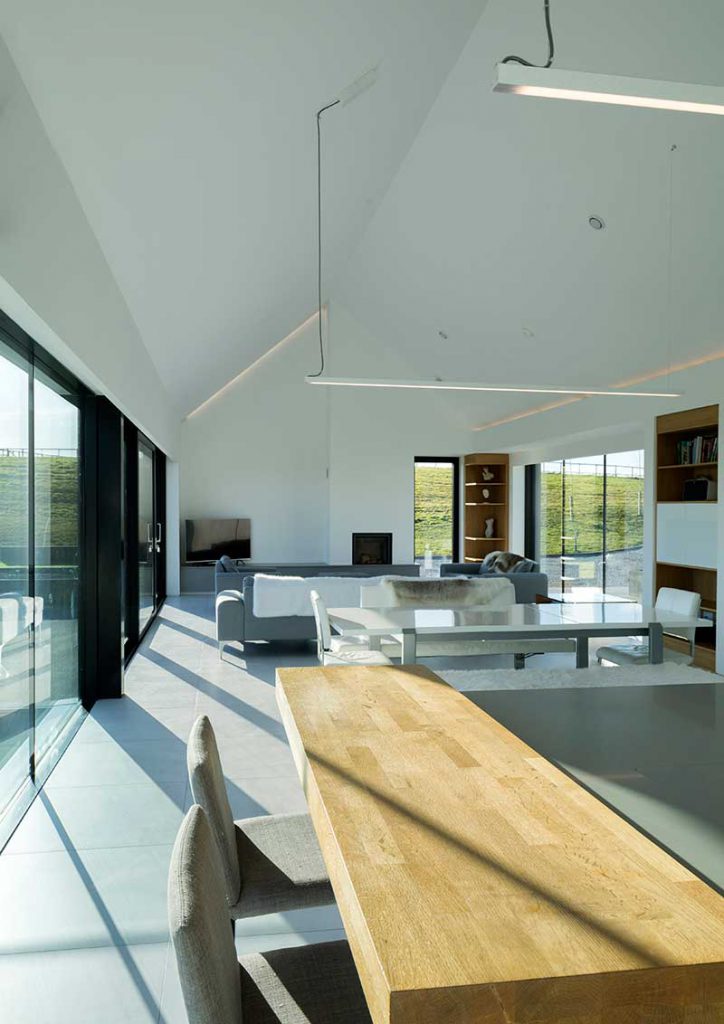 Heating a contemporary new build
"Originally we went for a zero carbon design but realised when we added up all the extras required that it would be too costly. We had our hearts set on the amount of glazing we wanted and didn't want to compromise on that."
"Thanks to the triple glazing and loads of insulation the energy bills are low, the house is very warm, it's never cold night or day. We have a wood burning stove, but it's only there for aesthetics, the heating system is an energy efficient condensing oil boiler – we looked at alternative green energy forms e.g. geothermal in combination with solar but the payback period was too long. We also considered wood pellets but didn't want to deal with lorry deliveries and had heard of issues of blockages with the pellet feeder."
"We used to live in draughty cold houses and I love the fact that it's never cold in here. The heat recovery ventilation system is an added bonus, the air is filtered and you can sense the difference."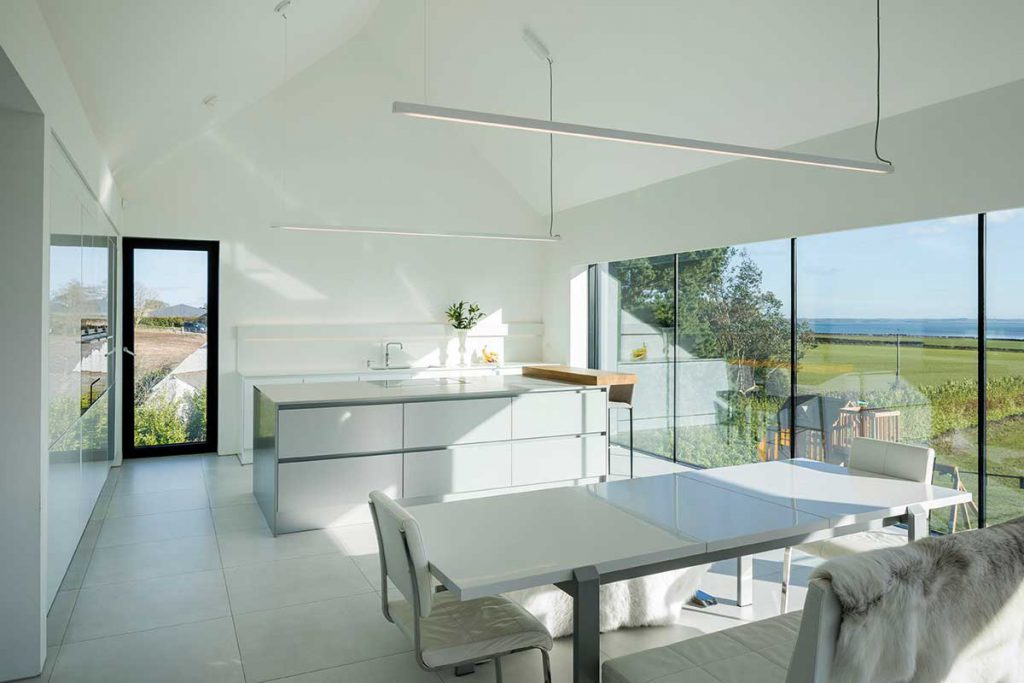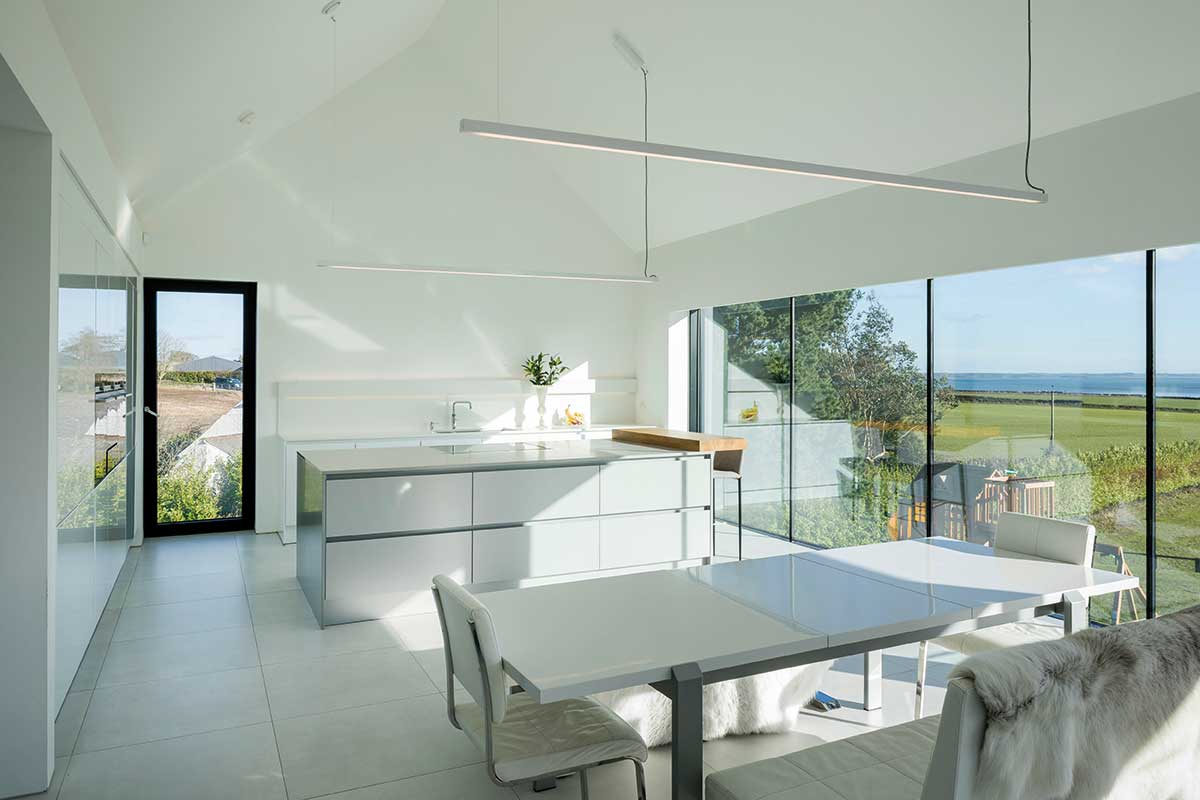 Their architect oversaw the tendering process and five builders came back with offers. "We chose one who had built contemporary with John before," continues Nicola.
"There was a continual communications line between him and my husband, who was at every site meeting. We were on site from January 2015 to May 2016; the meetings were once a month at first then weekly near the end and emailing was on a daily basis."
'We used to live in draughty cold houses and I love the fact that it's never cold in here.'
"I was interested but couldn't dedicate much time to the project between full time work and three children. I did keep an eye on it out of interest – at one stage John and Dom both wanted shingles instead of roof tiles and I refused, no one could talk me into it!"
"The only real headache was due to the German triple glazed floor to ceiling windows. We had a problem with the original installation company, they wanted to be paid in advance and we were very nervous about that so we had to look for another installer."
"This caused a delay to such an extent the architect nearly closed down the site for three months; at one stage I thought we were going to have to block up the openings and put in standard sized windows. We did eventually find another installer, but they then had to get the windows made."
"There's always a fear you won't finish, but at least we didn't go too far over budget – the main issue was having to pay rent for those extra three months."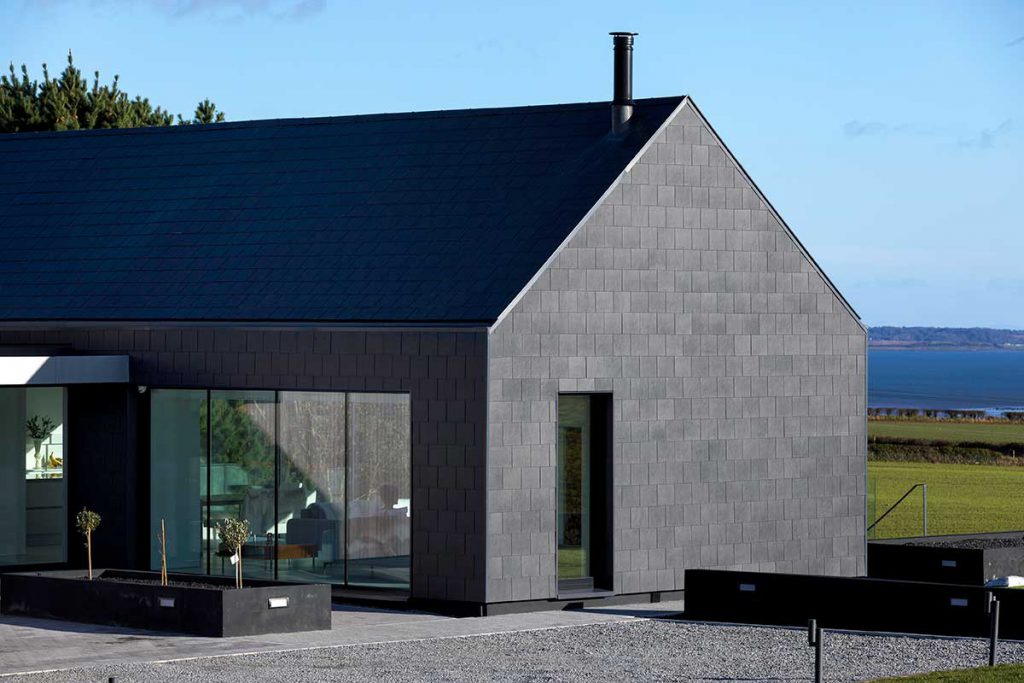 Final thoughts and quick fire Q&A
"Our aim long term is to grow vegetables and be self-sufficient with fruit trees. It's a wonderful idea but we are very busy as it is as it is," says Nicola.
They also future proofed the house. "We have plumbed everything so that the systems could be extended beyond the house into an extension. There's scope for future development to add on from various angles." The house has no doubt another project in it.
What's your favourite part of the house? The best part of it all is the open plan living room and kitchen, the view is always changing as the tide ebbs and flows. It always make me smile. I just love being home; money can't buy that. The house sits beautifully, neat and seamless. Inside the minimalism is so neat and tidy, I love the clinical style, it gives so much room. I also love sitting looking out on the Lough, seeing all the way across, it's so quiet and peaceful. The views are cathartic, why go to a spa when you're living in the countryside? I love to dine in instead of going to the restaurant. I never want to leave the house! There's a wonderful sense of wellbeing here.
What would you change? The interconnecting garage is nice to have as part of the house but I'd also build a separate garage.
What surprised you? The windows delaying us for so long. But I was also surprised the first time I walked into the finished house. When you look at drawings in 2D or even 3D you get a feel for what it really will be like, but to see the finished product is something else, it was lovely to see all of the finishing touches. The glass balcony overlooking down the stairs was great to see for the first time.
Would you do it again? I'd do it again if the plot had been a compromise but we'll never find another site as good as this one. That said I love putting together interiors and I'd love to do this for others. You become proficient the more practice you get. I know I would do it better the second time around but I would keep the same architect.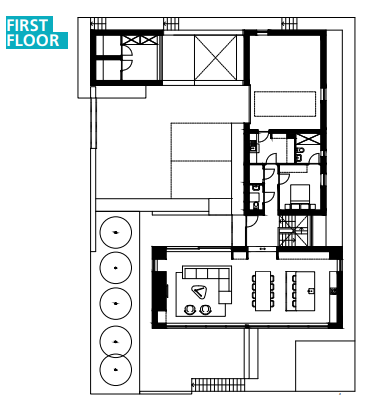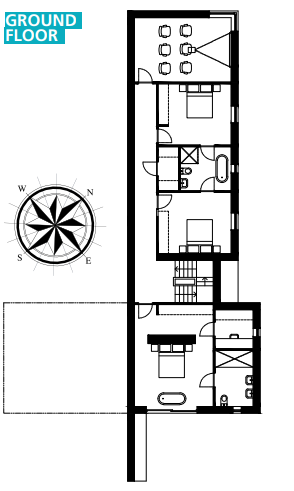 Suppliers
Architect: BGA Architects, Newtownards, Co Down, tel. 9181 5736, bga-ni.com
Roofing: Scrabo Roofing, Newtownards, Co Down, tel. 9181 6787, scraboroofing.com
Kitchen: Interior360, Belfast, tel. 9070 9360, interior360.com
Bathrooms: Beggs And Partners, beggsandpartners.ie
Tiles: Shellard Tiles, Lisburn, Co Antrim, tel. 9267 5119, shellardtiles.co.uk
Stove: The Stove Yard, Newtownards, Co Down, tel. 9181 4443, stoveyard.com
Interiors: Warden's, Newtownards, Co Down, tel. 9181 2147, wardenbros.com
Landscaping: Orchardhill, Dundonald, Co Down, tel. 9188 4009, orchardhilllandscapes.com
Sauna: Oceanic Saunas, oceanic-saunas.co.uk
Photography: Christopher Hill Photographic, scenicireland.com