For Elaine and David Douglas, building this Co Down modern new build was a way to strike a healthy work life balance.
In this article we cover:
Why they chose to self-build
What drove the design and how it evolved
Difficulties with planning permission process
Hiring a quantity surveyor: what he did and how he helped budget the build
Investigating different building methods, including SIPs
External roof and wall finishes
Heating system choice
Kitchen design: process and tips
Thrifty interior design tips
Description of layout with images of floor plans
Timeline and supplier list
Full specification
Professional photographs
We were very happy living in our previous home on a housing development," says Elaine. "We ran a successful business, had great neighbours, great friends and our two kids were happy. But when I got my breast cancer diagnosis, we had a rethink about things."
"We were driving in opposite directions a lot of the time. I knew my energy levels would be severely depleted from my cancer treatment, so we decided to reduce the stress of travelling by moving both the office and our home not far from our children's schools."
Following a fruitless house search in the area, the couple realised that going self-build was the only way forward. "The kitchen was my deal breaker," says Elaine. "I wanted a sociable kitchen – an island big enough for friends and family members to congregate around when we entertained. The houses that we viewed would have required substantial building work to achieve that space."
For a second viewing of one particular property, they brought along a builder friend for advice. On passing a building site en route, he remarked how they'd be better off buying a site and building the house they wanted.
That off-the-cuff observation resonated with Elaine and David. "It was clear to us that the home that answered all our needs wasn't currently on the market, so we decided to take that step into the unknown and build one that did," says Elaine.
They tried to buy the site in question but complications arose and it didn't materialise. Disappointed, they mentioned to their staff that the new offices they had hoped to build alongside their new home wouldn't be happening.
"We were going to give up," admits David, "but one of our employees told us about a hilltop site his father was selling, close to Banbridge. We went to see it and were blown away by the views of the Mournes, the Sperrins and Cave Hill."
"It was in the country, but on the edge of the town. It was perfect," adds Elaine.
Friendly designs
Having acquired the site, Elaine invited their good friend and architect Donal to draw up the new house plans. "He stood with us in the middle of the muddy field and asked what we wanted in our 'dream house'. We're avid viewers of the Grand Designs TV show and one, really contemporary house project built in Scotland stood out for David. Donal listened to our ideas and a couple of weeks later we had our first concept plan."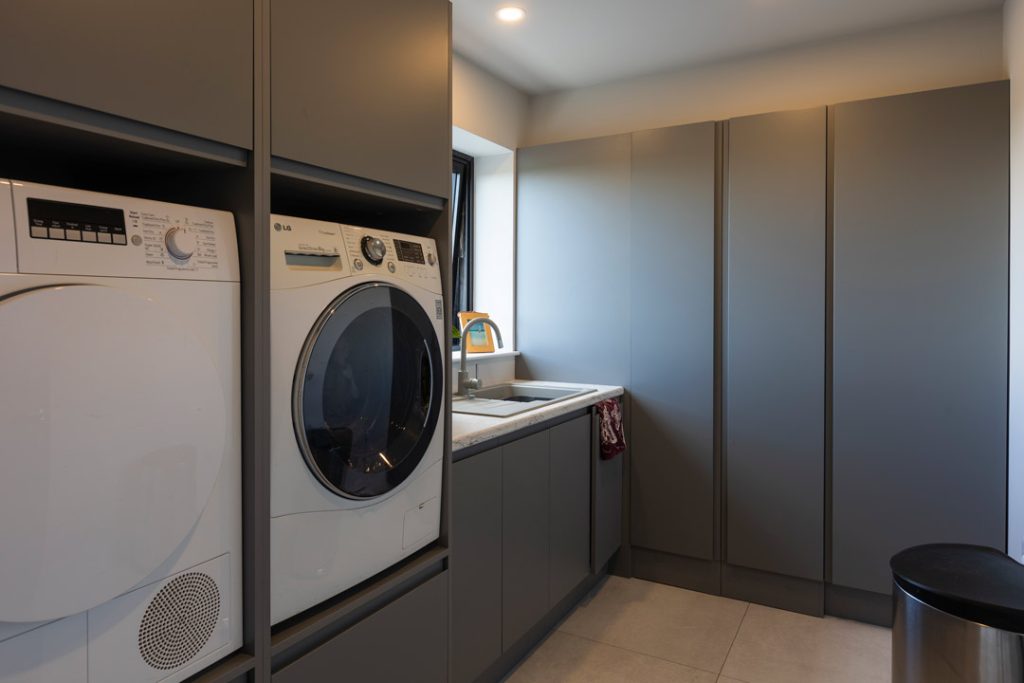 "I don't believe he thought we would go with the concept. I think he thought we'd say yes that's really nice, but not for us … how about a three bedroom bungalow? But we loved the design and didn't stray far from it. There were a few changes through the process following planning etc., but it didn't change too much from the original design."
The planning process was not straightforward. "I think one of planning officers just didn't like it," says David. He thought the overall form was too big. We could have appealed the decision but that would have cost us a year, so we asked what aspects did we need to change. It was suggested that we move the garage, which we did, and the plans were passed."
"The house didn't move an inch, in fact, it actually got bigger."
Elaine explains: "Initially, the garage was attached to the house via a carport. The carport ran into a utility room and boot room and then into the kitchen. By moving the garage, these interconnected elements were taken away, so the utility room had to be moved into the main body of the house. To do this we had to make the bedroom block a bit bigger on the ground floor."
Building support
Following a visit to the Selfbuild Live event in Belfast, the Douglases decided to employ a quantity surveyor (QS). "This was one of the best things we did," admits Elaine. "He produced the bill of quantities and organised the tendering process, which went out to several builders. We went with a fixed price contract with a builder from Omagh who was already building some houses in the Banbridge area, so it suited them to build here."
The QS produced a cost estimate which surprised Elaine and David. "It was quite a lot more than we had imagined it would be. We poured over it and changed a few things. We took out the polished concrete floor, for example, and made a few other adjustments. We had a budget that we had to stick to – there was no miraculous contingency pot we could dip into."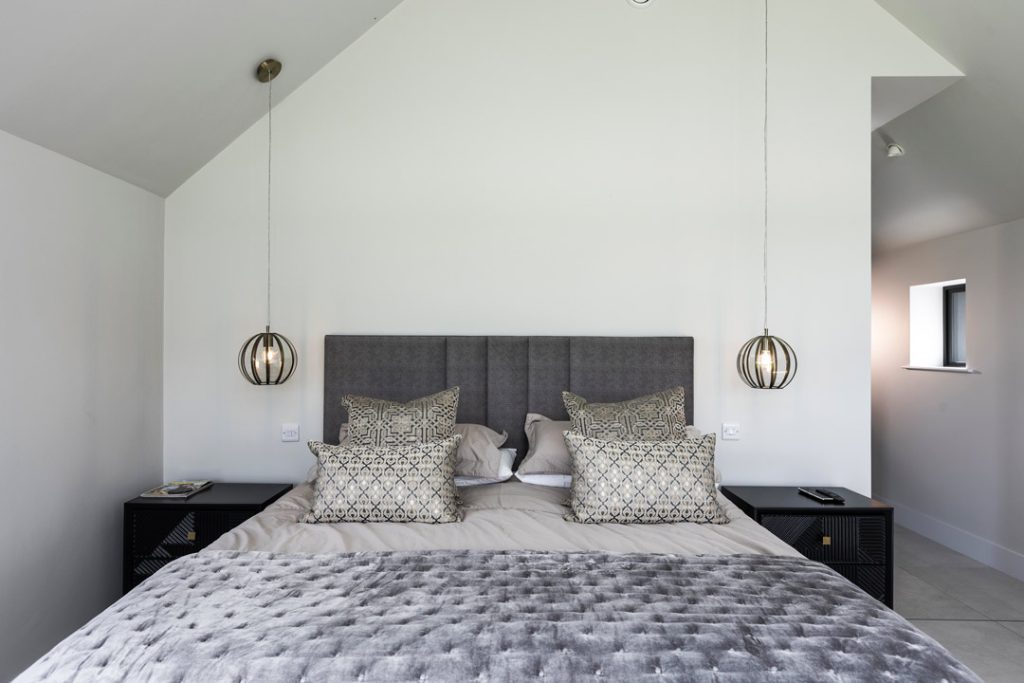 The architect and QS continued to work with the builder throughout the build. "The team worked exceptionally well together," says Elaine. "None of them had built a house of this style before, so there was some on the job learning regarding things like materials. The key to its success was constant communication between each party."
"We were also actively involved in all the decision making on the design elements." As per Elaine's wish list, the kitchen was at the heart of the house plans with the rest of the house radiating out from it.
The building is clad in black tin that covers a traditional, concrete block cavity wall filled with EPS insulation. "We initially had thought of using SIPs – structurally engineered panels – but having spoken to different builders, we concluded that, with the amount of glass we were putting into the house, we should use concrete blocks which would absorb some of the heat in the summertime."
The building is made up of two, interconnecting blocks. A two storey bedroom block containing three ground floor ensuite bedrooms. A master suite is on the first floor along with a south facing sitting room that opens onto a roof terrace with views of the Mourne Mountains.
A single storey block contains the living and kitchen area, raised a metre from ground level to make the most of the views.
A separate building currently houses the couple's home office and gym. It has been future proofed with services that will allow it to be used as separate living accommodations should circumstances change.
The pitched roofs are covered in tin cladding. "We were concerned at first that this would be very noisy on a wet day. Some people thought it might be akin to living in a caravan. But, in reality, there is very little sound, even during a heavy downpour. The roof is half a metre thick, made up of high grade tin with insulated backing to deaden the sound, and keep the heat in."
Donegal slate complements the cladding. "At first, we did question Donal. Would it look too black and severe? He assured us otherwise, and he was absolutely correct. During the daylight, it never looks totally black. The sun softens it to a gentle grey which seems to disappear into the landscape. It looks far more discrete than the dazzling white rendered bungalows and two storey houses which you see everywhere."
The house is heated by an air to water heat pump with underfloor heating throughout and a mechanical heat recovery system as well as solar PV panels. "It costs the same to heat our new house and offices (360sqm in total) as it did to heat our old 185sqm home," says David.
Working backwards
Internally, the couple were adamant that there would be no wasted space. "We worked backwards, in that we stipulated at the design stage how we wanted the house to work for us," says Elaine. "We didn't want any formal rooms that would only be used on Christmas Day – we wanted to use all of our space, all the time."
"I involved the kitchen designer right from the concept stage and made sure he had the architect's contact details. The kitchen designer didn't have to ring me to find out where the drains were, he could go straight to the architect."
"I love cooking and we're very sociable people. I wanted simplicity and straight lines in the kitchen and the kitchen designer got the concept right away."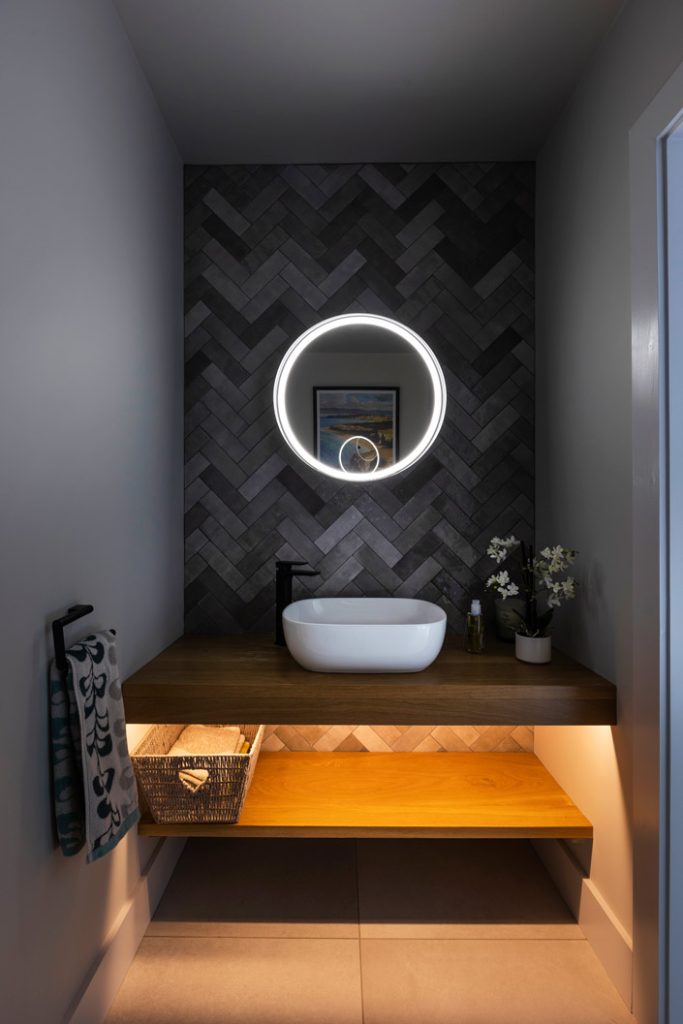 A floating wall separates the kitchen from the relaxed living area and includes storage cupboards along with the ovens. "Everybody who comes into our home sits up at the island. We've had lots of parties here and everything happens in the kitchen, just as I had envisioned it," says Elaine.
Six years after her breast cancer diagnosis, Elaine is in remission and the house has fulfilled their expectations and more. "Part of the reason we did this project was to keep me going through some of the darker episodes of treatment," says Elaine. "It's been a beacon for us as a family, something to work towards."
David adds: "When the pandemic happened and I hadn't worked in six weeks, I was worried about how we were going to pay the mortgage. It was clear that this project was more than just a house. It was our kids' dream, our dream – we shared that with them. It was hard to reconcile all of that, so I tried to keep the build at arm's length, just in case we might be forced to sell it. Now I can really enjoy it."
"I never thought like that," says Elaine. "For me, it was a case of 'we are going to build this house, I am going to have my treatment and we are going to live in this house'. That's why this is such a precious home." Beautiful in every way.
Elaine's Tips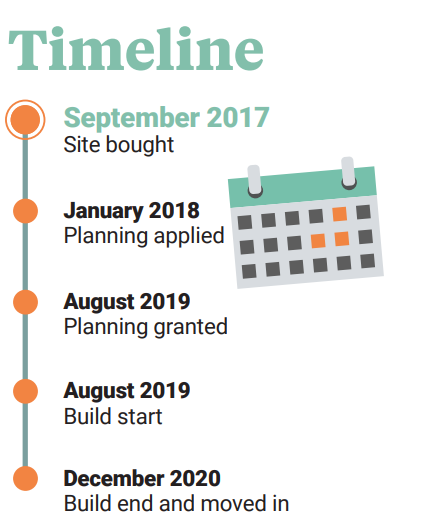 Be organised. "I was a bit of an organisational freak," says Elaine. "I bought all our ovens and fridges and had them sitting in the kitchen designer store for over a year. I was worried about Brexit – the manufacturer was German and I thought the prices would go up. The prices did go up, but because of shortages due to Covid lockdowns."

Don't sweat the small stuff. People get caught up in details like light switches. Initially, I picked one that cost £23 plus VAT. When our electrician added it all up, it was going to cost £4k for the whole house. He advised us to buy standard switches. We did and saved £3.5K.

Spend your money on the things you can't change easily, like flooring. Light switches you can change at a later stage.

Ask for advice from your builder and ask him to be straight with you. We initially specified polished concrete throughout the house, but we decided not to go with it due to costs. When we told our builder this, he said that was a good idea because polished concrete has the potential to crack. We saved spending £35k on a floor that ultimately might have really disappointed us.
Q&A with Elaine & David
What is your favourite design feature?
Elaine: The brightness – my mum commented that you could never be depressed in this house because the extensive glazing allows in so much natural light.

What would you change or do differently?
David: We would have preferred not to have built during a pandemic. We were at roof levels when our business closed during the lockdown. It was quite scary.

What surprised you?
Elaine: The length of time it took from submitting the plans to turning the first sod. And the extra financial outlays that you have to pay on top of the building costs: surveyors, building control, planning, electrical and water fees, etc.
David: My brother, John, helped me open up the site with his digger. I bought two loads of stones, two gates and a couple of posts and I said to John "I've paid out £33k so far on this build, and this £200 spent on materials is the first bit I can actually touch". Nobody tells you that when you start out.

What single piece of advice would you give a friend who's looking to embark on a project similar to yours?
We'd recommend employing a quantity surveyor (QS) to manage the costs with your builder. It makes budgeting easier and a QS can tell you where you can save money. The cost of our QS was £8k, but he definitely saved us money.

Would you do it again?
David: Yes, I would do it again.
Elaine: I would do it again, but we won't – we love this house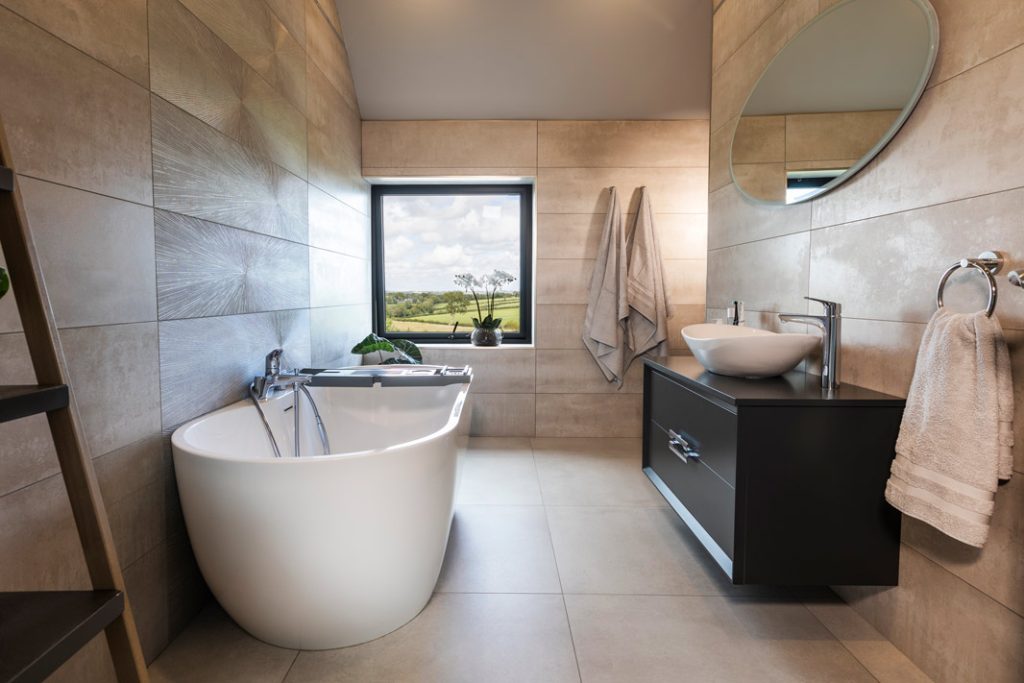 Spec
Pitched roof: Black corrugated anti condensation metal cladding, 50x75mm & 50x50mm treated counter batons, 50mm PIR insulation, 220 mineral woold insulation tightly packed between 220x47mm C16 rafters, airtightness/vapour barrier, service cavity, 12.5mm plasterboard with skim coat and painted to selected colour, U-value 0.17 W/sqmK.

Flat roof: Single ply PVC reinforced membrane, 50mm PIR insulation, vapour barrier, 18mm ply screw fixed to timber firring pieces to falls, 147x45mm C16 flat roof joists, airtightness/vapour barrier, service cavity, 12.5mm Gyproc plasterboard with skim coat and painted to selected colour, U-value 0.12 W/sqmK.

Walls: Black corrugated anti condensation metal cladding, 50x75mm treated horizontal timber battens, breathable underlay, 100mm concrete block outer leaf, 200mm cavity with full fill graphite coated EPS beads, wall ties located @ 450mm centres vertically and 750mm centres horizontally and staggered. Variable 100-215mm concrete inner outer leaf with bonding and skim finish painted, U-value 0.15 W/sqmK.

Floor: Selected semisolid timber/ceramic tile finish, on 75mm concrete screed, 150mm PIR insulation, 150mm C30/20 newton concrete subfloor, radon resisting membrane to equivalent of 2,000 gauge continuous polythene DPM lapped and bonded to DPC 150mm min. consolidated and blinded hardcore, U-value 0.117 W/sqmK.

Window and doors: Triple glazed aluminium frame windows in black installed in accordance with manufacturer's details and spec, U-value 1.1W/sqmK windows and 1W/sqmK doors.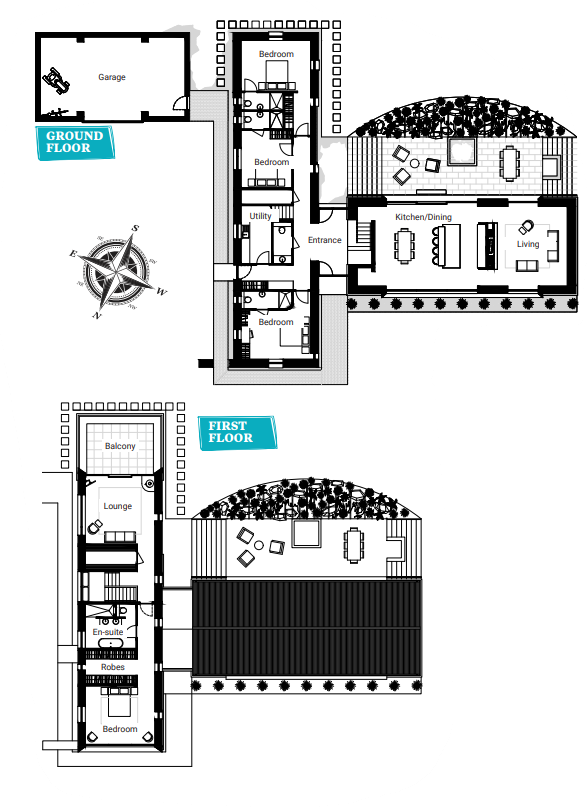 Suppliers
Architect
Donal McPhillips Architecture, mcphillipsarchitecture.com
Quantity surveyor
Ciarán Tally, ctqss.com
Kitchen
Paul Mason, Interior360, Belfast
Bathrooms
AJ Plumbing Ltd, Newry
Builder
JJ Rafferty & Sons Ltd
Tiles
Armatile, Boucher Crescent, Belfast
Outdoor patio and paths
O'Neill Paving
Utility room and other cabinet making
Wesley Beck, Banbridge
Painting
Bryan McElroy, Banbridge
Heat pump
Grant Engineering
Design SAP and air test
QEL Air Energy Consultants, qelair.com
Windows
Swish Windows, swishwindows.net
Photography
Paul Lindsay, paullindsayphoto.co.uk