Renovating this 1950s seaside house meant rebuilding the structural supports for the cantilever bedroom that takes in the view.
In this article, we cover this cantilever house renovation project including:
Story behind the historical, architecturally designed cantilever house
How the homeowners used existing furniture from the 1960s as their starting point
How the homeowners chose their architect – how they made their shortlist and why they chose theirs
Choice of hiring architect as project manager and on what terms, how it went on site
Choosing the builder and organising stage payments
Changes made to the inside with full before and after floor plans
Biggest splurge and budget saving tips
LPG boiler sizing and underfloor vs radiators
Electrics tips: whether to choose LEDs, pendant built from scratch
Tiling tips: finding the right type, working with supplier and tiler to get the look
Structural issues with the roof and choice of reroofing
Cantilever supports: details of how it was redesigned and rebuilt
Choice of hiring interior designer and why it saved them money
Kitchen, utility room, and wardrobe designs with space saving tips
Reason for build delays and top tips to keep on top of schedule
Overview
House size before: 200 sqm 
House size after: 245 sqm
Plot size: 1 acre
Bedrooms: 5
Project cost: £400k
Construction: Steel and block
Heating and hot water: LPG boiler
Ventilation: mechanical 
My mum is from Armagh, but I grew up in England," says Mark. "We holidayed every summer in Co Antrim, by the sea, at my family's place. I have very fond childhood memories there."
"Years later, still living in England, I inherited the house. It meant a lot to me but, considering I was abroad, I thought I might not want to undertake a long distance project and reasoned it might make sense to sell, despite my strong attachment to it."
"I booked a trip over to go see it with my fiancée Catherine, who is now my wife. We went there to think about whether we wanted to take on a project or whether it would be too much to do from far away. But, as soon as we arrived we knew we wanted to keep it."
"It was a lovely sunny day and the views upstairs were amazing and we felt we were never going to find anything like this again. We kept coming back both on our own and with my parents and we were hooked. With every visit we fell more and more in love with the place and could envisage it as a family home. We now split our time between London and the house."
Cantilever house backstory
"The house was built in 1958 and all of the living and bedroom accommodation is on the first floor to make the most of the views. Style wise, nothing had been changed in 60 years," says Mark. "The same furniture was there. It was a total time warp – the kitchen was purple, the carpets bright orange and the living room furniture a vibrant turquoise. In its own way, though, it really worked."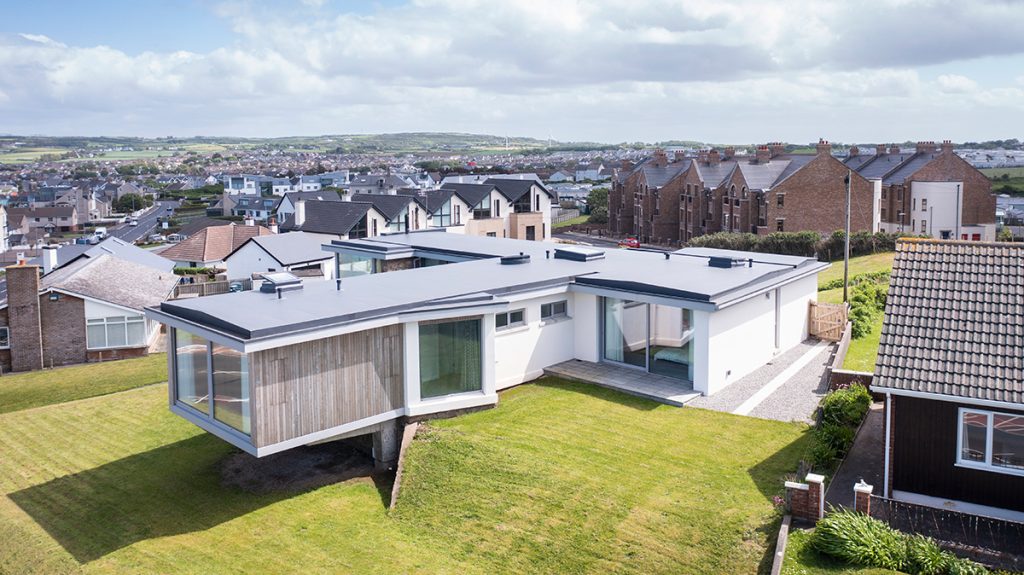 "We were keen to keep the cutting edge 1960s vibe including some of the stylish furniture, while modernising it. So we kept some original pieces, repaired others, and the rest is new."
"We felt the cantilever house was something to build back to; we didn't want a pastiche or a copy. It was a balance between modernising the house to our needs, and reflecting what had been done before."
"We briefly considered managing the project ourselves, but it was too big to take on from abroad. So, when we started, we knew we would need to get an architect to both design and manage the project. We met three and we were really impressed by all of them."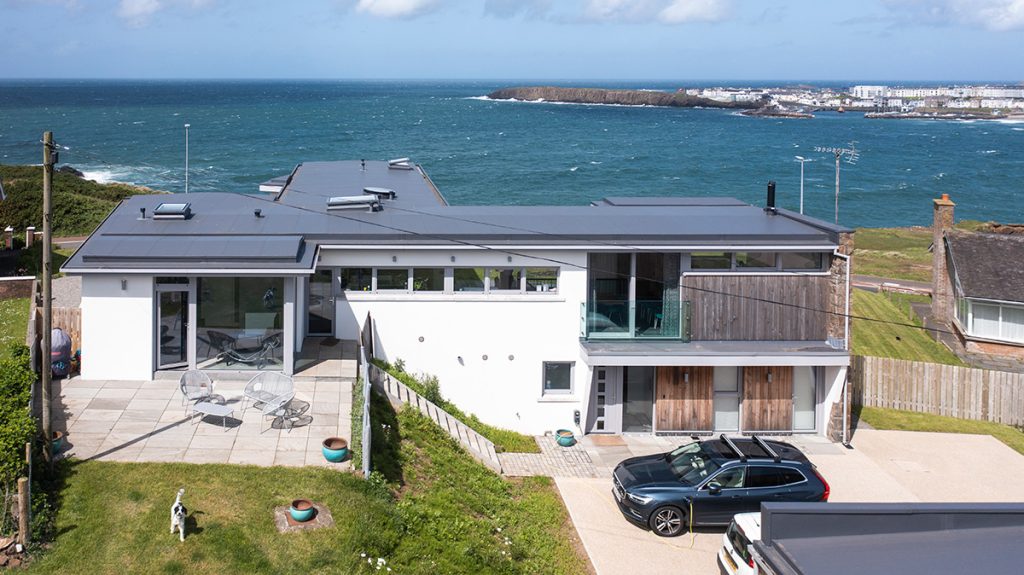 "We hired Ben as his passion for the project shone through the most. He'd come with his research, having found out about the original owner. He also said straight away that if we intended to knock down the house and rebuild it, then he wasn't the architect for the job."
"He wanted to conserve it as much as we did, so we hit it off. The house, surprisingly, wasn't listed but it was well known in town, having been designed by renowned local architect Noel Campbell. There was no way we wanted to dramatically change it but we wanted to enhance and improve what was there." 
"Ben's idea was to make sure the house would look the same from the road and extend out in the obvious place for it, unseen. The extension mostly added a bedroom plus bathroom and a study. And somehow, his design doesn't look like an addition."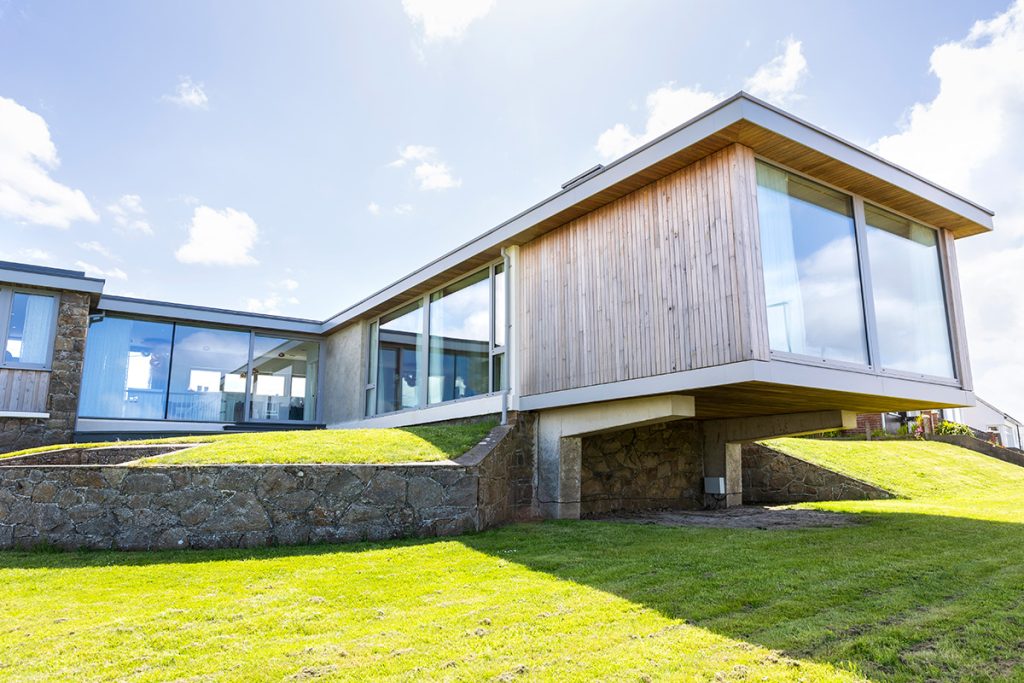 "We made very few alterations inside – we reduced the size of the hot press, and got rid of the wc in the hallway to add into a larger bathroom. We also rejigged the kitchen and brought it into where the cold storage used to be." 
"Downstairs we converted the garage into a bedroom the same size. The toilet and underground darkroom were converted into a bathroom and utility. We now use the shower room to remove sand from the beach and for our dog." 
"We originally thought we might rent the house out, so we put in five bathrooms. My parents helped a lot with the design of those; they figured out all the bathrooms in a day. A month later we flew over, loved most of what they had chosen and only changed one," says Mark.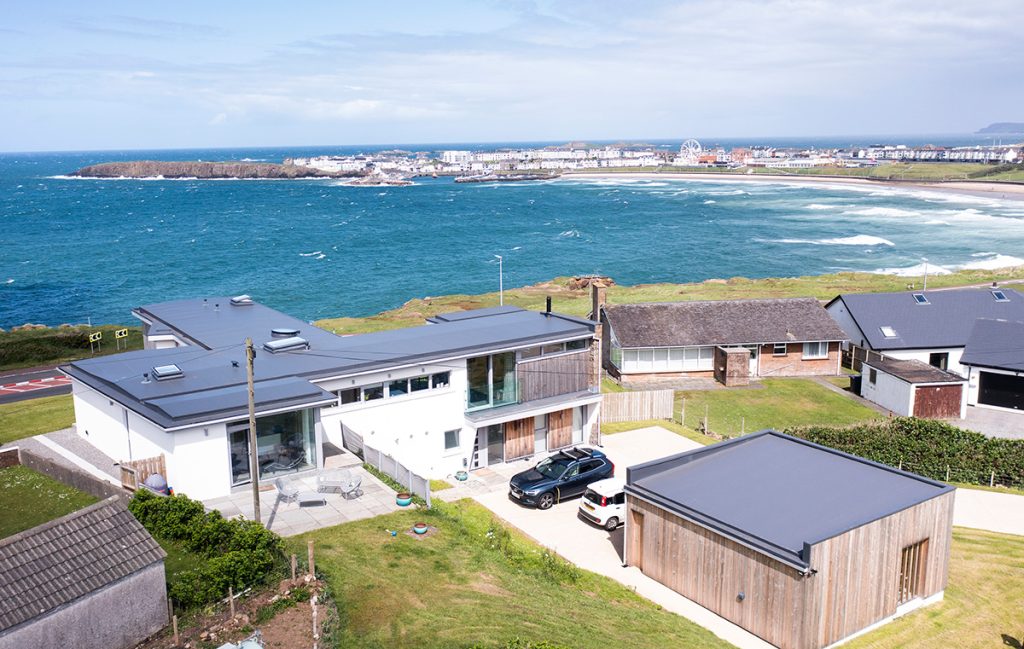 "We especially loved the tiles the supplier had identified for the main ensuite bathroom – unique to fit the circular shaped shower."
"The company we went with cut the tiles for us; they do conservation work with mosaics. Even though they were cut and mounted to mats, the tiler found they took a long time to fit. But the end result was worth it."
Structural changes to the cantilever house
"The roof had structural issues and the cost of repairing it would have been pretty much the same as getting a new roof, so it would have been silly not to replace it to ensure it had longevity," says Mark.
"The house originally had a portion of it jutting out in a cantilever, and Ben was most worried we wouldn't retain this feature. It rested on concrete and steel arms, but the steel had rusted away and the concrete had not been properly tied into the rest of the building."
"When the engineer came to evaluate if we should repair or replace the concrete arms supporting the cantilever, he pushed one of them and it fell over. They were freestanding, with a wooden frame resting on top of them. We had no choice but to replace them."
"We played it safe with reinforced concrete, and a metal frame for the structure above, all tied into the house. The cantilever has five sides exposed to the Atlantic, and considering the space hadn't been insulated, it used to be a very cold bedroom. But now it's toasty."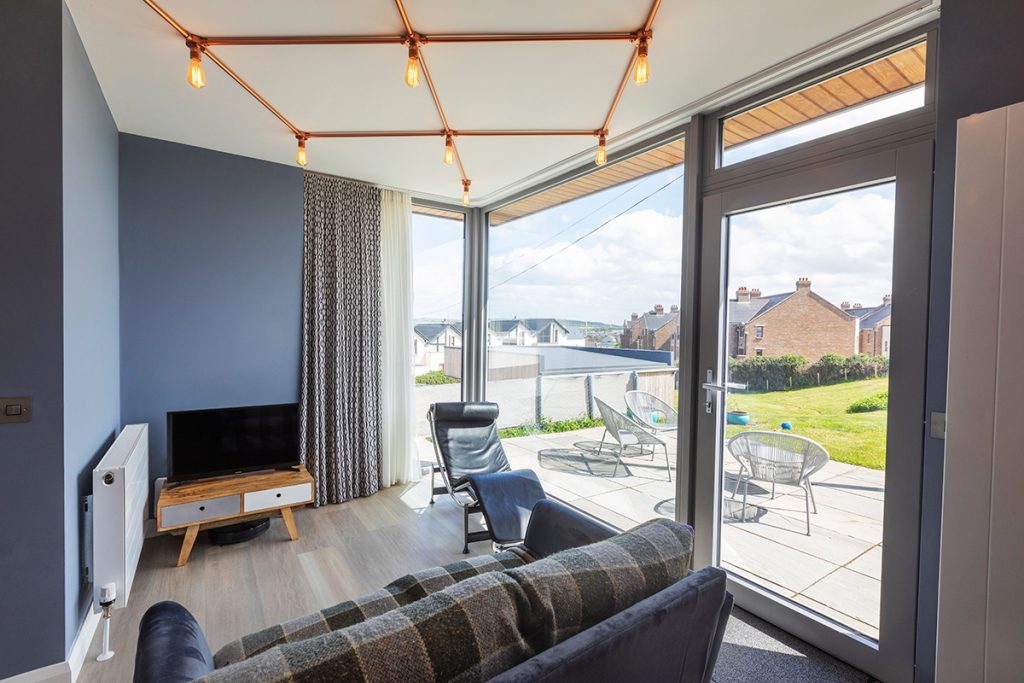 "We used insulated plasterboard, or drylined the internal walls downstairs. At first floor level, the external walls had to be rebuilt – the bricks were in a bad state – and existing cavities were filled with insulation. Around the kitchen was easier to rebuild."
"The extension, for its part, is not visible from the road and the house is not a protected structure. But, better safe than sorry, we went ahead and applied for planning permission. It was a pretty straightforward process. We got support from the neighbours and positive comments from the planners."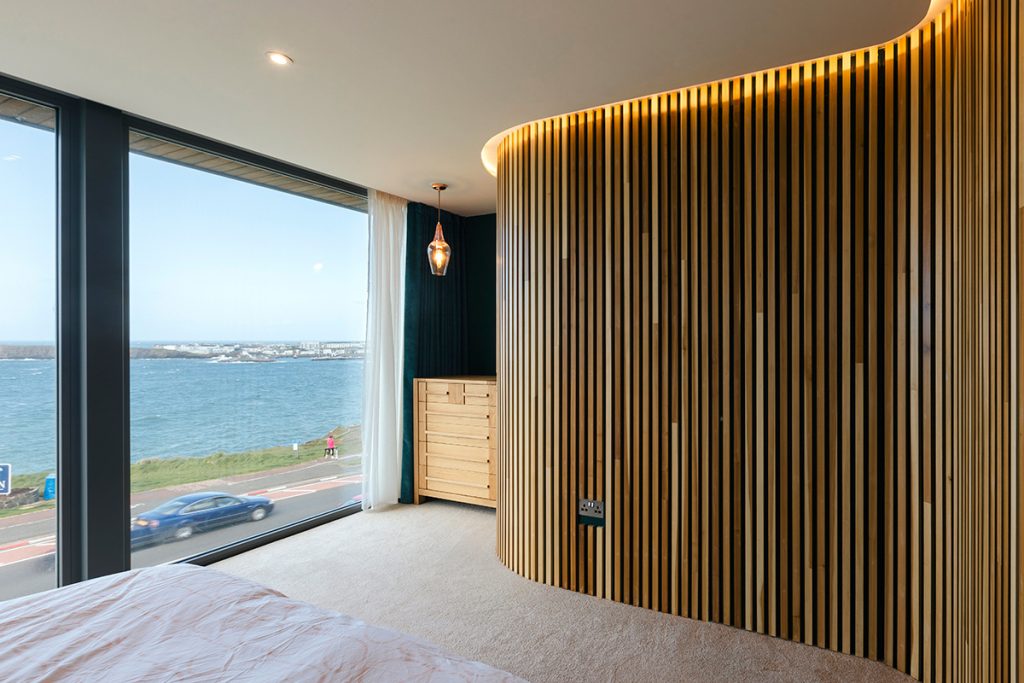 "Any major work requires building control approval anyway, even if we hadn't applied for planning. And they were particularly helpful, giving us advice on things like what to do for ventilation as we were making sure the envelope would be airtight. We ended up going with a centralised mechanical system."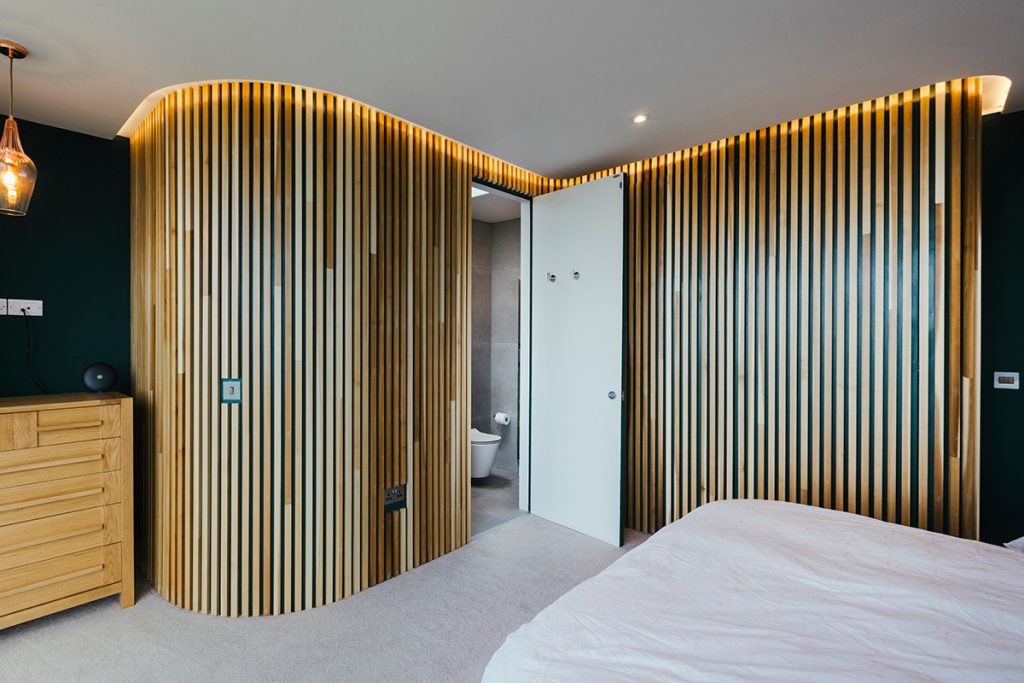 The team
"We hired a builder and an interior designer, with Ben overseeing the build. They all worked closely together because it was part build, part architectural design," says Mark.
"Ben had recommended a few builders and we got back two tenders from that list. The interior designer had been recommended and happened to live on the same road. We got a nice feeling from meeting Jude and we saw eye to eye."
"We had never worked with an interior designer before, but not only was Jude invaluable in helping us decorate and furnish every room, hiring her actually saved us money – she has trade discounts, access to ranges of products we really liked, and had painters and decorators to call on. So the cost of hiring her was offset by the savings made elsewhere and we really could not have done it without her."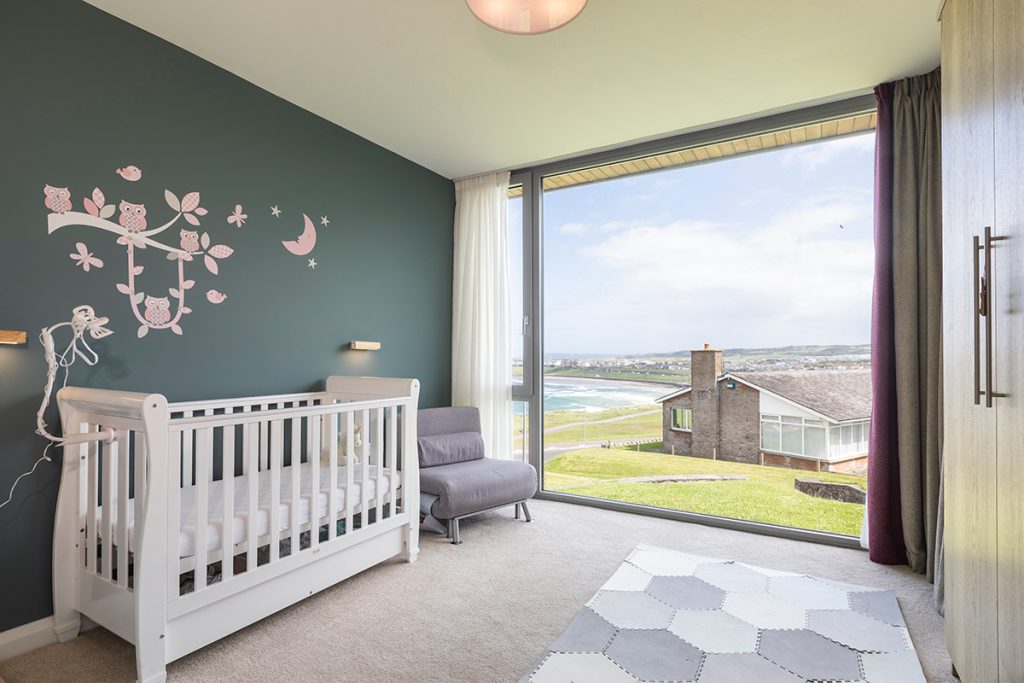 "Jude found the best stuff, and it didn't necessarily mean high end suppliers. It was always about unearthing the perfect solution. She posted out samples for us to choose from so we could progress things even when we were in England. She got a feel for what we wanted and the more we engaged in the process the easier it got – at the start she would give us 20 options, at the end just three as she knew what we liked and didn't like."
"Catherine chose colours and Jude took them to match in our dining area. The great thing was, we weren't tied to any one manufacturer. For the electrics we saw hundreds of options. We had our shortlist, negotiated with them. It was all designed to fit in."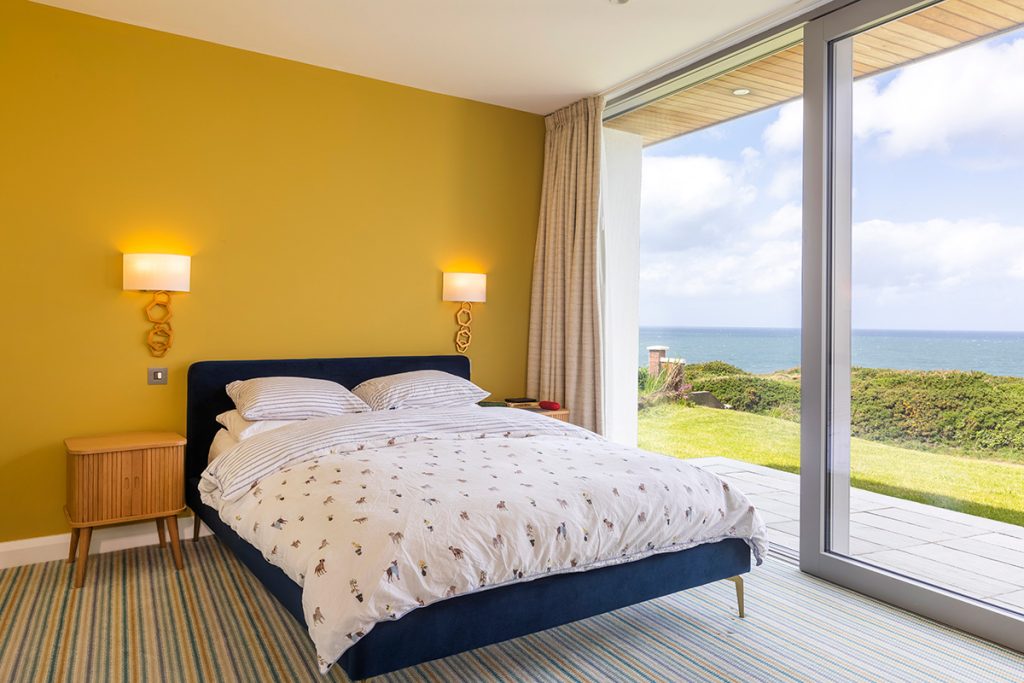 "The kitchen designer, Johanna, came up with an excellent solution for the kitchen. She managed to include a touch of colour from the dining furniture whilst also bringing something different to the tall larder cabinets which were all finished off with a beautiful polished worktop."
Cantilever House T
imeline
2017 – Deliberations as to what to do
2018 – Started the project, hired architect
2019 – Work started in May after going to tender
Sep 2020 – Work complete
"She also designed the utility downstairs which is functional, but still really attractive, exactly fulfilling our needs for each of the spaces. Johanna also designed the bespoke wardrobes in the two small double rooms within the existing alcoves. She also designed the big matte white bathroom cabinet, which we love."
"Our team was excellent," says Mark. "And we put our trust in them. Our builder did the internal woodwork, and hired the trades then himself for the rest. It was all joined up and the subcontracting was seamless."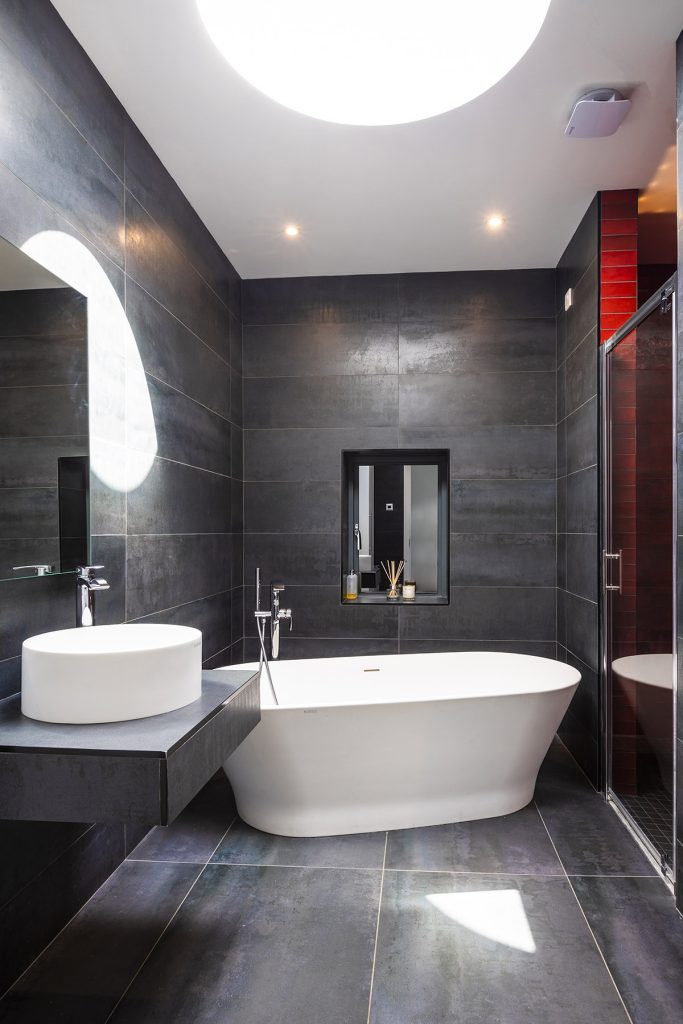 "We had organised stage payments and the builder issued his invoice as work was completed. The builder had his own quantity surveyor and whenever we needed to, we went through the finer details and asked questions – we were never far apart on costings. Ben managed that aspect for us." 
"There were lots of phone calls, video calls on site to show us things. We planned an in person meeting every four to six weeks, which was slightly disrupted by the pandemic," says Mark. "It was an intense process, but it has paid off."
"The only real delay on the build was due to the windows, which took a long time, apparently because of Brexit. And it was our biggest interruption on the build because so much of the progress was dependent on the installation of the windows. We had them priced up so at least we weren't stung on the exchange rate."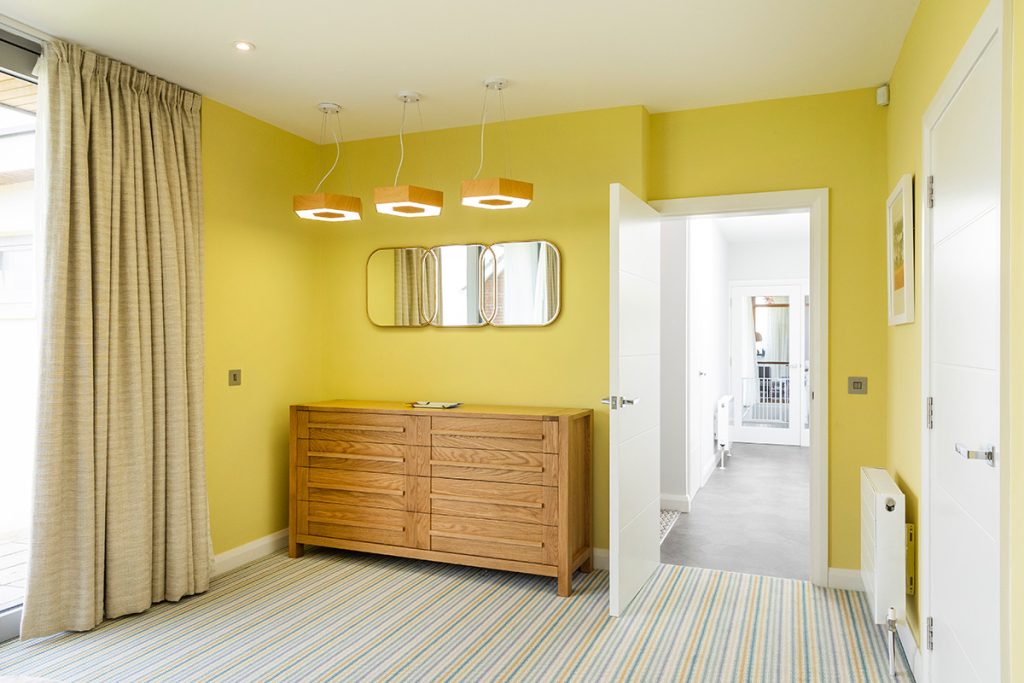 Q&A with Mark
What would you change?
I would take more time choosing what heating system to go for. Our engineer said that for heating and hot water two combi boilers weren't enough, so we have a large LPG boiler with hot water tank. The person who serviced it recently said it was over engineered. So, if I were to do it again, we would re-examine that aspect.
We would also reconsider how many radiators to use, or even look at underfloor heating. We have so many windows that we used up the rest of our wall space for rads. The insulation is so good, we actually have too many radiators and have to turn most of them off and they take up valuable wall space.
Biggest splurge?
We went for mid to high end windows, so that was expensive. A lot of windows we saw were nice but couldn't give a 10 year guarantee because we're so close to the sea. So, we didn't have much choice. Then the little things added up. For instance in London we only spent £2,000 renovating our bathroom, whereas here we spent £2,000 on the bath alone to get the perfect piece. Looking back, that was quite a big splurge!
What surprised you?
We were aware a lot of what was happening was outside of our control, and we were as relaxed as possible about it. But I was surprised at how we would end up stressing about the small things. I realised it was because I felt I could control those aspects. It was frustrating being so far away, but we couldn't have asked for a better team.
Favourites?
The cantilever remains a key feature, you can see the sea and the beach from there. We also can't wait for our outdoor mosaic to be installed – its quite an eye catching design.
Would you do it again?
Absolutely, especially if we could guarantee having Ben on our team!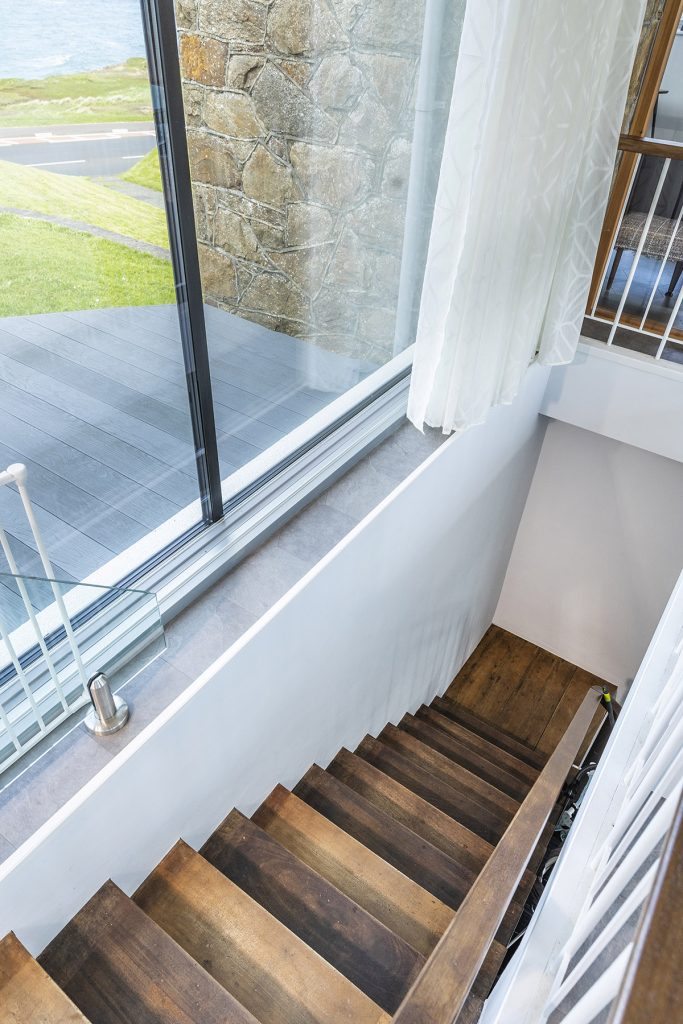 Marks's Tips
Get others to help… To keep on top of the budget and get a good price out of it, get a project manager across the build. The cost is negligeable compared to the benefit of running the project with someone who knows what they are doing.
…but be there as often as possible. If we had been there when they redid the roof, we would probably have the fire in a different place. Every decision has a knock on effect and if you're not there, it's not that easy to foresee how one design decision might impact on another.
Consider two kitchens in an upside down living situation. We have a utility downstairs that is like an extra kitchen and it's a perfect combo having the two, especially in a large house. It's the best design change we made.
Take everything you're told with a pinch of salt. The schedule of works was delayed by Covid, but even knowing that it took a lot longer than expected. There was nothing we could do because of the delay with the windows which had a knock on effect on the subbies. You're reliant on people down the chain to do the jobs. If it takes two weeks to get materials, the trades can't hang around waiting for them to arrive.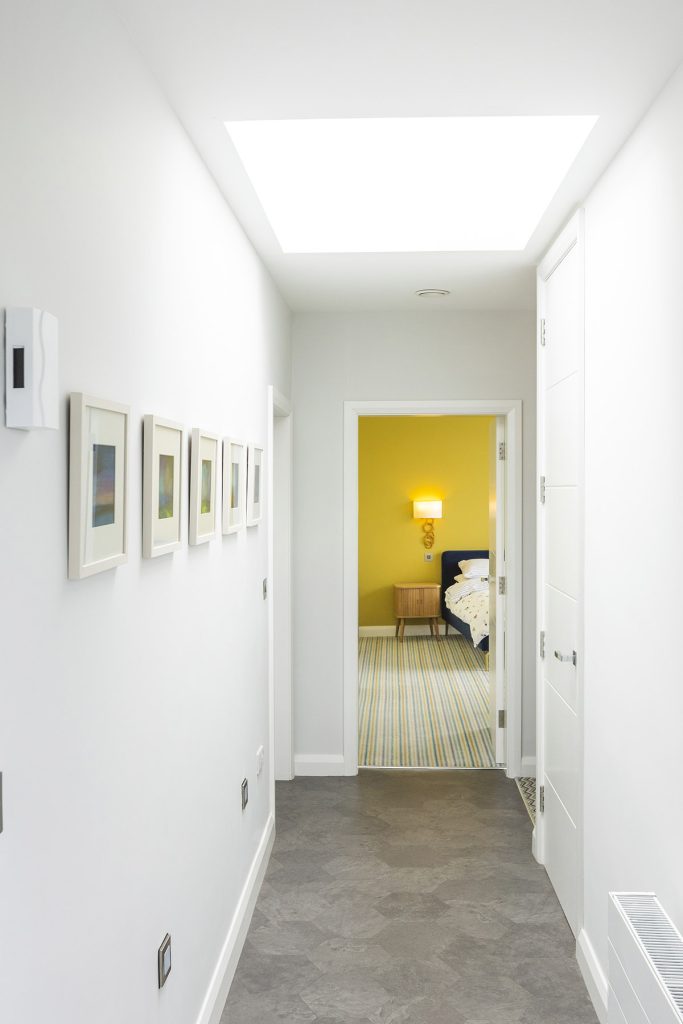 Cantilever house s
uppliers
Architect and project manager
Ben Wilson of Wilson McMullen Architects, wilsonmcmullen.com
Tiles
Armatile, armatile.com
Sanitaryware
Sonas, sonasbathrooms.com
Builder
LJ Millar & Sons, ljmillarandsons.com
Interior designer
Jude Burrows, judeburrows.co.uk
Standalone porcelain bath for master bathroom
J&R Keys, jandrkeystiles.co.uk
Kitchen and utility
Johanna Montgomery Designs, ravelglen.co.uk
Marine grade windows
Internorm from Feneco,
fenecosystems.com
Aluminium trims and guttering
North West Aluminium Group, nwa.ie
Insulation
Platinum Ecobead, insulated plasterboard K118, both from Kingspan Insulation. Proprietary finish Weber SR317 through colour render system (white). Rook Alkor system with Kingspan TR26 insulation.
Photography
Paul Lindsay, paullindsayphoto.co.uk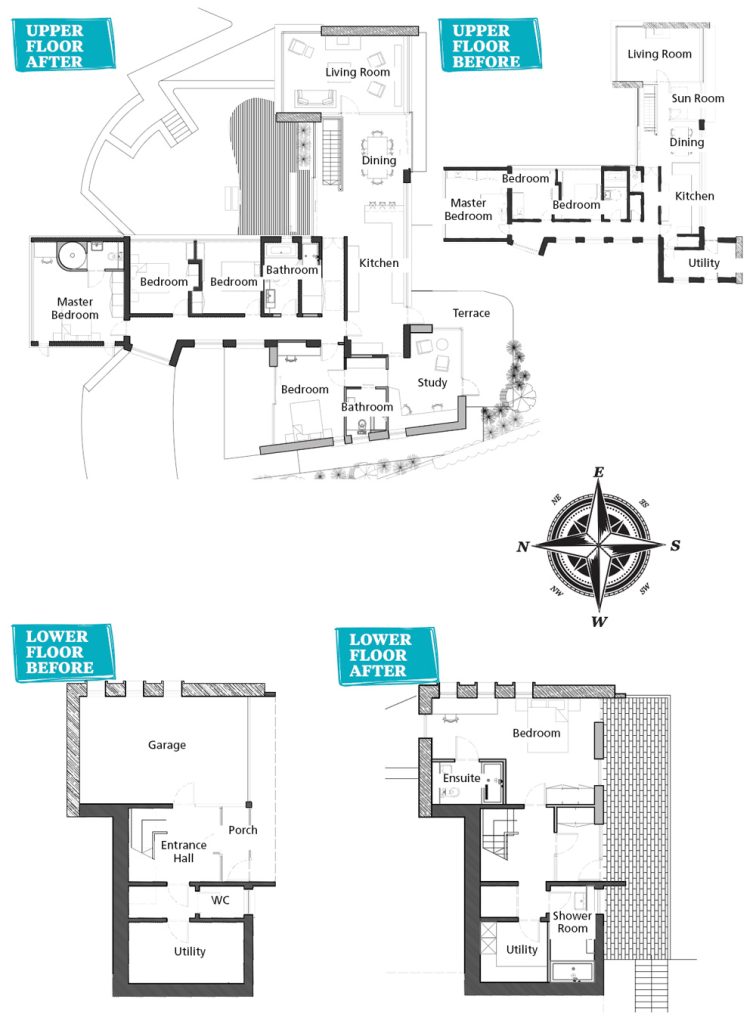 Cantilever House S
pec

ification

Walls: Existing cavity walls 80mm wide cavity pumped with graphite coated EPS beads and insulated plasterboard (50mm phenolic board + 12.5mm plasterboard) internally finished with proprietary system. New build walls cavity construction, 140mm inner, 150mm cavity wall with full fill graphite coated EPS beads. U-value for both 0.18W/sqmK
Roof: new timber roof construction with proprietary insulated roofing system and 150mm PIR board, U-value 0.16W/sqmK
Windows: triple glazed aluclad for both lift and slide door and tilt and turn windows