Emma and Mark McMullan bought a sloping site that ticked every one of their boxes, with the bonus of having full planning permission.
In this article we cover:
Buying a site with planning permission
Making changes to the plans
Construction method and finding a builder
How they managed the build
Choosing the stove
Delays on the build and how they dealt with them
Interior design choices and tips
Cutting costs on windows spec
Lighting design
Garden design
Floor plans, suppliers list and spec
Professional photographs
Overview
Plot size: 2 acres
House size: 2,800 sqft plus double garage
Bedrooms: 4
Construction: blockwork (cavity wall)
Ventilation: natural
Heating and hot water: oil boiler
EPC: B
My parents had self-built the house they live in now, and I always had at the back of my mind the intention to do the same," says Emma. "Mark is a quantity surveyor so there was nothing that daunting about deciding to build our own home."
"It just made sense to us to build instead of buying an existing house; that way we would save some money and get exactly what we wanted."
"When we were site hunting, we both agreed the most important thing was to find a remote location in the country with plenty of scope to establish a landscaped garden to work at over the years. As well as enough space to eventually rear a few horses. We also have a dog, Axel, and we wanted space for him too."
"When we spied this site on a property website, we decided to go visit it but couldn't find it. There was some gate jumping involved but we eventually got there and just loved that it was sloping, and that the driveway was tree lined."
"The site was on the other side of town, but as it's close to a dual carriageway it actually cuts our commute by half an hour. And even though we weren't specifically looking for a site with full planning permission, it meant one headache less to deal with."
"We did approach the original architect, who was someone we actually knew, and he helped us change the internal configuration to suit our needs. The main changes had to do with the bathrooms; we converted an ensuite into a Jack and Jill and made the main bathroom larger to include a freestanding bath."
"We also got rid of a door between the hall and utility. There were a few minor tweaks to windows and doors, mostly turning the small window in the kitchen into a picture window, but nothing that required reapplying for planning. After the redesign with the architect was complete, Mark put together a bill of quantities so we could be sure of where we stood with the budget."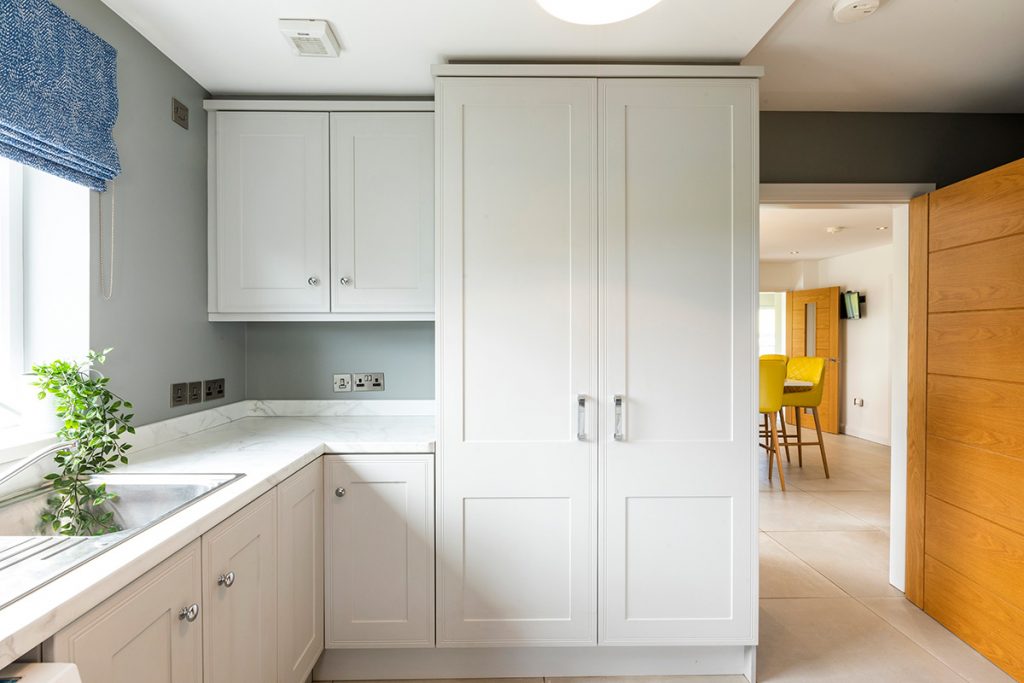 Build decisions
"With Mark's construction knowledge and experience, he was able to project manage the build alongside our appointed contractor. We found our builder through word of mouth, and we visited projects he had completed nearby."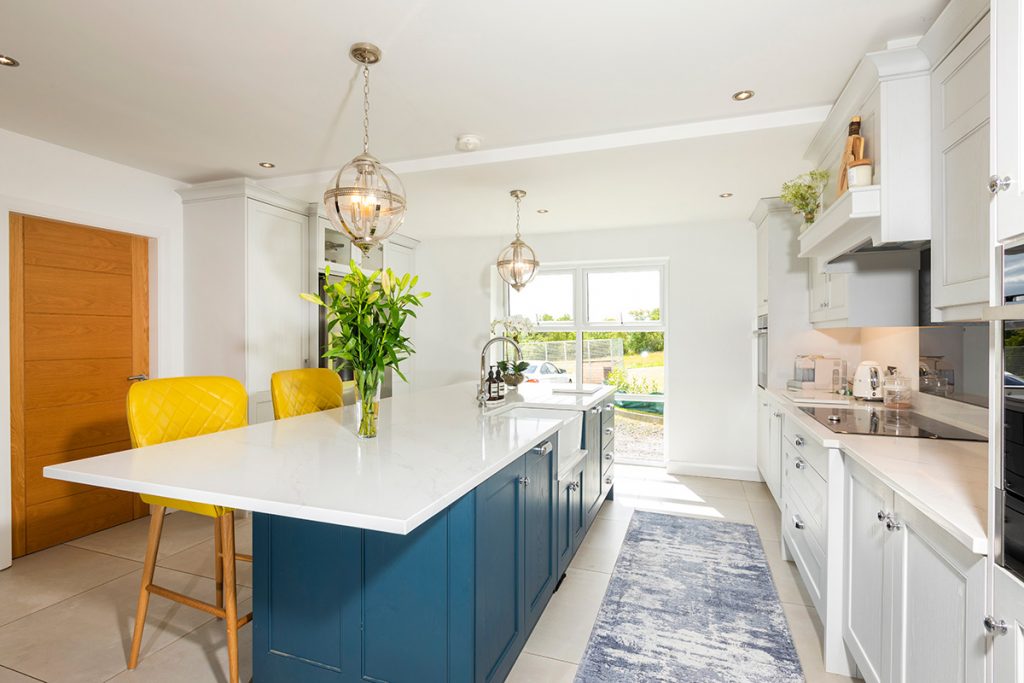 "We had the builder get us to the point where we were watertight, and then for all of the internal work, we went direct labour so had our own tiler, plasterer, plumber, electrician, etc. At the start, Mark would visit the site every evening to check on things and then as the build progressed and he was needed more often, he was on site two full days a week."
"I was busy organising our wedding, so couldn't dedicate much of my time to the build, which is my only regret," adds Emma. "For instance I wish I had gotten more involved with the design of the stairs, to make them bigger."
"There were some delays with the schedule. Due to bad weather over the winter months, and our builder working on another house at the same time, it ended up takings 18 months in total instead of 12 as originally planned."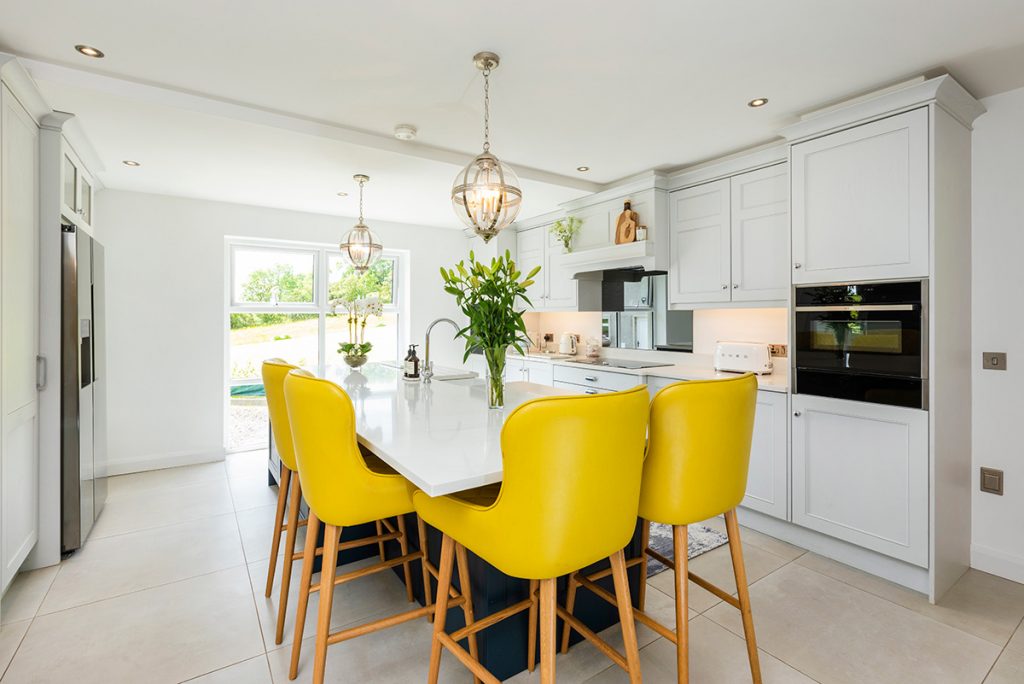 "Another delay had to do with the tiler – we had scheduled him in but had to push back the date as the floors hadn't dried. It took over a month for him to be available again, and by that stage the tiles we wanted were discontinued."
"For the construction, we opted for traditional block cavity walls with a wet dash plaster, gable roof type, standard fink trusses in the house with attic standard overhang trusses in the garage. Our floors are constructed with precast concrete slabs and we chose to install uPVC windows," says Emma.
"All of these choices were made based on balancing cost with the quality we were after. We wanted high end materials and shopped local as much as we could."
"Due to the site being six miles from our neighbouring town, we didn't have the option to choose natural gas so the most convenient option for us at the time was oil central heating."
"Still on the topic of heating, a schoolboy error on our part was building and creating an opening to the chimney breast in our main reception room before finalising the specification of the stove we were installing."
"Once we saw the stove we both wanted, it wasn't an option picking another just to suit the opening already created. It meant a return visit for our bricklayer and, with some brute force and perseverance, we managed to remove a row of block from the chimney breast to create that perfect opening to accommodate our stove."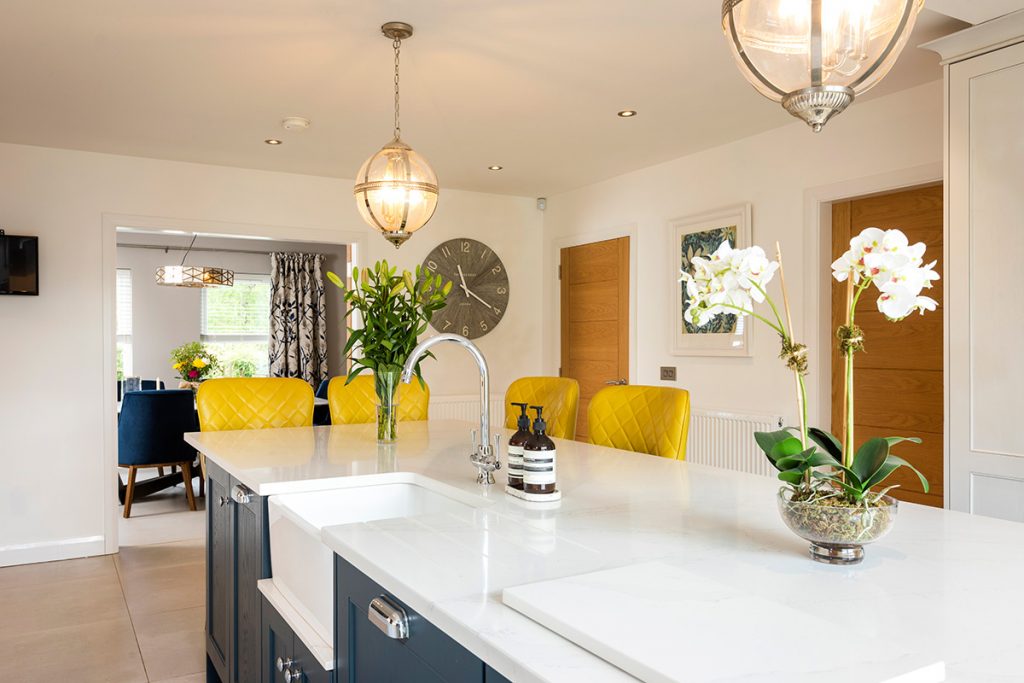 "It would seem the building regs are getting more stringent as each year passes therefore we made sure that when the building control inspector came to visit, we had done everything by the book and in most cases had gone beyond the current regulations. Mark had worked with building control in the past and actually knew our inspector. He was really helpful throughout the build with advice where we needed it."
"Insulation was one specific aspect we spent more on than intended but in the long term this should save money as our walls hold the heat longer meaning we don't need to burn our oil heating more than needed. We fill the tank twice a year."
Interiors
"My biggest design enemy is boredom," says Emma. "My approach was to select a palette of colours to ensure a well coordinated but a varied colour spectrum. I like adding pops of colour as an expression of both our personalities."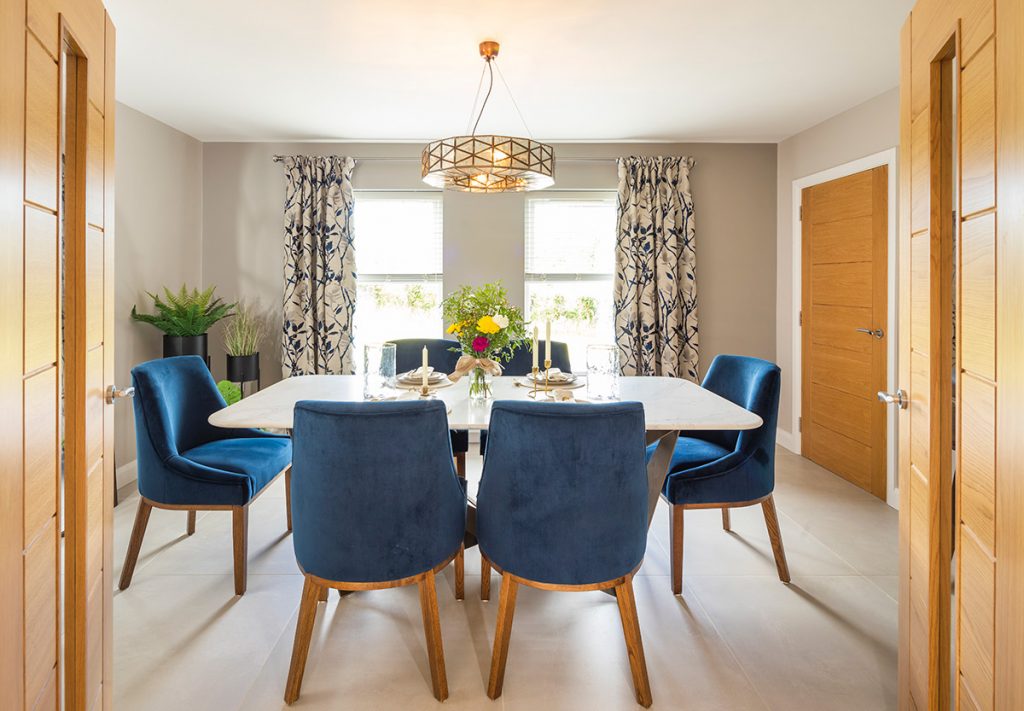 "I made sure I would use of the same colour elements more than once throughout each space. I have used navy a few times throughout the house, for example. As much as current trends are tempting, I always like to stay authentic to myself."
"Lighting has been really important for us and it has taken us a couple of years to find the right fixtures for each space. The choice of bulb is actually really important to create specific moods. I also like finding something a little different, so did spend time on this element."
"The most widely used lighting within our home would be ambient, which provides sufficient illumination and adds so much warmth. Task lighting has been used to illuminate specific areas of our home in addition to our general lighting, mainly the living area, due to the size."
"Within our main bathroom we wanted to create a spa-like feel, with mix and match tiles, along with dim lighting, greenery, a free standing bath, complete with a rainfall shower, slim line shower tray and immaculate white towels resting on a wooden ladder. Something very simple that wouldn't date so quickly was the vision for this room."
"As for the kitchen, our supplier totally changed our outlook in the design and layout, given we had so much space to play with. Our first appointment lasted just 15 minutes but as we were well prepared it was a really productive session, with the designer suggesting so many ideas. Some were out of our budget so we reined them in, such as a much coveted wine cooler, and other things we didn't feel we needed."
"We have kitchen units on two opposing walls with a 3.1m island placed in the centre of the room, plus a full height window on the external wall providing us as much possible natural lighting."
"We ordered and installed the windows before our kitchen design consultation which meant we already had our windows installed and tiled around. We looked at being able to open the window but would have had to add £1k plus the cost of retiling so we had to leave it."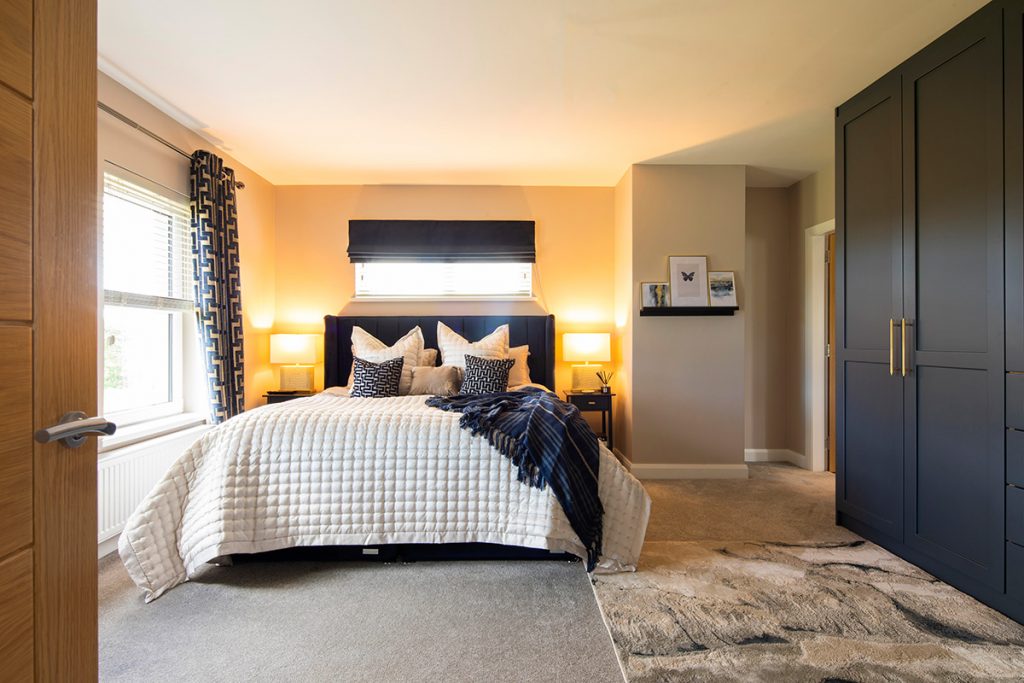 "I also toyed with the idea of a floor to ceiling larder but instead added a boot area and pull out drawer for coats. It was all about getting the design to function for us and the way we live. The dishwasher is close to the cupboard, for instance, and for ease of use the double ovens are either side of each other. The island has worked out really well, we mostly eat at it and don't use the dining table that much."
Garden
"We were lucky that we could rely on family members to help us with the exterior works. They created a 360 degree driveway around the perimeter of the house. Our family also built our decorative retaining wall along with laying the kerb sets, cobble sets, and steps into our home and garage."
"We are both really excited about the garden project. The lawn area was sown last September, so our next step is to appoint a specialist to draw up a few plans on paper so we can both visualise exactly how our landscaping of this space will turn out. But before this, we would like to have our yard done in tarmac."
"We'd also love a raised patio area to have friends over, and a pergola feature along with hot tub and BBQ area. On Mark's wish list is a water feature of some sort."
"My plan this year is to create a wildflower meadow in our field, and we might even start planting trees to get some nice mature specimens in a few years; I think they add a lot of character."
---
Emma and Mark'a tips
Work out what is possible by understanding what you need and can afford, as opposed to what you would like to have.
Find out what lays below ground. Have an idea of what foundations will be required, where the essential services will come from and at what cost. We spent a lot of money on additional drainage we didn't anticipate for, as our site is on a slight slope. We had to add a soakaway to prevent flooding and plenty of pipe runs. The cost of groundworks outside has been a little scary!
Protect your investment. It's always a good idea to take out site insurance, to protect you during the build. And also a structural warranty policy in case any issues crop up within 10 years of moving in.
---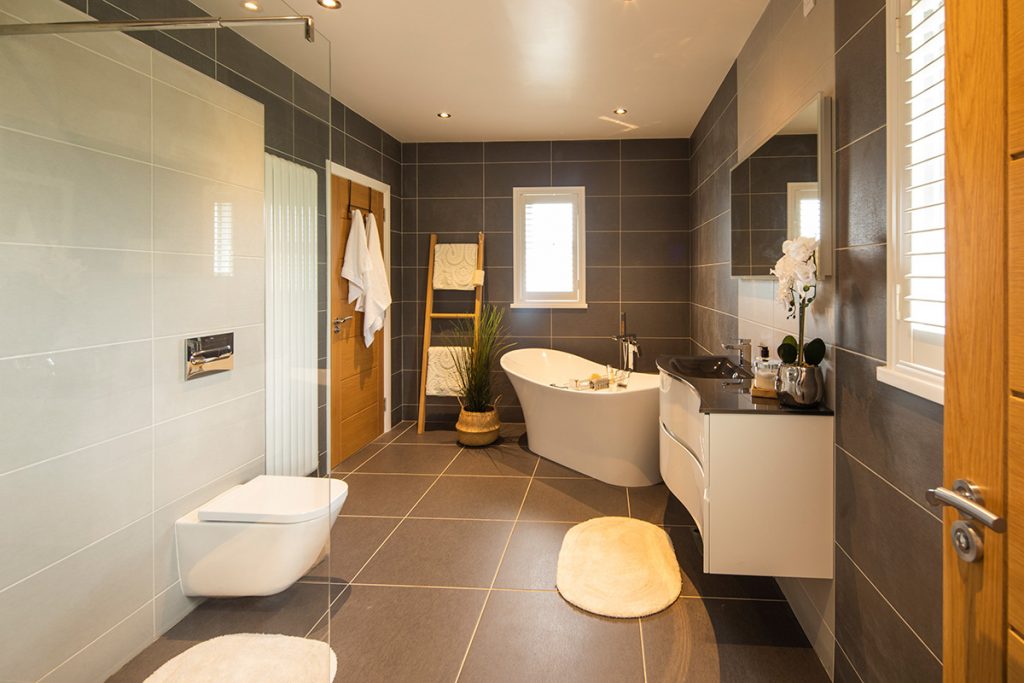 Q&A with Emma and Mark
What are your favourite design features?
We love our kitchen and sunroom area. This really is the heart of our home.
What single piece of advice would you give a budding self-builder?
You need a nest egg; always have 10 per cent contingency in place. A plan of how much things are actually going to cost is a big thing when nailing down how to fund your build.
What would you change?
I would have added another bedroom, as one of the smaller rooms is going to be used as a walk in wardrobe, and I might have the kitchen window changed to a frameless design. I might make the utility room a bit bigger too. Something we will do is probably add a 3.5kW PV panels in the near future to generate electricity on site.
What surprised you?
The cost of the kitchen, and the fact that there's so much choice. It can be overwhelming.
Would you do it again?
I'm not sure I can say the same for Mark, but I probably have another build in me. Maybe a modern barn design. Even though I loved the process and sense of achievement, I would have liked to have been even more involved in the project.
---
Suppliers
Design  
Simpson Design NI Ltd, mobile 07845588073  
Materials 
Kildress Plumbing Suppliers Ltd, Co Tyrone, tel. 867 52000  
Basil Knipe Electrics, Co Antrim, tel. 276 49222  
First choice flooring, Co Antrim, tel. 295 41734  
Haldane Fisher, Co Antrim, tel. 256 48116 
Kitchen 
Johanna Montgomery Designs, Co Antrim, tel. 217 58400  
Interior finishes 
Woodworx Bespoke Joinery, mobile 07762773955 
Sammy Culbertson Painting and Decorating 
Landscaping 
Tobermore Paving, Co Derry, tel. 796 42411 
Paul Kirkpatrick & Sons Co Antrim, mobile 07801254655 
Photography
Paul Lindsay, paullindsayphoto.co.uk


ROI calling NI prefix with 048, mobile prefix with 0044 and drop the first zero
Spec
Walls: Cavity wall construction with 95mm cavity filled with graphite EPS beads, U-value 0.29W/sqmK
Roof: Trussed roof with 150 + 100mm rockwool insulation,
U-value 0.18W/sqmK
Floor: standard build up with 100mm phenolic board, U-value 0.17W/sqmK
Windows: uPVC double glazed, overall U-value 1.70W/sqmK
---