A new report shows rural regions rely on self-builds for new housing stock.
In this article we cover:
Self-builds as a percentage of drawdowns on new properties
Which regions show the most self-build activity
Outlook for the rest of 2023
Completions and commencements are at record levels in ROI, and self-builds are propping up the mortgage market in rural regions, according to a new report.
The Banking & Payments Federation Ireland's Housing Market Monitor for the first quarter of 2023 shows self-build units continue to play a significant role in total housing completions.
The vast majority of mortgages in rural areas are drawn down for self-builds.
The self-build share in total housing output has declined over the past number of years, the report states, but self-builds still account for nearly 18 per cent of total completions, which include apartment and developer homes, in Q1 of this year.
The report notes that in the South and Mid-West, nearly 74 per cent of first time buyer (FTB) mortgages were for self-builds, and 84 per cent of mover-purchasers drew down their mortgages to self-build.
Self-build mortgages didn't represent the majority of drawdowns in Dublin, Kildare, Meath, Wicklow and Cork.
Top regions for self-build mortgages, including both FTBs and non-FTBs, were the South and Mid West, followed by the Midlands, the Border regions, the West, Galway, Limerick and the South East, as below: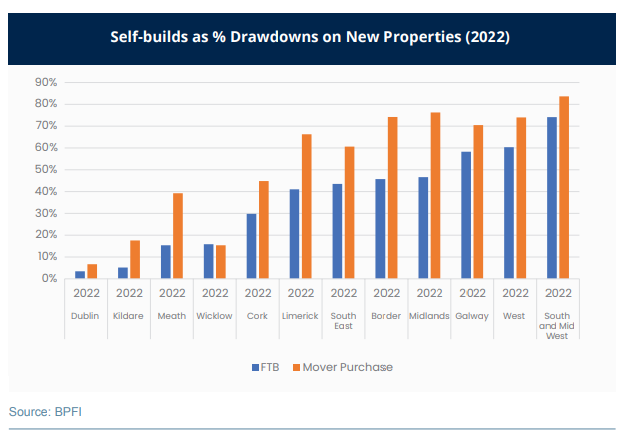 The report strikes a positive note, stating that house building activity remains robust with completions and commencements at record levels.
This increase in supply should make house building and house buying more affordable "as average prices start to moderate".
However, the cost of building remains high and interest rates could continue to increase, all of which could affect affect the viability of projects currently planned, which in turn could affect output into 2024 and beyond.