Covid-19 face covering rules for Irish construction sites don't match up north and south.
Even though Covid-19 rules for building sites are clear about the basic rules, when it comes to face coverings they differ by jurisdiction and type of work being carried out.
The basic rules are the same as for any other business, namely two meter distancing and priority to hygiene procedures such as hand washing and disinfecting surfaces.
But the rules for working in close proximity differ depending on where you are based and what kind of work you are undertaking.
In ROI the Construction Industry Federation's Covid-19 Operating Procedures Report does not recommend the use of face masks, however, for work in close proximity, gloves and face shields are advised.
In NI the Construction Leadership Council Site Operating Procedures V6, which is the UK-wide guidance document for construction sites, does not make face coverings mandatory even when working at close proximity unless workers "come into contact with others they do not normally meet".
The TrustMark guide, aimed at homeowners getting work done in their home, states that "if you have to get close, stay side-to-side rather than facing each other." 
For homeowners getting work done in their home, the UK's  Work Safe. Safe Work campaign was developed by TrustMark with the Department for Business (BEIS).
It states that when the work is taking place, "if you have to get close, stay side-to-side rather than facing each other." 
Other similar guidance comes from the Federation of Master Builders.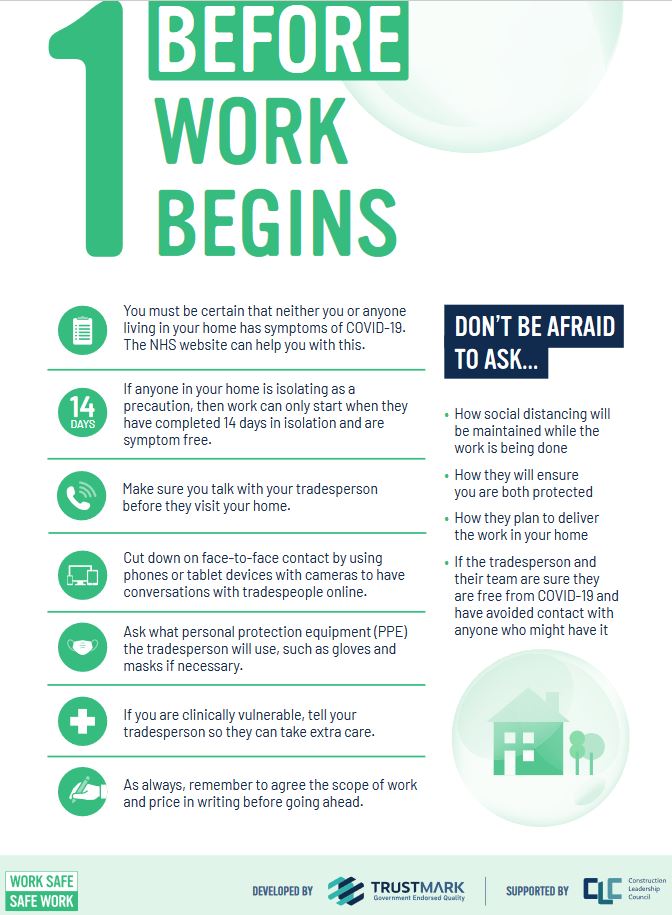 Small building sites at risk
The UK construction union Unite, meanwhile, argues face masks are not appropriate PPE when a two metre distance cannot be maintained. 
The union says construction work is often undertaken inside, in poorly ventilated areas, with the risk of transmission further increased in poor weather.
"This situation has been made worse by the inadequacy of the site operating procedures published by the Construction Leadership Council (CLC)," said Jerry Swain, Unite national officer for construction, on November 22nd 2020 in a press release. 
"While larger sites, particularly where Unite has been actively involved, have been better in ensuring Covid safe working practices are enacted, such measures on smaller sites and in the domestic sector are either weak or non-existent."
The union also says that many construction workers remain unable to self-isolate due to financial reasons as they do not qualify for the UK job retention scheme, self-employment grants or extra payments for self-isolating.
"Huge swathes of the industry operate through bogus self-employment or agency labour where workers have no employment rights and engagements are short," said Swain.
"In these circumstances and with unemployment growing, workers fear that if they raise concerns they will have their contracts terminated and will struggle to find new employment."