New climate data for thermal modelling of buildings will help building designers better take into account overheating.
In this article we cover:
What the new thermal modelling says
How designers will use it
What to expect from the climate in years to come
Recent modelling data from Met Éireann shows that overheating is "expected to become more severe in the future".
On new builds, typical ways to prevent overheating include designing the house so that large areas of glazing are not facing full south, and adding shading to block high summer sun yet allow for low winter sunlight.
Met Éireann expects rainfall to come in more heavy bursts in winter too, leading to drainage systems potentially being overwhelmed, as the meteorological agency predicts little rainfall in summer.
The Met Éireann climate data is expected to feed into house building designs, to model for more extreme weather events. "Planners can use the specialised temperature maps in this research to help improve the resilience of structures against factors such as possible future temperature extremes," said Keith Lambkin, Head of the Climate Services Division at Met Éireann.
The weather and climate data files were devised to be used in building energy models for new buildings.
The data covers six locations around Ireland, as below, for a Test Reference Year (TRY) and three Design Summer Years (DSY), for both past data and future projections.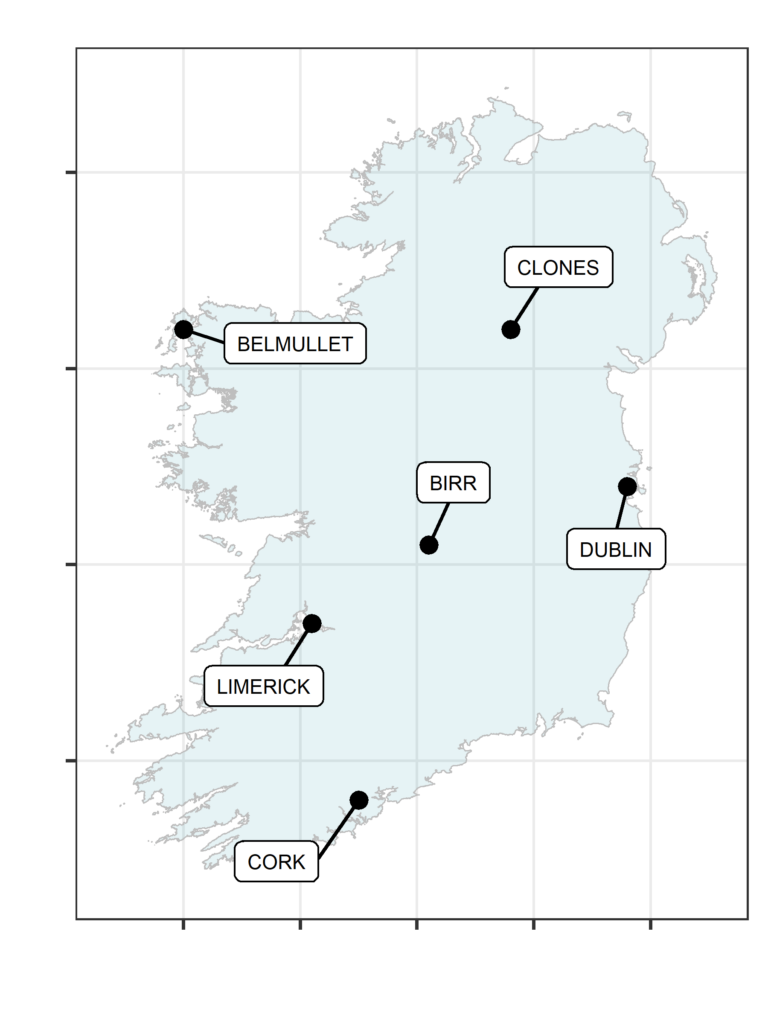 The TRY captures average conditions that are likely to affect a building. The DSYs simulate overheating scenarios. DSY1 represents a year with a moderate overheating event, while DSY2 and DSY3 are hotter.
DSY2 contains an overheating event with a prolonged duration and DSY3 contains a short, intense overheating event.
The data published by Met Éireann is a joint initiative with the Department of Housing, Local Government and Heritage's building standards team, and is one of the actions out of ROI's Climate Action Plan as well as the National Adaptation Framework – the strategy to reduce the vulnerability of the country to the negative effects of climate change. 
The work was completed in consultation with a steering group made up of representatives from the National Standards Authority of Ireland, Sustainable Energy Authority of Ireland and members of the Department's Building Standards committee under Climate Action Plan 2021.  
The reports and maps with technical notes can be accessed here and here.