Selfbuild has featured two of the houses recognised by the AAI this year, Urban Agency's Rustic House (Winter 2018 edition) and t o b Architect's Killan Farmhouse (Spring 2019 edition), but there were plenty more projects on display to get your creative minds going for your very own project.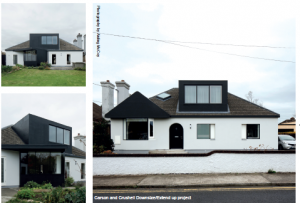 One to make the Awards category was the Downsize/Extend up project (left) in Co Dublin by Carson and Crushell Architects with a budget of €300,000 and built by R&U Ltd. The renovation reduced the footprint of the house to increase the garden area and building's thermal efficiency (the 1950s suburban bungalow was extensively refurbished to the PassivHaus standard).
Only the original four outer walls remained, wrapped in rendered insulation; the glazing is flush and shutters recessed. The extensions consist of protrusions, new dormers and the dining area bay window, all wrapped in fibreglass with two tone glazing frames.
Wall corners, reveals, gutters and ridge tiles are rounded for simultaneous robustness and a softening of silhouette. "While interventions are formally abstract, they are not entirely distinct from the original form," says architect Donal Carson. "This creates a unified domestic appearance and internal atmosphere."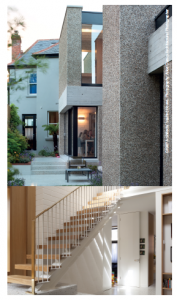 Two projects by Clancy Moore Architects got a Special Mention, Conversion of a Warehouse to a Family Dwelling (top gallery at start of article, photography by Fionn McCann) and Addition and Renovation to a Victorian Family House (above gallery, images by Alice Clancy).
Also recognised in this category was GKMP Architects' Vaulted House (right and main image, photography by Alice Clancy).