What's in trend today may not be true of tomorrow, which is why most sanitaryware comes in white. It's easier to develop your colour scheme with the flooring and wall finishes, along with towels and accessories that can be changed on a whim. But there's no doubt the style of your sanitaryware will have a big impact on the overall feel, tactile and visual, of the bathroom.
Basins
The look/materials, and the style of fixing, will dictate the cost of your basin, which will range from less than €/£100 to €/£600 on average.
Basins come in different fixing styles like vanity (where the basin will sit in the unit), full pedestal (the most common where the basin is supported by a column type structure underneath), half pedestal (where the column is short and the basin is wall mounted), or countertop (where the basin sits on a counter).
Contemporary styles usually include a wall mounted basin for a cleaner look, which will require structural supports at first fix, or a basin fixed above or beneath a worktop/mounting unit. Cloakroom versions start at a tiny 360x270mm.
Probably most common today is the basin vanity unit combination. Vanity units, as pieces of furniture can be handmade, off the shelf or flat pack, or on occasion can be constructed on site. It is not unusual to see vanity units ranging from the low hundreds to thousands depending on the route taken.
Baths
For many, the choice is between a free standing bath or an insert bath. Insert baths are fixed against at least one wall (usually three) and come with (usually acrylic) panelling to hide the side(s).
Insert baths can alternatively be fitted into a frame (often referred to as a drop in bath) that you can then tile or otherwise finish all around, in a style of your choosing. Free standing baths tend to be statement pieces, whether modern or traditional.
Also, free standing baths don't tend to have tap holes or tap ledges in them so you will need to choose between floor or wall mounted taps.
For obvious reasons, free standing baths require more room than insert baths. Because they're usually not made of plastic or fibreglass, they also tend to be heavier and more difficult to install. You may need to strengthen timber floors as well as measure the door, hallway and stair widths to make sure you can get it in. In many cases, you will have to get it upstairs before the stairs are fitted.
Most baths are 1700mm long but you can go down to a 1500mm unit or even a sit in bath if you want to squeeze it into a small room. If you aren't going to have a shower room or separate shower, consider a shower bath that's wider at the showering end (about 850mm compared to the normal 700-750mm).
Shallow, water saving baths are 430mm deep as compared to the conventional 500mm.
Corner baths are very attractive but work best where there is plenty of space to avoid the room looking cramped, except where it's the only option for a tight space. If you plan to fit the bath behind an inward opening door, there are tapered baths with narrow 550mm widths at one end to give you more clearance.
It's important to choose early as the location of the bath's waste pipe will depend on the model. If you let the plumber put the waste in an approximate location at first fix, you will be restricted in what baths to choose from.
In fact there are many other bath shapes to choose from whirlpool, easy access, P shaped or L shaped shower baths, and so on. The prices range from €150/£100 to many thousands.
If you have a large bathroom, there's also the chance to add a Scandinavian style sauna, starting at 1.2m square. This must be planned well in advance to have the electrical connections set up by a qualified electrician at first fix.
The selection of finishes includes acrylic, cast iron, fibreglass, ceramic, stone resin, copper and even marble. The most commonly available baths today are acrylic.
If you choose acrylic, check the thickness of the material – some manufacturers have a budget as well as a thicker, luxury range. For the small extra cost opt for the thicker one as it is less likely to flex away from the wall when filled or when sitting in the bath.
Plastic does not retain heat (when getting into a plastic bath it will feel room temperature) and may absorb dyes such as hair colouring. If the bath gets broken, cracked or scratched resurfacing is possible, but the result can be unsatisfactory and costly.
If you are trying to avoid plastics, be it polycarbonate, acrylic, or composites, you could consider cast iron, resin or even wood.
But a new cast iron bath will cost at least €/£2k and has its own embodied carbon credentials to contend with. On the plus side, porcelain enamel is easy to keep clean and has good stain resistant properties. Although porcelain enamel may chip, it can be repaired, resurfaced and ultimately recycled. Even the colour can be changed when repurposing.
You can buy second hand for hand basins, shower trays, tiles and some wall finishes too. Cost depends on the condition of the materials to be restored but overall it should be considerably less expensive than replacing the bath or shower tray with a new product.
Showers
The selection of the shower kit in the bathroom will, for many, be the biggest cost. Whether or not the shower requires a tray (square, quadrant, rectangular or even circular) and screen (bi-fold, pivot, sliding, hinged or free entry), the big cost is in the selection of the shower valves and finish.
The range on offer includes rail head (€/£100 to >2k), digital (€/£500 to 1,500), electric (€/£100 to 1k), power showers, shower towers or more traditional simpler shower systems.
With a choice of sophisticated enclosures with body jets for hydromassage, steam action, incorporating essential oils and sound systems, choosing one is not a simple task.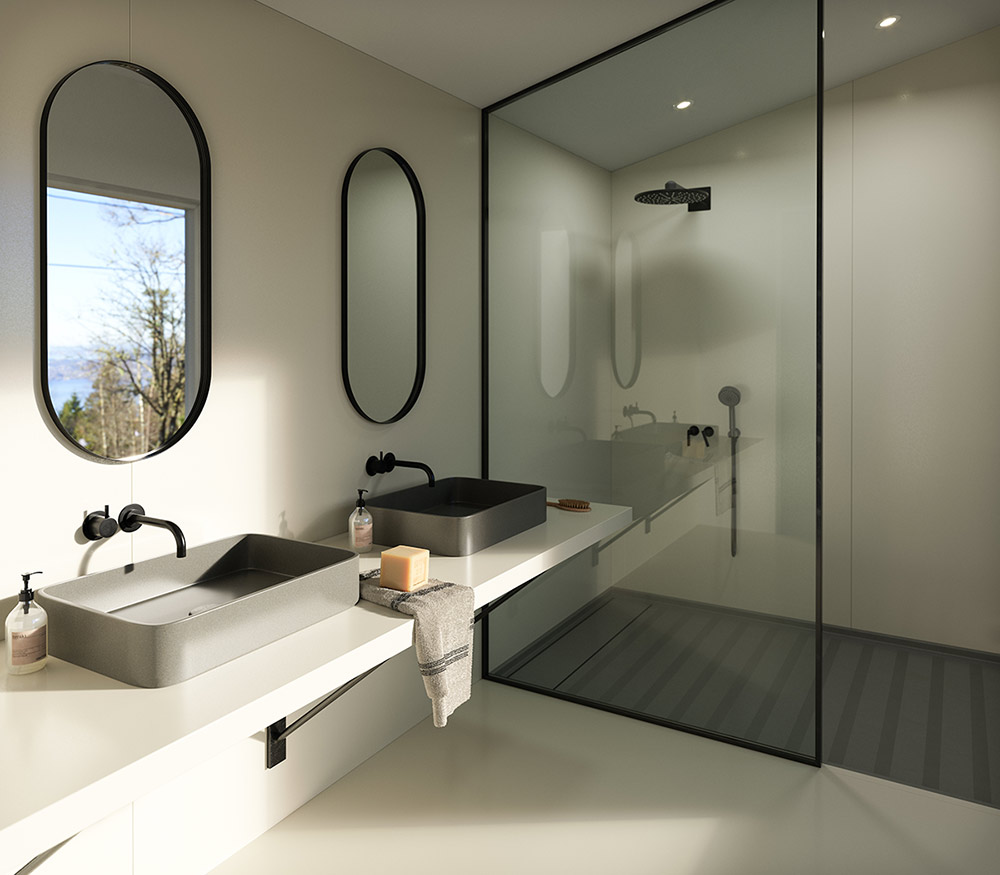 In addition to the cost of the system, each option will have a knock-on effect on the cost of plumbing and electrical requirements including the necessity for additional pumps or electrical safety equipment.
A basic square tray and enclosure can be squeezed into a 760mm square area – small enough for an ensuite even in a single bedroom. However, the trend is now towards larger showering areas and you can choose from round, pentangle (square but with a chopped off corner), elongated offset round and walk-in frameless enclosures.
Shower sizes therefore typically start from around 900mm square but most are elongated to include a seat and built in shelving and lighting.
Shower curtains tend to be messy, both aesthetically and when in use, which has given rise to shower doors (these start from around €/£100). If space is at a premium, fit inward opening or sliding doors. If the budget allows, opt for glass shower doors, enclosures and panels that have a 'frameless' design to reduce the amount of metal or plastic framing needed.
Consider if a wheelchair user will need to access your shower, now or in the future. Shower cubicles that do not have a threshold and shower trays that are slightly lower than floor level are readily accessible. Practical too are showers that have a built-in flip-up seat, bench or triangle seat.
A hand held option for the shower, one that isn't fixed to the wall, will suit occupants who bathe while seated and help considerably when cleaning.
Water pressure
You will need to match your water system to the shower you choose because shower units are either high or low pressure, according to your heating system, so check with your installer before choosing.
In other words, do you have a gravity water system, a combi boiler or a pressurised system? Is it adequate for a high pressure shower, or does your existing hot water tank have the capacity to fill that large double bath you yearn for?
Most electric showers are cold feed only, but if you can, incorporating a hot feed as well will future proof your shower for minimal extra cost, should the heating element not continue to function effectively.
Nowadays new shower heads, taps and cisterns use minimal amounts of water but to further reduce your consumption, consider shower heads with variable settings – you can adjust the spray to a soft pattern that uses less water than pulse settings.
Taps and wastes
Taps and wastes will provide the finishing touches to your design. However, many of these only come in chrome. So if you are bent on a gold accent bathroom, you may have to shop around or choose sanitaryware that fits the accessories you want.
Taps for baths and basins will range from €/£30 upwards and wastes (plughole and overfill cover) from €/£15. Basins now are often pop up but there are many other styles to choose from including old fashioned level styles.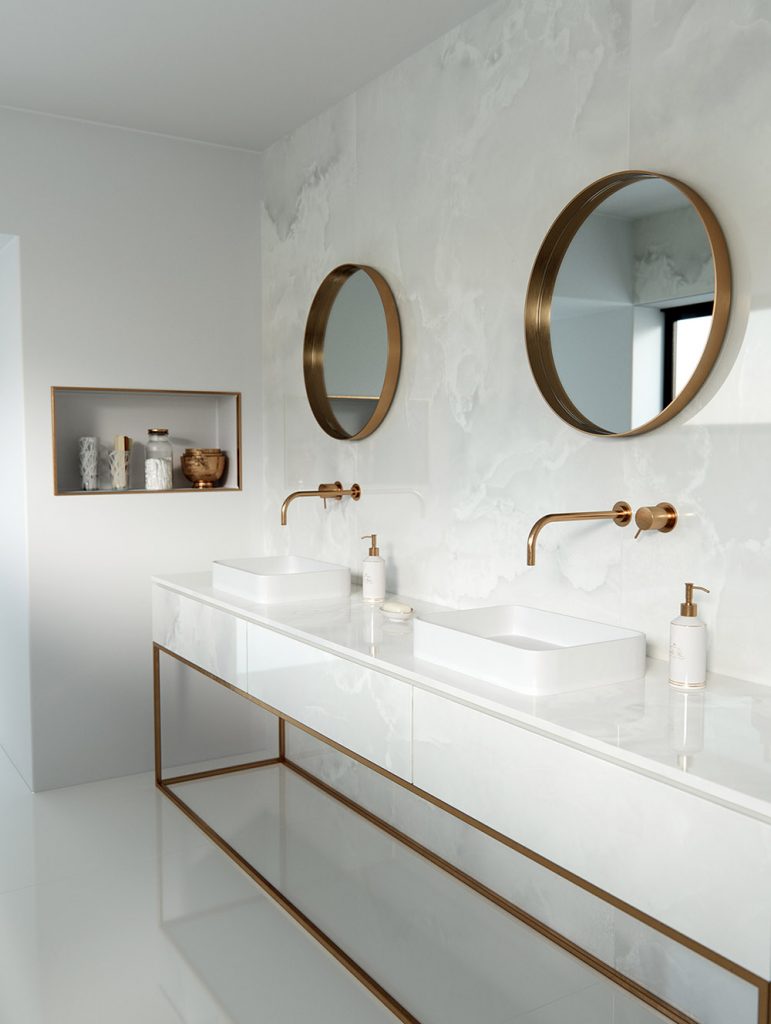 Consider at least one bathroom with handles and taps that are lever style, for people with reduced hand mobility. You will have a choice between wall mounted or fitted within the bath or basin. Waterfall taps tend to be wall mounted.
Some taps can be salvaged and reconditioned to help divert waste from landfill, as they tend to be made from metals known for their durable qualities, e.g. steel, iron, aluminium, chrome, bronze, brass and copper. Other materials used for handles are ceramic and glass, which have eco friendly characteristics although they are less durable than metal fittings.
In some cases water saving adaptors can be fitted to your old taps, with flow regulators and aerated adaptors both offering excellent ways to save water by changing the dense flow to an air filled spray. Aerated spray taps can often cut down the flow rate by up to two thirds. To further save water, fit an automatic shut off tap.
Toilets
A wc consists of a cistern, where the water is kept for flushing, and a pan with toilet seat to do your business in.
The close coupled toilet configuration has the cistern directly behind the pan, is easy to install and can be positioned anywhere. It's also the most cost effective. Traditional style overhead or mid-height cisterns are still widely available for a period look.
The back to wall toilets have the cistern hidden in a stud wall, while wall hung toilets are attached in the wall.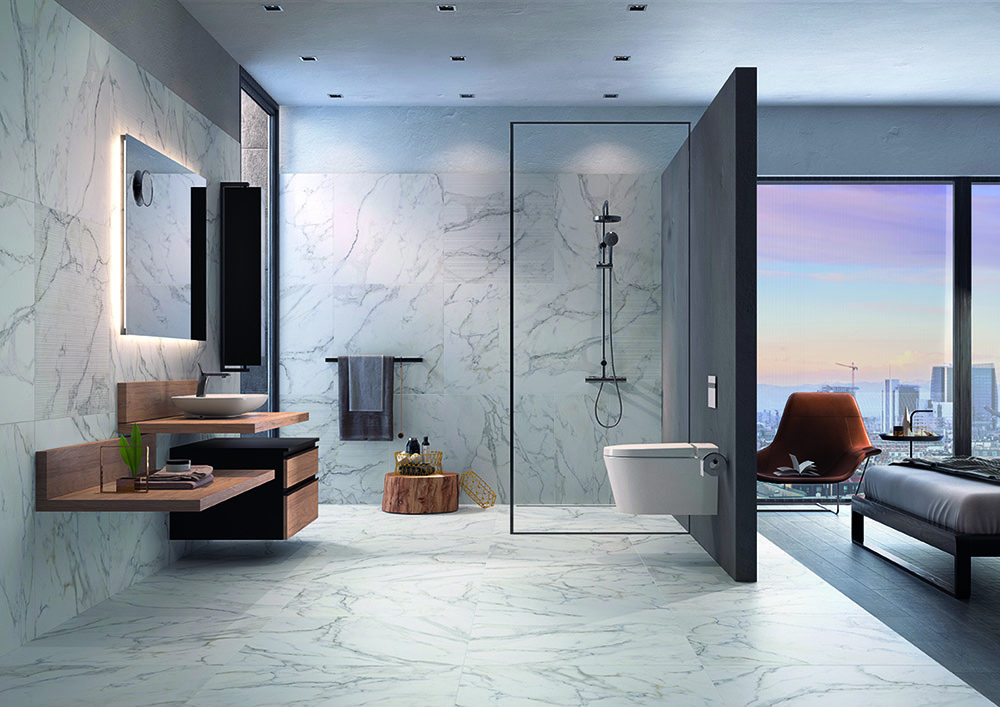 Rimless toilets are designed to be easier to clean (the flushing mechanism doesn't rely on a rim inside the pan), while accessible toilets are adapted to wheelchair users.
Toilets will range in cost from €/£100 to over €/£500 although it's possible to install one costing €850/£800 with LED lighting. Most expensive, costing from €/£400 upwards of €/£1,500, are bidet toilets which include spray arms for intimate cleaning along with dryer functions. Smart toilet versions include self-opening and closing seats, and extras such as toilet seat warmers, all controllable from the seat (or yes, from your phone).
Bidets, meanwhile, are not as common and will cost the same again plus the tap and waste.
Toilets are usually made from ceramic or porcelain, both durable and hygienic (although they are heavy in weight and are energy-intensive in production) and are often recycled into low grade products such as road base.
You can find salvaged bathroom fittings but they must be chosen carefully, not only for hygiene reasons and water inefficiency, but also because of potential hidden damage and finding of replacement parts, all of which will cost you money. The cost of having these fitted may also be higher due to the non-standard size of the fittings.
Toilet seats are normally made from vinyl and plastic materials, which are lightweight and hygienic. However they are not easy to recycle and rely on chemical processing during manufacture so consider renewable choices such as certified timber, bamboo, or rubber wood. But be aware that over time the finish becomes worn causing cracks, making them more difficult to clean, and less hygienic.
Accessories
Other items commonly found as part of the bathroom costs are the mirrors (from plain at €/£50 to digital, LED and Bluetooth at up to €/£1,500), storage units and wall recesses (in bath and shower areas for holding shampoo bottles etc).
When looking for bathroom cupboards, vanity units, bath panels and shelving, eco friendly choices include certified sustainable timber, bamboo, rubber wood, and formaldehyde free MDF. Bamboo for instance holds excellent moisture and humidity qualities.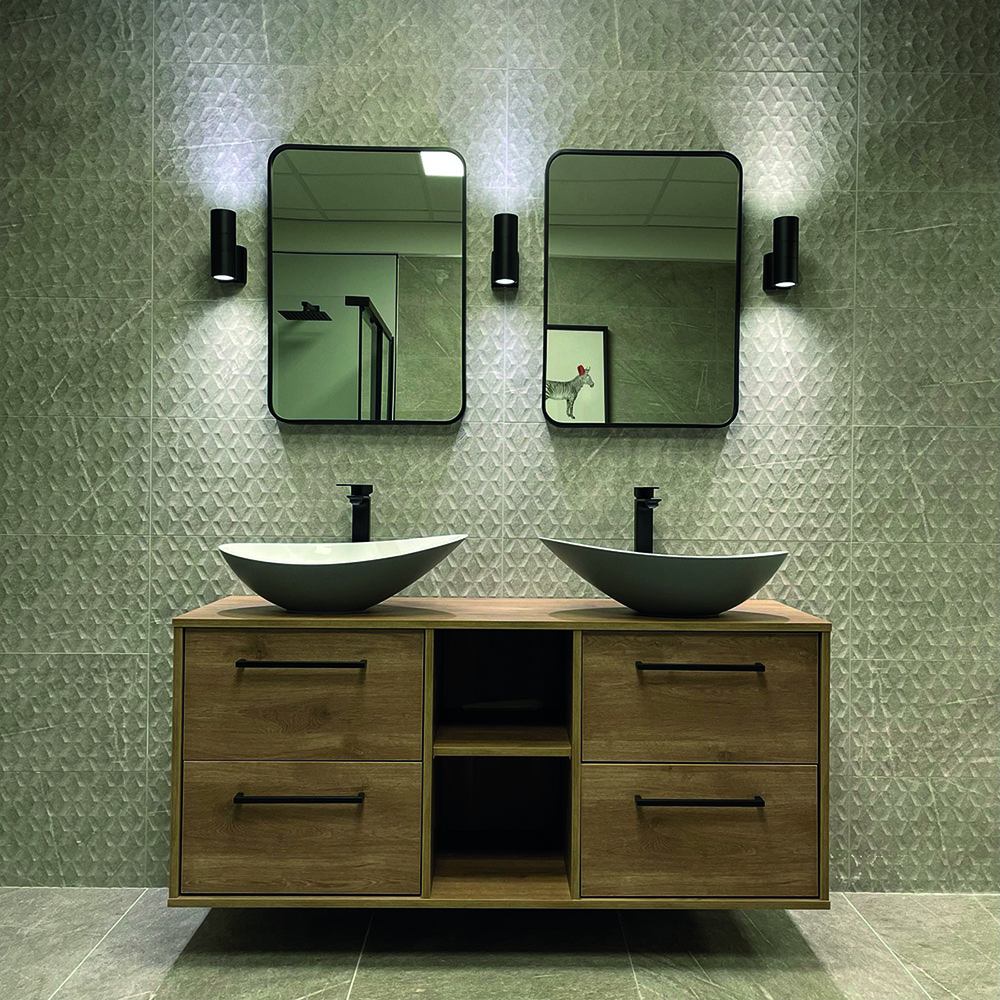 Check the finishes and sealants are suitable for bathrooms/wet environments and are eco friendly, e.g. water based, finished with natural ingredients such as plant oil, and/or do not contain chemical additives.
Eco choices for bathmats include cork, certified organic cotton and certified sustainable.
For wash cloths, back scrubs and scrub gloves, hemp is an ideal fibre which is natural and renewable. In general, look for products that have been dyed with vegetable/plant colourings, are unbleached and without chemical additives.
Water saving
The wc flushes down about a third of the water you use in the home. A dual flush mechanism will cut down the overall amount, while some manufacturers offer click cartridges on their taps that use only 50 per cent of the flow unless you push the lever past the click position for maximum water flow.
In general, showers use less water than a bath (about one third), but this generalisation is relative. If you stand under one for 20 minutes, or enjoy a power shower then they will use more. To reduce water consumption, fit an aerated shower head and avoid multiple nozzle showers as well as spa showers.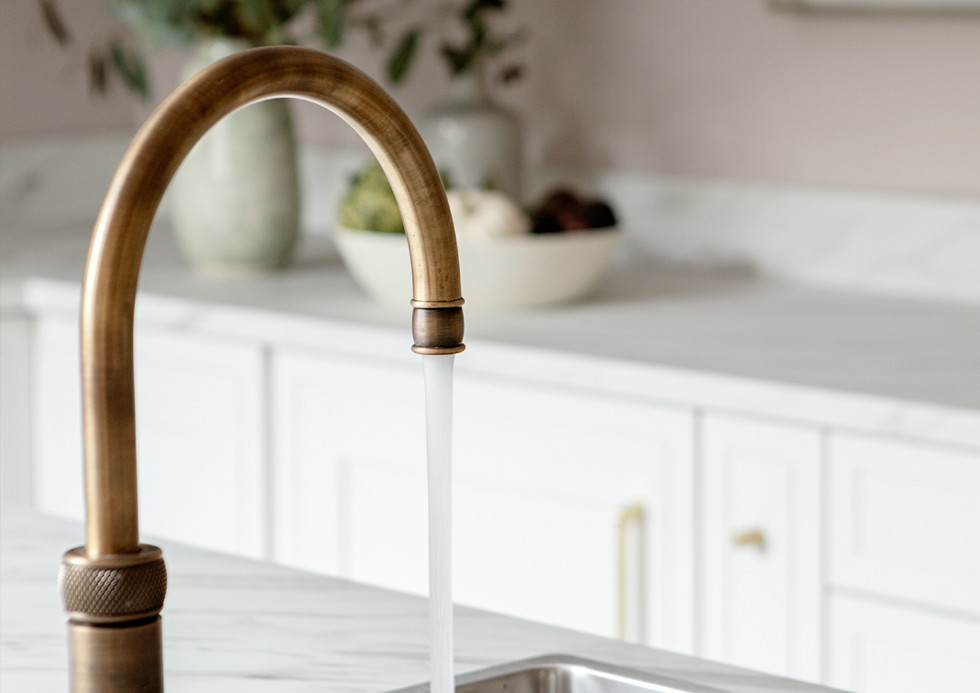 Aerated showers are typically used in conjunction with gravity-fed systems, pumped systems or mains pressure systems between 0.5bar and 5bar. The minimum water pressure requirement is 20psi, maximum 80psi.
Meanwhile, standard or reduced bath sizes (shallower 430mm deep baths compared to a conventional 500mm depth model) are not only cheaper, they also encourage less water consumption. Cast iron bathtubs tend to hold more water; also 30 per cent of the heat from the hot water will be used to keep the iron warm.
A single tap has a flow rate of eight to 10 litres of water per minute so don't let the water run when brushing teeth, shaving, washing up, or cleaning. Replace washers and any faulty fittings as soon as a drip or leak happens.
Leaks can waste as much as 75 litres per day. In wcs you can check for them by adding food colouring into the cistern (wait for 30 minutes or so and notice if there are any streaks of colour within the pan) or by wiping a paper towel around the inside of the wc pan (if this becomes wet between flushes, it might indicate you have a leaking cistern).
Harmful water
Mains water may be heavily chlorinated or you may be in a hard water area causing a build up of limescale. If you are drawing from a bore hole or spring it's essential to have the outflow analysed as it may contain a lot of iron causing brown staining on white china, the water may be acidic (a pH below 7), causing them to corrode and when combined with copper pipes produces a green staining.
Limescale is probably one of the worst offenders as the resulting build up can not only cause the shower holes to block, but cover the element also so that the heat can't escape and the element will fuse when it overheats.
Installing a water softener is the common solution for limescale, and more expensive treatment systems for the others.