How much will your windows and doors cost and how to budget for them.
In this article we cover:
What makes windows and doors so expensive
How much to budget for them in your build
Impact of choice of framing material
Impact of window size and design
How doors have evolved over the years
How much more does triple glazing cost
Cost surveys
Budgeting for windows and doors can be tricky. If your estimate is not based on an actual quotation, the budget is likely to come under strain.
Window costs have increased roughly 8 to 20 per cent depending on the type, as compared to our analysis three years ago.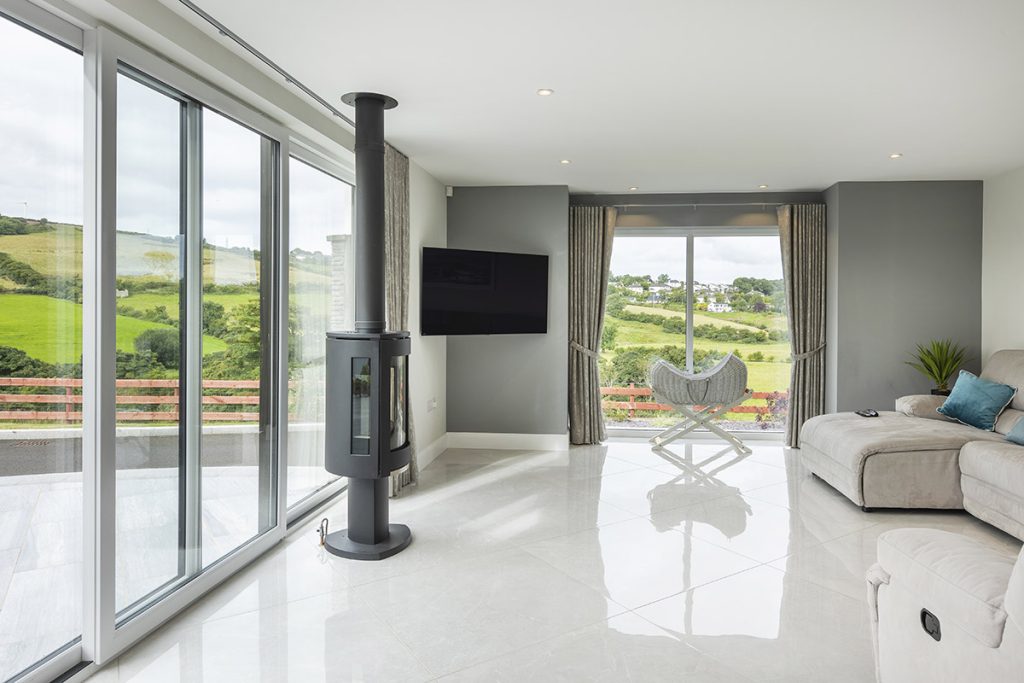 Choice of framing material
The specification of the actual frame makeup will impact on cost, from composite to timber to now frameless designs. Much of the cost impact will come from what basic material you choose for the frame. There are four main options:
Unplasticised polyvinyl chloride, more commonly known as uPVC, is a commonly used plastic widely available across the country. The material provides a high level of thermal comfort, is durable and long lasting. It is usually found to be more cost effective than alternative materials, although high end uPVC products do exist which are more durable and recyclable, and is generally found to cost in the region of €300-350 per sqm.
Timber window and door products vary greatly across timber types and styles. At the high end of the scale, sliding sash type windows can cost into the thousands per window depending on the size of the unit and hardwood type units can also extend to over €1,200 per sqm. More widely available are softwood, finger jointed type units in a standard casement opening which generally run at about €600- 750 per sqm. It should always be kept in mind that the cost of ongoing future maintenance on timber windows should also be factored into the overall selection and costing process.
Aluclad units are a mixture of an aluminium exterior with the warmth and natural look of a timber finish internally. Once only available in the higher end of the market, aluclad is now a widely available and competitive option. Costing in the region of €600 to €800 per sqm, they are generally maintenance free and offer the best of both worlds in term of a timber finish without the need for future maintenance. Units that have an aluminium exterior and a uPVC interior are less expensive than those with a timber interior.
Aluminium is a lightweight metal that is highly malleable and offers great strength to a window system. The material of choice for large scale window systems including shopfronts and curtain walling, aluminium offers the ability to achieve architecturally clean lines and large unobstructed glazed sections. Aluminium will generally run at a cost in excess of €850 per sqm and is less widely available.
The frame orientation must also be taken into account, i.e. inward opening or outward opening. Outward opening units are most common in Ireland, whereas inward opening is more common in Europe and, with tilt and turn, is seen as a good option for being able to naturally ventilate from the top (without opening the entire window) and for cleaning.
Also consider the selection of ironmongery, i.e. handles, childproof mechanisms, etc. Taken together these elements may all impact on the end cost of the units – unless you go for the standard option offered by the manufacturer.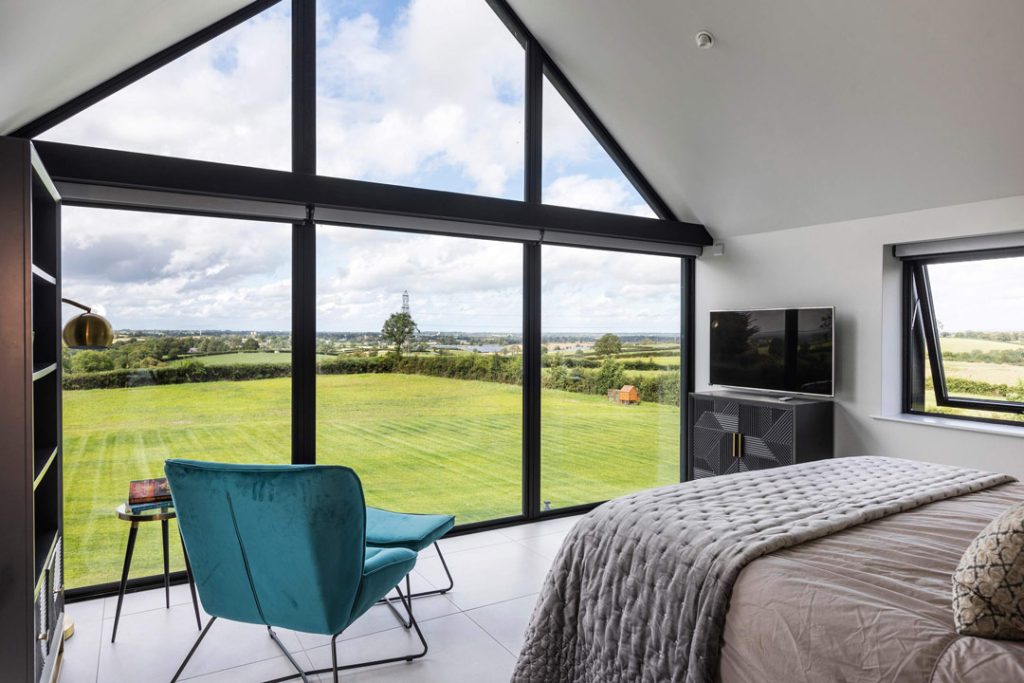 Size and design
Material selection can on occasion be purely dependant on the design size. Traditionally all windows and doors came at a standard maximum height of 2250mm which meant a number of rows of blockwork remaining between the top of the unit and the underside of a ceiling in a standard 2400mm floor to ceiling property.
In recent years, partly driven by the upsurge in the use of architects on domestic properties, the height of these glazed units is very regularly the full floor-to-ceiling height of 2400mm or even 2700mm+. Many manufacturers are not in a position to produce units of this height due to their manufacturing processes or due to the weight of the glass. It is therefore not unusual to see units combined to achieve the same effect, with for example a window panel installed directly above a door.
But as this can result in visibly thick frame makeups, many architects and designers choose aluminium type solutions which can achieve single unobstructed glazed panels as they are best able to withstand the weight of large glass panels.
In addition to height, the width of the units can similarly provide difficulty to many materials like uPVC and timber. Sliding door systems and large glazed screen panels for example are limited in width with materials like uPVC and timber, whereas aluminium again provides greater options for wider spans.
Window design and operation has not changed much over the years. The style and manner in which windows operate is still very much in line with the traditional sash, sliding sash and casement designs with the only exception possibly of the notable addition of the tilt and turn option.
Doors by comparison have developed greatly. From the traditional single door system, to a door and screen, to a double door system (French doors), to a sliding door system, to bi folding and concertina arrangements, the selection here will greatly impact on the end cost, from less than a thousand for a single uPVC door to large five figure sums for bi fold, concertina and large aluminium sliding screens.
Therefore make sure you factor in these high costs at the early design stage: the budget must match your design intent.
We have outlined the dangers of budgeting for your domestic build with reference to average costs per sqm or sqft, and this is especially the case for windows and doors considering the number of units required for a new home and the vast range of specifications available.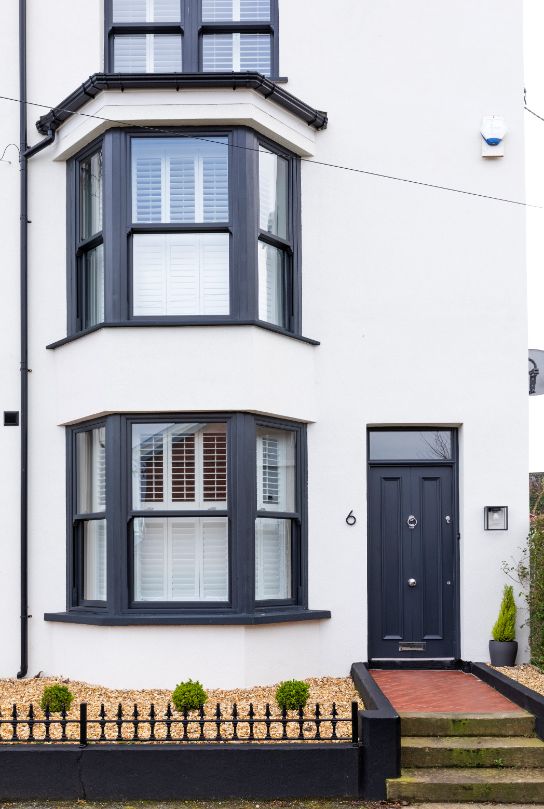 How much more does triple glazing cost?
Double glazed glass units are still the most commonly specified at present but triple glazing is catching up quickly. The cost difference between the two varies greatly across manufacturers; at most triple glazing could add up to 30 per cent of the glazing costs. It is also currently common to have triple glazed units specified on certain elevations (most notably north facing) and double glazing on others south facing although the lower spec will reduce your protection from overheating).
External links for windows and door costs (2023)
According to tradesmen.ie's 2022/2023 window cost survey, two external uPVC doors, front and back, and even average size uPVC double glazed windows were costing around €7,500 to €8,000 although some came in at €12,000 including VAT.
A tradesman gave a breakdown of €800 for a standard uPVC back door, and €1k to €1.2k for a standard front door, with uPVC windows costing from €350 to €2,450 each.
According to window24.ie uPVC double glazed windows costs are around €6k for 15 windows in a detached house, averaging at €600 per 1200x1800mm casement window.