The kitchen is nowadays at the centre of family life but for the self-builder it's also at the heart of the budget. Here are the basics to design it successfully.
It is a truth universally acknowledged – among kitchen designers, anyway – that kitchen planning for new builds should take place before anything is built, as soon as your house plans are ready. In the case of a refurbishment you may have to move a window or door to accommodate the design you want.
This early planning is necessary to determine the room size and shape but also to know where to run services in the floor, for this you will need at least approximate locations for your sink, oven and hob but also your fridge if you choose to have it plumbed for water or ice cubes and your island if you need power points – sockets can be useful here for things like phone charging or vacuuming.
Choose Appliances Early
Thinking about your choice of electrical appliances will avoid panicked decisions in a busy showroom, blurting out that you want a range when what you really needed was a hob. The reason you should consider the electrical appliances is that they will make a major impact, not only on your budget, but on the dimensions and overall feel. For example, an American-style fridge freezer takes up a significant amount of space, and a wider than average range-style cooker will require an appropriately large extraction overhead.
Doing your research on your chosen electrical appliances now will allow you to shop around for bargains and have the measurements ready for the kitchen manufacturer and delivery organised for the fitters well in advance.
Triangulate
For years the idea of the 'working triangle' was the holy grail of kitchen design: the kitchen, cooker and fridge in perfect isometric harmony. In reality, not all rooms are shaped to accommodate the working triangle. You just need the three to be close to each other, especially in larger kitchens. Keeping food prep (around the sink and hob) and dishwashing areas (around the sink and dishwasher) separate is crucial, however.
If you do a lot of cooking, it may even be worth considering an additional food prep sink – a small inset bowl close to the cooking area. An additional sink in a utility room is also a must, for messier jobs such as handwashing clothes and watering plants. What I find works really well is to have a single crockery storage unit right beside your dishwasher (to one side of the sink and away from the cooking area). That way you can stand at one point and empty the dishwasher while another person uses the kitchen to cook or clean.
Spend time choosing the sink
Approximately 75 per cent of our time in the kitchen is spent around the sink: washing vegetables, filling pots, straining pasta, washing up, filling the kettle. Think about style, size and type of sink that fit your requirements and budget. Do you need a single bowl, bowl and a half, double bowl? How many draining boards?
Would you prefer a traditional Belfast style or undermounted sink if you are going for a granite worktop? What about taps – would you like a water filter tap, hot water tap or even rinsing hose? Stainless steel, composite or ceramic? What about a soap dispenser?
The Island
Islands are very fashionable right now and on the checklist of many people's dream kitchen. However, there is nothing worse than seeing a narrow, ill proportioned island shoehorned into the middle of a kitchen, with the bare minimum of space to walk around it. You need at least one meter to get around comfortably, and only after other kitchen units on walls are factored in. Island sizes increase exponentially when functions like using it as a workspace or seating area are added.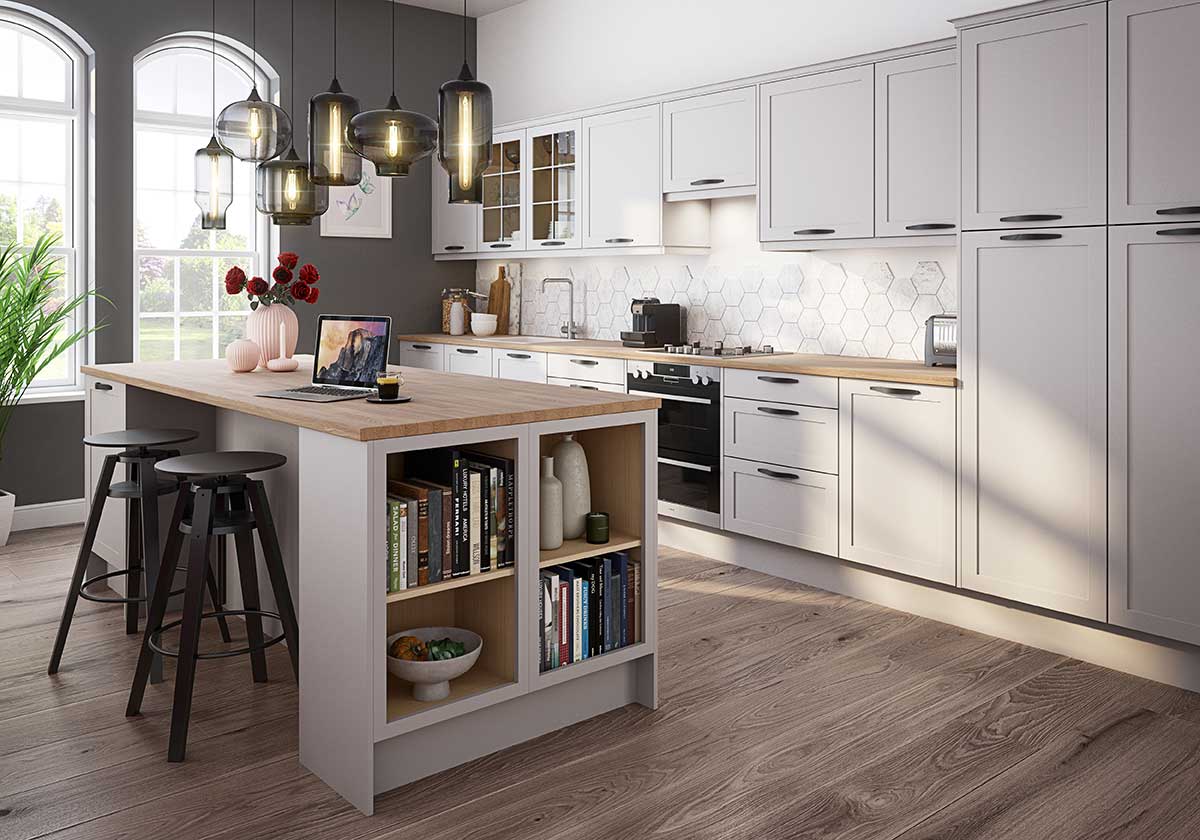 My advice is don't insist upon an island if it doesn't suit the room. If size allows, a peninsular breakfast bar is sometimes a great alternative solution, as it continues the flow of worktop space and can provide a useful partition to traffic for the central kitchen space.
Workman's worktops
The key is to keep worktops plentiful and not allow gadgets and everyday appliances encroach upon this precious work space. It is worth considering building some of these in, especially microwave ovens and coffeemakers. A useful solution to electric kettles, toasters and food processors is to house them into a countertop 'tambour' unit (along with some of the foodstuffs that go with them) so that you can quickly and conveniently close them off when not in use.
Storage
Don't forget to look beyond everyday items and think of where you are going to house glassware, saucepans, large bowls and platters, herbs and spices. Would you prefer to shut these away or do you have a beloved collection that might merit glass display doors – with lighting?
Consider having a large food cupboard and a large crockery cupboard to start off with, then think about convenient storage solutions, such as pull out racks and shelves. In kitchens where corner units are required there are no perfect solutions: if left as shelving these can be tricky to get into and may result in lots of items stored at the back which may never see the light of day. On the other hand, pull out shelves and carousels might be cumbersome and expensive. A diagonal corner unit (shelving with triangle at the back blocked off) might be the best compromise in such circumstances.
Kitchen Units
The choice is between standalone, bespoke or flatpack. Standalone consists of units or pieces that can be bought separately and require no fitting, mostly used with free-standing electrical appliances. If you're creative, have a clear vision, and are able to source items individually, then this option might present cost savings; however if you are looking for a kitchen manufacturer to provide this solution they might not be able to offer a lot of choice.
Next up on the cost scale are flatpack kitchens, mass manufactured according to standard measurements, and these may be delivered to the fitter ready for assembly. These come with items like 'filler panels' for example, which can make up for any measurement shortages. Bespoke manufacturers pride themselves on providing made-to-measure kitchen solutions, which come in at the higher-end of the price spectrum and are delivered to site fully assembled. Bespoke kitchens offer greater design choice as they are tailor made.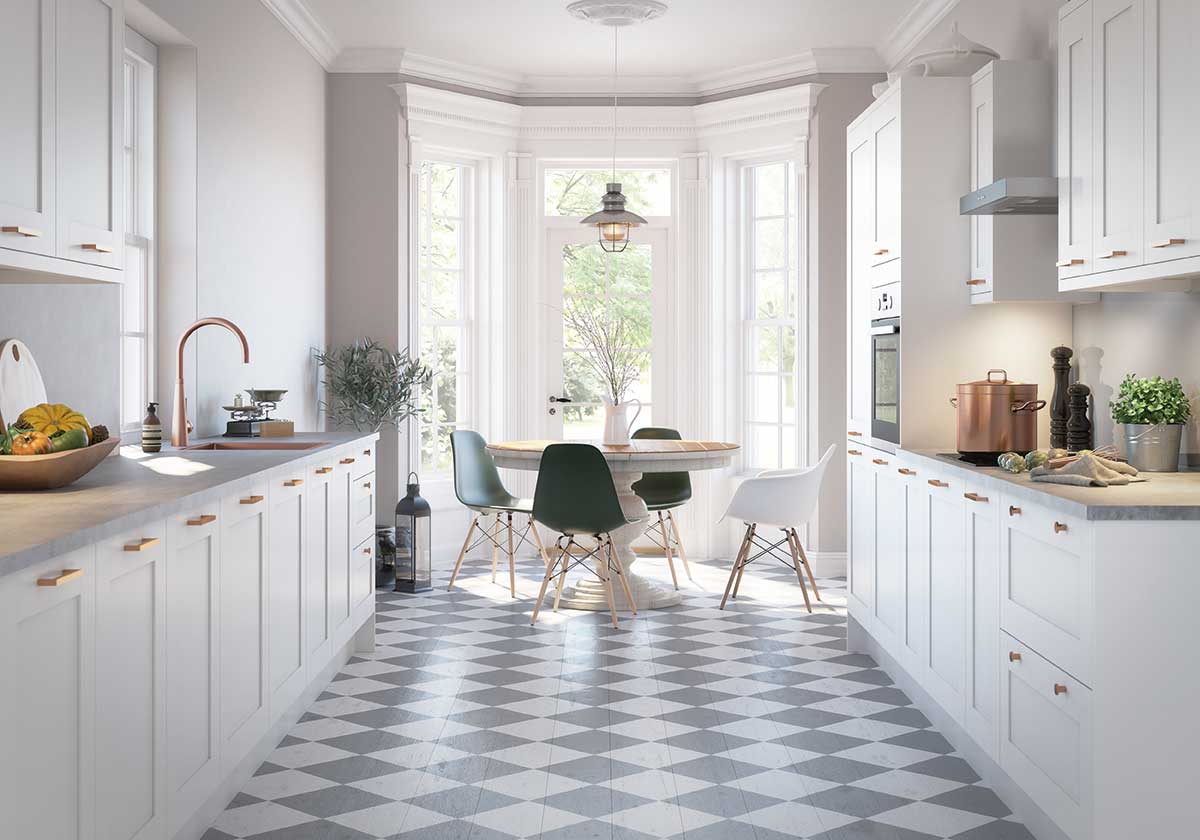 The interior of the kitchen unit (known as the carcase) is usually made from a basic functional and hardwearing material, such as chipboard or MDF, and most carcases are similar. However, it is always worth checking out each individual manufacturer's cabinet features: some may offer higher quality hinges and drawer sides or even solid wood carcases.
No matter what type of fitted kitchen you choose, an experienced kitchen fitter is key to the whole process: a top quality kitchen is no use if it is fitted incorrectly. In all cases you will require an experienced plumber and registered electrician to install pipework, wiring and fittings. If you plan to use gas you will also have to avail of the services of a registered gas installer.
Costs
A kitchen manufacturer will struggle to give you a quote without room measurements and your electrical appliance list. Typically, a basic kitchen might come in at €3,000/£2,800 but when
the cost of fitting and electrical appliances is added it could increase to €8,000/£7,500 to €10,000/£9,500 and well beyond depending on your choice of materials, for example solid timber doors or granite worktops will inflate the figure.
Get Professional Input
Talking to the pros is a good idea, they'll be able to apply their experience to your particular circumstances. Bring your house plans or room measurements along with your list of preferences including storage needs, spatial preferences and whether you want the kitchen to be a social space. First consultations tend to be free when booked through a kitchen manufacturer.