Groundwork costs refer to the preparation of land for future work; here we look at landscaping and ancillary costs.
In this article we cover:
What are groundworks
What is landscaping
Cost elements for the outdoors
Cost of driveways and paved areas
Kerbing costs
Wastewater drainage costs
Rainwater drainage costs
Planting costs
Groundwork is the term given to the preparation of land for future work. This includes all of the site preparations, including those relating to digging for foundations. Your foundations could cost a lot more than anticipated or you may require an elaborate drainage scheme; this will all depend on what lies beneath, which you won't know until you start digging.
Landscaping is the finishing, modifying, moulding or altering of the land. In self-building terms these items generally refer to the formation and building of driveways, paths, paved areas, kerbing, drainage, planter beds, planting, gardens and any other garden features like ponds, ornaments, rockeries and the like.
Changes in anticipated ground conditions, existing wall makeups, existing foundations and the like can often erode contingencies. This will bring the budget under pressure from the outset.
There are many more cost elements to the garden than the ones listed below, including the need for retaining walls for a sloped site. What is important is to identify the present and future needs of your specific project, and have a plan and the funds in place to complete them.
Driveways and paved areas
It is very common nowadays for a driveway to be finished in a coloured pebble which may be compacted into a fill substrate or even installed in a plastic stabilising product, also known as a geo grid. The cost of these systems very much depends on the size and type of stone, but is by far the most economical choice at less than €40 or £35 per sqm.
Then for tarmac, depending on thickness and makeup you're looking at around €60-90 or £70 per sqm. Paving will generally start at around €50 or £45 per sqm and work up from there depending again on the type of material as well as its size and thickness. Imprinted concrete is another popular option but it can only be used in areas where permeability is not mandated.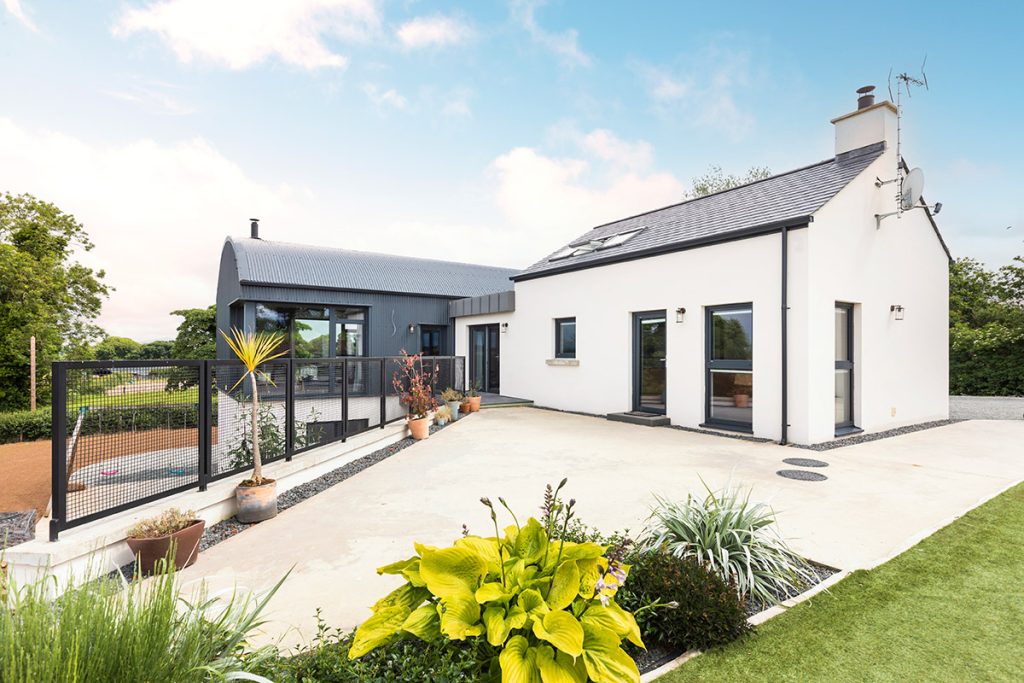 For paved areas there is a wide range of materials available from coloured stone (<€40/£35 per sqm) to cobble lock (€50- 85/£45-£70 per sqm) to granite paving (>€120/£100 per sqm) to simpler tarmac (<€40/£35 per sqm) or concrete (<€30/£25 per sqm).
It is not unusual to have a mixture of materials with more economical ones used in footpaths and the more expensive options in the main patio or terrace areas.
Kerbing
Any location where paving or a driveway meets a grassed area, or where a grassed area meets a plant bed or similar, some method of division is required. Often a forgotten item, it can be surprising how quickly the cost of something as simple as kerbing can be when hundreds of meters of driveway are
accounted for.
It may be possible to have a simple grass edge between a plant bed and a grass area, but many gardens will commonly have a kerb stone in this location or indeed, a metal or treated timber edging, costing from a few euro per linear meter to granite kerbstone costing as much as €50-60/£50 per linear meter with the other options falling in between.
In a coloured stone driveway, it will be impossible to keep the stones in the driveway with cars traversing the surface without the assistance of a permanent edging. The same goes for paved areas and footpaths.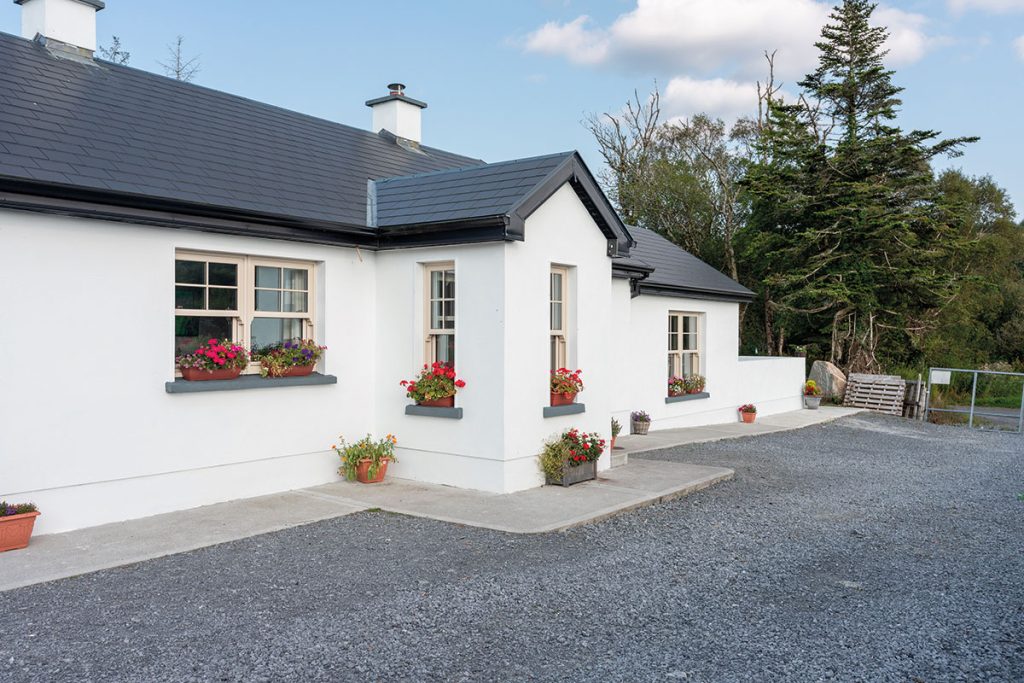 Wastewater drainage
The drainage system for most houses, particularly self-builds, can be extensive and involve many metres of pipework. The location of the property and available connections will dictate a lot of the available options.
If your property can connect into a public or local town wastewater system then the connection point will dictate the level and layout of the pipework from the house.
When you take that installing a pipe, including digging, laying, backfilling in stone and sometimes concrete, will cost in the region of €50/£45 per linear meter of pipe, the cost can quickly add up. The cost of manholes, Armstrong Junctions, gullies and so forth must also be accounted for.
If a connection to a public system is not available, then a site specific treatment system will need to be designed, specified and installed. There are many regulations in respect to these systems including distance away from the house, distance from neighbouring houses and boundaries, distance away from water courses and the likes, that will all need to be taken into account.
The cost of an onsite wastewater treatment system can vary greatly depending on manufacturer and design, from €5k/£4k to well over €25k/£20k. If a percolation area is required, it will add to the cost.
In areas where there is paving, it is recommended that recessed covers are used on any of these items so the paving is not disrupted with an ugly manhole or AJ cover lid in an otherwise perfect finish.
Rainwater drainage
Pipework will be similar in cost to the wastewater pipe (often referred to as the foul pipe), but in addition there are requirements for gullies at each downpipe location from the roof, gullies from patios, driveways and the like, as well as channel drainage connections and similar installations.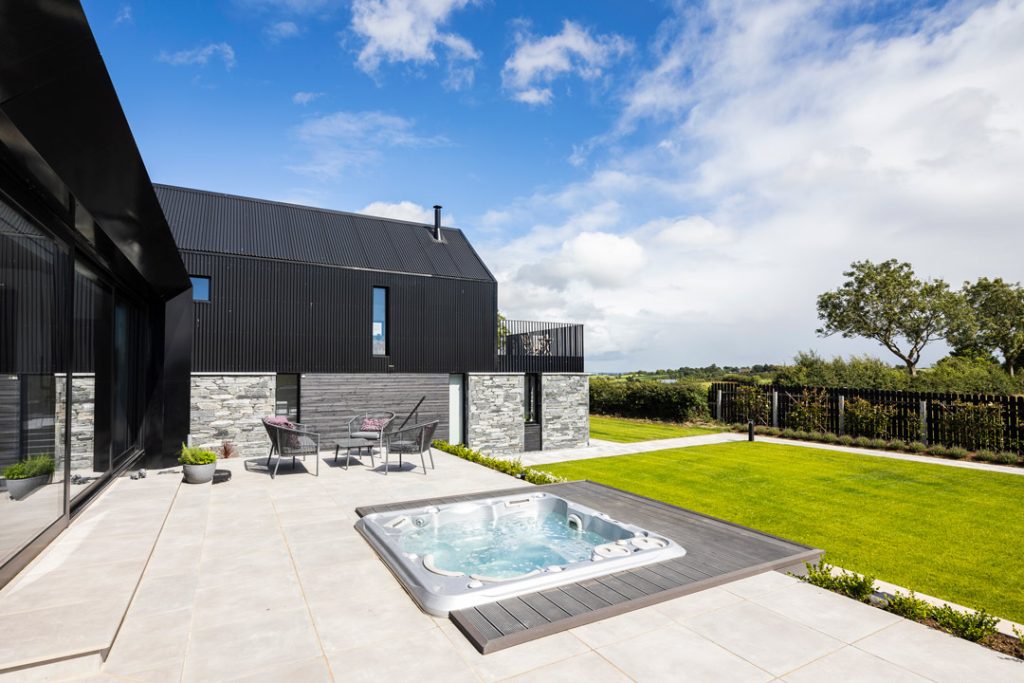 This water is then discharged to the public mains, with a licence to a watercourse, or to a soakaway located somewhere on the site. A soakaway is a gravel or plastic crate construction, located underground which allows for the water to seep back into the ground at a controlled rate, thereby preventing the need for clean natural water to be transferred by pipes to treatment systems to be cleaned and redistributed when it was not contaminated to start with.
A soakaway is designed and sized depending on the amount of roof space of the dwelling but it is likely to cost €1,500/£1,200 to €2,000/£1,800 at a minimum to build. In addition, there is the cost of manholes, Armstrong Junctions, gullies, etc.
Planting
Planting is another area where costs can quickly mount. In some instances, it may even come as a requirement within your grant of planning permission, which means it will have to be done at a time when you will also be faced with house building costs.
This can take the form of replanting a boundary hedge in a native species or replanting a certain amount of tress in a particular season or to simply provide for a certain area of flowers beds around the property.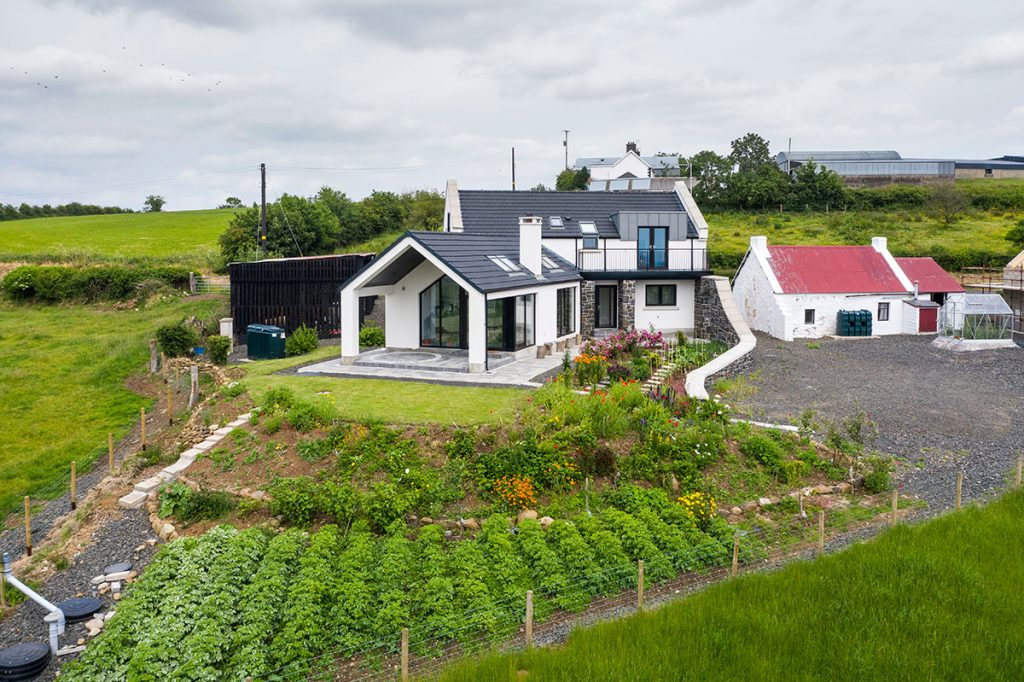 It is not unusual for fully landscaped design to run into the tens of thousands just for the plants, as individual mature trees will individually cost hundreds of euros/pounds.
In recent years the popularity of artificial surfaces has grown steadily and often areas of a garden will be set aside for fake grass for play areas. This installation requires a stone substrate that is perfectly flat and drained onto which the grass, which is similar to a carpet, is laid.
Costs depend on the height of the grass (the pile) and quality of the product, but you can expect to pay between €30/£25 to €60/£55 per sqm for an installed product.