Bask in the nocturnal majesty of a moonlit garden.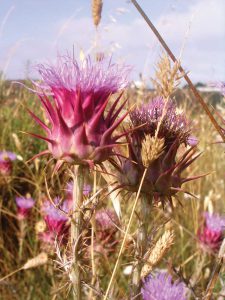 Gardeners like their grounds to be multi-seasonal. With spring comes colour, with summer much-loved exuberance. Autumnal leaf colour changes never fail to disappoint while winter brings with it a degree of structure that can only be admired. We gardeners plan for all of that. We understand that a garden lives through the year, every day of the year.
And yet the irony is that we enjoy the garden for only half of the day! Barring the odd late summer party that drifts on, or a midnight stroll in a contemplative mood, most gardeners couldn't tell you what their garden looks like at night or how well it performs under cover of the stars. One way of addressing that is to think of creating a moonlit garden or at least tweaking it so it does as well under the glimmer of the moon as it does under the glare of the sun.
It could be a silver border along the garden path, it may just be white floral abundance in containers on the patio. You could even can go howling and carve a crescent lawn or create an orb of white pebble.
However big or small the change, the challenge of crafting a moonlit garden is so easily met you'll soon wonder why you've been wasting time sleeping all these years! Even if you're not a night owl you'll no doubt enjoy the wow factor these small changes will bring, for your next dinner party or late night romantic rendezvous.
Of gravity and potions
Of course there are also some esoteric matters, (the idea that moonlight is a potent energy source – a psychic activator if you will), that might drive you to invest in silver leaves and white flowers.
Now I don't mean that you will suddenly be reading palms and hearing voices but many writers and artists over the years have reported heightened focus and creative activity at full moons and via working nocturnally – of course the word lunacy is connected to the moon so maybe the voices are on the cards after all! In all seriousness there is something captivating about moonlight so why not experience that every now and again?
The moon's gravitational pull (how it influences the tide and bodies of water) was one reason why in ancient lore, magic herbs (meaning herbs for divination or spells) and healing herbs were often gathered at night and especially on full moons as the energies of the plants were thought to have been pulled into a greater intensity.
The practice of gardening by the moon is a cultivar of that concept. The modern embracement of that in some quarters (forgive the pun) comes from the roots of biodynamic gardening and the works of the Austrian social philosopher Rudolf Steiner (1861–1925). Steiner had some marvelous ideas and some unusual theories that he wove into his philosophy of gardening – mixing science, ancient crafts and a bit of channeling (there is that psychic thing again).
He believed that different crops should be planted during different phases of the moon and according to their zodiac or astrological profile – quite a complex system.
And while modern moonlight gardeners will adhere to planting aerial crops by the waxing moon and root crops by the waning, mostly the idea that is embraced universally is that of gravitational pull – that seeds will absorb more water around a filling or full moon and so germinate quicker.
It makes intuitive sense but the jury is still out on whether it's a scientific fact. I'll put my cards (tarot or playing) on the table: I do sometimes sow and plant by the moon phases and I have found germination success rates improved and sometimes yields too.
In three easy steps…
But back to the aesthetics of a moonlit garden which is all about cultivating an array of plants that catch and reflect moon light or which entice into your space an air of magic and nocturnal majesty. We mentioned a reflective gravel orb but a bright gravel path will catch light too and a pool will shimmer and catch glimpses of the moon as well. If you're not quite ready to hire the mini-digger just yet, there are three simple planting choices that will transform your garden so that every night offers a marvellous opportunity to moon dance.
1 . Reflective plants (silvers & whites)
For foliage you can't beat the heart shaped, silvery leaved Brunnera macrophylla, try a cultivar like 'Looking Glass' or 'Jack Frost'. Their pale blue forget-me-not-like flowers are exquisite by day and night. A great ground cover for shade and moist fertile soil.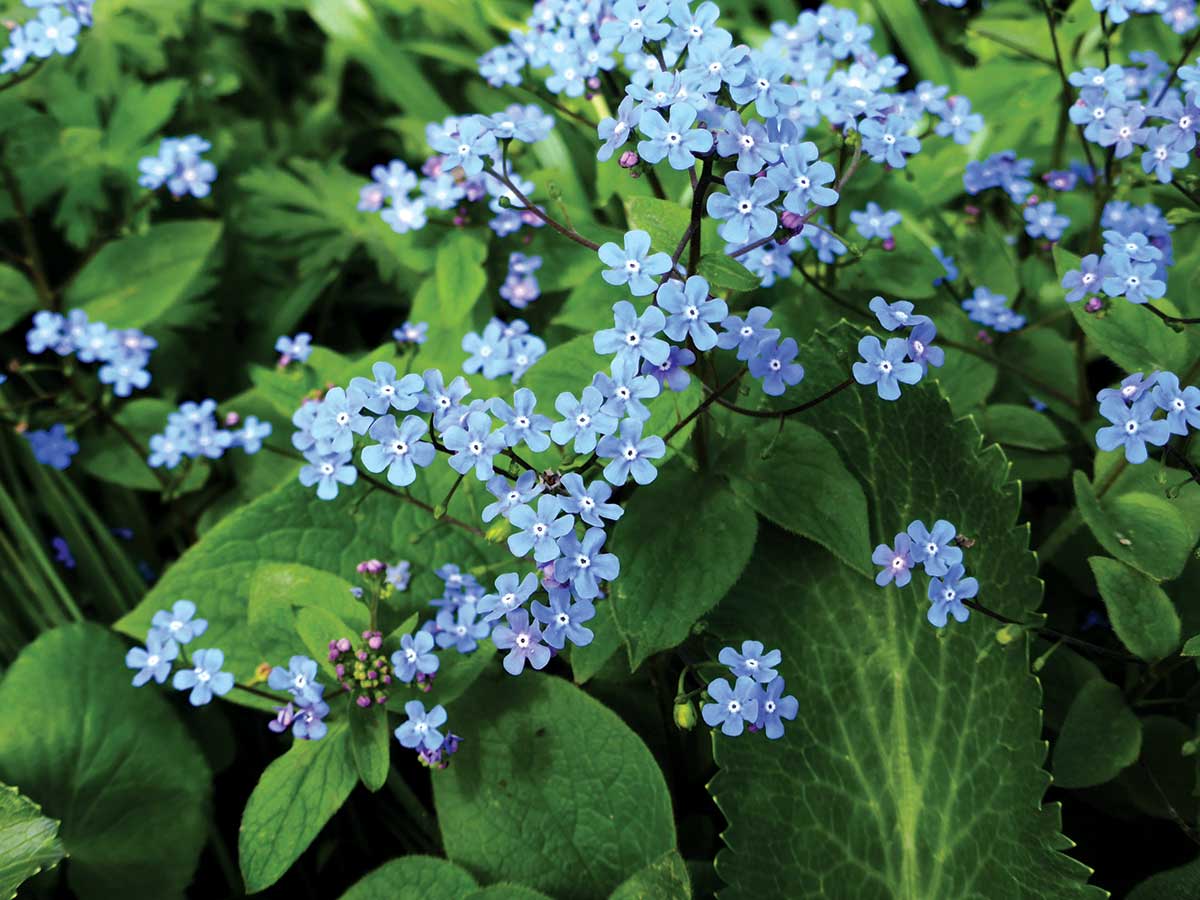 For full sun and well drained to near drought stricken soil, Stachys byzantina (lamb's ears) is your only man and it positively shimmers at night. Great with silvery lavenders for aroma and luminosity. Varieties such as 'Silver Carpet' 'Helen von Stein' or 'Fuzzy Wuzzy' are great. I must note that some years stachys may not bear a lot of flowers but the foliage more than makes up for this shortfall.
Lamium maculatum (dead nettle) has no sting but sings under moonlight. A ground cover that's a bit rampant but easily clipped to shape or let it run like a river of light at night. If you want to go large Cardoon (Cynara cardunculus), an edible member of the sunflower family, has silver foliage that adds great structure to the moonlit garden.
We are talking leaves up to 1m in length and a stalk and flowering head reaching around 2.5m. I love it in flower but you can cut down flower stems as they emerge in summer to maintain it as a foliage plant. Astelia 'silver spear' is also fantastic foliage, spiky like an assemblage of shards and dramatic at night, it can tolerate shade and sun and even container gardening.
Athyrium niponicum pictum (the Japanese Painted Fern) is a must if you can provide shade. Silver and purples make it as attractive by day but on a full moon you might just howl. Equally as dramatic is Lychnis coronaria (Rose campion) with its bright magenta-pink flowers, stunning silver stems and leaves that are felty in texture.
A hardy perennial that flowers profusely unless the winter's been bad or the summer very wet. Think of the drama too in Eryngium (sea hollies) and the silvery blue shimmer of Festuca glauca. Both great coastal plants. There are silvers and greys and whites for every aspect. You may even be spoiled for choice at the right garden centre.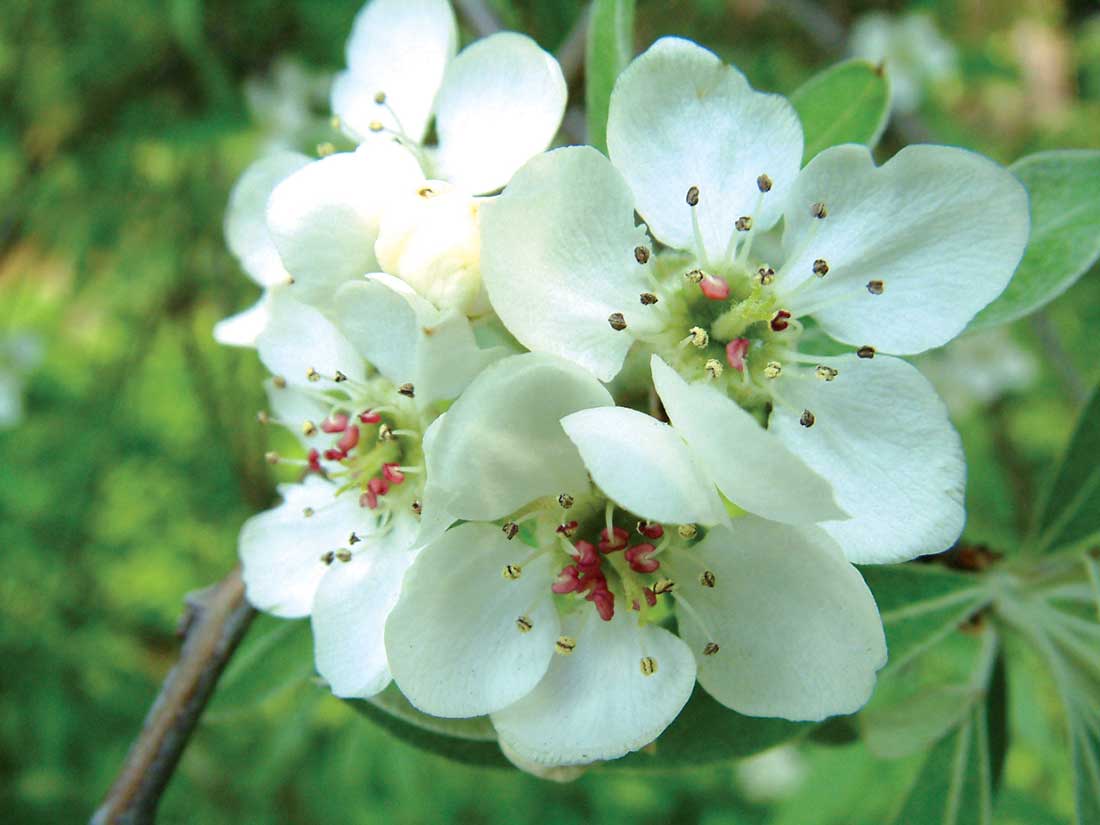 Hosta (white variegation or not) bring a broad leaf reflective surface into play in shade and dapple. In sun and drier conditions, Artemesias and Russian Sage (Perovskia spp) bring not just silver but structural height while silver Helichrysums (Helichrysum italicum or H. petiolare), Cerastium tomentosum, Centaurea spp, Senecio cineraria and Pulmonaria varieties will extend your options.
Think of a silver leaved tree – perhaps Pyrus salicifolia – 'Pendula' (Ornamental Pear) or a Silver Birch (Betula pendula), or the evergreen option of a conifer such as a silver spruce (Picea spp.) or Silver Fir (Abies alba).
Consider a hedge of Pittosporum tenuifolium which also ticks a fragrant box. There are plenty of White Showy Flowers in your local garden centre and seed catalogues. From shrubs such as Lilacs (Syringia vulgaris), Camellia, Hydrangeas (Hydrangea macrophylla) down to the tiny delights of Sweet Alyssum (Lobularia maritima) or Candytuft (Iberis sempervirens) for edging paths and defining areas.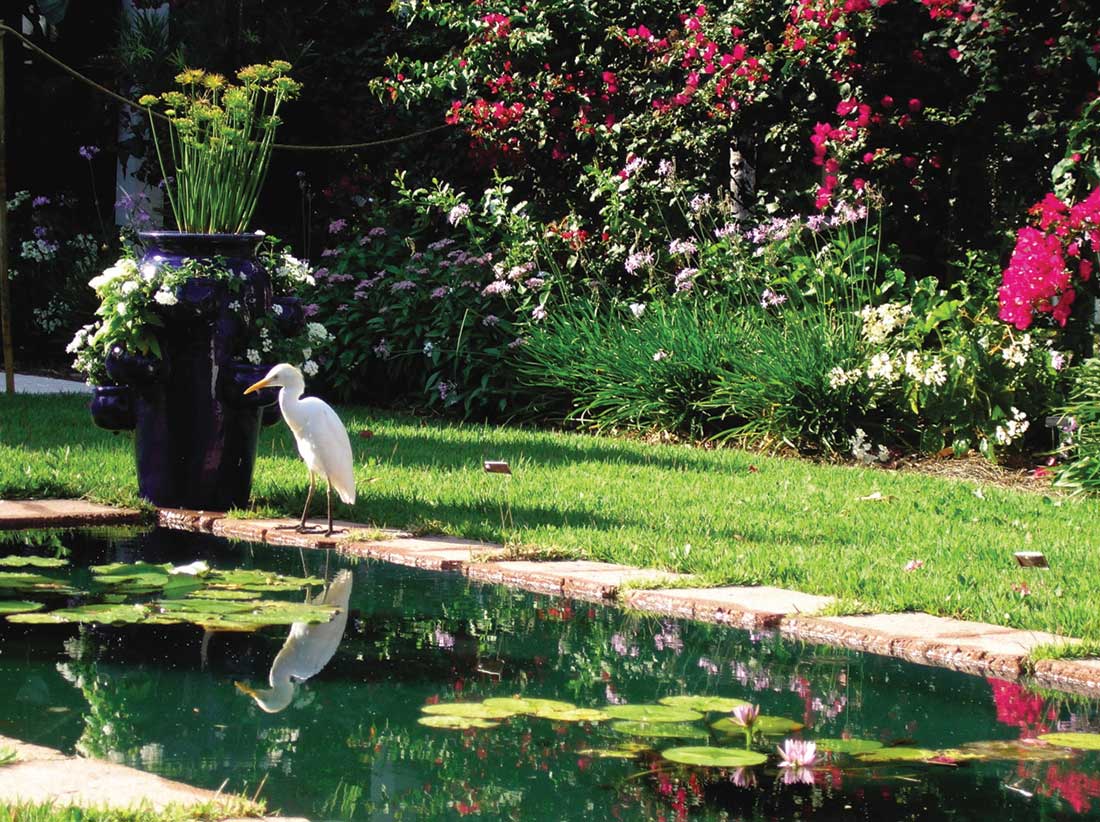 Sweet alyssum is drought tolerant but not quite frost hardy; it is an annual but self-sows so liberally that you will have it year after year. Candytuft is more of a subshrub mounding into an evergreen cushion that explodes white upon flowering – a true stalwart of any white or moon garden.
And for the herbaceous border there are delphiniums for the late season, Bleeding Hearts (Dicentra spectabilis 'Alba') a must for late spring whiteness and white Foxglove (Digitalis purpurea 'Alba') for the bridge. All can mix with hardy Calla lilies (Zantedeschia aethiopica) which are sheer elegance, regal lilies (Lilium regale) which bring heady perfume, Oriental Poppy (Papaver orientale – try 'Perry's White') for luxuriousness and Campanula persicifolia var. alba – the peach of all the peachleaved bellflowers.
Daytime wonders that also work at night include Leucanthemum × superbum ' 'Wirral Supreme', Echinacea purpurea 'White Swan', Penstemon 'White Bedder' the Matillija Poppy (Romneya coulteri) and the fantastic Anthriscus sylvestris 'Ravenswing', Gaura lindheimeri 'Whirling Butterflies' or the frothy and fabulous greater sea kale (Crambe cordifolia).
2. Evocative plants
Mullein (Verbascum thapsus) is not only silver in foliage, it is statuesque in stalk, tall by day but towering towards the sky at night. Mulleins have been used to make candles since ancient Roman times and are emblematic of light bearing.
White lupins really glow too at night. A white foxglove brings reflective flowers that catch the moon light but as a fairy plant and a dangerous one (toxic) it adds an air of magic craft. If a spellbound garden is your cup of tea then add some Angelica for healing and protection, rosemary and sage for smudging, yarrow (Achillea millefolium) for divination, mugwort (Artemisia vulgaris) to cleanse your crystals and amulets and of course for familiarity some white flowering, grey foliaged catnip (Nepeta cataria).
And do consider the nomenclature of your plant selection – Moonflower (Ipomoea alba) is a night-flowering cousin of the morning glory and equally as aromatic. Another plant symbolically lunar is Lunaria annua (honesty) with its translucent seedhead orbs. In general terms consider selecting round headed flowers that happen to flower white and in so doing represent the moon.
3. Night-time fragrance
When we think of evening and nighttime aroma, surely evening primrose (Oenothera spp.) and nightscented stock (Matthiola longipetala) are top of the list. But the list is long: Jasmine (Jasminum officinale) is heady and white-flowering, and positively glows under moonlight.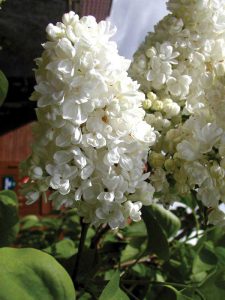 Buddleja davidii 'White Profusion' is perfumed and incandescent. Galium odoratum (sweet woodruff) lives up to its common name and does well in shade or sun. Phlox paniculata is pleasantly fragrant by day but that sweet scent intensifies at night. Nottingham Catchfly (Silene nutans) wafts a fragrance at night reminiscent of hyacinths.
Nicotianas emit a sweet almost jasmine-like fragrance all day that becomes stronger at night. Night Gladiolus (Gladiolus tristis) are intensely aromatic late night as are Fragrant Columbines (Aquilegia fragrans).
Plants like Eryngium giganteum 'Silver Ghost' have a scent but also silvery-grey bracts and a tree such as a white Lilac (Syringia vulgaris) will fill the air with strong aromas and shine with reflective white flowers beneath the moon. Lilly of the valley (Convallaria majalis) are also perfect additions.
So there you have it. A moonlit garden is not that hard to conjure up; a few choice plants and you are there. Structure, texture, perfume, multi-seasonality – it's the whole package. Plus the great thing about all these beguiling whites and silvery greys is that they look fantastic by day too.
It's not a compromise, what you are doing is adding more. A great garden by day and a wonderful experience by night.