A successful renovation and extension transformed this sloping house into one that makes the most of its Co Antrim views.
In this article we cover:
Working with an architectural practice for the redesign and extension
How the build was project managed and why
Deciding between knocking the house down and extending
Window choices
Replumbing choices
How the house was redesigned
Tender process and choosing a builder
Finding the right products and finishes
How much they could repurpose from the original house
Details of hidden costs, including electrics and plastering
Cutting costs during the build to keep it within budget
Landscaping on a sloping site
Floor plans and suppliers list
Maintenance requirements for stainless steel and outdoor glazing
Tips on room sizes and sanitaryware positioning
Garden design for a sloping site
House size before: 138 sqm
House size after: 222 sqm
Plot size: 3,575 sqm
Walls: mainly existing 100mm cavity walls which were continued; all pumped with EPS insulation beads to achieve a U-value of 0.28W/sqmK
Roof: 500mm fibreglass quilt insulation, overall U-Value 0.08 W/sqmK
Floor: 100mm PIR insulation to subfloors; U-value 0.21 W/sqmK
Windows: 70mm white uPVC with 28mm glass all with low-e k glass and gas filled to give A rating
It's one thing to holiday in a seaside home, and quite another to live in one. Linda and Steve Mitchell were lucky to find a home in their ideal location of Co Antrim but to make this house their dream home, they had to both extend and renovate.
Linda and Steve moved back to Northern Ireland from England to retire, and, naturally, they had to find a place to live. Where better than the countryside village they'd been holidaying in – and where Linda was originally from.
"Coming back home to Northern Ireland really appealed to us and the natural choice was to return home to the village where I grew up as a child," explains Linda. The house they found had been a holiday home. "The house was structurally sound but it was in need of modernisation," she says. "We had an apartment in the village, in which we stayed when on holidays, and we lived there for the better part of two years while the renovation was underway."
Full throttle
The project started in 2011. "We hired a very energetic young architectural practice to help us renovate the house," recalls Linda. "When they came on site they marvelled at the views and discussed how to make the most of them. Then it was a question of how many rooms we wanted, there was a dynamic feel and I liked what they were doing."
"We hadn't a clue about regulations, or what to look out for, so we asked them to fully project manage the build. They gave the okay on stage payments also, and their involvement took a lot of the worry out of the process for us," she continues.
Linda and Steve wanted to keep as much as they could in the house, but also make a lot of changes to take advantage of the seaside location. "We did consider knocking down and starting from scratch, especially as the job would then have been VAT exempt. But we felt it might be easier to gain planning permission to extend, and we did want to keep the house. It was structurally sound, it fitted into the slope on the site and had been well built. It just needed a bit of work."
"It's the best decision we made, we love the house," adds Steve. "We've added loads of light, it now has a very airy, spacious feeling to it." They secured planning permission in five months to make the house 50 per cent bigger and replace all of the windows, which were single glazed.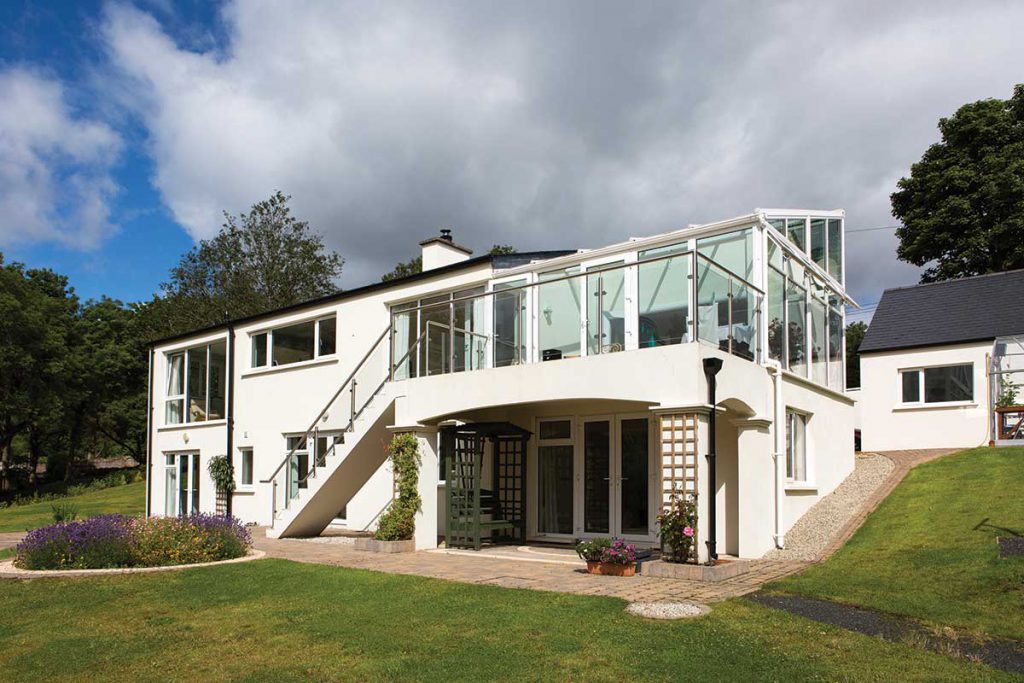 The south facing rooms were given floor to ceiling glazing and the bedrooms French doors. They also insulated the cavity walls and, as they replaced the roofs and re-roofed the existing one, they took the opportunity to add plenty of insulation to the loft too.
The kitchen was made bigger and an integrated garage was also added. "Getting out of your car with armfuls of groceries and not getting wet is lovely," says Linda. A separate, standalone garage was also built to the side of the house with a workshop attached.
The couple added a bedroom and bathroom downstairs, and integrated all of the living quarters upstairs. While the house had electricity, the installation was basic. "You'd be lucky to find two sockets in a room," she says. "We had to put in a new distribution board to accommodate us adding more fittings."
The boiler was old and had to be replaced, and central heating pipes chased into the walls to add radiators.
"There is no gas in the village so we went with oil," explains Linda. "We didn't even look at our other options; it was quite a stressful time and the last thing we wanted to do was have to think about which heating system to choose."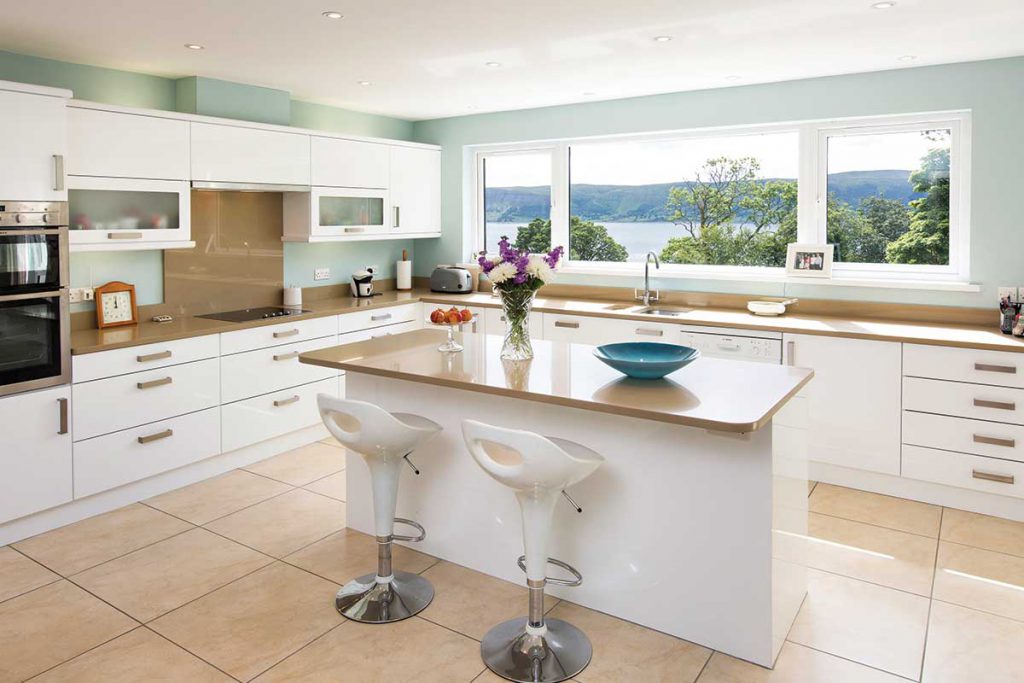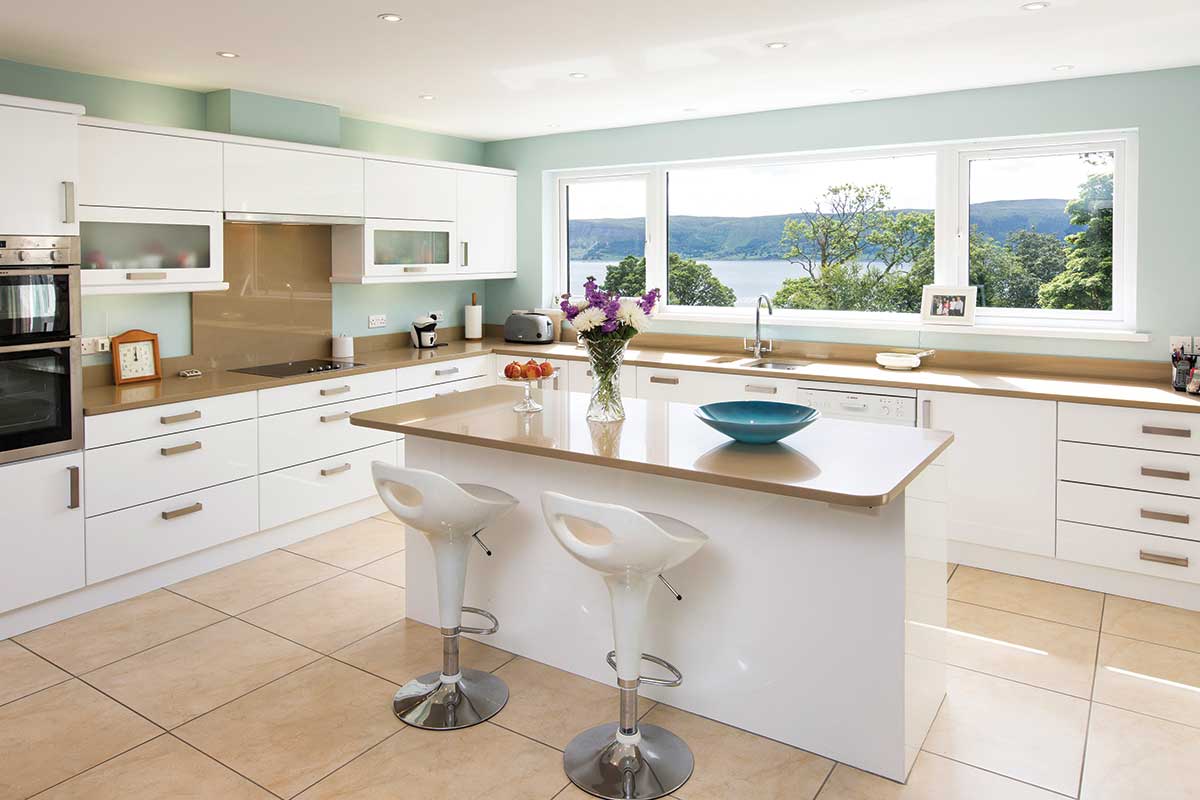 Finish line
They tendered out to four builders and the one they chose was especially good at helping them pick out finishes, as Linda and Steve didn't have the inclination to shop around. "Instead of asking us to go have a look at doors he brought samples over.
That really helped us decide, otherwise it would have been too mindboggling to have to choose from all that's available out there." For anything she had to source herself, such as the kitchen and bathrooms, Linda had her heart set on buying materials from the area, never travelling even as far as Belfast for any of the finishes or fittings. "Despite staying local it required a lot of travelling still to find the right products," she remembers.
"To be honest I found it stressful and expensive because I knew we couldn't afford to change any of it, so it did make it that bit harder for us to choose." For the kitchen they had a fairly good idea of what they wanted but were open to suggestions. "I hadn't thought of an island but the designer recommended it as we had plenty of space.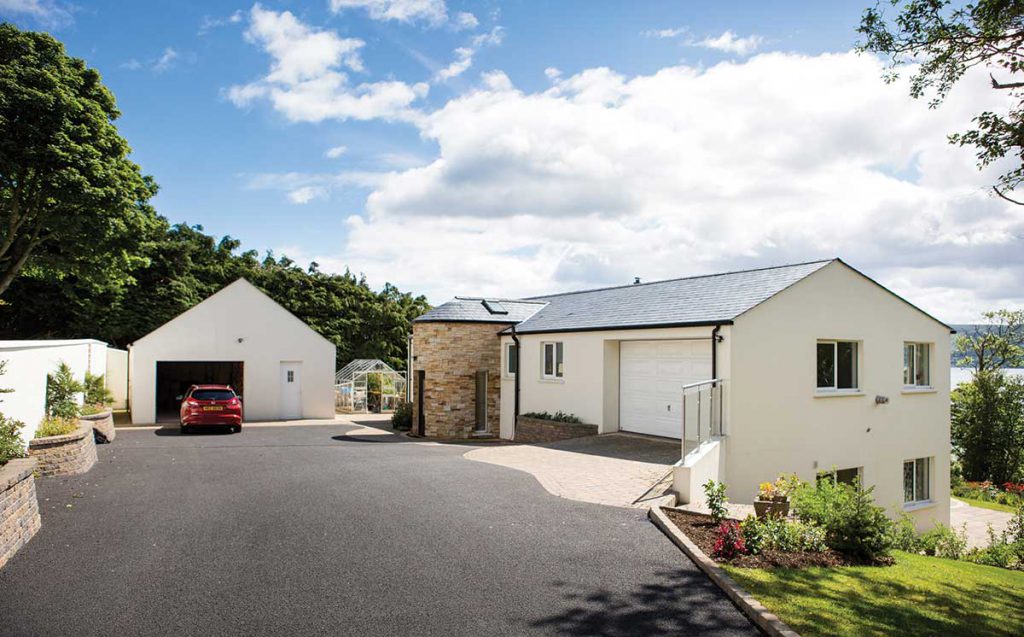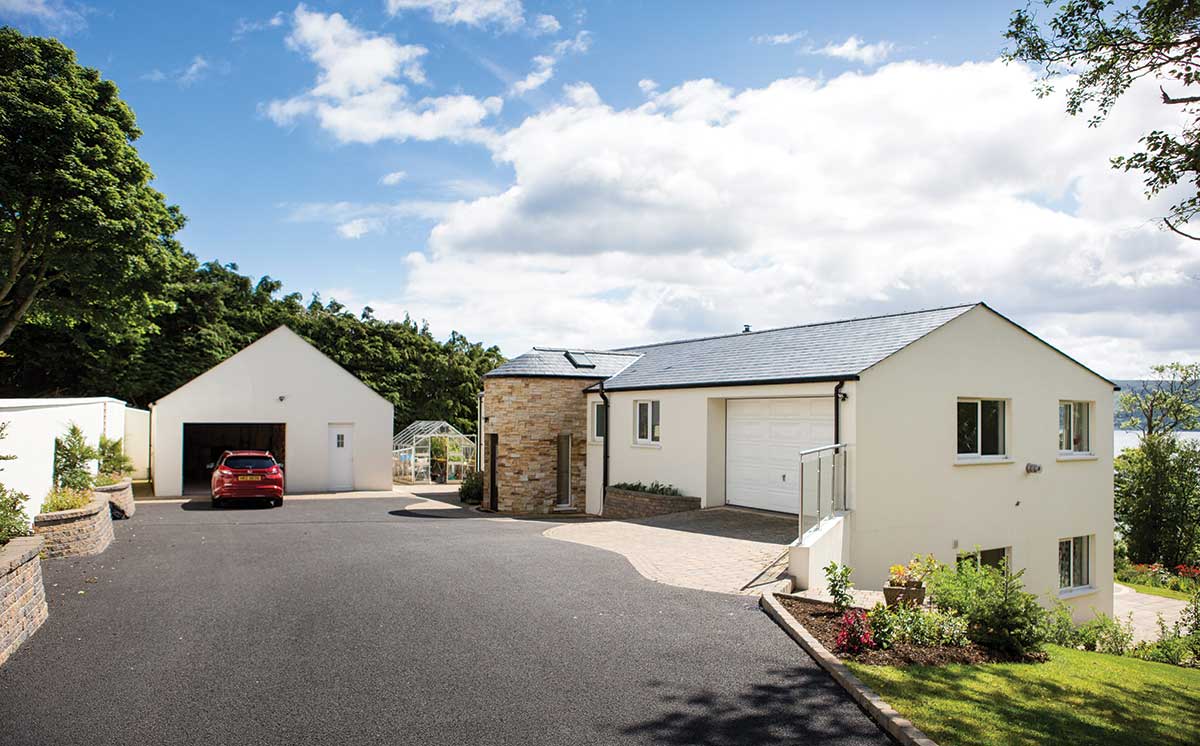 "I wanted a dining room table and was afraid there wouldn't be room for both, but it actually works really well."
Linda and Steve carpeted all of the bedrooms and their two lounges; the rest of the house is tiled. "When we'd gone on holidays in Spain it was great to zoom around with a mop so I decided to replicate that ease of upkeep for the hall, stairs and kitchen," explains Linda.
"I was afraid it might be cold or noisy in winter but not at all. As the bedrooms have carpets and the two lounges upstairs do as well (we watch different television programs.), the house retains a very relaxing feel." Linda decided to use the same tile everywhere which made it especially hard to choose the one. "I went with a neutral cream with some colour, it's unobtrusive."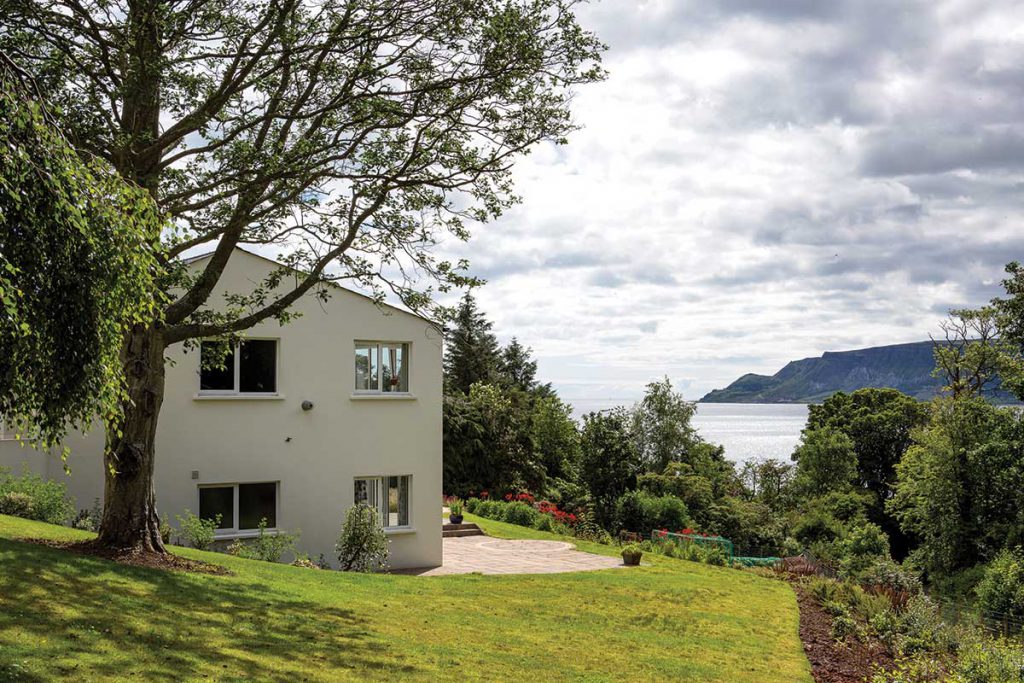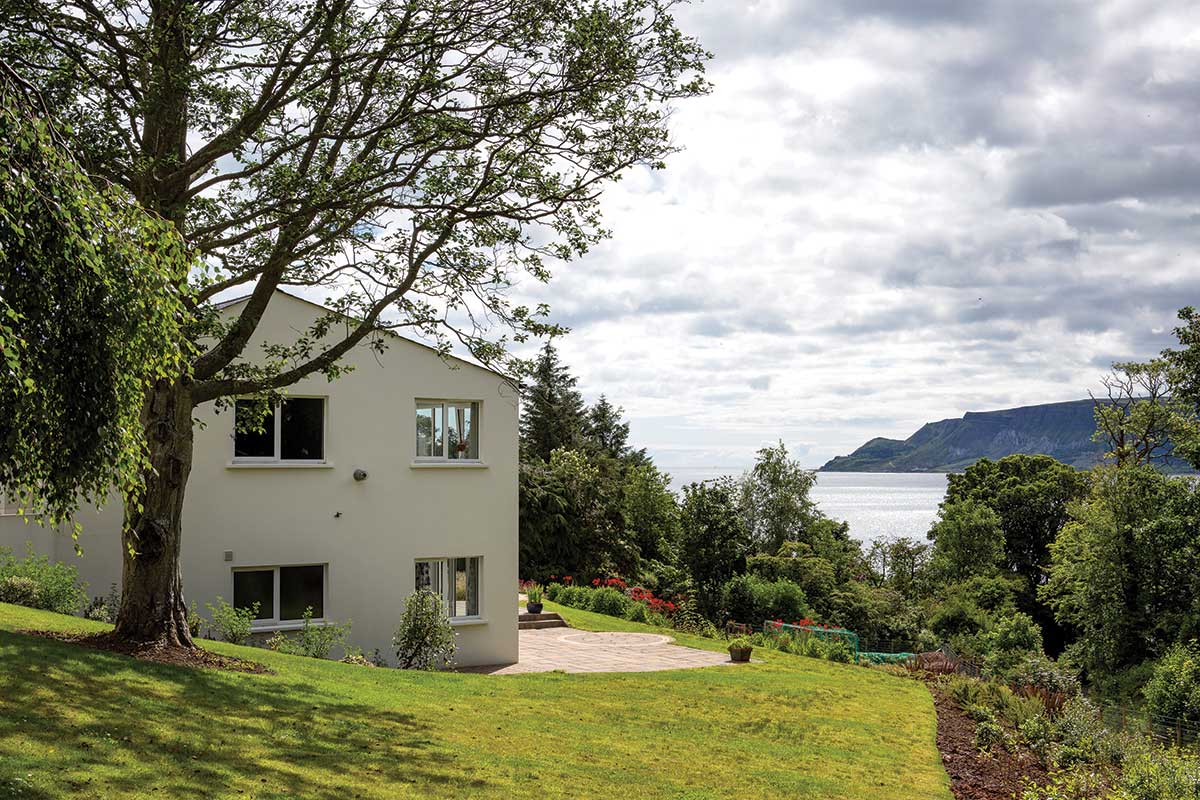 Snowball effect
The problem with renovations, says Linda, is the amount of things on the to-do list that tend to pile up. "As you go along you realise you might as well do this and that. For instance we intended to keep the original roof but as we extended and put in new roofs we had to re-roof the whole house," she says.
"We planned to salvage the original roof covering, to use on the freestanding garage, but when the slates came down it was clear they weren't good enough; replacing them was an added cost."
"Another example of the job getting bigger as we went along, was that by the time we'd added the extra sockets we realised we'd need to plaster it all up – and by that I don't just mean around the socket and chasing in the wall, but the entire room to make it look right."
"The more you do the more you have to do, and we've spent more than we intended as a result," she adds.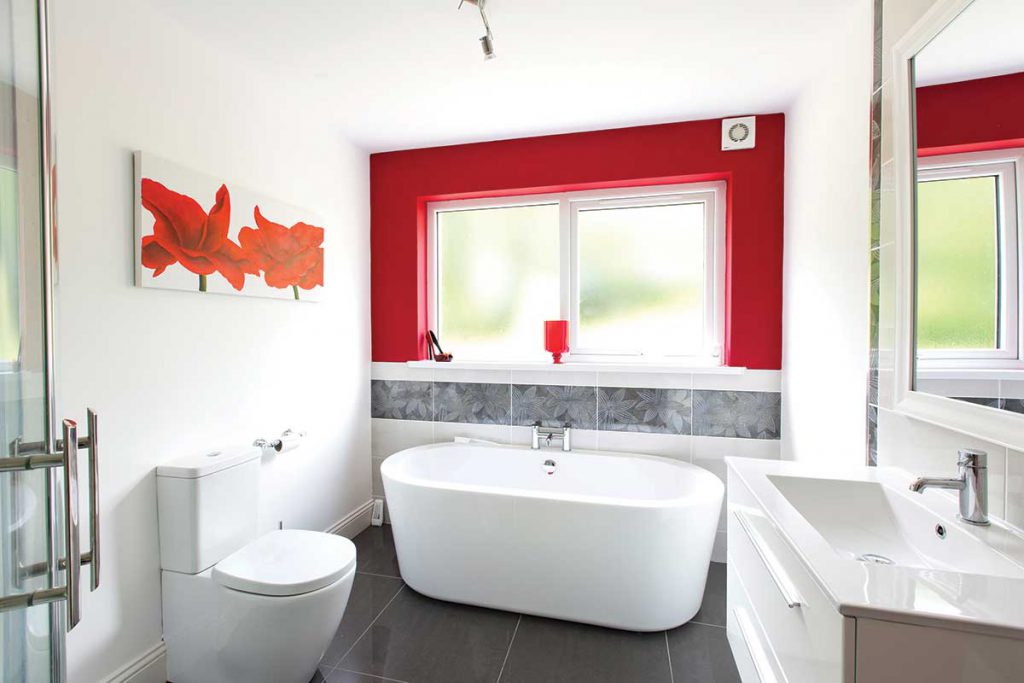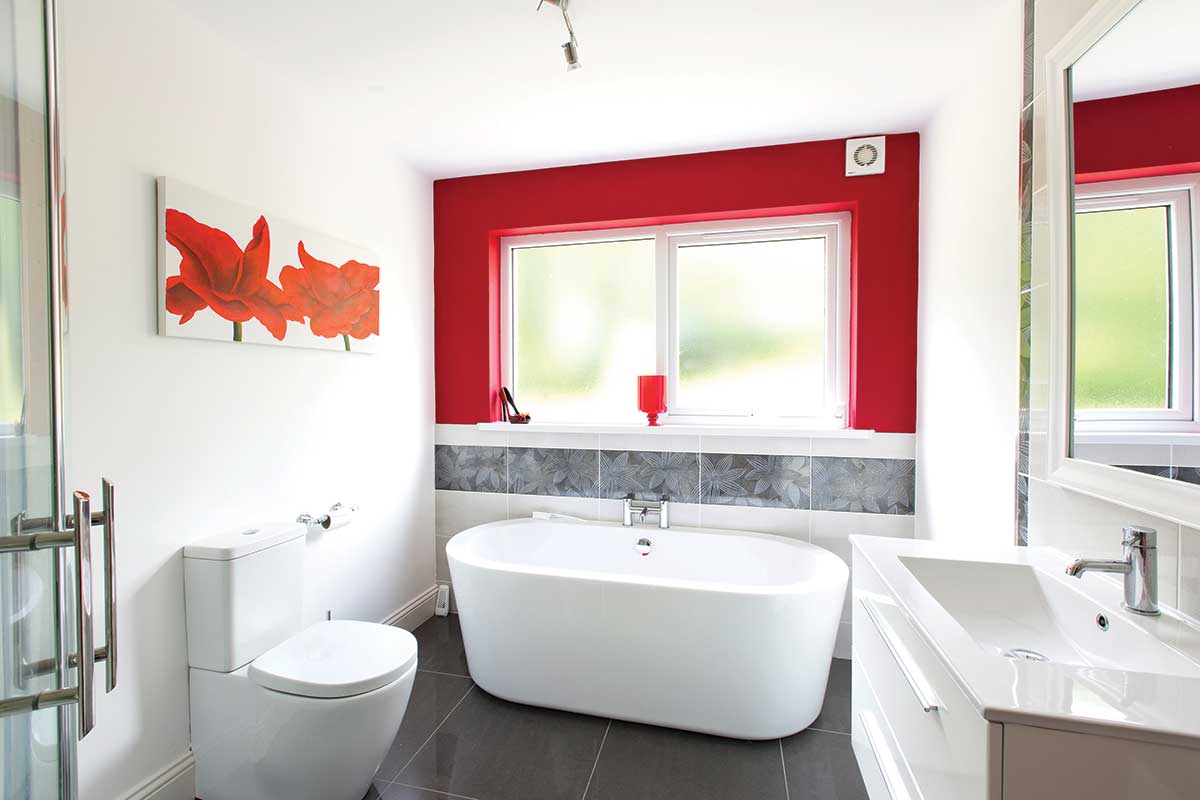 "But as we were very happy with the builder it was easy to turn to him to get those extra jobs done. He also did the driveway and fencing, and levelled off parts in the garden to have them ready for landscaping. I also got him to tile and paint the house, which wasn't part of the original tender."
As the build got more expensive they chose to only build a balcony to the one side of the house; on the other side they put in a sun room instead. "It's right off the kitchen so that's very convenient," says Linda. "But it is a conservatory, so it does get too hot in the summer. I still prefer not to have blinds as I'm afraid they'd distract from the wonderful views. We do use it most of the year though, it was well worth putting in."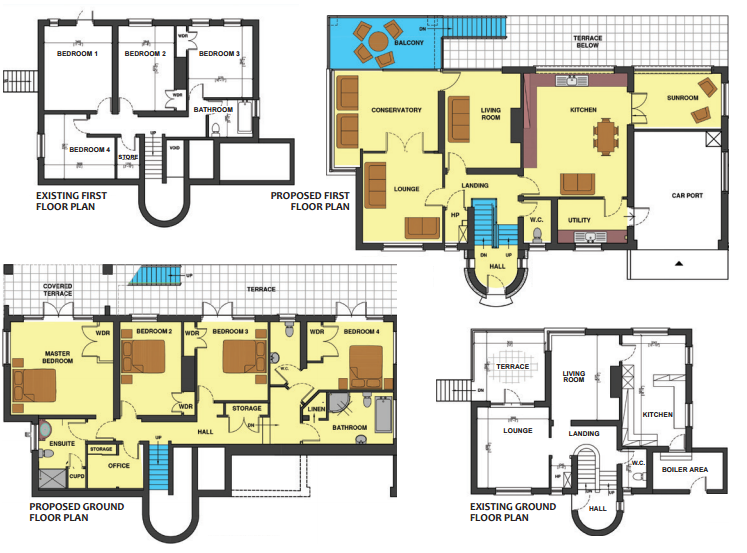 House with a view
"The house's connection with the outside makes it especially pleasing to live in, says Linda. "You just open up the doors and you're facing the sea. There are only two to three months of the year in which you wouldn't go out on the balcony, from December to February."
We have breakfast and lunch on the terrace whenever the weather permits, I love being out there, the stainless steel and glass really protect from the wind, the only downside is that there's also a greenhouse effect and in the summer it can get too hot." In terms of upkeep, the glass around the balcony has stayed looking good without having to touch it in three years, despite it not being self cleaning.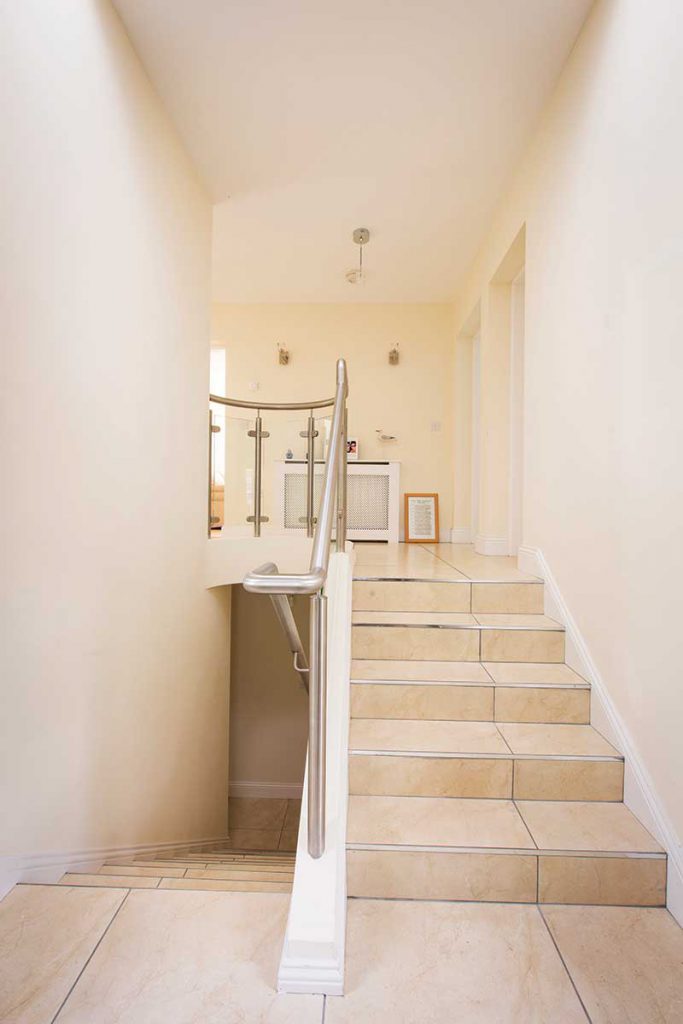 "In the morning the glass can cloud over from the fog and mist but it clears up during the day. The conservatory has self-cleaning glass on the roof and that does work well too."
"Having to clean the stainless steel is what came as a shock," continues Linda. "The reason we chose it was that we felt it would be low maintenance as compared to timber railing which you have to paint every four to five years." But upkeep is simply part of owning a home.
"At the sight of the first speck my heart broke but that's what happens – it won't be new forever," tempers Linda. "Now it's no problem if it's not pristine, I don't even notice it anymore. It's our home and we love it." Inside it is nice she says to have the heat come in from the floor to ceiling glass.
"If we feel it's starting to get a bit warm it's easy to open up the windows and bring the room back to the right temperature." The one thing she would change is to put the balcony on the opposite side of the house. "I think there are better views on that side. Although that would mean the kitchen would be deprived of them, so it's hard to tell what would have been best."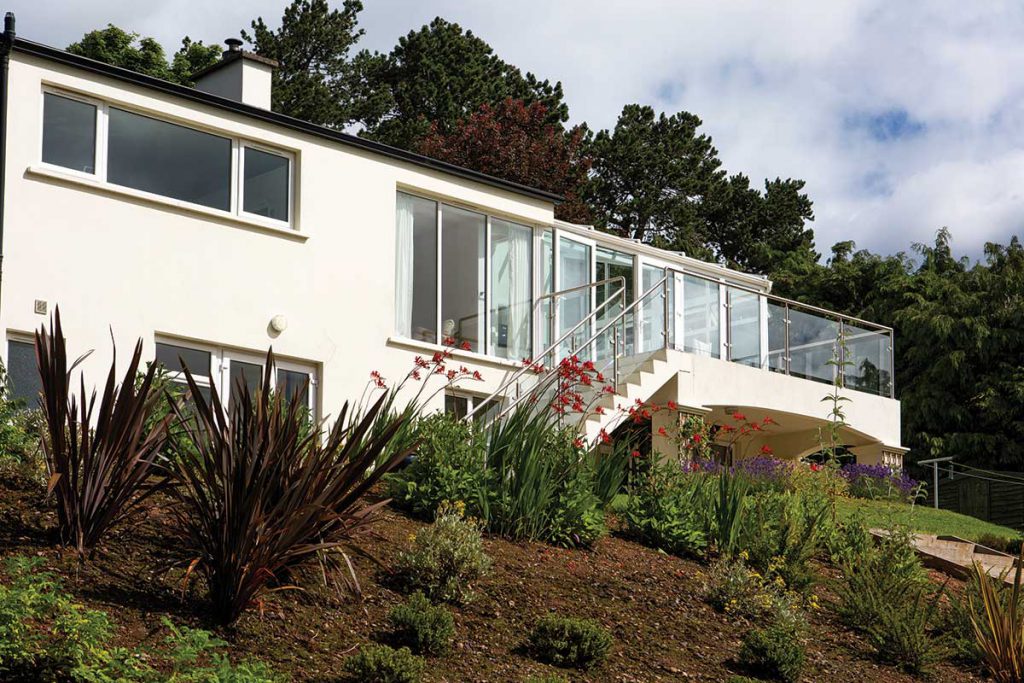 Sound advice
"We thought we would get a grant but none were forthcoming," recalls Linda. "We applied for everything yet didn't get anything; the boiler for instance had been outside and was removed early on, it was one of the first thing to go, but in order to get the grant the authorities needed to see the old boiler."
Linda advises prospective self-builders to look very carefully at the size of the rooms they intend to build. "Plans are one thing, seeing it for real is quite another," she says, speaking from experience.
"Also as I'm more used to feet and inches than metres, so I had to convert all the plans in my mind which made things that big more confusing." "Just make sure the rooms are as big as you want them to be," she adds. "But even if you end up with something smaller than you expected, it's not the end of the world."
"In our case one of our bedrooms felt like a shoebox when it was built but now that I have added built-in wardrobes, and have given myself time to get used to that fact that it's not a huge room, it actually has a nice cosy feel to it. I admit it does help that you can step out to the terrace." She gives the example of the apartment they had in the town, in which the radiator was on the only wall they could have put a wardrobe on.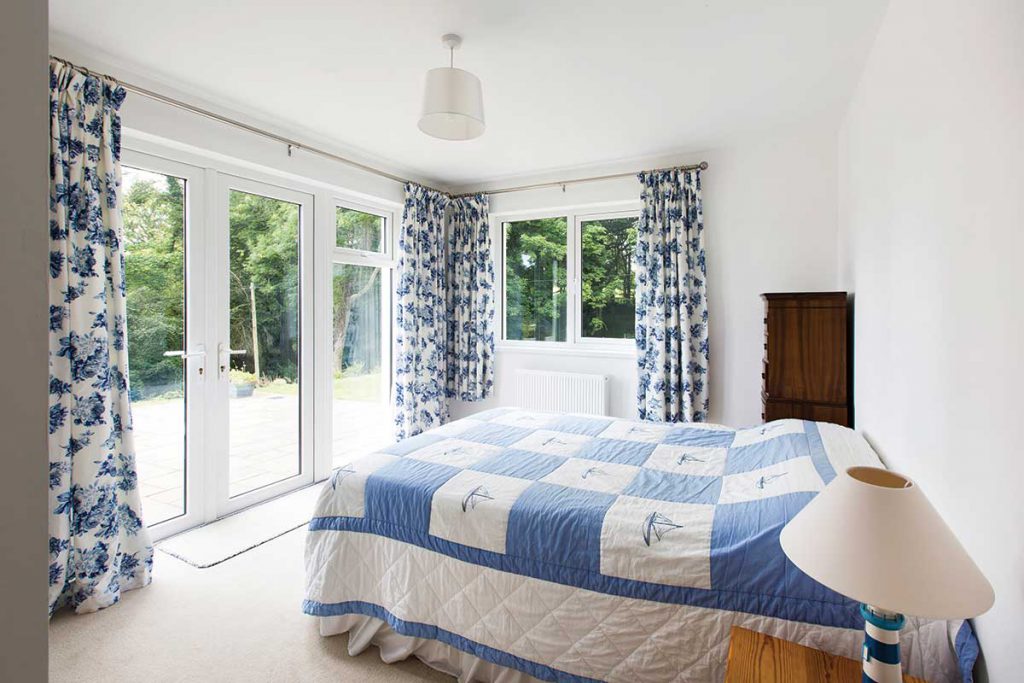 "Interior design is really only easy to get right after you've moved in." The positioning of items that can't be moved is another one of her watchpoints. "We had to decide on bathroom fixtures straightway due to drainage, I thought I'd have plenty of time to pick out the bath and so on but it was actually quite sudden," she recalls.
"The pipes had to go into a specific slot and couldn't be moved. As a result I'm not happy with where we put the wc, it would have been neater if it had been moved to one side, we also have a lovely oval shaped bath which I wanted to stand out from the wall, but it had to be put against it. It just doesn't have the same impact."
Outside too there are important elements to consider. The landscaping was especially important to get right as Steve has a keen interest in gardening. "We designed every square inch of that garden but we put it in gradually, as funds allowed," he says. "Early on we brought a landscape gardener on board because of the steep, sloped bank," adds Linda.
"We've got it all planted up with shrubs – the soil isn't great, it's mostly clay anyway and there's still quite a bit of subsoil from the build." And that is where her last piece of advice comes in. "Whenever digging out foundations, think of setting aside the top soil otherwise you will end up with the rubble as the base on which to plant everything.
Stuff just doesn't grow on subsoil and rubble." Some plants didn't survive and even though the landscaper came to plant them again a year later many died again. "In fact none of my favourite plants, (I love hibiscus), grow here," laments Linda. "But considering the view it's a small price to pay!.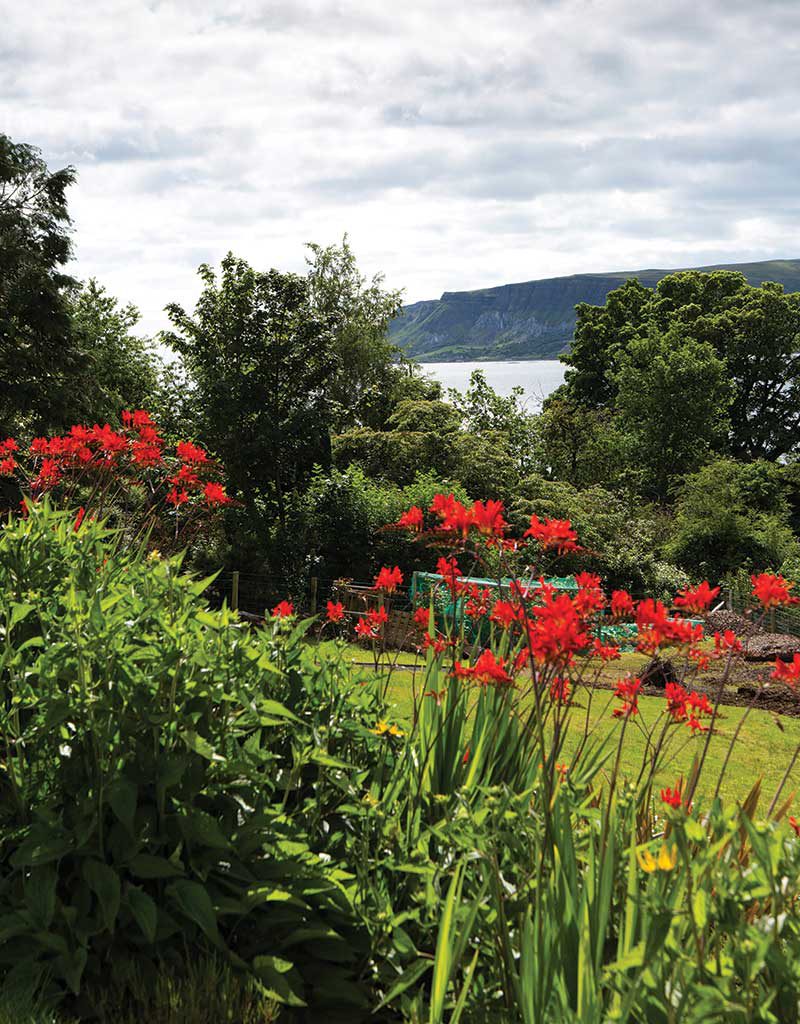 Suppliers
Architectural practice: FmK Architecture & ECOHomes, Ballymena, Co Antrim, www.fmkni.com, www.ecohomesni.com
Builder: Moyle Construction, Ballymoney, Co Antrim, www.moyleconstruction.co.uk
Kitchen: Woodland NI, Ballymena, Co Antrim, www.woodlandni.com
Worktops: Sinquastone (quartz) by Lamont Stone, from Coleraine Fireplaces, Colerain, Co L'Derry, www.colerainefireplacesltd.com
Bathrooms: Beggs and Partners, Ballymena, Co Antrim, www.beggsandpartners.com
Floor tiles: Ballycastle Homecare, Ballyscastle, Co Antrim, www.ballycastlehomecare.co.uk
Wall tiles: Just Tiles and Bathrooms, Ballymena, Co Antrim, www.justtilesandbathrooms.com
Light fittings: Yesss Electrical, Ballymena, Co Antrim, www.yesss.co.uk
Wall insulation: Springvale Eco Beads, www.springvale.com
Windows: Inliten, Camden Group, www.camdengroup.co.uk
Photographer: Paul Lindsay at Christopher Hill Photographic, Clarence Street, Belfast, BT2 8DY,  www.scenicireland.com