To find out how much your new roof will cost, you need to know its size, shape, ridge height, style and roof covering.
In this article, we cover:
How roof design and size impacts on cost
Cost difference between flat versus pitched roofs
Cost breakdown for pitched roof
Cost breakdown for flat roof
Cost breakdown for roof coverings
Cost breakdown for roof finishes
Roof design can have a direct influence on the overall appearance of a property as its shape, colour and texture will have a striking visual impact.
Broadly speaking, roof structures fall into two categories, flat or pitched, and there are fundamentally four main factors that influence the type of roof structure that is selected for a project.
---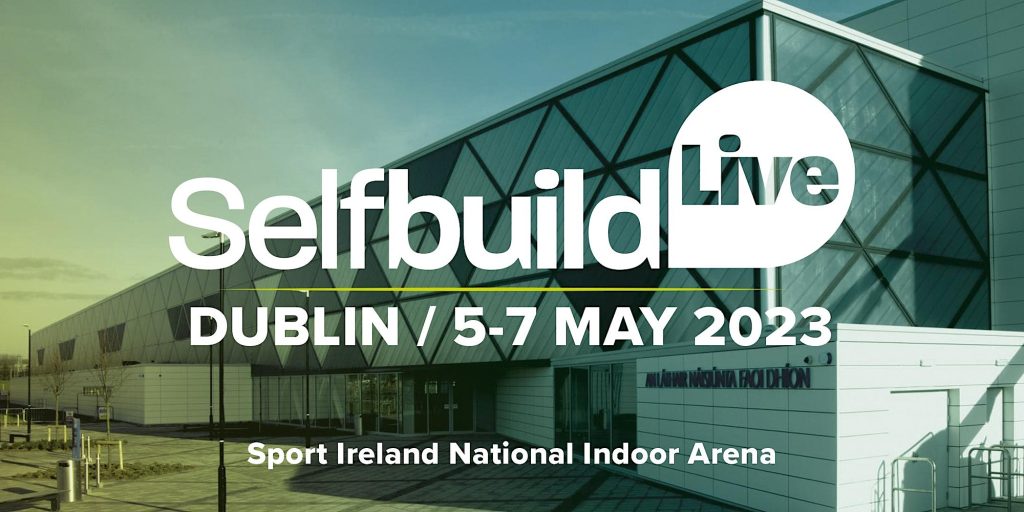 FREE Tickets to Selfbuild Live Dublin 2023
Next month Selfbuild Live is back in Dublin. Showcasing over 150 local exhibitors, 2 theatres, 1-2-1 advice and much much more. Ideal for your home project.
---
1. Size & shape
A building with a simple shape (rectangular or square) will usually be covered with a pitched roof; the more complicated the shape of the house the cheaper it is to cover with a flat roof. The configuration of a property will also dictate the number of roof planes that are required, which may connect at different levels. Adding such layers of complexity will add to the cost.
2. Ridge height
If there is a restriction on the ridge height of a property, (total height of the house), a flat roof system will maximise the internal floor to ceiling height.
3. Appearance
The aesthetics will also obviously have a large impact on which type you choose; pitched roofs often suit small building designs better than flat roofs but the final choice will generally be down to local considerations, planning restrictions and personal choice.
4. Average cost to replace a roof
A zinc roof finish for instance will not generally last the lifetime of a property and will certainly not last as long as a natural slate product, so these considerations will need to be examined prior to final selection of the roof finish and the structure beneath. Green roofs for example require additional supports.
It will not be a surprise to note that our grandparents (who always knew the most economical way to build, as outlined in previous articles) generally constructed their properties with a pitched roof.
How much your pitched roof will cost
In simple terms a pitch roof is a roof with a slope greater than 10 degrees although in the main the minimum slope for a pitched roof will not be less than 15deg. Some proprietary low pitch products, which are generally tiles as opposed to slates, can be laid to a pitch of 12.5deg.
The slope of a roof is dictated by the minimum slope specified by the
manufacturer of your roof structure. In general terms the minimum roof slope for concrete tiles is 40deg, clay tiles 22deg and slates from 20 to 30 deg.
Traditionally pitched roofs were described as cut roofs as they were built by
a carpenter on site from bales of timber. Each rafter was marked and cut to suit the required design. This resulted in high labour costs but low roofing material costs due to the fact that simple lengths of timber rafters were used with standard fixings.
This generally results in being able to use, or convert at a later date, the roof space because the cut roofs tend to use larger size timbers than truss roofs. The vast majority of modern houses are now built using prefabricated trussed rafters which are produced off site and craned into position in a day. The detailed design and fabrication is done by the manufacturer.
Trussed roofs can be used over larger spans than traditional cut roofs and are installed more quickly, even though there will be some element of work on site for dealing with openings, chimneys, water tanks and the like.
It is generally expensive to change any aspect of a trussed roof design
after installation due to the structural implications of any alteration, e.g. roofspace conversion. Overall the cost difference between the two systems is minimal but the speed of installation of the prefabricated trusses is what is making them more popular.
Irrespective of which system that is selected, a detailed design by an engineer will be required to specify the layout of rafters, size of each rafter, bracing requirements, distance between each set of rafters (known as the spacing), connection details and fixings. The variance in terms of each of these items from roof to roof can be substantial which has a knock-on impact on house cost.
How much your flat roof will cost
Flat roofs are defined as a roof with a slope of less than 10deg. They are more common now than ever before because of advances in flat roof finishing products.
They are particularly practical for large roof areas or complicated shapes where they are usually a more economical option than a pitched roof. A flat roof is usually built from timber joists and plywood (OSB, WBP, marine or similar) or on occasions concrete (similar to a concrete floor).
They are generally installed on site (but can be fabricated under a prefabricated timber frame or Structural Insulated Panel system) in a similar nature to the traditional cut roof. A flat roof is designed to drain to outlets and working around rooflights and obstructions can easily be achieved.
There are generally three different types of flat roof construction known as
a cold roof deck, a warm roof deck or an inverted warm roof deck. The latter is uncommon in Ireland. A cold roof deck is where the insulation for the roof is installed below the level of the roof deck usually in the ceiling which keeps the roof deck and covering at a low temperature.
A warm roof deck places the insulation immediately below the waterproof covering and on top of the decking and vapour barrier. The deck is therefore kept at a warmer temperature during winter months. The warm roof deck system would be the most common as it better controls
the dew point.
The general downside to a flat roof structure is that it is generally the case
that insurance companies rate a flat roof at a higher risk than a pitched roof. Care should be taken to review this issue with your current or future insurers to have full knowledge of the ongoing cost impact of this type of construction.
How much your roof finishes will cost
Most roof finishes will require a build up which may include the need for additional layers of plywood, a vapour barrier or breather membrane, battens with or without counter battens, ventilation requirements and the likes, but the purpose of this article is to discuss and compare the range of finishes only. In order to ascertain the actual final cost of any particular makeup, the full design must be individually reviewed and costed.
Flat roofs used to be covered with a mastic asphalt but as the product can move in high temperatures, making the roof prone to leaking, and requires ongoing maintenance, it's only really used on sheds costing less than €30/sqm or £25/sqm.
Most common nowadays for flat roofs are three proprietary systems, either made of built-up bitumen felt of uPVC. Installed as a complete system including plywood, vapour barriers, insulation and the waterproofing layers, they are more controlled in temperature and can be easily worked around upstands, outlets and the likes. The majority of these systems cost
from €80 to €120 per sqm or about £100/sqm taking into account all aspects.
Fibreglass is a more recent addition to the roof finishes options and one that has become very popular. Costing less than €70 or £65 per sqm for the all-in system, it is economical and quickly installed. Again it is easy to work around upstands and openings.
The selection of a roof finish requires a view on cost per unit and working out the number of each unit required. As slates, tiles and other finishes all vary in size, as does the manner in which they overlap, in order to work out
the cost of any finish it will be necessary to identify the number of
units per sqm. By way of example a slate size of 500 x 250mm slate will on average require 21 slates per sqm whereas a 600 x 300mm slate will only require 13 slates per sqm on average.
Traditionally the most common roof covering for pitched roofs was natural slate but being a natural product, over time it has become expensive and out of the reach of many.
This is unusual and at odds with many of the traditional methods of construction which still remain the most economical methods of building. As a result of the increase in the cost of natural slating, fibre cement slates and concrete tiles have by far become the more common choice for pitched roofs in the recent past.
How much your roof coverings will cost: slates to tiles
Natural slate. As a naturally occurring product quarried from various locations around the world, the quality and reputation of natural slate can vary greatly.
Traditionally the most renowned was the Welsh blue Bangor slate but due to issues with availability this product can now cost over €10/£8 per slate (over €120/£100 per sqm), not including labour costs, with the majority of people now having to source it from salvage yards. The most common natural slate on the Irish market would now be of Spanish origin with costs ranging from €20 to €30 or about £25 per sqm to install a slate roof. Slates are also widely available from places like Portugal and Brazil at a similar or lower cost to their Spanish alternatives.
Fibre cement slates are a manufactured alternative to natural slates. Traditionally they were asbestos based products but due to health and safety issues these were phased out in the 1980s. Fibre cement slates come in a range of colours and as they are man made they are uniform in
shape. Less durable than their natural cousins, they are relatively cheap and can be bought for less than €1/£0.80 per slate (€12/£10 per sqm on average).
Concrete tiles are available in a range of colours and designs. The most common design would be the roman or double roman tile but flat tiles are often used. These products are man made and will generally be available for less than €1/£0.80 per tile. The number of tiles per sqm varies greatly depending on how easy they are to install and can vary from as low as 8 per sqm to over 16 per sqm.
Other less common methods of coverings for a pitched roof include wood
shingles, thatch and sheet coverings (lead, zinc, copper or various forms of aluminium). As non-standard products they can be expensive, involve a lot of detailing and design. Metal based roof coverings are more common on flat roofs for visual appeal. They require a great deal of detailing and joint work and will generally (depending on quantity, cutting and design) run to circa €200/£180 per sqm all in.
---