For Mary McGeough renovating this early 1800s cottage was not just about preserving history, it was about paying tribute to her aunt and cherishing childhood memories.

As a vernacular cottage listed on the Heritage at Risk Northern Ireland register, with a listing grade of B+, this project was bound to be special.
"The house was bequeathed to me by my aunt, who was 93 when she passed away," recounts Mary. "It is also where my father was reared with his brother and two sisters; my mum and dad even lived here for a short while after they were married."
"I have such lovely memories staying here, regularly visiting. I would come most Sundays and when I was old enough, I'd cycle down to visit. When I stayed over my aunt would always give me the upstairs bedroom. Unless her sister was visiting, in that case I'd use the small bunk bed on the landing. I loved spending time in the house."
"Because my aunt lived here all of her life it became known locally as Katie McKenna's cottage, so in memory of my late aunt I have named the property Katie's Cottage."
Suppliers
House size: 194 sqm
Roof: Remove existing thatch where necessary and renew with 400mm min traditional long straw thatch as per spec on new sod layer on new 50x38mm treated s/w battens at 225mm ctrs on new breathable aluminum foil reflective fire insulator as per spec on existing timber rafters with isolated renewal or splicing where indicated on floor plan drgs on existing timber purlins / ridge beam.
Floor: Excavate all existing solid ground bearing floors to reduced level by hand taking care not to undermine existing wall footings. Any original tiles to be set aside for possible reuse. Provide new breathable Limecrete ground bearing floor construction throughout.
Walls: Carefully hack of all existing external wall render by hand, stabilise any loose pointing or stones and provide new natural hydraulic lime render (NHL 3.5) finish as per spec with lime wash finish.

Spec
Architect: Patrick Bradley Architects, Maghera, Co Derry, tel. 7940 1814, pb-architects.com
Contractor: Peter McErlain Limited Building Contractors, Toomebridge, Co Antrim, mobile 07710 016002
Quantity Surveyor: Ad Group, Magherafelt, Co Derry, tel. 796 34734, adgroup.co
Thatcher: Kieran Agnew
Photography: Paul Lindsay at Christopher Hill Photogrpahic, scenicireland.com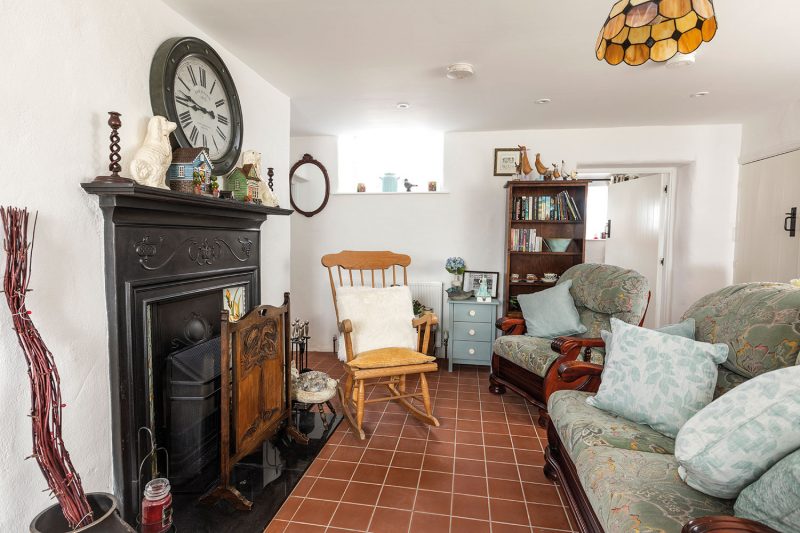 The room Mary's parents had lived in was at the end of the house, but it was only accessible from an external back door. "It was clear to me that this room had been part of the house at some stage, a door had been walled in and the paint colour was different. I'm not sure when this was done, maybe to coincide with the time my parents lived there, to give them more privacy."
"My aunt used that room as an outhouse, it's where she would keep the lawnmower, bike, and where her geraniums and dahlias would overwinter. She had plenty of space in the house and never needed that room for anything else, so it was left."
"Bringing this room back into the cottage was always going to be an important part of the renovation," adds Mary. "It was clear to me the space above should be made functional too. There was always plenty of room up there but it was never turned into liveable space because there never had been a need for it."
Decisions, decisions
When Mary inherited the house, the thought of selling it didn't enter her mind, despite other financial obligations and living in another town. "My aunt would never have wanted it to be sold, she loved and was so proud of it," she says.
"The age of the house and the fact that it is a traditional vernacular cottage gives it meaning to the local community too, it is part of the area's heritage and is beloved by many. That adds another dimension to the project."
Bringing the house back to life for future generations is an important achievement. "The work we did will take it through the next 100 plus years," says Mary.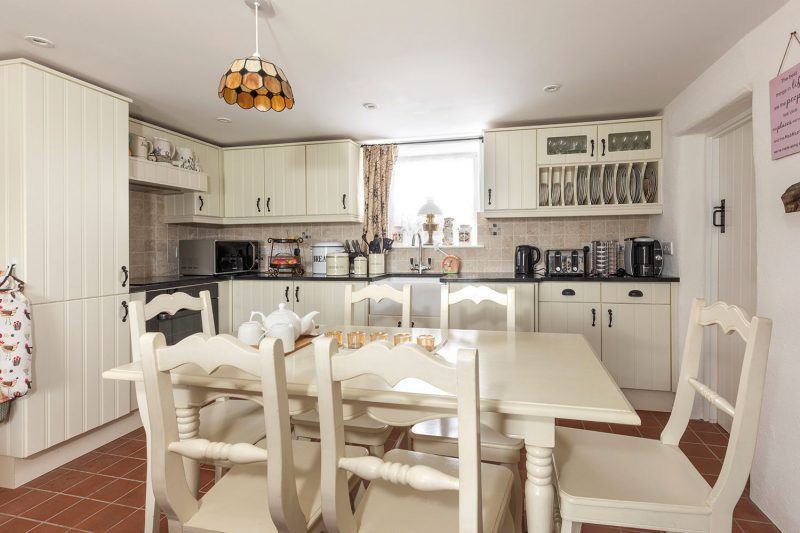 When this piece of history was passed on to her, Mary first considered renting it out. "Unfortunately the house didn't meet minimum Housing Executive requirements. My aunt had converted a room that was at the side of the house into a bathroom but it was so cold you had to put the gas heater on for an hour before you could go in to have a bath. The external wall was made of a single row of bricks."
"Knowing it was unrentable we knew we had to upgrade it but at that stage we weren't in a position to do it. We were living 23 miles away, paying our own mortgage and we'd just taken on a heavy financial commitment for our business. It all conspired against us."
"As time progressed, the cottage fell into a state of disrepair. It broke my heart to see it deteriorate but we couldn't do anything about it. I knew my aunt would never have wanted it to be left that way or see it run down. Still, we started to look at what our options were and thought we would get plans drawn up and see if we could even get planning permission for a restoration and renovation."
"The first thing we did is speak with listed buildings in the Department of Communities NI. They advised us to go with an architect with experience in conservation," says Mary. "We had to get planning permission but also consent from them because the house is listed on the Buildings Database."
"We got an architect on board who had worked on projects similar to ours. He not only helped us achieve the layout we wanted, Patrick considerably enhanced the redesign. It was Patrick's idea to add a mezzanine area upstairs. It brings in natural light and makes it so open and bright."
"The plans were put through and approved in 2013; these included entirely rewiring and replumbing the house. Even though the planners did not require that the builder we hire be on a register, we wanted someone who worked on 'Listed Buildings', so tendered the project out to contractors who had experience working on these types of projects."
"We got the prices back and chose our contractor, hoping to proceed but we
had to put the project on hold, which was devastating. Then, in 2016, everything lined up very quickly, it was like it was meant to be. There was excitement and relief at the work finally starting. It was so important. Our architect Patrick acted as project manager throughout the build which meant that he and his team organised everything for us."
Practical changes
"Our contractor Peter had worked on other old buildings and was an incredibly valuable resource throughout the project," says Mary. "Between him and Patrick the construction phase was made easy for me; they were both so passionate about the project I think it made a difference. Their commitment shone through."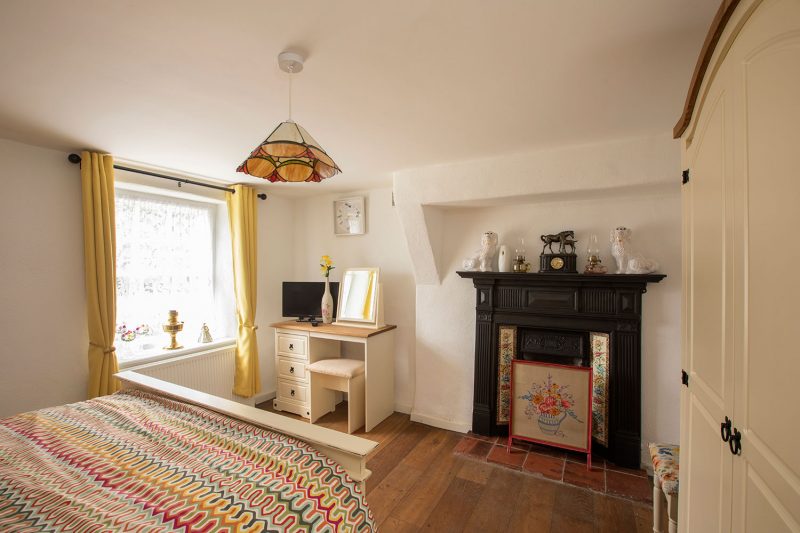 "Peter and Patrick were both keen to get going with the work, as they love the building and were excited to be bringing it back to life."
The restoration included making good on the external façade. Years of lime whitewashed plaster were removed and replaced with a new lime whitewash render. "I was taken aback to see the stone structure of the house for the first time, it was beautiful," comments Mary.
A new insulated concrete floor was put in downstairs but the external walls did not require insulation. The stone walls and the thatched roof, Mary says, work well to help regulate temperatures. "In winter the house stays warm and in the summer, on those rare days when it's hot outside, the house is nice and cool."
The roof was entirely rethatched with wheat straw and the ceilings underneath plasterboarded. "Being able to get a thatcher to do the job was the biggest hurdle; there aren't that many left," explains Mary.
"We had quite a wait – the roof was ready in October and it wasn't until a few days after Christmas that the thatcher got started. It was hard work for Kieran in the cold weather but he'd worked at the cottage before, thatching and making repairs on it with his brother for my aunt."
Q&A

What surprised you?
Our current insurer won't allow us to light the wood burning stove or any of the three open fireplaces. The reason we can't light the stove or fireplaces is that the top of the chimneys is only half a meter above the ridge of the thatch. The insurers we've spoken to insist on the chimney being at least 1m high, despite the fact that the chimneys were all relined and are in perfect condition. I can't imagine making the chimney stacks any taller, they would look ridiculous.
What would you change?
If I had kept the door from the hallway in its original position, I think I might have had room for a three seater sofa in the living room. I only put in a two seater because we're a bit limited for space with the stairs and four doorways.
What single piece of advice would you give those thinking of renovating a cottage?
An architect with the experience and knowledge to enhance your ideas and bring them further is important to find. Especially for a listed building, I believe an architect and contractor with experience in conservation are essential.
What are your favourite design features?
The mezzanine area, Patrick's brainchild, with banister overlooking the corridor. Originally we were just going to add storage upstairs and this solution is so open and bright it's one of my favourite parts. I also love the bulky chimney breast in the new bedroom upstairs. It's funny because when I first noticed it, I hated it, I thought it was a monstrosity. I was devastated, I thought it would ruin the room as that was where I wanted to put the headboard for the bed. The contractor told me not to worry, it wasn't finished off yet as it had to be plastered and painted. I have to say now I think it's a lovely feature, the room has a lovely atmosphere, nice warm, comforting. It's just a nice place to be.
Would you do it again?
In a heartbeat. I didn't realise how big a burden a house can be when it represents so much emotionally, so getting it done was significant on many different levels. For the heritage aspect and for the family memories.
In terms of the listed buildings grant, Mary received a contribution towards "eligible works" for the restoration, including the thatch and sash window repairs. "We had a quantity surveyor cost everything for us and listed buildings who advised on the level of funding being provided for each of the eligible items," adds Mary.
"There were discussions around removing the old bathroom, but I didn't want to; instead we reused that space to put the new oil boiler and to store the internal bins. There is a new external door that can only be opened from the inside; it used to be the window which we converted. It allows ease of access to the wheelie bins."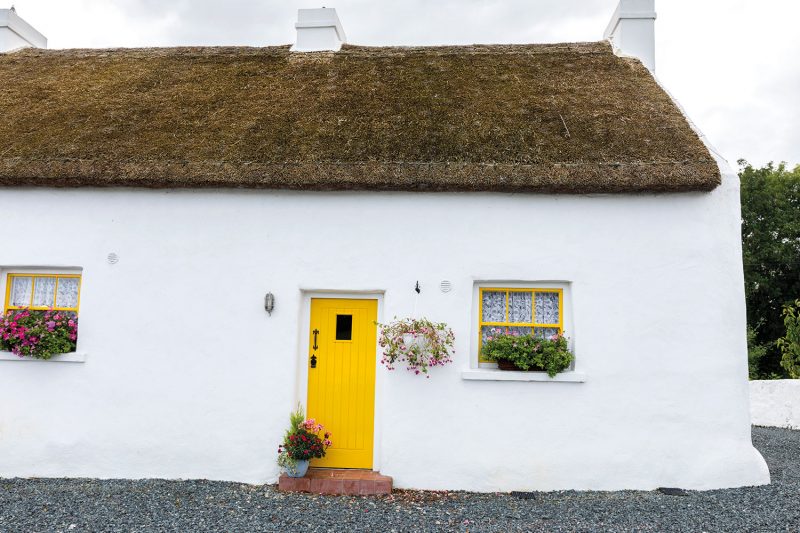 "Another room that had been added to the house over the years, as the need arose, was the now utility room, which we also kept, and this along with the old bathroom are the only two rooms without a thatched roof. We also kept all three existing external doors."
Tips

Communication is vital. Your architect and contractor will bring a lot of experience to the table; discuss the options with them. Because they had such control over the build, it took the pressure off me. I think that for a conservation project, having your architect project manage is the best way to go. I wouldn't have had the experience to attempt to, nor the time. He organised the site meetings and helped to keep everything on schedule alongside the experienced contractor. If there were any changes to the schedule or to the build, I was notified.
Ask for a timeline. I found it incredibly useful to have a calendar that showed me when I had to have things by. When I had to pick out the kitchen, the fireplaces, tiles, wood floor. I was working full time, and then some, so knowing this kept me on track and meant that I wouldn't delay progress.
Living and sleeping
"A major design change was moving the staircase which wasn't compliant with current building regulations," says Mary. "It was a steep and narrow climb and they used to be accessed from within the living room, which wasn't a great place."
"The architect discussed and got approval from the Listed Building department to reconfigure the space. Although few cottages had an upstairs, when they did the staircase tended to be behind the fireplace, so that's where we put it."
"The start of the stairs now is where my aunt's bedroom door used to be, and through her bedroom you would access the second bedroom. We added a doorway in the wall on the opposite side of the fireplace and created a corridor which provides independent access to both bedrooms and the wet room."
"We reconfigured the kitchen and took out a dividing wall between it and the "good sitting room", which made a really big difference, it added so much space, enough to make a kitchen diner out of it."
"The living room is the hub of the house, there are so many routes in and out of it," says Mary. "Everything feeds off it downstairs: the kitchen diner, utility, bedrooms, hall and staircase."
Much of the ethos of this project was to retain as much of the original character of the cottage as possible. The upstairs bedroom retained its low doorway with step down, for example.
"I purposefully decided not to straighten the walls," adds Mary. "They're all crooked, the bumps were left in place to keep as much of the character as we could. We also repurposed original beams, reusing them above the mezzanine area, above the staircase and as a mantlepiece too."
"The large thick terracotta tiles that were in the end room of the cottage were taken up and put back as a hearth for the fireplaces in the two downstairs bedrooms."
"In my early childhood there used to be what I would call 'red cardinal tiles' in the hallway and living room; as they required maintenance, with regular buffing, my aunt had them covered with vinyl. When we took the covering off, the tiles weren't in a state to reuse so I sourced new terracotta quarry tiles. These tiles have been used throughout the ground floor with the exception of the bedrooms where we used engineered wood for warmth, in a finish called smoked oak."
As for the furniture, Mary brought sentimental items back to her house and sourced antiques through a dealer to furnish the cottage, including all of the fireplace surrounds.
"Only the bedroom furniture is new; I chose a cottagey style to match in with the rest of the house. The kitchen and the dining table and chairs happened to match perfectly, everything just fell into place," she says. "Visitors to the house told me I had good taste, I had never been accused of having good taste before, but the interior design was fun to organise and it looks the way I wanted it, so I will take the compliment."
Setting sights
"My aunt loved gardening so it was a joy to bring it all back to life," says Mary. "Peter cleared the vegetation in September 2016 and had the restoration finished in March 2017. At this stage we tackled landscaping; a local firm restored the iron gates."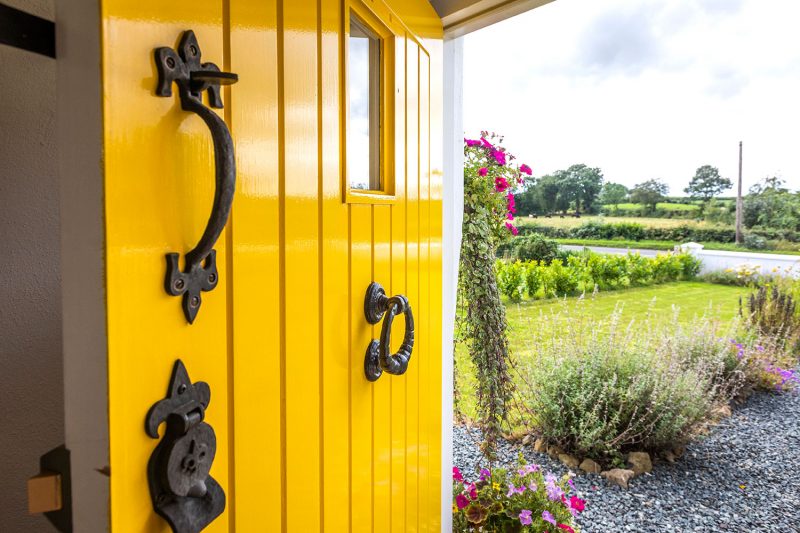 "Even though we got listed building approval to renovate the outhouses, we didn't get a grant for that portion of the work," explains Mary. "While they are part of the overall listing, which also includes the walls, pillars and gates, the outbuildings in themselves are not considered listed buildings."
"We put a new coat of limewash on all of them, new doors and did repair work as required and replaced the roof on the smallest outbuilding. In my view there was no point renovating the cottage and have the surroundings look tired."
The boundary walls, gates and pillars were also part of the landscaping work; the driving force was to add symmetry.
"I remember the old stone wall at the front of the cottage from my childhood, which had been replaced by a wooden fence, it was nice to bring it back into being," says Mary. "This gave us the opportunity to realign the front gate with the house door; before this the path was at an angle to the door which I'd never realised until Patrick took the measurements."
"The front door has a small window and it is lovely looking straight down the path to the gate, with flower borders on each side of the path, it does make a big difference. We also realigned the lawn to reach the end of the outhouse."
Mary plans to rent out the property until her husband is retired. "I would move here in a heartbeat, but it's just not feasible for us at present," she adds. "But after having spent all that money it's nice to have people enjoy the house brought back from Katie's day to the present. We have hosted MacMillan coffee mornings and participated in one of the 2019 EU Heritage Open Days; I enjoyed sharing the story with visitors who were absolutely delighted to have the opportunity to see inside the cottage."
"Many of the people who have come have said that driving past they always had a picture in their my mind of what the house would look like, and that inside and it is nothing like what they expected. They are blown away by the amount of space there is. Everyone is surprised at how big the house is inside; they expect a room per window but there is so much more to it than that."
"Many didn't know that it had an upstairs or that there was even space for one, they can't believe the spaciousness, the size of the bedrooms and ensuite in particular. It is also surprising just how much headroom there is up there."
"But this project wouldn't have been possible without the tremendous amount of help I got from my friends; I have a disability and they drove from far and wide to help with cleaning, making curtains and hanging them, ironing, making beds, tea making for our open days and so much more. They did an awful lot to make the cottage look the way it does today and I am so very grateful to them all."
"The plan at present is to do short term rentals, this will mean we can enjoy the house and have the maintenance costs covered." For now, it's the best of both worlds.