Top 5 tips to get you thinking about bathroom design: when to start planning, what to prioritise and to how to be budget savvy.
In this article we cover:
Top 5 tips from an interior designer to nail your bathroom project
How to figure out what's important, and what's not
Tips to design a cost effective bathroom
Finding your style
Storage and tech tips
Maintenance requirements
Because of its size the bathroom is often neglected and left last to plan, especially in a new build. Too often we just go out and buy sanitaryware and tiles and drop them in where they fit. But this approach is a missed opportunity to give yourself the luxury you're aiming for.
And those lavish extras are surprisingly inexpensive – they just require planning. Bear in mind too that the bathroom is the second most expensive room to fit out, after the kitchen, so mistakes are costly to rectify.
But it's precisely its size that makes it so appealing to me as a designer, and a control freak. It really is possible to tailor the room to your exact needs. Every millimetre can be made to account for itself.
1. Express Yourself
The bathroom is your perfect opportunity to go mad and have some fun. After all, it's contained and separate from the rest of the house, so it doesn't have to 'flow'. You don't spend too much time in it, which means you can tolerate zany patterns that you might not want in your bedroom or living room. Liken them to an orange lining on a conservative suit – the bathroom gives a glimpse of personality without being overpowering.
Adding wallpaper, with a decorator's varnish to seal it, is a good way to inject some fun. This can only be done in Zone 3 of the bathroom (Zone 0 is the bath area where everything needs to be submersible and fully waterproof). Don't buy an expensive kind and replace as often as you want to update the bathroom scheme. Tiles come in beautiful patterns for the walls and floor but they won't be as easy to change as wallpaper or paint.
Antique chandeliers are also ok in Zone 3, so long as the fitting has been checked by a registered electrician. Bespoke fixtures can definitely add a touch of class and individual style, e.g. a glazed wall cut to size in a wetroom or custom-made vanity unit. The cheaper approach is to use standard size units but design the space in carefully so that they fit exactly.
For example if you want to transform a space you could buy an inexpensive mirrored wall unit from a DIY retailer and fit it into a space especially carved out for it. It'll look stunning but you need to be planning ahead for it.
2. Think of maintenance
When it comes to the wc itself, the least expensive is usually the close coupled – where the pan and cistern are both visible and sitting on the floor. It's the hardest to keep clean though. The floor mounted back-to-wall wc is next up on the cost scale and it requires that you build a stud wall in which to conceal the cistern. The most expensive, but also the easiest to deal with in terms of maintenance is the wall hung which requires a stud wall and a metal frame to hold the toilet up.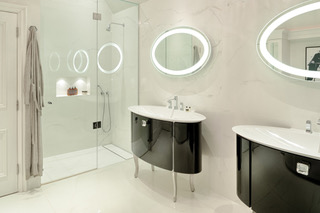 The metal frames are designed to take weight so don't let the thought of falling stop you. Where you choose a concealed cistern, always remember to allow for a removable access panel for maintenance. Some cisterns come with a flush plate which is theoretically large enough for the plumber to use for access, but I have found that plumbers can find those very tricky. When it comes to tiling, stone will usually be more expensive to fit and often requires sealing prior to fitting – an aspect many self-builders tend to forget.
Think also of the ongoing maintenance. In terms of grout colour, consider what they will look like in a couple of months – a darker shade from the start may be a good idea. When selecting shower tiles, remember smaller tiles require more grout which requires more cleaning. Specify the thickness of the grout lines, consider 2mm (less maintenance) versus 4mm lines (easier to install).
'The planning is also important because in this tiny room, every trade will have to pitch in.'
Although not technically required for a residential build, I would always specify an anti-slip tile in a wet room area, ideally R11 (ask your tiler or tile supplier). Smaller tiles have more grout lines which in turn can increase the ant-slip properties but that increases maintenance and to my mind gives less comfort than using the correct tile in the first instance. There are companies that will apply a rubberised surface to a tile to make it slip resistant, but this is usually quite expensive for a one-off bathroom.
Select sanitary ware and screens with an 'easy clean' finish; even when it is available sales staff may not always offer it as it is more expensive (often 10 per cent more), this is an extra that could very well be worth the investment as you'll be using little to no cleaning products on these surfaces.
3. Worthwhile tech additions
The tech touches that will make you feel like you have a spa in your own home won't be as expensive as you think. Motion sensors (known in the trade as Passive InfraRed or PIR) are cheap to install, at €100/£80 a point. Use them to turn on ambient light in window-less bathrooms to create a welcome ambiance or to turn on the lights in the shower area. Think of how many light fittings and circuits you want to have, what can be controlled individually, and on what circuit to put the fan on. You might not want the noisy fan to come on every time you walk through the door.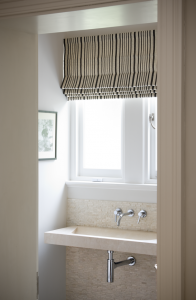 When it comes to the towel radiator consider investing in an electricity mains connection so you can turn it on in the summer when the heating isn't on. Make sure it's programmable so it turns on when you want and thermostatic so it switches off when it reaches temperature.
Demister pads (small pads with electrical current installed behind the mirror) are reasonably low cost and work well if you want to shave or do your makeup after having had a shower. Electric underfloor heating is about €800/£750 to install in a small to medium sized bathroom and is worth the investment – you'll be turning it on for short periods of time so won't cost too much to run either. Just remember that it isn't sufficient to heat the space, you will still need radiators.
4. Storage
Consider open shelving only insofar as you are prepared to keep it curated – messy items on display look worse than a cupboard door. Think of whether you need to store towels, toilet roll for the house, toiletries for teenage girls, etc. and where all of these will go.
Every stud wall is a storage opportunity – you can create an alcove-shelf recessed into a stud wall in a shower – you only need a dept of 80mm. Ask the tiler to have a slight incline leaning towards the front so that you don't get a pool of water at the back.
5. Builders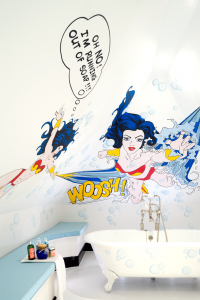 The planning is also important because in this tiny room, every trade will have to pitch in, from general labour, to plumbers, electricians, carpenters/joiners, plasterers, tilers, decorators. Remember that sanitary ware and tiles can have lead times; make sure they are not only chosen but on site before the work begins to avoid delays. Or at least have the first fix items. The labour costs and time associated with a bathroom can vary significantly depending on the type of fittings and fixtures that you specify. When a builder is pricing a job they'll give you a keen price, which will often mean they are assuming the most straightforward of installations – so a move away from those assumptions after the price is fixed can be costly – either in terms of relationship with your builder or your pocket.
Some tiles for example are more time consuming to lay and will incur an additional fee. Small and patterned are generally more expensive than large format. If you need to do any demolition (clearing away your old bathroom fittings and tiles), you must be clear about what's staying and going, who is going to rip it out and who's removing the debris from the house and bringing it to a recycling facility