This historical lookout for seafaring smugglers was renovated to meet the demands of a holiday home and retain period features.
In this article we cover:
History of the property and working with an architect
Inspiration and what they wanted from the renovation
Extension design and alterations to the existing building
Making sure the watchtower would look as it had before
Going through the planning process: from rejection to approval
Going to tender and how they found their builder
How the build was managed and what the day to day was like on site
How the changes are working out for them
Choosing local suppliers
Floor plans and timeline
Full specification and supplier list
Professional photographs
Overview
Plot size: 0.21 acres
House size before: 120 sqm
House size after: 170 sqm
Bedrooms: 4 
Heat and hot water: oil fired boiler 
Ventilation: natural and upstairs mechanical heat recovery
Extension build method: steel and timber framed 
The watchtower, perched on the coastline above Portnablagh, was built to aid the local coastguard in their efforts to keep a lookout for seafaring smugglers. "The earliest detailed record I can locate of the tower is 1841 when it was mortgaged to the Northern Bank," says John, "but I believe it is much older, perhaps even 250 years old."
"My family's first involvement was in November 1925 when it was put up for auction by Lady Ena Stewart-Bam of the Stewart family of Ards. My granduncle Alexander Lecky Wallace owned the local foundry in Letterkenny and decided to buy it as his holiday home. He paid £255 – quite a lot of money in those days!"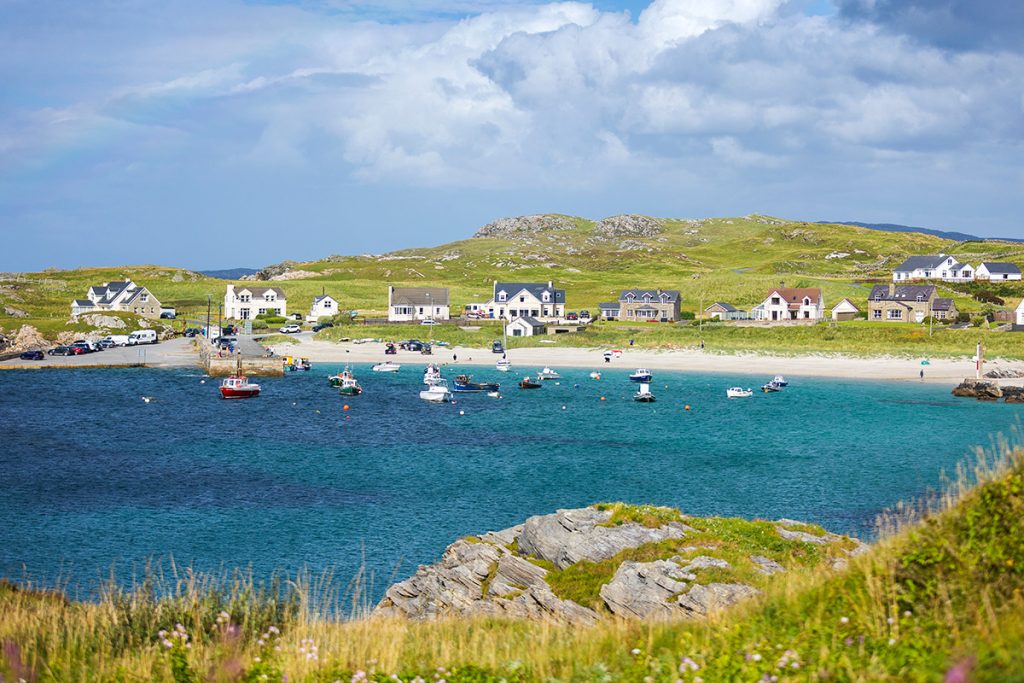 "Back then the property consisted of one room downstairs and one room upstairs with a wooden ladder connecting both levels, which is exactly how I remember it when I visited as a child in the 1950s. It also had a tunnel running from underneath the ground floor out to the shoreline, a remaining link to the days when it was part of a network of watchtowers. Coastguards would raise a warning flag if a smuggler was spotted."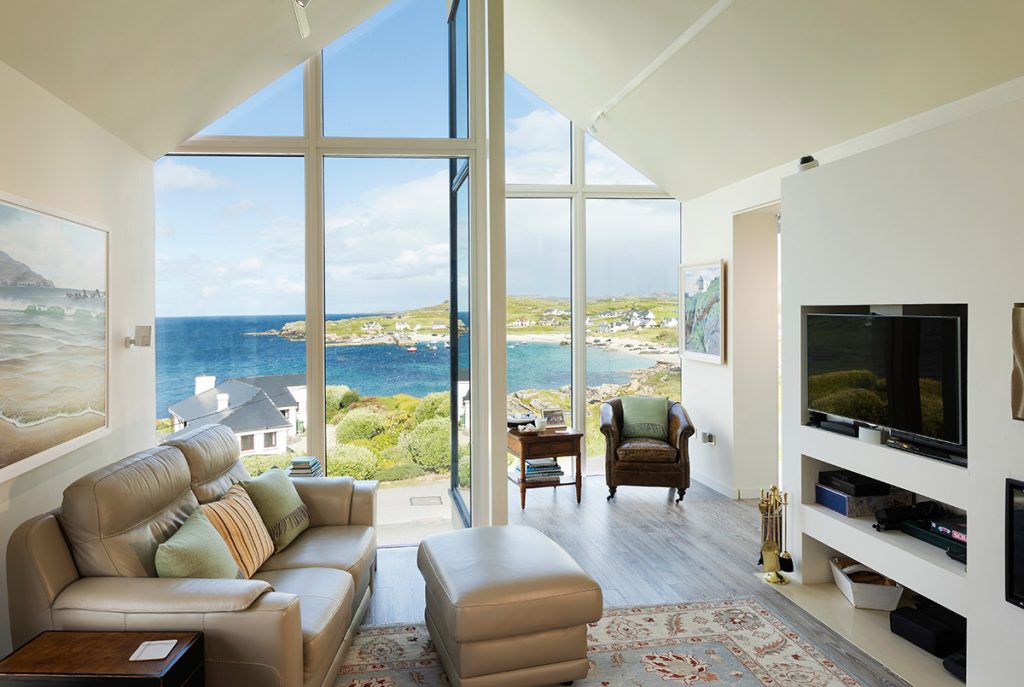 "When Alexander passed away it was left to his youngest sister, Mabel Wallace and then to my father for his lifetime and he passed it on to my eldest sister. After my father passed away, my sister, who lived in England and rarely visited the house, put the watchtower up for sale. She was about to accept an offer and asked me what I thought. As our mother loved the property, as indeed I did, I offered my sister a bit more to keep it in the family so I've owned it since 1987."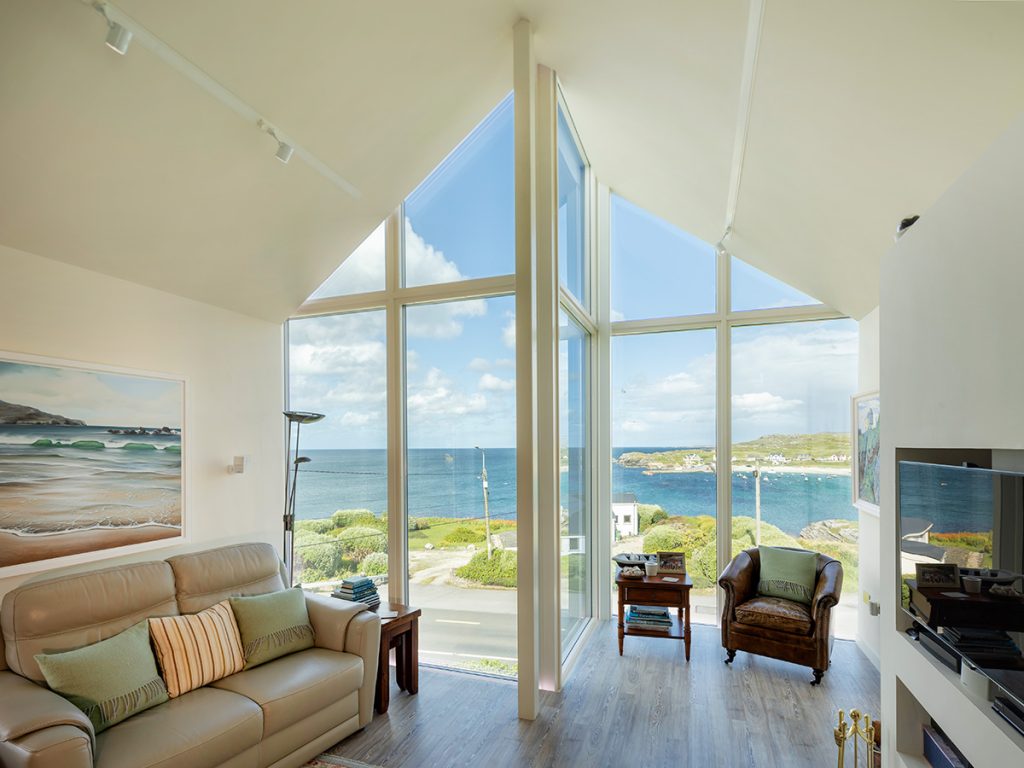 Form and function
"Owning this property is hugely sentimental to me. I have been coming here on holiday my whole life. My father built a couple of extra bedrooms when he inherited it, but when I bought it, I knew we needed an extra bedroom to accommodate my three children."
"So I instructed Ken, a local architect, to extend the building to create an extra bedroom and a liveable, more modern kitchen and sitting room. He also designed a courtyard and what we call the outhouse, which is a little shower room and storeroom for the children to wash off the sand when they came in from the beach. That was the first extension and we used it for several years."
"My wife and I previously had a house in the south of France, which was a sunnier and more favourable holiday destination. But as we got older, we began to appreciate Donegal far more and wanted to spend more time here. We realised that the building needed to be modernised to work better for us. My wife wanted a new kitchen and I thought we needed an extra bedroom so we asked Ken and his son Philip, also an architect, to take another look and design something more modern. Somewhere we could comfortably spend more time in. It was also extremely important that we didn't lose the original watchtower architecture completely."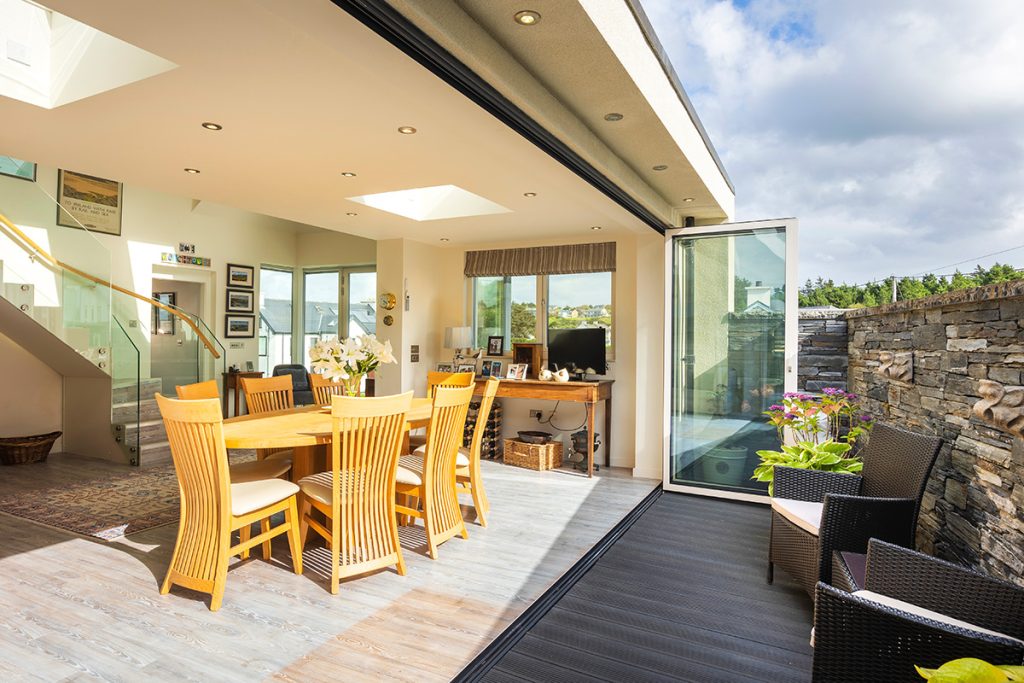 "When we saw Philip's plans it felt just right. What was the sitting room on the first floor is now our master bedroom. Our new first floor lounge enjoys magnificent views out to the Atlantic, across Portnablagh Pier, Horn Head and Dunfanaghy golf course. It's modern, filled with light and very inviting."
The challenging extension for the living room on the first floor was achieved by removing the existing roof and projecting a new space adjacent to the original tower. Cantilevering half of the gable meant they could connect onto the side of the tower and keep a traditional elevation from the pier.
"Externally, it still looks like a watchtower but with a modern extension. The view of the house hasn't changed much at all. Coming from Dunfanaghy on the west, it looks just as it did before. That was important to us, as we didn't want to alter anything historically."
Plan B
Despite this attention to detail, the original plans were rejected by the local planning office. "While they approved the modern extension facing the sea, they turned down the plans for a small rear extension which would have provided the opportunity for a south facing balcony. We can get the morning and evening sun at the front of the house and the afternoon sun at the rear downstairs, but not upstairs, which would have been ideal. To be honest, I can't understand the planners' decision making when I look around and see what they have subsequently approved."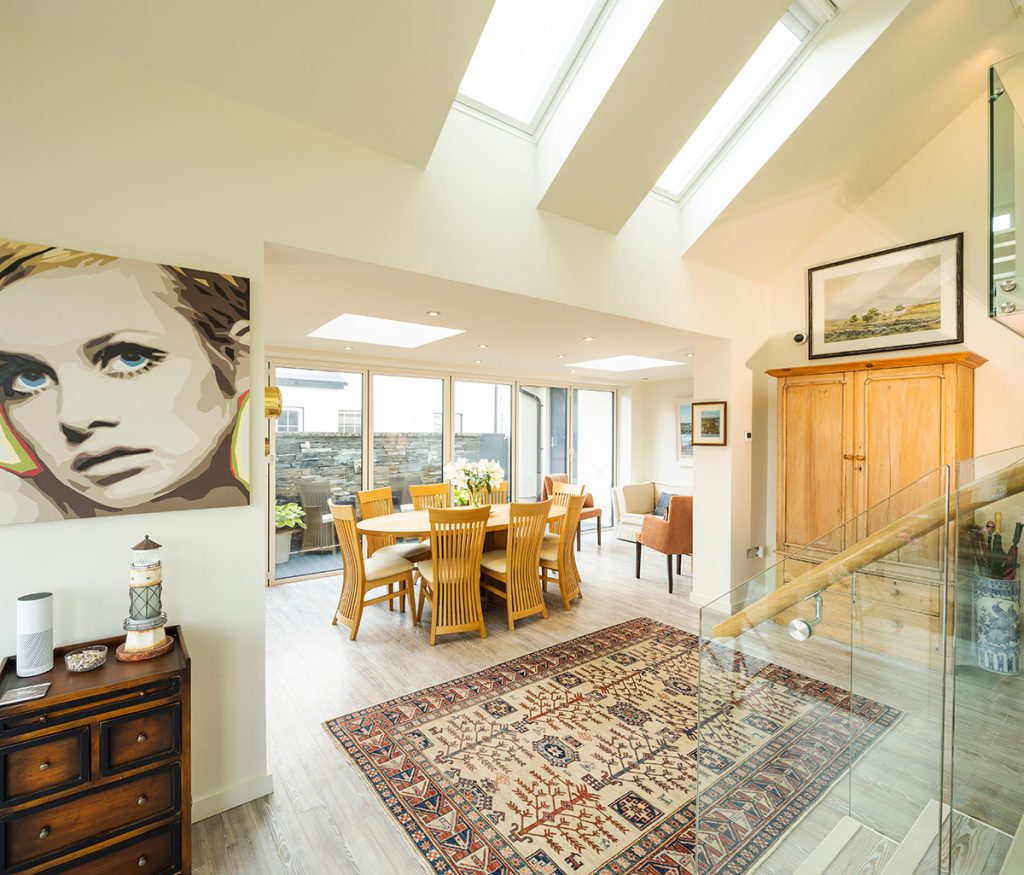 The reason for the rejection was that the balcony would overlook two properties at the rear. "What was odd was the fact our neighbours raised no objections. However, we altered the plans to avoid the overlooking issue and they went through successfully."
"We got rid of the courtyard and extended it into a dining area with bifolding doors opening onto a small, terrace area, which gets the sun in the afternoon. So despite the fact we couldn't get planning permission for the balcony upstairs, we can now open the bifolding doors and enjoy the sunshine downstairs."
The architects inspected everything, working closely with the foreman, while the Arthurs remained in London. "We came over half a dozen times to review how things were going. It was so important to us to have a good architect and foreman on the job and we could not have asked for better people."
The construction work was put out to several builders for tender. "We didn't select the cheapest by any means," says John, "but the high standards of the work delivered made it worth it."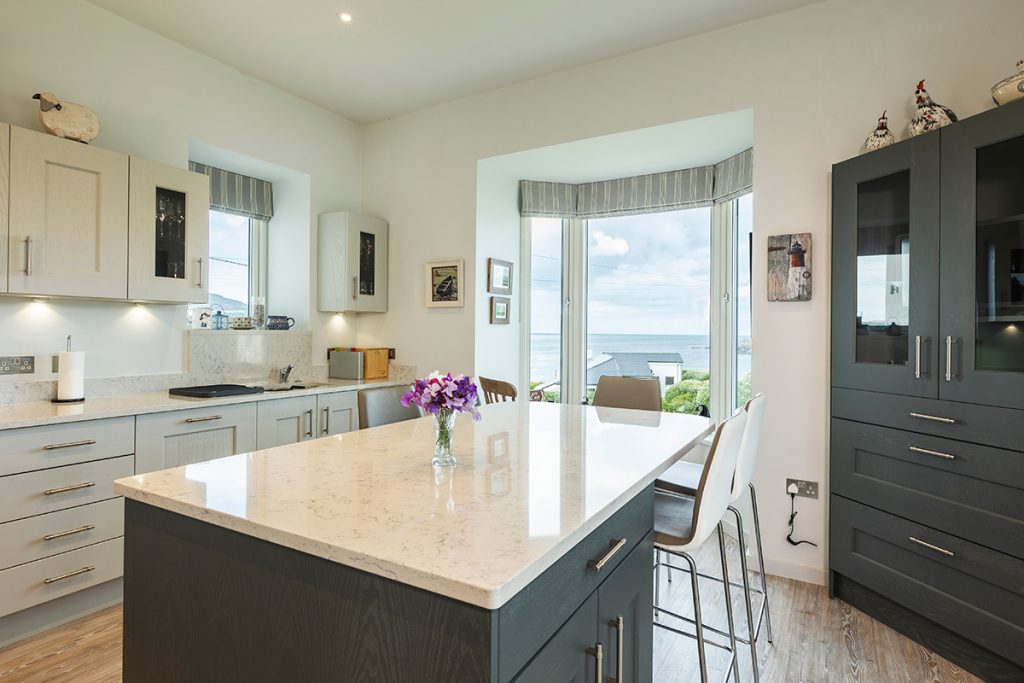 Despite the project starting modestly as a request for a new kitchen and an extra bedroom, the subsequent plans required a complete gutting of the property. "All the radiators were removed and the whole ground floor reduced to earth as the builder dug down to provide a new subfloor for the underfloor heating," explains John.
The new layout of the watchtower comprises a kitchen on the ground floor and a dining area. The old ground floor houses three bedrooms and two bathrooms. Upstairs is the master bedroom and bathroom.
"Apart from the original watchtower, the rest of the property is extremely bright, vibrant, and almost all glass," says John. "From where I'm sitting downstairs, there's only one solid wall; everything else is glass to open up the views."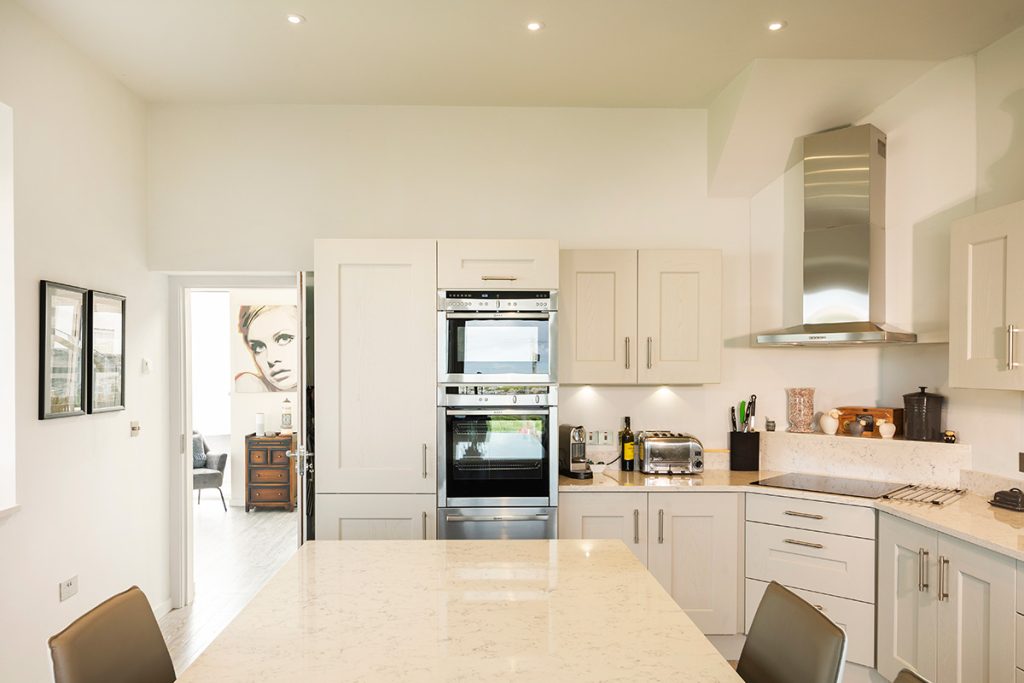 "Earlier this year, we put in a small terrace. Even though it's northeast facing, it gives us the sun in the morning until about 10 am. We can have breakfast out there and enjoy the views. We also have electric points, enabling us to have outdoor heaters so we can enjoy it regardless of the temperature – a very useful feature to have here in Donegal."
Local suppliers
When it came to introducing new features and fixtures John insisted on using local suppliers and tradespeople as much as possible. "From the builder, roofer, glass, kitchen, staircase, bathrooms and so forth, I wanted to keep it local. As you look around the house, every picture hanging on the walls, bar one or two, is the work of a Donegal artist."
Externally, John has so far resisted his architect's suggestion to employ a landscape designer to make more of a feature of the garden. "It's currently just lawn so we'll have to mull that one over. It might well be the next project."
There is, however, an interesting feature that not many gardens can boast about – a canon from a shipwreck of the Spanish Armada. "When I was quite young, I remember it just appearing in the garden. It had been given to my great aunt Mabel and it just sat outside, gradually deteriorating. Donegal County Museum authenticated the canon as being from the Armada. They attempted to renovate it and put it on display, but sadly it was beyond reasonable repair so it remains in our garden on a special mount."
The sentimental and historical value of the watchtower and the surrounding area has been a guiding influence on this project. John's role as custodian of this slice of Donegal's past is strongly felt. While keen to make the centuries old property work as a modern home, he didn't want to lose the original charm of the flint and stone built tower structure. Nor did he want to impact the surrounding area.
"We won't be doing any more work to the building," says John. "Amusingly, when I looked up the auction sale brochure from 1925 the wording said the watchtower would be suitable to extend, or, given the large amount of attached land, another dwelling could be built on the plot."
"There's certainly room to build another building, but we would never allow that. If I , or my heirs, sell this house I will put a restrictive covenant in. I don't want to see this part of Portnablagh overdeveloped."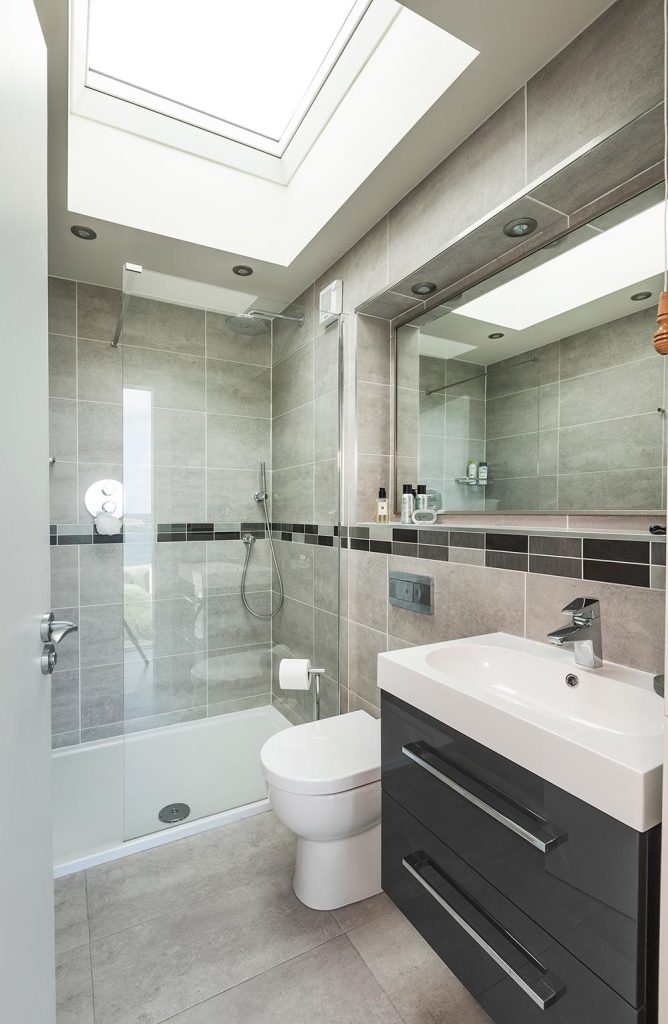 Q&A with John
What is your favourite design feature / room?
We absolutely love the whole house, particularly the new first floor extension which has made the most of the spectacular views.
What would you change or do differently?
If we could have changed the planners' decision on the rear upstairs balcony, that would have made it complete.
What surprised you?
The light and views afforded by the first floor living room extension surpassed our imagination.
What single piece of advice would you give a friend who's looking to embark on a project similar to yours?
I recommend sharing your ideas with the architect and ask them to prepare alternative plans. Our original instruction was very simple – a new kitchen and an extra bedroom. Our architect presented several plans which pushed the boundaries and we ended up with the perfect house design. One we didn't know we needed.
Would you do it again?
Even though we lived away from the build, the process was extremely smooth. So yes, we would do it all again. But as for any future work, no – we're very happy with what we have.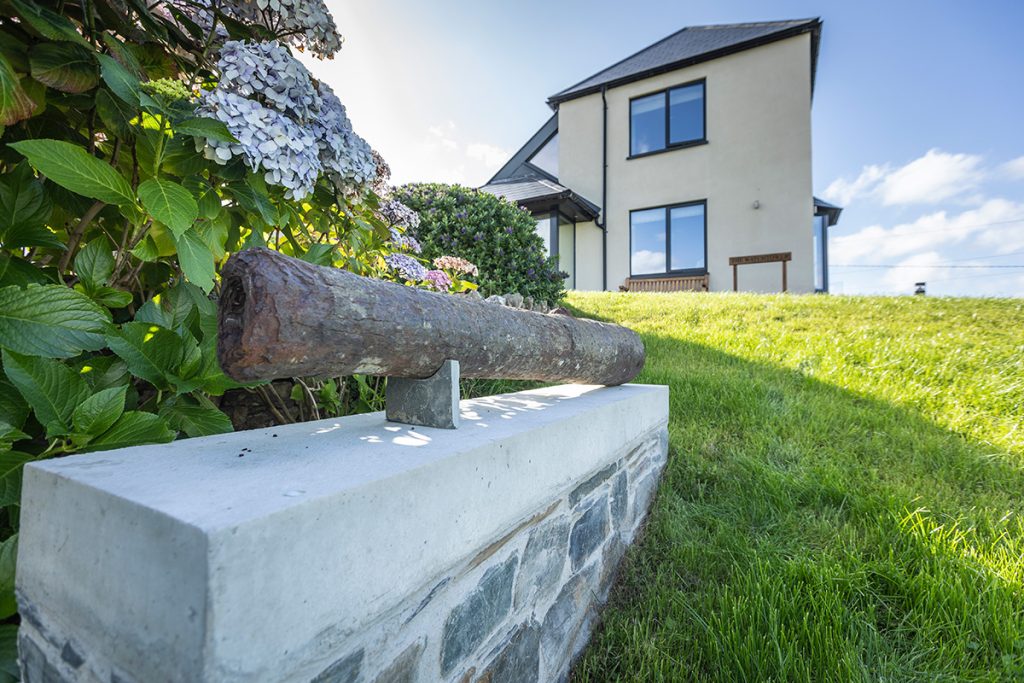 John's tips
Get a professional to oversee the build. If you live far away from the property, as we did, make sure you employ people (architect, contractor) who are competent and you can trust.
Aim high. If the site is situated in a particularly scenic area, consider having a first floor living area to take in the views. The higher you go, the better the views.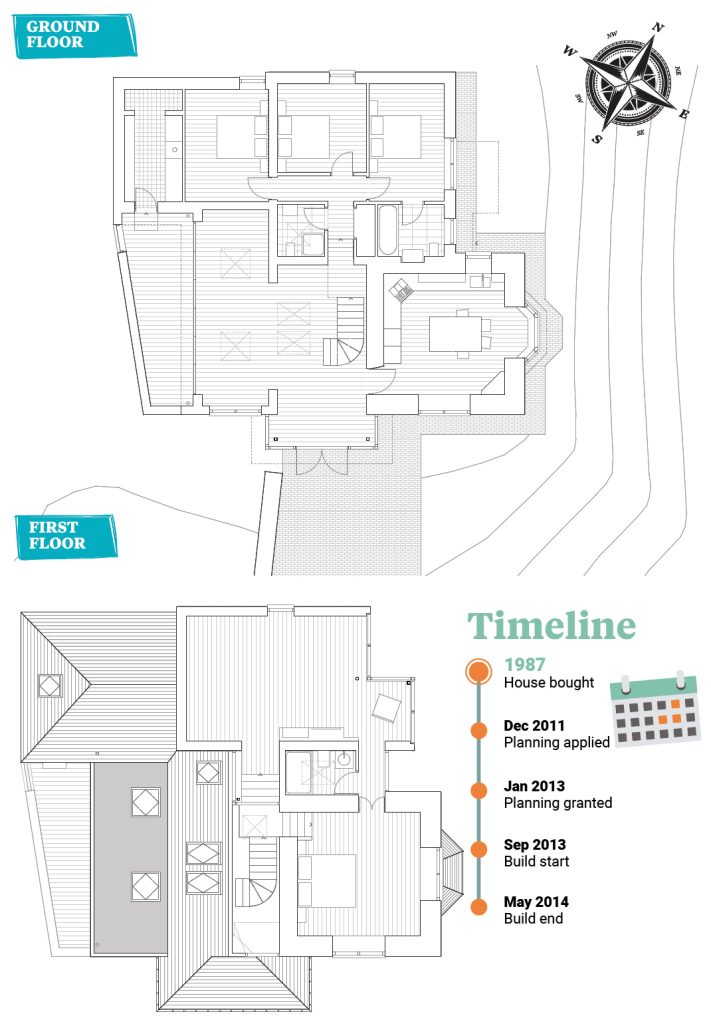 Suppliers
Architect
Bond Architects, Portnablagh 
Builder 
Terence Ponsonby Building Contractor, Letterkenny 
Kitchen 
Brian Dukes Kitchens, Newtown Cunningham 
Staircase 
Designed by Bond Architects, made by PJ Designs, Drumkeen. Frameless glass panels for both staircase and terrace by Letterkenny Glass
Photography 
Paul Lindsay, paullindsayphoto.co.uk
Specification
Existing walls:existing blockwork 100mm wide cavity pumped with EPS beads, 100mm external rockwool finished with polymer render. U-value 0.135 W/sqmK. 
Extension walls: steel frame / timber stud infill with 35mm multilayer foil insulation, 150mm rockwool between studs, 100mm external rockwool finished with polymer modified render. U-value 0.130 W/sqmK. 
Existing floor: 80mm screed over 100mm PIR insulation over 150mm RC slab. U-value 0.153 W/sqmK. 
Extension floor:80mm screed over 150mm PIR insulation over 150mm RC slab. U-value 0.113 W/sqmK. 
Existing warm pitch roof: 100mm mineral wool between rafters, 100mm PIR board over. U-value 0.105 W/sqmK. 
Extension warm pitch roof: steel frame / timber infill with 35mm multilayer foil insulation, 200mm rockwool between rafters, 100mm PIR over rafter insulation. U-value 0.075 W/sqmK. 
Extension warm flat roof: timber frame with 35mm multi-layer foil insulation, 150mm rockwool between rafters, 100mm PIR over rafter insulation. U-value 0.080 W/sqmK. 
Windows: triple glazed, argon filled, aluclad with whole house averaged U-value 0.84W/sqmK. RAL colour inside 9001, outside 7024. 
Airtightness: Airtightness test was not performed. The whole house was covered with 100mm of rockwool and windows rebated 30mm. Given the different wall constructions of block, masonry and timber frame the wall hole tolerances would vary a lot. Airtight tape, mastic, compriband tape and expanding foam were used to accommodate the different conditions.