In a bid to cut construction costs, the ROI Department of Housing recommends standardised specifications for social housing in new cost report.
In this article we cover:
Why homes in Dublin cost more to build than in other European cities
What elements of building a house cost the most
Action plan with next steps, including plan to encourage modern methods of construction
Further resources on how to cut costs when building a house
In a bid to cut construction costs, the ROI Department of Housing published could reduce the square footage of social housing, and introduce standardised specifications for wall build ups and heating and ventilation systems.
That's according to the Residential Construction Cost Study, a joint initiative of the Construction Sector Group and the Government under the Housing for All strategy which states that standardised, simplified plans with technical specifications for walls, windows and building services, can help cut the cost of building homes.
For self-builders, building to standard designs was first introduced to Ireland through the pattern book Bungalow Bliss.
Books of house plans are still available today, but bespoke designs are the most common, with self-builders hiring an architectural designer to guide them through the planning, building control and health and safety requirements.
Self-builders today tend to cut costs through design solutions.
The Residential Construction Cost Study, officially published today on May 4 2023, explores why building social housing in Dublin is costlier than in other European cities.
One reason is size, as in social housing in Ireland tends to be a bit larger per sqm, other reasons include specification (standardisation, typologies and finishes) and scope of works (fixtures and fittings, appliances etc.).
Labour costs and using "site-based heat generation", i.e. installing boilers or heat pumps, as opposed to district heating also contributed to the higher unit costs.
Most relevant to self-builders was the analysis done for the cost of building semi-detached homes in Dublin. A 123sqm five bedroom demi-detached house designed with five occupants in mind cost €180k to build, which was 15 per cent more than it cost to build a similar unit in Birmingham, as below.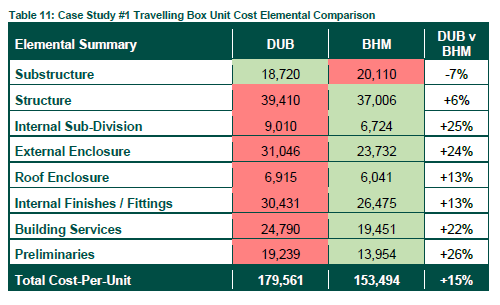 Action plan
The report's action plan includes rolling out standardised housing plans and "simplified layouts", although these will be "indicative only" and accompanied by performance and economic best practice guidance.
These approaches are to include the development of both standardised dwelling types and standardised specifications, including for building services (i.e. plumbing, heating and ventilation systems and electrics) and standardised components.
The Department is also keen to see more offsite construction systems and components used to build homes, including the "development of standardisation across various building components". Open source construction details are part of the mix.
Other highlights include the Department's plan to fund a review of external wall build-ups, assess and test alternatives for suitability, including external leaf, for Irish climatic conditions, for new houses and apartment buildings.