Self-builders in counties with poor drainage such as Leitrim and Wexford will continue to struggle to get planning permission, the draft Code of Practice published by the Environmental Protection Agency (EPA) last week suggests.
Even though
the draft Code of Practice (COP)
is making it easier to pass the percolation test, increasing the T-value from 90 to 120, it provides no alternative for sites with very low permeability. "The draft COP offers another technical option and that will apply in areas that previously would have failed," Stephen McCarthy of the EPA told Selfbuild at the
Irish Onsite Wastewater Association (IOWA) conference on December 13th 2018.
"It can be used in low permeability sites. But there's still an upper limit so it's potentially there as a new option for certain circumstances. We'll wait to see how many cases that might apply to." There was some degree of optimism that the changes would help self-builders on sites that currently can't secure planning permission because they fail the percolation test parameters. "I hope the changes to the COP will mean more sites will become available to build on, but the T-value change does not represent a huge increase especially for difficult areas like Leitrim which may need more flexibility. Only time will tell how many more sites will come on stream as a result of this, but I am very optimistic it will help many more sites to be developed," IOWA Secretary Joe Walsh told Selfbuild at the conference. The EPA is updating the 2009
COP for Wastewater Treatment and Disposal Systems Serving Single Houses
.
That 2009 COP currently focuses on
how to specify septic tanks and packaged treatment systems. Drip dispersal (DD) is the new technology the COP is focusing on, in addition to low pressure pipes (LPP). The EPA currently only foresees using DD as tertiary treatment for sites with a T-value between 90 and 120. McCarthy told Selfbuild DD would be used for effluent from a septic tank and filtration system or packaged treatment system. DD would be used as a means to discharge the effluent to the ground. A site assessor told Selfbuild at the conference that in his experience, local authorities want the onsite wastewater system that's specified for a house to be detailed in the COP. Even though the COP allows for alternative systems, including DD and LPP, in his experience the planners end up sending out requests for further information if alternatives are specified, which in turn delays the process. This has led to the practice of specifiers opting for what's fully specified in the COP.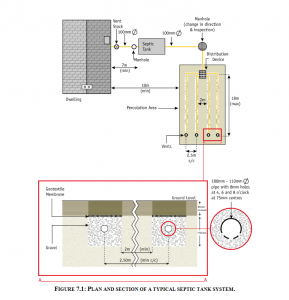 This issue has been identified in the update to the COP which states the code is not a specifier's manual, instead it now refers to specific standards applicable to the technologies it discusses.
No solution for sites with very poor drainage
There was hope amongst site assessors that the draft COP would include an option for soils that would fail any percolation test. According to Laurence Gill of Trinity College Dublin, who also spoke at the IOWA conference, evapotranspiration (ET) systems in the form of willow beds could be a viable option for these sites. Even though willow beds take up a considerable amount of space and can be costly to install, in the order of €25,000, tests conducted by TCD on several sites across the country and over many years show that there will be some runoff from the surface of these systems following heavy rainfall, particularly during the wintertime. "After heavy rainfall if the basins are already full, which is normal in the middle of winter, the additional water runs across the surface to an outflow point; we have monitored this discharge on all our systems and whilst it's not 100 per cent free from all contamination, it is of very similar quality to the to the type of runoff you get from the adjacent land on the rest of the site following a rainfall event," Gill told Selfbuild. For the EPA this qualifies as effluent and therefore requires a discharge licence. Even though homeowners in NI can secure discharge licences, in ROI it's nearly impossible to get one. "The monitoring of Irish willow bed systems showed no system managed to achieve zero discharge. The update to the Code therefore proposes that they can only be used in association with subsequent discharge to an infiltration/treatment area, or to surface water with an appropriate licence ," said McCarthy. An alternative mooted by a Leitrim councillor at the conference was to use septic tanks as holding chambers, known as cesspools, and emptying them periodically. Gill said that option would be impractical because the vehicles (desludging tankers) tend to be modest in size which in turn would require emptying the tank more frequently. For example, for a full-time occupied three-person household,
a study TCD conducted for the EPA calculated that a cesspool would need to be emptied almost every month, resulting in annual costs of approximately €6,500
.
The COP is up for public consultation until March 22nd 2019.
UPDATE April 2021:
The new code of practice has been published and will come into force June 2021.
Main image: Typical drawing of a septic tank certified to IS EN 12566 Parts 1 or 4 complying with requirements of SR66