ROI Self-builders seem to be in breach of their legal requirement to get a Building Energy Rating drawn up before they move in, statistics shared with Selfbuild by the Department of Housing indicate.
Selfbuild had asked the Department to clarify a statement that self-builders "presumably" showed signs of "non-compliance with regulations".
The Department of Housing's George Hussey told Selfbuild his comments had been made in January when the department was still "early in the process of reconciling data sets" from Building Control Management System commencement notices, planning permissions, ESB connections and Building Energy Rating data. He said the comments were "speculative" and presented a "tentative conclusion".
The BER data that is currently published
does not go into great detail about one-off houses; Hussey clarified he had gotten access to more detailed statistics, as below: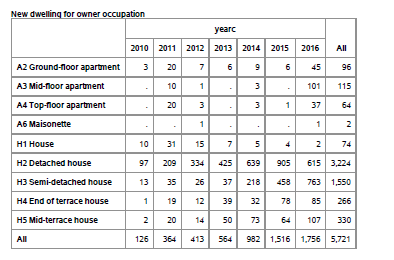 He used two categories within the BER data as proxies for one-off houses, Detached House (H2) and House (H1) with yearc referring to the year in which the house was built. Hussey said that considering
the number of commencement notices issued
, there had not been enough BER certificates produced, indicating that some self-builders may not be getting their BER certificates done up as is required by law.
Building Control Management System (BCMS)
data is only available for two full years. One-off housing commencement notices for 2015 stood at 3,111 and at 4,012 in 2016. There is likely to be a shortfall in that some builds could take longer than a year to build or could have started late in the year, but the difference is significant enough to remind self-builders there is a
legal requirement to get a Building Energy Rating done before moving in
. Selfbuild understands there is currently no need to file a BER certificate on BCMS, which could explain why some self-builders may not be aware of this requirement. Hussey said he no longer believed there to be an issue with the number of commencement notices filed, as he originally implied in his email correspondence to the CSO.