In their current form, shipping containers have been around since the 1950s but have only become a construction material in the past decade to construct the popular shipping container home.
Insulation: rigid phenolic foam 100mm in floor, 150mm in walls; flat roof waterproof system with 150mm polyurethane foam.
Windows: Sliding timber / aluminium-clad glazed screen measuring over 9 meters long.
This global housing and architectural trend spread to Ireland in the form of small or student projects, none of which are believed to have been built to be fully compliant to building regulations.
That was the situation until two pioneering projects proved that, with the right team on board, building out of scrap metal was possible in Ireland too: NI architect Patrick Bradley's house and the RIPPLE project in ROI. Bradley's use of two shipping containers to create his home was recently chronicled on TV show Grand Designs.
Project RIPPLE, meanwhile, happened in November 2014 bringing together 65 professional and trades people, suppliers and supporters to create what's believed to be the very first, fully-compliant, home in ROI, made entirely from a disused shipping container. Here's the story of the conversion of scrap into a home as told by Carol Tallon.
Making waves
People are choosing to live in a different way. Simply put, innovation within the property market in Ireland has not kept pace with changing global trends; for example, people are moving away from the notions of permanency or lifetime debt. In a more mobile society, there is a need for flexible approaches to home ownership. A low cost model of sustainable housing was inevitable after the property market crash; building with shipping containers is simply one potential solution in a country that has sufficient space to accommodate different lifestyle choices.
While the initial aim of project RIPPLE was to come up with a low-cost model of housing that could be rolled out quickly and without the long lead-in time that traditional housing requires, it became clear that this approach contained its own unique challenges in Ireland. Our climate demands greater levels of insulation, and given the size of the container, it had to be external rather than internal.
The project took two years to plan and during that time the general property market in Ireland recovered at a pace much quicker than expected. Thus many sites and opportunities disappeared. While difficult for the project, rising housing prices reinforced the need for a low cost model for housing, particularly in the capital. Perhaps the greatest challenge was the introduction of new, more onerous building regulations in early 2014, which meant increased compliance issues and with those, increased costs for all self-builders.
The same home traditionally built would cost €55,000 but a 40ft shipping container can be converted into a fully-compliant home from €25,000 direct labour or €35,000 using a contractor. Accommodation consists of an entrance into the kitchen, with lounge/seated area to the right and storage cupboard to the left. A hallway leads to a fully-accessible bathroom, with WC and shower, then into the deceptively spacious bedroom with extended height, double bunk beds and built-in wardrobe.
The timeline below is for this particular project which had some aspects and challenges unique to it, such as it only taking three days to build. More importantly, it was an entirely voluntary and charitable project. All labour and materials were donated or sponsored; we therefore had to work with what we were given, using the labour available within a very short time frame.
The temporary site required preparatory steelworks which were done offsite. Markings were made using a chalk line then permanent marker on the interior of the container for window and door openings, chimney exit and roof pipes for solar panels. This was done by recreating the floor plan inside. The next step was to put in acrows (steel bars used for temporary support from floor to ceiling with threads for adjustable heights,) before cutting out the side of the container. But before we could do that, the side panel had to be removed to reveal the steel cross members to allow us to cut out the side of the container along the markings using an angle-grinder. Steel supports around the openings were made by the team to give new strength to the structure. These were connected to the steel cross-members of the floor.
On the roof of the container, the four lifting points were extended to allow for a super-insulated fibreglass roof whilst still allowing for the container to be transported.
Day One
In the grounds of the Irish Museum of Modern Art (IMMA) in Kilmainham, Dublin with a team of 20 to 30 people on site, a rusted and slightly battered 40 ft container was craned off the delivery lorry and placed on a firm, level site of concrete and gravel.
As we were aiming for passiv or near passiv haus standards the entire container was wrapped in an airtight membrane then the exterior timber frame was built around it, using 4×2" timbers. The insulation was cut to size and placed between each of the battens with a second layer screwed on the outside of the timber frame in larger panels. The entire building was wrapped again in another watertight membrane. 
Inside, a sheet of membrane was sealed to the floor and two layers of insulation placed on top. Marine plywood was then screwed into place to create the upper surface of the floor.
We had decided to leave the rippled interior exposed with the walls and ceilings spray painted in a light grey colour. The idea came from commercial projects but it works well for houses too.
Day Two
Similar to a traditional self-build, the first fixes happen concurrently, as follows:
Timber studding – to create the walls




and interior spaces

Plumbing  

Electrical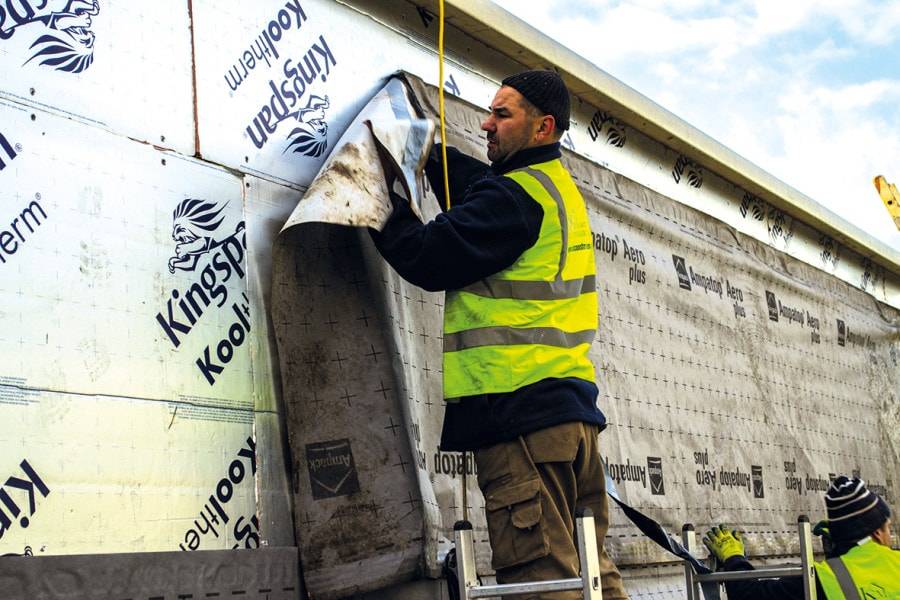 The plumber and electrician worked together on the roof mounted hot water solar panels (evacuated tubes). The exterior was sealed using glass reinforced polyester (GRP) and a roof created from fibreglass. This section was completed by putting the downpipes in place.
Day Three
Next to go in were the windows and exterior doors which were tinted for aesthetic reasons and to aid the energy performance of the glass. All the electricals and plumbing were completed and connected and the joinery, bespoke double bunk beds, storage spaces and the kitchen were installed; all coordinated by an interior designer.
With watertight, breather membranes completed and battening prepared, the external cladding began. While the original RIPPLE design provided for a more traditional timber cladding, a design choice was made to experiment with bamboo, to truly stunning effect, especially after adding exterior uplights and downlights.
A quality, composite decking area was fitted, creating raised access into the building whilst some final landscaping completed the project and the site was opened for viewing.
Day Four
On day four of the project, Sunday 30th November 2014, this stunning new home was donated to the Society of St. Vincent de Paul to support their work in helping the homeless. The plan is for it to be located at the charity's women and children shelter in Longford, Bethany House, subject to site suitability and local planning approval. Hopefully the container house will be used as an alternative to unsatisfactory hotel or B&B rooms for families, while they are waiting for more permanent accommodation.
The use of converted shipping containers to provide emergency accommodation is in use worldwide, Australia started using these dwellings in 2007. This has to be good news following a year of reports about the rise in homelessness in Ireland and the doubling of the number of families in emergency accommodation since last year. This project will take one family off that list and whilst one is not a big number, not only is it a start, one family has a whole new quality of life and that has to be worth a lot.
Since embarking on this unusual build, many similar projects at various stages of planning and preparation have come to light. To date, planning permission has been granted for at least two container builds in Dublin and County Cork, with many more expected throughout 2015 and 2016. Containers make an ideal structure for self-builders due to their ridged frame, manageable size and versatility. So what are you waiting for? 
Carol Tallon
www.caroltallon.ie
(founding member Ripple Project)
Additional information:
Derek Trenaman, Michael Malone
(founding members Ripple Project),
Ceardean Architects, 169 Inchicore Road,
Dublin 8, mobile 087 6436645,
email info@ceardean.com
Info
Photography by Stephen Fleming Photography, www.sflemingphoto.com and
Tania Flores of Ceardean Architects, 169 Inchicore Road, Dublin 8, mobile 087 6436645, email info@ceardean.com
KSM Construction
https://ie.linkedin.com/in/kenmariner
Vincent Brady Consulting Engineers
www.consulting-engineers.ie
S.K Interiors Ltd www.skiinteriors.ie
Ait Place www.ait-place.ie
Lawlor Burns & Associates
www.lawlorburns.com
Hear Me Roar Media
www.HearMeRoarMedia.com
M&M Electrical Contractors
rmongey@mmelectrical.ie
Metallica Steelworks
www.metallicasteelworks.com
John Egan Heating
www.johneganheatingandplumbingbray.com