Are you looking to make your dream kitchen a reality but don't know where to start? Well, before you decide on a kitchen colour scheme or even a kitchen style, you need to determine one thing: what's the best kitchen layout for your space.
That's because choosing the best layout is crucial to creating a kitchen that works for you and your family. There's a lot to think about. Don't worry, the team at Cash & Carry Kitchens have over 40 years of expertise when it comes to making and designing kitchens. Here they share some top tips for choosing the perfect layout for you!
Choosing the right kitchen layout
Gone are the days when kitchens only had a hob and a fridge. Now, we must accommodate growing families and the many gadgets that help make our days easier. It really is essential to implement a kitchen layout that helps you make the most of your space.
Firstly, you'll want to consider how to arrange your working triangle. The working or golden triangle rule helps maximise space. It revolves around the three major appliances: your refrigerator, your oven and hob, and your kitchen sink. This lets you move around unhindered as you complete your standard kitchen tasks.
Next, assess your space to see what will work naturally with your space. Consider factors like room size, architectural features and light sources. You'll also want to think of your own habits in the kitchen. Finally, think of your appliances –everything has to fit!
The six types of kitchen layout
#1: The Galley Kitchen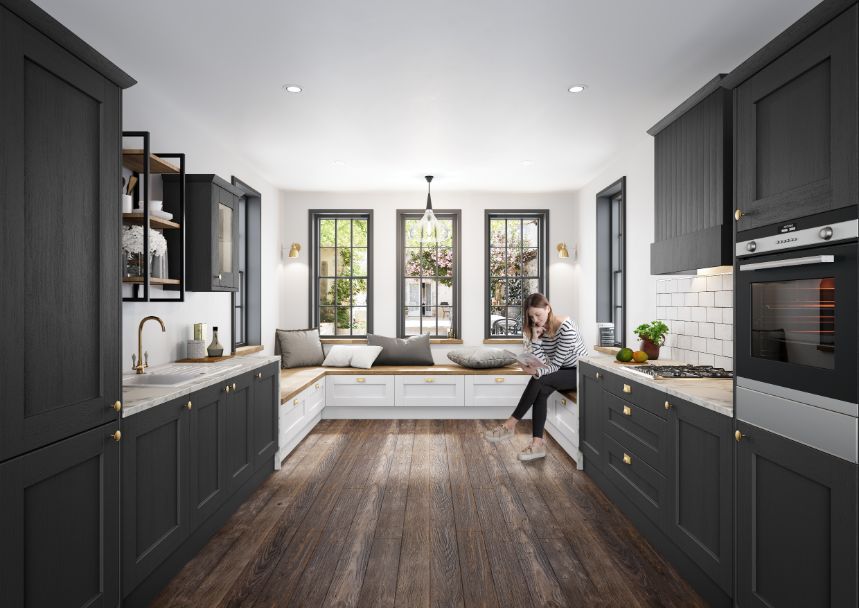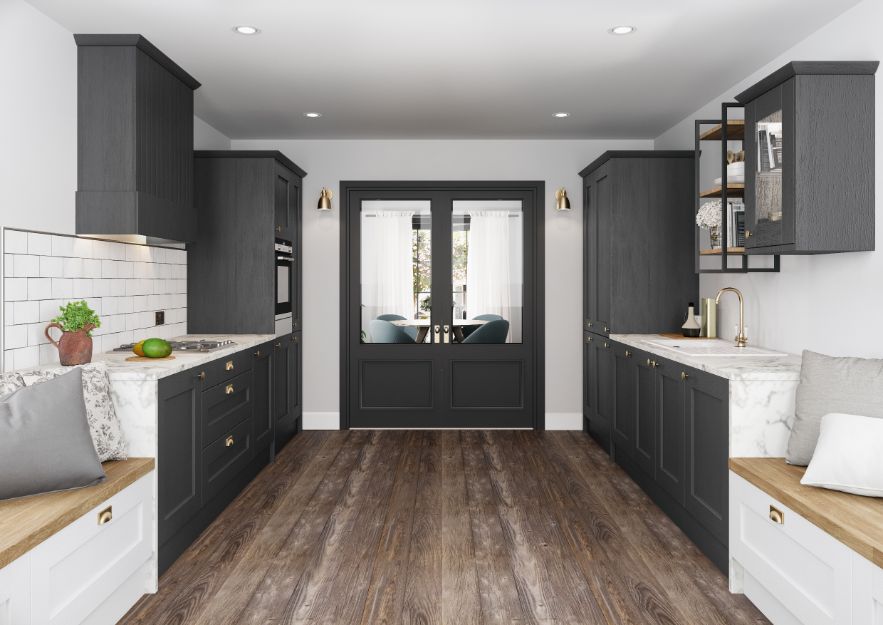 Named after the small kitchens aboard ships, the galley kitchen is a classic style that features one long aisleway. Each side includes base cabinets, wall cabinets, and appliances. A galley kitchen is smaller than most other kitchen layouts, making it a great space saver.
However, there is a risk that it can feel narrow or cramped if designed incorrectly. This can be avoided with the right use of space and light. Read more in on our galley kitchen ideas guide.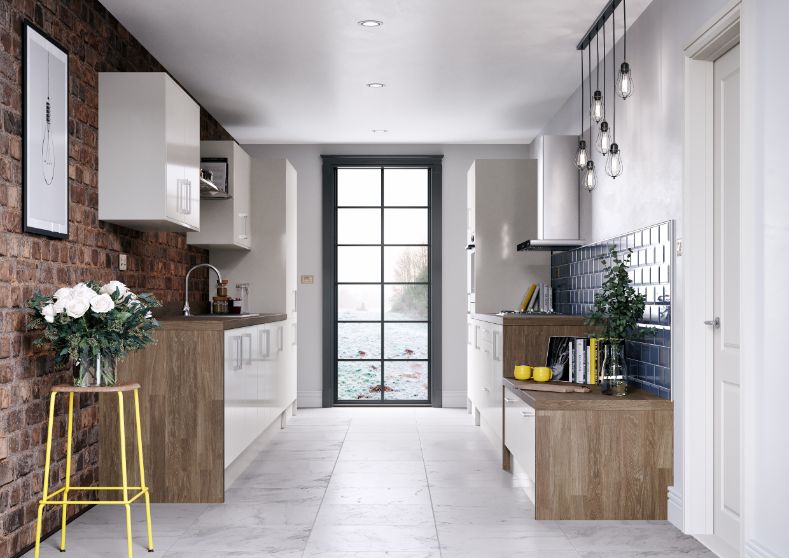 ---
#2: The Island Kitchen
The island kitchen is one of the best layouts for large areas. It features at least one wall of appliances, base cabinets, upper cabinets, and countertops. The island unit becomes a multifunctional space that acts as more counter space, a workstation or a place for family and guests to sit. You can even install storage underneath to make even better use of the space.
However, be careful of placing a kitchen island in the middle of your work triangle. Doing so can disrupt your workflow and make it more frustrating to be in the kitchen.
---
#3: The L-Shaped Kitchen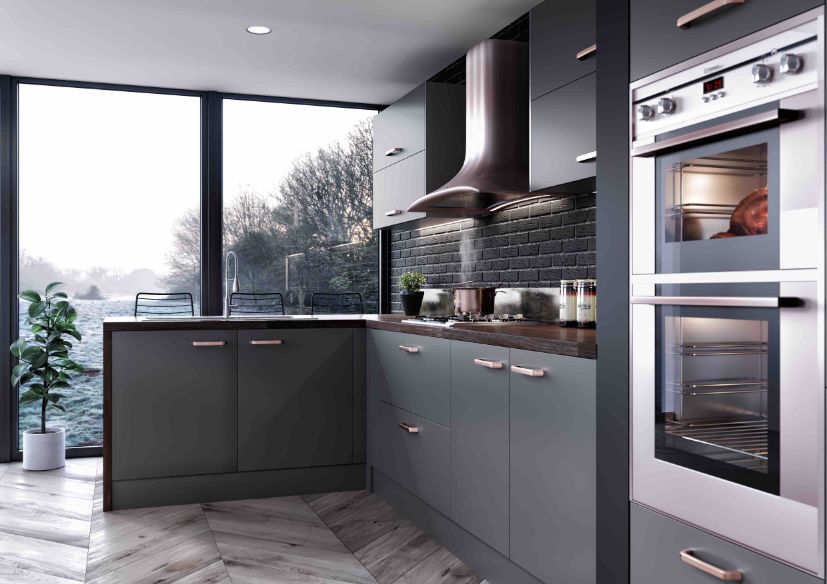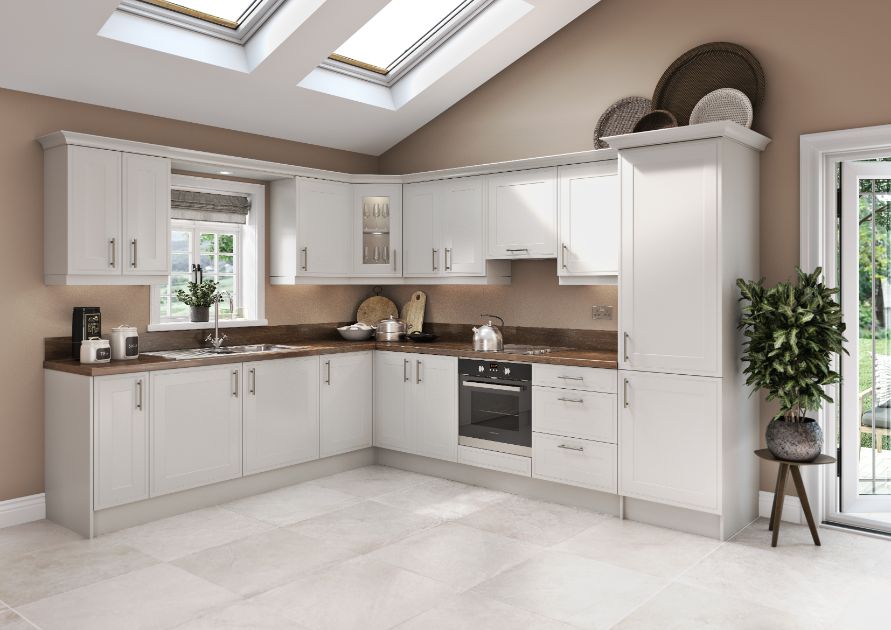 The L-shaped kitchen is one of the most versatile kitchen layouts you can choose. It features two rows of cabinets that intersect at right angles. It creates the perfect kitchen triangle to maximise efficiency in your space!
You can also combine an L-shaped layout with a kitchen island to create a hybrid layout. However, having corner-based cabinets can be tricky. Be sure to make use of corner storage to avoid awkward access to your cupboards.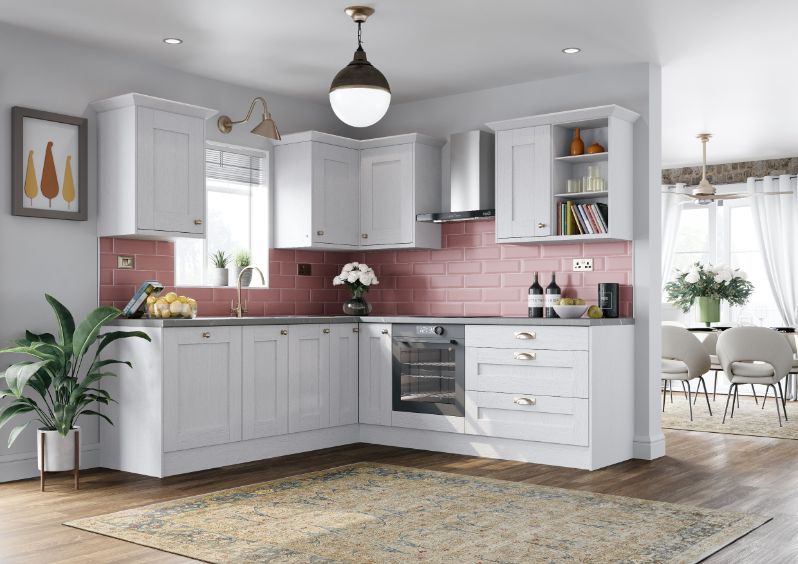 ---
#4: The One-Wall Kitchen Layout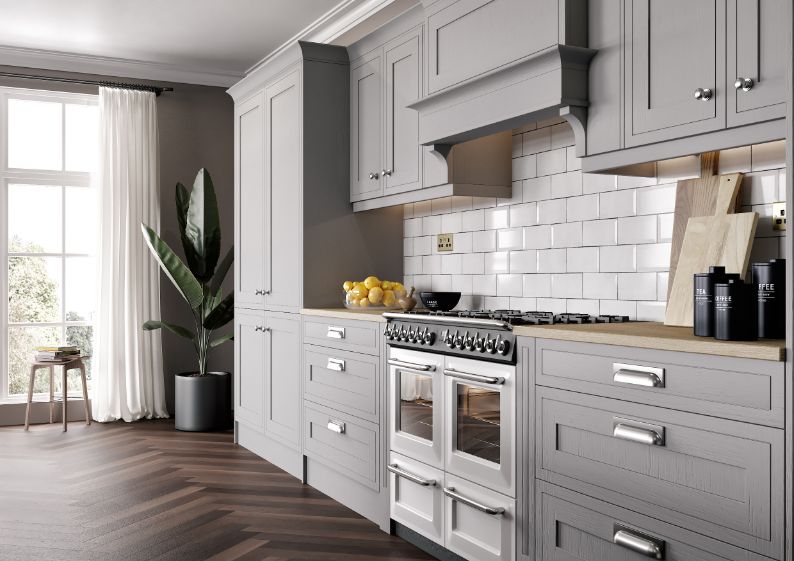 The one-wall kitchen layout is the ultimate design if you love simplicity and efficiency. This is best for small kitchens, as you won't have to walk far to get from one appliance to the next.
This kitchen layout features one single wall that's home to base cabinets, wall cabinets, appliances, and worktops.
As it's a small kitchen, it's naturally inexpensive. This is a great choice if you're looking to keep to a tighter budget.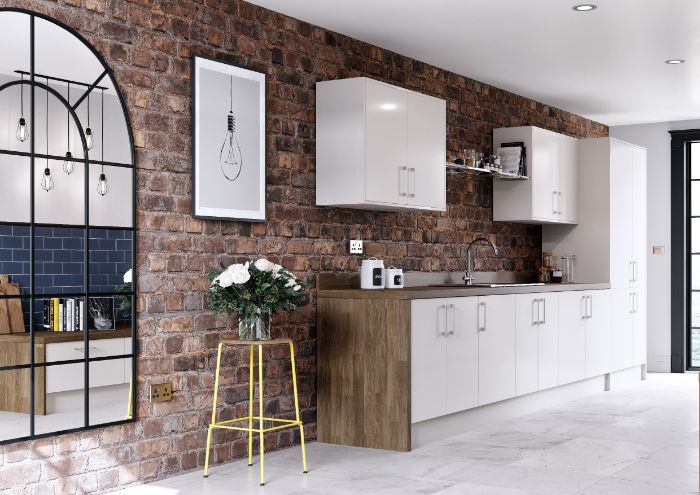 ---
#5: The Peninsula Kitchen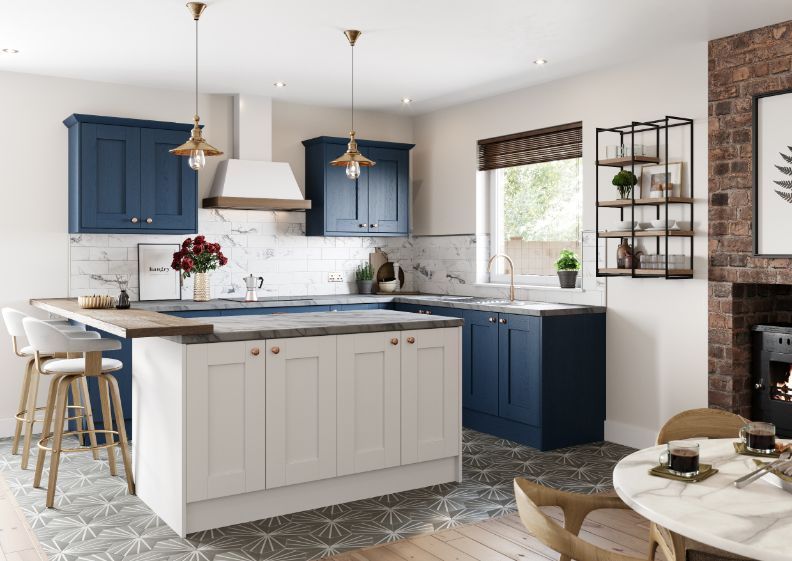 Peninsula kitchen layouts are another alternative for smaller homes. They create an island kitchen effect without taking up as much space.
This design features a kitchen peninsula that is attached to an adjacent countertop or wall. That countertop or wall then connects in an L-shaped fashion to a third wall or countertop space.
With a peninsula kitchen layout, you have the added counter space of a kitchen island. You also have more cabinets and drawers to help you store all your cooking utensils.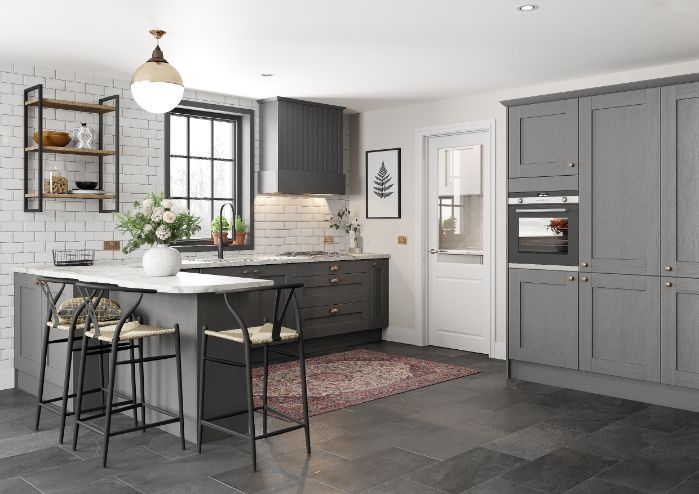 ---
#6: The U-Shaped Kitchen Layout
U-shaped kitchen layouts are a practical option that features three connecting sides. This gives you plenty of space for meal prep and cooking.
U-shaped kitchens are versatile and can work for small or large kitchens. They're also the best way to achieve the working triangle.
---
For more inspiration, be sure to check out our kitchens or download our interactive kitchen brochure to see what Cash & Carry Kitchens can do for your home.
---


Irish Owned and Irish Run
Cash & Carry Kitchens have showrooms nationwide and a state of the art 130,000 sq. foot factory, in County Cork.
Experts in our Field
With over 40 years' worth of experience, Cash & Carry Kitchens know the exact recipe to your perfect kitchen.
Great Value for Money
You will get value for money with no compromise on quality.
Fully Assembled Units
Cash & Carry Kitchens' units arrive fully assembled (not-flat packed) which ensures their high quality, making the process easy and convenient for you.
Installation Service
Cash & Carry Kitchens offer a full end-to-end service, and because the units are pre-assembled, installation is usually completed within one to two days.
Dedicated Customer Care
Cash & Carry Kitchens makes sure your experience is smooth from beginning to end.