All aspects of a self-build are affected by the budget. This is particularly true of the kitchen, where costs can quickly mount. So the question stands, how much does a kitchen cost? 

In this article we cover:
What affects the cost of a kitchen
Breakdown of different elements and cost indicators for each
List of additional elements to add to the final price
How much a kitchen costs on average
Who's who in the kitchen buying process
Timeline of how to go about buying a new kitchen with steps involved
Breakdown of kitchen extension costs
What the lead times are to get a new kitchen installed
In the world of kitchen design and manufacture, all kitchens are created fundamentally equal. The shell, which is made up of structural units known as carcases, tends to be crafted out of laminated manmade composite materials, usually chipboard or Medium Density Fibreboard (MDF).
This ensures the interior is practical, hard wearing and easy to clean. Other elements that are hidden from view, including shelves, drawer backs and panels, also tend to be made from these materials.
You should always ask what this skeleton is made of. A few manufacturers may offer carcases made from solid wood or veneered timber which are at the higher end of the cost scale.
The cost of the kitchen will therefore usually have much more to do with your choice of doors, exterior end panels and worktops than the structure upon which they're laid.
The door style is likely to be your first costly component as it will profoundly affect the overall aesthetics and feel of the finished kitchen. Choosing a door made from a manmade composite material usually keeps costs down, the opposite is true of highly crafted or premium material doors, e.g. solid timber.
Don't forget that appliances as well as fixtures and fittings such as water taps all need to be included in the price of the kitchen to get a full picture of cost. Indeed, a kitchen manufacturer will struggle to give you a quote without at least the room measurements and your electrical appliance list.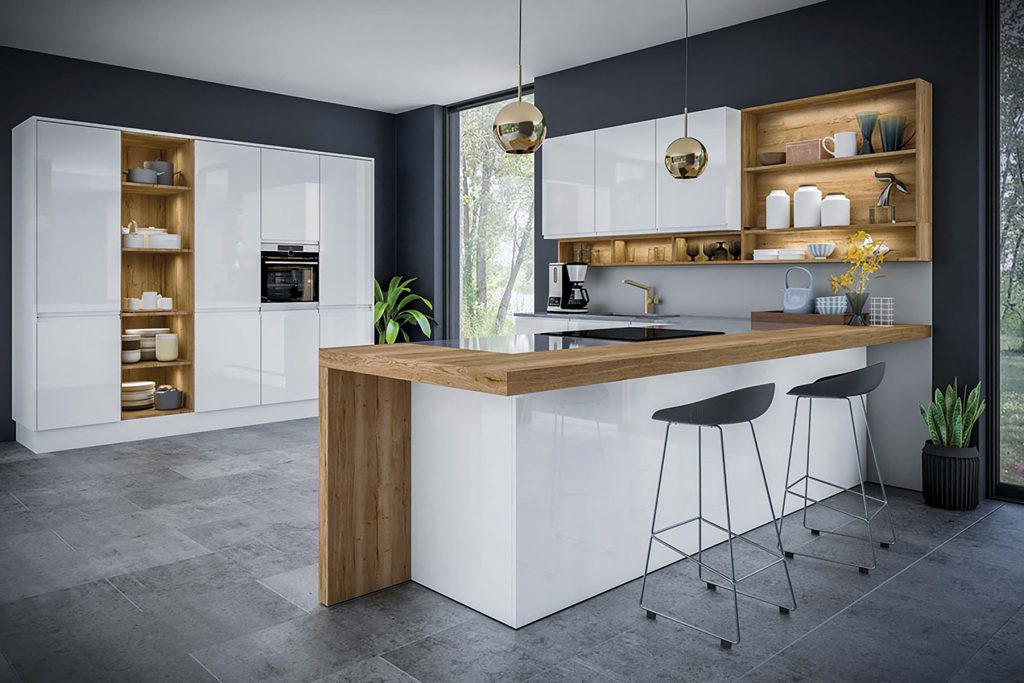 How much does a kitchen cost?
A basic kitchen might come in at 3k but when the cost of fitting and electrical appliances is added, it could increase to 8k or 10k and well beyond depending on your choice of materials. Things like solid timber doors or granite worktops will obviously inflate the figure.
So a flat pack kitchen, mass manufactured according to standard measurements, will be at the lowest end of the scale. These have a cost per unit worked up, and might only cost a couple thousand excluding appliances and accessories. A fully kitted out kitchen of this type can creep up to 10k including fitting.
But more often than not, tens of thousands are spent on a fitted kitchen. In fact, at the higher end of the market, it is not unusual to come across some kitchen companies that charge a minimum cost.
If you're on a budget but want a designer kitchen, and if you look for long enough, you could find a second hand bargain online or buy an ex-display from a kitchen company.
Also, kitchen companies or flat pack suppliers can supply the units for your joiner to fit; this could turn out to be more cost effective than sending their fitter to do the job.
Another cost saving option is to opt for a standalone kitchen which is made up of units or pieces that can be bought separately, i.e. different pieces of furniture, and require no fitting, mostly used with free standing electrical appliances. Good if you're creative, have a clear vision, and are able to source items individually.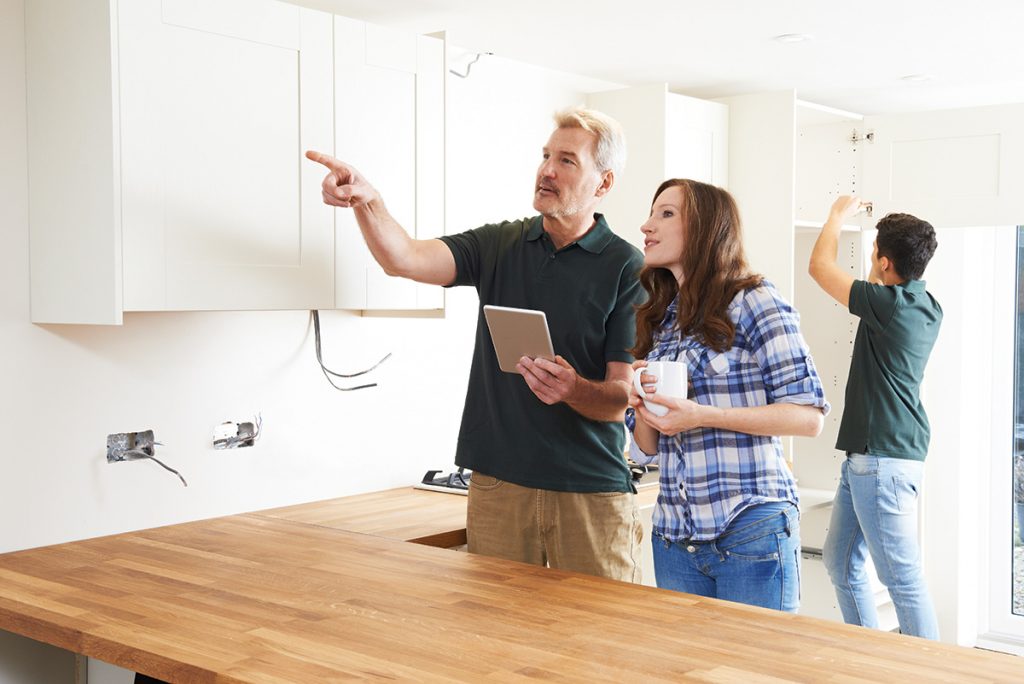 Who's who
Don't be afraid to book a consultation with a kitchen designer; they will be able to apply their experience to your particular circumstances.
Bring your house plans or room measurements along with your list of preferences including storage needs, spatial preferences and whether you want the kitchen to be a social space. First consultations tend to be free when booked through a kitchen manufacturer.
No matter the type of fitted kitchen you choose, an experienced kitchen fitter is key to the whole process: a top quality kitchen is no use if it is fitted incorrectly. This can be someone from the kitchen company or a joiner you hire directly.
In all cases you will require an experienced plumber and registered electrician to install pipework, wiring and fittings. If you plan to use gas, you will also have to avail of the services of a registered gas installer.
'It's best to install your tiles or other floor finishes before the kitchen is fitted, to provide a neater finish…'
The running order of getting your kitchen designed and installed.
Architectural design
You will discuss your kitchen with your architectural designer well before seeking planning permission. At this stage room measurements and basic circulation spaces will be pinned down, along with the flow of the room. This is when you decide on room placements, including separate pantry or utility, where the windows go, etc.
Showroom visits
As long as you have drawings, including elevations, then advice from kitchen designers is available from the earliest stages, even before you get planning permission. This could be helpful if you are unsure about window/door sizes and placements, because after you get planning permission it will be difficult to change your openings (how big they are and positioning). But it would be premature to draw up full kitchen plans at the preplanning stage, as the house design is likely to change as a result of the planning permission process.
Initial kitchen plans
After you secure planning permission, the best time to consult a kitchen designer will be when you have your builder lined up, or your commencement notice approved (ROI) / Building Control plans approved (NI), as well as your construction plans at the ready. The construction drawings need to have details of the final window/door sizes and positions as well as the room dimensions. Based on your requirements, the kitchen designer will then draw up your plans on their in house software, which is done quickly once all of the elements are decided upon.
Foundations stage or demo
In the case of a kitchen remodel, you will need to take the old kitchen out (your builder may or may not do this, always check). Once that's done, the first draft will show where all of the plumbing and electrical points will go exactly, so the builder/electrician/plumber can place the services correctly (at the foundations stage in a new build). In the case of integrated appliances, pipes should preferably be chased in the wall.
Site check
The site visit happens once the walls (at least plasterboarded or otherwise finished) have gone up. In some cases, the plumbing may not be in the right position, which either means it has to be repositioned or the plans adjusted to move the sink or appliance it corresponds to. At this stage the fitters can mark out where exactly sockets need to be put. The electrical points can also be decided by the electrician, who would base them off the final kitchen plans when ready. Don't forget the fridge if you choose to have it plumbed for water or ice cubes. Additionally, your island will need power points – sockets can be useful here for things like phone charging or vacuuming.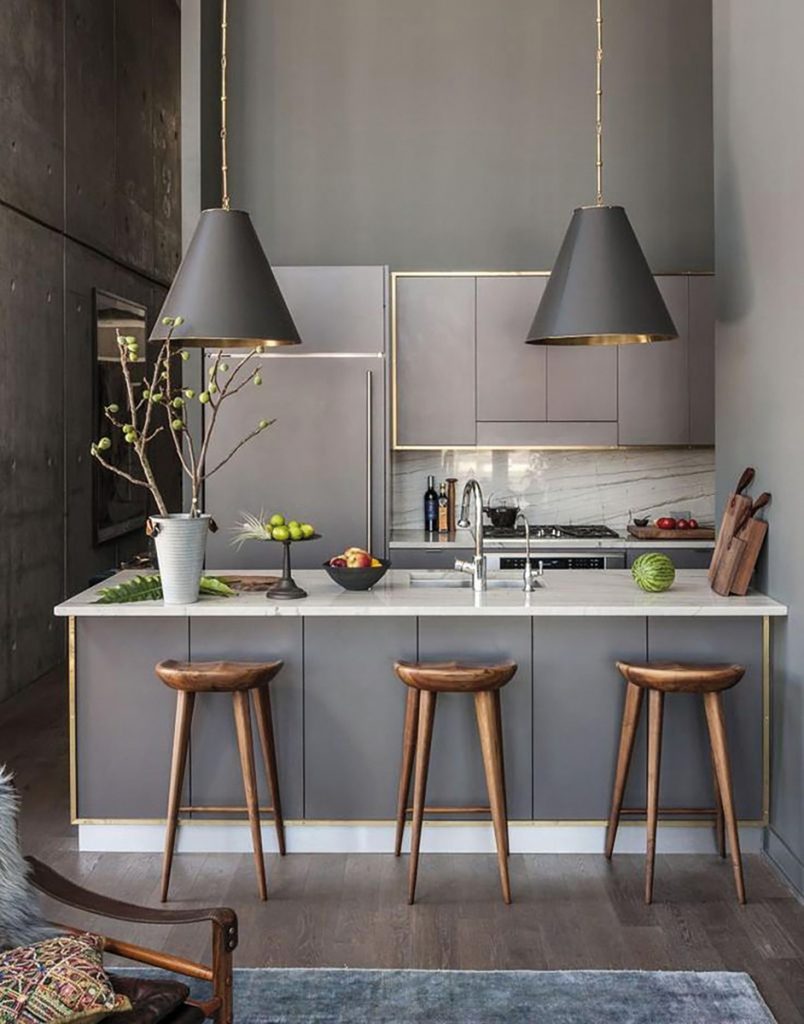 Final kitchen plans
Final plans can only be drawn up after a site visit, but these shouldn't be far off the draft plans. The final plans will reflect the as built dimensions of the rooms and the positions of every kitchen element, based on the site visit.
Order placed
Once the order is finalised, and you've checked the drawings are all ok, the kitchen is built from the plans. This can take as little as two to three weeks. At this stage you will need to book in your fitter and pay your deposit.
First finishes
It's best to install your tiles or other floor finishes before the kitchen is fitted, to provide a neater finish. For the walls, tiling usually takes place after the kitchen has been fitted. For walls that are to be painted, it's advisable to only apply an undercoat as the fitting process may lead to scratching when the units are getting fitted. Also some caulking is likely to be necessary for fit out, and this will need to be painted over with the finished colour.
Kitchen installed
Installation usually takes anywhere from one to five days. The fitters will install the units first then fit the appliances, including fixing the extractor fan, ready for the electrician to connect. The hob is left loose for the connection to be made and once that's done the electrician secures it with the fittings supplied. The plumber is in charge of connecting all of the sinks, dishwasher and plumbed fridge (if any).
Snagging
The kitchen fitter will check everything is as it should be with the homeowners. If there are any issues, and they are identified at this stage, they should be promptly looked after. Final payment is then due.
Final finishes
Painting happens next and wall tiles. Light fittings are then added last by the electrician when the painting/other finishes are done.
---
Kitchen Extension costs
Figures published by onlinetradesmen.ie in July indicate that tradesmen are currently charging €1,300/sqm or about £120/sqft to build an extension, excluding both VAT and the cost of the kitchen.
For any quote you receive, it's important to check what is and isn't included. Usually a build price will include the groundworks and foundations (check who pays for waste disposal), the superstructure (the building built above the foundation), and first fix (including floors and ceilings, and inserting cables for electrical supply and pipes for water supply).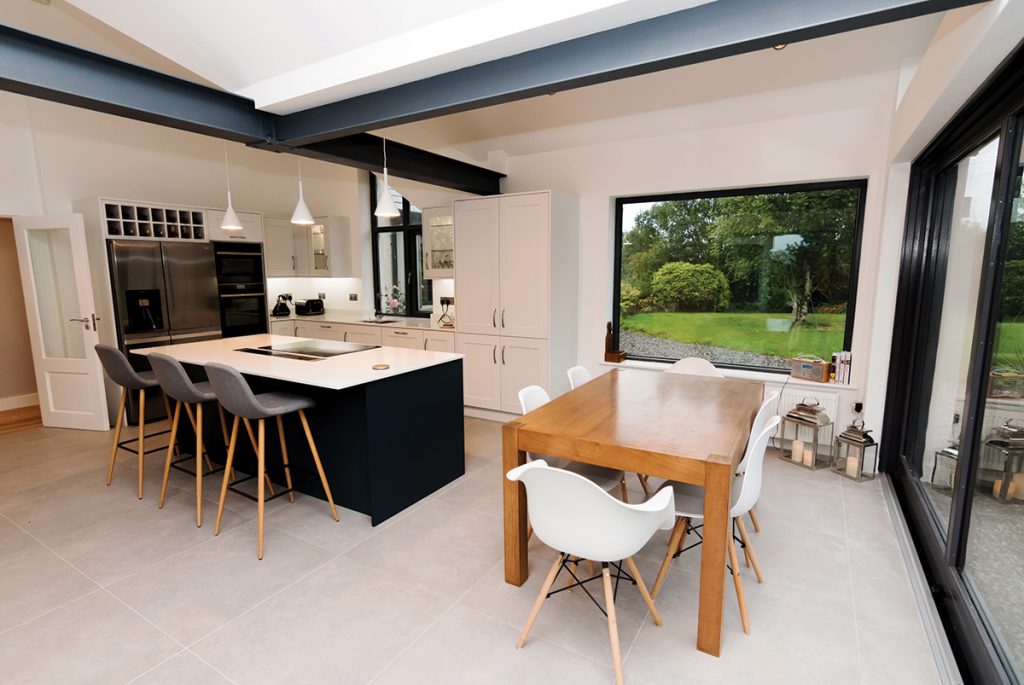 Allowance for demolition, structural alterations (e.g. creating a structural opening from the existing house, often supported with a steel beam), and connection to the existing house (e.g. flashing) will be extra, up to 10k. Redesigning work, such as reworking an interior layout start from €390 per sqm. These onlinetradesmen.ie figures exclude VAT.
Oftentimes second fix and carpentry are also included (this includes finishing work, which is generally done after plastering, like fitting floorboards and architraves, doors and windows) but if it's a build cost only, not all of these elements will be included. Always go through the finer details and get a cost breakdown.
The following is a guide based on what Irish homeowners are getting quoted for building work via the onlinetradesmen.ie service in 2021, excluding VAT:
Build costs (single storey): standard €1,300 per sqm, then with windows, lighting fixtures, standard electrics and heating included €1,900 to €2,200 per sqm. For extensive renovation work and higher specification finishes, fixings including flooring, from €2,600 to €3,000 per sqm.
Kitchen costs: the kitchen installation costs are extra. Some builders will not fit kitchens, others will offer a quote in addition to the construction work. Kitchens can start from as little as €2,400, however, a recent quote obtained for a standard kitchen of approximately seven linear meters asked for €6,500 excluding appliances and accessories.
---
How long will my kitchen take, from design to completion?
On average, you can typically expect your kitchen to be installed within six weeks of placing your order.
The final appointment to view the floor plans is crucial, don't rush the sign off, and always do it in person inside the showroom if possible.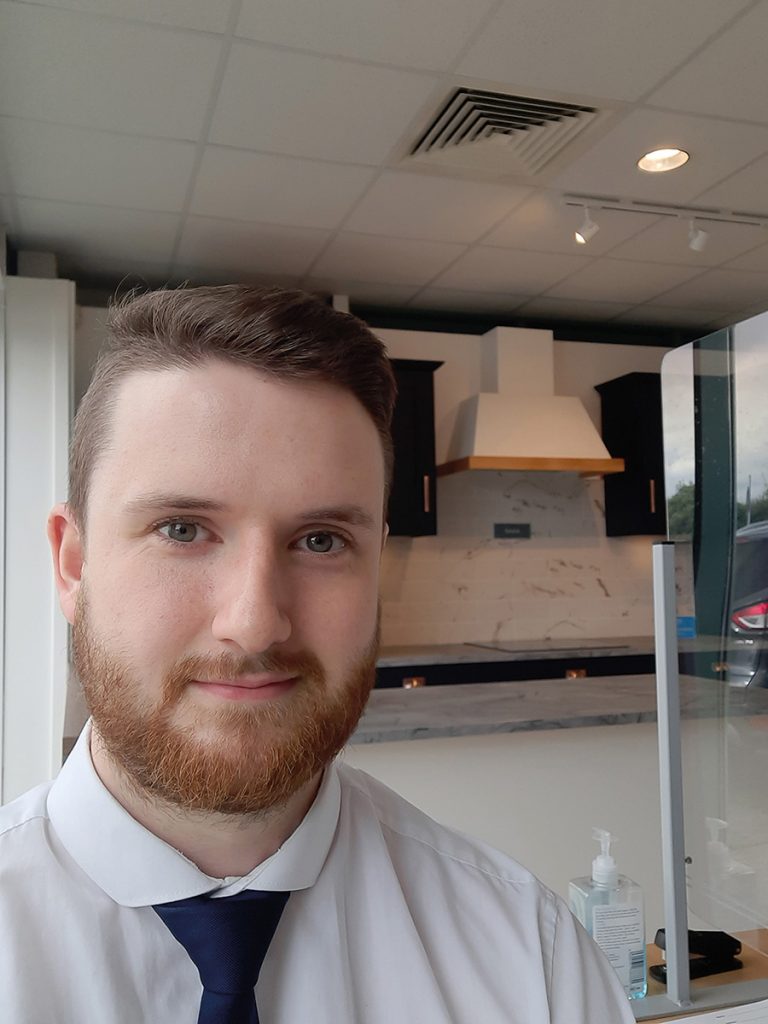 The amount of time it takes to then build the kitchen can be as little as two weeks, with installation taking one to five days depending on the complexity of the job and whether it's just a kitchen install or one that also includes utility and wardrobes.
The fitter's schedule is really what determines the total lead time after that.
A lot of self-builders would come to us asking to be slotted into the fitter's schedule as soon as possible, which is fine for us, but to avoid disappointment it pays off to be realistic about how quickly your build is progressing.
For us to fit the kitchen you need electricity connected and flooring in place. During the busier summer months, the fitter's schedule can be booked up three to four weeks in advance. Therefore, changing the installation date without enough forewarning will set your schedule back. January/February is usually the quietest time of year, so rescheduling can be done more quickly then.
Adam Butler, Cash & Carry Kitchens Designer