2020 Architects is now offering a

Design Review

service so you can access the insight, knowledge and creativity of an award winning architect… for just £149
For any project to succeed, it needs a well crafted plan. When self-building, the design of your home is the most important thing to get right.
A fresh pair of expert eyes will give you that second opinion you need, even if you just have a feeling that something isn't right with your current design.
Or you might have bought a site with plans already approved, but you realise it doesn't quite suit your needs. Or you might have drawn your own layout and would like the design refined for planning.
You might even be thinking of buying a house and would like advice on extending or renovating before making an offer.
In all of these cases, a second opinion will give you peace of mind – and some inspiration too.
Confidential design service
2020 Architects' confidential, online Design Review service assesses your current plans/layout and suggests improvements with a list of recommendations to help you create the home that best suits you. .
For a new build, the Design Review can help enhance your design, maximise natural light, make your home flow better and help reduce build costs.
If you're thinking of buying a house and would like to find out more about the possibilities of extending or re-arranging the layout, simply upload the estate agent's brochure with the relevant floor plans and 2020 Architects will advise of potential structural or planning implications.
2020 Architects can also offer this advice on your existing home, if you have access to a copy of your current floor plans.
Drawing on the experience of an award-winning practice, with a portfolio of designing over 500 homes for sites across Ireland and the UK, 2020 Architects' Design Review service is your change to avail of all the knowledge and creativity of a leading architect, without the usual expense.
How it works
1. Book your slot, pay and upload your plans
Upload your current drawings in PDF format on https://www.2020architects.co.uk/design-review/ along with any additional information or specific concerns you may have, then book an available consultation slot that suits you.
2. The experts review your plans
Taking into account your concerns, one of the architects at 2020 Architects will assess your current drawings and prepare a list of recommendations, highlighting where they feel the design could be improved. As well as addressing any queries you may have, they will also include any other general suggestions they feel could enhance your home.
3. Consultation
At your chosen time, you simply click the link for your online consultation, which allows 2020 Architects to share their sketches with you and explain how they feel any suggestions could improve your design. The 45 minute consultation will also give you the opportunity to ask any self-build related questions you may have, about any aspect of the process… from purchasing the site, right through to completion.
What does the consultation cover?
● Creating a plan that works best for you
● Enhancing your design
● Making the most of your site
● Maximising natural light in the home
● Possible cost saving measures
● All round advice on self-building
Testimonials
"We worked so hard to make our self-build dream a reality and although our original design included everything we asked for, the flow of our home just didn't feel right. A new perspective on our design from the 2020 Design Review made solid recommendations on a number of important changes to the floor plan, and we're now building the house of our dreams."
Mr T Trainor, Co Leitrim
"The initial design for our extension was stunning, but our build quotations exceeded our budget. We booked in for a Design Review, and a fresh set of expert eyes helped us to see how we could amend our design without compromising on the look. And…we managed to even add another room. The best investment we've made."
Mrs R Megoran, Co Down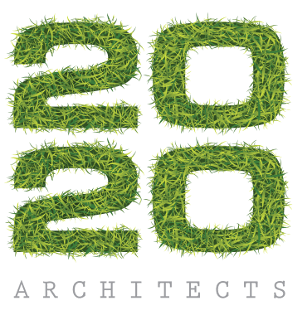 49 Main Street, Ballymoney, Co Antrim, BT53 6AN, Northern Ireland
Tel: 028 276 67999 | E: info@2020architects.co.uk | W: 2020architects.co.uk