Having spent many years living and working in America, where she bought old properties, did them up and then sold them on, Margaret (Maggie) Brady has a flair for creating beautiful upcycled home interiors on a budget.
In this article Maggie talks about designing her home on a budget in Newry, including:
Details of her kitchen extension project
How she bought her second hand kitchen including appliances for £550
How she upgraded her entire kitchen for just £3k, including a brand new granite island
How to use DIY to save money, including painting
How to maximise kitchen storage
Matching the colour scheme throughout the open plan area
Furniture and fabric choices for maximum impact and minimal cost
How to make the eclectic style work with salvaged furniture
How to design and put together a statement wall
How to design a room from scratch
How to use upcycled items in a bathroom
Open plan design tips and flow
How to use black in interior design
What toile is and how to use it
How to choose lighting, including the perfect chandelier
Since relocating back to Northern Ireland, Maggie has worked her magic setting up her interiors business, Pearl Redesigns, five years ago. As such, she's quickly gained a reputation for being the person to go to if you're in search of a vintage gem.
"When I was doing interior design in America I always used to look at trends in places like Ballard Designs and Pottery Barn, then I'd recreate them on a budget, sourcing things from charity shops," she says. "When I came back here I started fixing up pieces of furniture for people. They asked me for more and one thing led to another until I eventually started the business.
"My whole ethos behind Pearl Redesign is upcycling and using old pieces with character."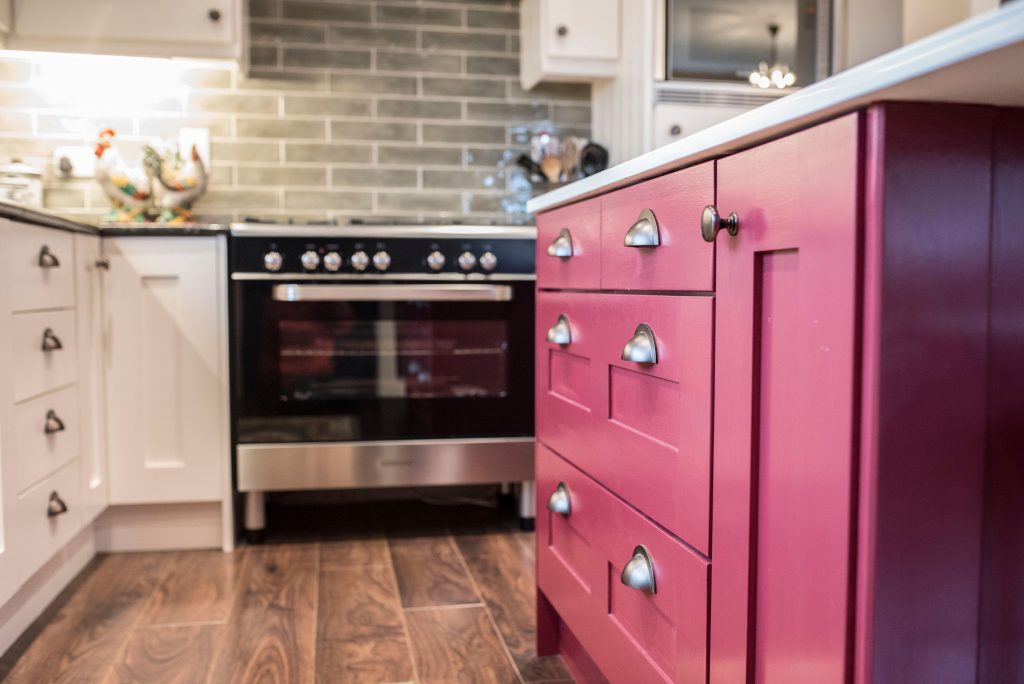 Maggie has subsequently used her talents to transform her own home in Newry, which she recently renovated and redesigned.
With her eye for a second-hand bargain and her skill in breathing new life into pre-loved furniture, the result is an almost completely thrifted interior with a classy, elegant edge.
Renovating a home on a budget
Maggie gutted the entire house, although she retained some of its original features throughout, and extended the back of her property where she relocated the kitchen.
Keen to fit it out with pre-loved furniture, not only because she was creating a home on budget but because it's what she believes in, she then went online to see what she could find and managed to buy a complete set of kitchen cabinetry for just £550 including appliances.
"A lot of people sell their kitchens," she says. "I went onto Gumtree and there was a solid maple kitchen for sale. I bought it and then got together with my joiner and we reconfigured the whole layout. The end result is what we came up with. I had to make extra doors but all the work was about £3,000 in total."
This work included restoring the original black granite worktops, with Maggie purchasing an additional piece of white granite to create an island unit, complete with two stools sourced from auction.
The island counter complements the Alabaster White shade used on the surrounding cabinets, with the paint sourced from a well-known Irish brand.
"I painted it all myself," says Maggie. "I like to use a mixture of different paints and I matched the island colour to my sofa in the living area, which was reupholstered. It was all about tying everything in together. Everything I had from America went into this kitchen too."
While the appliances were included with the cabinetry, Maggie bought her own cooker because as she says, "you're better off putting in something new when it comes to stoves and cookers."
She chose an extra-wide model, reminiscent of those in the US, which tend to be bigger and are what she was used to. Similar in form to a kitchen range, it provided a cheaper alternative while achieving the same look and fitting in with her overall budget. New electrics were also installed in the room.
"There's good storage in the kitchen," adds Maggie. "I don't have any wasted space in the house at all."
The kitchen wall tiles are in a sage green tone and the kitchen doors are painted in a fetching blue-black – while the doorframes are painted a contrasting white.
Statement wall for open plan living area
With an open plan design, the kitchen space flows into a comfy living area, which is separate from the main living room in the house.
"Everything blends together," says Maggie. "There's a very different look in the kitchen living area to the front living room. For example, there's a curved wall in the kitchen living area with black wallpaper, which is really rich looking. I wanted to make a statement with that. There's also a coffee table here which I upcycled and gave a distressed French finish in gold."
The curved feature wall with its sprawling cream roses on black background does indeed make a statement and it's simply adorned with a large round clock in brushed brass.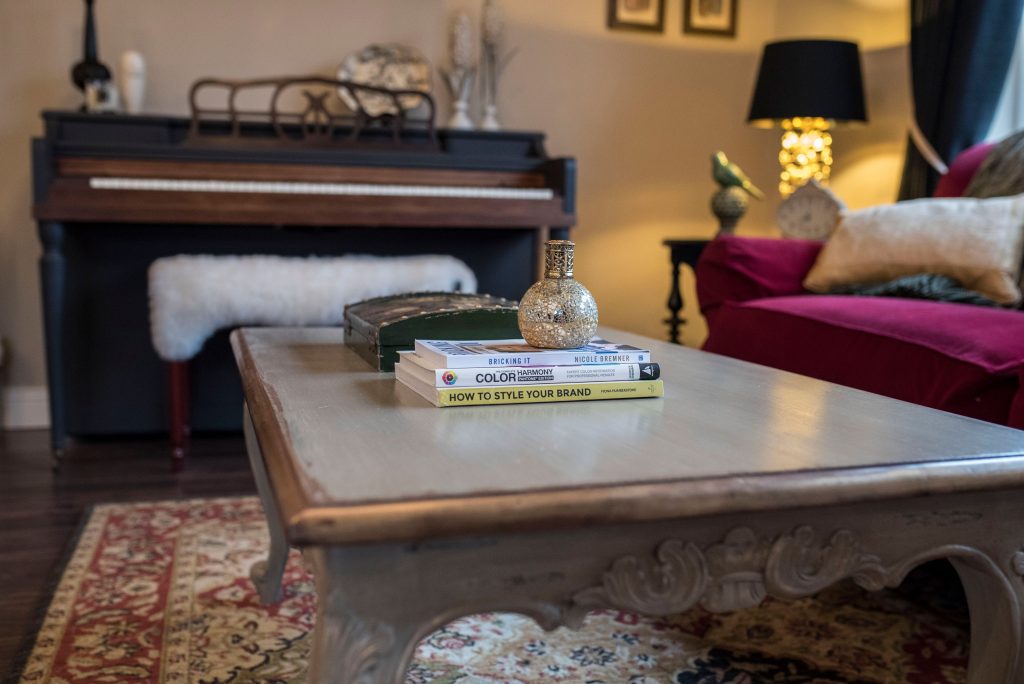 The black tones also appear elsewhere in the space, with floor-length black curtains, as well as a black lampshade and a piano which hails all the way from the streets of New York.
"I found the piano at the side of the road in New York years ago and brought it back home," says Maggie. "The owners had left it out with a note; they wanted it to go to a good home. We've had it now for about 15 years. I sanded it back for this room and then painted it up, but left the front more natural looking. It's all about knowing how much to work on something. You have to be sympathetic to the piece."
The main light in this living space has a brass effect, mirroring the fixture which hangs over the dining area. Meanwhile, a vibrant rug in front of the sofa is one Maggie has owned for 20 years and its mixture of red, black, green and gold in a trellis pattern is a colour-scheme which flows throughout the house.
"The house has a theme within the patterns," says Maggie. "I'm not afraid of mixing colours and patterns."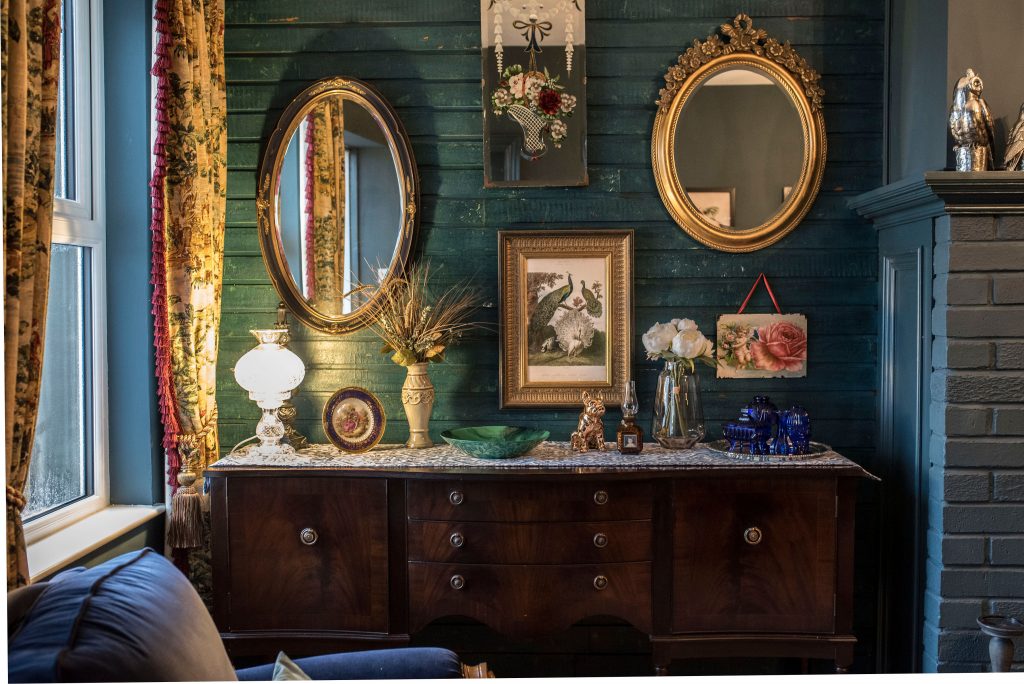 Home on a budget: Decadent look for front living room
Moving on to the main, front living room, this space has a beautiful brick fireplace and wood-burning stove, which were in the house when Maggie bought it and reminded her of her home in America.
"I usually start off a design by looking at one particular thing that I want to include in the room," she says. "I always say to people, find something you really love and build the décor around that. I think the sofa was the starting point here for me.
"I bought the set – including a three-seater sofa and two armchairs – from a second-hand shop in Holywood, Co Down for £450 and then had it reupholstered in navy velvet. So, for me, this room started with navy velvet."
To one side of the sofa is a decorative feature wall which shows off the original wood that lined the interior of the property when Maggie took ownership. While the rest of the wood has since been removed and the house re-plastered, she retained this one wall and painted it with Porters Paints to add character.
"I gave it an old chippy, distressed finish, building up the textures and layers," she says. "There are actually four different colours mixed onto that wall and the mirrors hanging on it are from Scarva Auctions."
These oval mirrors continue the brass theme running throughout the rooms, while one of the pictures alongside them features peacocks, which complements the similarly peacock-feather colour-scheme surrounding it.
"That peacock picture came from an antique shop in Portadown," says Maggie. "I love peacocks and I love navy and teal tones, along with reds, golds, blues and greens."
Below the wall décor, sits a wide mahogany dresser which also hails from Scarva Auctions and cost just £40. Upon it is an assortment of items which Maggie bought at various flea markets while living in America.
Maggie is also a fan of toile, which appears throughout the interior of the house in various guises – sometimes on plates, as in the kitchen, or on curtains, as per the living room.
"Toile depicts old country scenes, usually of women and men," she says. "I particularly like pastoral toile and I've used it throughout the house in different ways and in different colours. I went onto Etsy.com to find it and discovered this American linen which I made the curtains and cushions from. It's full of colours and has palm trees on it as well. There's sort of an Asian vibe to it."
The curtains are fringed in pink, with creamy tie-backs holding them away from the window.
Adding light to the room is a new chandelier with large teardrop crystals and bronze candle lights, arranged around a central bulb. It has an antique bronze finish, creating the classier look Maggie prefers, while complementing that French country vibe from the toile.
Home on a budget: Thrifted items add style to family bathroom
With a large family bathroom, Maggie decided to fill this space with an upcycled double vanity unit, complete with two separate enamel basins. Converting a sizable mahogany sideboard with inbuilt oval mirror, which she'd actually kept in the hallway of her last home, she added storage by getting a joiner to cut drawers into the unit.
A wall-mounted lampshade light on either side of the vanity area completes the look, with both lights bought new back in America and rewired to suit Maggie's Newry home. Opposite the vanity unit is the toilet with a high cistern and chain-pull, adding to the overall vintage look of the room, while a large roll-top bath sits to its right.
"I was searching for a fireplace for a client and saw this claw-foot tub," says Maggie. "It was grey and there was a tiny bit of rust around the drain. I told the owner I didn't need a bathtub but then called him back later and bought it for £200.
"I painted the outside myself with a paint that contains copper. I went with a dark colour because I knew I had that picture (hanging above it) – which was £17 from Scarva Auctions – and I wanted them to tie in with each other. It's all about knowing how to put looks together."
The picture hangs on a section of wall painted in the same shade as the one used behind the vanity unit, while the 'railing' between it and the tiles is actually an old picture rail, painted in Dressage – the same blue-black shade used in the kitchen.
The remainder of the bathroom walls are tiled in rectangular white gloss tiles, while the floor comprises black and white Carrera Hexagon Marble tiles arranged in a mosaic pattern.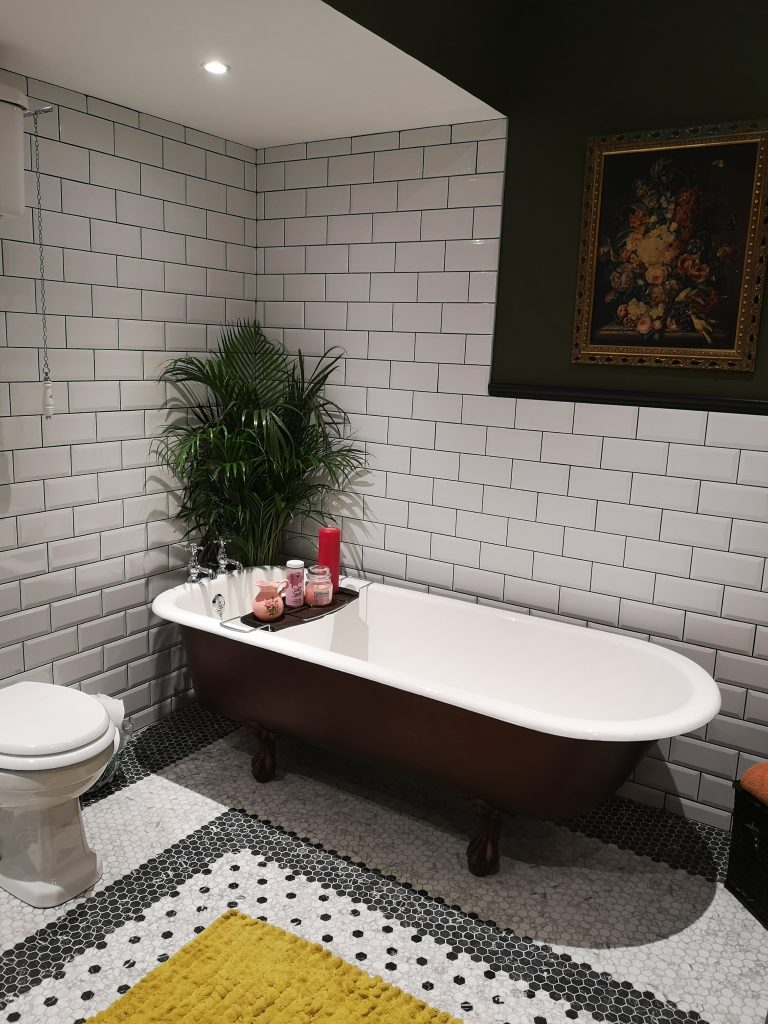 "I knew I wanted mosaic tiles so I searched and found this tile supplier," says Maggie. "I usually ask these places if they have anything leftover in the back rooms. They had boxes of this white mosaic in Carrera Marble and some in solid black. I paid £700 for all the tiles – wall and floor. I then got the tiler to cut the black ones in half to make my main floor look like a rug."
On the other side of the toilet, opposite the bath, is the shower, with a balloon-back antique chair with original black leather seat beside it, which Maggie sourced from auction. The chair was treated for woodworm but is otherwise as she found it.
"I teach upcycling workshops as well," says Maggie. "When you buy old things you get the quality but it's all about knowing how to reuse things to show them at their best. I would be known for sourcing items – I go to the auctions and charity shops and I have a lot of contacts, so people often come to ask me to find certain things for them."
With her own house now suitably filled with original, upcycled pieces and the interior transformed on a budget, Maggie is more than happy with the end result.
The secret to doing up a home on budget? It's design. "Good design really doesn't have to cost a fortune," she adds.
Suppliers
Paint
All wall and cabinet paint Colourtrend, colourtrend.ie
Radicchio for the island (a Farrow & Ball colour created with Colourtrend paint)
Dressage for the kitchen doors
Sweet Caper for the bathroom
Paint for bath exterior
Rich Copper shade from Porter Paints
Cooker
Currys
Kitchen tiles
Splendours Green (with crackle glaze) range at Irwin Tiles & Hardwood Flooring in Castleblayney
Wallpaper
Ralph Lauren on kitchen curved wall
Chandelier
McAllisters Interiors in Culloville
Curtain fringing and tie-backs
Mad About Fabrics in Belfast