At the very beginning of your self-build project, before you turn a sod, you will need to go through these ten steps.
1. DETERMINE THE BUDGET
Consider if you have or can raise the funds to finance all of the following:
Site investigation/survey including percolation – this is an upfront cost you will have to bear at the beginning of a new build project on a greenfield site, unless you have connection to mains wastewater.
Professional fees including design professionals, structural engineer, BER/EPC assessors, etc.
Statutory fees – Planning – Building Control – Water service, electricity, broadband/telephone line – Council development levies
Finance charges (interest and mortgage protection)
Legal costs
Accommodation costs (rent while building)
Insurance/warranties
Shell build cost
Insulation and airtightness
Systems (heating, ventilation)
Kitchens/Bathrooms/Fixtures/ Finishes
Health & Safety
Extras, e.g. well
Contingency (typically 10 to 20 per cent of the build cost)
2. DEVELOP THE BRIEF
What you want in terms of style, number of bedrooms, heating system, finishes, landscaping, etc. Put together a scrapbook and ideas on layouts. Decide on what build route to choose – project manage yourself, hire a project manager, hire a contractor or a mix of these.
3. CHOOSE YOUR PROFESSIONAL TEAM
Personal references
Fees
Design alteration costs
Terms of appointment
Professional indemnity insurance
Assignments: clear tasks to be fulfilled
4. SECURE PLANNING PERMISSION
Full planning permission must be secured on your plans before proceeding; this process can be time consuming.
5. RAISE THE FUNDS
Approach your mortgage provider early in the process; they will require proof of planning permission and costings which will often be done by your lead designer or quantity surveyor.
6. ACQUIRE THE SITE
If finances allow, this can be done at an earlier stage of the project. It is best to buy a site you know you will be allowed to build on, so a pre-planning meeting before the purchase is often a good idea or in NI, securing outline planning permission. Physical aspects to consider include trees, slopes, ground conditions, access to services. Legal aspects include covenants, rights of way, visibility splays and boundaries.
'Based on the realities of the budget, review your wish list, design, build route and management ambitions.'
7. DEVELOP THE DESIGN AND CONSTRUCTION DRAWINGS
Based on the realities of the budget, review your wish list, design, build route and management ambitions. Then it's time to put together construction drawings – the more detailed they are, the less confusion on site. The Health & Safety regulations also kick in which means you need to appoint an H&S manager for the design stage who will put together an H&S design plan for your build (you can do this yourself but must be competent to do so)
8. PROCUREMENT
Tender process to appoint builder / line up tradesmen. Deciding on finishes early on can help reduce stress later on during the build phase.
9. PUT IN PLACE INSURANCE AND WARRANTIES
There are self-build insurance products that cover the minimum legal requirements; insurance products include public liability and employer's liability, all risks insurance, house and contents insurance and mortgage cover insurance (life cover, personal accident cover and redundancy insurance).
10. STATUTORY CONSENTS
In ROI register online on BCMS to state whether you opt in or out, and to file your Commencement Notice. In NI get Building Control Approval Green Form – regular site visits will take place by your local inspectorate. In both cases appoint a supervisor for Health & Safety at construction stage and have your H&S plan in place dealing with all aspects of the build (you can do this yourself but must be competent to do so).
---
Project management:
Deciding whether you project manage the build yourself, giving you full control of the build, or leave it to a professional is a key decision to make. Hiring all trades yourself is a very time consuming exercise and, for the uninitiated, a difficult one.
Disclaimer:
This article is for information purposes only, always seek advice from construction professionals for guidance.
---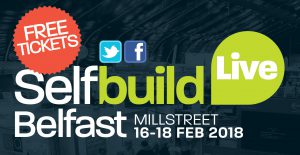 Selfbuild Live is the ultimate showcase for people who are building, extending, improving or simply decorating their home.
Selfbuild Live Belfast, 16th-18th February 2018 takes place in the Titanic Exhibition Centre.

---