Looking for kitchen ideas? Learn everything you need to know about kitchen design, in under five minutes, in this masterclass by the people who make them.
Colour, style, shape. Whether you're building new or adding an extension, doing some prior research can help ensure you have the kitchen you've always dreamed of. One that looks great and is functional too.
As one of Ireland's longest established kitchen manufacturers, the design team at Daniel George by Inspired Furniture has put together a list of 10 things you should consider when starting to design a kitchen. Here's their kitchen masterclass.
1. Kitchen Style
To get started think about and browse the style of kitchen cabinetry you visualise for your home. It may be a traditional shaker style kitchen or modern kitchen design. It's all purely aesthetic but it's important to get the cabinetry style right so that it will complement the rest of your home.
A shaker kitchen design is popular for traditional and Georgian style self-builds whereas a modern Skinny Shaker is perfect in smaller spaces or new extensions. A curved kitchen can also work beautifully in a kitchen with smaller proportions.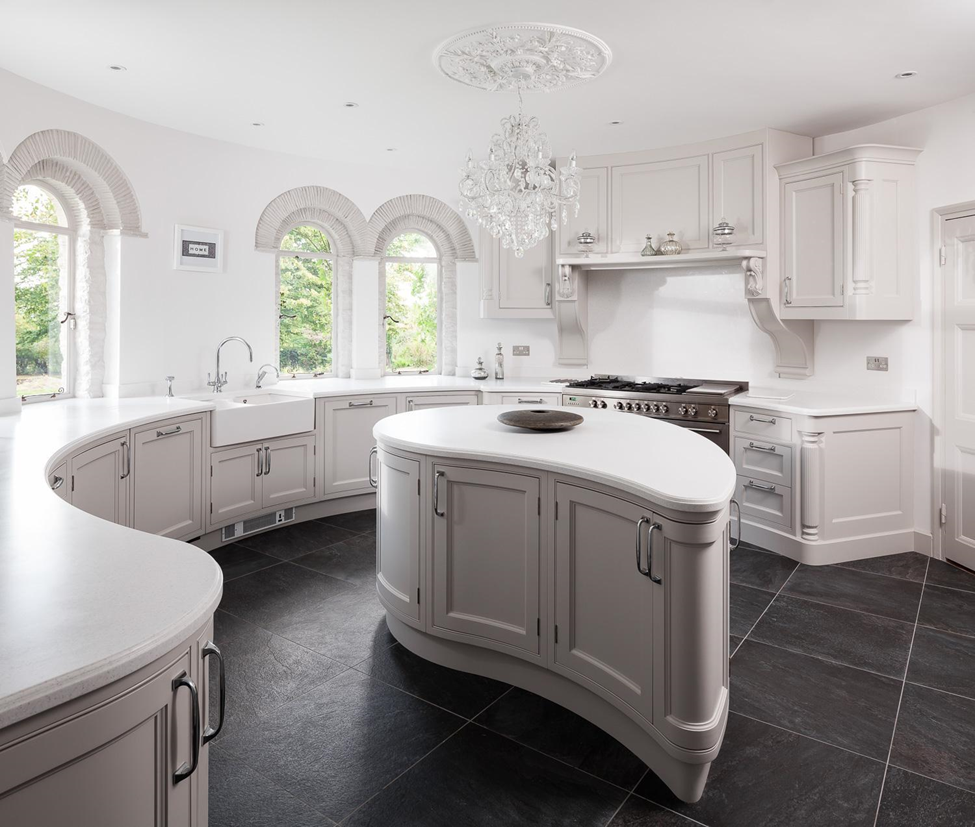 Browsing showrooms is a fun experience to get you introduced to the styles available on the market.
Would you like a kitchen island or a pantry? Where in your home do you see yourself having breakfast and dinner? These kinds of ideas will help once you come to meet with a kitchen designer. Cabinet doors will define the kitchen and can be chosen at the time of design.
2. Budget
Budget will depend on the size of your kitchen and also the appliances you decide to install. So now is a really good time to consider how much you wish to spend. A small kitchen can cost from £10,000 upwards whereas a larger kitchen might be £25,000 and beyond. To help determine the cost allow yourself to set two budgets. One for the kitchen cabinetry and worktop and a separate one for the appliances.
3. Appliances
Now that we have chosen a style of kitchen and decided on a budget for your appliances, you can start browsing the appliances you would like to use in your kitchen design. There are many brands to choose from for cookers, integrated dishwashers and built-in coffee machines. Each with their own price range. Having an idea on makes and models you prefer will help your kitchen designers to create a plan and 3D design of your kitchen using the measurements of the kitchen appliances.
Looking for products that offer a high grade energy efficient rating can help with long term living costs. Ever hear the expression you get what you pay for? Sometimes spending a little more can offer you higher energy efficient products with longer extended warranties. For example, Fisher and Paykel offer customers a five year manufacturer's warranty on all products, if anything was to go wrong. Similarity Hafele offer two to five years warranty on many appliances.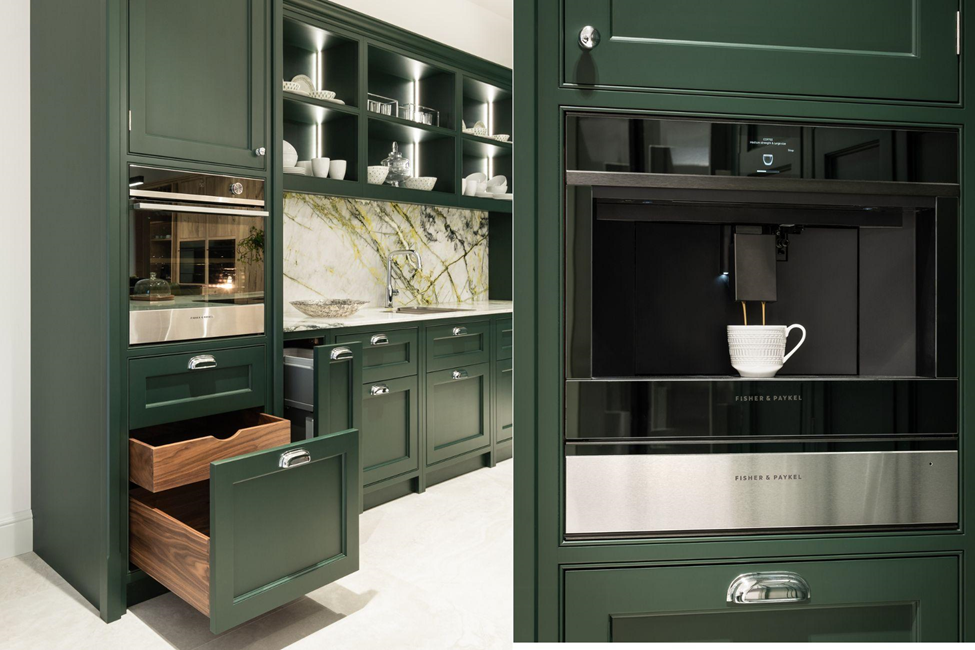 4. Layout
The kitchen is the central hub of the home, where you will wake up to a coffee and catch up after a long day. Imagine how you will actually use your kitchen. This will determine the best layout. Do you love to cook meals from scratch, maybe you entertain friends at weekends or have kids running around?
The cooking zone is not going to be the room's main thoroughfare. To start thinking about traffic, consider how visitors will enter your kitchen and how you imagine yourself engaging with others in your space.
Next, get a feel for how you imagine your cooking zone, where will you prep your food? Close to a refrigerator and a sink can be helpful and at the same time where you cook your food will need easy access to your saucepans.
The kitchen layout of the Lincoln Kitchen by Daniel George below is the perfect example. Featuring a built in secret pantry equipped with shelves for food storage and drawers for produce. It's conveniently located right next to the refrigerator and has its very own prep sink. Ideal to prep dinner, and if friends call over simply close the door to hide the mess left behind.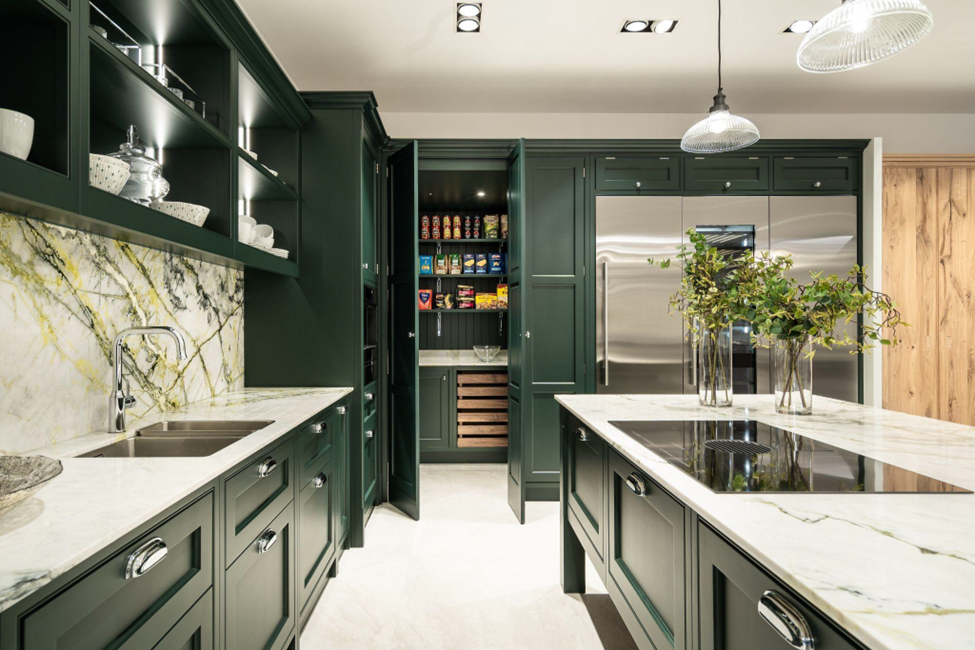 5. Storage Features
Your cabinets will store all your kitchen essentials but adding some storage features into your kitchen design can make life a lot easier. Your designer will recommend unique storage features that will work in your kitchen including bin storage close to where you will prep your food, a space for chopping board. Dove tail drawers are a nice touch to keep your plate storage tidy.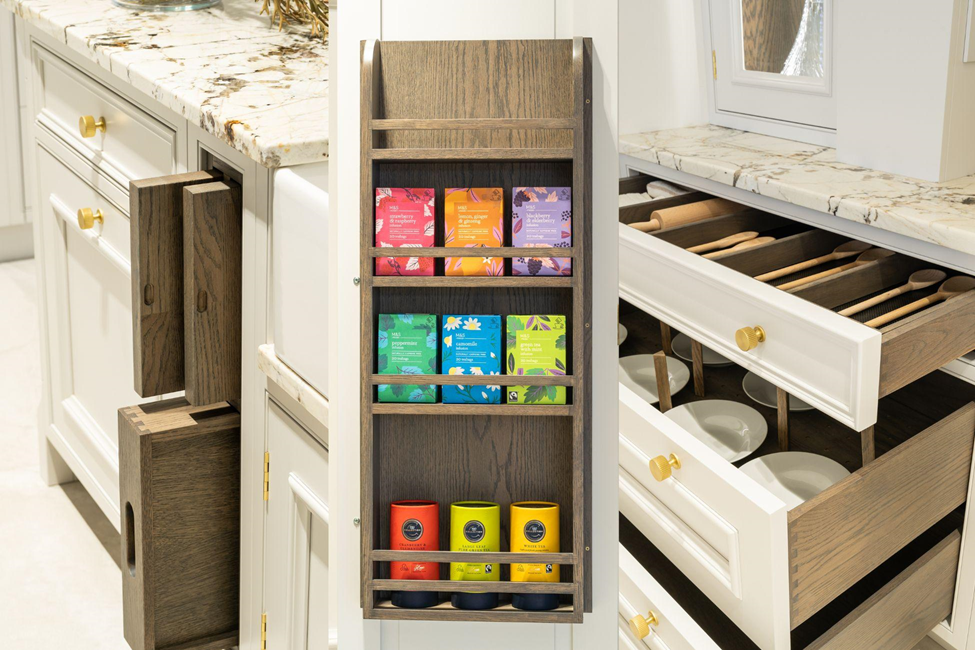 Ideally you don't want to have to unplug appliances to be able to use others – or to charge a phone, for example. So adding some extra USB points inside your cabinetry can be a nice way to have a place to charge appliances, while keeping leads stored away and tidy.
A larder is a great place to store the everyday bulkier appliances such as a coffee machine or toaster.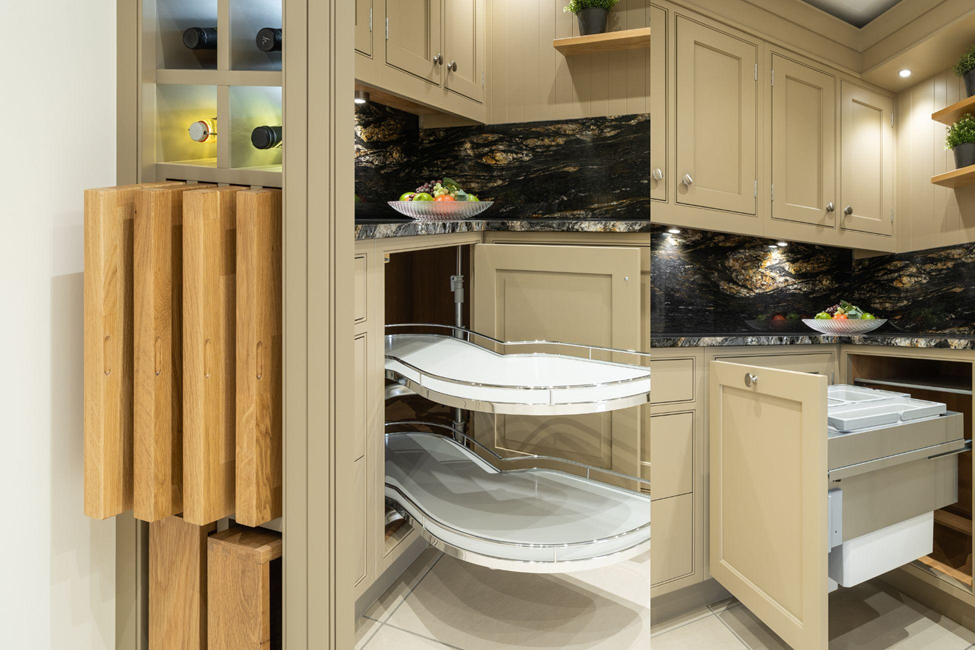 6. Seating
Envision yourself in your kitchen, where would you like to sit and have a coffee at breakfast time? You may consider a kitchen island with barstools or a breakfast table built into an island.
How do you imagine catching up with family at dinner? Will you have a separate dining space or is there enough space in your kitchen for an added dining table. Speak with your designer if they can make a bespoke dining table that will complement your new kitchen.
Here is an example of the bespoke furniture we have made to complement the Kensington Kitchen available to view in our showroom.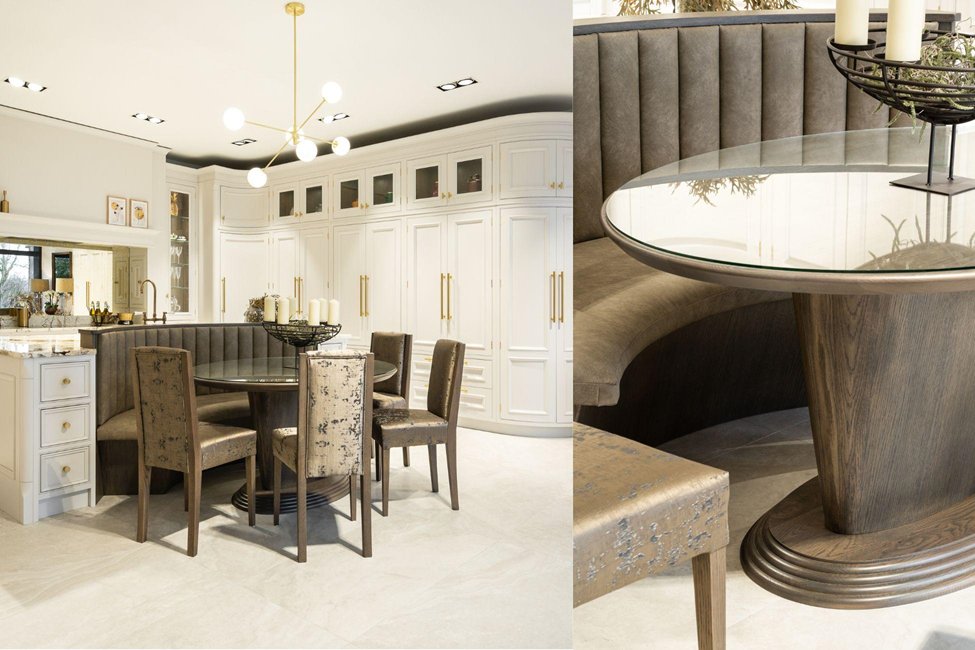 7. Colours and Trends
Trends are constantly changing but the best thing about a kitchen is whether you choose a traditional shaker kitchen or modern shaker style door, it will last for many years to come. Colour is something a kitchen designer can help with, based on the natural lighting and style of kitchen. But only you can make the final decision.
Just as you would choose a colour for any room in your home, base the choice of your kitchen cabinets on how it will make the room feel. Consider how much natural daylight the kitchen receives. Light-coloured cabinetry will reflect light around the room and make it bright. Equally a darker paint is perfect to create a bold look and can make smaller spaces look bigger. Zoffany paint offers a fantastic range of paint colours perfect for kitchen cabinets.
Choosing a wood finish for your units will also introduce texture and interest, have a look at our modern skinny shaker style kitchen below.
Another way to choose a colour is thinking about the rest of your home. If you're planning a kitchen renovation think about colours used elsewhere in your home and echo the scheme to create a flow throughout.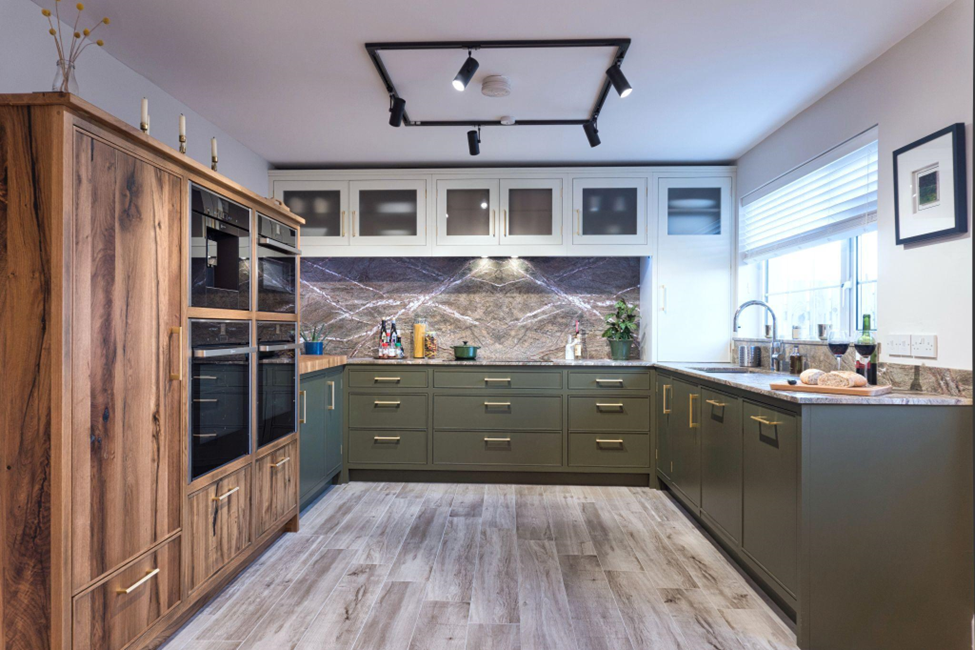 8. Surfaces
Choosing the best kitchen surface and worktops is as important as getting the cabinetry colours just right. Now that you know what colour you want for your kitchen it's time to consider the worktop and the budget you have in mind. Worktops range from Marble, Granite, Quartz, Limestone, Slate, and Neolith.. A Kitchen Showroom visit will allow you to sample each material and choose which feels best for your kitchen and fits your budget.
If you're choosing a wood finish door you may consider a deeper surface colour, such as grey or black or if you decided a brighter kitchen, a composite lookalike colour can tie the scheme together.
A designer will help you choose a worktop within your budget and show you examples of what will complement your kitchen style and colour scheme.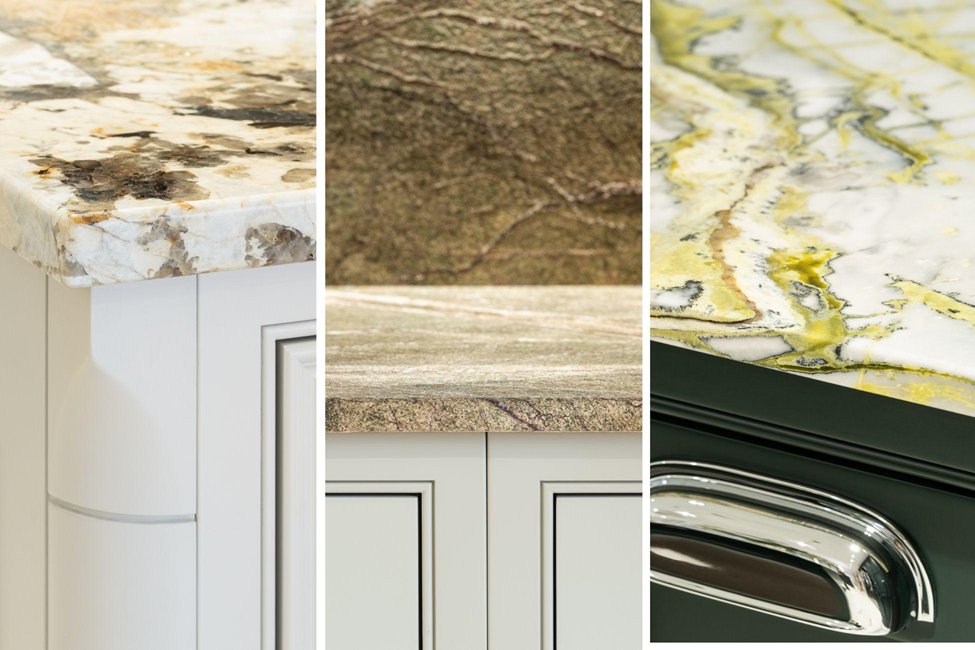 9. Adding more space
Have more space to consider than just one room such as a utility room? They aren't just great for larger appliances but can be the perfect time to consider extending your kitchen and adding a preparation area if you don't have space for a pantry. Similarly a boot room for people to hang coats, take off shoes and drop off shopping can help to keep your kitchen clean from clutter.
10. 3D Design
We highly recommend when working with a designer you request a 3D design of how your kitchen layout will look. This is the perfect time to reflect on the above suggestions and ensure your kitchen is designed exactly how you envision it and has everything you need to make your kitchen functional. Once you have agreed your kitchen with your chosen kitchen designer, you should also request electrical drawings for your builder or electrician.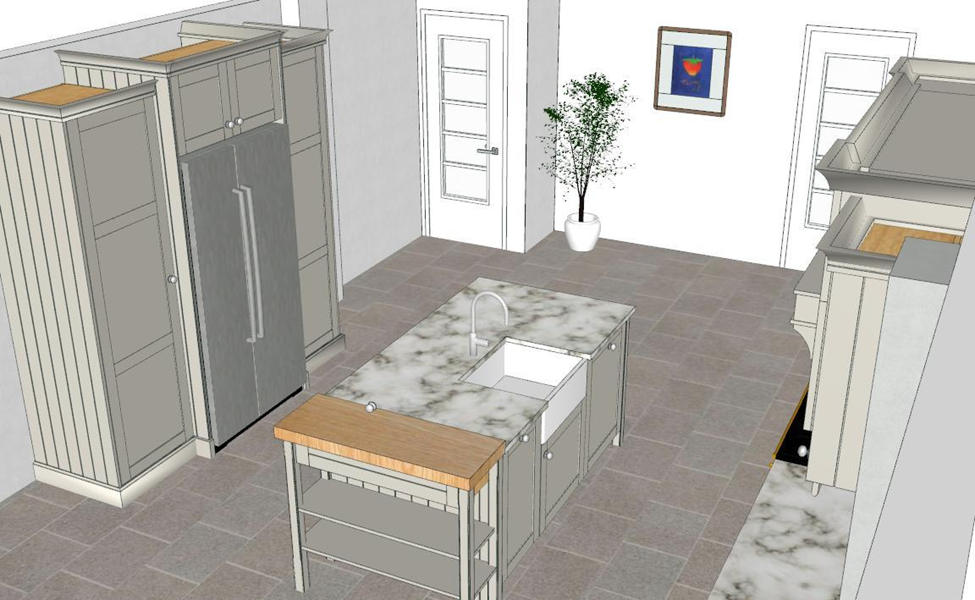 Summary
Can you imagine your new kitchen design yet?
If you need more help the good news is Daniel George by Inspired Furniture doesn't only manufacture kitchens, the team designs them too. So if you are self-building or simply looking to update and renovate your current kitchen, you know you're in the best hands. In 2022 we also launched our first ever public showroom based in Co Tyrone, Northern Ireland and offer installation across Ireland.
Feel free to pay us a visit or book a design consultation at danielgeorgekitchens.com
45 Ruskey Rd, Coagh Cookstown, Co. Tyrone, BT80 0AH