Denise and Mick O'Donnell took a gamble that paid off: they project managed their modern new build even though they'd never built before.
In this article Denise covers:
Site conditions and how the design started
Main influences and design process
Main design elements: simple and cost effective yet architectural
Strikingly modern internal architectural features
Planning permission process
How they managed the project themselves and how they kept on track
Details of heating system
How they tackled salt spray and other issues with coastal location
Lighting design
Lessons learned
Full timeline, floor plans and supplier list
How did the project get started?
I had always wanted to build a home beside the ocean, to have my children grow up in the same setting I did. Mick and I were very lucky to be gifted a site from my dad on the family land, on the Wild Atlantic Way.
My brother Patrick lived in London at the time, and the practice he worked for there was renowned for designing one off houses. It was a natural fit and he was keen to help us on our journey. We were on the same page, which made it so easy to work together.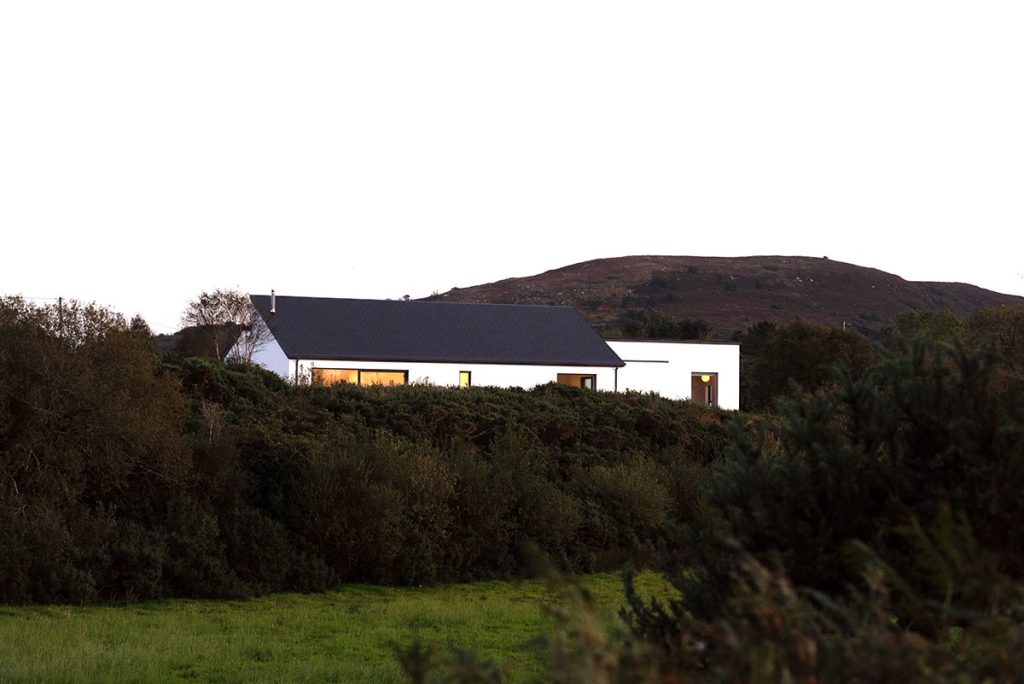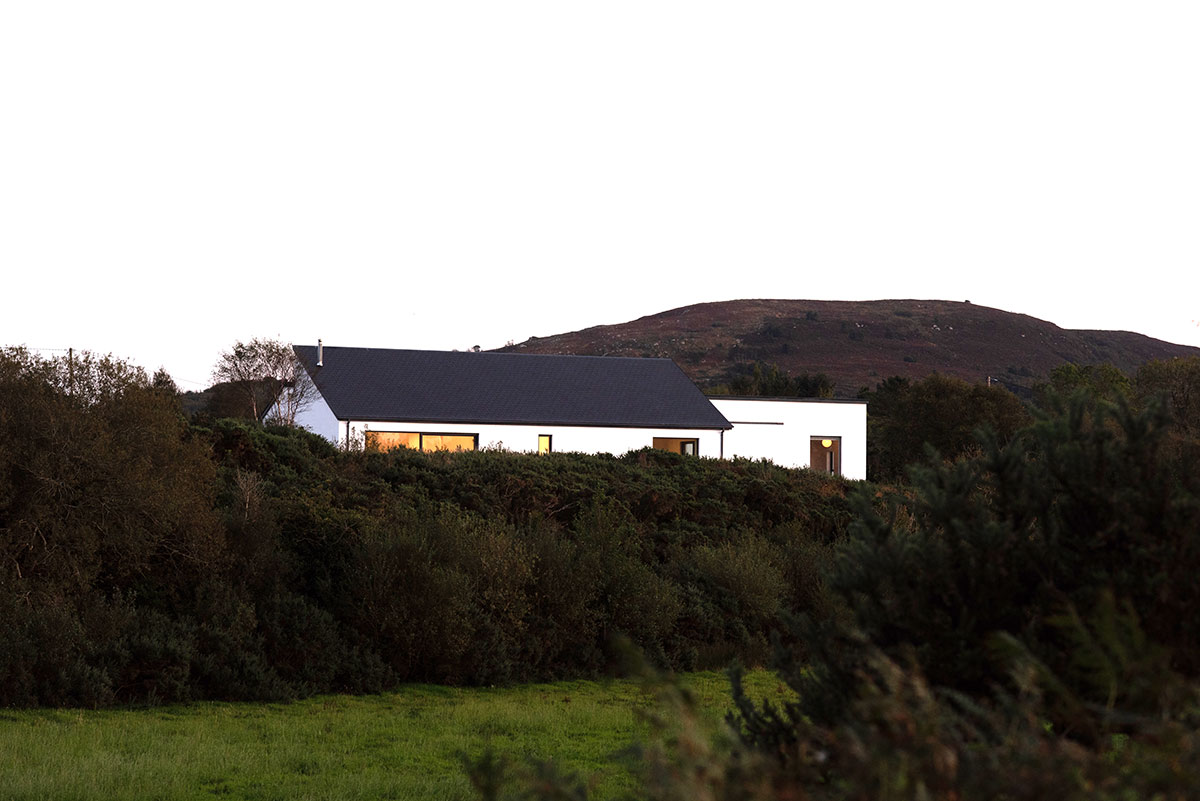 How did the design come about?
We gave Patrick our design brief, including the style we liked and what we needed from the house. From there, the design evolved quite naturally – a simple, functional shape. A contemporary house that would respond to its coastal conditions set within a rugged terrain.
The site consisted of an elevated piece of land, densely planted with indigenous bushes set within the Wild Atlantic Way, overlooking Lough Swilly.
Retaining the landscape helped conceal the base of the house while framing views of the sea that also sheltered the house from the exposed elements. When viewed from the public road, the house appears to emerge from the landscape with the monopitch roofs resting on the landscape.
The primary focus was on the views and how to frame them. As soon as you open the front door, you are hit by the sea. The double height makes an impact and so does the open plan design.
But the views are north facing so we had to consider that it wouldn't get direct sunlight. To avoid losing too much heat from that elevation, we opted for high performing triple glazed windows with large spanning panes early on at the design stage.
We knew we would need the best specification possible to make the house energy efficient. Because we had chosen our supplier, we had the dimensions of the living areas match the window manufacturer's largest opening for a sliding window. Six meters wide and full height.
We also spent time early on designing the garden, to make sure we would get the house to nestle into the landscape. Our hope is to get started on those plans this summer to take advantage of the evening sun.
What are the main design elements?
Patrick came up with a single room depth, two block design. One incorporating the living areas, the other the sleeping quarters. The two are linked by a corridor with windows on each end.
The corridor really enhances the feeling of space and light as well capturing views of the landscape. In a way it's a deceivingly modest building design. It looks simple on the outside and internally it's made up of free flowing spaces.
The open plan works especially well combining the living, dining and kitchen areas – it's a house that has grown with our family. We also have a second living room for quieter time and to enjoy the sunsets.
Storage was a big consideration and we also gave a lot of thought to our lighting arrangements, where our pieces of equipment would go – from the tv to the fridge. So we have both our stove and tv encased in a black wall, integrated in the overall design.
The cantilevering concrete bench then provides seating with the bonus of adding to the aesthetic quality of the space. By using exposed concrete internally onto a cantilevering bench further visibly connects the internal space with the rugged terrain in which the house is nestled.
How else did the coastal location impact on the design?
The selection of external materials was a direct response to our coastal conditions and to ensure a robust and low maintenance house. We chose a sand and cement render, hard wearing roofing slates, highly efficient and airtight windows and doors.
And as the house is perched on rock and close to the sea, a vertical borehole (geothermal heat pump) was selected as a natural renewable heat source.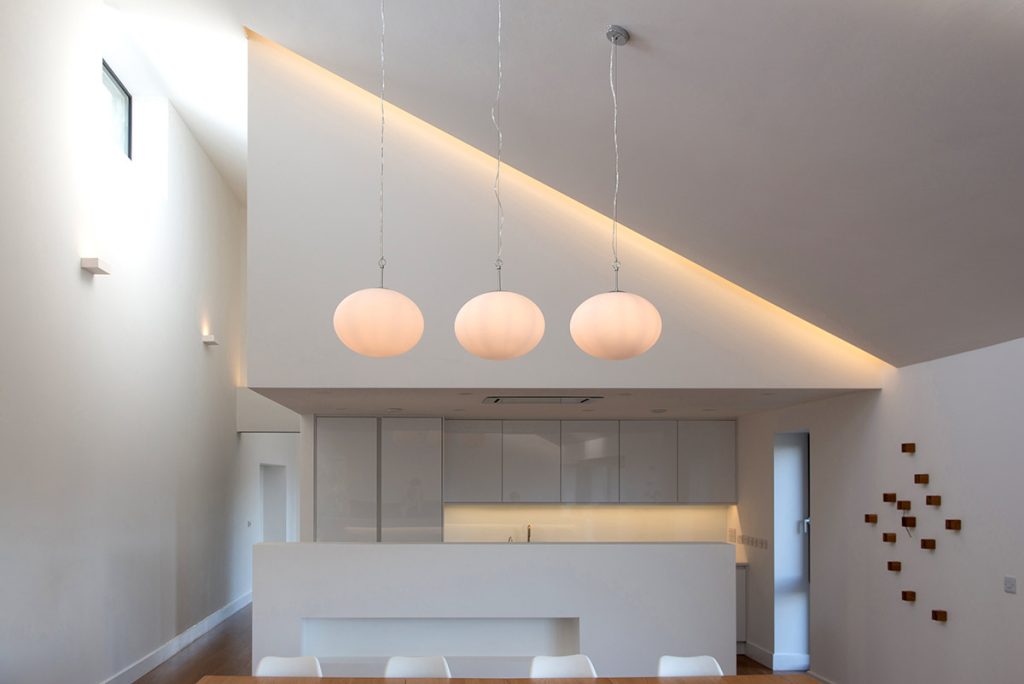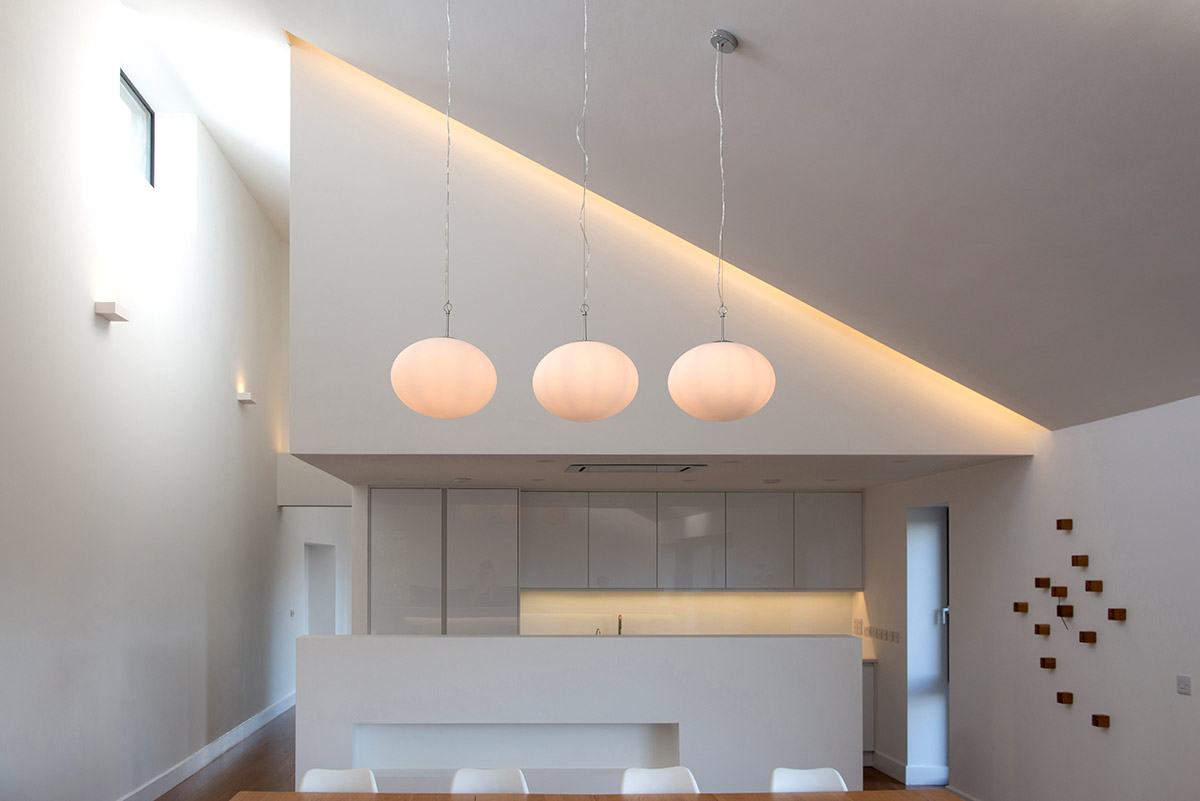 Tell us about the lighting design
Patrick did the lighting design. I would recommend spending time on this aspect; it's hard to understand the impact artificial lighting can have on your mood and feel of the house until you're living with it. Living in the house now, I have a much greater appreciation for light.
Patrick has quite a few concealed light sources, with plenty of ambient light. The overall feeling is one of calmness – soft and relaxing.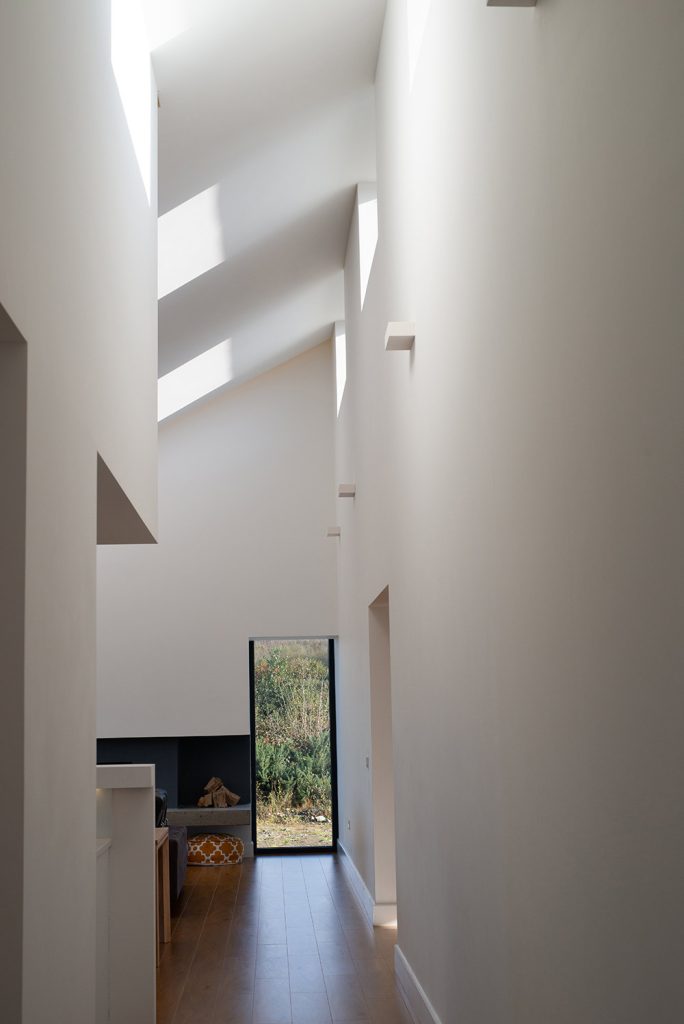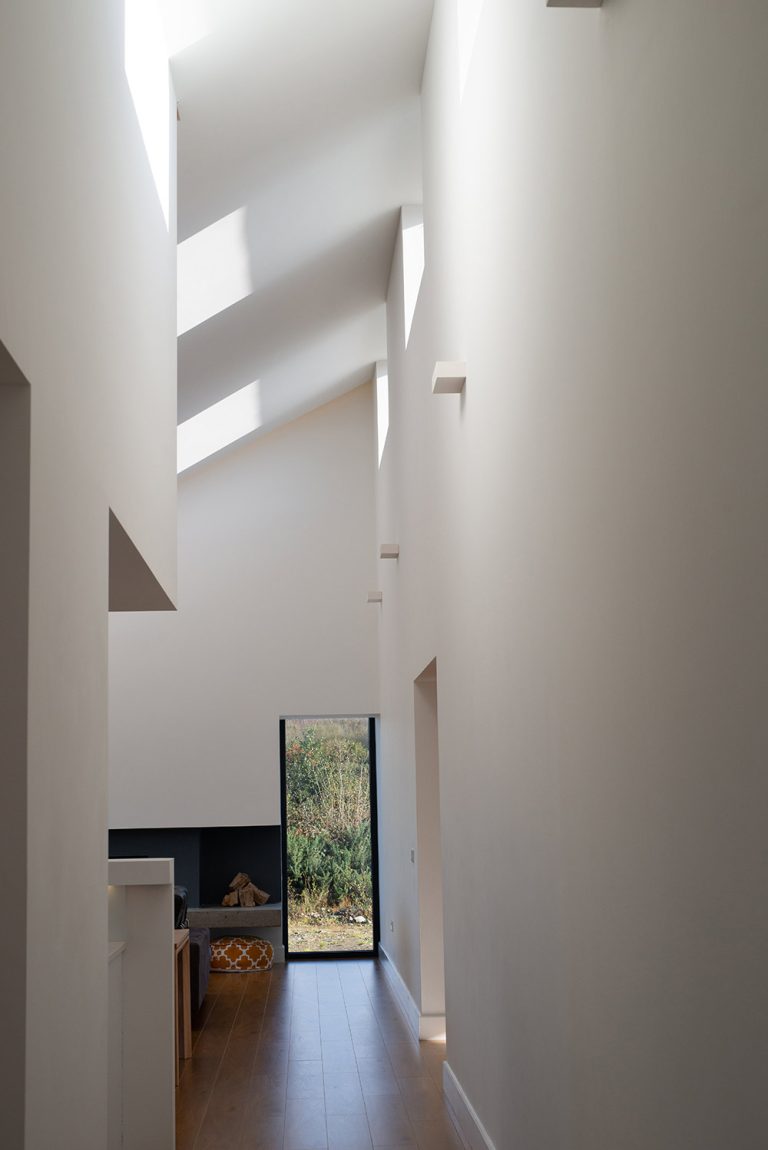 Were there issues with planning permission?
Considering the location, we were very fortunate to have had no issues but we did do our homework. Early on in the design stage we engaged with the planners. They were happy to see we had given consideration to the County Development Plan.
It also helped that we had a stunning architectural design that was tailored to the site and its surroundings. The planners had no problems with our contemporary design – in fact they encouraged it.
---
Timeline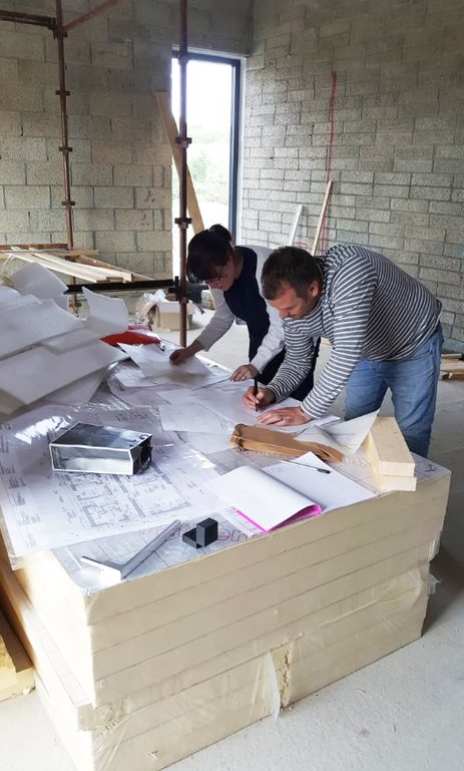 Mar 2014 – Concept design
May 2014 – Planning submitted
Jul 2014 – Planning approved
Oct 2014 – Detailed design
Jan 2015 – Tendering individual trades
Mar 2015 – Start on site, clearance and substructure
Sep 2015 – Blockwork
Nov 2015 – Roof
Jul 2016 – Windows installation
Aug 2016 – Mechanical and electrical first fix
Feb 2017 – Cantilevering concrete bench design and installation
Jun 2018 – Second fix mechanical and electrical
Aug 2018 – Decorating
Aug 2018 – Tiling/ Flooring/ Joinery
Nov 2018 – Moved in
---
How did you tackle the project management?
Coming from a nursing background, taking on a project of this size was daunting. It was a real headache not having Patrick here at all times. We still managed to get through it, despite the stress of having no building experience.
The build itself actually went really smoothly, because it was so well organised. We had the kitchen, bathrooms and so forth decided upon before we started the build, which meant we knew what materials we would be working with.
When Patrick visited home, we had a big site meeting with the relevant trades and specialists. Patrick had such a vision for this project, we had a clear plan to work to. It was a vision we wanted to stick to for ourselves and to stay true to the design Patrick had so lovingly put together for us.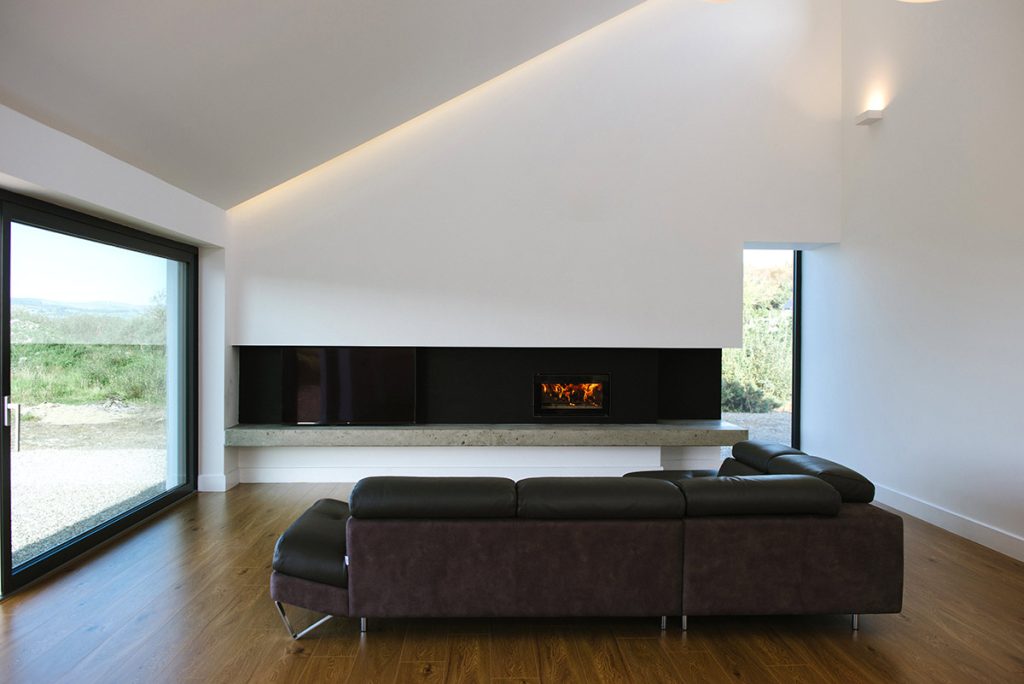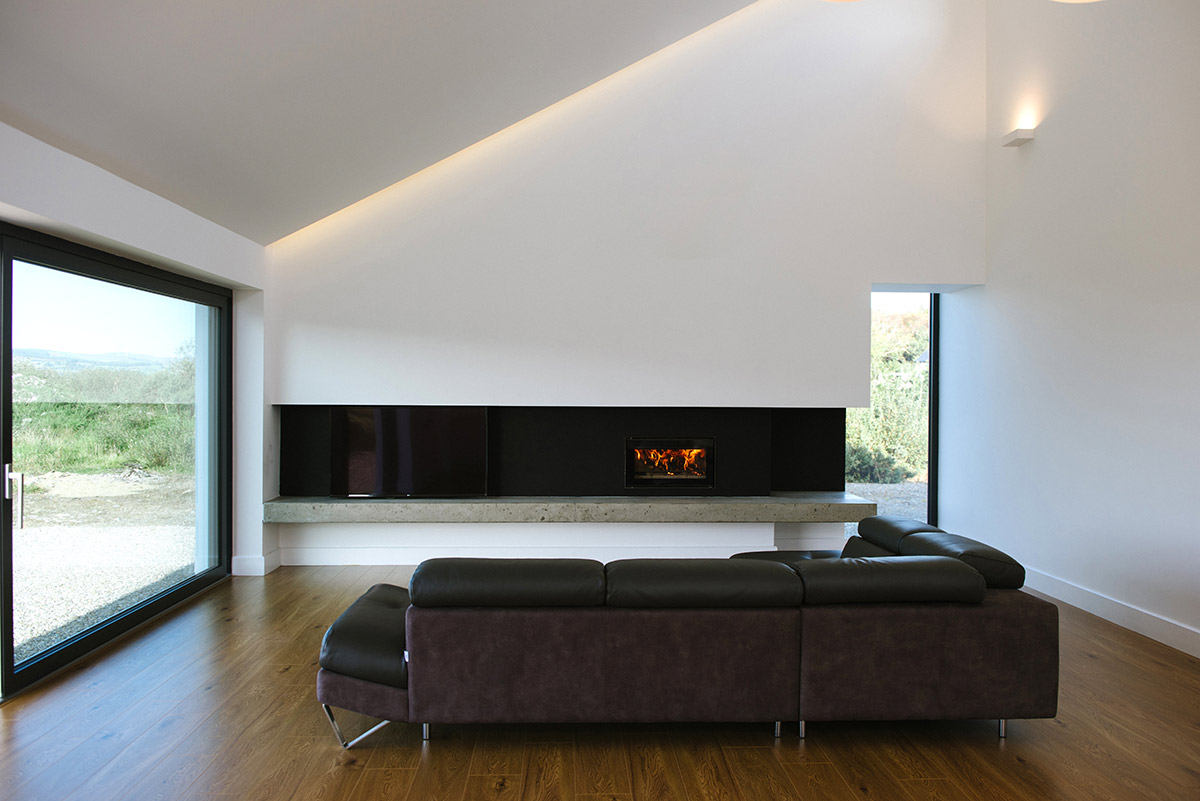 At these site meetings, Patrick orchestrated what everyone had to do. He supplied construction drawings and made sure we were all on the same page. Lots of questions were answered at these meetings and any queries were explored there and then.
After that, myself and Mick were the contact points. We were on site if not daily, every second day. And we could answer most questions but we did make quite a few calls to Patrick to double check or get his lead on things.
This project being a self-build, we expected more bumps along the way. We were very fortunate to have good local trades, who were happy to work on this project. They realised they were doing something different and embraced it.
What are your favourite features?
The windows, which are also our biggest splurge. We are so glad we made the decision to invest in this aspect of the build, otherwise we would have always regretted not doing it.
I also love the way the kitchen feeds into the discreetly hidden pantry and preparation area. And having a separate utility is fabulous. It means laundry is away from the main living space.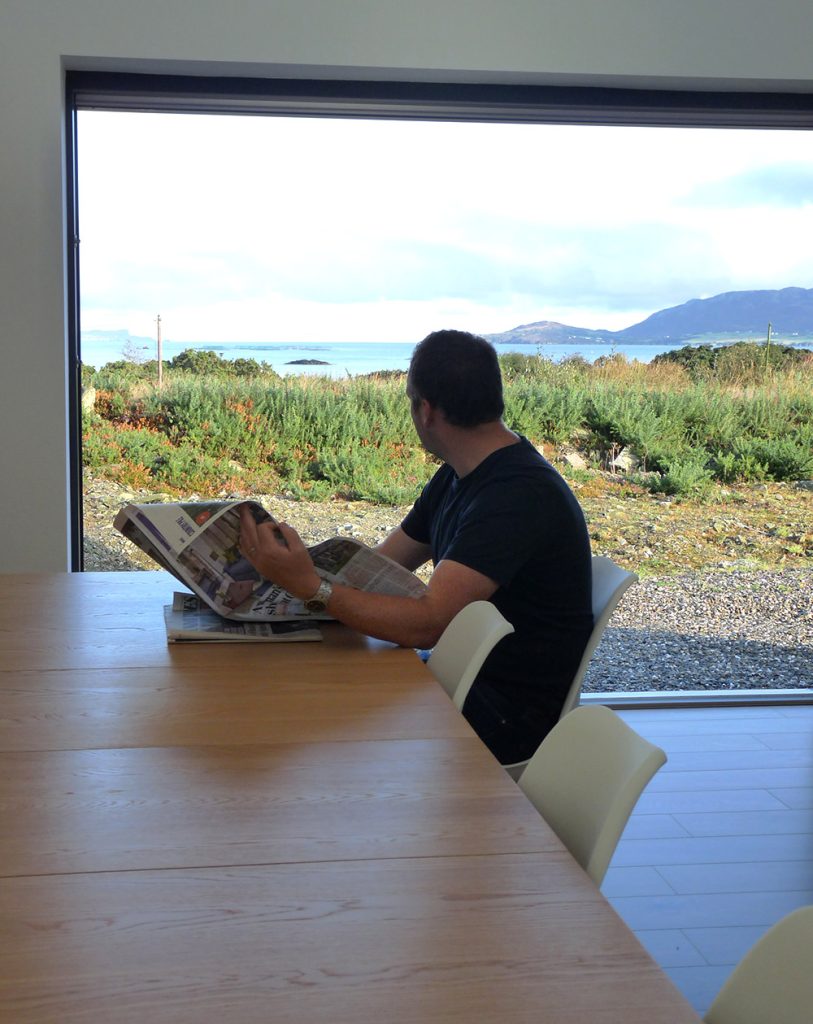 What about the systems?
It's a low energy home, and to achieve that we chose to have a highly insulated house, airtight build with triple glazed windows and renewable energy. Previously we had oil and it's no comparison; we've made a huge saving on our energy bills.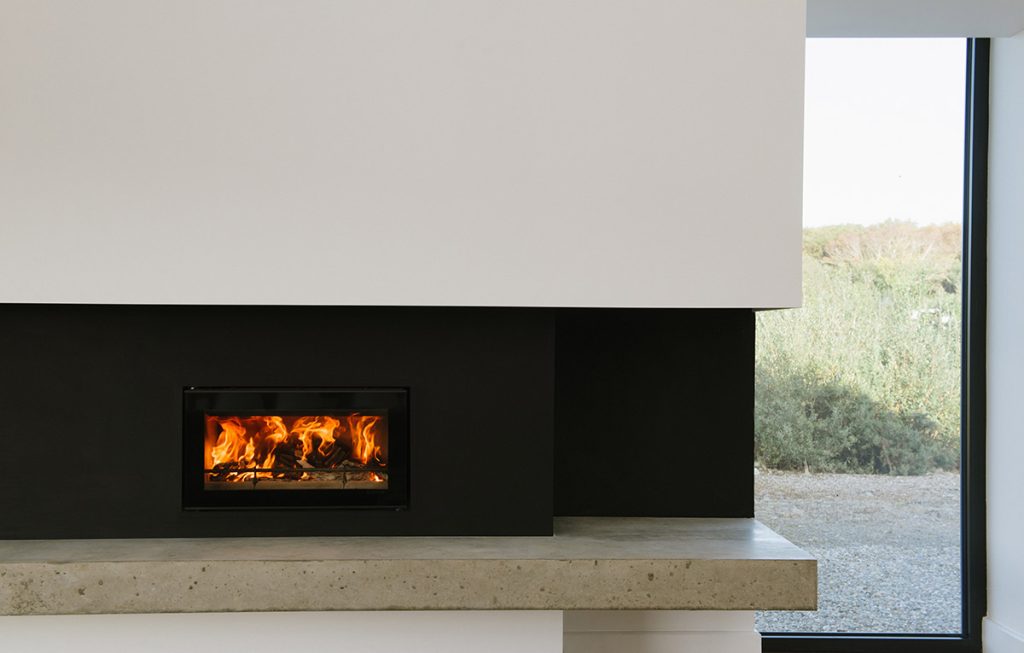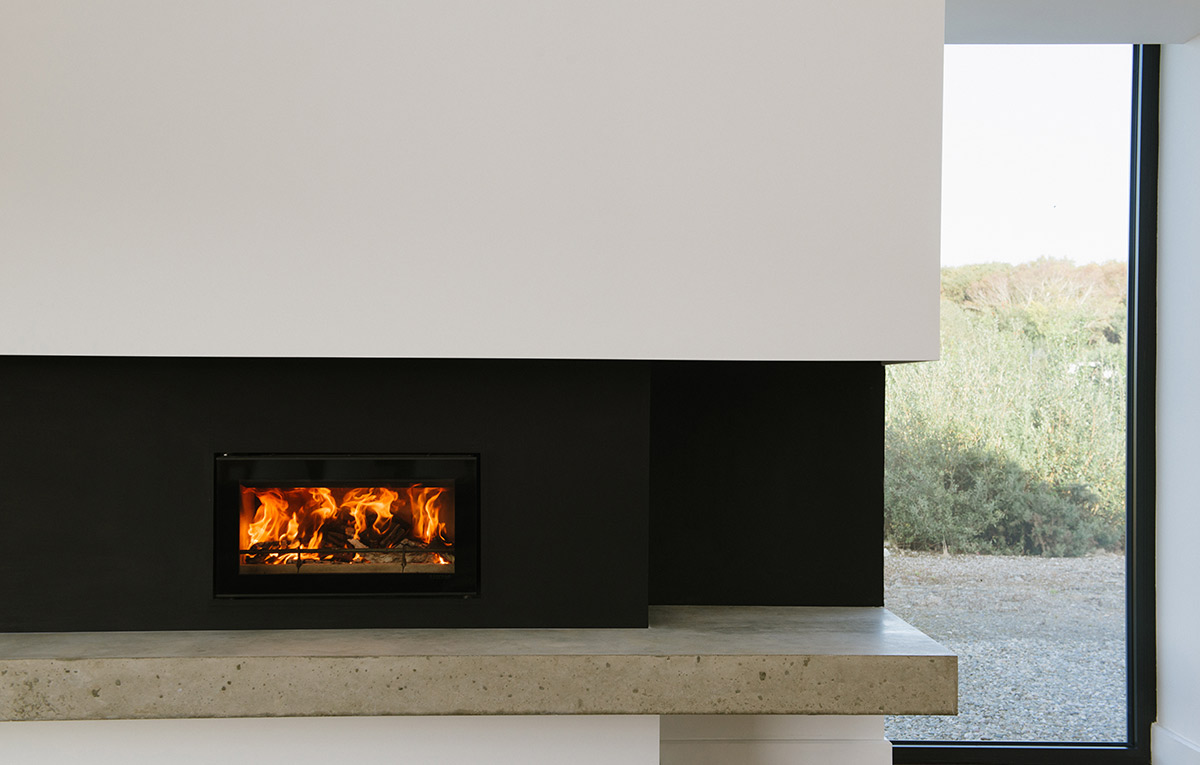 What would you change?
The only thing I would change is the bar on the front door – it's a feature but it's not practical for a family to use.
---
Suppliers
Architect
Studio Gallagher, studiogallagher.ie
Structural engineer
(Cantilevering concrete bench design) Trevor Scott Consulting, England
Building supplies
Divers Hardware in Milford
tel. 074 9153474, Charles Kelly ckl.ie, and Chadwicks chadwicks.ie
Roofing slates
Thrutone Endurance slates by Cedral, cedral.world
Flat roof covering
Henry McGinley, henrymcginley.ie
Insulation
Gallen Insulation
galleninsulation.ie, and McTaggart Insulation mctaggartinsulation.ie. Spray foam Icynene, icynene.ie
Windows
PassiV tripled glazed uPVC windows from Munster Joinery, munsterjoinery.ie, and Internorm uPVC lift and slide triple glazed KS430 system and UPVC aluminium triple glazed window KF410 from Feneco Systems, fenecosystems.com
Electrical installation
Martin Mc Hugh Electrical Services, Milford Co Donegal, tel. 074 915 3378
Heating and plumbing installation
Eco Energy Systems, ecoenergysystems.ie
Mechanical heat recovery ventilation
Pro Air Systems, proair.ie
Concrete specialist
Cantilevered concrete bench by Michael Conlon, mobile 089 442 2164
Kitchen
Cherrymore, cherrymore.ie
Electrical appliances
Irwins Electrical Expert, ewl.ie
Sanitaryware
Global Tiles globaltiles.ie, and Lusso Stone lussostone.com
Lighting
Lighting Concepts, Letterkenny,
tel. 074 912 6238
Photography
Sarah Fyffe Photography,
sarahfyffe.com, and Studio Gallagher

NI calling ROI prefix with 00353 and drop the first 0
---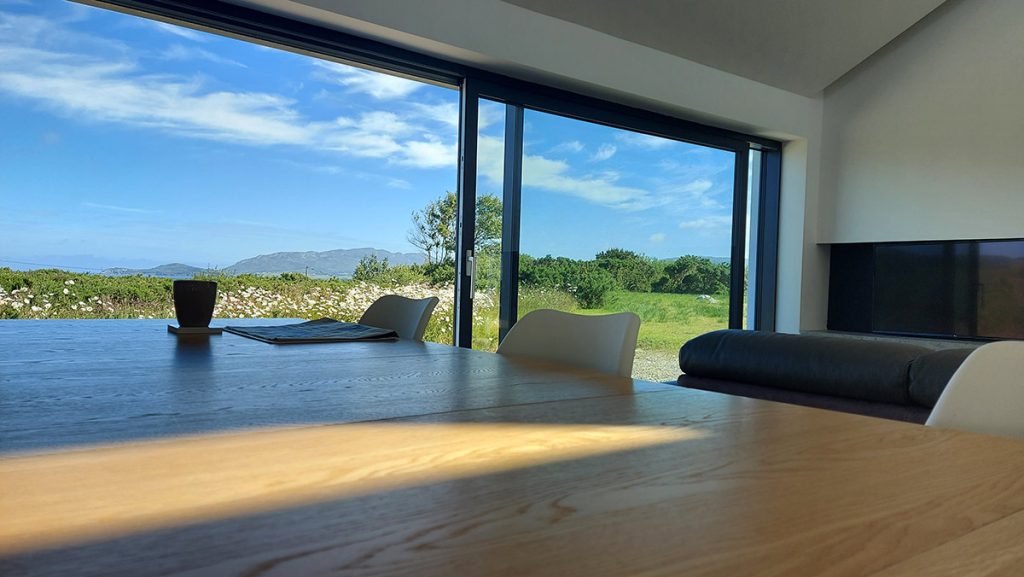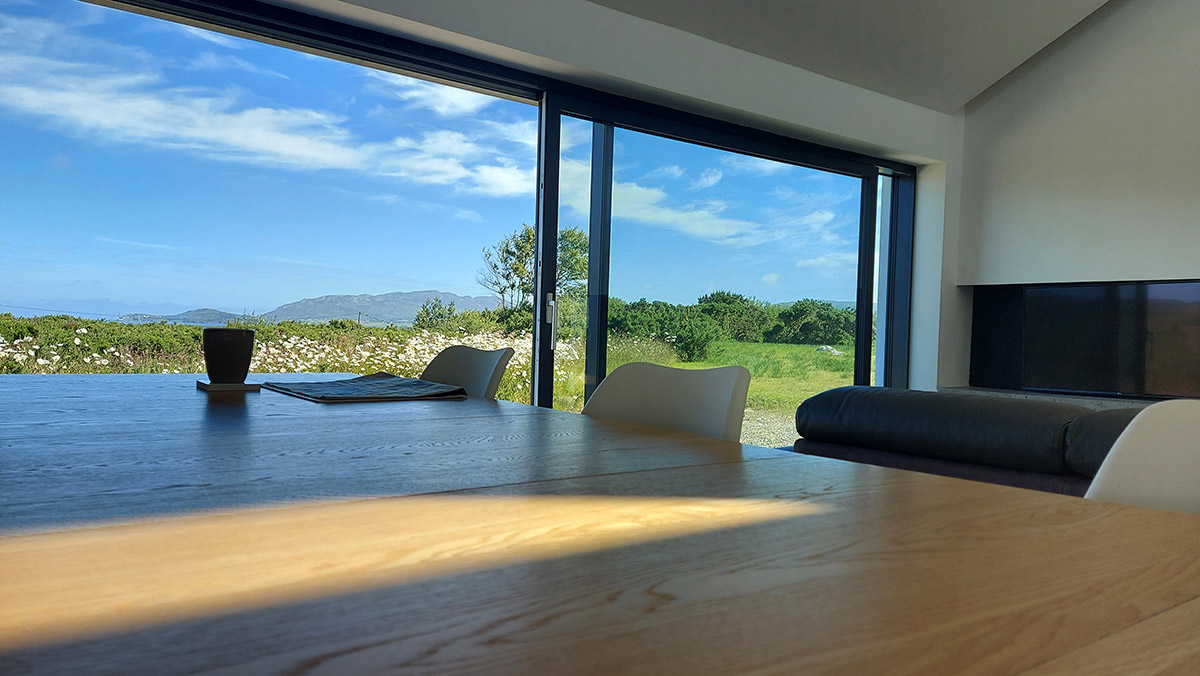 Specification
Walls: 200mm wide cavity wall construction fully filled with graphite EPS beads, externally finished with sand and cement render, U-value 0.15 W/sqmK

Roofs: mono pitch made of timber cut roof with 175mm spray foam insulation with trays suspended metal frame plasterboard ceiling, U-value 0.18 W/sqmK; flat roof warm roof construction made of single ply membrane, 160mm PIR insulation, timber cut roof, suspended metal frame plasterboard ceiling, U-value 0.12 W/sqmK

Floor: 150mm PIR insulation with 85mm sand cement screed with timber floor finish, U-value 0.11W/sqmK

Windows: uPVC triple glazed, overall U-value around 0.7W/sqmK