Giving free reign to an architect to design your new build pays off. And as Kerri Farrell found out, it's not nearly as expensive as your might think.
In this article we cover:
Buying a serviced site
Design process with architect
Hiring a quantity surveyor after the construction drawings were done
Decision to go direct labour and how they managed the day to day on site
How they kept on top of the budget and what they would change
Full details of window design and spec
Choice of heating and ventilation systems and energy use since moved in
Interior design process and lighting plan
Full supplier list and floor plans
House size: 2,700 sqft
Plot size: ¼ acre
Roof: attic truss, breathable membrane, counter battened and 12×24 natural slate covering.
Walls: 150mm cavity construction EPS bead filled, 2x100mm blockwork with phenolic board insulation, plasterboard with skim finish.
Floor: Radon barrier 150mm concrete sub floor, 100mm phenolic board floor insulation underfloor heating pipes 100mm concrete screed polished to exposed aggregate finish.
Windows: painted timber frames double glazed and solid timber opening sash.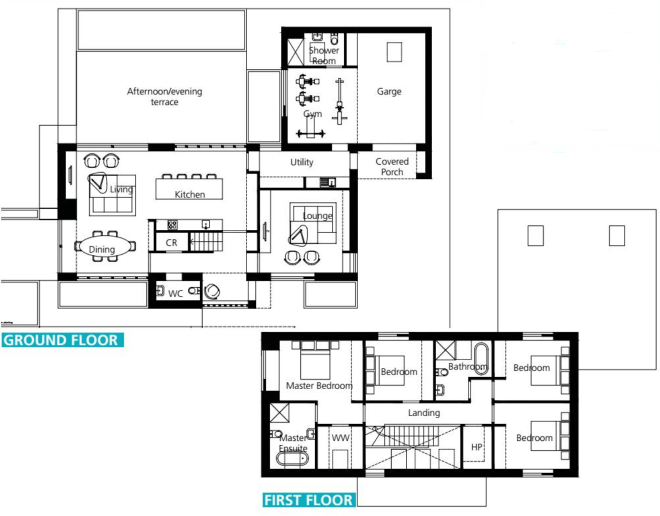 "I had always wanted to build my own house but thought it was more of a dream than a possibility," says Kerri. "My husband Rory is a joiner and he's done contract management on self-builds, so has some experience, but for us I just thought building a house was out of reach financially."
Still they held out hope and bought a serviced site, with utility connections at the ready, close to where they were living at the time. It was in an area zoned for residential development in the countryside.
"We did the sums and when we realised we could afford it, we went full steam." adds Kerri. "The serviced site was ideal because it meant we needn't worry about utilities and connecting to them. There were 14 sites and when we bought ours, Phase One was complete with four homes already built."
"They're all individual properties very different to one another. A major asset is that we're not on a main road, which was important from a safety point of view for the pets but also as we were planning on having children."
"I didn't want to be too secluded either, up a country lane, not that Rory would have minded." Kerri says she's very happy with her choice, living beside likeminded self-builders. "There's a great sense of community, with everyone having built their own house round about the same time."
Architect designed new build
"The project started off with the search for an architectural designer and we found a newly qualified architect who had built his own house. What stopped us was that we weren't confident he had enough experience behind him. We had to keep the costs down but also needed to build the right house, and because neither Rory nor I are designers we knew we needed an expert to guide us through that process."
"We kept looking and found John through his website and really liked his style but we also thought he'd be above our budget so didn't bother contacting him. Then in work, a colleague who heard we were thinking of building, and who'd been an architect himself, recommended we talk to John."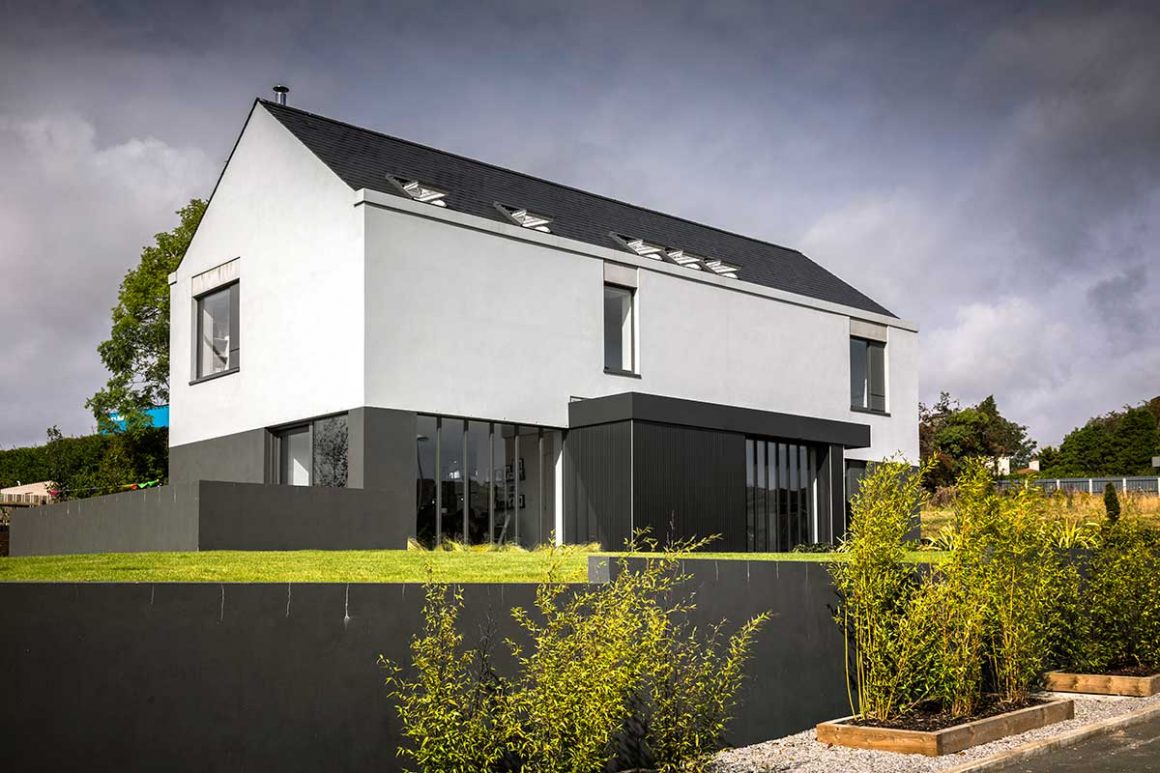 "We were still considering it when we went for a cycle and passed a house we really liked the look of. We knocked on the door to ask about the design and their architect was John so we knew we had to at least get in touch and see what his fees were like, and they were surprisingly reasonable."
"We started off with a wish list. I had the usual in mine: walk-in wardrobe, open plan, and maximum size as I didn't want a massive house we weren't going to use. I also didn't want a huge mortgage and not being able to go on holidays; a house is important but it's not the only thing in our lives."
"Rory's wish list had two things on it: a smart bike and a Labrador. It's genuinely all he wanted. So the gym was part of the house design. We also made sure we costed the furniture we'd need at the end."
"John came back to inform us that we weren't going to get the entire wish list for the size we specified so we had to decide what we could live without, which were rooms like the larder and the small toy room off the kitchen."
"Even though we didn't have a family at the time, we were designing for one, yet we were realistic with our expectations. There was nothing extreme we needed and we didn't want a showhouse."
''…we didn't want a huge mortgage and not being able to go on holidays; a house is important but it's not the only thing in our lives."
"We trusted John and the most important thing for us was that we were happy with his style and the way the house would look and feel. John came back with the design and we didn't change a single thing. The only alteration arose from a miscommunication, we wanted to have a wall between the gym and garage to have it as a separate room."
"There was one small change during the build which was the car park space. It was reduced because we didn't want the car at the front of the large window."
"Those are very minor compared to what most people we know go through when self-building. It probably made John's life easier and he was able to free up some time to give us advice regarding the interiors. We'd only really paid for the design and sign off for the mortgage and building control but we got a lot more than that as a result of not making any changes to the plans."
"We applied for planning permission at the time when the local councils took over from the centralised department that used to process all applications, and there were delays for what appeared to the be no reason."
"It took us over a year for approval; for our neighbours who lodged their application six months later it took them just three months. Thankfully we weren't planning to sell our existing home until the process was more advanced so it was just a question of starting later than originally anticipated."
Direct labour build
"We then got our construction drawings from John and went to a quantity surveyor to draw up a full list of what we would need exactly, and at what approximate market price. This is when we had to look at the plans again to reduce, reduce, reduce."
"We quickly realised the most economical thing was for Rory to take a year off work to build the house himself. He's a contractor so it made the most sense. We had different block layers and people for the foundations, everyone was brought on board individually."
This self-build was certainly a hand son one for everybody. "The day we broke ground I was driving a dumper truck on my due date for our first child," recalls Kerri. "I remember the date well, it was the 5th September 2016. Five days later the baby was born."
"The original plan was for it to take 10 months and it took a year; delays mostly had to do with the weather and some lead times. There were some frustrations; Rory is very laid back and I'm not but perhaps that was a good mix."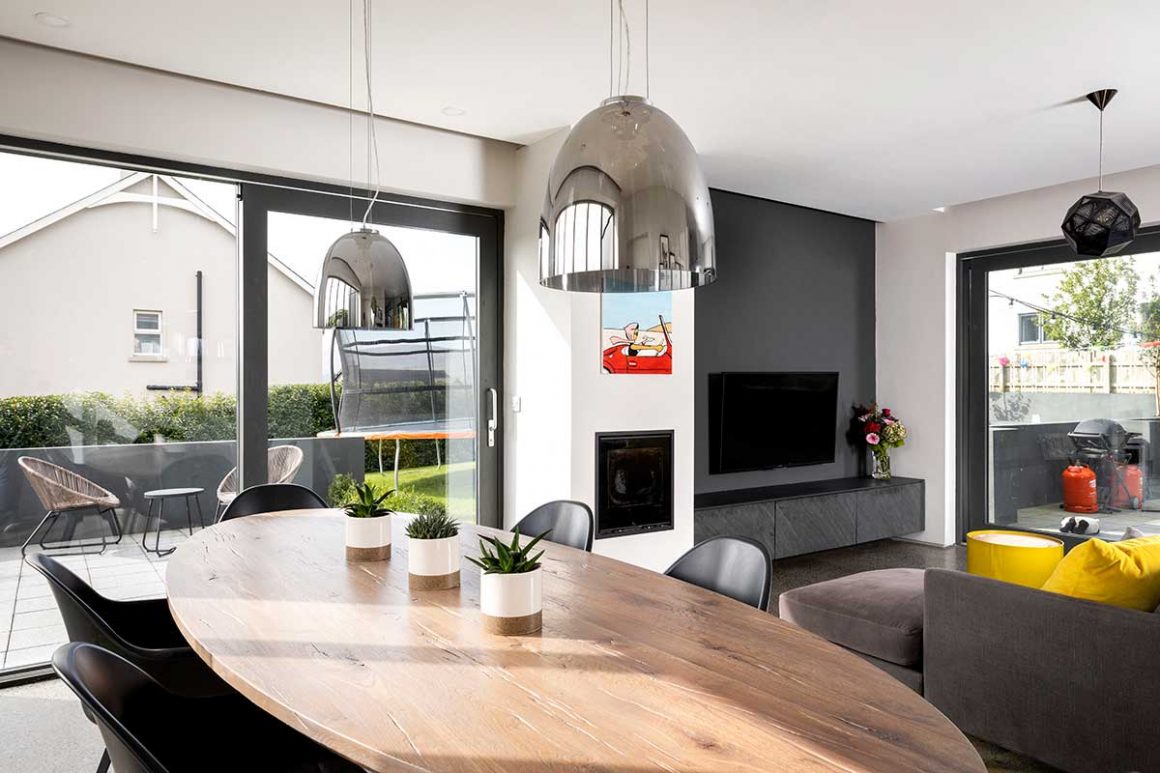 "We'd sold the house before we started building, in June 2016, as it seemed like a good time to build in terms of costs and we were mortgage free for over a year which relieved some pressure," continues Kerri. "We moved in with my dad for the construction phase, and he took sick so it worked out for the best we were there when it happened. We've been in since September 2018."
"And it was good in fact that I was off, for my dad but also for the build. I could go and look at bathrooms, kitchens, tiles. I only had a newborn in a pram to bring with me, it would have been a different story had I had my second or if I'd been working full time. I spent a lot of my time chasing up people while Rory was on site."
One of the issues with juggling family life and a self-build was keeping tabs. "I started off by tallying our expenses and keeping on top of things but as the build progressed and I became more involved with family duties, I let this aspect slip."
"What ended up happening was that Rory and I would separately buy things for the house; and think 100 pounds here or there wasn't much to add in the grand scheme of things, or even a thousand. All of these small things add up but in our case, I wouldn't change a thing. Those choices we made were worth it, and we're lucky we could manage it financially."
The construction method was blockwork. "We wanted a solid house so it was concrete all the way for us. We spent eight months planning the whole thing. For the upper floor we wanted to prevent noise from travelling either way."
Future windows
"Because we both work in the world of construction we know changes cost money, especially at the later stages. Also because of the type of design we had, if we were to move anything or change anything slightly the design wouldn't work as a whole."
"If we'd changed windows for example it would look silly. Some people think there's one missing upstairs, in fact we've recently heard it described as the house with no windows. But it's part of the design, and I love it. The openings are up to 4m wide but not fully glazed for privacy. They're easy to clean; upstairs they have an opening sash mechanism and are made of solid timber."
"The patio has a double set of sliding doors leading to it. John designed it for us and the space is exactly what we asked for. We considered bifold but because of the size of the slider at 3.9m and our climate we felt they weren't suitable."
"In the open plan area we have two sets of double doors, one south facing the other westerly facing, and we can get 27degC in that space in the summer when we come home from work. Now that we have small children I realise we could have used a window or roof light for ventilation because as soon as we open the sliding doors the children run outside, not always supervised."
"We got electric blinds on all the windows to mitigate the problem with eight blinds in the living room. They're recessed in the ceiling so when the blinds are up there's nothing on show. We chose a grey colour but could have gone a shade lighter to cut out the heat. An outdoor shading device would have changed the appearance of the house so we had to go with an
internal system."
"We have mechanical ventilation with heat recovery and while it's great at keeping the indoor air fresh and circulating air around, it doesn't provide any cooling." Upstairs the use of roof lights has paid off. "As we needed privacy with the ensuites and walk-in wardrobe we only installed roof lights in these rooms. This means no need for frosted glass or blinds. It makes these spaces bright and also leaves the wall space clear."
"We also have underfloor heating upstairs because the windows are too low for radiators. The bedrooms aren't massive in size as we integrated built-in wardrobes."
"For the heating and hot water we chose an oil boiler because natural gas was not available. We might have gone with photovoltaic panels to generate electricity but the orientation didn't suit. We could still put them on the east end of the house or the flat roof on the garage."
In terms of energy use, Kerri says their bills are the same as the three-bed semi they lived in that was built in 2013.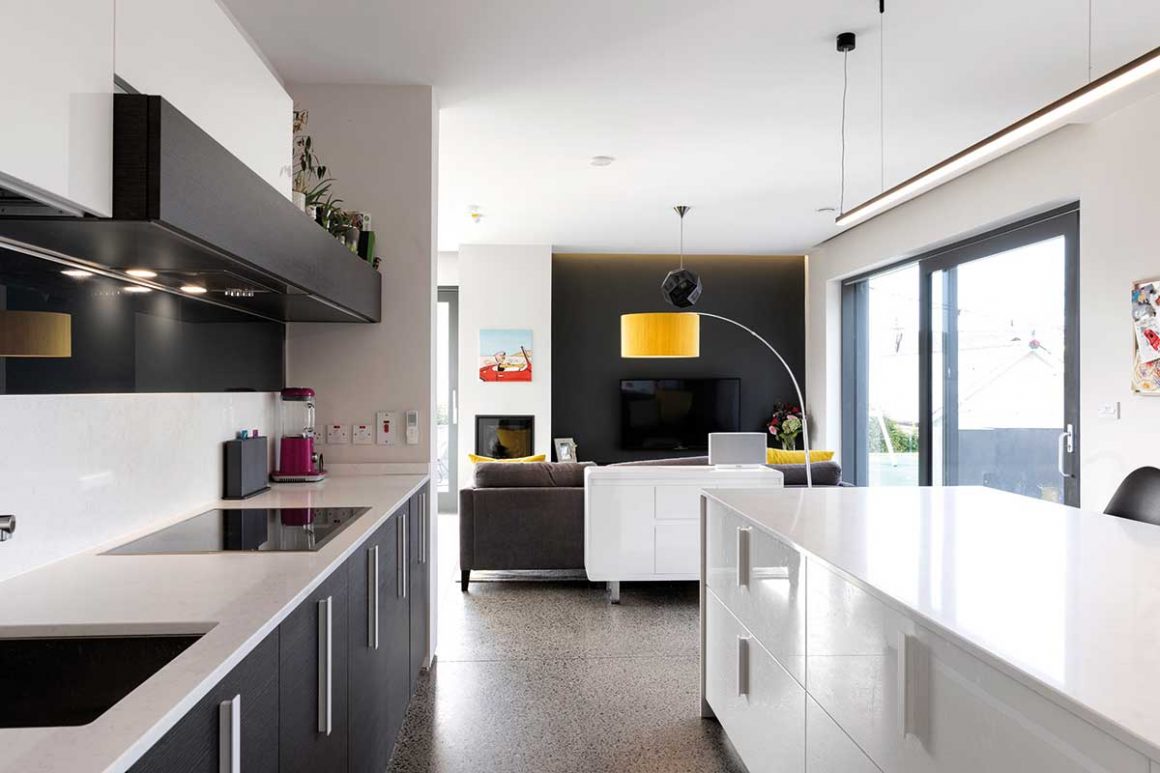 What would you change?
The only thing I wouldn't do again is the polished concrete; we have some stones that came loose as we polished it quite well and you can see the aggregate with a light shine. It doesn't look any better than a large profile tile and it's more expensive to get done. One of the reasons we chose it was that I wanted a similar floor finish everywhere but we could have achieved that with a cheaper finish that might have looked better.

What surprised you?
Lead-in times probably were the biggest surprise, we couldn't even get a price off some subcontractors just because of how busy they were getting
again.

What's your favourite part?
I love the open plan area, it's a great house for kids to go around in bikes. When we have people over they're at the table, at the island, they have the entire open plan to mill about. The pocket doors are ideal; you can open and close them depending on use.

Would you do it again?
Yes, although I'm not sure I should encourage Rory because he keeps talking about 'next time'. The house is not to everyone's taste, in some ways it's featureless, for instance the gutters are all concealed. But we
love it so I'm in no hurry to take on another project now.

What single piece of advice would you give a self-builder?
Add 20 per cent to what you think you're going to spend. All those little extras you'll want to be able to afford will probably up the cost by that amount. I was also under the illusion that we'd be moving into a completely finished house, with external work done within a year. That didn't happen; we were showering at the gym until the tiling was done.
Interiors
"We planned the furniture layout in advance which helped with the lighting design; for example we have floor sockets in the living room for a tall lamp near the sofa."
"For the staircase John warned us we were at the maximum for riser height for the building regulations. It was a trade-off between taking out a part of the walk-in wardrobe or having steep risers," says Kerri. "Because it's solid oak, with squared edges, with a young family it's not that practical to use. What I would do with hindsight is see if we could reduce the size of the snug instead."
"In terms of the floor, we didn't want anything so hard as a tile so we went with luxury vinyl on the landing and in the bedrooms because it's soft underfoot."
"For the lighting we decided against too many spotlights so we have recessed LED strips hidden in the ceiling. When they were being installed I realised they were cool white lights and that colour temperature didn't feel right because the finish in the house was already very modern with a lot
of greys. At this stage half had been done, but we still changed the lot to warm light."
With pops of colour peppered throughout the house, the overall impression is one of warmth and cosiness.
Top tips for architect designed new build
Use local companies as much as possible. It's a way to support your area but you're also likely to get quicker and better service. Remember that you need time to choose things and rushing it could lead to the wrong decision.

Work with the Building Control officer. In NI every self-build is inspected by the local authority so you will develop a relationship with your building control officer. We had two inspectors during the build; one insisted we might bring a rug next to our stove, on top of the concrete floor, and that we needed a raised hearth to prevent this from happening. You need
a non flammable surface 150mm around the fire.
Suppliers
Architect: John Lavery of BGA Architects, Newtownards, Co Down, bga-ni.com
Staircase, windows, doors: Miller Woodcraft, Randalstown, Co Antrim, madebymillar.co.uk
Kitchen: Ravensdale Indoor Living, Newry, Co Down, ravensdale.com
Electrical: Braham Electrical, brahamelectrical.com
Blinds: Maypole Interiors, Newry, Co Down, maypoleinteriors.com
Builder's merchant: Kelly's Point Building Supplies,
kellys-group.com; Newry Building Supplies, murdockbuildersmerchants.com; Point Hire, kellyspointhire.com
Photography: Christopher Hill Photographic, scenicireland.com
---
---