Building an airtight home with ICF didn't cost Eimear and Donal Kane much more than a traditional block build. This in turn allowed them to spend more of their budget on a smart home system and a floating curved concrete staircase.
In this article we cover:
Choosing Insulating Concrete Formwork (ICF): comparison with other build methods
Designing the new house for a busy family with both parents working
Applying for planning permission four times
Process of uploading commencement notice to notify building control
Choosing how much insulation to go with for the ICF walls
Going to tender: how ICF compared to traditional block build
Builder woes and taking on the project themselves
How much DIY they did to save on costs
Floating concrete staircase design
Choice of systems and how low their energy bills are now
Details of the DIY home automation system
Professional photographs, supplier list and full specification
Full timeline, floor plans and top tips to keep on budget
Plot size: ¾ acre
House size: 3,200sqft including garage
Bedrooms: 4
Heating: Air to water heat pump
Ventilation: Mechanical with heat recovery
Build method: Insulating concrete formwork
BER: A2
Early on in the process we looked at building methods, and chose Insulating Concrete Formwork (ICF) because we really liked its focus on insulation," says Eimear. "We had seen ICF at the Selfbuild Live events – the walls are built out of an insulated casing, made of reinforced EPS blocks, which are then filled with poured concrete." 
"We researched other methods such as timber frame and structurally insulated panels, but quickly started comparing ICF with standard block cavity walls. With blockwork we would have to insulate inside the cavity with sheets of rigid insulation, and we felt we wouldn't have full control over how well the boards would be installed."  
"With ICF we figured the worst that could happen was a concrete blow out – the blocks collapsing during the concrete pour, so it seemed like the best quality control we could ask for. I also liked the fact that we would get good airtightness (minimal heat escaping) without any major effort installing membranes."
"We had originally got plans drawn up with an architect based in an architectural practice in Dublin but changed to a local architect, partly because the requirements of Meath County Council are very specific to the area and the planning permission was previously refused. We took these refusals as an opportunity to reconfigure the plans."
"The original design was a storey and a half L shape that left some areas dark. Also, one end of the house was very busy and the other unused. A friend of ours is an interior architect and she, along with our newly appointed architect, helped us to redesign the house to a T shape, keeping the storey and a half design with more of a focus on how the house would work for us on a daily basis."
"We are both very active people and work long hours so the open plan kitchen/dining/living room made the most sense. The bedroom as an area to decompress was also high on the agenda, and we took over half of the upstairs for the master suite with two walk-in wardrobes and a large bathroom with his and hers basins."
"We also thought about the convenience of moving around the house, we wanted a flow that worked best for us – the garage leads into the utility, which leads into the split-level living area."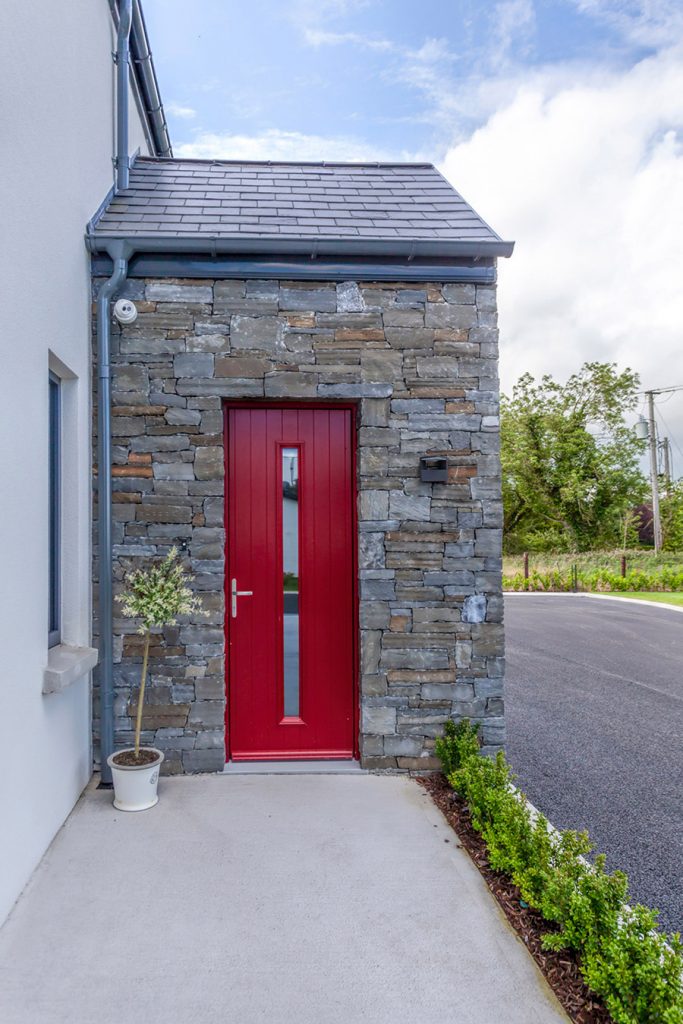 Fourth time lucky
"We applied for planning permission in 2011, 2013 and 2014 but were turned down on what felt like technicalities," says Donal. "We kept going, changed architects and reapplied in 2017. We made a five year plan and were determined to keep applying until we got approval."
"Thankfully the application was approved in late 2017, which happened to be at the same time we were planning our wedding in Portugal. It was a bit hectic."
Not ones to stare a gift horse in the mouth, Donal and Eimear went full steam ahead. "I spent three months planning out the build, getting specifications drawn up, quotes from suppliers, and the preliminary building energy rating (BER) to make sure we would pass the energy requirements of the building regulations," adds Donal.
"We sent our plans to the quantity surveyor who supplied a 3D model of our house and broke down the elements for individual costing. The model provided us with printable elevations, plan views and sections of each part of the house."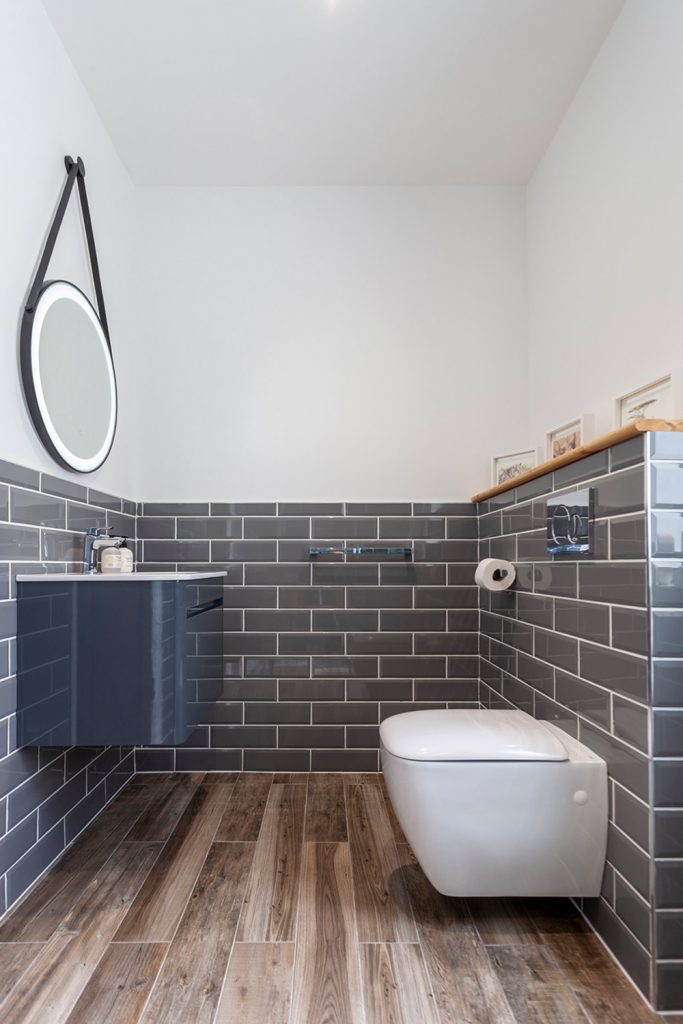 "From this we could quantify how many bags of cement or how many sheets of plasterboard we would need. The online bill of quantities allowed us to compare costs for the same house built from ICF and blockwork, allowing us to tweak the specification and compare the resulting costs."
"For example, we could immediately see what adding an additional 100mm insulation all around the house would cost in ICF and blockwork, see the corresponding impact on the preliminary BER and the knock-on effects it would have on the design drawings."
"This proved invaluable to control costs, with every element accounted for, including the plumbing, heating, ventilation, tiling, floors, wardrobes, balustrade, etc. We would input the costs we incurred and allocated any savings we made to increase the specification in other areas."
Thanks to his background in mechanical engineering, and a previous life as a plumber, Donal took on a lot of the work on a DIY basis to save on costs. "The plan was to hire a builder to get the house weathertight and to do all the groundwork, and then get the rest of the build finished by tradesmen and myself," he says.
"Even though building with ICF was 10 to 15 per cent more expensive on paper, we found it to be cost neutral when we went to tender. That said, of the eight companies tendered we only got one price back for block, and one for ICF. Still, they were equivalent."
"You can get an ICF roof too but the only company we found that did this was in Killarney. The concept was a bit too new for us at the time and it worked out more expensive than a standard cut roof, built on site and insulated with open cell spray foam."
"For the floor, we knew we wanted a passive raft foundation, which are a fully insulated foundation system. With the choice of ICF for the walls, this meant we were building a continuous thermal envelope between floor and wall, instead of relying on aerated blocks or other thermal bridging solutions."
"We chose the 75mm thick ICF walls – we could have increased the insulation but decided to put that extra money into the passive raft foundation and increased the roof joist size to maximise the depth of spray foam for the roof along with insulated plasterboard. The upper storey concrete floor also came pre-insulated to prevent thermal bridging."
"After we got the tenders back, we visited ICF houses that the builder had built and the owners all seemed happy with the standard so we hired him."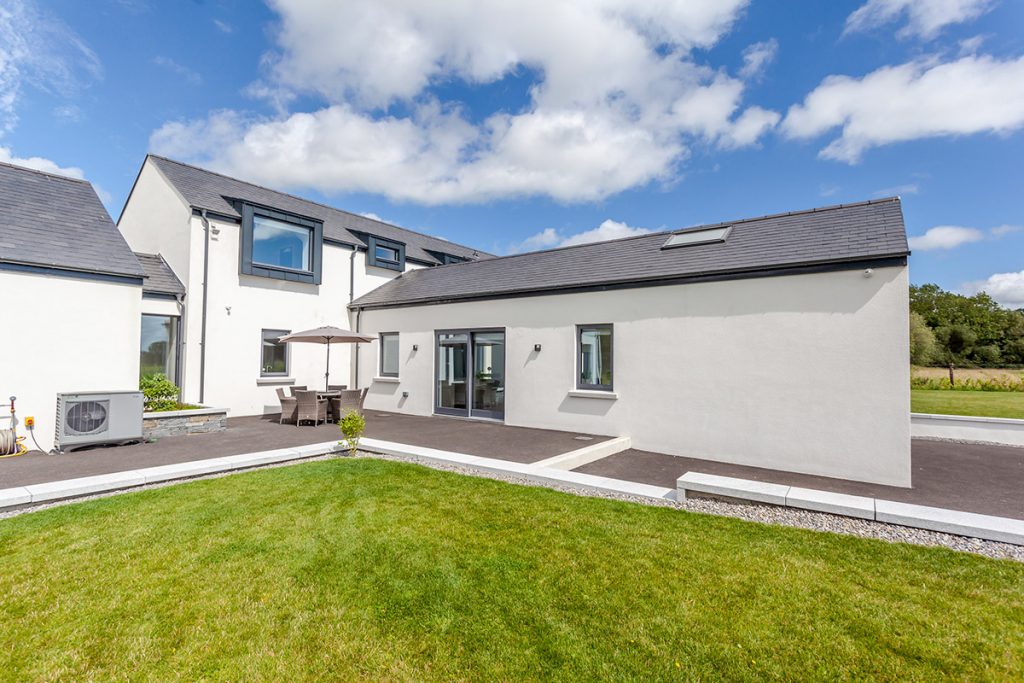 Bye bye builder
"After a good start, the progress in between build stages deteriorated," says Donal. "We spent five months chasing the builder and he'd come back for a couple of days but then would disappear again for a month."
"It was really frustrating because this was at the height of the summer," adds Eimear. "We had fantastic weather in 2018 and the site was just sitting there with nothing happening. The foundations and walls had been built but the roof was incomplete so interior works couldn't be started."
"He wouldn't answer our phone calls. Even though we didn't have a contract in place we eventually sent an email stating that we were terminating our arrangement. We got him back to pay him for what he had done up to then and he left for good. There were a few snags but nothing major so we just decided to cut our losses."
"We debated what to do. Life is busy enough with us both working full time without taking on a build but it made sense to project manage it ourselves using direct labour. Having experience in the construction industry made the build manageable and not too intimidating," says Donal. "Having work colleagues and friends in the industry meant I had people to turn to for advice on pretty much every aspect of the build. The biggest challenge was time."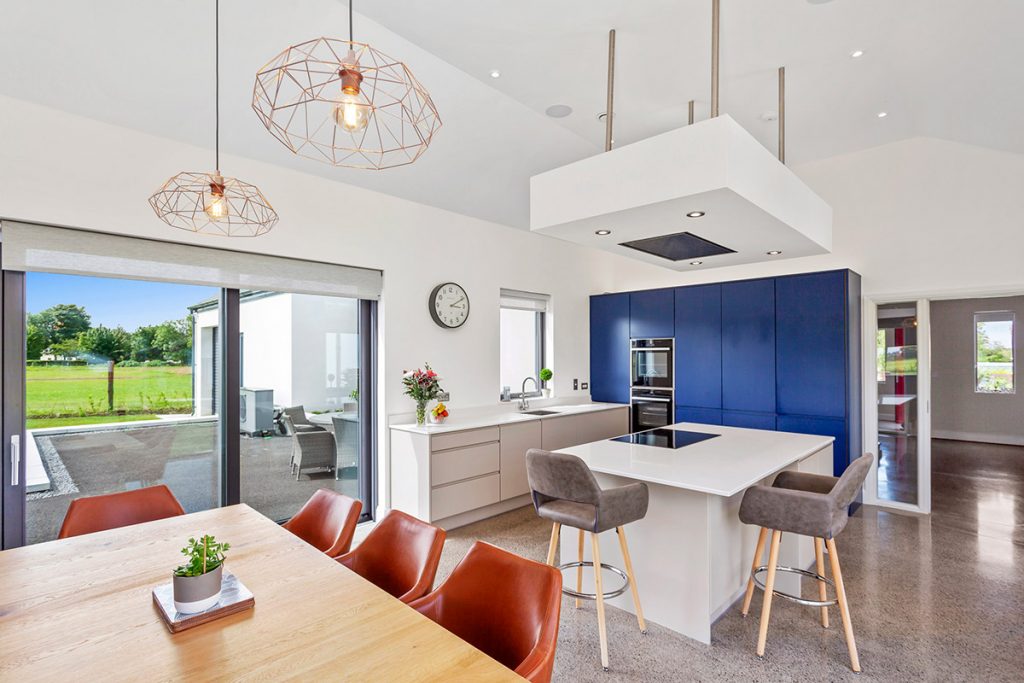 "Luckily Eimear and I nearly always agreed on what to do, even for the finishes. We've been of same mind throughout, which made things easier."
"In December we were back on track. I found good tradesmen and we would come to check their work every evening after work. I took pictures of what we liked, gave them diagrams, had drawings on the floors and walls of what way we wanted items positioned or built."
"Our electrician is a friend of mine, and he helped us decide on locations for sockets and switches, based on what he'd do in his house. We chose local suppliers and those I dealt with over the years in the context of my work."
"We also had family and friends help with the physical work," adds Eimear. "Andrew for the extra pair of hands and logistics, Kevin and James for the stairs and plumbing, Kelvin with the underfloor heating and heavy lifting, parents for cleaning and skip fills, Julie for the interior architecture."
By Christmas the underfloor heating was in, both upstairs and downstairs, and the house weathertight. "The services were all done and the plant room finished. We had the roof on the garage to store materials and to allow Donal to fabricate the roller gate," says Eimear. "There were fewer delays once we took ownership of the project."
Staircase
How to build the stairs was another matter. "The original intent was to crane in an L-shaped precast staircase with middle landing. The builder said he could not wait the four to six weeks it would take to manufacture, as he expected the roof to be on within four weeks, so he proceeded to build shuttering. However, when we went to get the concrete poured the engineer wasn't happy with the set up so we had to condemn the stairs."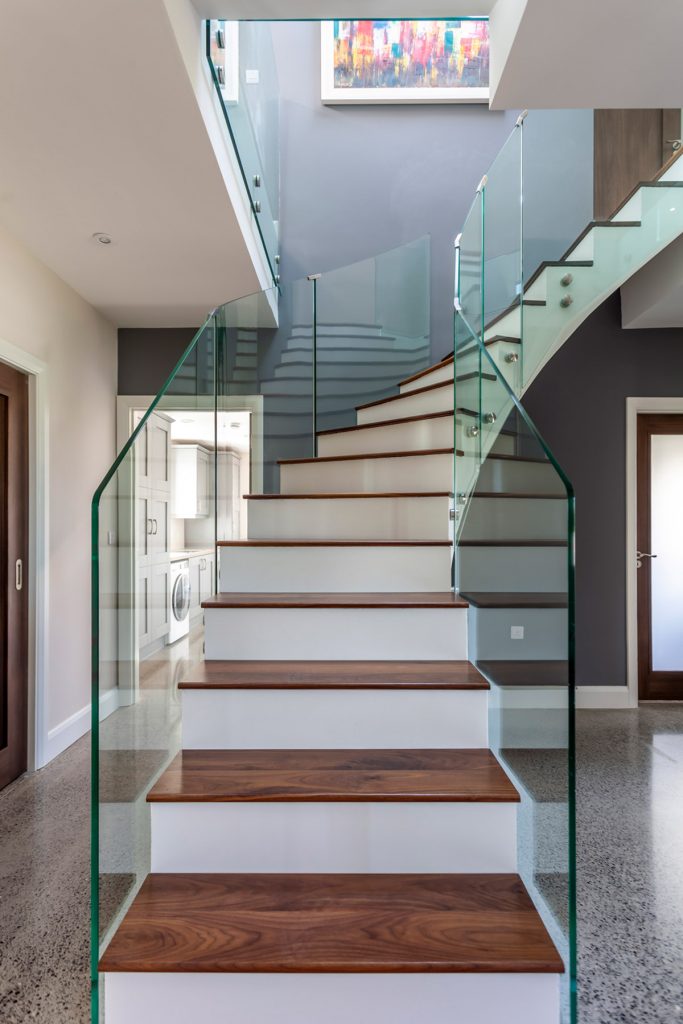 "Our engineer did a redesign but I had a contractor who does in situ stairs review it, and he didn't think it would work for our desired finish. From the initial meeting with him, we knew he was an expert in his field so we hired the engineer he works with to design and certify the revised design."
"We kept our original engineer to sign off on stages and for the Health and Safety obligations, but we felt our new contractor had more years of skill and experience in this particular specialised works. The revised design was a floating curved staircase with a pivot fixed glass balustrade."
"We have underfloor heating both upstairs and downstairs and didn't want a difference in surface temperature on the staircase, so we decided to add a heating zone for it. We could do that now that the concrete was being poured on site. I had previously installed a similar design for a swimming pool in the context of my work; it was just a question of putting in the pipes then rebar in the shuttering."
"We had decided early on to minimise our exposure to risk by appointing experts for specialist work. This was also the case for the polished concrete – we appointed a single contractor to lay and polish our concrete floors so there would be no issues with the sequencing of works. We are delighted with the outcome of both the curved concrete stairs and the polished concrete floors."
Home automation
"We originally went to different companies, to get a full house automation system priced up," says Donal. "I felt the prices that came back were very expensive for what we'd be getting out of it. It was big money for us so I started looking into the alternatives."
"We chose a smart lighting system as the central controller for the home automation system. Everything is connected: the internal and external lights, electric gates, garage doors, house alarm, and surround sound speakers in every room."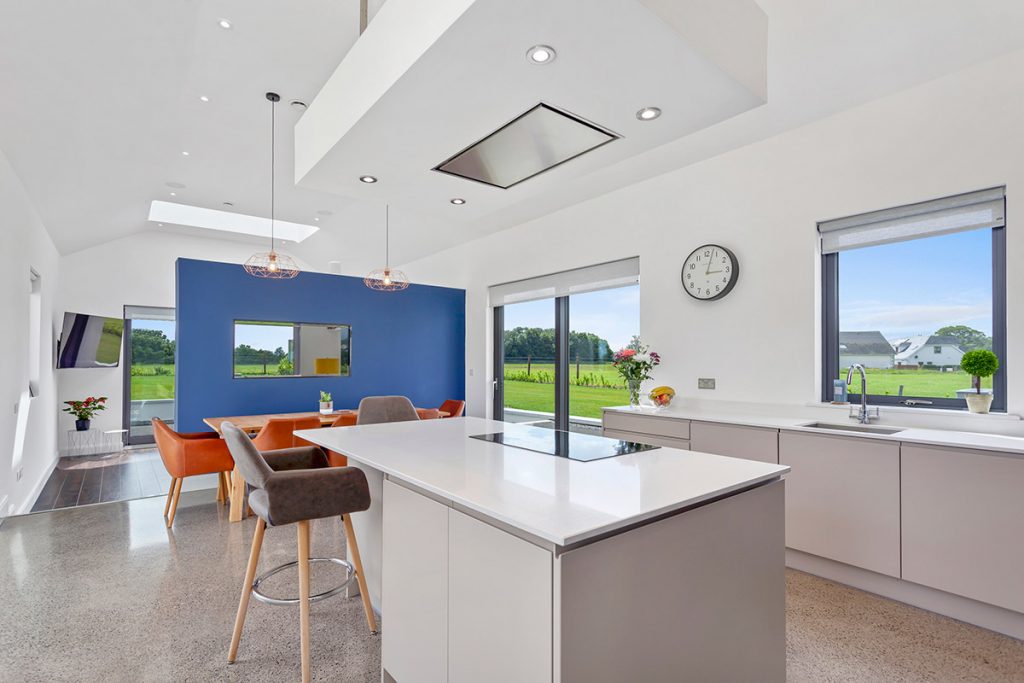 "The best thing about it is that we have a whole house off button that shuts off all the lights with one switch. We've also wired the blinds for automation; we hit one button or tell Alexa to close the blinds."
"Then there's the robot lawnmower and the robot hoover," adds Eimear. We're only short of having a robot cooking the dinner."
"I love the smart home system," says Donal. "I'm not lazy but like to be efficient with my time. We've timed the garage door and gate to open five seconds after I turn on a switch in the kitchen. It closes 90 seconds after. It's a bit like a game getting out of the house in time."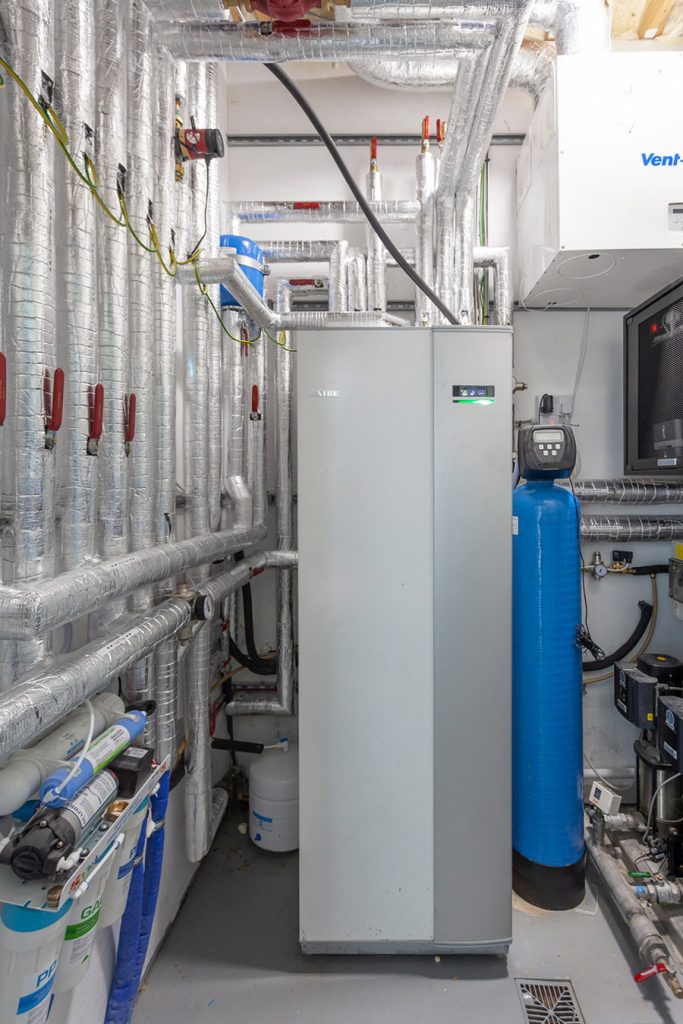 "We're also delighted our heating bills have worked out really well to date, at just €150 a month for everything in the house including heating at 22degC all year, lights, lawnmower, gates, etc. The only issue is with overheating; we have to close the blinds on hot summer mornings otherwise the kitchen temperature will rise to 29degC. The windows are all south facing so it heats up easily."
"When we moved in, we had the house cleaned, painted and carpeted and invested in essential furnishings," adds Eimear. "But we're still not finished decorating and furnishing the place. The sitting room at the front of the house is a project for five years down the road." In other words, a typical self-build – one that's tailormade and still evolving.
ICF DIY build top tips
Plan, Plan, Plan. Research the next build stage two months in advance. Price and shop around and research products in detail to ensure they will tie in with other elements in the house.

Waste management. Skips will cost you money, cleaning the site every evening will cost you time. Our parents helped with skip fills, cleaning, feeding and moral support, all of which was invaluable.

Give very precise instructions and photos to all tradesmen. Watch progress every day – double and triple check all work is carried out according to the plans.

Windows. Make sure you get your quotes in early, at the design stage so you don't limit your choice. All of our windows are 800mmx1m in size and we realised that no supplier would do that size in any other configuration than tilt and turn. We had to modify the construction drawings based on the feedback from the window suppliers. Luckily, we found this out prior to getting to wall construction and the cost was negligible.

Track all expenditure. Even the small things like sandpaper, duct tape and cleaning equipment add up.

Budget for the groundworks early. Most sites are a mud bath from machinery and trucks and we wanted it clean and tidy so we invested in 3-4ft deep of coarse stone, which would in turn be the base for our driveway.

Get utilities on site before you start. We had to get a new pole from ESB Networks; it came at the end of February 2018. We got the water connection the following month, which then allowed us to start on the foundations. Check out the phone line options too; we thought we would be able to have broadband as houses 200m each side of ours have it, but we could not get a connection so now we have a SIM based router.

Would you do it again?
Yes, we would do it again a million times over even though it was stressful at times and became a huge focus in our lives for a year and a half. We were so lucky Donal knows the construction process and the pressures and stress rarely phased him.

What are your favourite parts of the design?
Eimear: I love the stairs and the glass balustrade. I like how the sun rises behind the house; it's a sun trap all day. Also, the link to the garage – I've now realised with a baby how useful it is to have the car parked indoors and attached to the house.
Donal: I love the zinc effect windows in the bedrooms, the polished concrete floors from the front door through to the kitchen and utility area and the gardens. The gardens have been my project since Covid so I've spent all my free time out planting and creating a nice outdoor space for us.

What surprised you about the build?
The amount of time we spent on site each evening, discussing exactly what we wanted and then describing our vision to the individual trades. Researching materials also took a long time but getting at least three quotes for everything paid dividends. The most important thing is to double and triple check all the work that has been done and if the drawings are revised, get rid of old copies lying around the site.

What would you change?
We might make some rooms bigger. At the design stage we had cut down on some room sizes to coincide with our budget.
Follow Donal and Eimear's self-build on Instagram @our17monthbuild
Specification
Floors: 300mm passive raft foundation with additional 100mm PIR insulation under the underfloor heating and polished concrete floors. Upper storey 200mm insulated hollowcore precast slab.
Walls: 75mmICF finished with spray on silicon render and stone.
Roof: Cut roof with 9 inch joists and 200mm spray foam insulation with 80mm PIR plasterboard underneath. Spanish natural slates as covering.
Windows: Triple glazed passive windows
Airtightness test: 1.6 air changes per hour
Suppliers for DIY ICF build in Co Meath
Architect
Ultan Blake, ultanblake@gmail.com, 01 8019512
Quantity surveyor
U Build Pro, ubuildpro.com
BER
2eva, info@2eva.ie
Insulated foundations
KORE, kore-system.com
ICF manufacturer
AMVIC, amvic.ie
Poured concrete
Keegan, keeganquarries.com
Silicone render
Eco Celt Ltd (Stomix), ecocelt.com
Stone
Liscannor stone, mcmonaglestone.com
Hollowcore slabs
O'Reilly Concrete, oreillyconcrete.com
Insulation
B&M Insulations, bminsulations.ie
Polar Insulation/ICYNENE, icynene.ie
Passive window sills
Eco Smart, Ecosmart.ie
Windows
Munster Joinery, munsterjoinery.ie
Zinc Effect Windows
Copeland Robert A & Sons, tel. 01 8258055
Site engineer
Boylan engineering, boylanengineering.ie
Stairs
Builder: Mickey Kelly Stairs, mjkellystairs.com
Engineer: Peter Culleton
Curved glass
Truecurve, info@trucurve.com
Polished Concrete
Stone Seal, stoneseal.ie
Kitchen
P&J Kitchens, tel. 041 9829860
Smart home
Installation including alarm and CCTV: Dial an electrician, dialanelectrician.ie
Lighting: Eclipse Controls (Philips Dynalite), eclipsecontrols.ie
Light fittings
Kelliher Electrical, kellihers.com
Automated blinds
Mix n Match Interiors, mixnmatch.ie
Ventilation, gutters and downpipes
Lindab, lindab.com
Bathrooms
Sonas, sonasbathrooms.com and geberit.co.uk
Vado for taps/showers, vado.com
Water pump
Grundfos, grundfos.ie
Heat pump
Unipipe, unipipe.ie
Tiles
Tubs & Tiles, tubstiles.ie
Project Tiles and Bathrooms, project.ie
Painter
Niall Farrelly
Garage doors
Doortec, doortec.ie
Fencing
Tara Fencing, tarafencing.ie
Granite Cappings
All Stone, allstone.ie
Site assessor
Hydrocare Environmental, hydrocare.ie
Water Softener
Hy-Tek Homecare, hy-tekhomecare.com
Furniture
Jaybee Couch, jaybeesofaworks.com
Groundworks, kerbing, geogrid
Jim Hayes & Son, hayescivilengineering@gmail.com
Tarmac
RM Cleary Tarmacadam, mobile 087 634 0341
Automated Lawnmower
Fairyhouse Motors, fairyhousemotors.com

NI calling ROI prefix with 00353 and drop the first 0