When Tanya Fitzpatrick was given land on the family farm, she and her husband Alan jumped at the opportunity to build their forever home.
In this article, Tanya explains how she went about her direct labour new build:
Outside-In design inspired by Australian homes, including a covered outdoor area
Working with her architect on design ideas and getting planning permission
Planning permission process and how she tackled requests for further information
Her reasons for hiring trades herself instead of hiring a builder
Direct labour new build top tips including how to keep to the budget
How family members helped throughout the process
The build schedule from start to finish
Design changes to suit the budget
Shadow gap details
How to use furniture placement to help with the design
Tackling the interior design after the house has been built
Overview
Plot size: 3 acres
House size: 3,100 sqft excl void space, garage and outdoor roofed areas
Bedrooms: 4
Heating and hot water: air to water heat pump
Ventilation: central mechanised extract (demand controlled)
Construction: blockwork (cavity wall)
BER: A2
How did the direct labour new build project get started?
The plan was always to settle in the countryside, and having the opportunity to build where I grew up was very special. 
Our starting point for inspiration came from our time living in New Zealand and Australia. We were focused on bringing the outside in and making the most of the landscape and our surroundings – I love the fact that we have views of cows from all windows.
When we started pulling ideas together, from our online research and attending Selfbuild Live events, we definitely saw a recurring theme: glass, outdoor features and a double height space. This guided us in preparing a design brief for our architect.
How did the planning process go?
We worked closely with our architect, who had a very good understanding of our local planning authority guidelines. Key issues for us to consider included the location of house on the site, i.e. distance in from the road, placement in the field, and entrance and access from the main road.
We had no issues with local needs as I met the requirements.
We received a Request for Further Information which included a number of items: the driveway (we originally had it curved but the planners asked for a straight run) and more information about our landscaping plans.
They had minor comments on the overall design of the house, but it was a relatively straightforward process.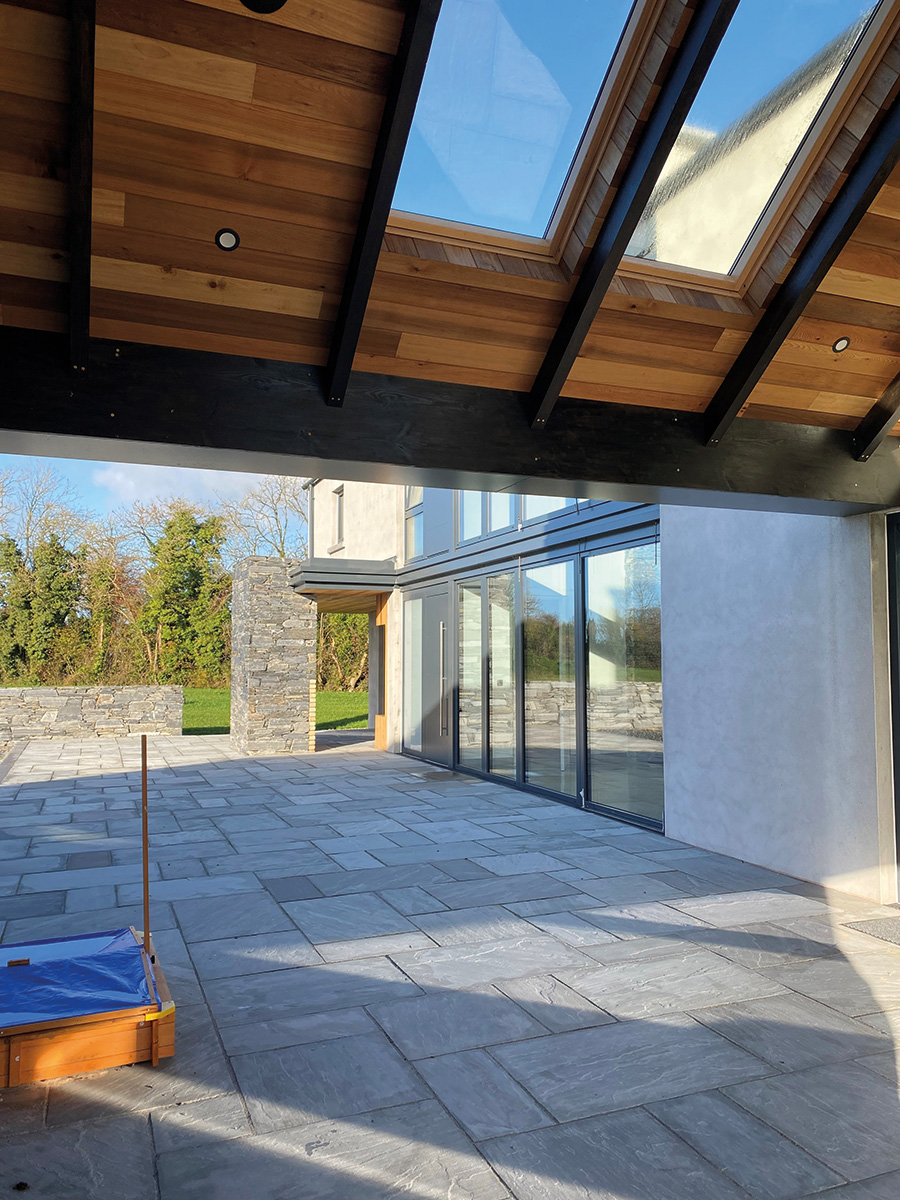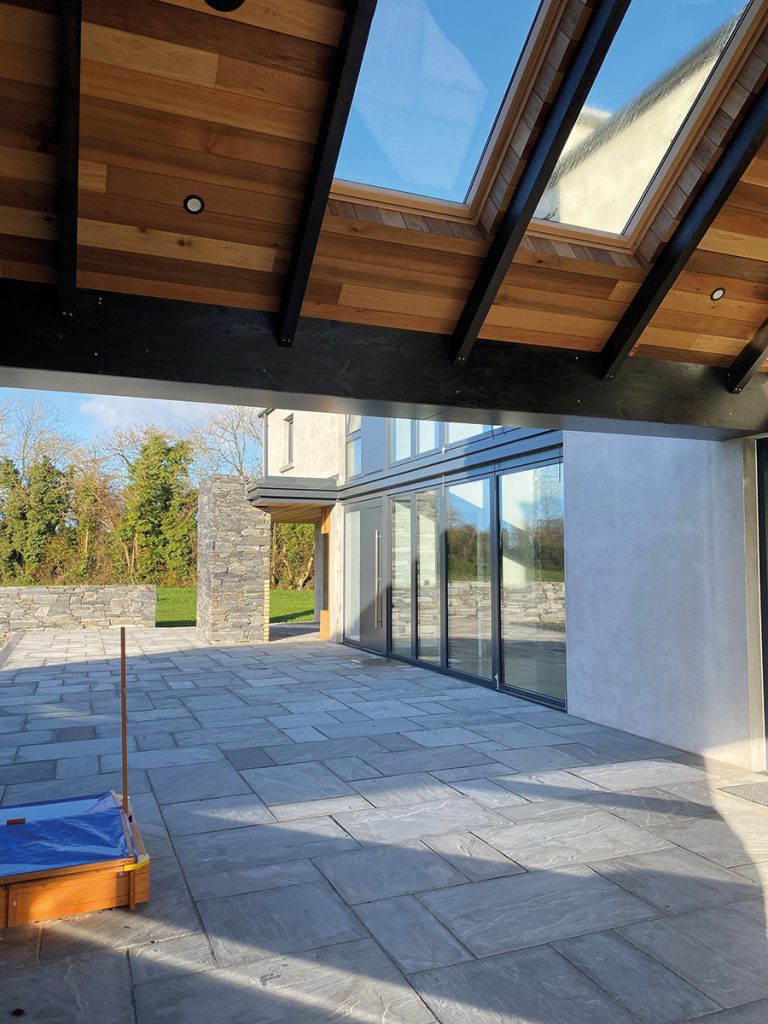 What did you do for water and wastewater?
We have a three chamber septic tank that is pumped into a raised percolation bed. This was recommended by the percolation test done at the start of the planning process. There was no mains connection available for water so we have our own well.
How about the heating and ventilation systems?
We went with a heat pump for heating and hot water, as it's an easy way to tick the renewables box in the building regulations, and underfloor heating upstairs and down. For ventilation we have a central extract system with extractors in all of the wet rooms. Natural vents are installed in all other areas to bring fresh air in, and these work on humidity sensors.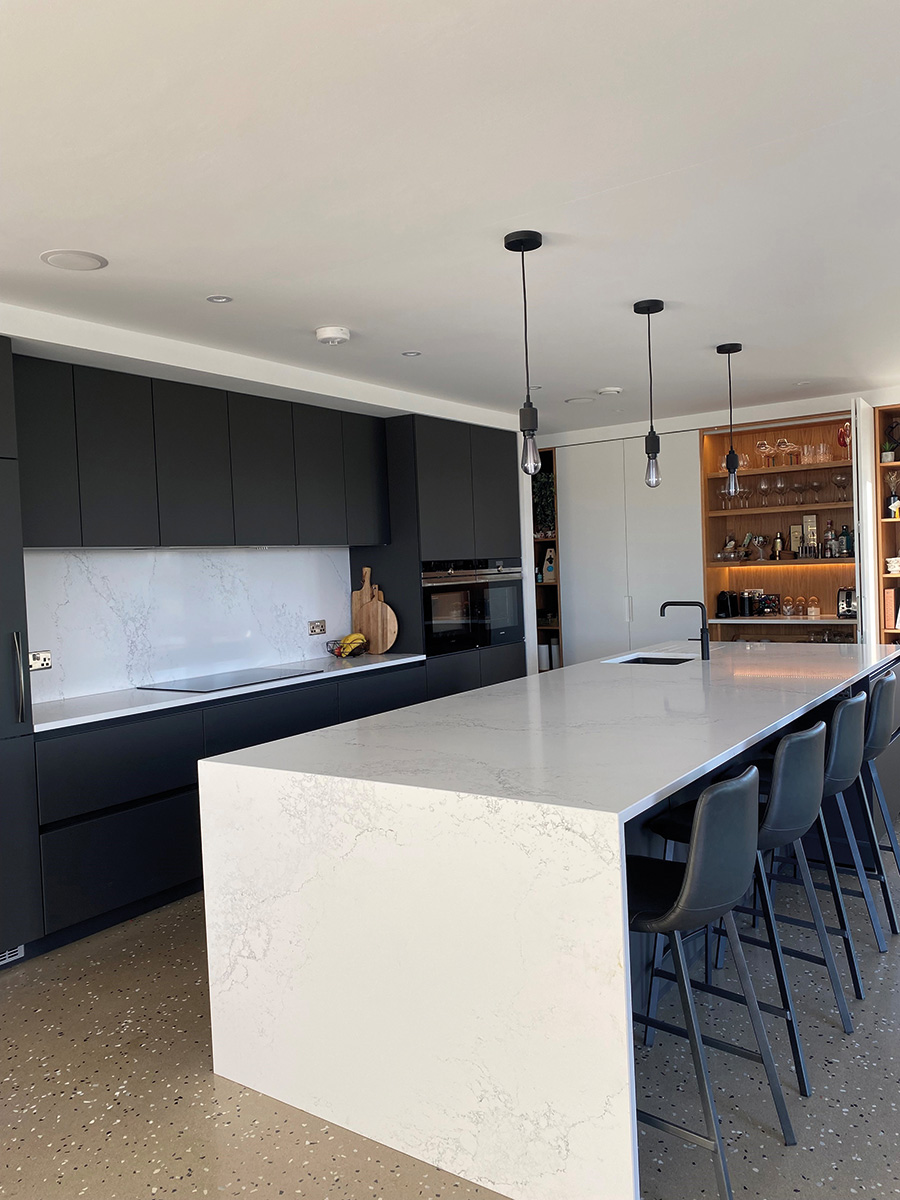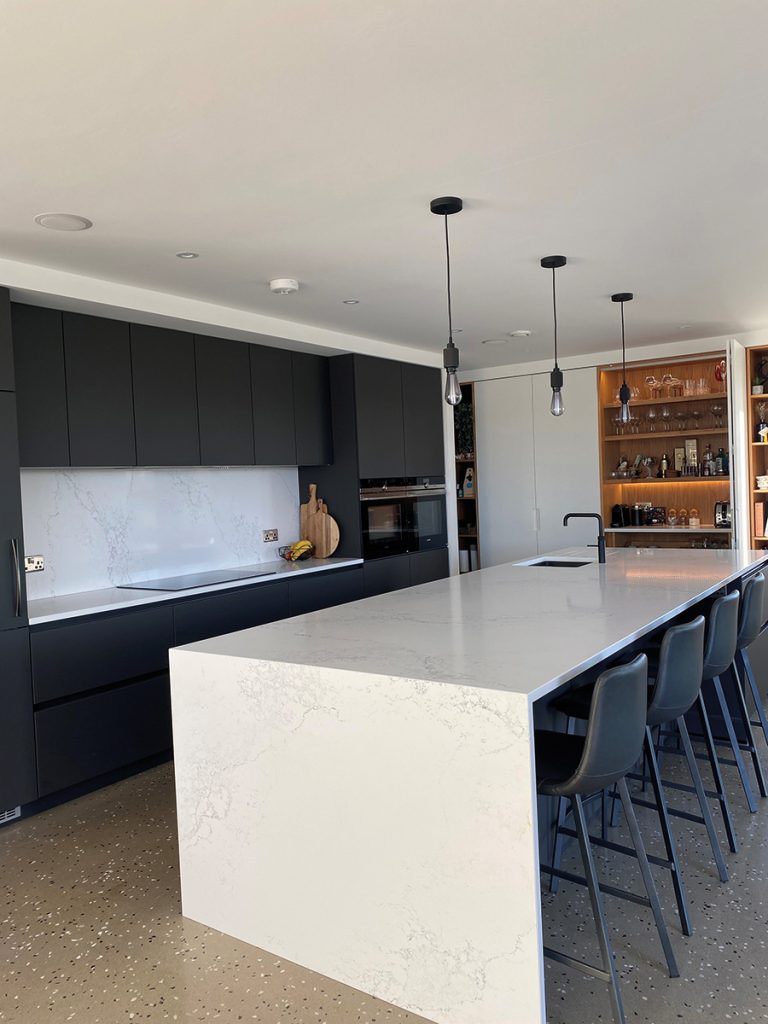 Project management: tell us about your direct labour new build
We engaged with an architect for the design and planning process, and for the construction phase we kept the same architect plus a structural engineer.
We then went the direct labour route for the new build construction. We did consider hiring a contractor directly, because we both work full time, however we opted against it largely because of cost and maintaining ownership and control of the build.
Family support was a key reason we went with a direct labour new build and also Alan's background as a quantity surveyor (QS) and his knowledge of the building trade. The design and specification weren't straightforward and there was a considerable amount of time spent in agreeing aspects of the build with each trade.
While we knew this decision would, in all likelihood, have an impact on our schedule there was no urgency as thankfully we were living with family and weren't under any pressure to move out. This gave us much more flexibility during the build as we could take our time on decisions.
We originally estimated the direct labour new build to take 14 months, and it took 23. There were a number of factors at play: materials not arriving in time for the tradesmen, window delays as we couldn't settle on the finish, personal factors also had an impact. The toll on Alan having to have each stage of the build ready for the next trade was another factor – he had a 40 minute commute each way to get to the house.
Timeline
Jun 2017
Planning applied
Nov 2017
Planning approved
May 2018
Site cleared
Jun 2018
Foundations
Aug 2018
Subfloor
Sep 2018-Jan 2019
Steel, precast slabs, blockwork
Feb-Mar 2019
Roof structure and slates
Apr 2019
Windows in
May 2019
Stonework
Sep 2019
First fix
Oct 2019
Plastering
Feb 2020
Second fix
Apr 2020
Moved in
Family members were a huge support through our direct labour new build, in particular my bother Paul who was fantastic. He was invaluable in granting access to workers, tractor and machinery, he did some digger driving, handled the logistics of moving materials, water supply, general labour.
It's fair to say we were able to save considerably by calling in some family favours; for instance we managed to complete the groundworks ourselves. Support during the entire project really was key – all of these aspects had to be taken care of because we didn't have a contractor.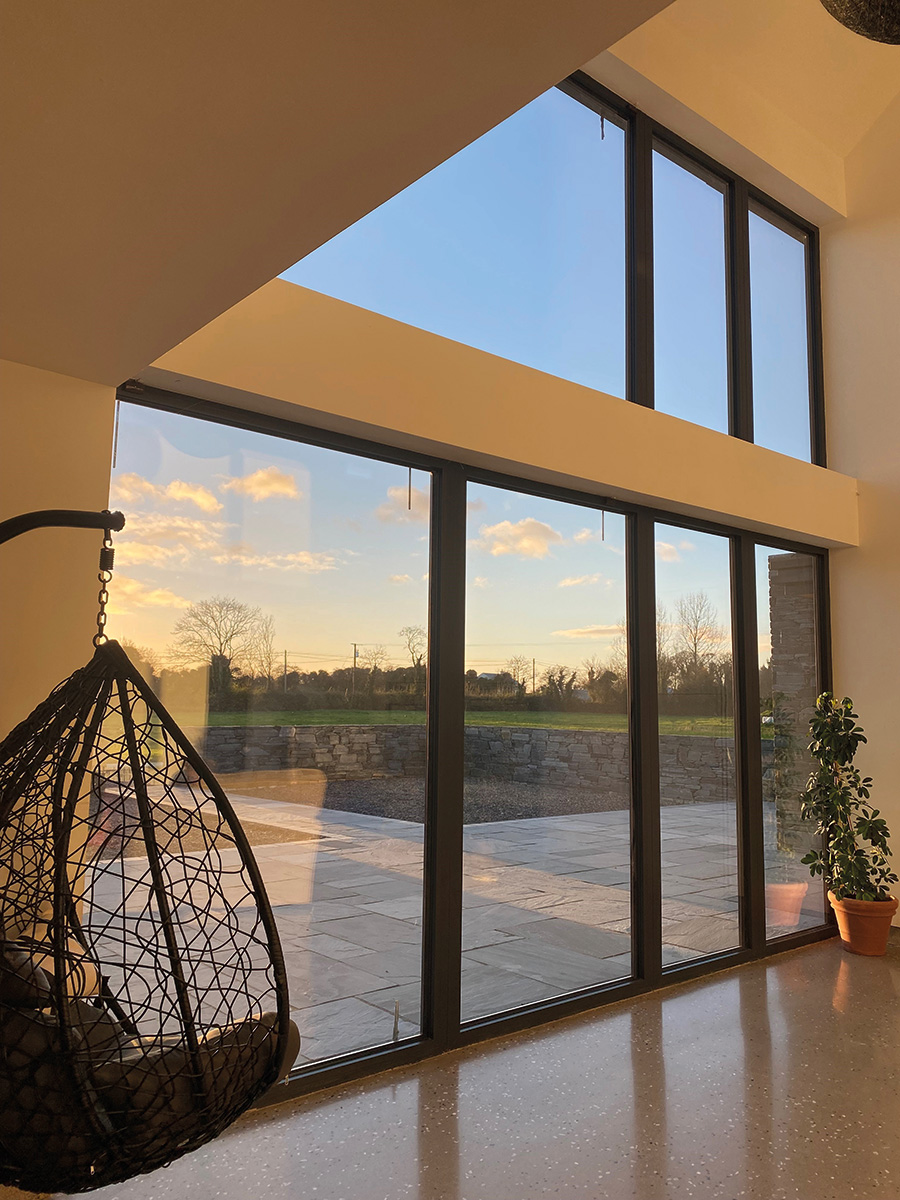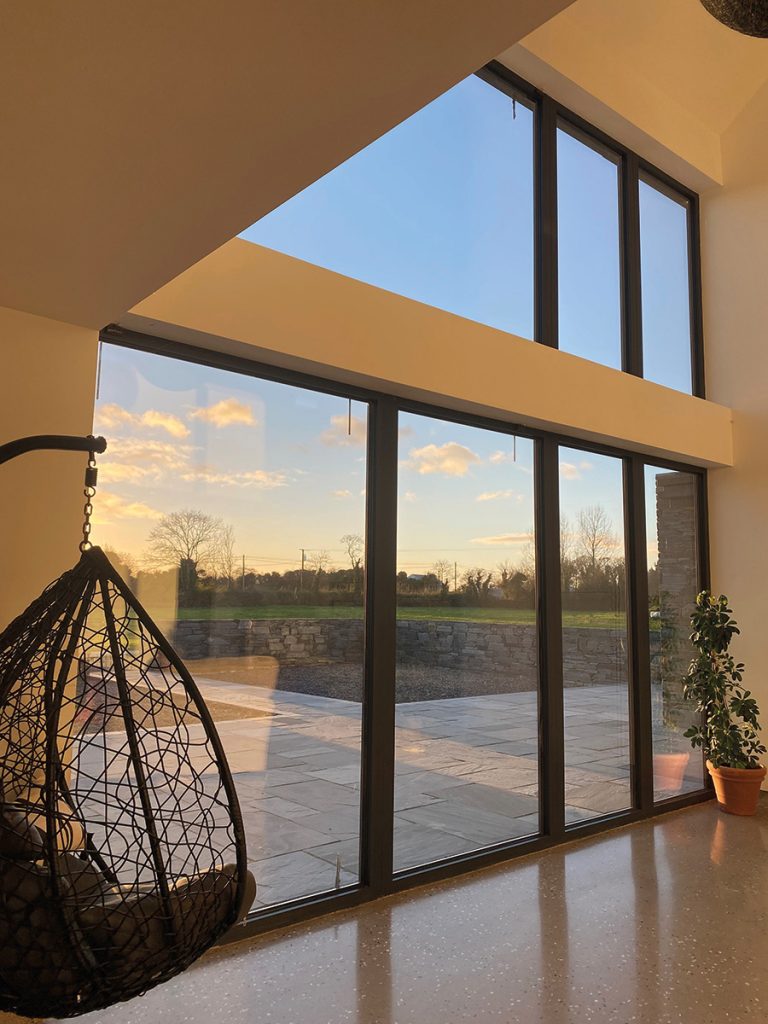 What does it take to go with a direct labour new build?
It's not a decision to take lightly. So much falls on you when you take ownership of the project. You need to factor in the time it will take; a lot of late nights and you can kiss your weekends goodbye.
Consider if you can really take/make those calls during the day, schedule those deliveries, can you be at the site or organise someone to be there to chat with the trades? Trades might show up late, or the next day, or not at all!
Above all, you need a calm approach and be at the end of the phone for queries. We constantly faced problems – it's the nature of any build – and this is where Alan really excelled at managing them. Be it delays, rescheduling, running out of materials, etc.
Even with all the setbacks and difficulties we are still 100 per cent happy we went direct labour.
How did you tackle the budget for your direct labour new build?  
While Alan has lots of professional experience as a quantity surveyor, we had never previously built. This was our first home and we knew this was our forever home so we had a strong wish list, which at times tugged at the budget.
Alan started by doing the initial budget at the design stage to ensure we could finish the house to our spec. Alan's itemised budget for the build phase then led the whole process and every aspect of the house construction, down to the number of nails we would need.
Alan maintained tight control over the build which ensured that we stayed within budget. Being a QS, he was realistic in setting costs. If we went over budget in one area, we had to claw it back elsewhere.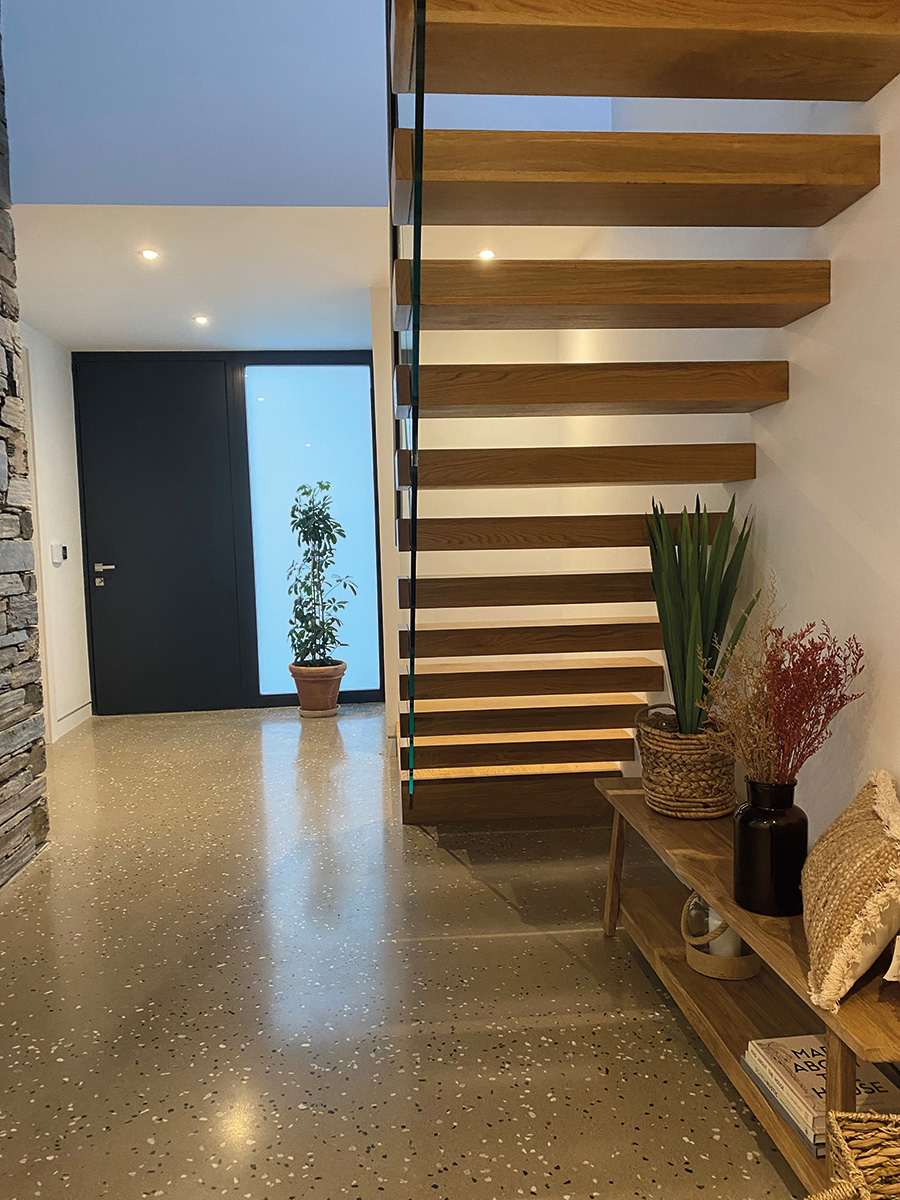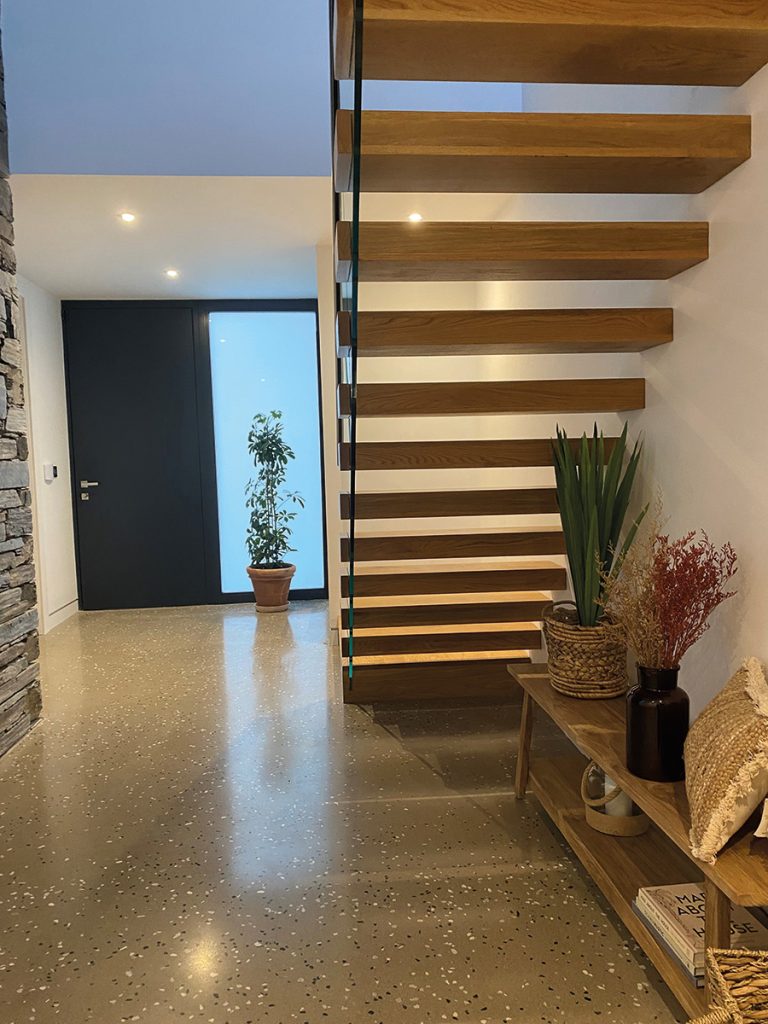 Did you make any changes to the plans mid-build?
We decided to make the skirting flush with the wall with a shadow gap detail in the open plan living space. We were also undecided what to do above the front door, i.e. panel or window. We couldn't find any glazing that would match, and it came to a point where we had to make a call so we went with a panel – the gamble paid off and we love the look.
The only other changes were the bulkhead details in the kitchen on advice of our kitchen designer. In the sitting room we changed the ceiling to a dropped ceiling incorporating a hidden light.
Then for the courtyard, we opted for a mix of paving and artificial grass (yet to be installed) instead of all paving.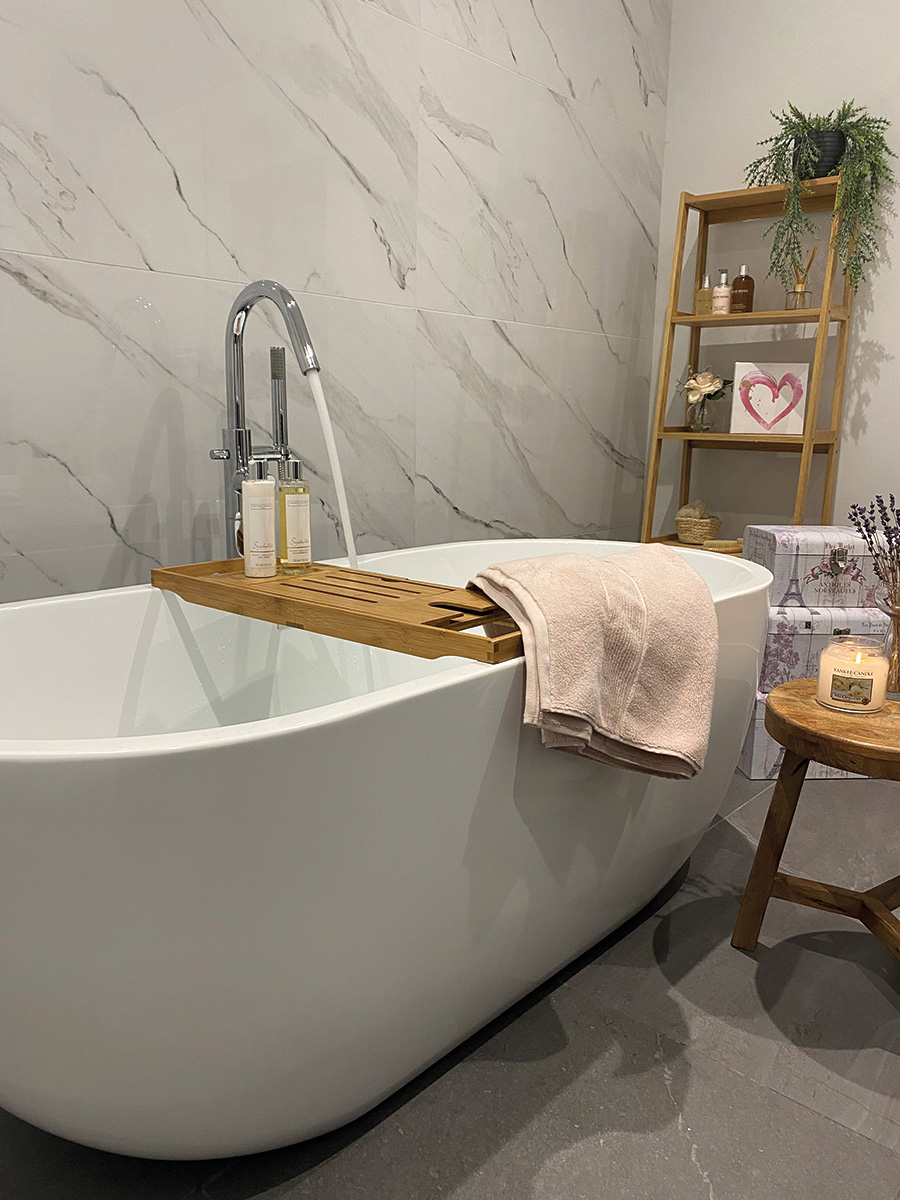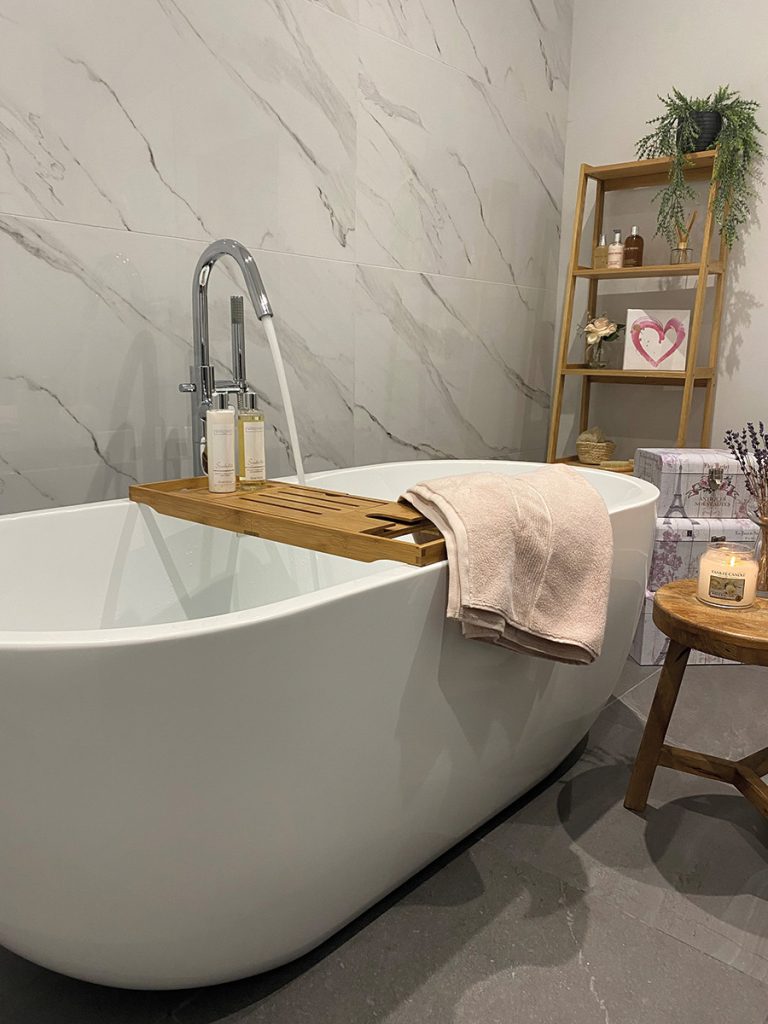 What design features are you happiest you stuck with?
I'm so delighted we have a decently sized utility separate from the back door. I would highly recommend this set up if you have the space, as it allows you to close the utility off from the rest of the house. And I love our 22ft stone feature chimney breast with inset stove in our double height space. I also think our cantilever floating staircase is a really nice feature.
What would you change about the direct labour new build process? 
Overall, I'm very happy but I think when it's your first build there are always going to be aspects you might change. You never know until you live in your own home – we had nothing to compare it to.
We are fortunate to have the space, but I would have loved to have sat down with an interior designer before we went for planning permission. I don't think it would have changed the build but it would have given me some direction and a framework or end goal to work to.
I think in my head I thought 'Oh I'll figure out the interiors once it's built' but it's something to think about at the design and build stage. I'm still working on how to best use the spaces, my walk in wardrobe design, type of storage units, hall units, study, and we still have a full living room to start on. This is where I can lack the confidence to make decisions as I find it hard to visualise the end space. It also doesn't help that there's an insane amount of choice and options out there.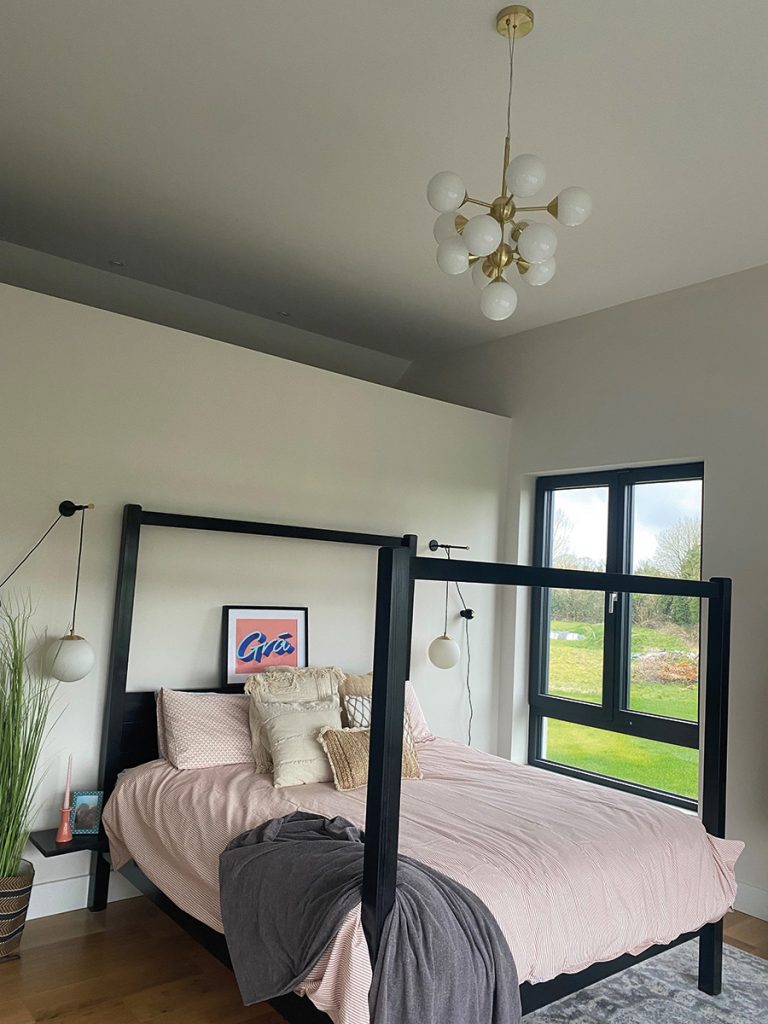 What design features would you change?
We should have worked backwards with the design, thinking about each room. Including things like window dressing – I would have liked to have built in blinds but it's too late now as we should have included a casing at first fix.
And I think we probably should have opted for a sliding door for our ensuite; it impacts us getting the most use of space in our walk in wardrobe now. At the bedroom design, we should have considered furniture placement such as the bed, wardrobe and wiring for wall lights.
Also the positioning of thermostats in rooms, alarm fittings, etc. Consider whether these will have any impact on your use of the wall or ceiling. For example, are you planning to hang pictures there?
None of these things are deal breakers.
Getting the basics right was key, so for us that meant ensuring we used the right materials/systems, underfloor heating, stone, slates, windows, roof details. These are the big ticket items you won't be changing in a few years' time.
---
Tanya's direct labour new build tips
Don't rush it. Not everything has to be complete for move in day. I found that as we had no furniture to bring to the new home I wanted to wait until I was in the house and figured out what I wanted before investing in pieces. That paid off as I kept changing my mind on a lot of things. At the same time, be aware that the minute you are in, you immediately take the foot off the pedal… there won't be the same sense of urgency and procrastination can take over. 
Be realistic about your budget. Alan as a QS was really able to guide me on what we could afford. If I wanted something extra in the kitchen, I would have to sacrifice somewhere else. 
Don't let the stress take over. I know easier said than done but it's just a house and everything can be fixed. We had a very stressful period when our little boy arrived three months early, in the thick of the build, so we had to prioritise. He spent three months in hospital and there were days Alan would drive to the site, go to work, visit us in hospital and back to site that evening. The build didn't stop and Alan on his own was pushing forward all the time. It was such a stressful time but we got through it. We moved in and it's all become a distant memory.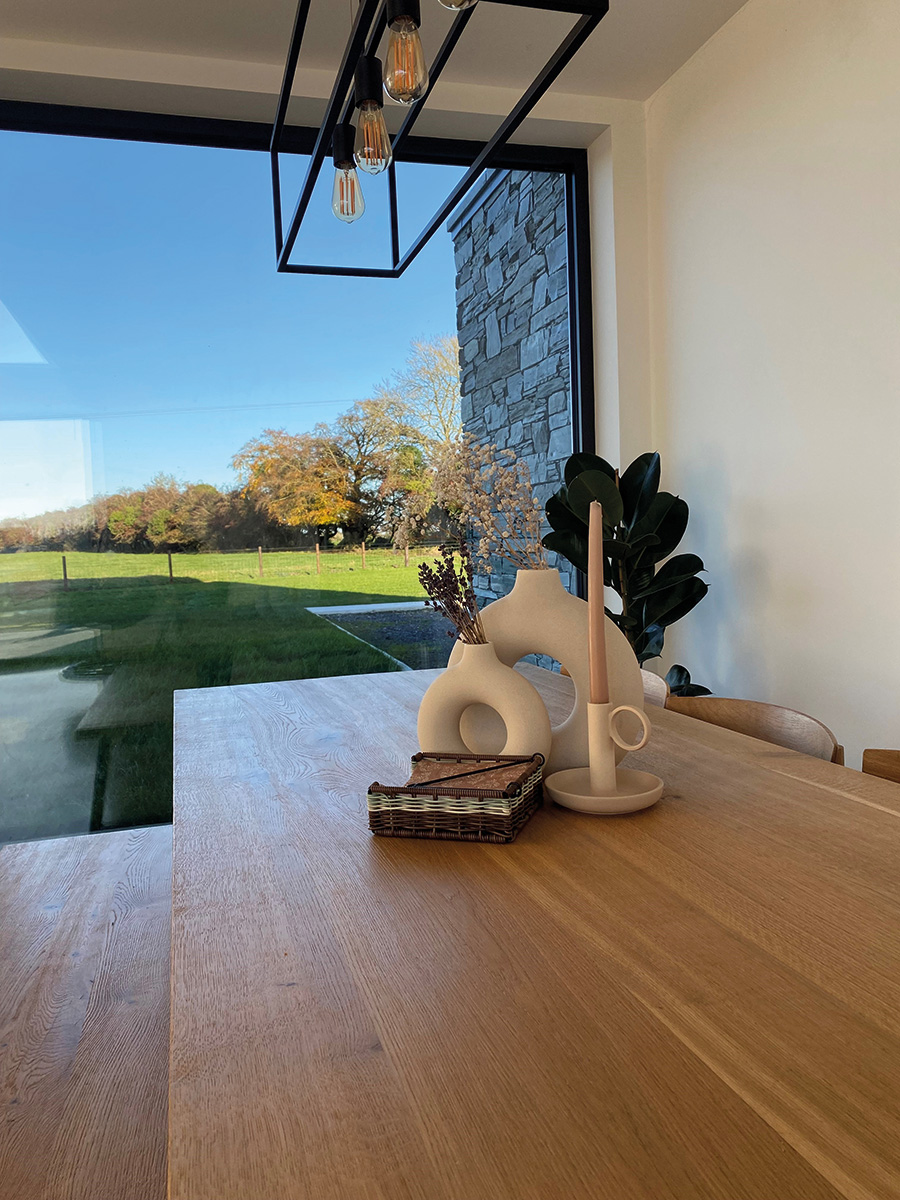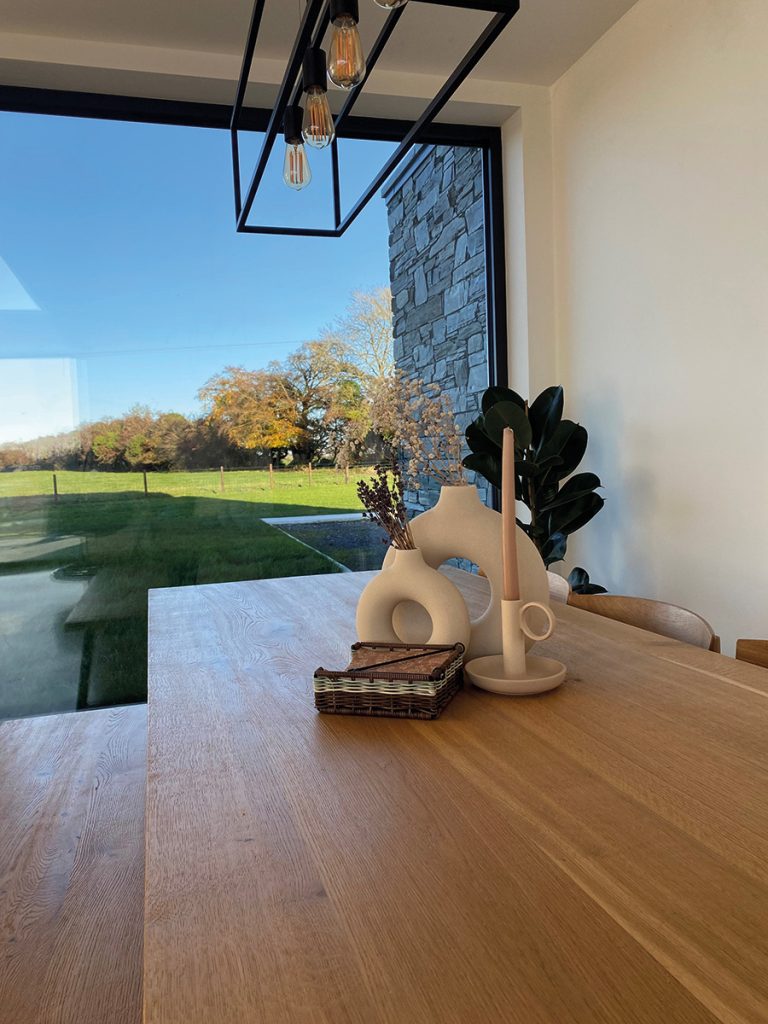 ---
Suppliers
Architect
McKenna & Associates, Co Meath, mckennaarchitecture.com 
Windows
Internorm supplied via Interlux Systems, Enniskillen, Co Fermanagh,
interluxsystems.com 
Slates
SIG Roofing, sig.ie 
Stone
Natural slate building stone from Browne Bros Ltd, Co Meath, tel. 0469240550
Kitchen
Noel Dempsey Kitchens, Co Wicklow, noeldempsey.com 
Wooden flooring and doors
Bearfoot Flooring, Dublin, bearfoot.ie 
Insulation
Xtratherm, xtratherm.ie
Heating system
Mitsubishi heat pump, mitsubishielectric.ie 

NI calling ROI prefix with 00353 and drop the first 0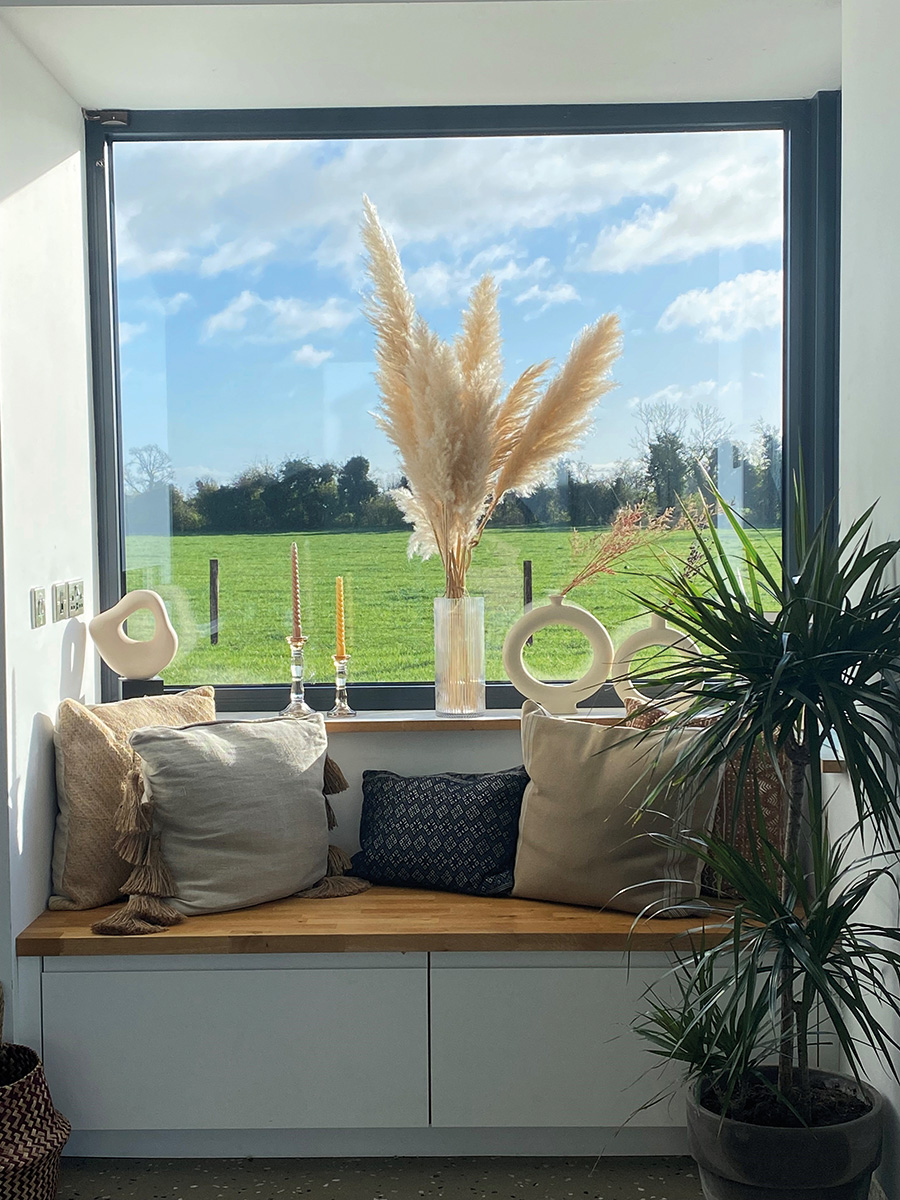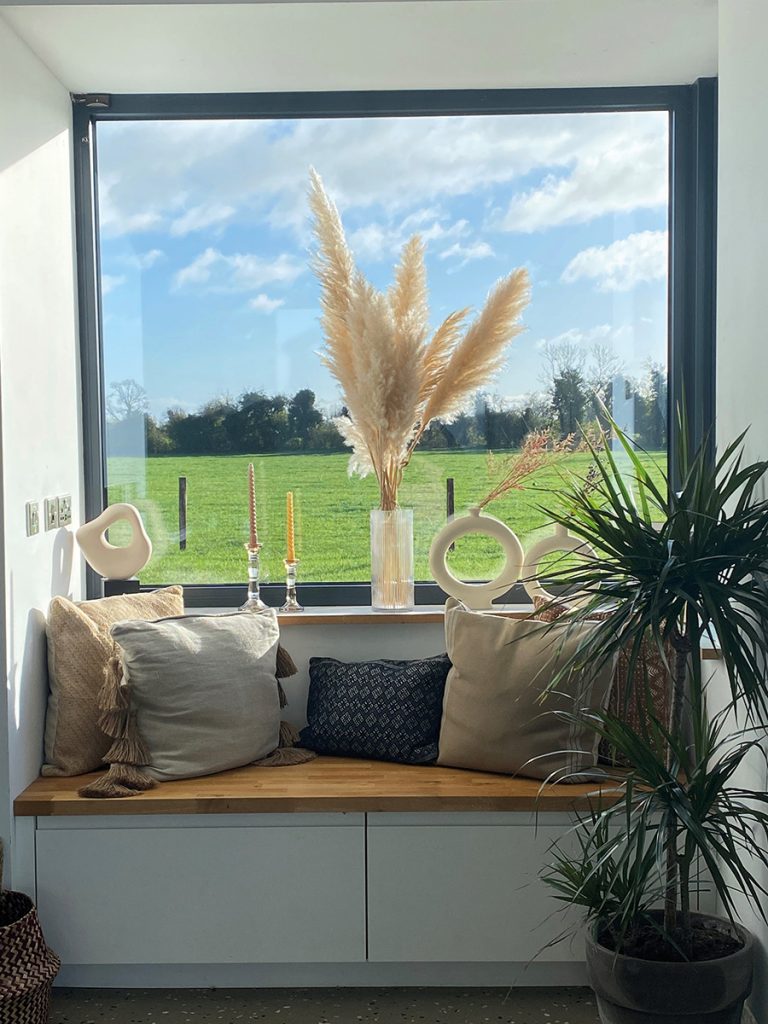 Spec
Walls: 150mm block cavity walls. Full filled cavity PIR board insulation. U-value
0.13 W/sqmK.
Roof: On main part of house, timber cut roof, Spanish natural slate. Flat roof has warm roof detail finished with fibreglass, U-value
0.16W/sqmK.  
Floor: Ground floor 150mm PIR insulation with 70mm sand cement screed, U-value
0.12W/sqmK. Upper floor 30mm PIR insulation with 65mm liquid screed over precast slab. 
Windows: tripled glazed aluclad, overall U-value 1W/sqmK.
---