First-time self-builders Amanda and Kevin Fullerton of Co Derry tackled their new build project like any novices would: by asking plenty of questions.
In this article we cover:
How they approached buying a site
The design and planning process
Kitchen design
Flooring choices
How the build was managed
Day to day on site and changes made
Staircase reconfiguration
Thrifty glazing specification
Details of heating and ventilation systems
Full floor plans, supplier list and specification
Getting advice from friends, family and anyone who's gone through the maze of house building is the best way to get you started on your own project. Kevin and Amanda Fullerton of Co Derry were lucky to get some hands-on help too.
Like any life experience, self-building can change your outlook on things, and may even get you to explore and discover different sides of your personality. "Don't be afraid to ask anyone – even complete strangers – for advice," advises Amanda, whose life was consumed by her house building project from the day she and Kevin started thinking about a self-build. "Someone in your family may know someone who's building or renovating their home, and if not don't be afraid to knock on doors."
The couple started their journey with research and exploration. "On Sundays we'd go around taking photographs of the houses we liked and asked everyone we came in contact with if they'd gone through a self-build or knew anyone who had."
"The experiences of others guided us through the process," adds Amanda. "This is how we found out what we felt would work for us and what wouldn't; which ideas were useable, which we might reconsider."
Finding the site
Before Amanda and Kevin got married five years ago, they looked at houses but found none they really fell in love with. "This is when the idea of building for ourselves started to germinate," recounts Amanda. "A couple of years previous Kevin's dad had built his own house and worked with an architect. We brought him on board as we liked his style and went to visit other houses he'd designed."
"We wanted a traditional farmhouse with a modern twist and wanted to make sure that in five years' time, it wouldn't seem out of place," adds Kevin. "The most difficult part of the project was finding the site. We didn't want to move far from our local town, and we were looking for a useable space."
"We weren't hundred percent sure what we wanted, I lost count of the number of places we visited, but Kevin's relations, his uncle Frankie and dad Gerard, were really helpful," says Amanda. "Before we purchased the site the architect came out to tell us what we could do with the space, it gave us a good idea and made us realise the site was the right one for us."
Amanda's aunt lives down the road and validated that they could integrate easily into the local area. The couple eventually decided they would benefit from buying another part of land too for a slightly enhanced garden.
"We liked Kevin's parents' house but we didn't really know what ours might look like until we'd seen the plans; these only had to be changed two or three times to tweak them to our requirements," says Amanda. "After such an easy design phase, we thought surely planning would cause some trouble but it was all so easy. We couldn't believe our luck – we were actually quite shocked!"
Kitchen delight
First time self-builders Kevin and Amanda approached this project with the usual mix of apprehension and excitement but one thing was clear from the very beginning, that the heart of the house would be the kitchen to allow for family and friends to visit.
"We specified a big kitchen space for get-togethers," recalls Amanda. "At my mum and dad's we always spend all our time in the kitchen, and I knew it was going to be the heart of my new home with Kevin too." But Amanda didn't fancy an open plan.
"We wanted the living space to be off the kitchen, I didn't want one long communal area. The solution was to run a wall three quarters the length of the kitchen and leave an opening onto the living room. There's no door, which provides a nice flow."
"As a result, during family gatherings the sitting area feels connected to what's going on in the kitchen but is separated from the smells and messiness."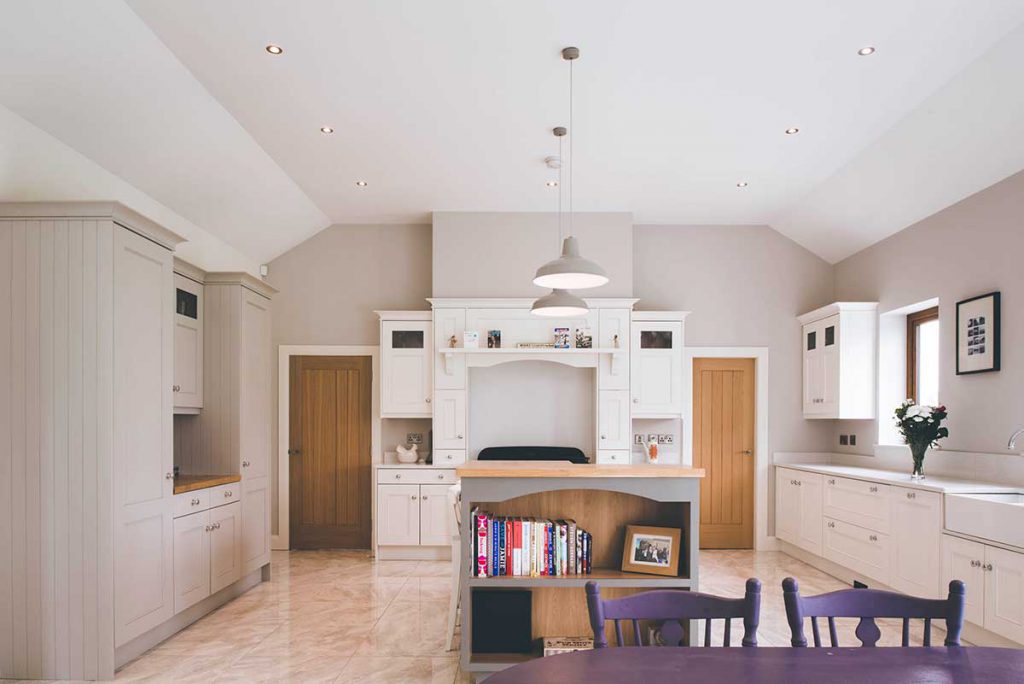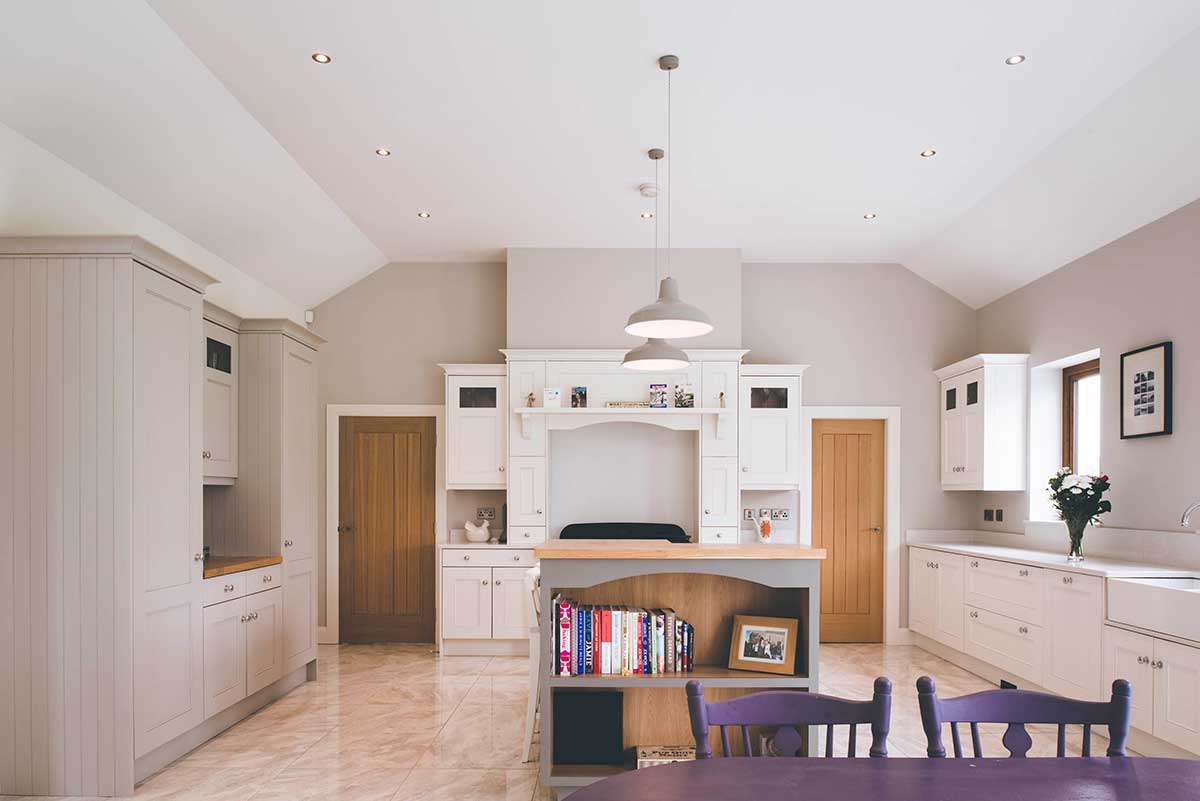 They also used the same tiles throughout the ground floor including kitchen and hall to provide continuity. The living room is the only exception, with timber flooring, for a warmer feel. The other requirements were the need for three to four bedrooms and a study, as well as a walk-in wardrobe. "We were very open to ideas, our main precept was to have the house revolve around the main living area," adds Amanda.
Mixing business with pleasure
Kevin and Amanda were working full time so the build phase was managed by Frankie and Gerard, a set-up that went beyond the couple's expectations. "Frankie has worked on numerous self-builds, and he's very good at what he does," says Amanda. "There were no hiccoughs, everything ran so smoothly."
'After such an easy design phase, we thought surely planning would cause some trouble but it was all so easy. We couldn't believe our luck – we were actually quite shocked!'
They broke ground when a builder Frankie knew to be very good was ready to start immediately. "We didn't need a contractor because we knew Frankie and Gerard had our best interest at heart, recommending suppliers on the basis of having seen their work completed to a high standard."
"We never had to run around looking for tradesmen, and we were able to keep it local too so we had practically no issues with people not showing up on site. Kevin did most of the calling and negotiating but it was very easy as we were guided; Frankie and Gerard were so good at getting in touch with us when they needed something or when we had to organise the next trade." One change of heart during the build had to do with the upper storey walkway.
"You could see straight down into the hall and when I went up the stairs I didn't know if I really liked that feature so decided to close it off; which didn't prove to be a major expense as we did it early in the build."
"I'm now very happy we did that, at Christmas we put up a tree there and it's lovely because it can be seen from the outside. At other times of the year I have a reading chair beside the window which makes it a much more useable space than just a walkway."
'…our focus was on insulating the house to reduce our demand, and avail of thermostats to heat the right rooms at the right time…'
The staircase design also underwent a reconfiguration. "It's only when you're on site that you can see what the space feels like. We decided against the stairs going up in a straight line like a ladder, we also introduced glass on the side to allow more light into the space." "I love the glazed balustrade and the upkeep is easy, it only needs a wipe after a visit from children in our family leaving their prints. Because of the long panes that's easy to do. We do have a lot of windows throughout, which is a bonus as in the summertime we hardly ever have to turn the lights on."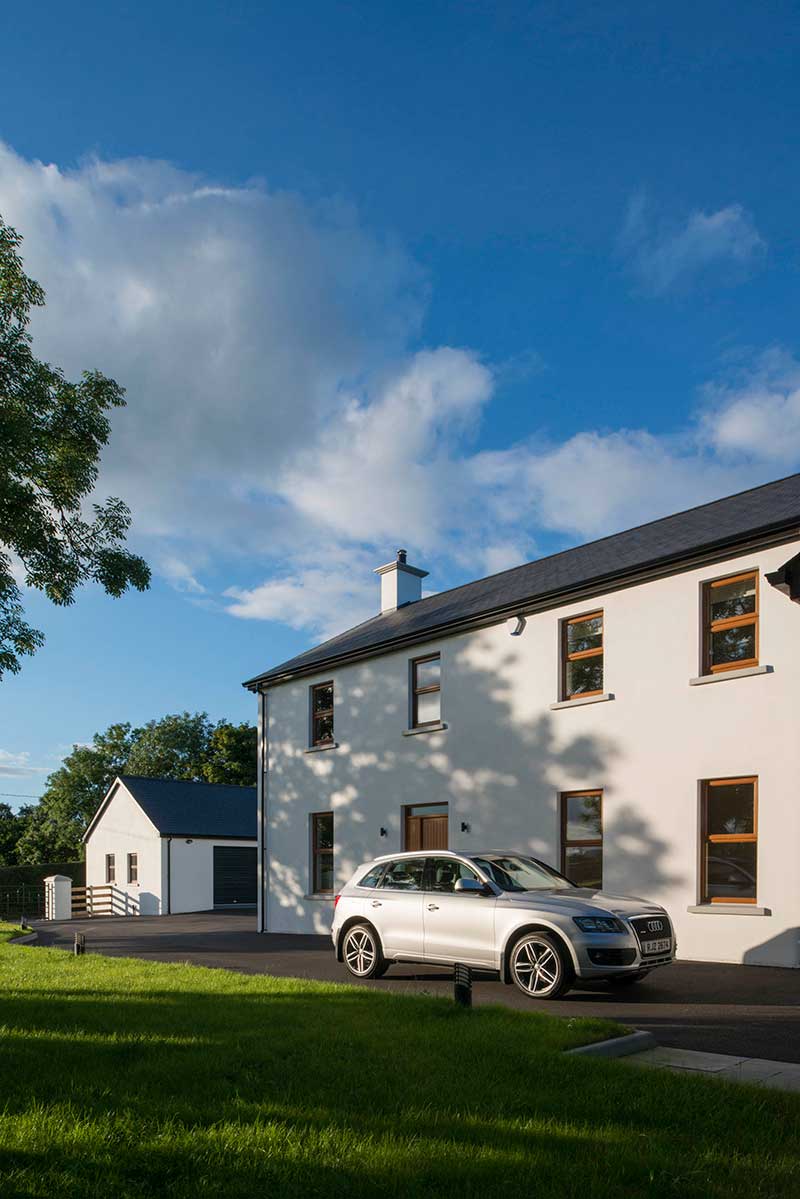 What's your favourite room / favourite part of the house? The kitchen is wonderful and we do spend most of our time there. We also love our bedroom with ensuite bathroom and walk-in wardrobe. Then there are small details like the wonderful tile arrangement around the shower area in the upstairs bathroom.

What surprised you? That the site hunting phase would be the most difficult part of the project! Everything else went so smoothly despite this being a direct labour project. We stayed on budget and on schedule, the only delay was the electrician for one week, we just couldn't believe it.

What advice would you give a budding self-builder? We had heard of so many self-builders encountering problems when building their house, things that didn't fit, no-shows, and so on, that we put a strong focus on getting the right people in to do the job. You need to find the right team to see you through the project.

Would you do it again?
I would but I don't want to move – we have the perfect house for us!

What would you change? We made some alterations during the build, (such as enlarging our walk-in wardrobe at the expense of slightly downsizing our main bathroom and I'm so happy we did), so there's nothing I can say I would change now.
Spoilt for choice
"Kevin's brother recommended underfloor heating throughout and now I can't imagine living with radiators ever again! It's great not having to negotiate around them when planning a room," says Amanda. The couple chose double glazing over triple as they felt the saving could be put elsewhere.
"We have solar panels for hot water and a photovoltaic array to generate electricity," adds Kevin. "We decided on this as we are aware of rising costs and limitations in supply, and whilst the capital outlay was relatively high it will pay dividend over a larger number of years and we have no plans to move in the near future."
The heating system is oil with a wood burning stove to complement in winter. "We felt the alternatives weren't established enough to give us a good idea of the return on investment, and there can be issues with availability of supply in the case of other forms of energy," explains Kevin.
New build top tips from novices Kevin and Amanda
Take your time kitting out the house; we had a spare room downstairs and it took us a while to decide what to do with it. Kevin had always dreamed of having a cinema room and we thought, why not? All we needed were block out blinds, a corner sofa, an inexpensive projector, and hey presto!

Our builder suggested a Z shaped wall between two of the guest bedrooms; this allowed us to incorporate walk-in wardrobes in both rooms with minimal impact on the floor space. With straight walls we would have had to add chunky wardrobes. It was reassuring to have people with so much knowledge guiding us and working on site.

Keep things in their place; we have a study downstairs where I can throw all my books, close the door and forget about it. I used to have my teaching books lying around on the kitchen table of the house we were renting, which made the place look untidy. A similar example is the pantry; our utility room off the kitchen was going to be large so I decided to take some space out of it and put in a larder – it's the only room without underfloor heating in the house. There are no cupboards, it's all open shelving – and even if it turns into a mess I can always close the door…
"So our focus was on insulating the house to reduce our demand, and avail of thermostats to heat the right rooms at the right time," adds Amanda. The oil boiler isn't on from March to September and their bills are lower than the rental they were in, which was a smaller house.
Kevin and Amanda broke ground January 2014 and moved in March 2015. "We didn't cut corners to get there, Frankie and Gerard were just very well organised." But Amanda says it takes living in a space a long time before you can see what will work.
"We still have so many things to do, we're taking it one room at a time. We don't want to rush it." The outdoor area was also tackled by Frankie who landscaped with tarmac and kerbing around the house, and at the back sloped the layout to the natural incline.
"There's a wall splitting the patio area and we may put some seating out there eventually," muses Amanda. A home for life is ever evolving.
Suppliers
Architect: Slemish Design Studio Studio, LLP, Raceview Mill, 29 Raceview Road, Broughshane, Ballymena, Co Antrim, BT424JJ, slemishdesignstudio.co.uk
Tiles: Bremar Tiles, Cookstown, Co Tyrone, bremartiles.co.uk
Kitchen: Johanna Montgomery Designs, Ballymena, Co Antrim, johannamontgomerydesigns.co.uk
Blinds: BlocOuts by Bloc Blinds, Magherafelt, Co L'Derry, blocblinds.com
Windows: McMullan O'Donnell, Benburb, Co Tyrone, mcmullanodonnell.com
Light fittings: Yesss Electrical, Ballymena, Co Antrim, yesss.co.uk
Photography: Emma Stewart Photography Ballymoney, Co Antrim emmastewartphotography.com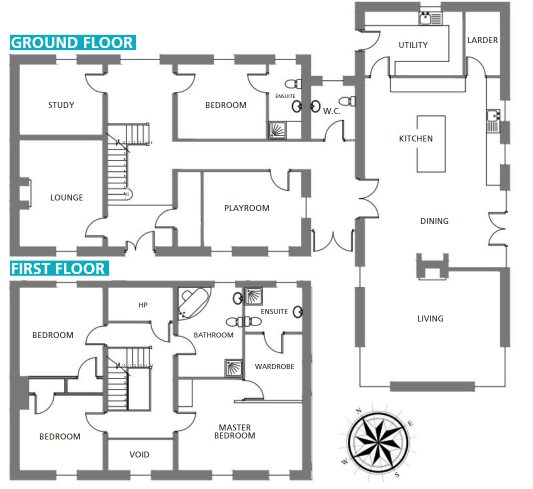 Specification
House size: 3,100 sqft
Plot size: 0.4 acres
Walls: Cavity walls fully filled with 150mm tongue and groove EPS boards (100mm blockwork each side), U-value 0.17W/sqmK
Floor: 100mm sand/cement screed on 25mm PIR insulation on 150mm reinforced concrete slab on 125mm PIR insulation on dampproof membrane jointed to DPC, U-value 0.10W/sqmK
Windows: Double glazed uPVC argon filled, low-e coating, thermally efficient spacing bars and thermal barrier around glazing area
Roof: Living/kitchen/dining roof with 120mm PIR insulation between 170mm thick rafters and 62.5mm insulated plasterboard fixed to underside of rafters; roof over bedroom area 400mm mineral wool. U-Value 0.16 W/ sqmK