Insulating Concrete Formwork (ICF) has a lot to offer as a construction method – here are the benefits.
In this article we cover:
Top reasons self-builders in Ireland choose ICF
How ICF can save on the build costs
Which types of builds ICF is best suited to
Benefits on site
---
Airtightness
Unlike a porous concrete block, ICF gives you a monolithic concrete core wrapped with a continuously insulated blanket, giving you an airtight house that allows the internal temperature to be controlled constantly.
Energy efficiency
All of the ICF houses we recently completed achieved an A energy rating. This is down to the superior U-values but also to the detailing that can be achieved around windows and doors thanks to an especially designed cavity closer which allows your window frame to sit against. This is not only excellent thermally but also from a weathering point of view, negating the need for traditional stepped and vertical damp proof courses.
Speed of build
ICF is extremely lightweight and easy to handle as the blocks click together like lego. This reduces construction time considerably along with labour costs. The concrete is pumped into the formwork, again reducing time and further reducing labour costs. Speaking from experience, on average an ICF dwelling with a floor area of 279sqm will be completed 12 weeks earlier than a traditional masonry build. That's assuming a straightforward design and a well managed project.
It's not weather dependent
ICF is not affected by the rain, so unlike your traditional blockwork building it can be erected during inclement weather with no adverse effects.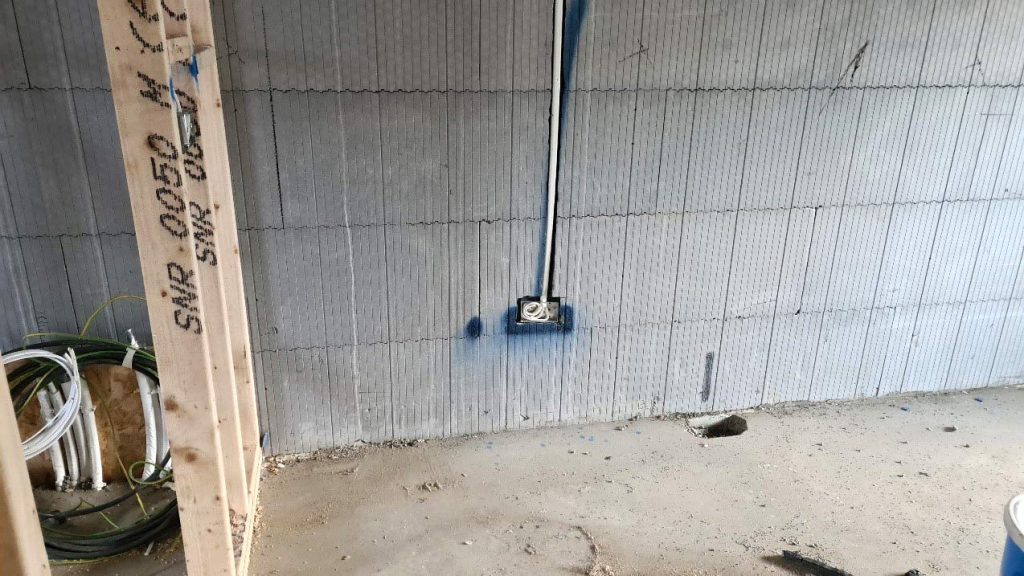 Complex designs are often cheaper with ICF
Unlike many other building methods, curved structural walls are straightforward to build with ICF. Meanwhile, designs with large window and door openings tend to require structural beams to carry blockwork over. Same with a large open plan with first floor overhead – you may require structural steel beams to carry hollow core slabs where load bearing walls do not exist. By using ICF you can negate the need for a high percentage of structural steel requirements as you are now working with a reinforced concrete frame. Although this may yield small monetary gains, the real saving is in time saved.
Reduces the need for lintels
ICF construction yields a monolithic structure. The beauty of this is that you are eliminating the need for concrete lintels and beams on the majority of one-off domestic dwellings.
Eliminates the need for corner window supports
The concrete core is reinforced with steel at 1200mm centres vertically and horizontally. If you have longer window and door spans, extra steel reinforcement can be specified by your structural engineer specialised in ICF to allow you to span the distance without any intermediate supports.
I recently detailed a corner window in a dwelling that on traditional blockwork would have required a special lintel with a corner supporting column. This specification leads to many thermal bridging issues that need to be resolved as well as the aesthetics of having a support column in the corner of the window.
With ICF the structural engineer was able to reinforce the concrete core over the window, negating the need for a corner column and allowing us as architectural designers to achieve a corner window with no vertical mullions – just two panes of glass meeting and allowing our client to get the full benefit of their wonderful view.
First fix is easier
First fix electrical and mechanical can be carried out without any labour intensive chasing of walls of the type that has to be carried out on a traditional blockwork house. The track can be cut into the EPS easily and cable placed in uPVC ducting. This is then covered with a 12.5mm plasterboard slab.
Acoustics
We recently completed 10 semi detached dwellings and a ground and first floor apartment building for a local authority. ROI's technical guidance document Part E says that separating walls should have a minimum sound insulation value of 53dB and we bettered that with a 200mm reinforced concrete core.
Lighter materials = safer site
ICF is a lightweight material to handle and erect, with no cranage required. The concrete core is pumped into the cavity so by its very nature it helps reduce the risk of accidents and injury caused by heavy lifting. However, I must caveat this by saying that working at a height is always dangerous. And all building sites, regardless of the method of construction, come with the risk of accident or injury.