New research shows 2022 was a bumper year for the rural homes market, recording the highest level of transactions for high end properties.
In his article we cover:
What the rural homes market consists of
What drives demand for the rural homes market
The most popular counties for selling a high end country home
Profile of the people buying high end rural homes
Mortgage interest rates and inflation outlook
Will the rural housing market do well in 2023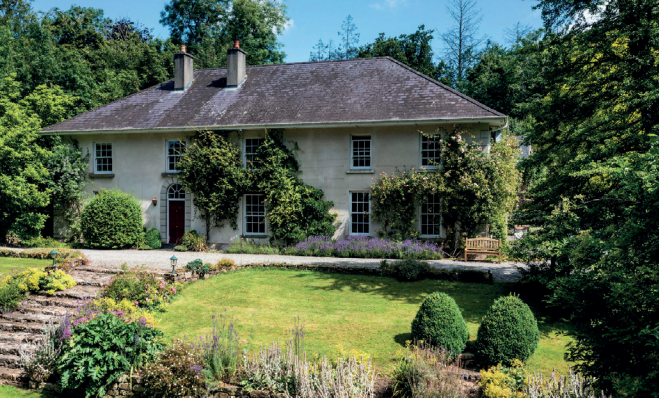 There was a boom in 2022 in the prime country homes market, according to a new report by Savills published in January 2023.
Prime country homes are defined by the estate agent as transactions greater than €1 million located outside of Dublin, major regional cities and coastal towns in North Wicklow.
The average value of deals remained the same as last year, at €1.5 million, but transactions increased from 86 in 2021 to 130 in 2022. 2019 recorded just 49 such transactions, making it the best performing year since records began. That's according to data extracted by Savills from the Property Price Register, which started collecting information around property transactions in 2012.
While these properties are indicative of the high end of the market, there's been a general uplift in the sale of rural homes across Ireland.
The report notes that prices outside of Dublin have been rising faster than those within the capital for five consecutive years.
Interest in rural homes is a result of more people working from home, argues the report, including remote and flexible arrangements. This shift is "likely to be a permanent feature of the prime country homes market this year and beyond".
Popular features
According to the report, prospective buyers favoured "contemporary style homes with all the technological conveniences they're accustomed to in urban areas".
Buyers of high end properties were relatively young and from the tech or construction industries, with major renovation projects bought up by the latter.
The most enviable homes are the more contemporary ones, which are also easy to heat. The report states that historic homes cost too much to renovate in the current climate of high building costs, and that regulations makes upgrading these historic homes expensive and sometimes not feasible.
"This lack of supply and change in preferences is widening the pricing gap between the properties that meet these requirements, those that can feasibly change and the rest."
For many buyers, rewilding and biodiversity projects were a draw, as were energy efficient homes and waterfront locations.
The most popular county was Cork, with 28 per cent of all transactions taking place there. Within the county, Kinsale tops the charts as an "idyllic, popular holiday location".
Second and third most popular counties were Kildare and Wicklow, favoured for their proximity to Dublin, followed by Kerry and Meath where buyers "prioritise living standards and amenities over the location".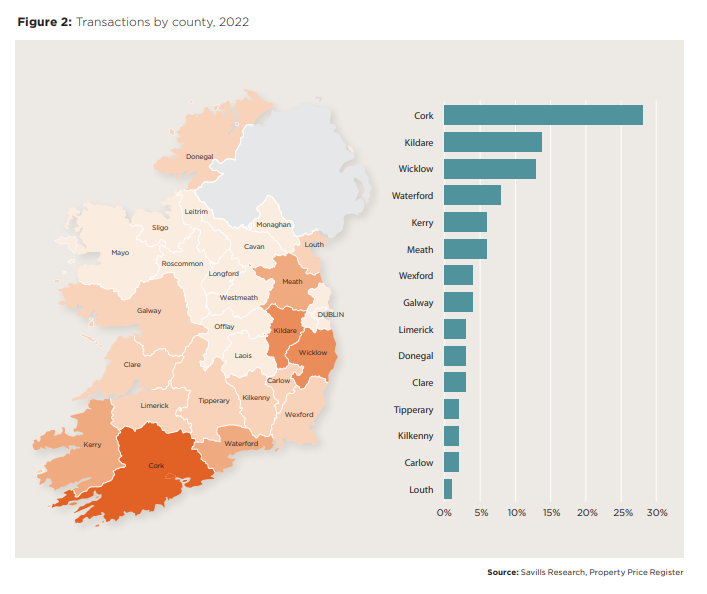 Outlook
The report did warn that future buyers may want to hold off on buying in 2023: "Negative sentiment might slip over form the general housing market into the country homes market as buyers question if this is the time to move." Roughly half of the prime home sellers did so because they were downsizing.
In the general rural homes market, mortgage interest rates are likely to put a damper on growth. Savills estimates the average fixed interest rate in 2022 was 2.5 per cent. Even though the European Central Bank has increased its lending rates, banks have yet to pass on the full cost of this. Consumers will start feeling their costs increase this year, warns Savills.
The estate agent says if interest rates were to go up 200 basis points, to 4.5 per cent, a 90 per cent €400k mortgage over 25 years would cost 24 per cent more, increasing the repayments by roughly €400 per month.
Furthermore, the report estimates that inflation is unlikely to reach the European Central Bank's target of 2 per cent until 2025 at the earliest.
Inflation stood at 8.2 per cent in 2022 and is expected to be around 6 per cent this year.
Almost half of the prime country homes buyers were from abroad, with most of these either Irish nationals living abroad or ones wanting a connection to family roots.
Cash buyers dominate this segment of the market and Savills believes inflation is likely to fuel asset growth. Buying a house is a means to move out of cash "where inflation generally erodes value".
The strong dollar, which translates into a discount on the euro prices, is likely to continue to encourage expats living in the US to buy up properties in Ireland, according to the report.