The Historic Environment Division (HED) of the NI Department for Communities has asked Belfast City Council to place a modernist building on the statutory list of buildings of special architectural or historic interest.
HED describes 8 Notting Hill, Belfast, BT9 5NS (HB26/17/119) as a modernist detached house in brown/grey brick with flat roof built around 1980 and designed by NI born interior designer Brian Lowe, whose design consultancy is famous for creating the Body Shop's original 'green box' shop concept. Located on a mature site on the north side of Notting Hill, it consists of a two-storey, central, block with smaller single storey, rectangular, outshots to South East and south West corners.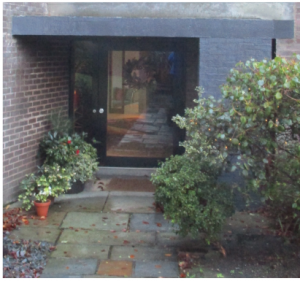 Almost completely intact inside and out, the house displays many modernist features including exposed in-situ concrete heads (béton brut) and its original black painted metal windows. It also retains a remarkable interior. Part open plan and featuring a hallway atrium with original contemporary staircase and first floor gallery, it has a wealth of bespoke fitted furniture and fixtures throughout. The original mature landscaped site has original modest entrance piers and walling, demarcating the vehicular and pedestrian entrances. The NIEA listing would be for the house, walling and garage. The proposed Grade is a B2, which is on the lowest end of the listed buildings scale of four grades; Grade A denotes a building of national importance. A Grade B2 refers to a "special" building of more local importance than others or to a good example of some period of style. "Some degree of alteration or imperfection may be acceptable."
Full details are available on the Belfast City Council website (images from Belfast City Council minutes).