The ROI levy on concrete will now be introduced in September 2023, as the Mica Action Group and CIF say it does nothing to deal with quality control issues.
We cover:
How much the new levy will add to building costs for blockwork and timber frame homes
Which concrete products will incur the levy
Issues with quality control in the construction industry
Status of prosecutions for defective blocks
Podcast about the levy and how to cut down on the concrete you use on your build
---
Concrete levy
Concrete blocks and pouring concrete will incur the 5 per cent concrete levy, while precast products like hollowcore slabs will not.
Budget 2023 had included a 10 per cent levy on all concrete products to help pay for the rebuilding of mica affected homes.
The move will add at least €1,200 to the cost of building a new block built semi detached three bedroom house, said the Society of Chartered Surveyors Ireland at an Oireachtas Committee on Finance, Public Expenditure and Reform, and Taoiseach on October 27, 2022.
For a timber frame house with block external leaf, it would add €700.
However, officials from the Department of Finance said it would be higher than that due to rising energy costs and inflation, among other factors.
Tom Parlon of the Construction Industry Federation (CIF) indicated a figure of €2k, adding that timber framed homes required 2,000 blocks on average.
The levy will now be introduced in September instead of April, and the government expects it will raise over €30 million over 12 months.
Tom Parlon said the levy was a "blunt instrument" and is not targeting those responsible for the defects. He said the defective blocks problem was "a quality control issue" that should be dealt with "surgically".
Still no prosecution or regulation
Lisa Hone, chair of Mica Action Group, told the committee there still had been no prosecutions in relation to the reasons why defective blocks were allowed to be sold.
She added that self-regulation still prevails: "Until the government grasps the nettle and overhauls the regime of self-regulation with an effective form of government, taxpayers will continue to be asked to sign a blank cheque to remedy the violations of an industry without accountability."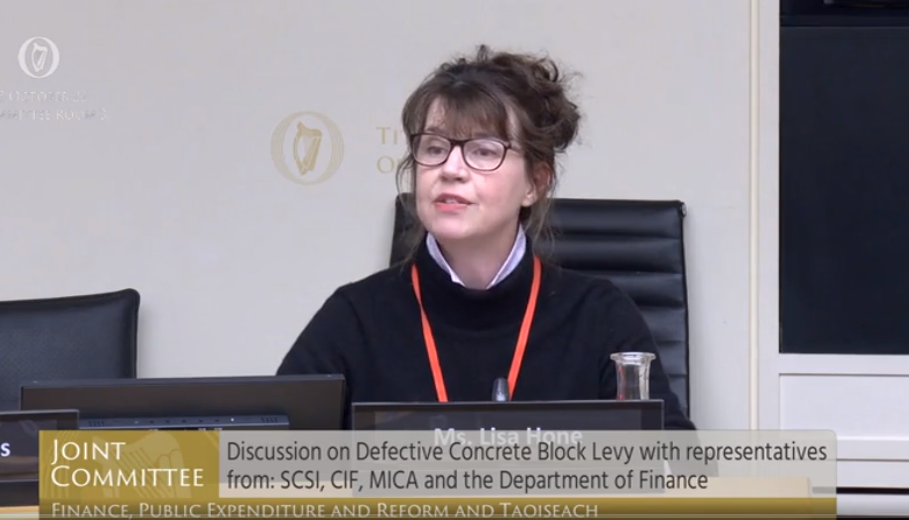 Meanwhile Finance Minister ruled out a sunset clause on the levy: "I think it is important that this measure does not have a sunset clause so that we can keep it in place for as long as is deemed necessary to recoup back a good share of the additional money that is needed to help homes be rebuilt due to mica."
She said that the suppliers of the defective blocks were not a "few bad apples" but a systematic failure across the country:
"The levy seems to be smokescreen to persuade the public the government is holding companies to account. This won't touch them. They are operating unhindered and haven't paid one cent."
The Defective Concrete Blocks scheme, which is expected to cost the exchequer €2.75 billion, has capped the grant amount to repair or rebuild crumbling homes affected by defective blocks to €420,000.
"We are still waiting for a senior counsel to be appointed to work out a way forward to pursue the offender," said Lisa Hone.
"We are also awaiting the audit report from Darragh O'Brien (Minister for Housing). The report was produced at end of June but homeowners who are interested in contents have not had any information. People feel abandoned."