Frames are an important part of making your windows and doors secure, but crucial too are their locks, latches, screws and hinges.
When it comes to window and door furniture, you don't have to settle for the factory standard, but remember that, unless you specify otherwise when placing your order, that's exactly what you'll get. The standard door handles are fine, but if you're looking for an individual touch do it well before the order is placed.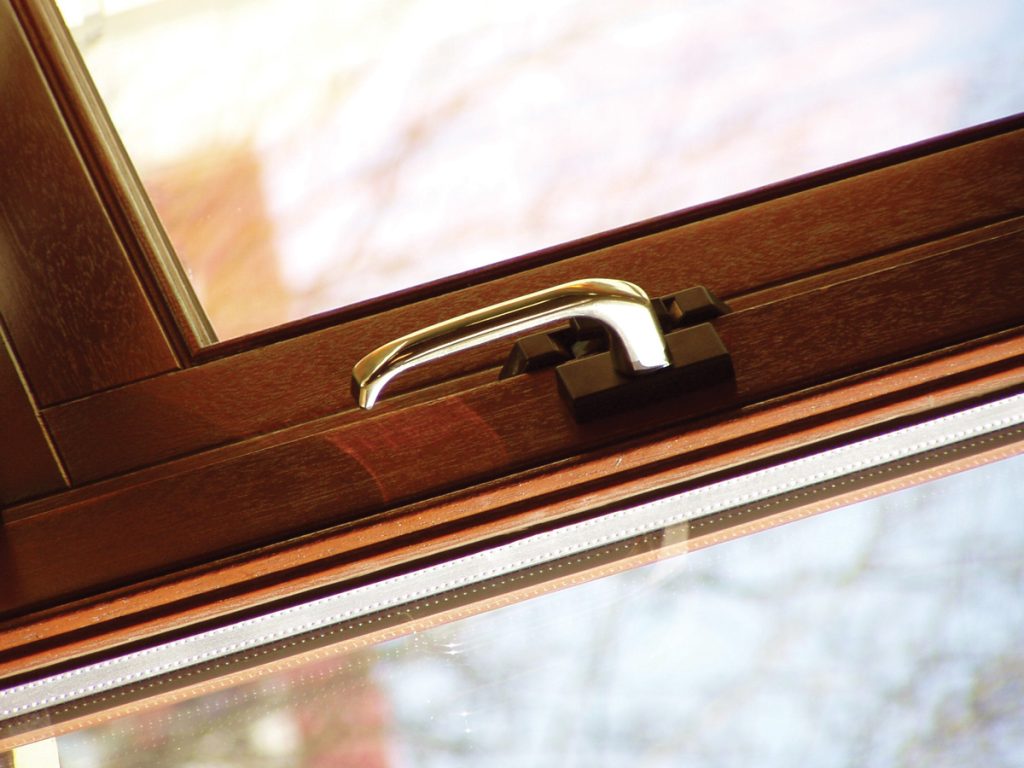 Sadly, by the time it comes to choosing window and door furniture you'll probably find that the budget has gotten quite tight. In this instance, spend the money where you need to have good security and for high traffic areas. For example on doors and windows in public places as the fittings will be the focus of attention every time you use them.
If replacing a window frame, make sure it has the CE markings for safety and fire standards. In new builds it is mandatory to have a door threshold which can be easily crossed by a wheelchair. The downside is the cost of rebated thresholds with special seals to allow this, but at the same time they do keep out rain and draughts.
Closing mechanisms
Ball and roller catches are simply a case with a spring loaded ball or roller, which holds the door closed, but not locked, when it slots into a striking plate on the door frame. All you need to do to operate it is pull the door.
Spring latches require a knob to turn or level handle to disengage the mechanism and are a more secure lock than the ball and roller type.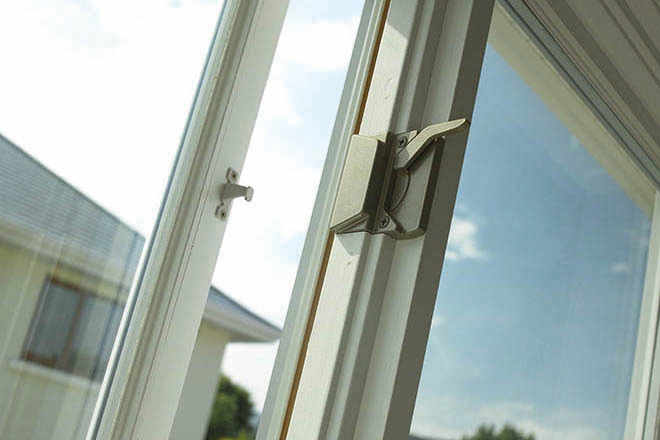 For doors, whether you use a lever or a knob depends upon there being plenty of space for your hand to turn the knob or, if the door is being used mainly by children or the elderly, a lever operated by a weight placed on it by any part of the body, e.g. elbow. Thumb latches are mostly found on cottage doors; they use a simple lever with a latch for it to drop into.
In general, doors and windows are better to open outwards so that they close against a seal, for a tighter fit. Some windows are tilt and turn mechanism, others fully reversible, both make for easier cleaning.
Locks
If you live in a single storey house, all casement windows should be fitted with a lockable casement stays, especially if there are children, and using a simple thumb push mechanism (quicker than looking for keys and then trying to fit them), for opening in an emergency.
This type is not recommended for use in a glass door where a burglar can easily smash the glass to reach and turn the lock. Instead, use two locks combining a deadlock with a night latch, high enough to be out of the reach of children, and possibly laminated safety glass as well.
As with doors, windows can avail of the more comprehensive system that is the espagnolette. It engages a three, four or five pin mechanism shooting bolts up and down in the rebate of the window so that it makes a very secure method of keeping out intruders or accidents happening from within. The system also enables the window to open wide, and a final plus point is that the whole system, being rebated into the windows, is hidden.
Child locks are widely available and tend to work on a simple mechanism. But do check how easy they will be for an adult to operate in the case of an emergency.
Hinges
The old storm proof window hinge has been largely discontinued in favour of the euro hinge. It enables the window to stay open at your chosen angle and, if hinged from the side, allows you to put your hand over the top of it as well.
If you can, try to use a pin hinge which is rebated out over the frame and allows for a degree of swelling or shrinkage which the fixed butt hinge does not.
The number of hinges you need depends upon the weight and size of the door or window, as well as the size of the hinge.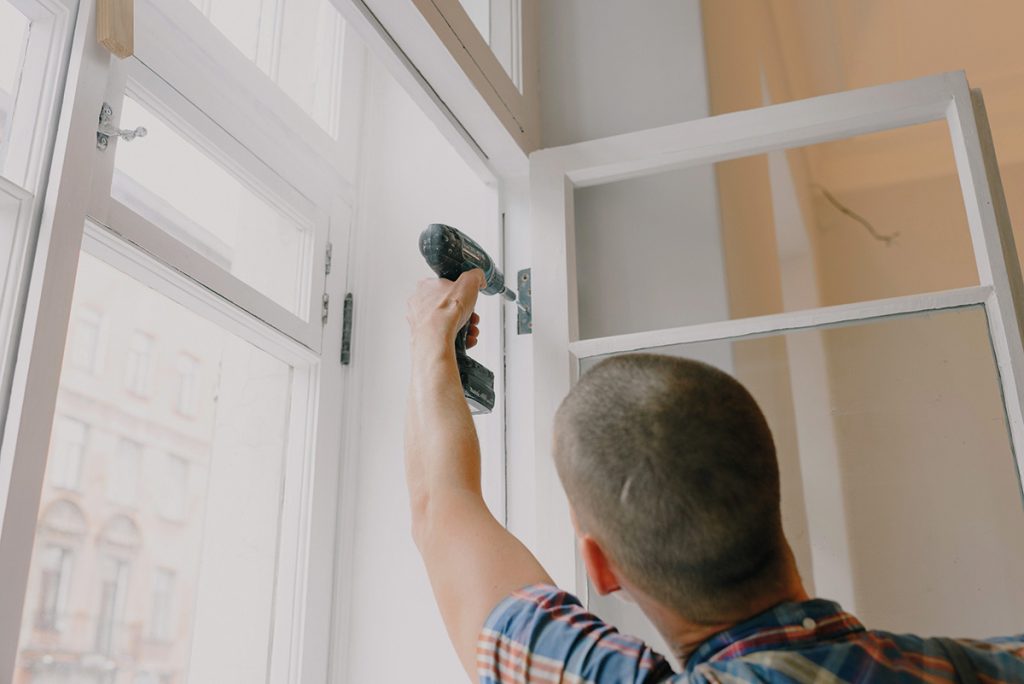 Sliding sash windows, once synonymous with rattles and draughts, have also been adapted for modern use. Although lead weights and pulleys (rope or chain) are still available, they have largely been replaced by, firstly, the spring balance, and more recently, block and tackle which now dominates the market.
Being simple to fit, no adjustment or greasing needed, able to cope with weightier windows such as those with laminated/safety glass, safe to use by the sea (the springs are treated with anti-rust preservatives), and a better locking shoe as well, quite a lot has changed since these windows first appeared using lead weights and cords, in London houses of the later 17th Century. Neither do you have to be a contortionist to clean them – modern sliding sashes have a built in tilting ability, so no more excuses about not being able to reach the window to wash it.
Other things to consider when choosing the hinge type are:
the material (does it match the rest of the furniture?)
fire safety (e.g. nylon washers will melt at a low temperature so avoid in rooms where a fire might start, such as the kitchen)
width of opening (if a door needs to open up to 180° and clear a projection, e.g. an architrave around a door frame, then you will probably use either a projection or parliament hinge)
Always try to use screws of the same material as the hinge because two dissimilar metals coming into contact tend to result in corrosion (a small electric current passes from one metal to the other, causing a chemical reaction).
Materials
If you use brass furnishings on anything likely to get wet and you live near the coast, beware. Unfortunately, salt, like builder's plaster, will cause pitting on the surface. Stainless steel or coated cast iron are better options, as is chrome.
Few of us now have either the time or the ability to continually polish solid brass in order to remove the brown oxidisation, a process which starts the moment you stop! Most brass pieces nowadays come with a factory applied lacquer finish which should not be cleaned with anything other than hot soapy water, or wiped over with a soft cloth and beeswax, otherwise you will remove the lacquer.
To get the look without ongoing effort, stainless brass (stainless steel with a brass finish known as PVD – Physical Vapour Deposition), needs no polishing and will last up to twenty years with a wipe the only cleaning needed; stubborn stains can be removed using white spirit. The manufacturing process results in a surface which is impervious to damage in normal use, including abrasion, wear and oxidisation.
Chrome became very popular during the eighties and nineties, but it might not suit the style of your house or room. Deposits can sometimes occur on external fittings so clean regularly with a soft cloth and non abrasive wax polish. Stainless steel and nickel are also popular.
Door or window furniture which is either hot stamped or extruded results in pieces which are strong and have high quality surface finish.
---
Bonded sliding systems VS lift and slide
Everyone wants the great slim looks of a bonded sliding door system. In these, the glass is structurally bonded into the frame during the manufacturing stage.
As the beading elements are not required for bonded systems, the sightlines can be slimmer.
However, the seals must be fully engaged at all times and yet allow the doors to slide along. This lack of friction means air and water can move around the system more freely than with lift and slide.
On a lift and slide system, by turning the handle you are disengaging the seals to allow the door leaf to slide along and then re-engage the seals once the door is in position.
This operation of engaging and disengaging the seals allows for a dramatic increase in the airtightness and water tightness which are key considerations in our Irish climate.
The key take away is when considering windows, doors and lift and slide doors for your project, is to not only take into consideration the product's U-Value but also pay close attention to the air and water tightness. Airtightness is rated on a Pascal scale. Class 0 means no test, Class 1 is the lowest performing and so forth.
Stephen Ryan of NRGI Bespoke Glazing, nrgi.ie
---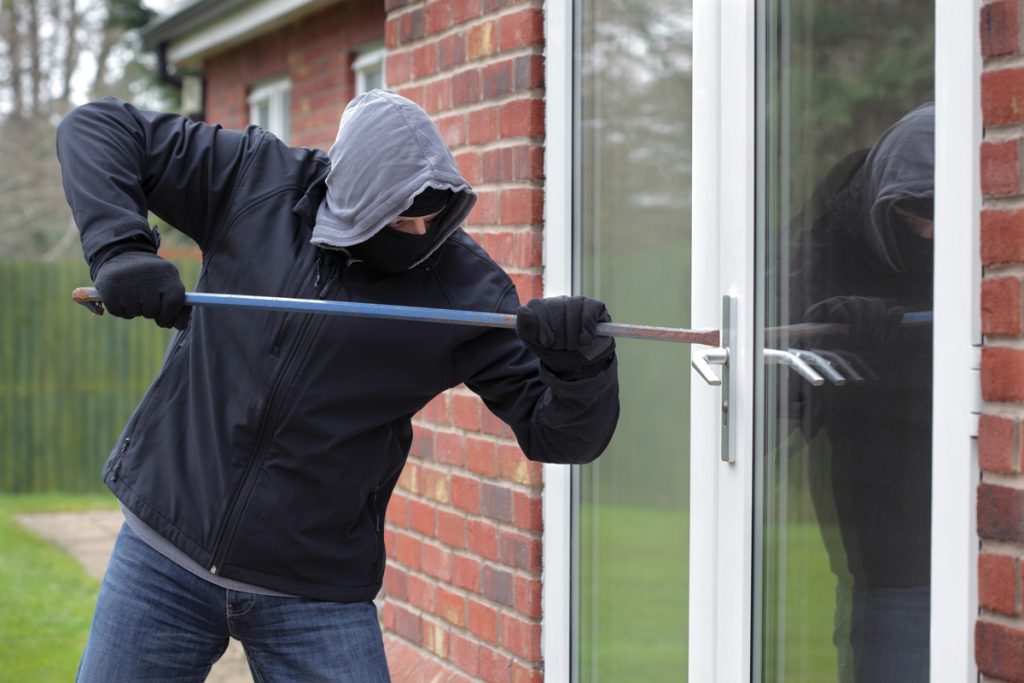 Security
French patio doors are often viewed by burglars as the easiest point of entry. Too often they are right if the door is only secured with two small catches and entry can be made within three minutes, a yardstick burglars use for success or failure.
The question is how to make an opening secure? Perhaps the best way to provide security is to rely on more than just a single lock, for example by combining a euro cylinder lock with an additional security bolt. Note that metal fastenings tend to be more durable than nylon or plastic.
Also, bear in mind that a five lever lock offers about 1,000 possible key variations while a seven lever one offers 6,000. If security is uppermost you could even choose a door lock which can be programmed to recognise your fingerprints.
French doors also tend to be difficult to hang and you often need to plane or draught strip to get them to fit. It is best to fit sliding and bolting locks to both doors as these will act as a brace against unwelcome intruders trying to force entry.
In a more modern setting, sliding patio doors may be more appropriate, but they can be prised out of their fitting and so it might be worth investing in a wire mesh net which hangs behind the inside and provides a second line of defence.
Wire glazed windows do give better protection but that depends upon the narrowness of the wire mesh; the wide Georgian type for example is easily cut. If light is really necessary and security equally important, another alternative is to use an acrylic sheet. It's up to ten times stronger than glass and very light but it is expensive, shows scratches and will burn. Building regulations will require you to have some doors acting as fire barriers, particularly those on escape routes, and acrylic glazing will not be suitable in such situations.