BPC Ventilation explains the benefits of installing heat recovery ventilation over standard extract fans.

When building or renovating, it's important to consider the best ways to use energy and ensure the wellbeing of the occupants. Insulating a home is an important first step, but it's also essential to prevent heat loss through extractor fans and window vents. This is where a heat recovery system comes in.
Heat recovery systems provide fresh, filtered air while recovering up to 90 per cent of the heat that would otherwise go to waste.
Asthma and airborne allergies affect over 5.4 million people in the UK and Ireland, with a 5 per cent increase in cases each year. Installing a heat recovery system and central vacuum system can dramatically reduce symptoms.
So, the question should not be whether to install a heat recovery system, but how to choose one that provides a quiet and efficient system at a reasonable cost. With heat recovery systems becoming the preferred option for energy efficient and healthy living, it's the right choice for a better home environment.
If you're still not convinced, the benefits include:
A constant supply of fresh, healthy air
Reduction in heating costs
No need for trickle vents or bathroom extractor fans
Elimination of dampness, mould, mildew, and condensation
Recovery of up to 95 per cent of heat from wet rooms such as kitchens, bathrooms, and utility rooms
Natural cooling without opening windows.
Balanced heat distribution throughout the home
A quieter and draft free home
Compliance with building control requirements
Improved air quality for allergy and asthma sufferers
Manual or remote-control options
Potential reduction of heating costs by up to 25 per cent
Futureproofing for the home
Heat recovery systems are becoming a preferred option as buildings become more efficient in heat retention and energy consumption. If installing a system is not feasible, it's recommended to at least install ductwork in ground floor rooms for easy retrofitting in the future.
Why not install a cheaper air extraction system?
Heat recovery systems are a better option in winter months when you need ventilation the most than extraction only ventilation systems, which can cool the building in cold climates and extract heat unnecessarily.
With traditional extract only ventilation, a house would need to be replace and heat the air again up to 12 times per day. However, with a heat recovery system, up to 90 per cent of this lost heat can be saved.
Window and wall vents may seem like a quick solution, but they allow exterior noise, uncontrolled drafts, and unfiltered air into the home. In new, airtight buildings, the use of window air vents becomes increasingly difficult or impossible.
Why spend thousands in making your house airtight and well insulated just to put holes in the walls and extract all the heat
Nearly half of the world's energy is used in buildings, with half of heating costs caused by ventilation using the open window method. Heat recovery systems are the most efficient, sustainable, and quickest way to reduce energy consumption while improving indoor air quality.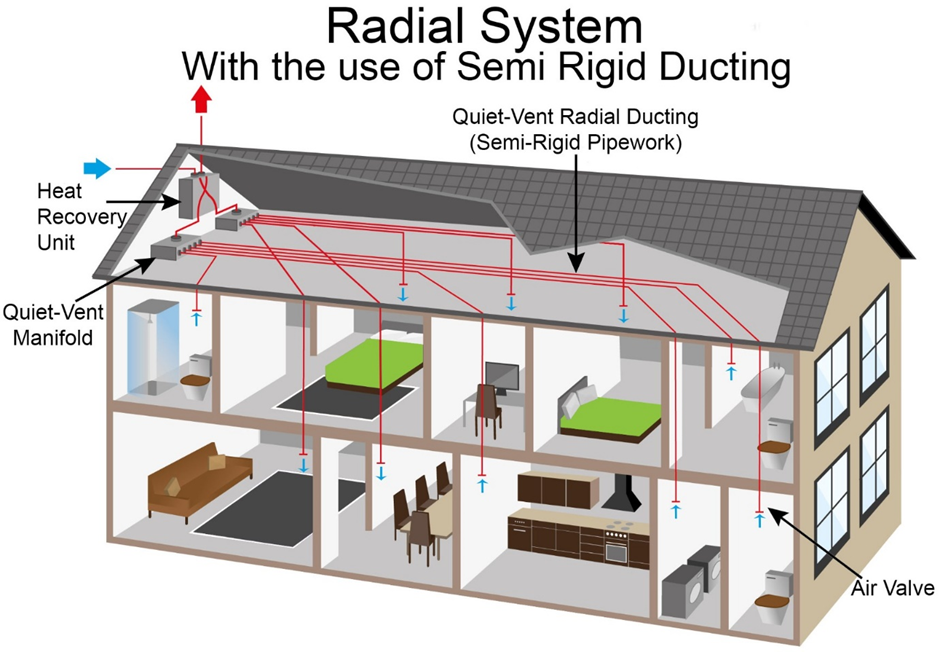 How does heat recovery ventilation work?
Also known as Mechanical Ventilation with Heat Recovery (MVHR), it is an energy efficient system that uses an air-to-air heat exchanger to recover heat that is typically lost. It also provides fresh, highly filtered air, improving the indoor environment. This system operates independently from the heating system, but its ability to recover lost heat can result in substantial energy savings.
MVHR systems are available in different configurations to fit any building, including wall mounted, floor mounted, and ceiling mounted units.
The most popular type of heat exchanger is the counterflow heat exchanger, which is more energy efficient and prevents air streams from mixing. Another type is the rotary wheel heat exchanger, suitable for large commercial projects like leisure centres and can operate without freezing in winter.
Heat recovery units require filters to ensure clean and filtered air enters rooms through supply valves. Filters can be cleaned or replaced every six to 12 months to maintain the best air quality. At times of the year, it is logical to bypass the heat exchanger, such as when indoor temperatures increase due to solar gain.
How BPC Ventilation can help
BPC are specialist designers, distributers, trainers and if required installers of home ventilation systems
You can purchase DIY kits online. They contain everything you will need to install your full heat recovery system.
BPC Ventilation also has a large network of trusted installers throughout the UK and Ireland, just fill in their quick contact installation form here.
Contact the BPC Ventilation sales and technical team Monday to Friday 8am-5pm, tel. 02828275150 calling from NI or 04828275150 calling from ROI, bpcventilation.com