Considering that fixtures are virtually permanent, and expensive, it's important to get the layout right. What you are seeking is a room that performs its task, is easy to keep clean, durable and at the same time comfortable and a pleasure to use.
Number of bathrooms
For many self-build projects, a common solution is a main bathroom upstairs and a small bathroom or cloakroom downstairs, with one or more ensuites (i.e. bathrooms that are typically only accessible from a bedroom). Jack and Jill bathrooms have more than one access point, e.g. from two bedrooms.
In the Celtic Tiger days every bedroom got an ensuite but it's worth considering the cost (capital and environmental) of this and the fact that too many bathrooms will lead to underuse (you will need to run water down the traps to clear stale water smells), and the inevitable need to clean them – dust accumulates no matter what.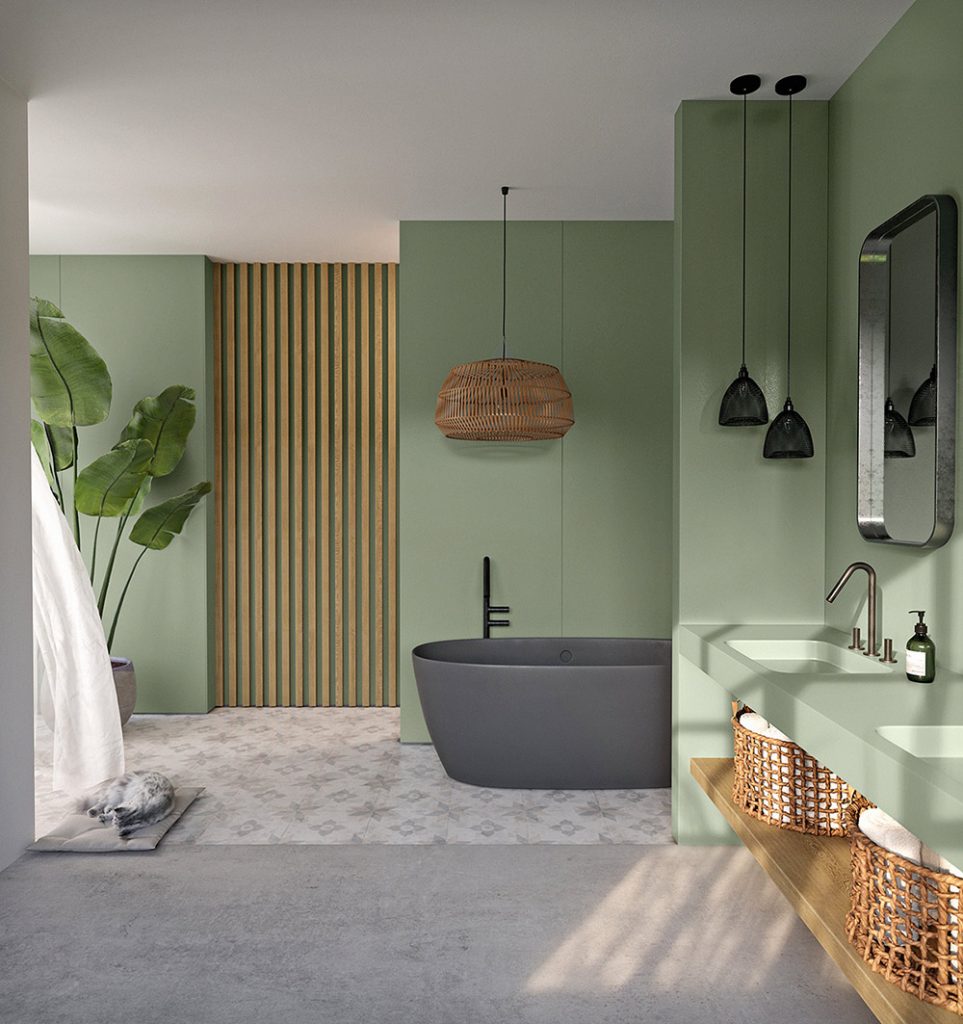 So if you only have room for a tiny ensuite that will hardly ever be used, perhaps consider using the space for a walk in wardrobe instead. As with all aspects of design, to get the flow right imagine yourself walking around the plans and making them work for your own routines and habits.
For a working couple, an ensuite bathroom with twin basins might speed up the morning washing routine. If one person gets up much earlier in the morning, you will want to make sure there's room for them to make noise without waking up the slumbering party.
With a renovation project, where there may only be one toilet for the family to share, a small cloakroom under the stairs could be created or you could partition part of a hallway.
Choose early
Planning your bathroom early in the design process is essential rather than just a good idea. One reason is that most of the plumbing (water supply and waste), and the electrics, need to be buried in walls and floors. Different makes and models will have the waste and supply pipes in different locations too.
All of your choices will have a knock on effect not only on first fix, the stage at which the plumber and electrician run their wires and pipes in the walls, but also on how you build up your floor. Some choices will impact on the floor levels, such as the floor covering or the type of shower tray/wetroom combination you choose.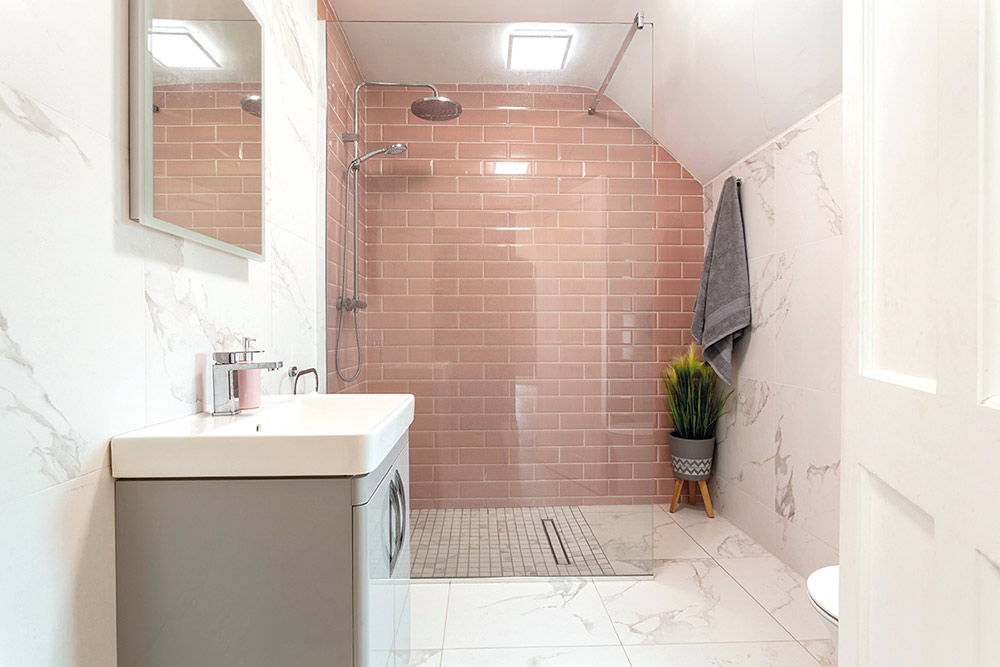 And ensure there are enough structural supports for the weight of your fixtures, both vertically (for wall hung items) and horizontally (for baths). Plus any alcoves in the stud walls to accommodate shelving. Same with integrated lighting, the addition of TVs or speakers – your electrician will need to know about these in advance.
If your waste pipes are being laid in a concrete floor, changing your mind on the position of the sanitaryware after the floors have been poured will be expensive, delaying and inconvenient. Changing your mind after the finished surface has been laid will be all of those multiplied by ten and you will probably end up with a job that looks patched.
If you plan to install precast hollowcore concrete upper floors, it is essential that you have the exact pipework locations for the slab manufacturer to add service routes. And as with your kitchen, you will need to know where the waste pipes will go for the foundations stage too.
Dimensions and layout
Bringing pen to paper, you will need scale plans of not only the room but also of your fixtures. That's the only way to work out the most effective scheme. Your current bathroom layout is a good place to start to determine what works and what doesn't – space, layout, ventilation, light, etc.
While we'd all love a huge bathroom where we can stroll from the shower, passing the potted palm tree which doubles as a towel holder, it invariably ends up a tight squeeze. Bathrooms can be as tiny as 2.5sqm or 25sqft but will more typically be double that size or more.
'Where you put the basin in relation to the window is important and often forgotten about until the last minute..'
This is a conversation to have early on with your architectural designer – how much floor space you actually have will determine what you can fit in. There is not much point lusting after the stand alone claw foot bath if you haven't got the room for it. Look realistically at your bathroom's dimensions and what you plan to fit in it.
The rules of the game have to do with accessibility and these are determined by the building regulations (minimum requirements are set out in Part M in ROI and Technical Booklet R in NI). For instance, a main bathroom on the ground floor needs to provide adequate access for people with reduced mobility – as in doorways must be wide enough for a wheelchair to enter and then manoeuvre in the space.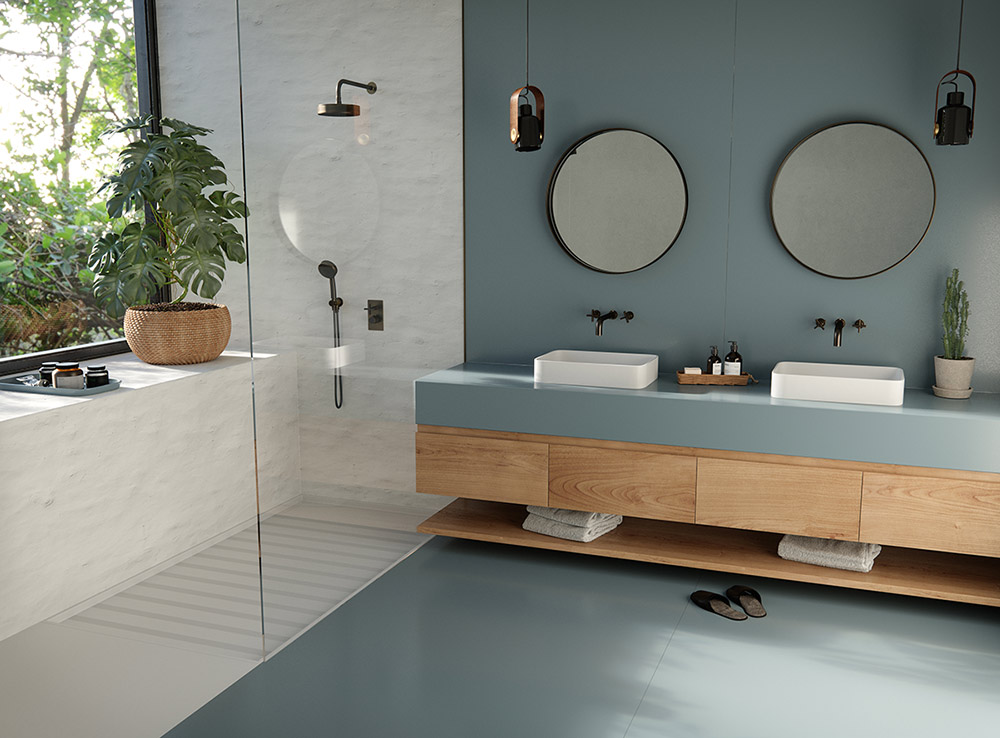 Clearances
For all bathrooms you will need space for doors and windows to open and manoeuvre around, work out the position of taps, lights and thermostats and make sure that bidets, basins and wc have elbow and knee room: 1m clearance for wc, 700mm side-to-side width across the front for a bidet, 500mm in front of basin and minimum 350mm at each side. You can place a bidet and wc closer together than other parts of the suite.
Shower tray enclosures require a minimum 760mm square area and you should allow about a metre of drying space directly in front of the door. Baths need at least 700mm.
There are minimum requirements that your architectural designer can help you with, but remember that if you buy a 1200mm shower tray and you are looking for a tight fit between three walls, you will need to make allowances on the floor plans for the wall finishes to sit flush.
This means the shower tray footprint will need to be slightly more than the shower tray size. If it's not a snug fit you're looking at a patch job, and the potential for leaks, as shower trays come in standard sizes.
You will also want to think of where handrails might go if you were to need them. A wheelchair accessible downstairs wc is a must, while a wetroom downstairs near a study (that could eventually turn into a bedroom) will help future proof the home.
If you choose to have a towel radiator, it can be anywhere (except next to the wc), but not too close to the bath or shower otherwise it may get wet, nor too far away, so that you have to sprint, dripping, across the room.
Also think about the line of sight from the bathroom door. If possible don't position the toilet directly in front of the door and in full view when left open.
Windows
Windows are always an asset so try to incorporate one in every bathroom. Without one, the bathroom will be dark (although there are ways to compensate with clever use of artificial lighting) and you will have no real way of getting rid of moisture in a hurry.
Also consider that some users may not be able to access a window if they have to reach over the bath or bathroom units to open/close it.
Long narrow windows high up on the wall will provide privacy but may not always be easy to get past the planners. Opaque glass or window film is common for vertical windows.
'There is not much point lusting after the stand alone claw foot bath if you haven't got the room for it…'
If a window dressing is a must, consider roller blinds that roll from the bottom up, allowing light in from the top. Or slat blinds or shutters; these will obscure the view but let in light when open and can be closed up for complete privacy.
There's also the option of Roman blinds which tend to work better than drapes as they can sit inside the recess but choose a suitable moisture resistant fabric.
If located beneath the roof, solar tubes or tubular skylights could be an option. These provide brightness through a lens and diffuser tube that fits between the ceiling and the roof. In the bathroom, it looks like a standard ceiling light but since it isn't a window, you don't get as much of the heat loss associated to traditional roof lights.
Storage
Bathrooms are busy places and it's one area where you can never have enough storage, otherwise clutter will accumulate. Think of where everything will go, be it towels, toilet roll, toilet brush and cleaning products, toiletries for teenagers, hair driers, shavers, lotions – even the plant.
Necessary but unsightly items are best kept out of sight with under basin storage or vanity units. A vanity unit around the basin and wc cistern set into the wall look neater and add extra shelf and cupboard storage. Use odd corners for this as well.
Decorative, open shelving or alcoves can display pretty toiletries, accessories or towels but only insofar as you are prepared to keep it curated – messy open shelving looks worse than a cupboard door.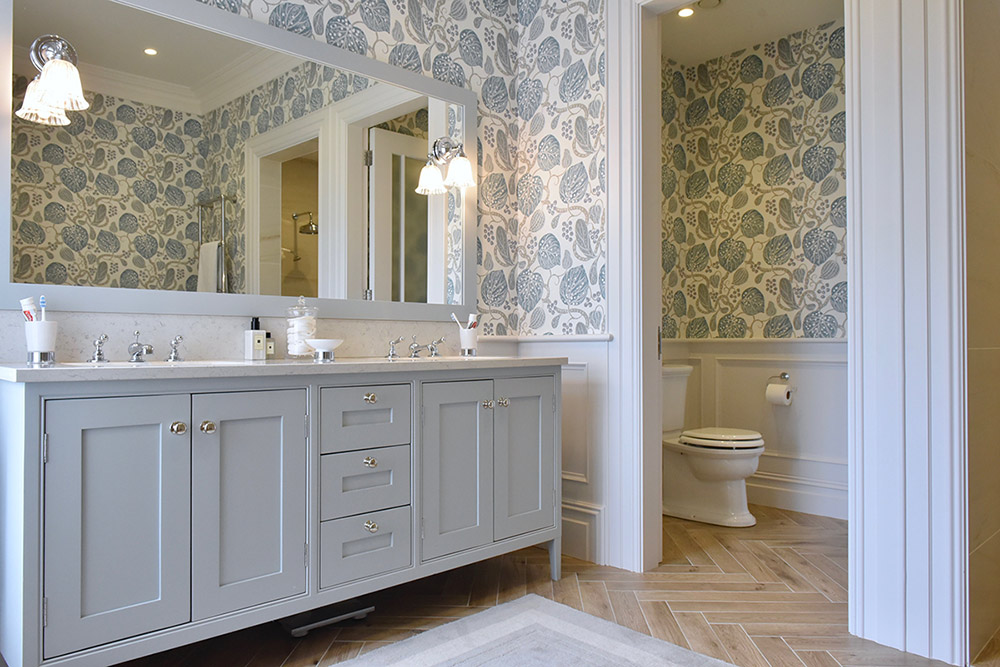 Every stud wall is a storage opportunity. Alcoves in the shower area will hold shampoo and shower gel (this means you don't have to step out, wet, to get the soap); all you need is a depth of 80mm. Ask the tiler to have a slight incline from back to front so that you don't get a pool of water at the back.
For the bath, wider shelves can be built around the bath for reading material; you can also find a use for the wasted space at the end of the bath.
Where to put the sanitaryware
The least flexible item in terms of layout is the wc. This is because, unless you are using a macerator, it requires a 100mm soil pipe. The handiest place to locate a wc is usually against an outside wall as, in that position, the soil pipe can exit from the back of the wc straight out through the wall into a soil stack. It is possible to run the waste internally to exit through the foundations (see Plumbing p114).
If you position the wc against an internal wall, there are two options. The first is to run the soil pipe along the surface of the wall until you reach the external wall and punch through it to get access to the soil stack. Running a soil pipe in that way will require hiding it with some boxing which most people don't like as it interrupts the otherwise smooth line of their bathroom, and the shelf created tends to become a convenient place for bathroom cleaning products as well as an excellent dust gatherer.
If you've chosen a back to wall wc suite, this approach can't be used; the alternative is to go down through the floor with it. A bathroom on a wooden floor on the ground floor is the most convenient location for this, you can just go straight down to below floor level and then horizontally out to meet with the sewerage system – just make sure the soil/waste pipes are securely bracketed under the floor as a significant weight of water passes suddenly through them when they are called to action.
In the case of a wooden floor upstairs, if you are close to an outside wall, you might be lucky with clearances – while adding in an allowance for an adequate fall in the pipework – to allow the soil pipe to fit within the floor.
An external wall position is also ideal for the basin for the same reason. However, unlike the wc the location of the basin in relation to the window is important and often forgotten about until the last minute, when deciding where to put a mirror.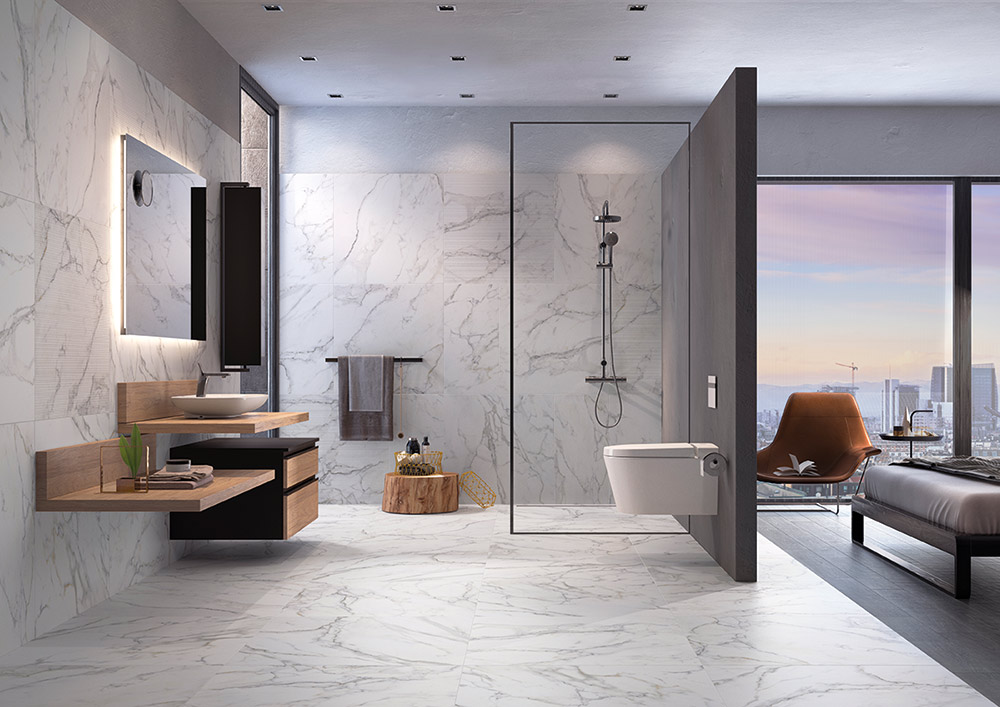 For ease of access to tackle future problems, showers are best put where the shower valve and associated pipework can be reached from behind. This allows it to be replaced or maintained without having to chip off all the tiles in your shower enclosure.
The preference is for shower wastes to be buried within the floor. If you don't do that, you will be faced with a step up into the shower of approximately 100mm plus the depth of the shower tray and the possibility of some boxing as the waste pipe makes its way to the soil stack.
Future proofing
Universal design principles will help design your bathroom for all users. Bathroom doors hinged to swing outwards with a wide opening to allow all users access, including making provisions for grab rails to assist users with restricted mobility, raised height wc pans that are fitted with no slam toilet seats and basins that are mounted to the wall to provide legroom for wheelchairs or users who need to sit while washing. Guides are available on universaldesign.ie
Small bathrooms
While small bathrooms can create a challenge, clever use of lighting and reflective surfaces (large mirrors, glass shower enclosures) help prevent the space from feeling pokey. Also consider multi-functional items, for example placing a countertop above a hidden cistern wc and basin will provide a worktop for applying makeup, displaying toiletries or fresh flowers.
Other techniques to make you feel like you have more space is tiling floor to ceiling as this will draw the eye upwards, and installing slim depth fitted furniture paired with a semi countertop or semi recessed basin along with a floating wc will give the illusion of a greater floor area.
Wall mounted, mirrored storage units will also help, as will small details like bifold shower doors. Consider features such as recessed soap dish options and discreet shelving where possible, e.g. in your alcoves. Newer mirror units have storage, lighting and shaving plugs within. Keep accessories and make up enclosed in a vanity unit or in wall hung units.
If you don't have room for a conventional bath, try a corner one or sit down tub. A bath doesn't need full head height along its length, so you could fit one under a stair or sloping attic ceiling. Use the back of the door as hanging space.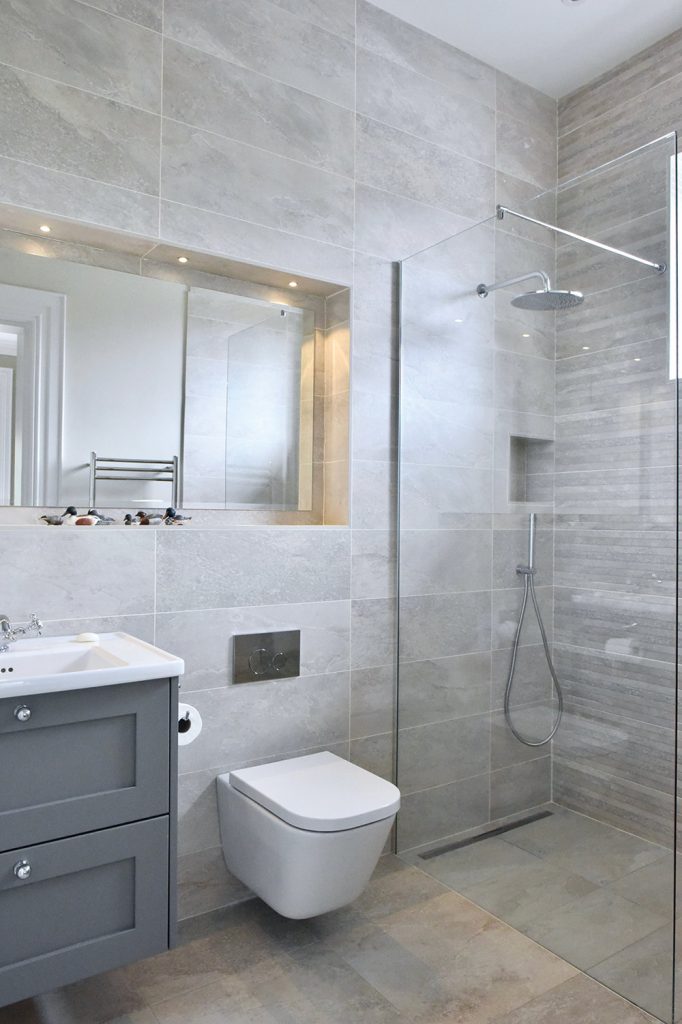 ---
Shower Style
In a perfect world, the tiles and grout, in combination with a well sealed shower tray, will provide all the waterproofing you need. The problems arise when this barrier fails in some way, possibly by the cracking of the tile grout or from a poorly sealed shower tray if the floor or walls have moved slightly.
Therefore your tiler and/or your plumber might encourage you to choose acrylic panels and a shower tray, or a self contained cubicle, as opposed to tanking (waterproofing) the walls and tiling or applying another finish.
This is to avoid leaks, messy grouting and mould. Self-contained shower cubicles with acrylic panels can be easier to maintain than the tiled alternative which invariably require grout cleaning. It's a decision that will have an important impact on the style of the bathroom.
---
Bathroom renovations
If you're renovating, pay special attention to where the existing water pipes are located, and are they connected via the floor or the wall? Of course anything is possible, but anything comes at a price and relocating pipework may eat unnecessarily into your resources. Note for instance that basins need a 32mm waste pipe to the soil pipe, while baths need 40mm.
Due to their size, baths can be tricky to relocate but toilets are arguably even more difficult as the waste on a toilet is 100mm. It may however be possible to do without too much work, depending on there being floor joists and their direction.
If the existing bathroom is just too small, you may be able to either take space out of a large bedroom, use a dressing room or cut off part of a hall or landing.
The main waste pipes will normally run directly down the outside of the bathroom wall to the soil vent pipe, so if you do shift things around, the waste pipes may need to take up some of the new bathroom space. Alternatively, fit a pumped waste system that can use small bore pipes fitted under the floorboards.
To update a tired and dated bathroom, a budget friendly option is to start by replacing the taps, shower head or hardware. A contemporary towel rail and toilet roll holder can readily uplift an old fashioned scheme, as can a new high tech wc.
Least onerous is to splurge on some luxury towels to bring texture and colour to your space, with accessories in complementary colours to create a visual impact.
---