How this Co Galway self-build got a garden design that was sensitive to its rural landscape and suited to contemporary family life.
In this article we cover:
How to use the garden to soften the look of a two storey house
How to make sure the house doesn't look out of place
Where to put your electric vehicle charging point
Where to put your parking area
How to landscape around outdoor seating areas
What plants to use
Example of how to mix trees and hedging
Making use of steps, retaining wall and glass screen
How to mix seasonal planting
Example of a mosaic and how to incorporate one in your design
We live very differently than our parents did not that long ago. Working from home has fundamentally changed what we need from our houses. Our tastes and styles are also informing what kind of spaces we want to live in. 
Yet when building in a rural location, the landscape makes its own demands. If we don't build our homes and gardens to embrace the landscape, shaped over many centuries, the house ends up looking out of place.
How then to make a modern home and garden sit comfortably in an existing landscape, while still meeting the contemporary demands of the family who lives and works in it? This project is a good example.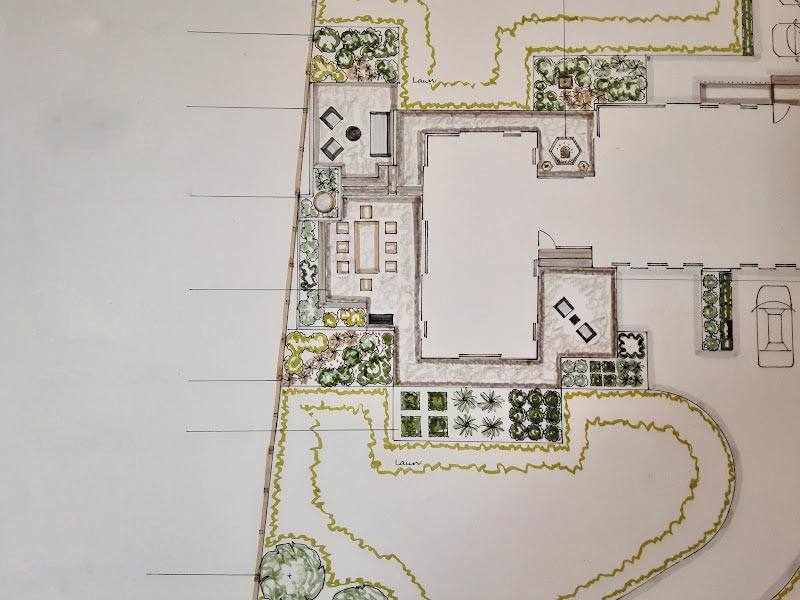 Project profile
This bright, airy, modern home is surrounded by fields on one side and on the other, a country lane with a lovely old limestone wall. Mature native trees are visible behind.
Because the house has several entrances, the homeowners wanted seating areas close to most of them to take advantage of the movement of the sun at different times of the day, particularly in summer.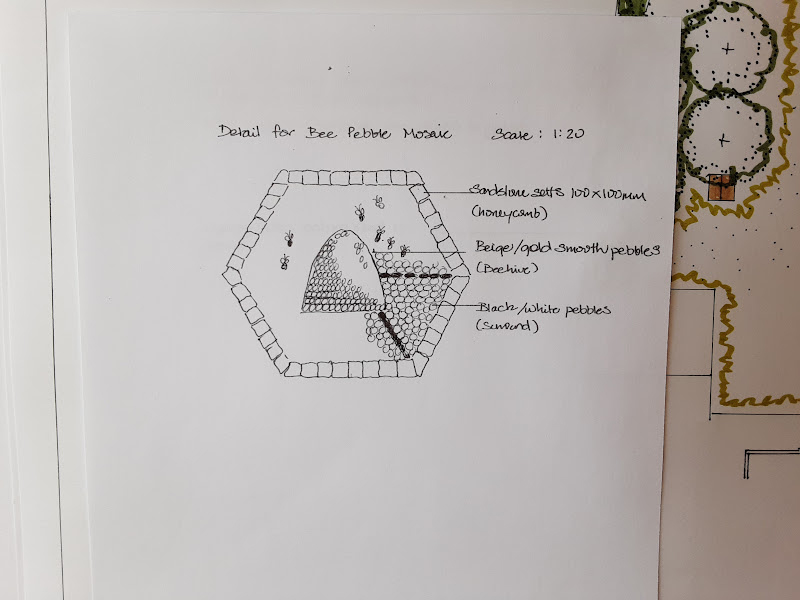 The kitchen doors open to the south and west, so it makes sense to have an outdoor dining area here. A drop in levels towards the rear allows for a lounging space for later on, when little ones are in bed and the grownups can gather round the fire pit to relax.
The area around the front door or main entrance, faces the mature trees. It is a perfect cool and shady spot on hot summer days and benefits from the morning sun. So it made sense to have room to sit here too. But access to and from the front door for family and visitors had to be considered.
Parking is another issue that can pose new challenges. With plug-in electric cars becoming increasingly popular, parking space needs to be close to the charging point. But it also needs to be convenient for family use, while allowing room for guests and delivery drivers to park, turn and exit easily.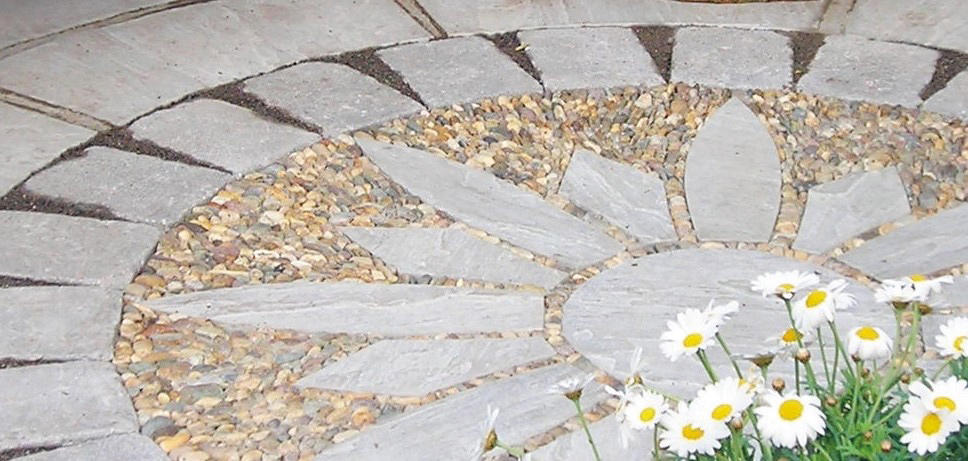 Blurring the boundaries
The design for this garden effectively blurs the boundaries between inside and outside.
Outside the kitchen, a paved dining area is surrounded by planted raised beds with the colourful planting visible from both indoors and outdoors all year round. Steps lead down to an evening lounge area, and ground level planting on either side brings extra life and movement.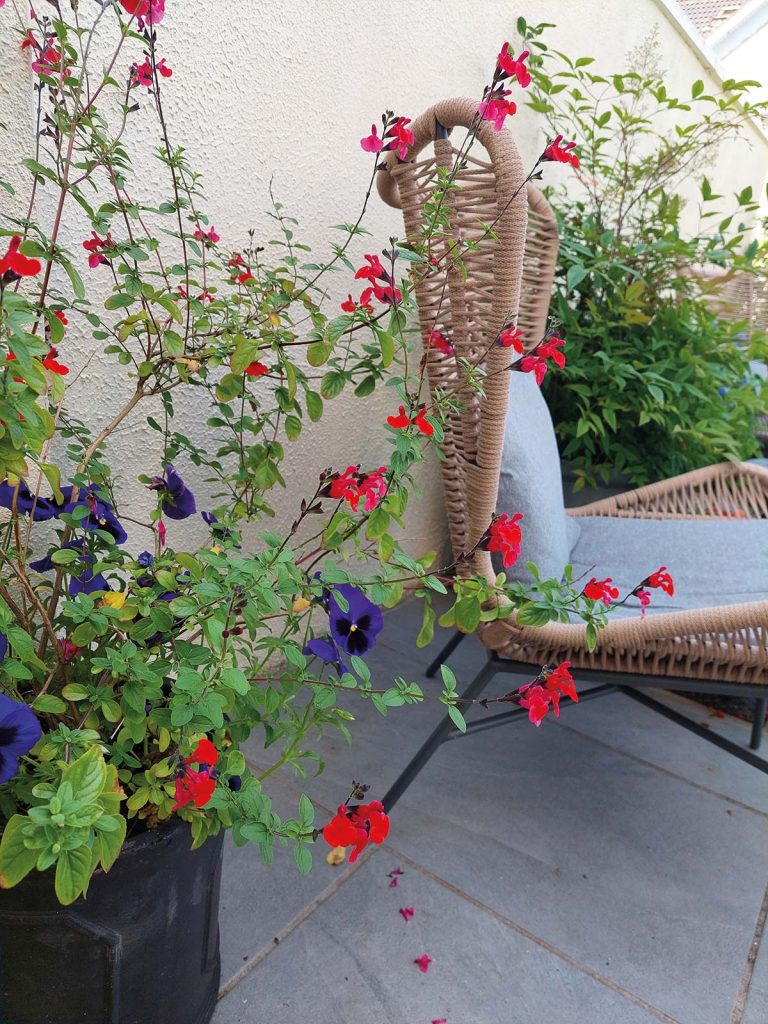 Paving continues along the front façade and around to the main entrance, where it widens to accommodate an informal seating area that leaves plenty of space for access to the front door.
Block planting of evergreen shapes and ornamental grasses keeps the front of the house looking attractively neat year round and contrasts with the more seasonal mixed planting elsewhere.
A low hedge separates the seating and parking areas, acting as a visual cue to visitors not to park too closely to the entrance. There is room near the utility room door for parking too, as the charging point is located here and this is where shopping will be unloaded.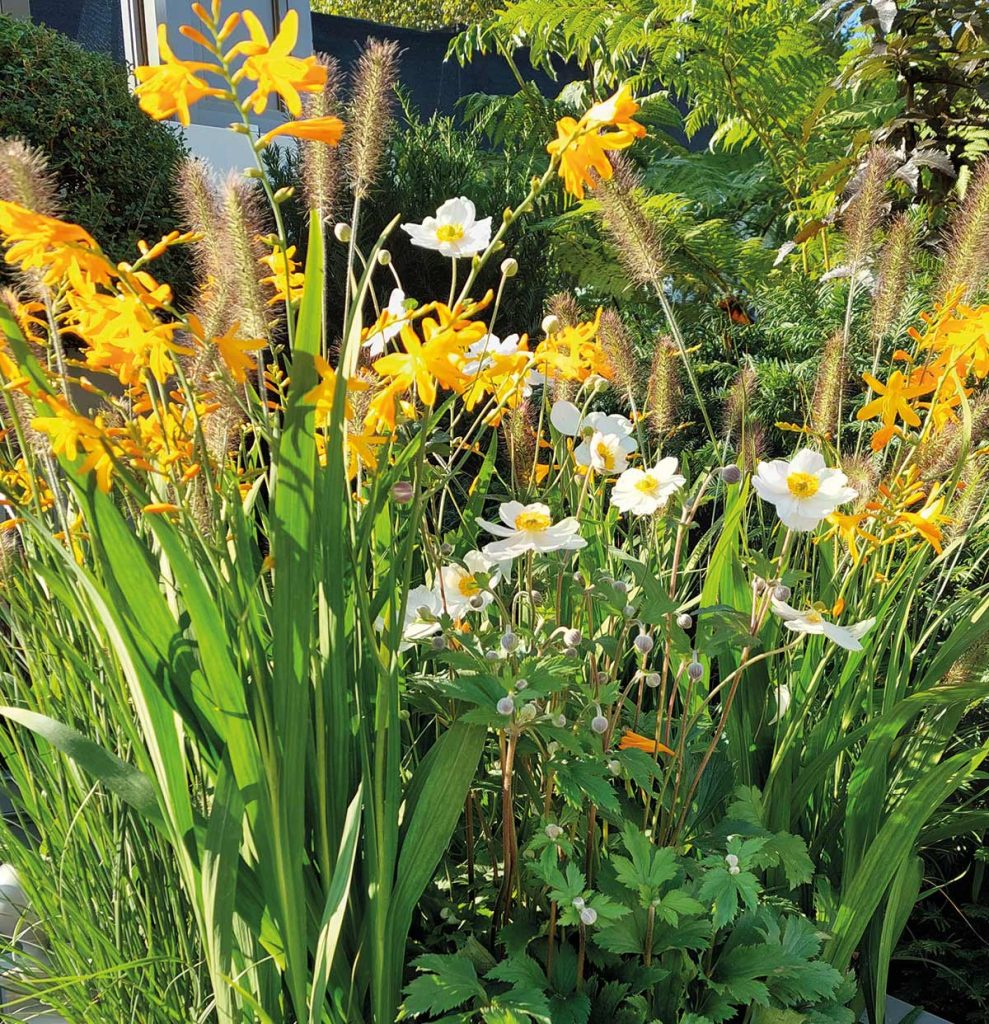 Grey porcelain paving complements the old stone wall that forms part of the borrowed view as well as providing a seamless contemporary finish. Outdoor furniture was kept modern and practical, with concrete adding a touch of industrial chic and acacia wood a note of warmth.
     The glass atrium to the rear offers views across lawn, wildflower meadow and some new native trees. A pebble mosaic here features bees and beehives, which have traditionally been on the site and are to be reintroduced by the family over the next few years, with the latest generations of bees benefitting from the mixed planting and wildflower meadow. 
---
Tips
When choosing paving, consider the local stone in your area and opt for complementary tones so that your garden looks like it belongs in the landscape.
Consider parking needs prior to laying your driveway and kerbing, and be realistic about which doors you'll use most often. Remembering you might want to encourage visitors to park elsewhere.
If installing an electric charging point, consider how this will affect views of the garden from indoors and outdoors – could your favourite focal point be blocked by a vehicle most of the time?