A carpenter by trade, Ambrose Lynott had the skills and ambition to build a dream two storey home for himself, his wife Donna and four children. With the help of family, and 24/7 dedication to the project, they managed to get it all built in a year.
The site, gifted by my parents, is next to a river and has views all around. It was the dream location for us as we were living in a confined three-bed townhouse that had no views and was always dark inside," says Ambrose. "Before the townhouse, we had rented a very small house and one large one. These experiences gave us good insight into what we disliked."
"We realised the need for good sized living areas and a place for kids to play, both inside and outside," adds Donna. "We took every opportunity to capture light or views when designing our new house so in the kitchen-dining area, a corner window was high on the wish list."
"We first got plans drawn up with a local engineer. We told him what we wanted according to house plans we had pulled together from various sources, and our own ideas. We made a few changes to adapt them to the site, and we came up with a bungalow."
"The design was one we knew the planners would like and we originally secured planning permission for it. However it was too big and would have been too expensive to build, so we reapplied for a two storey home. That planning was refused on account of the house being too high on an exposed site."
"A dormer or storey and a half wasn't what we had in mind," says Ambrose. "We wanted all square rooms so we wouldn't be restricted with furniture placement. Insulation and sound proofing were also considerations."
"After a number of pre-planning meetings we submitted similar plans, but with a lower roof. Planning permission was approved with one of the conditions that we raise the roof, as we had it in the original plans."
"We completed extensive ground works in May 2011. This included excavating the ground and filling it with stone, to provide a good base for the raft foundations."
"A change in circumstances meant we had to put the project on hold at this stage. In 2013 we submitted a planning request to the council for an extension of duration and this was refused on the grounds that planning guidelines had changed since the last application."
"But because we had completed extensive works, we proceeded with a judicial review to quash the decision. Eventually in 2016 we were successful in obtaining planning for the house we wanted."
Views and light
"Our guiding principle was to design the house from the inside out," says Donna. "And to have all of the rooms face the sun at the right times."
"The double height ceiling in the hallway lets in loads of light, and gives an instant feeling of space. There are no other hallways in the house, no wasted space. The shape is square and compact, and we wouldn't go an inch smaller."
"The landscaping was also part of this strategy. "The hedges give the house some privacy and background, but they also do not block views from the house," says Ambrose.
Inside, each room faces views and gets different quality of light. "The sitting room gets afternoon and evening sun, while the kitchen has its large corner window on one side capturing the afternoon and evening sun along with a window facing the morning and afternoon sun. Two roof lights in the vaulted ceiling throw in extra light."
"The sitting room is located just off the dining room and is used as an evening room when kids are gone to bed. It overlooks the river, bridge and countryside at the rear of the house. A lift and slide door leads out onto a patio area which gets full sun from midday to sunset."
The master bedroom has five windows overlooking the river and Nephin Mountain. "We get to see the sun rise from our front window," adds Ambrose.
"Upstairs, one of the bedrooms is located at the front of the house to capture the morning sun, with views of the river and stone bridge. The other upstairs bedroom is at the back of the house, facing the sunset, with views of windmills in the distance. The downstairs bedroom captures the morning sun."
"We felt it was very important to have a bedroom downstairs for any time one of us are not in a position to use the stairs. The adjacent bathroom has a wet room style shower."
"The other bathroom upstairs has a bath. Being mindful of additional costs, maintenance and practicality we decided to only have one ensuite, located in the master bedroom. All other bedrooms are in close proximity to a bathroom."
Research, research, research
"After getting planning secured mid-2016 we started researching and deciding on materials and methods for the build," says Ambrose. "I gave myself six months to educate myself, decide what we wanted, get prices and book the trades in."
"I spent a lot of time looking into what heating and hot water system to choose. At first I was opposed to an air to water heat pump because of its lower efficiency in wintertime, when it's required most. So the initial energy assessment and house specification had oil central heating with photovoltaic panels (solar panels that generate electricity)."
"But we changed our minds for two reasons. One was that we both agreed a good supply of hot water was very important as we were used to frequently running out of hot water in our previous house. The other was that we wanted underfloor heating as we couldn't decide where to locate radiators, and heat pumps work best with underfloor."
"We then looked into ventilation and chose a mechanical system with heat recovery. This was another learning from our previous house, which was very well insulated and airtight but had inadequate ventilation and used to get very stuffy, particularly in the bedrooms."
"Our new house is now always comfortable and fresh. In my opinion mechanical ventilation is by far a better option than natural ventilation," adds Ambrose.
"We also have a 14kW wood burning stove in the sitting room as a backup in case electricity fails in the house," says Donna. "We sized it big so it would fit in the chimney and it's very controllable. It does get uncomfortably hot if lit for an extended period of time, but we seldom light it. The idea is to keep the door open to transfer the heat into the rest of the house, if we were to need it."
"When we fitted the stove within the chimney breast we had plaster cracking, despite having put in a cement board and heat resistant plaster. We then installed a four inch granite border, which absorbs the heat, and re-plastered the chimney breast and have had no issues since."
"We did lots of research on insulation as well," says Ambrose. "My mindset was to include the bare amount to pass the regulations. In my head that was enough. If we specified more, I couldn't see the payback in slightly lower heating bills. So we ended up with 110mm phenolic board in a 150mm cavity. Adding insulated plasterboard on the inside would have come at an additional cost and I was afraid it would lead to mould growth on the inner concrete block. I thought having a sheet of insulation on either side of the block could lead to issues. The way it is set up, the walls store the heat throughout the day and slowly release it at night."
"We were really happy with the heat pump and underfloor heating supplier," adds Donna. "When fitting out the system, our plumber and electrician needed guidance and the suppliers gave them their time with step by step instructions. Then the supplier's own engineer came out to commission (check) the system independently."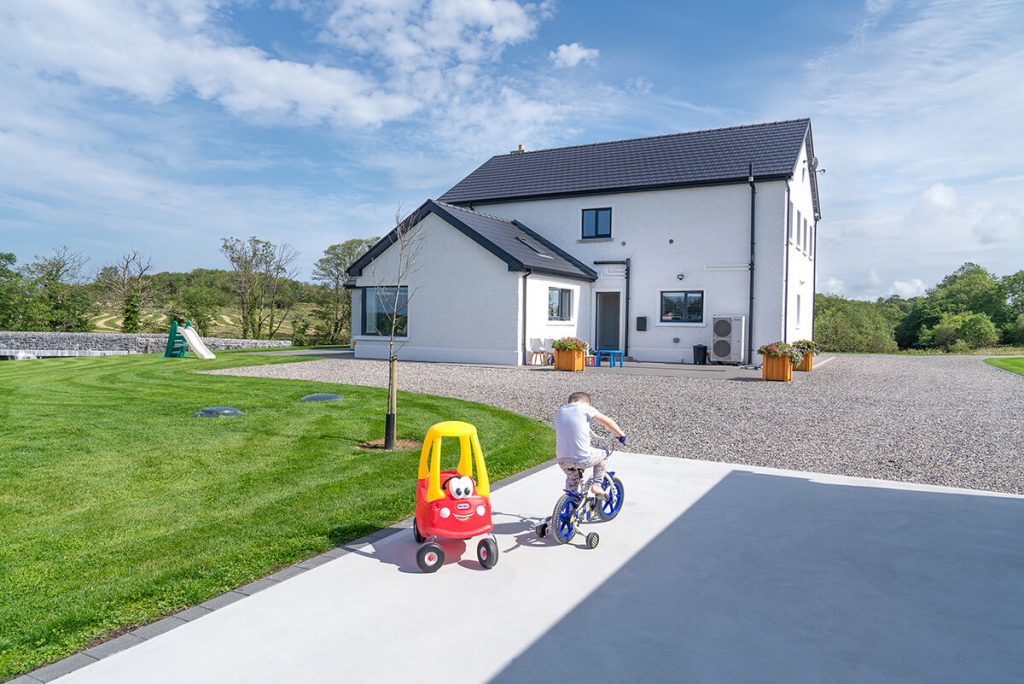 Help from family
"I am a carpenter by trade and had a construction business previously so I had good experience to manage the full build, taking care of the main structure," says Ambrose. "Donna managed everything internally. We chose a traditional method of building, blockwork, as it is the one I am most used to, and chose a concrete upper floor."
"With tradesmen you have to be constantly in touch with them to keep them updated on your progress; in March 2017 we broke ground and had the block layer booked in November to start the following April. I was in touch with him regularly to let him know how we were getting on. You have to do this with every trade you hire to avoid delays as good tradesmen cannot become available at short notice."
"The most important aspect of managing the project was keeping everything clean inside at all times," adds Ambrose. "I would always clean up my mess for those who came after. This helps keep a good standard for a safe clean environment. It helps with the quality of work too."
"In terms of supervision, we had one engineer design the house and another hired to do the inspections for compliance with the building regulations, which we needed done in stages to sign off on the mortgage. As most self-builders do, we opted out of appointing an assigned certifier."
The build progressed well thanks to Ambrose being on site at all times and keeping tabs on the budget as well as keeping tradesmen lined up for the job. "Although we experienced very bad weather from autumn 2017 to spring 2018 the project ran very smoothly," he says.
"I kept tabs on the budget with an excel sheet, with a tracker breaking each element down into portions. We had prices for each, and if we went overbudget we would look at where to pull money back from another part of the build without compromising on quality. If we were underbudget, we put the money into the contingency kitty."
"We spent a lot of time pricing materials, as that is where you can make significant savings. They all add up. We had two local builder's merchants accounts which was convenient for comparisons and for sourcing materials and delivery."
"I did all the timber work: the roof, doors, skirting, as well as the insulation. My brother, who is a qualified plumber, did all the domestic water and heating and also installed the heat recovery system," says Ambrose. "My father helped me when roofing the house and garage, and also painted all of the ceilings and internal walls."
"Donna works full time and her mum was an invaluable help as she took care of the children to allow me the time to do all this work."
"Without the help of family and support from all of those around us, we wouldn't have managed to pull this off," adds Ambrose. "It was a strain to dedicate every waking hour to the build, especially when it meant not being able to see my family, but we are delighted with the end result and couldn't be happier."
Q&A with Ambrose
What surprised you when building your two storey home?
When we did the groundworks in 2011, it took 110 lorry loads to get to good ground. We didn't expect that extra expense. We were looking for what's known locally as "lock", the tan colour of the solid brown earth just below the layer of subsoil. This is what we were hoping to build on but the soil was too thin. After digging through that layer we hit boggy/peaty soil for 2.5 to 3 metres until we eventually came to a sheet of rock.
Would you do it again?
Yes but we have no intention to. What we're coming up against now is the trickiest decision of all – where to hang pictures.
What would you change about your two storey home?
No problems thankfully and it's working very well. Both of us agree we would not change anything if we had to do it again. The only regret I have is that I didn't see the children, and I pretty much missed a year with them. But if I hadn't put the time into the project, we wouldn't have finished the job.
What single piece of advice would you give a budding self-builder?
For couples intending to have a family, your perspective will completely change when you have kids and your house design will also change. Ideally live in another house for a year or so with kids and you will soon see what you want in your new house.
Ambrose's tips
Plan well in advance.
This way you know what you want so provisions can be put in place in good time. This will also save on paying 'extras' to tradesmen as this can be the main reason to exceed the budget. Remember that anything you don't do before you move in, you are unlikely to get done for years.
Book your tradesmen well in advance to avoid delaying the schedule.
Keep them updated with your progress so they can plan from their end and show up when you need them.
Have a comprehensive specification when tendering for prices.
This will allow for all quotations to be comparable and will eliminate the opportunity for tradesmen to undercut at the start and charge extras at a later date.
Don't put up with anyone dictating what should be done.
You are paying for a product and/or a service, and if the person can't do what you want, somebody else will. Be careful as tradesmen's and salespersons' suggestions are often for their own benefit!
Do not rush finishing the house as soon as the walls are plastered.
The house needs to fully dry out naturally. A lot of water is used during construction and this all has to leave the house again. From experience, many people tend to panic once the first fix is done and push hard to get it finished. This can result in a lot of unnecessary cracks in walls, floors swelling, and joints in woodwork opening months later. We intentionally slowed work at the beginning of 2018 to allow the internal walls and floors to naturally dry out before progressing further. For this reason, there was very little work done from January to March 2018.
Consider the lawn mowing.
The site is 1.5 acres so we have a lot of lawn for cutting. I have purposefully designed it so that there are few obstacles. We also introduced brick kerbing and no flower beds to ensure minimal strimming.