Even though Catherine and John Reilly's design is a minimalist one, they managed to cram just about everything they ever wanted in a home.
In this article Catherine and John explain how they built their own home, including:
Finding the plot in a sought-after location
The design details including office and playroom details, plus full floor plans
A keen cook's kitchen design with pantry
Getting plans costed by a quantity surveyor
Difference in cost between estimate and tenders from builders
Cost engineering to reduce to tender prices and keep the build within budget
Project management and delays on site
Issues with the chimney and external plaster and how they were dealt with
Choice of biomass boiler and what they needed to store the pellets
Why they went £15k over budget
Planting trees early on and garden design
Tips for a novice to manage a self-build project
Full specification and supplier list
House size: 3,000sqft
Plot size: 1 acre
Build cost: £330,000
EPC: B with SAP rating of 85. Architect's note: It's very hard with a spread-out floor plan to get higher than a B rating especially when highly glazed; you would need a much more compact and boxy layout generally to achieve this and you also need to wall the North elevation more than we did.
Environmental rating: 94 (A)
Catherine and John had always dreamt of building their own home, and when a small site came up in Antrim, the opportunity seemed just too good to pass up. "John was very keen to buy it but I didn't like the shape, and it was quite expensive," recalls Catherine. "A few months later it so happened another nearby site came up for sale with planning for four houses on, it was double the size. The sale had fallen through because of some issues with planning. We were at the right place at the right time."
Process
"We ended up paying less for this larger site with mature trees, exactly what we were looking for," adds Catherine. "It was a fluke but it was a good thing. Then we met different architects on site to discuss what we might do. Ben was the only one who seemed to be really listening to what we wanted. He came back with some basic sketches straight away, and we loved them."
"We asked him to design three different houses, on three different locations, and the only real direction we gave him was that it had to be contemporary, unique and a bit different. We ended up merging two of his designs to come up with the final layout." They kept up to speed with TV programmes and magazines for inspiration and also gave their architect a functional brief. "Maybe it's because we'd never started from scratch before, but we loved the very first design Ben presented to us. This was a really fun stage of the project, deciding what we wanted inside."
"The house had to work for two children, I was pregnant at the time we got planning permission and our eldest, who is now five, was three at the time. So a playroom was in order. We also asked that the office be separate from our day to day activities. In our previous home, it was linked to the bedroom and we found it really hard to switch off from work in the evenings."
The couple settled on a design they felt would work best for their family life. "We chose to keep the ground floor for the kids to run around and do whatever they liked, and keep the upstairs as a sanctuary so there's a living room loft for watching movies, a space for the adults to relax in. It's basically a chillout lounge with its own rooftop terrace." The L shape of the building allows the bedroom wings to be separate from the commotion, while the corner of the L proved to be the perfect secluded spot for the office.
The heart of the home is of course the kitchen, with the open plan area feeding to and from it. The design was the brainchild of keen cook Catherine and a specialised company that also fitted out their food store and utility. "I always wanted a pantry and got my dream – the company we worked with was so helpful, they delivered within the budget we gave them and I think that says a lot considering the end result."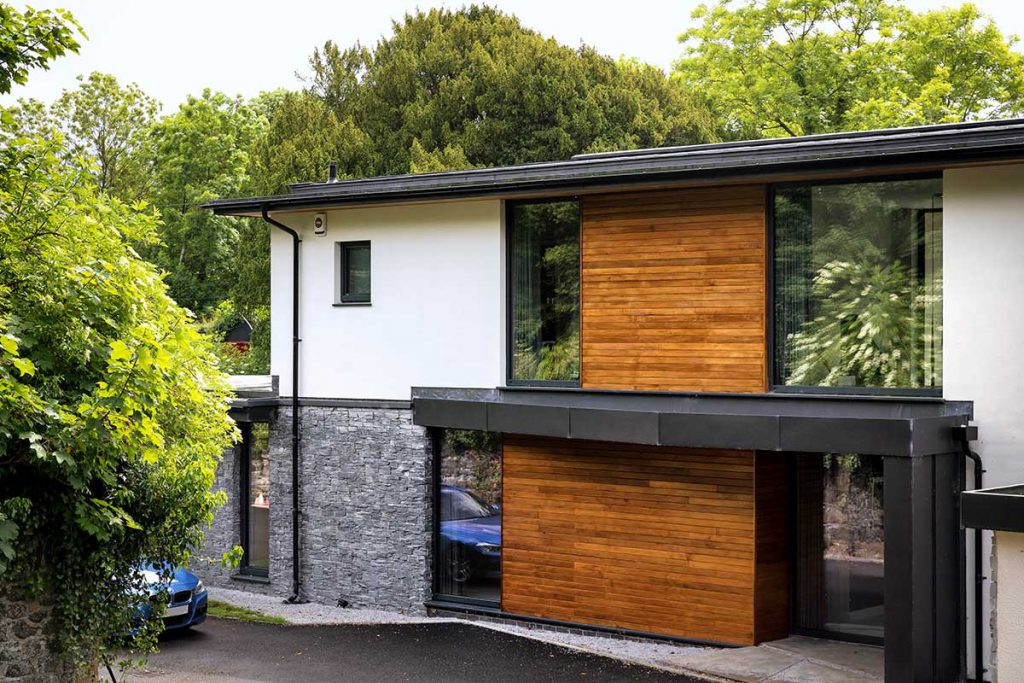 The worktops are 12mm thick ceramic stone and the sink tap in the 2.5m long island is the only real break in the horizontal lines, contributing to the sleek contemporary look the couple was going for. All appliances are integrated, even the indispensable coffee machine. The site they bought had a 1970s rundown chalet and an ancient barn which they got permission to demolish. "We secured a replacement dwelling planning permission but didn't build on the same spot or use the barn as originally hoped as there were virtually no foundations," says Catherine.
'…we wanted to have quite a bit of room, an open plan living space and we wanted to maximise views as well as invest in good insulation.'
"We had a quantity surveyor who told us it would cost in the region of £292,000 which our architect agreed was in line with what he expected. But when we went to tender the costs ranged drastically. The lowest bid came in at £330,000 and the highest £488,000! That was scary. It was the first panic." To reduce costs they specified steel instead of zinc for the metal roof covering but in one of the many twists of this story, circumstances had it that zinc was eventually installed.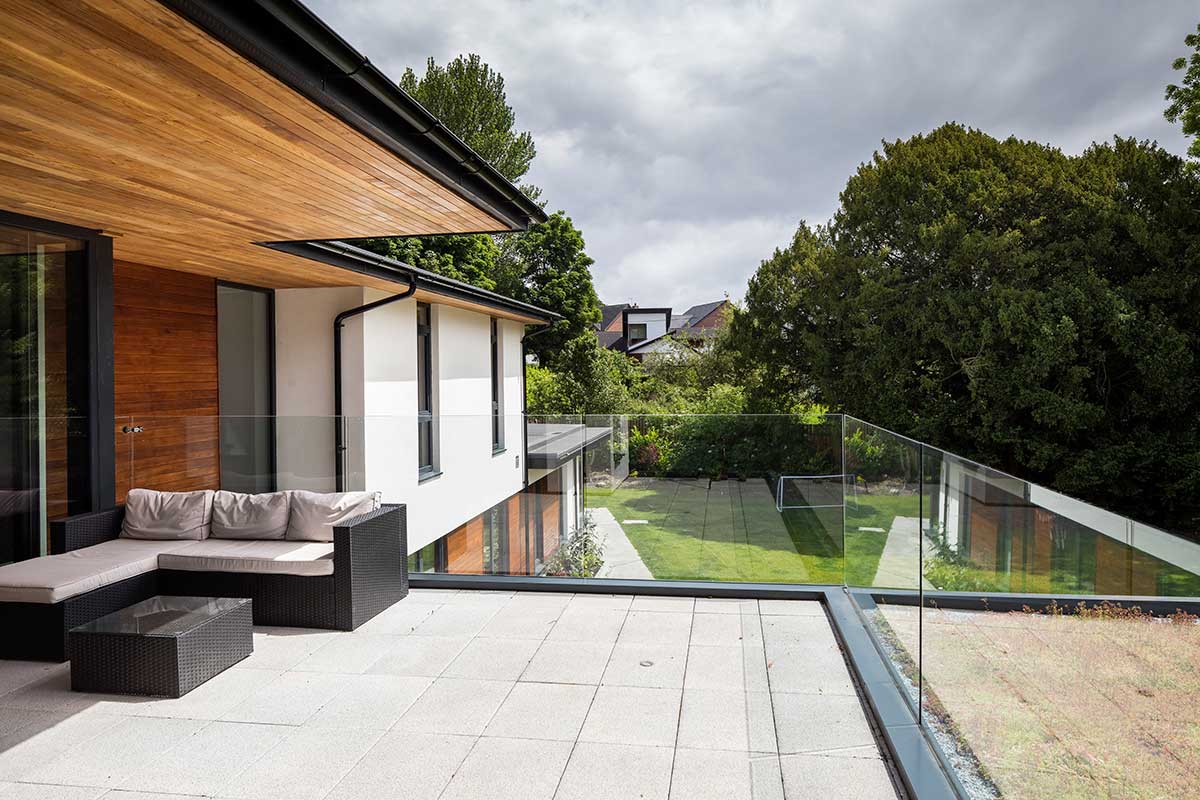 Mechanics
Once the builder was appointed, and the on-site project manager was on board, the project ran like clockwork. "Six months in and the structure was complete and the roof was on," says Catherine. "There were however some hiccups, the first being the month and a half delay on the window delivery." Catherine's keen interest meant she was on site nearly every day, but had little control over the delays incurred. "When the project manager was moved off the job, I found the situation became really stressful," she confides. "The last six months of the build were difficult for me as I like to be involved, and I felt a lot of the decisions that were being taken on site were out of my hands."
"For example we had some issues with the fireplace – it was awkward enough as the flue connected to the outdoor chimney on the terrace, and it didn't fit because of the steel beam that cantilevered the terrace."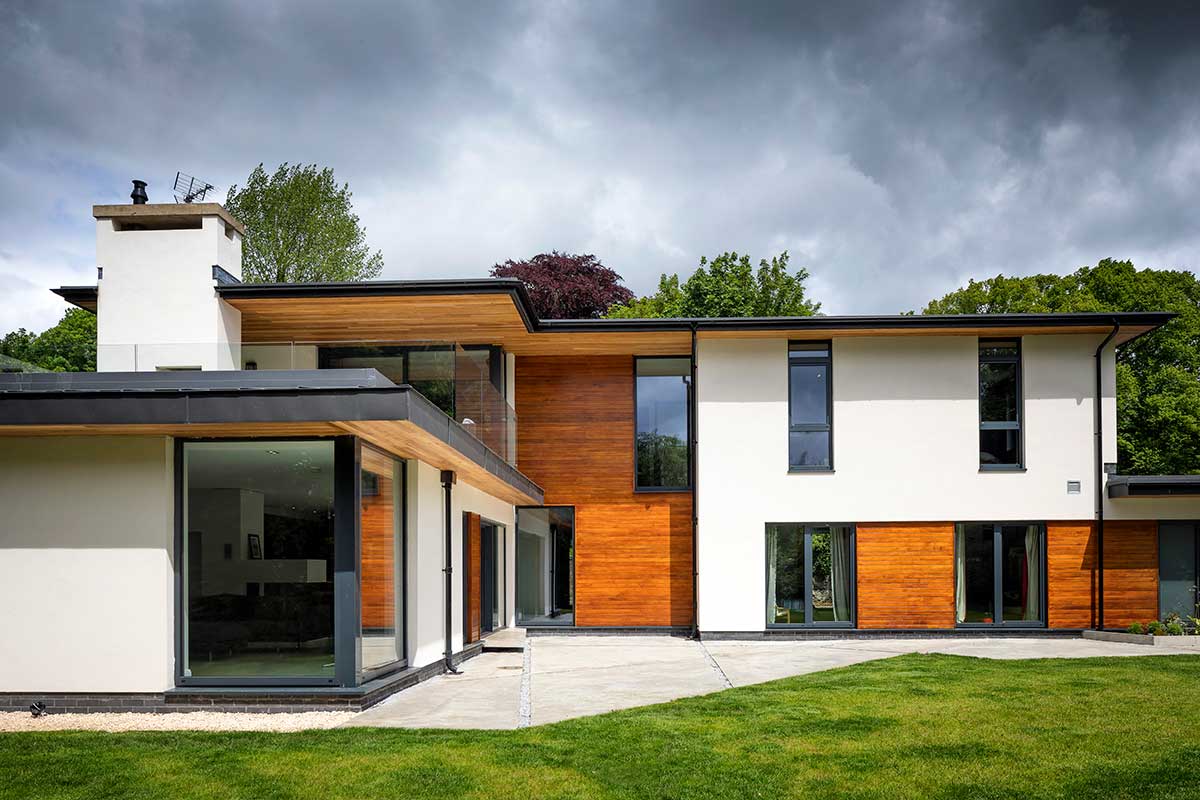 Catherine's tips
Take the time to check references. We chose our architect based on his work but also on how well we got on with him; his input throughout was invaluable. He'd come out on site to check what had been done which really helped to know how much to pay the contractor, as I often wouldn't know. The on-site project manager was really helpful too, flagging issues before they happened, and I cultivated a good relationship with him.
Keep a diary. When things get stressful, it's helpful to have a record of all the things that were said and agreed. Jotting down the highlights of your conversations with those on site, and dating them, will help you keep track of everything and as a result, not doubt yourself.
Get drawings from your designer for everything. If there isn't a drawing, your builder is likely to do it his own way to move the project along instead of consulting with the architectural designer.

What's your favourite feature/room?
My absolute favourite is the kitchen, my stress release is cooking. But I also love the terrace, it's magical. It never gets windy thanks to the glass protection, and the overhang means we can enjoy it even if it's raining.
What would you change?
I would make our ensuite bathroom smaller and make the master bathroom a bit bigger – even though they both function really well when you walk into the ensuite it feels huge and the main bathroom is a bit on the small side.
What surprised you?
That we got planning permission without any problems, it took just four weeks. The other thing that surprised me are the small things that can go wrong, which can have a knock-on effect and lead to delays. Also how important it is to have a really good relationship with the people who are working with you, it makes the whole project run much more smoothly.
Would you do it again?
I can't imagine going through another house building project but if I had to do it again, I'd project manage it myself. Even though that can lead to a lot of stress and hassle, requires time and doesn't necessarily save you a whole lot, it gives you much more control.
What advice would you give to a budding self-builder?
It's always going to cost more than you expect! We were told some changes would be cost neutral but didn't turn out to be. Anything that's not captured in the tender can lead to the price creeping up – for instance we weren't overly specific about which doors we wanted, to get something we liked we had to add £40 per door to the budget. It all adds up. Overall we spent about £15,000 more than we'd originally anticipated.
The stove is three sided with glass panels facing the dining and kitchen areas. "In the end we had to get a different stove, we got gas instead of multifuel, and the chimney had to be rebuilt." Not surprisingly, a lot of thought was given to the house's heat and hot water.
"The idea of wood pellets fascinated us at the time, but we researched the heating and hot water aspect quite a bit, a horizontal ground source heat pump would have not been possible because we apparently didn't have enough flat ground – despite the large site. This meant we would have had to go with two boreholes, setting us back £22,000, so we went back to our original idea," explains Catherine.
"From a financial point of view the biomass was by far the best choice too, and I do love it. It's very simple to operate and it costs very little to heat the house to be cosy warm." But there were some snags. "We had thought we'd ordered a boiler with a three tonne hopper to feed a smaller hopper to feed the boiler but instead we just got a basic boiler with small hopper which means that we have to load pellets every two to three days in winter instead of every two weeks."
There is underfloor heating throughout and the rooms have thermostats. "There is a thin screed so there is no waiting for the temperature to ramp up, it gets warm within half an hour," adds Catherine. "We actually don't use the heating that often, the house seems to self-regulate."
''The last six months of the build were difficult for me as I like to be involved, and I felt a lot of the decisions that were being taken on site were out of my hands…''
All moved in
Once moved in, there was one last building issue to tackle. "We realised the plaster started to ripple – not due to workmanship but to the product that had been used (recalled by the manufacturer)."
"It takes five to six years to establish trees, which we've started planting to protect us from the high winds; at the moment we only really have the neighbour's Leylandii across the road to provide some shelter."
"We even looked at installing a wind turbine but the payback was 12 years. If we were younger, had a young family, we may have felt a greater need for more eco features; instead we kept the original boiler as it was able to cope with the extension."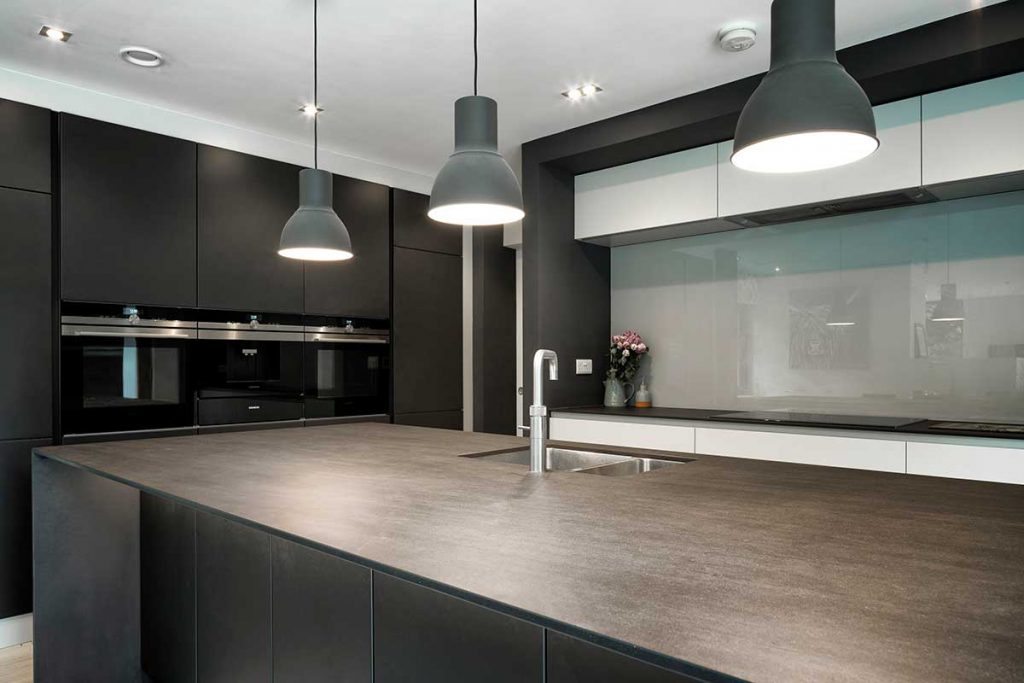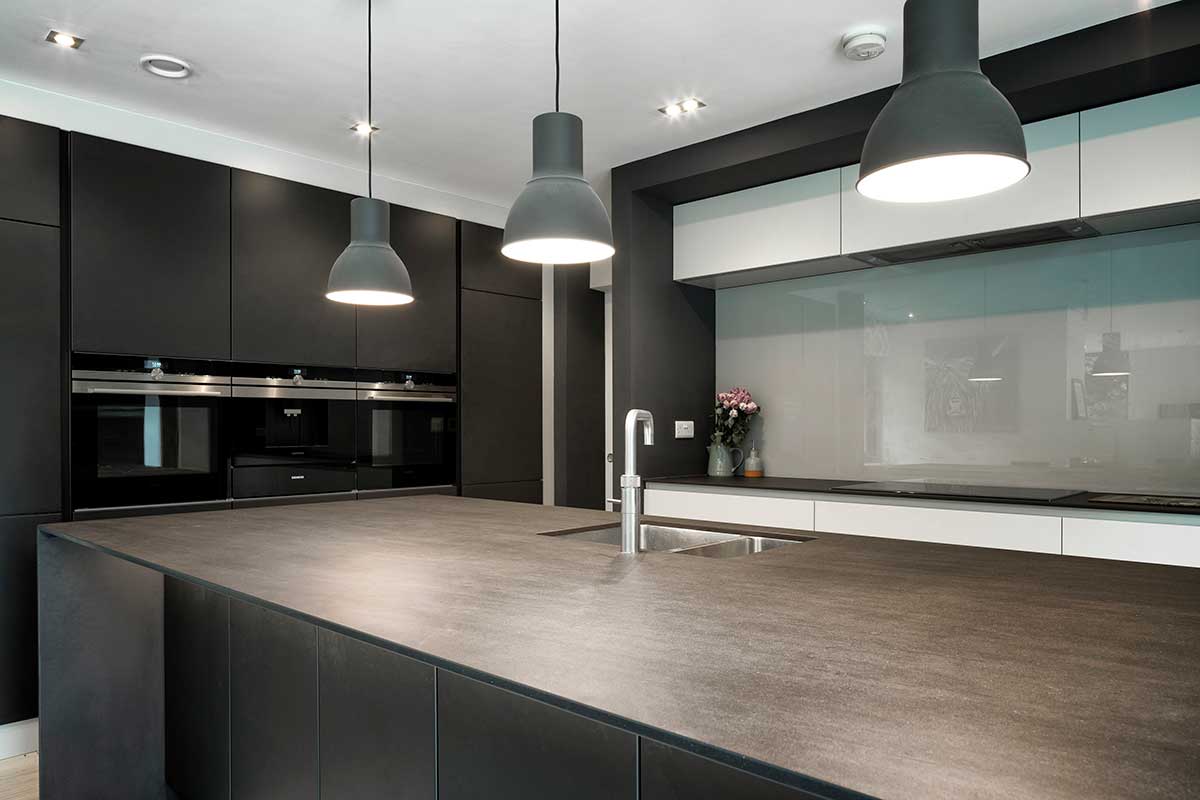 Despite the delays – moved in July 2015 instead of March – and the stress of the build, Catherine and John feel the house did deliver on their expectations. "Now that we're here I can't think how I could improve on our home, I love it. It's got everything we ever wanted," says Catherine. The connection to the site is particularly striking; the terrace is one element but so is the unusual hard landscaping. "I have a dislike of paving yet I wanted a hard surface, which is how I came up with concrete slabs," says Catherine.
"Having an idea and finding someone to do it are two very different things and it took me months. I wanted irregular shaped slabs and some pebbles in between, it's another one of my contemporary additions and I did have my heart set on it."
Catherine eventually found a concrete polishing specialist who was happy to take on the challenge and who delivered in full. "We love it. Then for the rest of the garden we seeded a lawn and have a sunken trampoline," comments Catherine. "Parts of the site are elevated and were left wild; there's a railway line 20 feet behind us but we can't see it, and you can't see our house from the road either." A hidden gem.
Specification
Structure: Walls 150mm full fill PIR insulation within cavity wall, U-value 0.15 W/sqmK. Zinc clad roof with PIR insulation between and over rafters, U-value 0.16 W/sqmK. Standard floor construction with 150mm PIR insulation, U-value 0.14 W/sqmK.
Windows and doors: Front door U-value 0.75 W/sqmK, windows triple glazed uPVC/aluminium U-values 0.72 W/sqmK to 0.81 W/sqmK depending on size.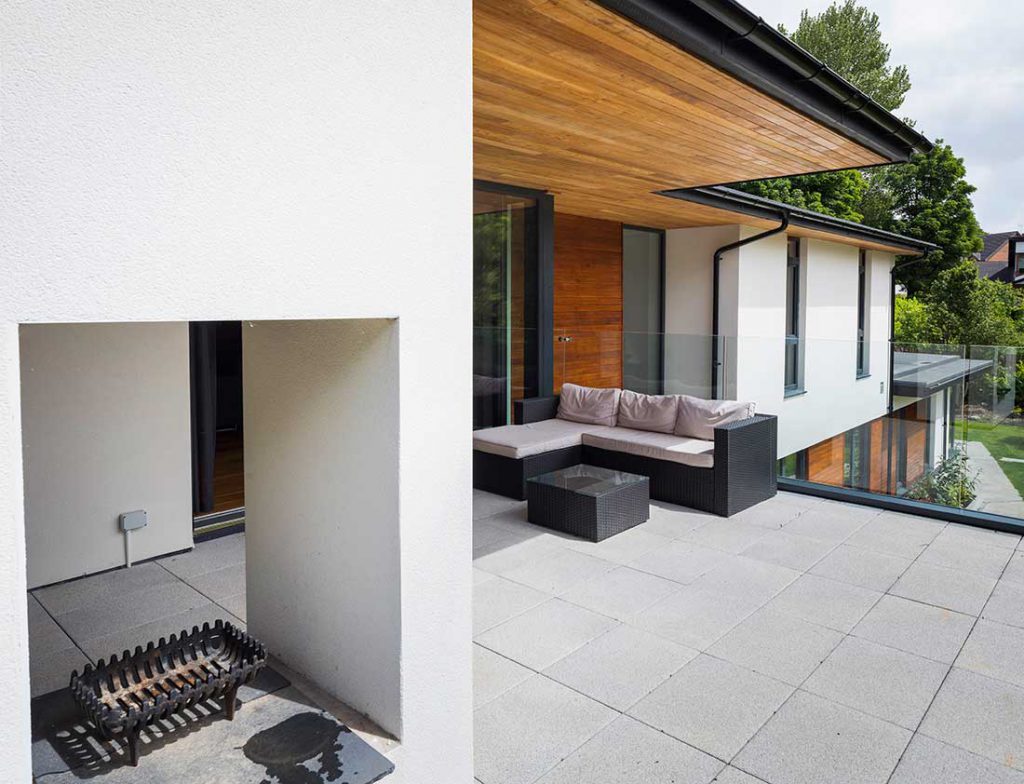 Suppliers
Architect: Ben Wilson of Wilson McMullan Architects, wilsonmcmullen.com
On-Site Project Manager: Jason McCullough of JA McCullough & Co, jamccullough.co.uk
Windows and Doors: Internorm supplied by Feneco Systems, fenecosystems.com. Internorm AT 410 Aluminium entrance door without letter box, windows KF 410
Ventilation: Beam, beamcentralsystems.com
Kitchen, storage and furniture: Interior360, interior360.com
Bathrooms: Beggs and Partners, beggsandpartners.com
Fireplace: Wilsons Fireplaces, wilsonsfireplaces.com
Furniture: Living Space, livingspace-ni.com
Landscaping: Polished Concrete NI, polishedconcreteni.com
Insulation: Kingspan Insulation, kingspaninsulation.ie
Photography: Paul Lindsay of Christopher Hill Photographic, scenicireland.com