Emily Bonar took charge of building her family home in Co Donegal twice; here she shares her project management tips and advice.
In this article we cover:
Tips from first experience building and how they approached this second project
Tips to keep on top of costs
What they wanted from the house and how the design evolved
How they went about the design and planning phases
Building in a Special Area of Conservation
Day to day on site, project managing the build herself
Top tips for a smooth build
Landscaping tips
Full timeline and supplier list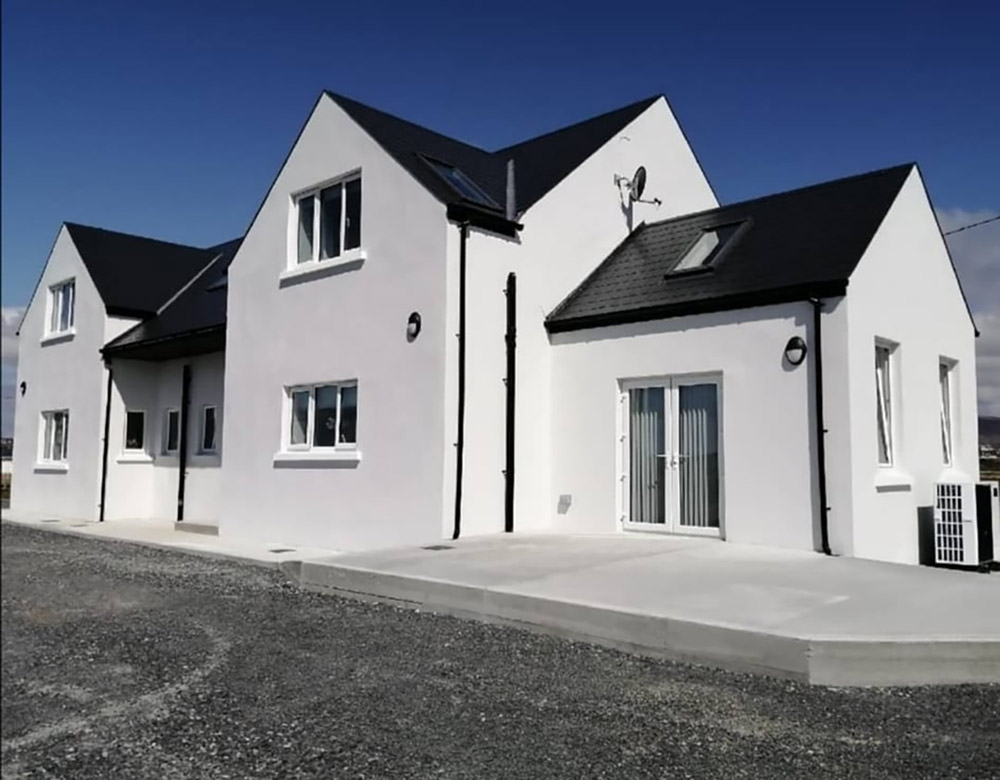 How did the project get started to build your home in Donegal?
It's always the dream to build your own house, and we were just blessed that we got to do this twice. I thoroughly enjoyed both projects, and I suppose it's from my dad that I have this love for building – he used to work in the building trade.
Our first self-build journey started when my father-in-law gifted us a site. We lived in a mobile home for four years and saved as much as we could. We broke ground in August 2011 and at the time we had never any intention of building again. This was going to be our forever home and we worked extremely hard to complete the build in just a little over two years.
We had family and friends all roped in to help at different stages and we even went on a tiling course and tiled the house ourselves.
It was in 2018 that we bit the bullet and decided to build again. The reason was the site – our dream location by the beach, a site that we had talked about a million times. It had an old dwelling on it which was my mother-in-law's old family home.
When we were living in the mobile home, it was beside this site and we had endless conversations about it. My husband's uncle owned the plot and he was delighted to see it being given a new lease of life, with the added bonus of it remaining in the family.
The location is amazing and the views are just spectacular. To us it was the perfect plot.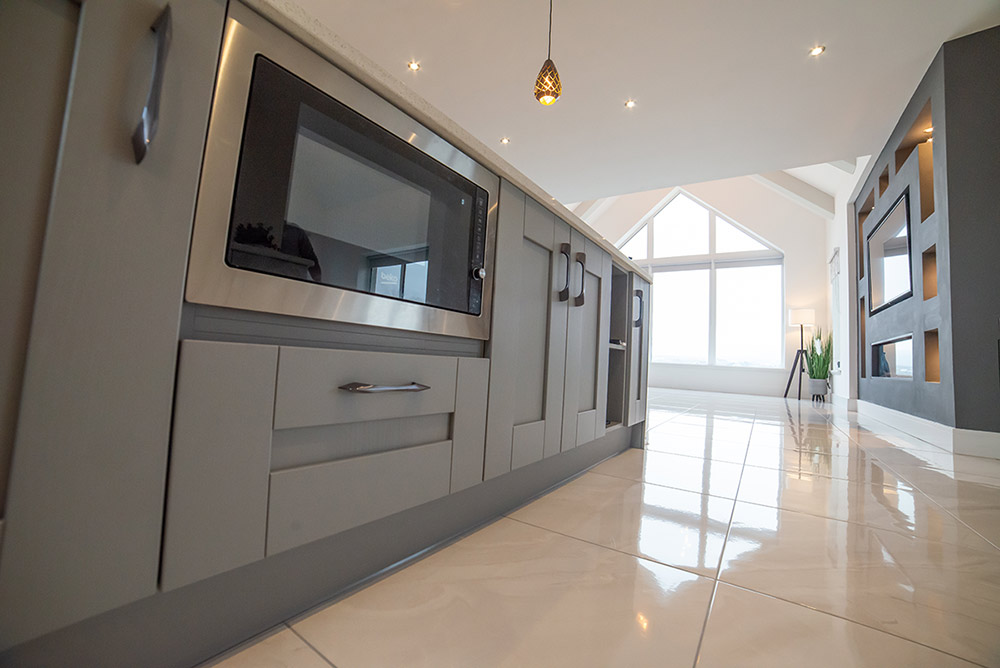 How did the design evolve?
We wanted a large apex window to maximise the stunning sea views and mountain views to the front of the house. We also overlook a golf course at the back, so it was important to put a focus there too.
We made sure to consider if our build would be compatible with the surrounding landscape and existing buildings prior to planning. We looked at services such as water, electricity and telephone. We discussed landscaping ideas, including keeping the character of the plot alive with the old stone walls.
The design process was a lot smoother than I thought it would be. We had images of what we liked, what we wanted and took it from there. A friend who works in architecture helped us with our drawings and planning application process. We discussed our first self-build and what we would change. We told him what we definitely wanted and gave him some pictures.
He went off and worked his magic. From there we probably altered the drawings five times until we were completely satisfied with our plan.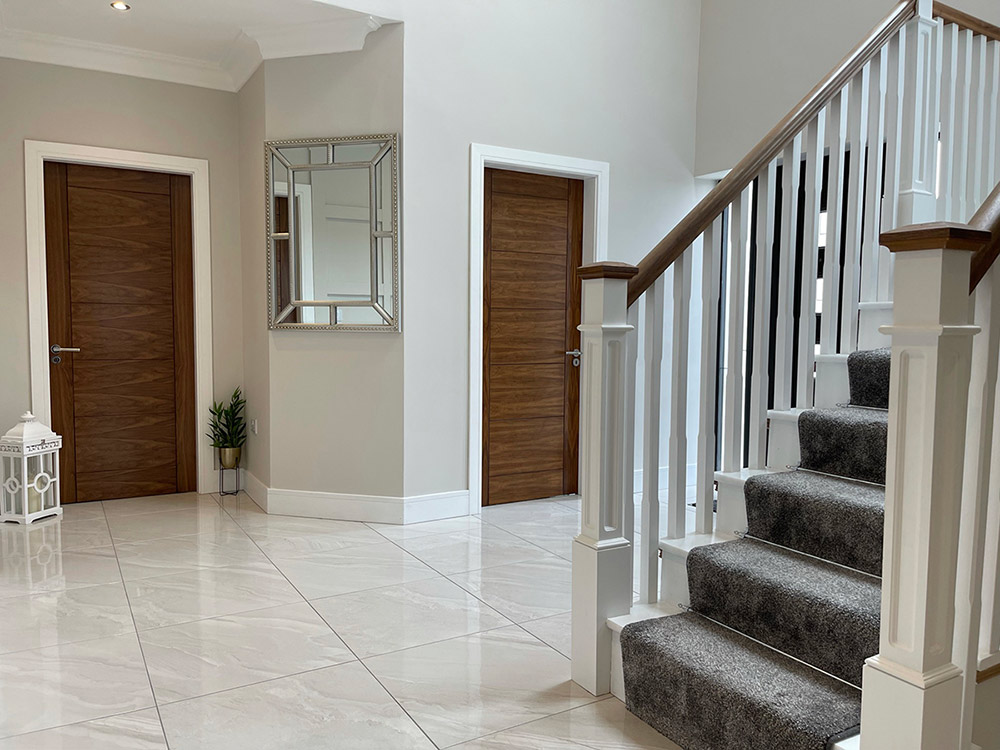 We would sit at night with colouring pencils and markers, crossing out walls, changing layouts and also comparing room dimensions on the plan, to the rooms in the house that we were in. The whole process from the start of discussions to submitting our application was three months.
Our main focus for interior design was our apex window, with a vaulted ceiling to add to the wow factor. Our layout was well thought out and organised, to make best use of every space. It was important to us that our home was to be practical and functional, while remaining modern and bright.
We are currently still working on our interiors with some rooms not completed – we are really looking forward to adding more furniture, textures and fabrics to continue the flow of our personality throughout the house.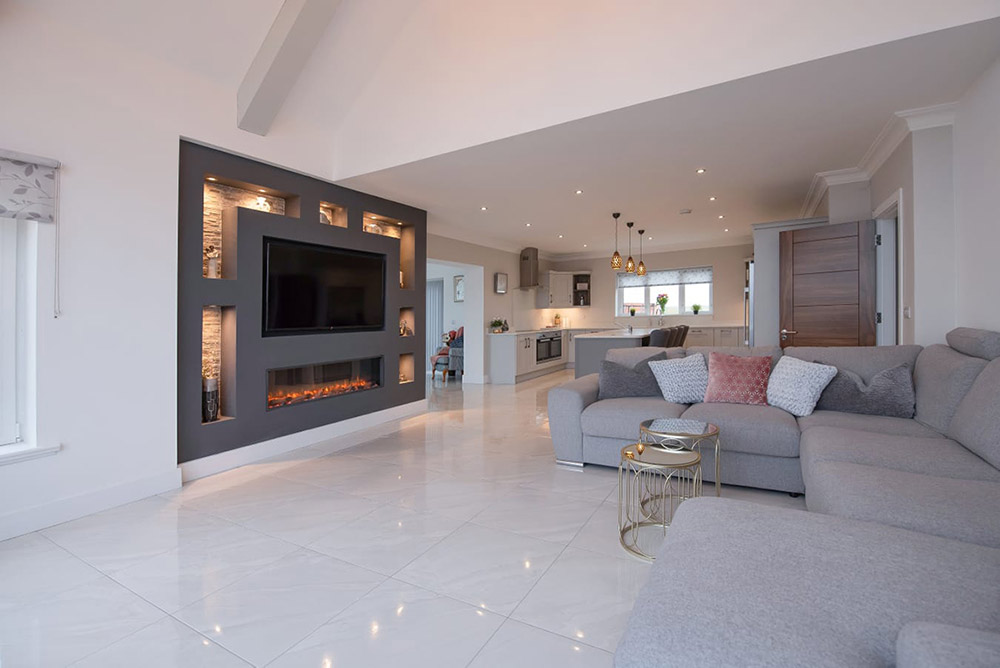 What was the planning process like?
Because the plot is in a Special Area of Conservation (SAC) we had to submit an Environmental Impact Statement (EIS) as part of our planning application.
We submitted our planning and further information was requested, so we resubmitted with the EIS, a traffic study and also we made some minor alterations to improve the balance and appearance of our house. Overall planning took 11 months.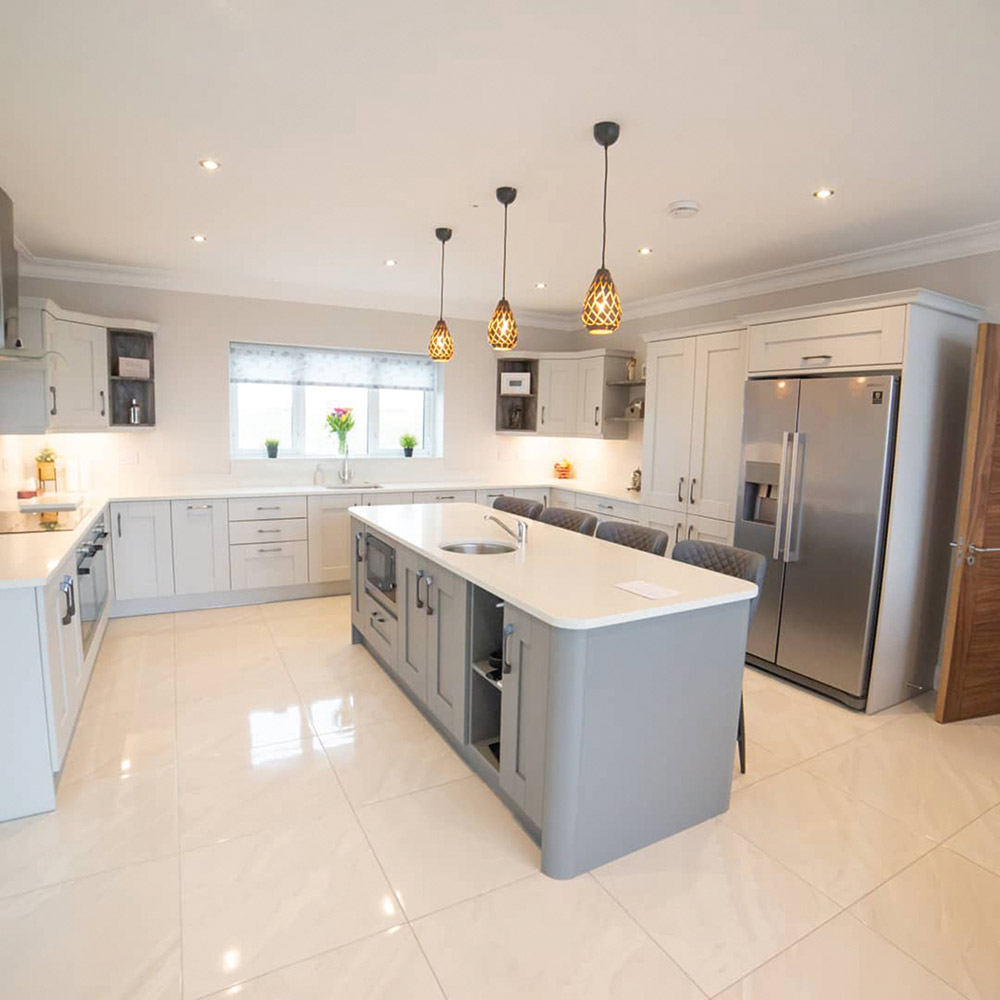 How did you tackle the building phase?
I project managed both self-builds and absolutely loved it. With the first one, I kept a record book of all my contacts, quotes, suppliers, prices, monies spent, jobs that had to be done and when. This was like my building bible for the second build.
Project managing, along with being a mum, wife and working full time was hard work and stressful but so worth it. Having my record book and building up a great relationship with some fantastic tradesmen from our first build made the second build so much easier to manage.
It was interesting to compare prices from 2011 and 2020, although with prices increasing it wasn't in our favour. Looking at costings now and the shortage of materials, we are very fortunate to have completed when we did. I was fully confident in managing the build, organising trades, pricing and ordering materials, negotiating quotes, checking in on site every day with trades and making some on the spot decisions.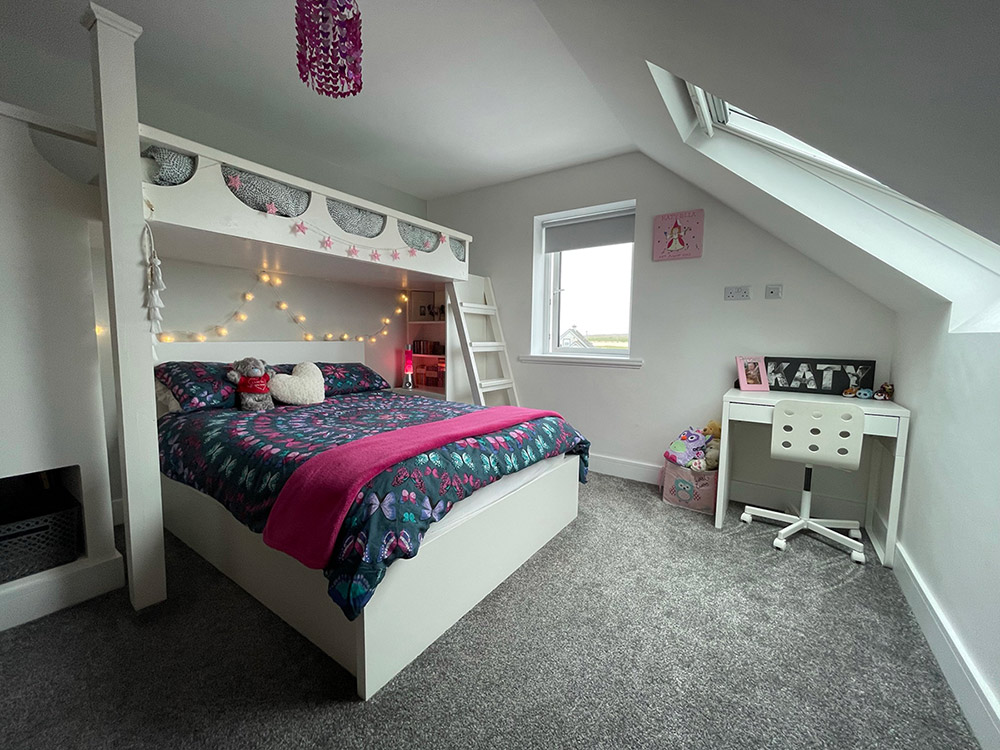 I made sure to liaise daily with my tradesmen and to keep everyone in the loop of what was happening. I made sure to always keep ahead of what was happening on site, which gave us time to make clear and concise decisions about important things, that we were not rushed into something. We would call to the site every day to check progress, chat with the trades, see if they needed any materials and to see if there were any issues cropping up.
How did you keep on top of the budget?
We were lucky that we sold our house in time to pay for our self-build, so we went into this second build mortgage free.
Keeping a log of monies spent for both builds helped me keep track of our finances. Building our first self-build with no mortgage set us up financially for our second build. We had the funds from the sale of our house then for our second build. We came in €10,000 over our original budget but this was by choice.
We made some decisions during the build and decided to spend the extra monies on things like triple glazing and quartz countertops.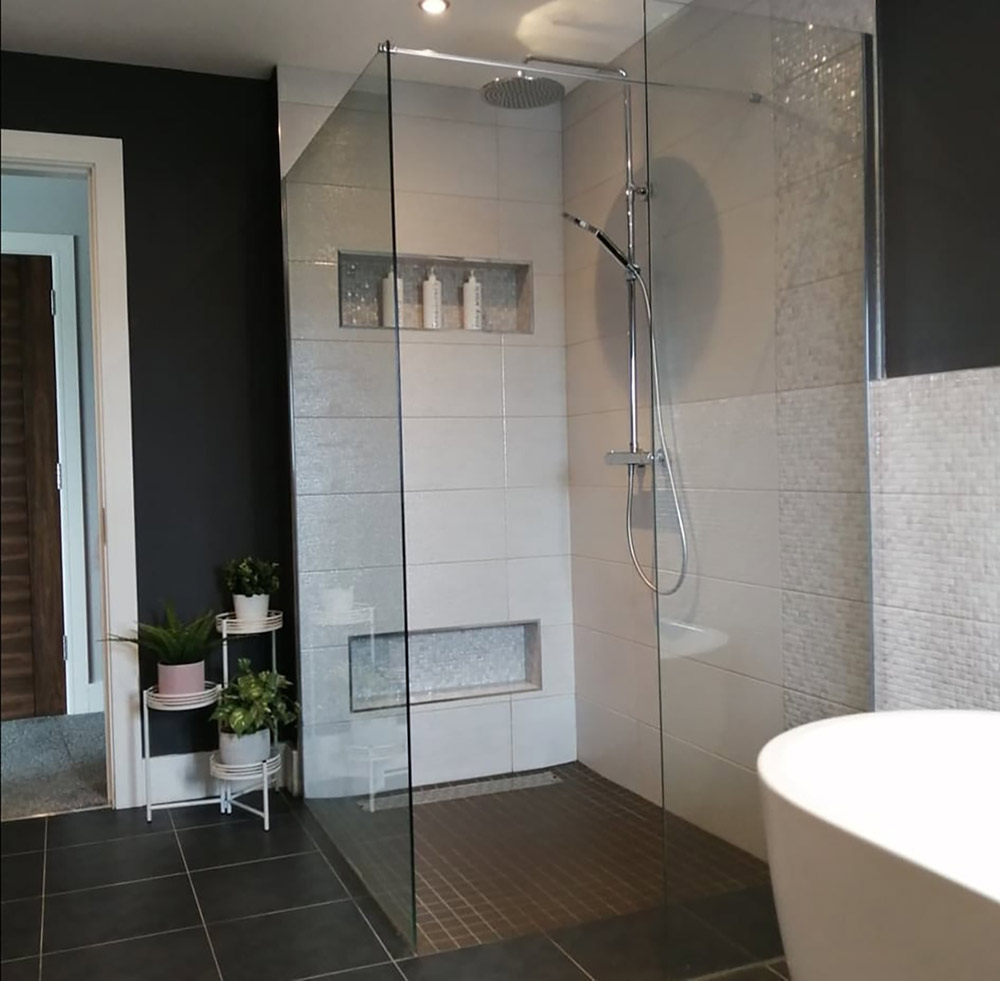 The one area that we never compromised on was insulation. It was important to us with the two self-builds that we had well insulated houses. We made sure to do our research, ask all the questions that we needed to, listening to the professionals.
As for materials, I would ask the trades to make out a list of what they required. From there I would contact a number of suppliers and get quotes, negotiate prices and order.
Timeline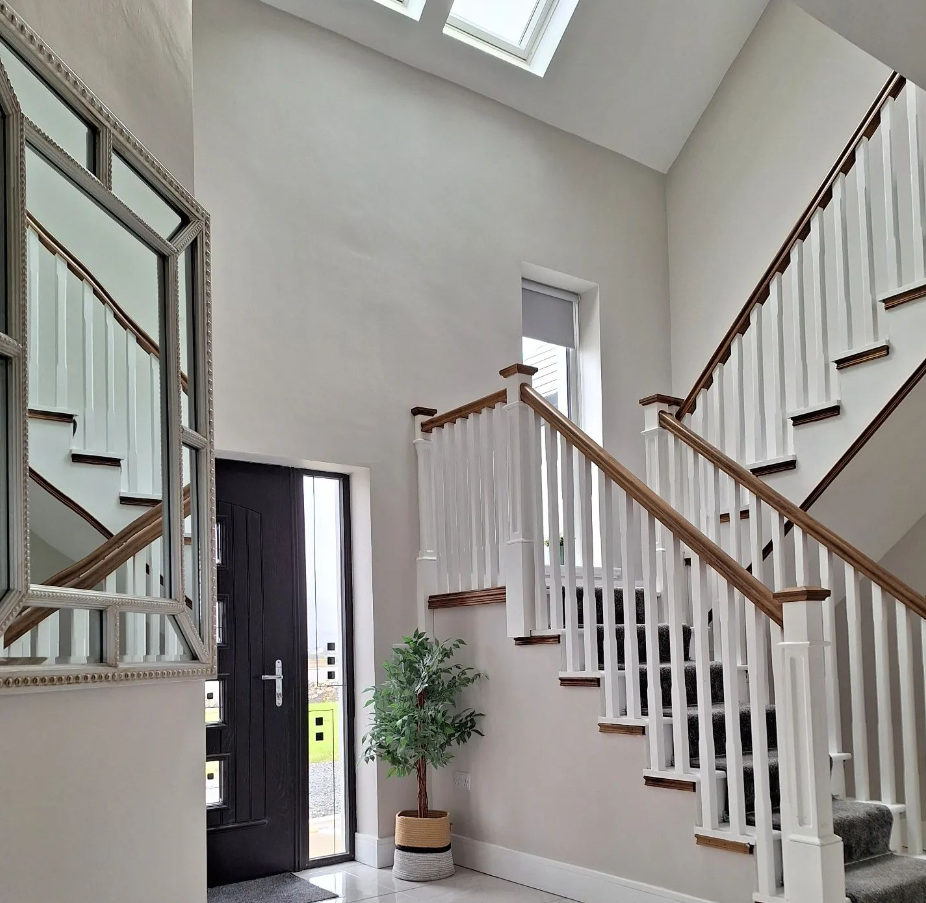 Jul-Sep 2018
designing and planning
Oct 2018
applied for planning permission
Nov 2018
planners request additional information
Jul 2019
resubmitted planning with EIS
Sep 2019
notification of approval received
Oct 2019
first self-build sold
Nov 2019
moved into a rental house next to the site
Dec 2019
demolished the old dwelling on site
Jan 2020
builders start, steel for apex window put in
Feb 2020
upper storey concrete slabs installed, start of kitchen design
Mar 2020:
concrete stairs installed, start on roof, site shut down due to Covid
Jun 2020
scud coat of external plaster, window insulation, electrics chased before windows and doors went in, cavities pumped, suspended ceilings, insulation and insulated plasterboard fitted
Jul 2020
airtightness tape around all windows and doors, first fix electrics, TV feature wall frame, start of plastering inside, purchase of sanitary ware and tiles
Aug 2020
plastering inside finished, floor insultation, plumbing first fix
Sep 2020
underfloor heating pipes, coving
Oct 2020
interior walls and ceilings spray painted, tiling start, second fix, heat pump connected, polished water filter system installed, doors, skirting and architraves
Nov 2020
stairs, kitchen, utility and bootroom
23rd Nov 2020
move in day
How did the build progress?
Within the 11 months it took to build the house, we lost four weeks to bad weather, February was an exceptionally wet and windy month. There seemed to be one storm after another and we had no builders on site. Then the weather picked up and worked recommenced. We were not long started on the roof when the first lockdown began. We had to close the gate to our site for 10 weeks.
Excluding delays, our building project took nine months, which we are still surprised by. I had originally predicted 12 to 18 months.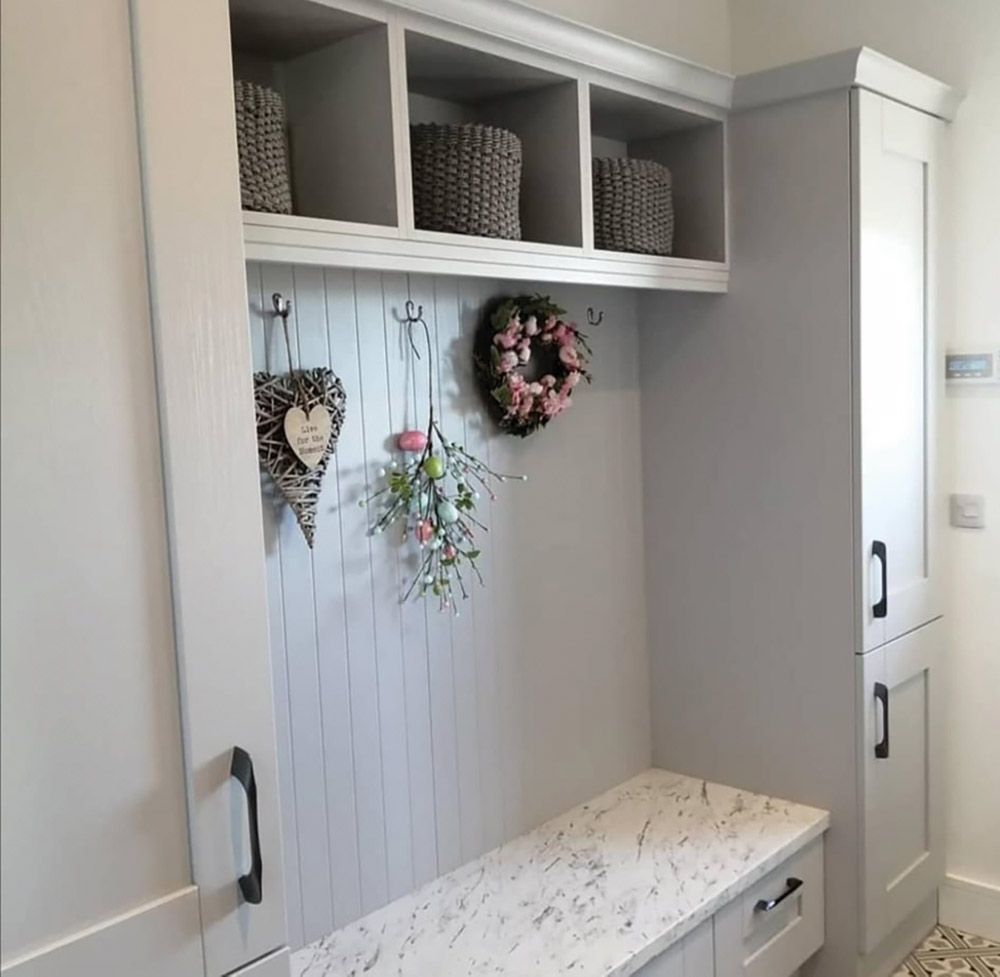 Looking back I feel the first lockdown was of benefit, as it gave us the time to design our kitchen, organise windows and doors and make some decisions internally. I also got quotes off tradesmen for jobs further down the line. I designed a feature wall for our open plan living room and I had time to spend on this. We also had time to think about the different room layouts.
Once we came out of lockdown we were ready to commence and I could concentrate on tiles, sanitaryware and the stairs.
How did you tackle landscaping to make the most of the views?
Being so close to the sea and with the spectacular views to the front of the house we were certain that we did not want to take away from this. We have levelled our soil and set the grass seed. In time and when the funds are there, we have discussed planting low hedging along the bottom stone wall to add a little privacy. We have old stone walls as our boundary wall and intend on keeping them.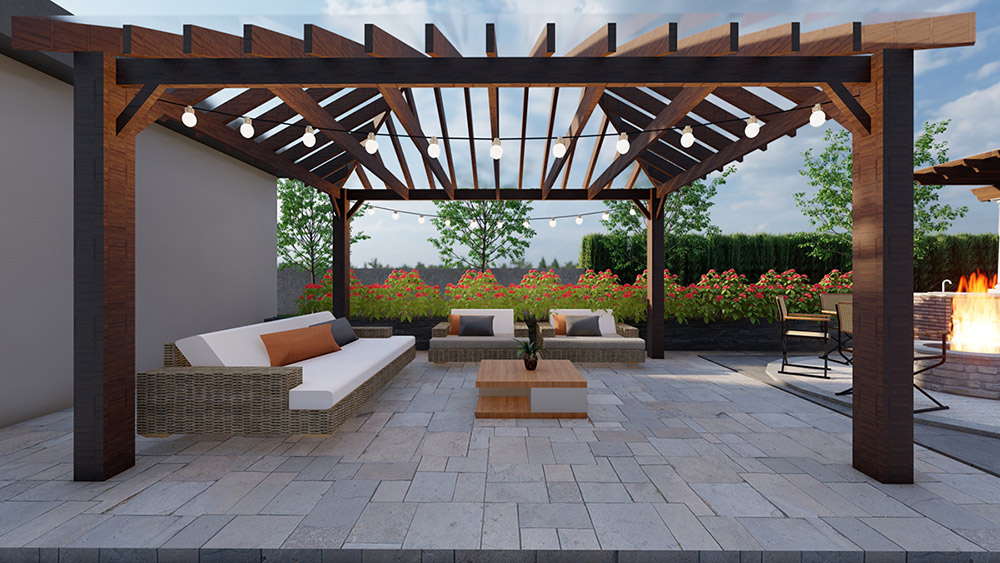 We are hoping to do the majority of the landscaping ourselves but this will be a work in progress over the next few years, as we have so many ideas from a pergola and fire pit area, to patios, polytunnels and a play area for the children. We have 3D garden landscaping plans (on this page) and will use these as a guide over the next few years, to keep us on track. We want to make sure the hedging, trees, structures and accessories all relate to our house and create a well-integrated view.
Living in a coastal area it is important that we research correctly what fencing, plants and trees will survive.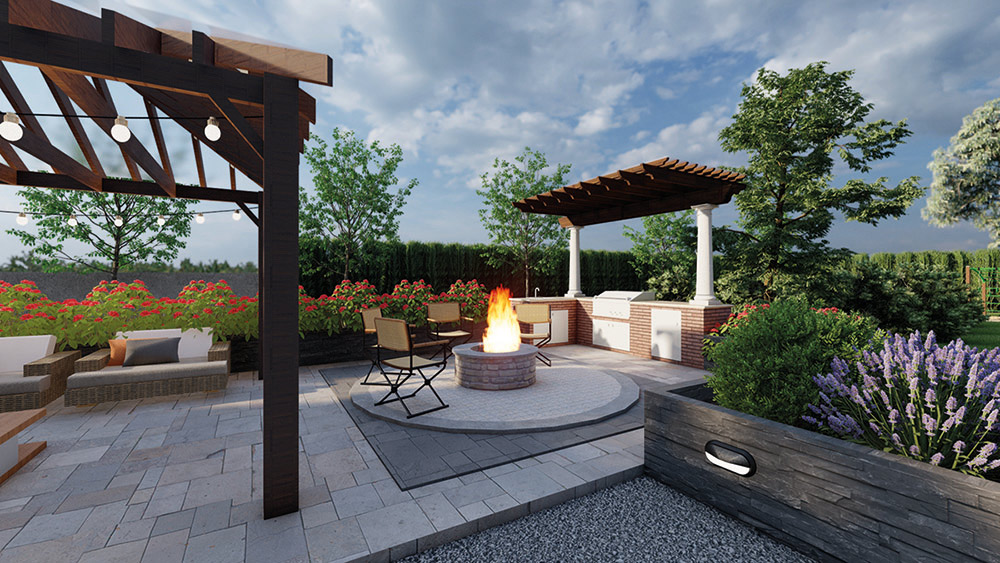 Follow Emily's journey on Instagram
Emily's Tips building her forever home in Donegal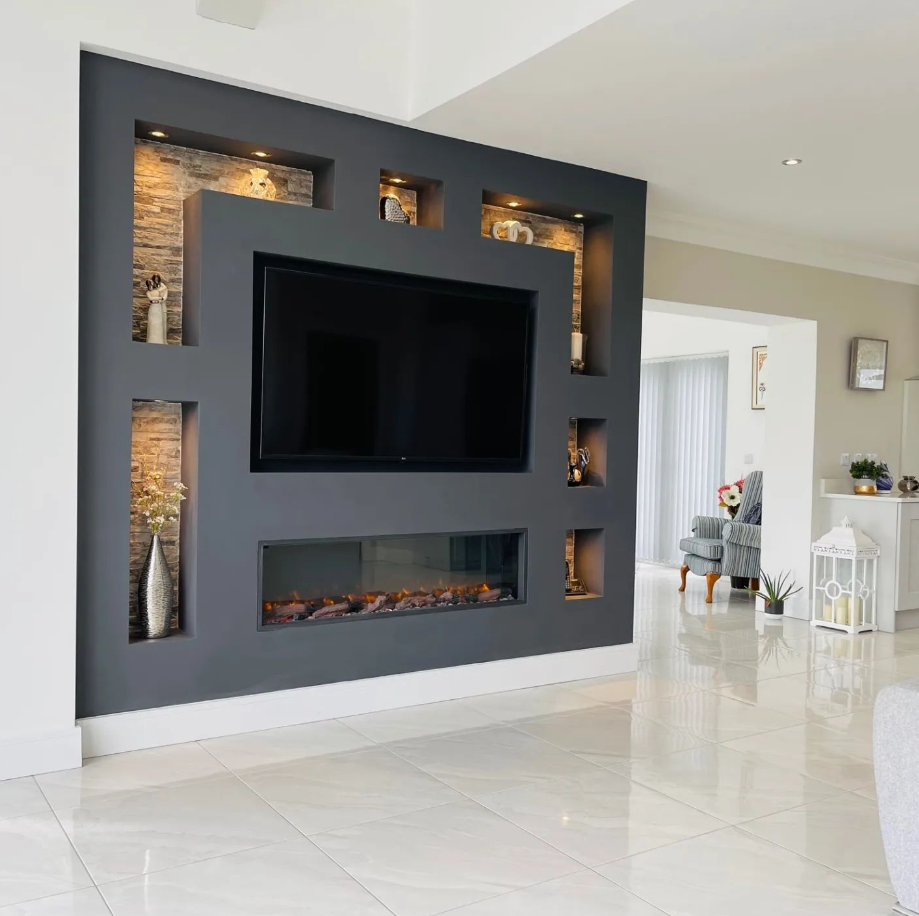 Start a record book and work with trusted and recommended trades people. Word of mouth is key but don't be afraid to go look at previous jobs.
Think about your interiors early on and your layout.
Research your heating system and trust the professionals.
Get three or four quotes for everything.
Stick to your plan and don't be lead astray by beautiful pictures online.
Try do some of the work yourself and be creative with inexpensive materials. We did all of the airtightness around the windows, insulation, painting and lots more to keep costs down.
Have clear deadlines for when you want jobs completed and liaise with your trades daily and be visible on site regularly. Work out an approximate monthly timeline and make sure you allow enough time to order things e.g. windows and doors, concrete stairs, kitchen.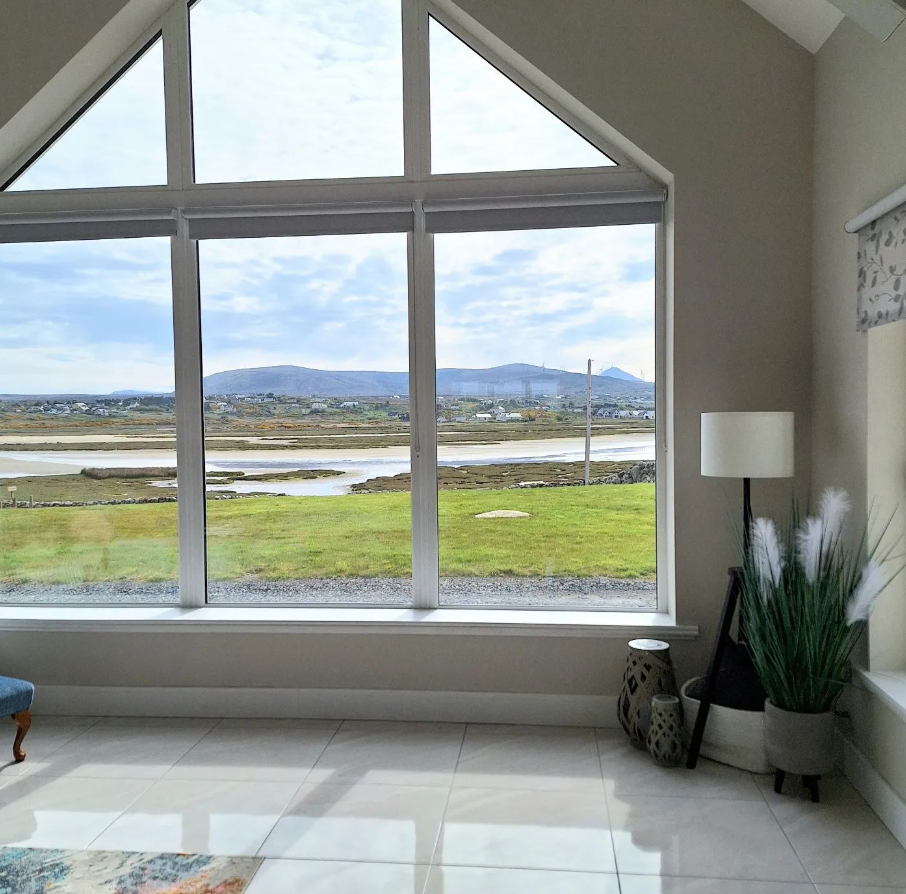 Suppliers
Insulation
North West Insulation, tel. 074 9161000, mobile 087 760 8600, northwestinsulations.com
Building supplies
Murdock Builder's Merchants, Derry BT48 8SE, tel. 7135 4888, murdockbuildersmerchants.com
Heating and plumbing
Gallagher Heating Systems, Brian Gallagher, em briangmsltd@gmail.com, mobile 0872933212
Electrical supplies
Callaghan's Electrical Shop Letterkenny, em callaghanselectrical@gmail.com, tel. 0749156159
Sanitaryware
McDaids Bathroom Plumbing and Tiles, Cockhill Road Buncrana, Donegal, tel. 074 936 3050
Furniture
Castle Davitt Furniture, Sligo, tel. 0949023185, castledavitt.ie

NI calling ROI prefix with 00353 and drop the first 0, ROI calling NI prefix with 048