When Sandra and David Fulton decided it was time to downsize, they built their new home near the farmhouse they raised their children in and turned their self-build project into their retirement plan.
In this article we cover:
How novice self-builders tackled a low energy build
Lengthy planning permission process
Going to tender and choosing a builder
Focus on airtightness and insulation with results in energy bills
Kitchen design and fit: top tips
Internal finishes and how to keep on top of the budget
Suppliers, floor plans and specification
Professional photography
"We have a farm, and three sons we raised here in our family home," says Sandra. "None of them work in farming but our youngest is based nearby and he liked the idea of living at home. So we suggested he take up the house, and for us to build our home on another part of the land. We were glad to have him and his wife beside us."
"This allowed us to design something tailormade to our older years, and give our son a house to start his new family in. Thankfully we were in no hurry to get the build underway, which removed time as a potential source of stress."
"We started off by employing our architectural designer Kerry Anne as she's familiar with low energy designs and was recommended by a friend.  We got along with her straight away and were entirely guided by her expertise throughout the process. We don't have any experience or building knowledge, so we took her on as project manager during the build." 
"We had plenty of time to think about what worked for us in the old house. For instance, we knew we wanted a downstairs bedroom and TV room and an open plan area. But everything went through Kerry Anne's design; she guided our decisions and gave us options to choose from. She listened to what we wanted and put all of it in the design; it was a very positive experience."
"We had to get this right as we don't intend to ever move. Her courtyard design worked especially well for us, with its fabulous views of the lough on all sides."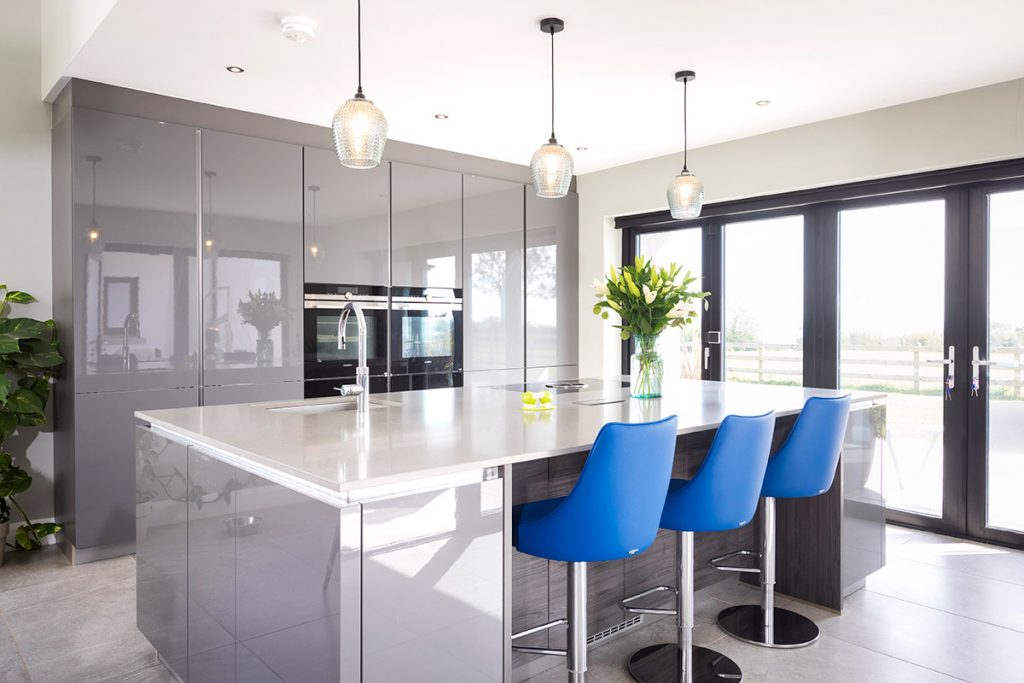 "Kerry Anne even designed the stairs for us which she included in the plans. They're very simple, clear glass with open banister. In our other house, we had put in mahogany stairs. This time around we were happy to go with a more modern design. It signalled a departure from the old house, and we quite like the contemporary look."
"Kerry Anne's guidance was essential too because we wanted a low energy house but didn't know how to go about it exactly. Also any technical issues on site were dealt by her, including dealing with building control, which took the pressure off us."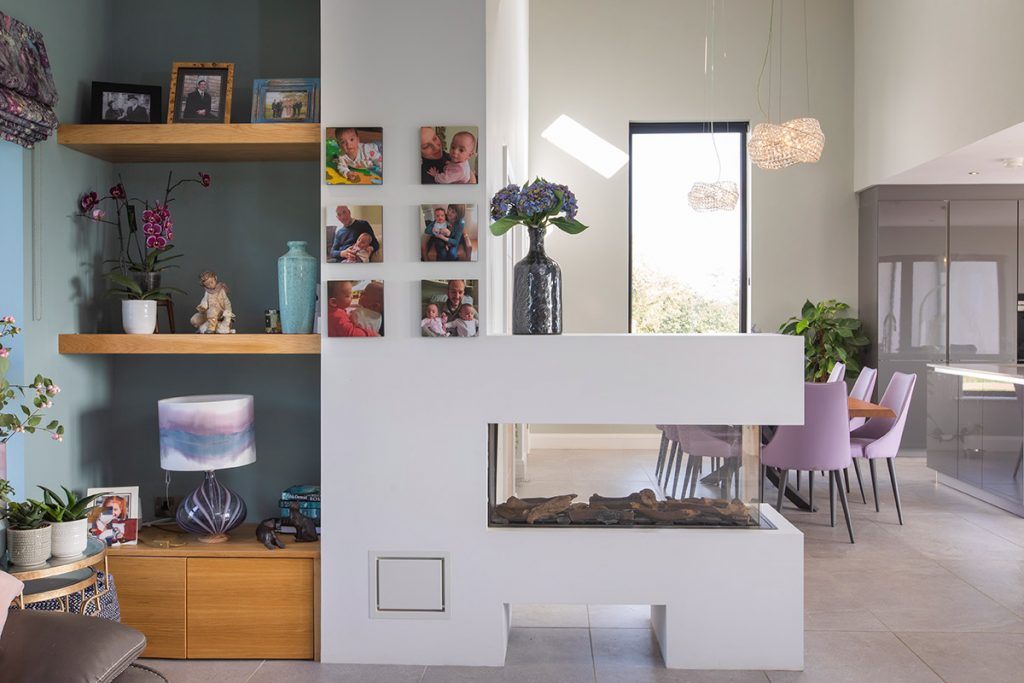 Lifestyle
"This project was about building something that would suit our lifestyle," adds Sandra. "We have everything we need on the ground floor. In fact some weeks we're not upstairs at all. In our previous home, the bedrooms were all upstairs; with this home we thought ahead."
"In the open plan area, the three sided gas fire is what divides the living room from the dining room/kitchen, and Kerry Anne drew up a model of it on our plans. We didn't want to compromise on the quality so invested quite a lot in the stove."
"David thinks the room is too warm if we light the fire so we only do it for effect. David is outdoors all day so maybe that's why he feels it's so hot it makes you drowsy! We both love the way natural light pours into the space."
"Once we had the design details finalised, we had to go through a lengthy planning process. Some of the issues had to do with designing the wastewater treatment system. We had to get a percolation test done and it turned out we needed an electric pump, so that was a bit more involved than just a septic tank. The first plans that we submitted were amended but we eventually got there."
"We then went to tender to three builders, and Kerry Anne's architectural practice had worked with all of them. They were all energy efficient builders. We got the prices back and there was quite a bit of difference between them."
"We chose the one with a price we were happy with and the one we felt we could work well with. We signed a contract and had the architect oversee the project as if she were doing her own house. In addition to building control, she also took care of signing off on the build for the stage payments with the bank."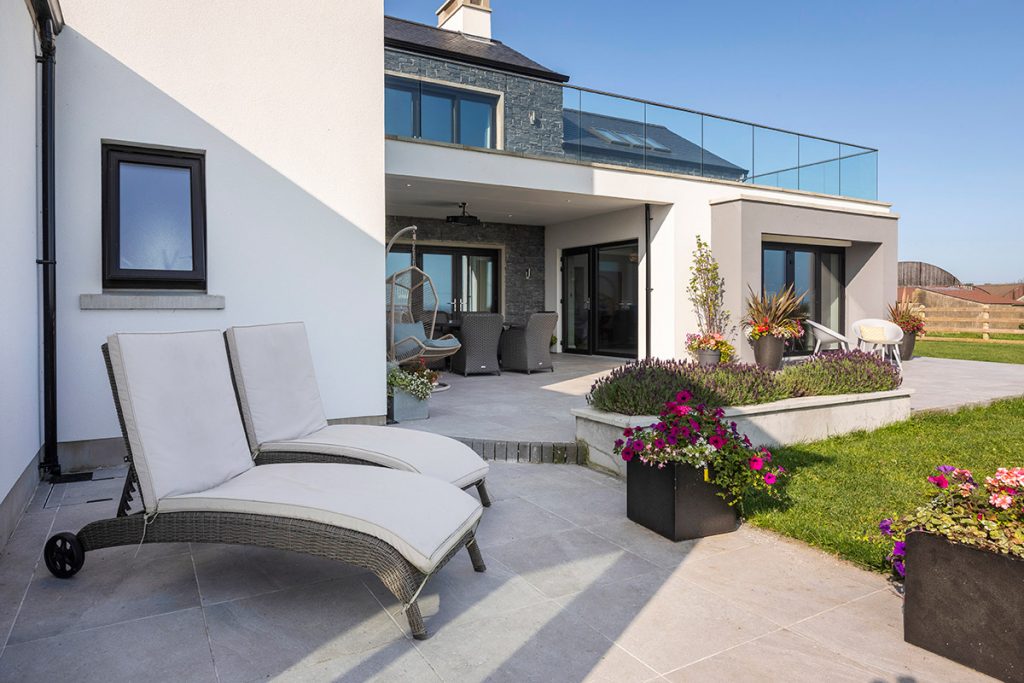 Logistics
"When the build started, a lot of other things were going on in our lives," says Sandra. "My mum was terminal, one of our sons had premature twins in England, and our youngest got married. So the build wasn't as high a priority as it could have been. Because we weren't available all the time, Kerry Anne's support proved invaluable."
"Our builder was also very helpful sourcing the big items for us, such as the windows. He recommended a few suppliers and even though we had a huge choice, it wasn't a difficult one."
"We have two sets of bifold doors, but in truth there's one set that we use a lot more than the other. Still, it's nice to have both so we can open up the entire space. They click back very easily."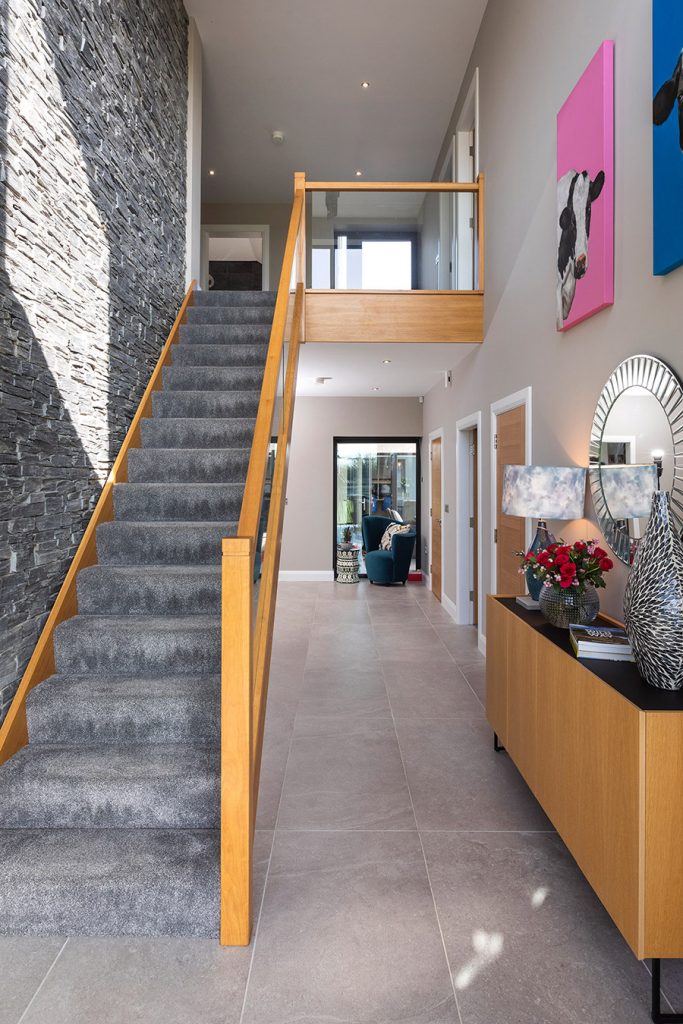 "We achieved an excellent level of airtightness. In fact our builder said it was the best result he'd gotten to date so we were all pleased as we knew that would be the key to excluding draughts and therefore reducing energy bills."
"We've spent two summers in the house and it's been very warm, David might say too warm, and our energy bills are around £800 to £1,000 a year," says Sandra. "We have underfloor heating upstairs and down, with each room controlled by a thermostat. An air source heat pump made the most sense for the type of airtight home we were building."
"I think you can get confused looking around at all of the options," she adds. "We stuck to the plan and that made our lives much easier. We had no intention to change any of the design, not that there was a lot of room to do so. We went with the way it was laid out."
"For instance the bathrooms are functional and modern, and we designed these from the start so when we went to buy our fittings it was clear where everything would go. The showers are really good; we have better water pressure here and we also got large shower heads."
"The kitchen was outside of the contract, but Kerry Anne had drawn out the space with where the island was to go. Considering the space that was there we didn't have much room to change the set up."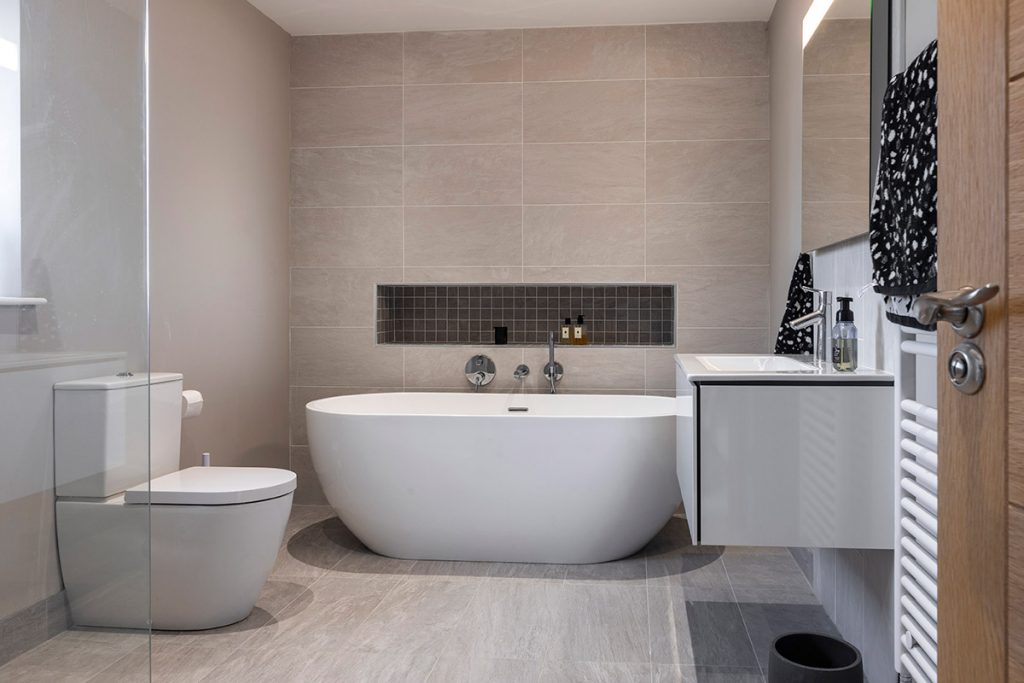 "We tried two kitchen suppliers, the one we chose did up a 3D design for us. That really helped us make decisions based on what it would look like. The electrics had all been wired up for the pop up sockets in the island . We also had to think ahead for the hot water tap and induction hob with integrated extractor fan. The steam oven and fan oven locations had been pre determined too. We also have two plate warming drawers."
"The kitchen was our biggest splurge and well worth it. It isn't huge but we have a fabulous pantry area, as an annexe. I love how the kitchen is finished; in our previous home we had a painted kitchen and this time we got a gloss finish – it shows prints but it's only the two of us so easy to maintain."
"…Some of the experience was definitely enjoyable but it was bittersweet, simply because it was such a difficult year."

Sandra Fulton
Finishing touches
"After that I chose the rest of the finishes myself, finding inspiration in magazines and looking around houses and places we would visit. We went for a finish we felt would be timeless – we don't want it to date in 10 years, mostly because we don't want to have to spend time redecorating."
"It's now all done, and done for a long time! We get a lot of compliments about the finishes and the colours. We did spend quite a bit on the tables and chairs, and the furniture."
"Kerry Anne had suggestions about lighting, and we had an interior designer help with colours. She got the soft furnishings made, as well as the blinds, so that absolutely everything would be done for move-in day. The only areas we left with some work to do are upstairs, as we don't have a need to go up there."
"If the rooms were all done up, we would go and enjoy the views from up there, especially from the balcony, and I'm hoping to get to it next spring. We do have the floors carpeted up there, the bathroom is finished and we've floored the sitting room with engineered wood."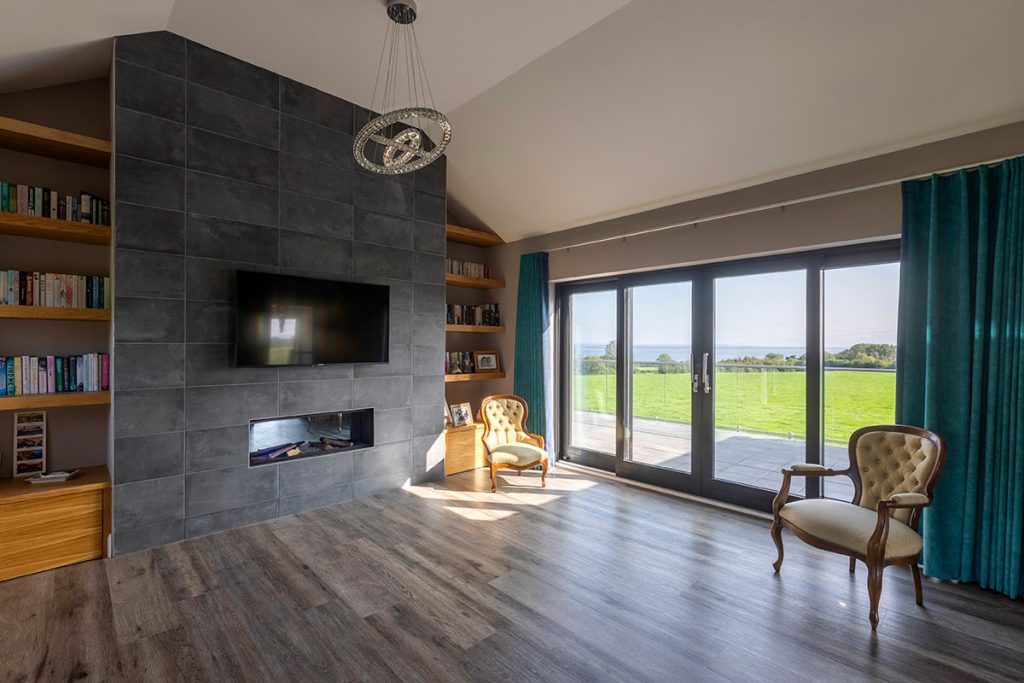 "Downstairs we have carpets in the bedroom and the TV room. The rest is tiled, mostly because it's a big area and we have dogs. I do like having the separate TV room, it's nice to close the door on an enclosed space."
"As for the landscaping our builder paved the outside area; we extended it a bit when he was building it. All of the elements were very detailed from the word go, and that was probably the only design change we made."
"Some of the experience was definitely enjoyable but it was bittersweet, simply because it was such a difficult year. Still, we couldn't have asked for a better result."
---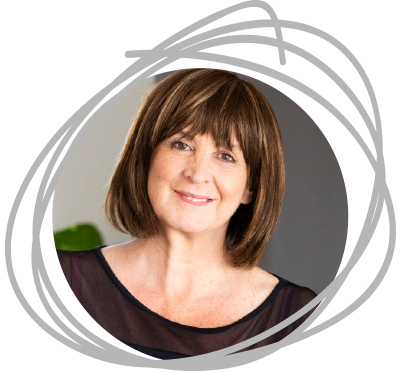 What would you change?
There's nothing I would do differently, we don't have big energy bills. Everything came in at the tender price. We only added £1,500 in extras to get higher spec finishes on certain things, but that was it.
What is your favourite design feature?
The area we sit in, the three sided gas fire, the bifold doors, the outside space with electric heater. It feels like we have the one continuous space between the kitchen floor and the outside tile. It looks like a level floor which really brings the outside in.
Would you do it again?
As second time self-builders, I have to say no. It was a lot of work, and this really is our forever home.
---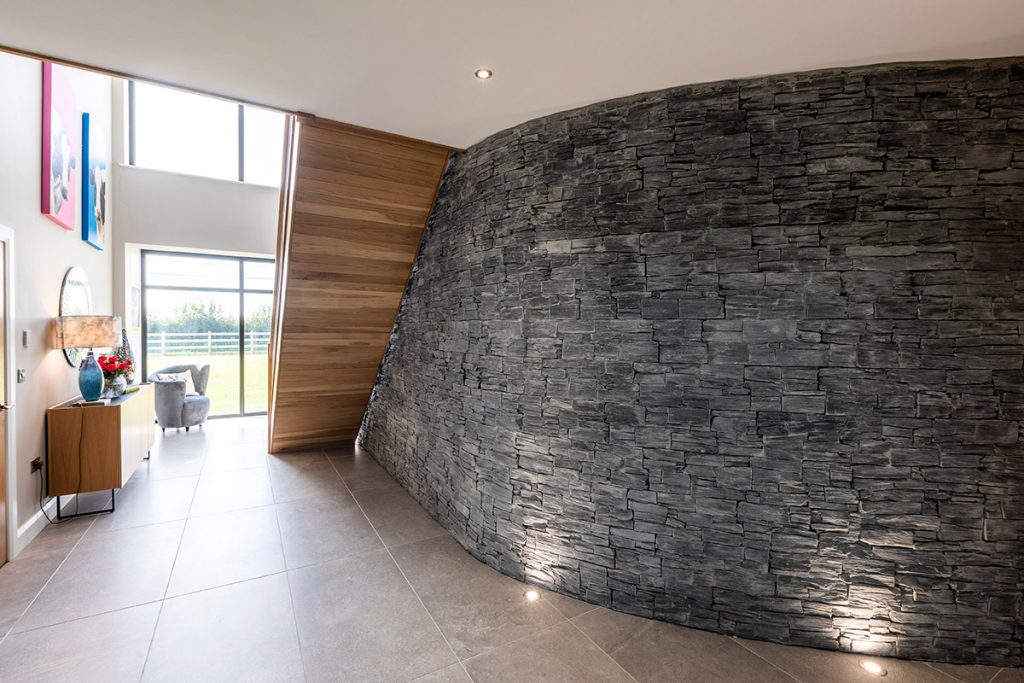 Spec
Walls: 200mm block cavity wall, fully filled with 200mm EPS graphite coated beads, U-value 0.16W/sqmK
Floor: 75mm Screed with underfloor heating with 150mm PIR Insulation on concrete slab, U-value 0.11W/sqmK
Pitched roofs: front block of the house is of cold roof construction, 525mm fibreglass insulation above ceiling level, U-Value: 0.08W/sqmK; pitched roof over the evening lounge is of warm roof construction, 150mm high density fibreglass insulation between rafters, 50mm PIR insulation below, U-value 0.15W/sqmK
Flat roof: 150mm PIR Insulation with PVC roofing above, U-value 0.14 W/sqmK
Windows: uPVC triple glazed,
U-value 0.7W/sqmK
Airtightness test result: 0.49 ACH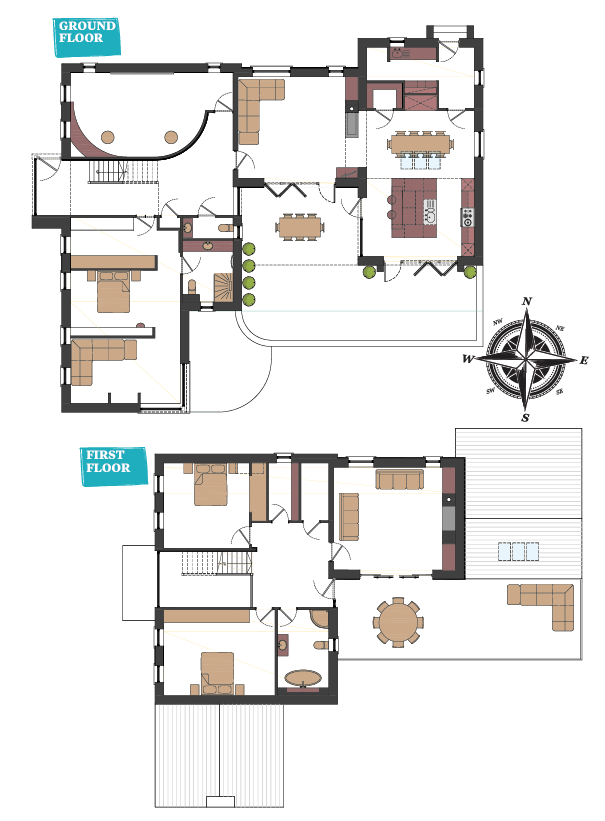 Suppliers
Architect
Kerry-Anne Donnell at FMK Architecture, fmk-ni.co.uk
Builder
Moyle Construction, moyleconstruction.co.uk
Insulation (walls)
Springvale Platinum EcoBead, kingspaninsulation.com
Bathroom
Ballycastle Homecare, ballycastlehomecare.co.uk
Kitchen
Parkes Interiors, parkesinteriors.co.uk
Windows
Baskil, baskilwindowsystems.co.uk
Hard landscaping
Tobermore, tobermore.co.uk
Tiles
Hutchinson Tiles, hutchinsontiles.co.uk
Carpets
Harvey Norman, harvey-norman.co.uk
Heating system
Hitachi Yutaki-S60 14kW air source heat pump
Ventilation system
Vent Axia Sentinel Kinetic, 90 per cent efficient
Stone cladding
Z-Stone by Lagan Building Solutions, lbsproducts.com
Photography
Paul Lindsay, paullindsayphoto.co.uk