When Breda and Simon Cassidy decided to extend their Co Kildare home, they had a fair idea of what they wanted – a large bright space where the whole family could spend time together.
In this article we cover:
How to angle the extension to make the most of the light
Speed dating architects and what the main turnoffs were
Adjusting the design to the actual build cost
Installing convection radiators
Details for glazed doors and windows
Interior design and lighting choices
Full details on insulation, including old part of the house
Natural ventilation
Pros and cons of living on site during the build
The case in favour of extending instead of moving
Supplier list, specification and professional photographs
Original house size: 1,700 sqft 
Extension size: 28sqm at rear of house 
Total cost: Approx. €60,000
"We really needed an open plan kitchen, dining and living. Before the extension, we would have spent our evenings in separate rooms and now, we're together in this beautiful, light-filled space," says Breda.
Breda and Simon's four bedroom detached house is located in a housing estate in Co Kildare. They have two small children aged two and four years of age; the youngest was only one when construction began.
Once the idea of a new extension to the rear of the house took root, the next step in the process was to start thinking about what it would actually consist of.
"We ended up going to an exhibition and looked through magazines to get a more defined idea," says Breda. The physical location of the house also played a role in the design. "The back is south west facing so it gets lots of sunshine in the evening, which we wanted to maximise," adds Simon.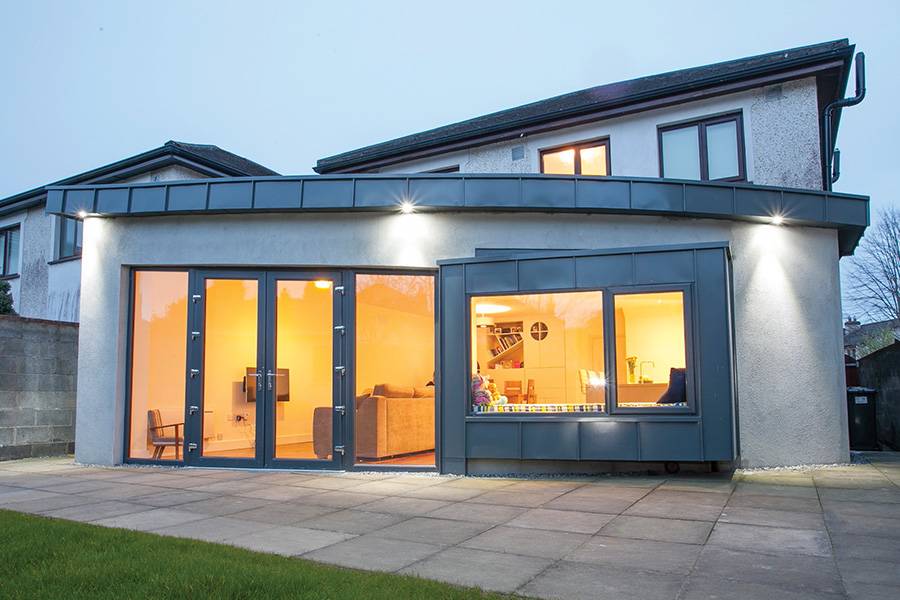 Open plan kitchen extension
The couple were keen to get a professional opinion on what would work – and what wouldn't. Initially, the job of choosing an architect fell to Breda. "I was still on maternity leave when we were thinking about this," she says.
"As Simon would say, I was speed-dating them. With some of the architects, I found they were reluctant to put forward any initial ideas at all, but when we talked to the one we ultimately chose, he took the time to really listen to what we wanted and he understood why we were doing it."
"Straight away he did a pencil drawing and said he'd come back with a few different ideas." Which he did; they were given three options that made the most of the available space and catered for their young family life.
The search for an architect was made that bit more difficult by some designers requiring a retainer before a conversation about design services even began. "That was definitely a problem for us as we had no idea what they would come back with. We didn't want to spend a couple of thousand euro and end up with a design that just wasn't us," says Simon.
Some architects were keen to ensure the new extension was future proofed: "We were told we needed to include a downstairs toilet and a wet room with a walk-in shower for when we're old. But we're in our thirties."
"The key for us was that our architect gave us an idea of what he could produce upfront. We knew straightaway we were going to get something stylish and modern and that suited us. And we were confident we'd be happy working with him," says Simon. "Take your time choosing your architect and once you do, trust them," adds Breda.
"When you watch home improvement programmes on TV you always see the client arguing with the architect, only to be delighted with their house at the end. We decided to put our trust in him from the start; from the beginning I was adamant that whatever he suggested, we'd go with it."
"Even though at one stage we were really doubtful," admitted Simon. "He thought parts of the room should be bright yellow! We went for it despite our reservations and we now love it. It absolutely works."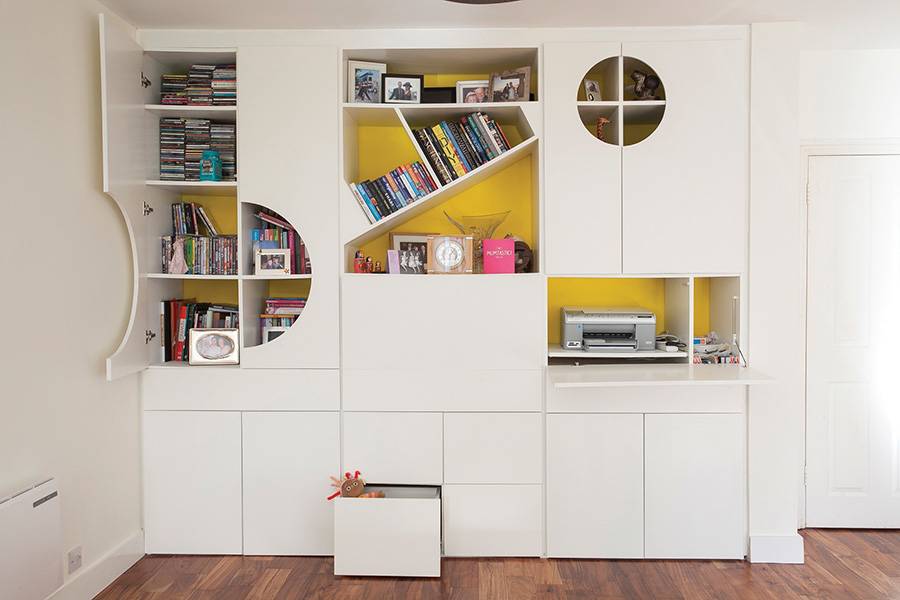 All systems go
The process was very quick because the new extension didn't require planning approval. So once the design was settled on, it was all systems go. "I had been given a couple of recommendations for builders by friends and as soon as we were happy with the design, we went and priced it and quickly chose a contractor," says Breda.
In order to facilitate a well-planned build process and ensure everyone was on the same page, Breda and Simon sat down with their architect and the appointed contractor to have a chat about the design and the cost, and how they might change a few things to make some savings.
The extension features a significant amount of glazing, with double doors on one side and two glass panels either side of that; essentially the entire back wall is glazed. A window seat, requested by Breda, adds a cosy element to the space. "In the evening you come into a lovely warm area, throw the doors open and let the kids run in and out. The garden is literally a few feet away," says Simon. Radiators running off the existing gas boiler heat the extension when the weather cools.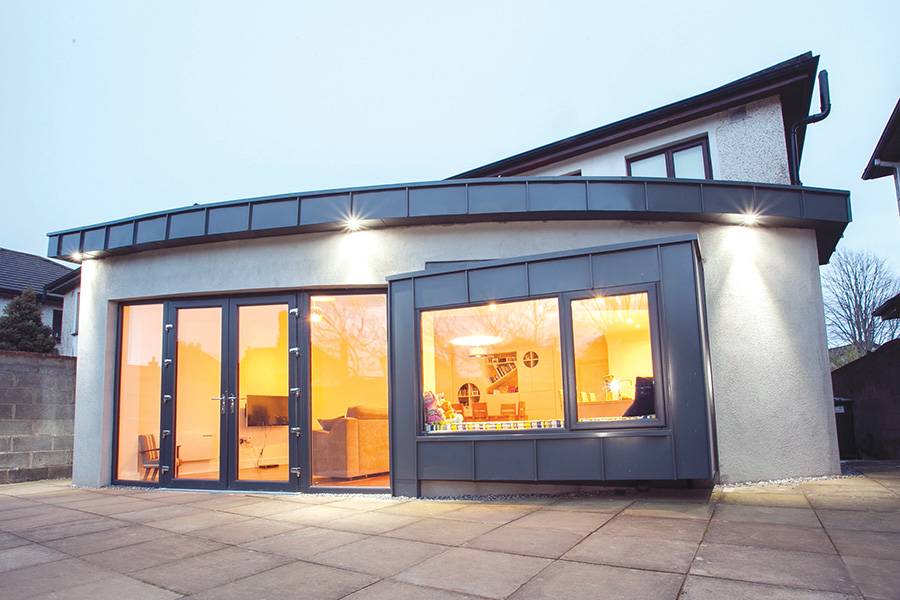 Traditional radiators were rejected for being too costly and obtrusive in the space. "Our plumber recommended a different type, which were perfect for the room," says Simon.
Designed to operate with low heating temperatures, they use a small amount of electricity to power a fan that blows air through a coil (a bit like a car radiator) to boost heat dissipation by convection. The water content is small and the radiator, with its advanced control system, is very reactive to indoor temperature changes. "They're made for heating big spaces but are only about four feet long (1.2m); we find they're really effective," adds Simon.
Due to the large amount of glazing and a desire to keep energy bills to a minimum, a high level of insulation was specified for the new extension which helps keep the heat in. Ventilation was dealt with by means of window vents and standard 110mm diameter venting through the external walls.
The existing walls were also insulated, in part to make sure there would be no visible difference between the old and new. As the masonry walls in the original house were 220mm thick as compared to 320mm in the extension, the builder battened and spray foamed the old inside walls to make up the difference to a depth of 100mm. The builder then added 62mm insulated plasterboard (12mm plasterboard over 50mm PIR board) as he did in the extension, allowing for a continuous skim plaster finish.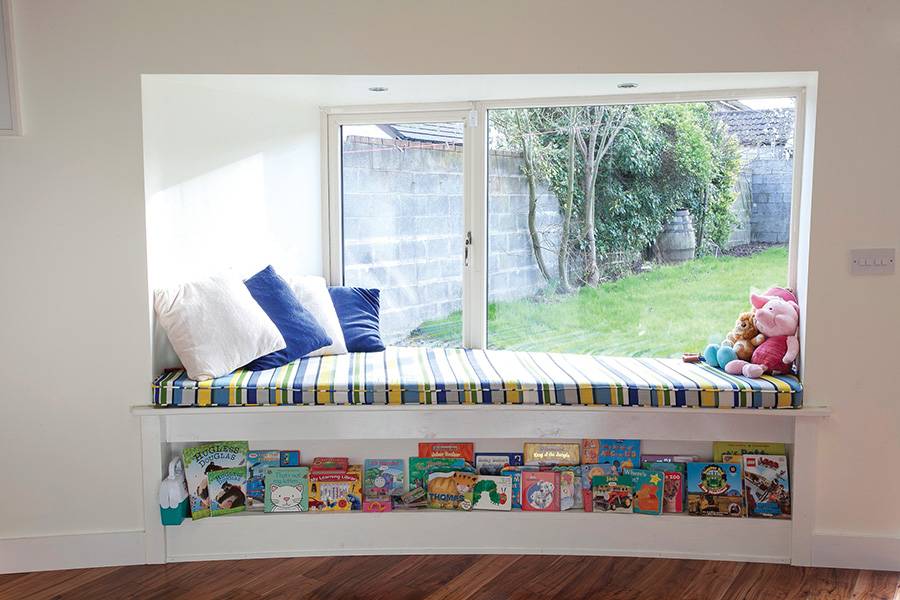 Living the dream
The family opted to remain in the house during the build, a decision that had its ups and downs. "I think my advice to people about to embark on an extension would be, move out! Obviously I knew we were putting on an extension, but I completely underestimated the dirt and the impact it would have on the rest of the house. The builder was very good and we had access to the utility room but we didn't have a sink and our cooking facilities for three months were a two-ring electric stove and a microwave," says Breda.
Despite the inconvenience, the couple also stress that remaining in the house allowed them to stay on top of the build and identify problems that might have led to delays.
"Our being here in constant contact with the builder really kept things moving along. We had a couple of issues with the glazing – there's an upward curved feature that was presenting a problem for the guys installing the glass. They wanted to put in a separate section so there was debate over that. A more standard approach was put forward but this would have moved away from the design our architect specified; we decided to stick to our guns and to the initial design. We're really happy with the end result so in that sense, it's great that we were here to make sure the build stayed true to the original concept," says Simon.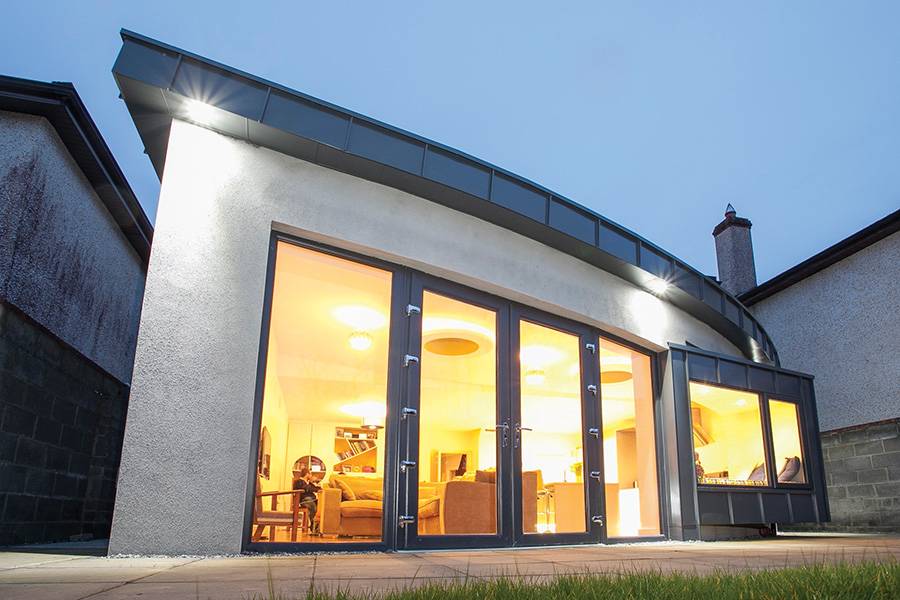 The extension really was a labour of love for the couple. As well as overseeing the construction every step of the way, Simon installed the kitchen himself and laid all the timber floors. "The kitchen consists of high gloss floor to ceiling timber units, a long countertop and a central island with a sink and dishwasher. It looks quite simple but an awful lot of thought went into it; it's effort that has paid off as it works really well for us," says Breda.
Also lending a hand on this was their architect who provided interior design advice. "He added a few elements that mirror the style of the extension so everything is in keeping with the overall design," says Simon. A large storage unit was designed to hold all the children's toys, very handy for clearing them away quickly, whilst circles in the doors reflect the skylight so it's beautiful as well as functional.
The room features eight LED spotlights over the kitchen, three standard pendants in the dining and seating area, LED striplights under the kitchen cabinets and LED striplights around the skylights. There are also two LED spotlights over in the window seat and three LED spotlights in the soffit. It's no exaggeration to say the new extension has transformed the couple's life.
"It's lovely in the morning when you have all that light, it has made such a difference to what we had before. You want to spend time in the house, it's really made it a home," says Breda. "The whole thing has been worth the effort. We might have picked a stressful time to do it but it was definitely worth it. I would urge anyone to consider adding an extension rather than moving."
Specification
Build type: 120mm cavity walls, total depth of concrete block masonry walls 320mm 
Insulation: 140mm of high density PIR board in floor; roof: 175mm open cell foam spray between joists with vent cards to maintain a 50mm ventilation void, overlaid with insulated plasterboard (50mm PIR insulation); walls: 120mm cavity pumped with EPS beads finished on the inside with insulated plasterboard (50mm PIR insulation). 
U-values: floor 0.15 W/sqmK, walls and roof not available 
Windows: double glazed argon filled, uPVC 
Suppliers for open plan kitchen extension in Co Kildare
Builder Donaer Construction, Mullingar, Co Westmeath
Kitchen InHouse Kitchens, Dublin, in-house.ie 
Radiators Solorad , Shannon, Co Clare, solorad.ie 
Windows SK Windows, Newry, Co Down, skwindows-newry.co.uk 
Insulation (supply & install) Apollo Insulation, Naas, Co Kildare, apolloinsulation.ie 
Flooring Finn McCarthy's, Prosperous, Co Kildare, mccarthys.ie 
Photography Hu O'Reilly Photography, Ballyjamesduff, Co Cavan & Ballsbridge, Dublin 4, huoreilly.com