Deirdre and Frank Spillane's renovation project in Co Antrim saw many of the things they liked in their previous home replicated.
"It all started four years ago. Even though we were living in a fabulous home at the time, it was too small – we had a third baby on the way and simply needed more room. A renovation would have been too difficult so we started looking at houses."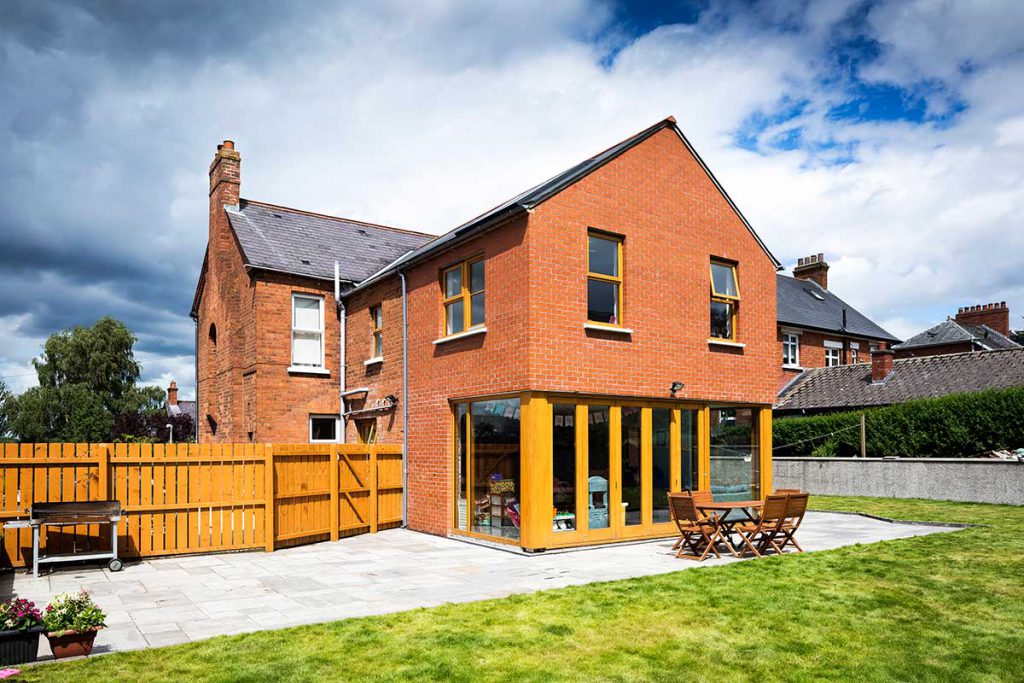 "To help us on this quest, we got an architect to advise us – someone we found through a personal recommendation. We looked at three properties we really liked, in the right location and at the right price. Some of the houses were older but had new kitchens, which ironically made a renovation project more difficult as we had a set type of kitchen in mind."
[powerkit_collapsibles]
[powerkit_collapsible title="COSTS" opened="true"]
Total renovation and extension cost: £140,000 with landscaping
House size before: 200 sqm
House size after (areas within refurbished): 257 sqm
Plot size: 1,000 sqm
[/powerkit_collapsible]
[powerkit_collapsible title="BUILD SPEC"]
Cavity walls with partial fill 60mm PIR insulation board, U-value 0.25 W/sqmK
Traditional screed floor with underfloor heating, 100mm PIR insulation board, U-value 0.18 W/sqmK
Pitched roof construction with 300mm mineral wool insulation, achieving 0.18 W/sqmK
Existing house insulation upgrade added 200mm quilt insulation to the attic ceiling roof.
Windows: hardwood painted and double glazed units achieving on average 1.2 W/sqmK
[/powerkit_collapsible]
[powerkit_collapsible title="SUPPLIERS"]
Designer: Dominic Morris MRIAI RIBA of McNally Morris Architects, Hillsborough, Co Down, tel. 92682316, mcnallymorris.com
Builder: Peter Cassidy, Stewartstown, Co Tyrone, info@pcassidyconstructionltd.com
Stone paving: John Haddock, johnhaddock80@gmail.com
Glazing and bi-fold doors: Woodmarque Joinery, Dungannon, Co Tyrone, tel. 08456 728 005, woodmarque.co.uk
Joinery: Gerry Steenson of Bespoke Joinery Solutions, mobile 07826357523
Windows: Carlson, All Ireland, ROI tel. 01 462 5777, carlson.ie, Accoya acetylated hardwood frames
Period wallpaper: Gothic Dado by Lincrusta, lincrusta.com
Photography: Paul Lindsay at Christopher Hill Photographic scenicireland.com
Calling from ROI prefix with
048 or 0044(0) when calling
mobile
[/powerkit_collapsible]
[/powerkit_collapsibles]
The house they chose was the most suitable to do work on, and the easiest to convert. "This one we're in now was especially stunning, dating back to the 1900s with stained glass and plaster cornices. Even though the garden needed quite a bit of work, of all the properties we visited this house was the easiest to renovate," adds Frank.
By extending at the back they were able to introduce the open plan kitchen they wanted and a bedroom with master bathroom upstairs. The most striking feature of renovations of past were the windows, all uPVC. "For the extension we chose an acetylated wood for the window frames, and from the back of the house all the windows look the same," says Frank.
---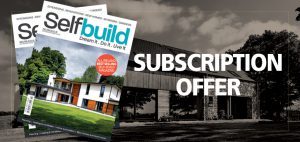 Subscription Offer: Subscribe to the latest Selfbuild Magazines for €3.50/£3.00 every quarter with FREE Postage & Packaging.


---
Replicas
Deirdre and Frank's previous home had an oak and granite kitchen. "We love to cook and our kitchen worked really well for us, so we just scaled it up in our new home.
We have built-in appliances, and handles with a pewter effect which are timeless. We considered an island but it would have taken up too much space and I'm not sure we would have used it all that much. The open plan is zoned with dedicated areas to cook, eat, lounge and just as importantly store toys!"
In terms of the design, what was replicated were the original features. "Our architect was very keen to link old with new, to maintain the same features throughout the house. As some of the historic materials cost quite a bit – matching the Bangor Blue slates for example would have cost us £4,000 extra – we found suitable alternatives."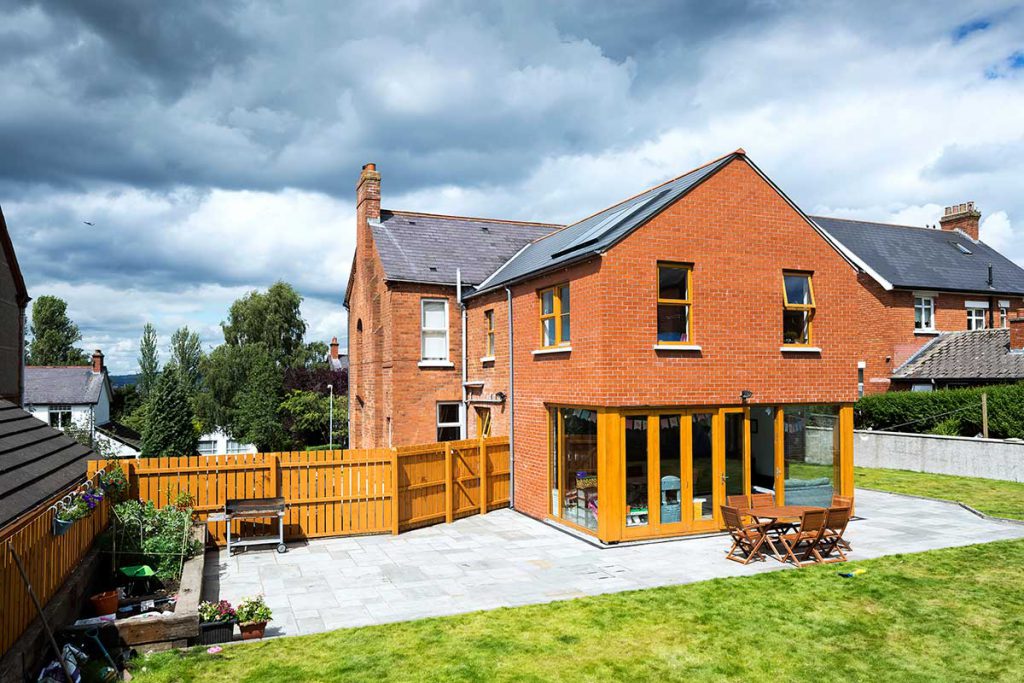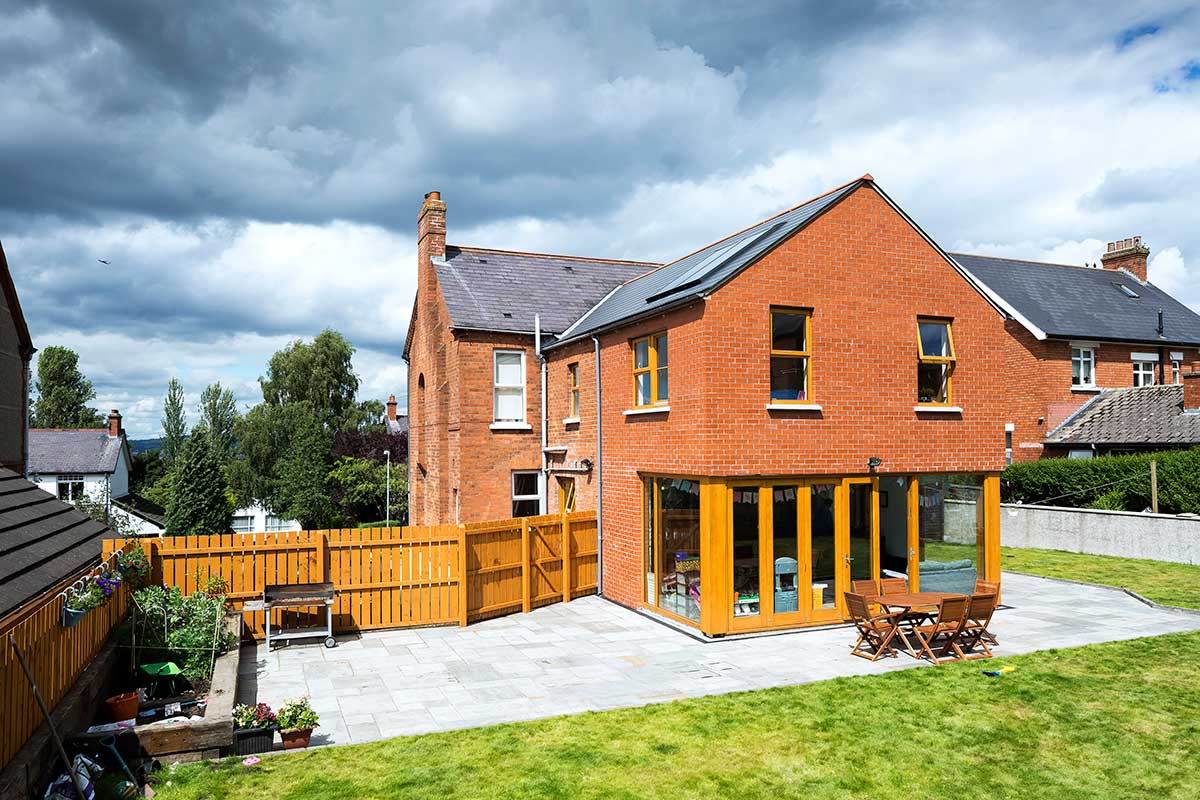 "Whilst the house isn't listed, it has great features. The imperial brick was one so on the new build we kept the same size albeit with new brick to help with the budget. An unusual feature is the layer of bricks used to support the gutters, which we've retained around the house." Small details like the upstairs bedroom door matching the front door provide continuity. The dado rails are another clear indication of the period of the house, as were the wall coverings.
"There was an embossed wallpaper between the skirting boards and dado rails made of linen – I was amazed to find you could still get exactly the same stuff. We bought some rolls to replace portions that were missing in the hallway," relates Frank.
The dado rail was continued in the extension upstairs. "We had a fabulous joiner who was able to make an exact copy of the dado, he also did the wooden panelling on the side of the bath which is fabulous. He was instrumental too in helping us sort old doors to keep to the period style." Deirdre designed the bathroom classic white with period touches.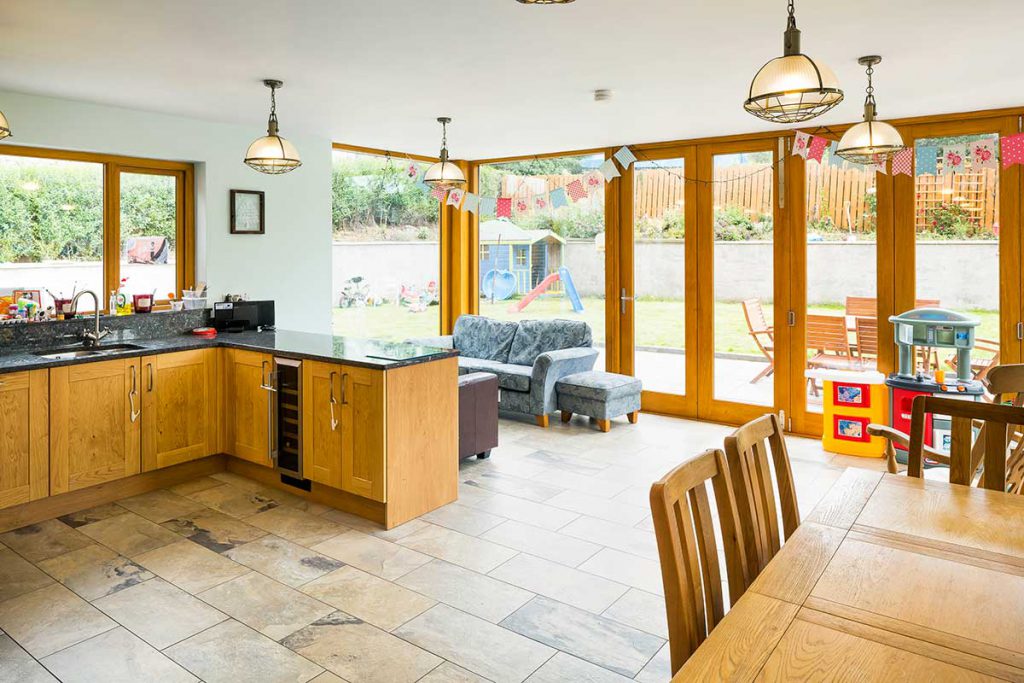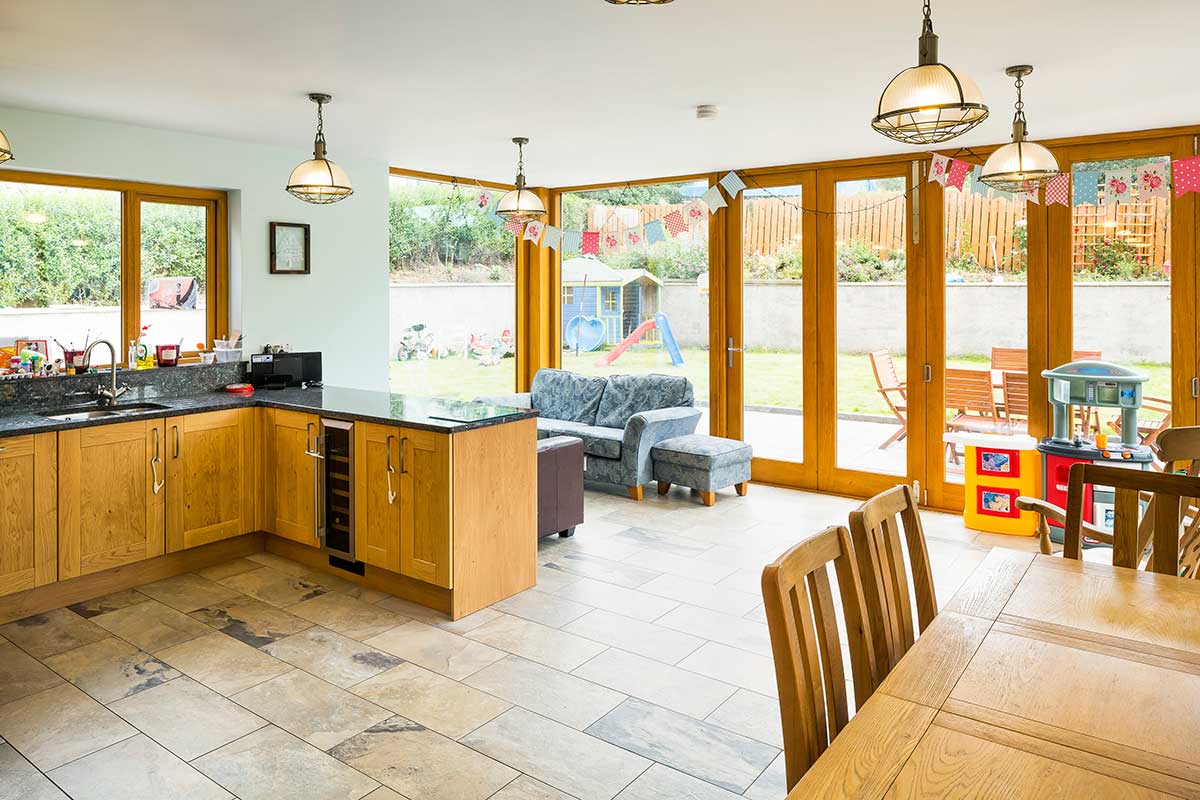 In the thick of it
Their architect put in the planning application which was granted without any issues. The tender went out to five builders and the one Deirdre and Frank chose so happened to have worked with the architect before.
"The contract we had was for building work, plumbing and electrics, with our architect overseeing to construction," adds Frank. "We were on site regularly and that made it easy to make decisions." "The tradesmen we hired were all recommended," continues Frank. "Our kitchen designer we found at Selfbuild Live Belfast. Upon hiring him he called to the house after we'd put the children the bed.
That was really helpful in juggling family life and a self-build project."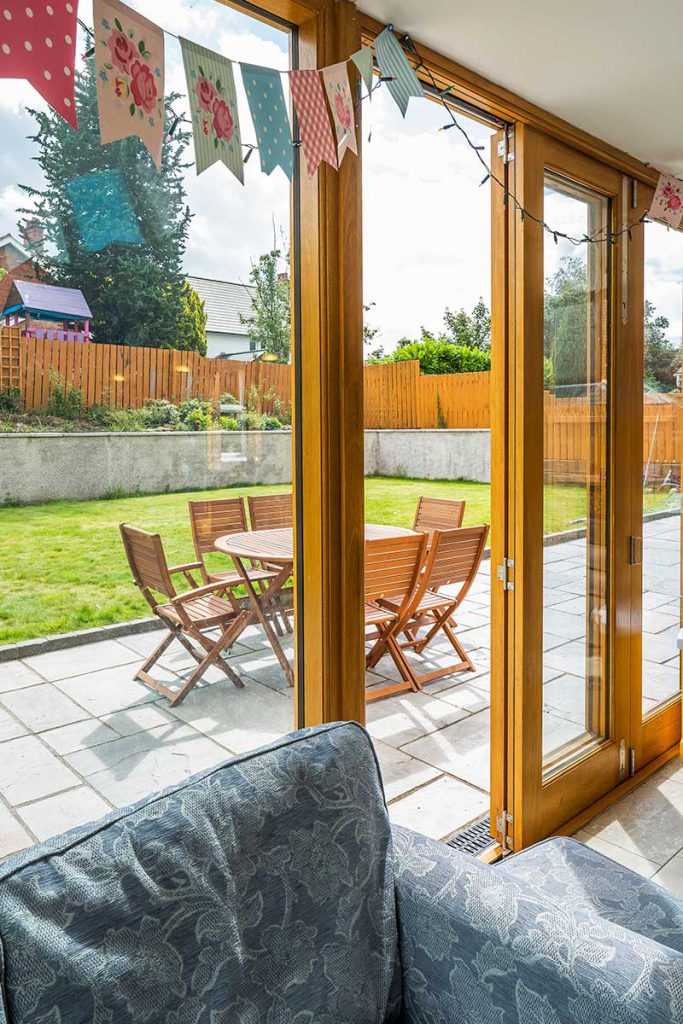 "We were very happy with the finished product, we got high quality German carcasses and exactly what we wanted in the kitchen."
"During the build, an interesting thing happened with Building Control, on one of their visits they told us we had to double up on the plasterboard on the ceiling in the kitchen, it's my understanding this was done for fire safety," comments Frank. As for the logistics of where to live during the renovation, Frank says they were in a fortunate position. "We were able to keep our house and not sell until we were ready," he recounts.
'…we had to double up on the plasterboard on the ceiling in the kitchen, it's my understanding this was done for fire safety…'
"We were lucky that it sold when the market picked up, and bought the house during the recession. We moved into our new home in 2014."
Connection to the outside
"The great thing about the amount of glazing we have in the extension is that it's still bright in November and the room is kept warm. The downside is that the summer months can get uncomfortable but when it gets too hot we just open the windows and that does the trick," says Frank.
"The solar hot water panels are excellent but the tank may have been undersized as we can get too much hot water. When we're away we just turn it off to avoid any issues.
'The site was elevated and we wanted to level it for the children, so they could play football, have a patio to cycle or scooter on and in autumn allow them to use their diggers.'
In this regard I think photovoltaic panels might have been a better investment as we could have fed the excess electricity back to the grid." The existing boiler was kept with underfloor heating added to the extension, and new radiators introduced upstairs. "We plumbed pipes for a bespoke radiator to heat the kitchen but we use the underfloor heating instead. It's so convenient, the children readily play on the floor in winter." The garden, for its part, was also intrinsic to this project. The lower portion is paved; a retaining wall, field drains with topsoil and lawn completed the extensive landscaping works.

"The site was elevated and we wanted to level it for the children, so they could play football, have a patio to cycle or scooter on and in autumn allow them to use their diggers."
The connection to the outside is enhanced by the sympathetic use of floor covering inside and out. "The patio paving looks similar to the tiles we have in the kitchen for a seamless effect," says Frank. A period house with mod cons is the result of this renovation, an inspiration for all those looking to inject new life into a historic property
[powerkit_collapsibles]
[powerkit_collapsible title="FRANK'S TOP TIPS"]
Spend the time to find the right designer – you need to make sure you will work well with them and that they understand your needs. In our case Dominic supported us throughout, finding alternatives where needed. Your home project shouldn't be a source of stress, just a process.
Think of the mess you create on a daily basis. We made sure our utility would be large enough to accommodate our needs, in fact we increased it by 40 per cent on the plans to include a wc and sink and it's been a real success. It keeps the kitchen clear of clutter. The cloak room is a great thing to have too, it keeps the hallway effortlessly clear.
Think about the cost of tiling and flooring. These aspects really finish things off, you're going to be looking at it for a long time hopefully so go for something that won't date and even though nice stuff can be dear it doesn't always have to be if you look about.
[/powerkit_collapsible]
[powerkit_collapsible title="Q&A"]
What's your favourite room?
The kitchen, our master bedroom and the link to the garden. We love to cook and at the same time be able to keep an eye on the children playing outside. I also love the sitting room with piano.
What would you change?
We'd probably give more thought to renewable energy and we may have introduced dimmable lighting in the living area of the open plan. We have LED strips in the kitchen which are quite subtle but for a Christmassy feel we end up relying on the lights over the cooker and on the judicious use of lamps. It's funny we didn't give that much thought to lighting, it all seemed straightforward, but there is more to it than you might imagine.
What surprised you?
The cost of the lorry loads of soil being brought off site – we spent thousands of pounds to level the garden! We could've spared ourselves the expense but I think it was worth it.
I was also surprised that some things are hard to find. We thought our 70 litre bin would be easy to integrate into our built-in kitchen but in the end we couldn't find a pull-out bin that could accommodate that size so it's in a cupboard.
Would you do it again?
Yes, but we're not planning to, the home really is lovely and we already take it for granted. When you live in it, see the children in the garden, it's great to be here.
What advice would you give to a budding rennovator?
Never, ever pick a tradesman out of the blue. Go see work they've done previously and go on personal recommendations from people you trust.
[/powerkit_collapsible]
[/powerkit_collapsibles]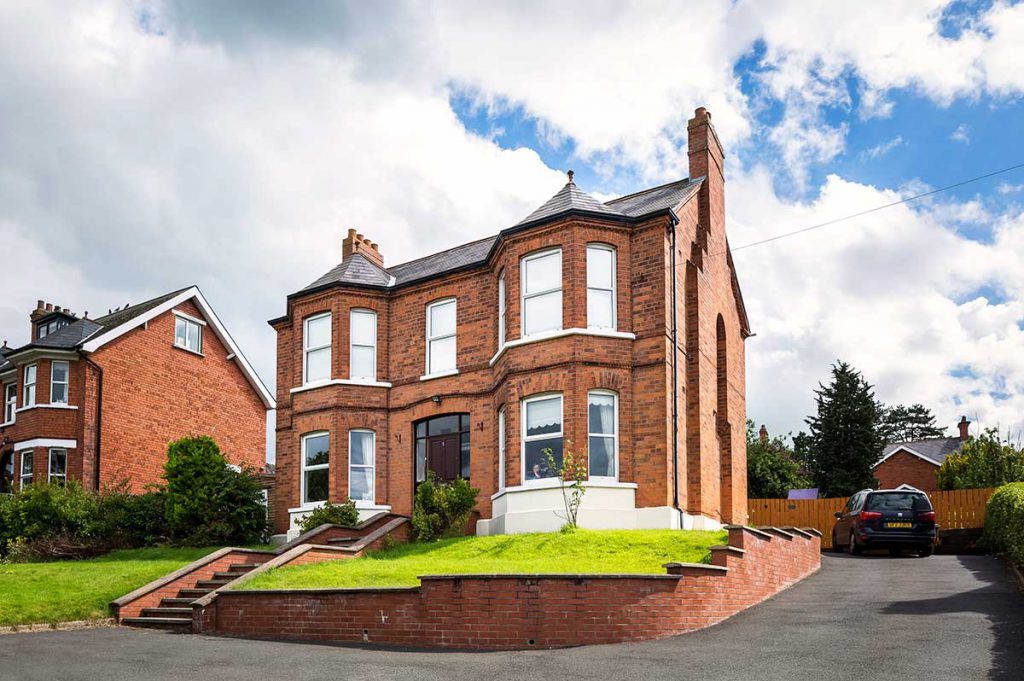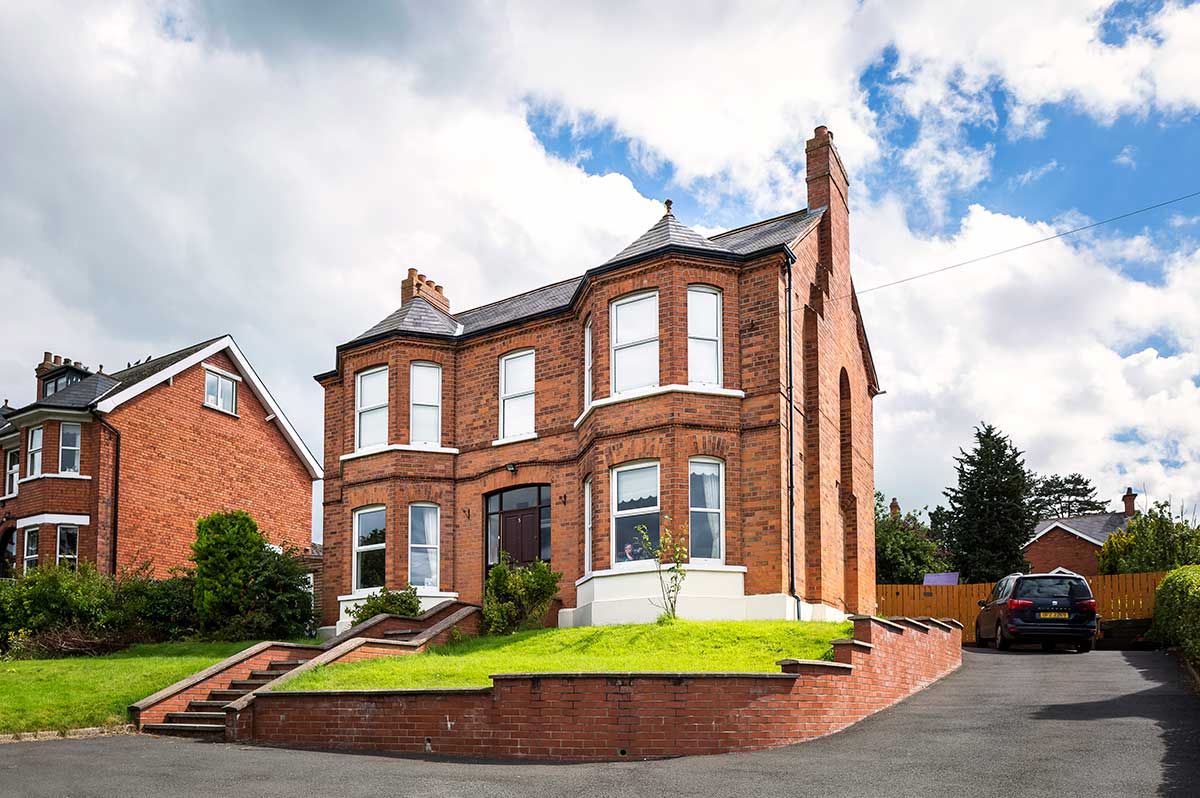 ---
---