This budget DIY cottage renovation on a remote island in Co Cork had everything brought in by boat. After that, it just needed elbow grease.
In this article we cover:
How the homeowners found the property
Details of the house built in 1912 including cast concrete walls
How they upgraded the house to bring electricity and water with costings
Details of DIY insulation and lime washing
Challenges to run wires in cast concrete walls
Roof repairs and raising joists
Repurposing what was there as much as possible
Budget saving tips and advice
Island life and the practicalities of getting goods in by boat
Supplier list
Insulation: PIR 40mm in roof, 50mm in floor
Plot size: 11 acres
House size: 95 sqm (1,020 sqft)
Renovation cost: €30,000
We were looking for somewhere remote to be near nature and to balance life and work," explains Tracy who is originally from England. "It took us two years to find somewhere. We were looking in Scotland, England, Wales but never considered Ireland. It was a continual search, all of the offers we made fell through. We discovered this cottage on the internet but dismissed it for six months because it sounded too good to be true.
The write up described everything that we had dreamed of and more plus it was in our price range." "When another deal fell though we were very despondent and disheartened by the whole process of dream hunting. So we went back to the drawing board to start our search all over again whereupon we stumbled upon the cottage again. We thought this must be fate calling, so we started to seriously consider that this might work. At the time we were living on a narrow boat in the middle of a three months continuous cruise. Pete decided that he would stay with the boat while I went off on adventures to Ireland to have a look. 'If you think it's right for us, make an offer while you are there.' he said… Famous last words."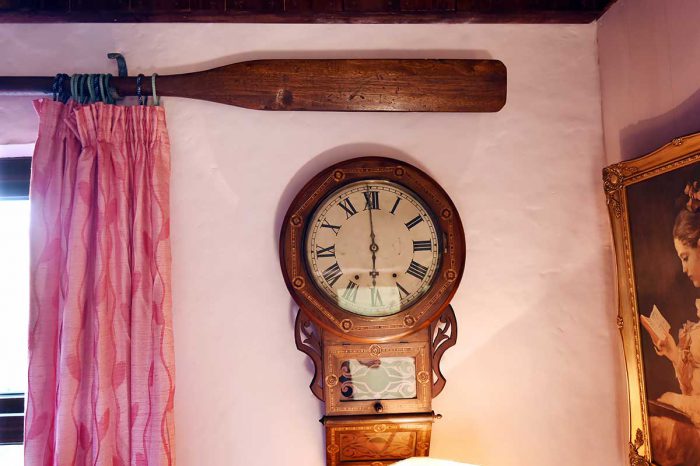 "It was the most amazing magical place and I thought 'Wow, this is it' Standing on the pier on mainland looking over at the island I instantly fell in love with the place and would have made the offer there and then. It immediately felt like home, and that I had been here before and that I was being welcomed back. The wild Atlantic Ocean engulfed this wonderful little Irish island and created the haven of tranquillity we had sought. The cottage's position was the icing on the cake for it compounded the sense of isolation being the only property on the east end of the island."
The cottage had no electricity or running water. "That was something we had become acclimatised to, to a certain degree, for living on a boat you have limited resources so this didn't scare us off. The 'vision' outshone all the work required to turn this empty shell of a house into a home. The south facing views looking out over the ocean, with panoramic views of the other islands and Fastnet Lighthouse on the horizon, just took my breath away. I could see the potential, I thought to myself that we'd just have to grit our teeth and make this work," she adds.
'The 'vision' outshone all the work required to turn this empty shell of a house into a home…'
The plan was to renovate the cottage to create a home and for it to act as a backdrop for Tracy's business. "We have created an island retreat where people can come and stay. The aim is to share the magic and to create a place where you can just be. Time and space to breathe. Nature rules here and where better to go nurture your soul."
Tracy says that even though it gets busy in the summer months, the island only has eight permanent residents with Tracy the only woman.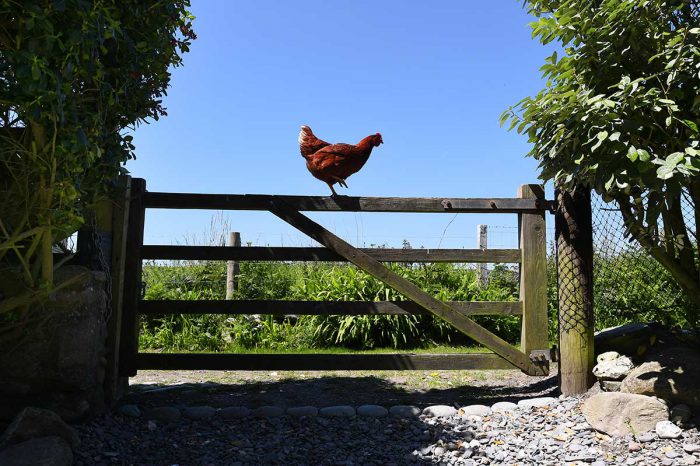 Beginnings
"The cottage was built in 1912 in cast concrete mixed with pebble off the beach; the more vernacular stone dwelling which is now a barn or what I would call the 'man cave' dates back to 1860 and is the original byre dwelling that housed a dozen or more islanders along with their animals."
"Our move-in date was delayed from April to September so when we eventually got there, it was autumn and we had our first winter on the island without any running water or power to look forward to. There were probably bets that we wouldn't last the winter, but we worked through the hardship in good spirits. Our first year found us living off manpower, candles and bottled gas."
"The house was sold with an old power generator that wasn't working and the water supply consisted of rainwater in rain butts. Our drinking water was collected daily from a well at the bottom of the land. We used to carry the water back in plastic bottles and buckets."
'…we used old oars that we found in the garden along with drift wood…'
"Washing clothes and bedding by hand was hard work. I was amazed at just how much water we use and waste. This way of 'being' certainly gave us a good idea of what life would have been like when the cottage was first built."
"There was luckily a functioning wastewater system. The septic tank had been put in two years prior to us moving in, so we knew that it was up to standard. The bathroom hadn't been done that long ago either, we believe this was to help with the sale of the cottage, but when we went to clean the tiles, they all moved, so a remodel was in order."
"The islanders were very helpful. We would seek their advice and insights into how to do things and the challenges of island living. We learnt so much from them. They really have been amazing. I don't think we would have got by without them. We learnt over time that one of the islanders' mother grew up in the cottage and that someone else's family from the island had lived here too. This cottage has a lot of history. During the renovations we encouraged them to visit regularly to see how we were progressing and hoped that they approved."
"One of the first things that affected us was the amount of rubbish lying in and around the cottage. The garden was full of all sorts of junk. We burned what we could, upcycled and recycled what could be reused."
"One of the islanders arranged for someone to come and take the 12 car batteries that we had uncovered and some of the white goods were collected by the 'once a year white goods collection' provided for the island, so we're chipping away at it. At least the rubbish is now all organised, all the metal is in the one place. We have a nice tidy small scrapyard in amongst our 11 acres."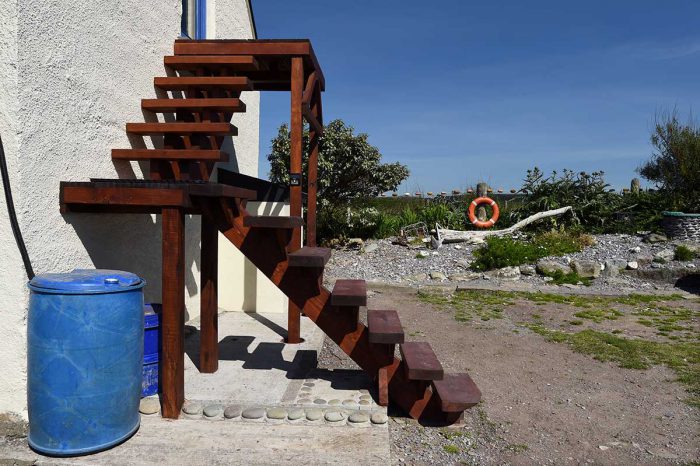 On a budget
"We didn't have a huge budget going into this so it was clear from the start we'd be doing as much as possible ourselves," continues Tracy. "Being so remote, and the house only accessible by boat, also made it difficult to get people to come over to work on the house. There's also the aspect that they would always forget to bring something and it's not like we can run down to the hardware shop."
"We insulated the roof and floor and replaced the windows, we didn't want any drylining because the unevenness oozes charm. We finished the walls with a limewash." "The kitchen had no cupboards or facilities so we used the old concrete blocks found in the garden amongst the rubbish to create kitchen units. Some of the locals knew we were on a budget so offered us
pieces of old furniture that were being thrown out. This was a real blessing, for it gave us the storage space that we desperately needed. We were given an old dresser painted a heavy dark green, which we stripped and polished up to create a wonderful feature in the kitchen."
"We laid the wiring ourselves as that's the most time-consuming element and the electrician did the connections and the box." But doing the grunt work presented its own set of challenges. "With the poured concrete walls we couldn't channel the wires, the walls were way too difficult to cut through. We found copper piping in the scrap heap outside and ran wires in it as a feature. It saved on time and added to the quirkiness and feel of the fisherman's cottage."
"We thought the electricity would be the back breaker as far as costs went but oddly enough the connection, which involved the installation of six poles, wasn't as expensive as the borehole for our water supply."
Networks, mainly due to paperwork being mislaid and weather conditions. When they came to inspect the area, they told us that they would have to zigzag the six poles up to us and also seek the permission from all the landowners whose land they would need to encroach. We agreed we would dig the trench of 50 meters to the cottage for the underground cable and to get the 'box' in place for the meter. The final cost was around €3,000 which we were well pleased with as the terrain was not easy to work with."
"The borehole and well, on the other hand, was a much bigger expense, we expected it to come in at €3,500 but it ended up at €6,500 – they determined where the water was but due to us sitting on bedrock, they could not be sure as to how deep they would have to drill. With every 100ft they went down, the more money it cost. So on the day of drilling we held our breath for after the estimated 150ft they still had not hit water. They ended up drilling to 320ft, double what we were expecting."
"The hardest part for us was knowing that a huge part of our budget had just been swallowed up and that there was no real spare money for survival. It was very tight towards the end of the build and we sold what we could for some extra funds. Many sacrifices have been made to turn this dream into a reality. Seeing your bank balance going down knowing that nothing would replenish it, was very scary indeed." adds Tracy.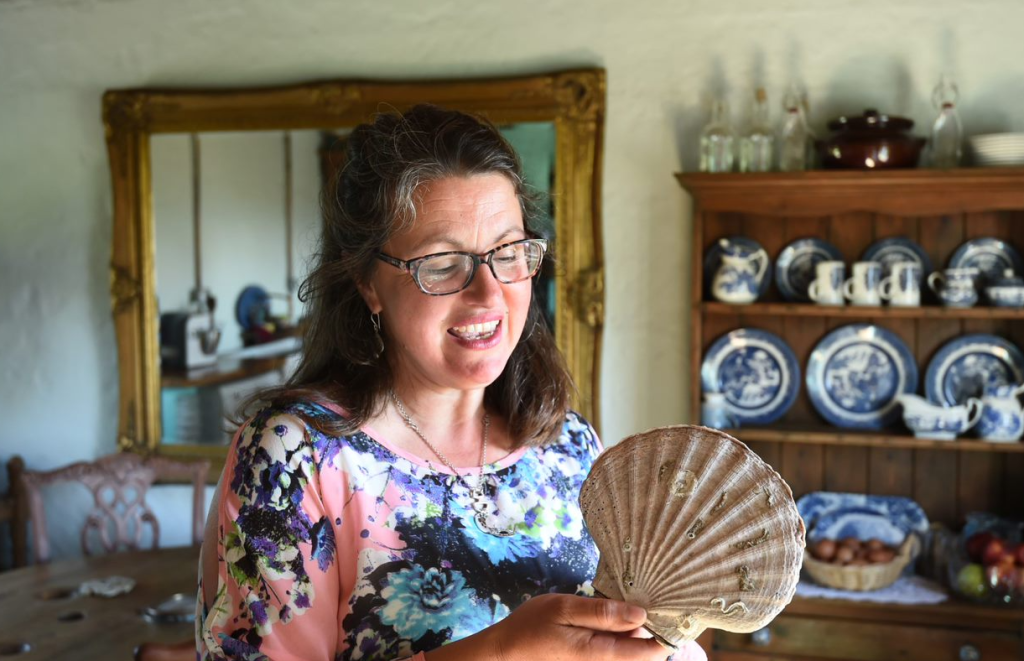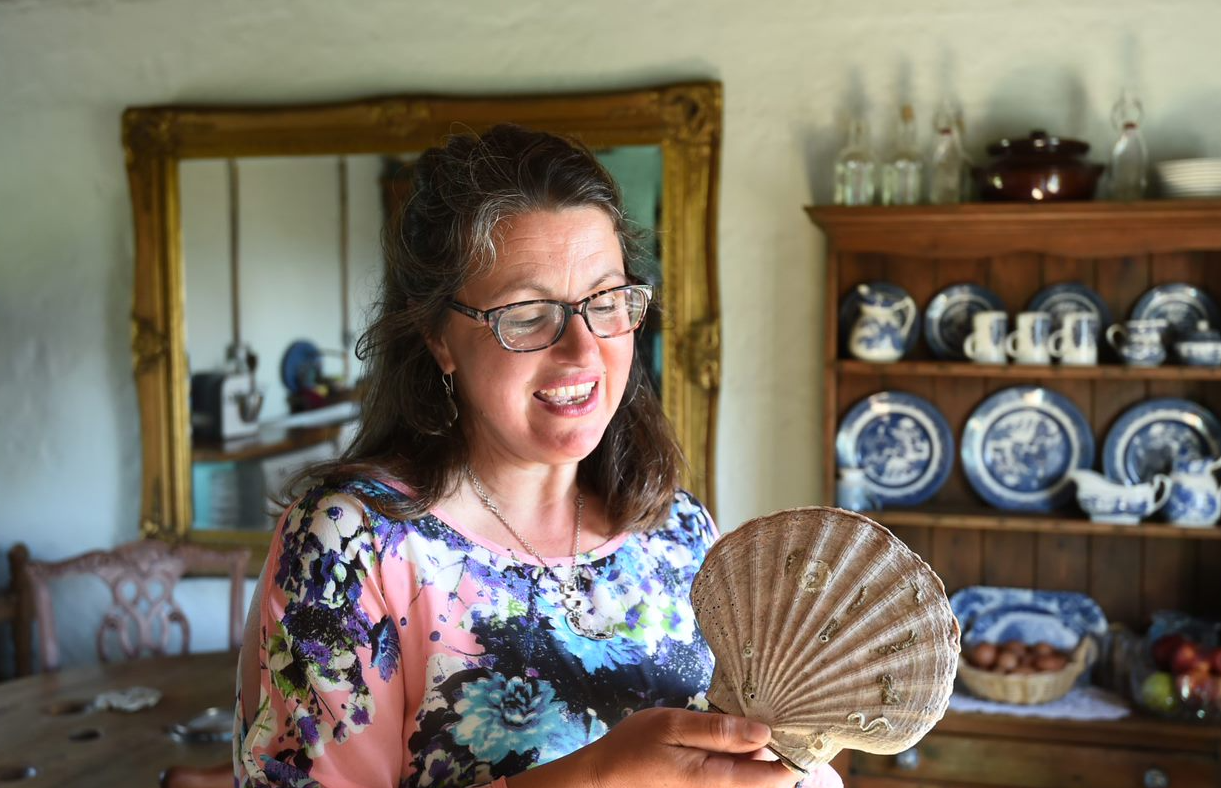 Blood sweat and tears
Pete was a landscape gardener in a previous life; so taking on this renovation project was a real test of his skills. "We were both thrown into the deep end and it took a huge leap of faith. This faith was tested many a time I can tell you. To live the dream takes courage and determination," relates Tracy. "Believe it or not, it was hard to dampen our spirits even when we had no running water or electricity and we rarely fell out. Besides… no one can hear you scream over the sound of the ocean."
Tested they were, living in the cottage whilst renovating. "The rubble, old plaster, mountains of dust and the upheaval made us feel like we were camping on a building site rather than it being home. We had no working bathroom (no running water) and we moved from room to room, setting up camp as we went, with the two dogs to keep us warm and comforted."
"Not sleeping on a proper bed did get me down so with protests ringing in my ears I went ahead and dug out our bed from our belongings in the old stone barn. When we got rid of sleeping bags, the inflatable mattress and got to climb into our own bed with a duvet it was like heaven."
"We started by ripping out what had to be removed to reveal any major issues. Thankfully the roof only required minor repairs with some woodworm treatment taking up most of our time. The ceiling space upstairs was too low as it had been dropped down to create a small loft space above by the previous owners. Our first job was to raise the joists. We moved them one by one, replacing a few as we went along with just a handsaw as our friend," continues Tracy.
"We worked from the top down, taking the old flooring up and reusing the boards that hadn't been damaged by woodworm to clad the ceilings. This also gave us the opportunity to treat the floor joists." The theme of this self-build was salvage. "For the banister we used old oars that we found in the garden along with drift wood. Offcuts of wood that were used along with pebble and stone from the coves too.
We recylced some old doors to create a lovely colourful cladding on the tar-stained chimney breast upstairs. We also hung up old fishing nets and buoys to try and keep the authenticity of an old fisherman's cottage." In the kitchen the worktops consist of three-inch planks to give it the farmhouse cottage feel.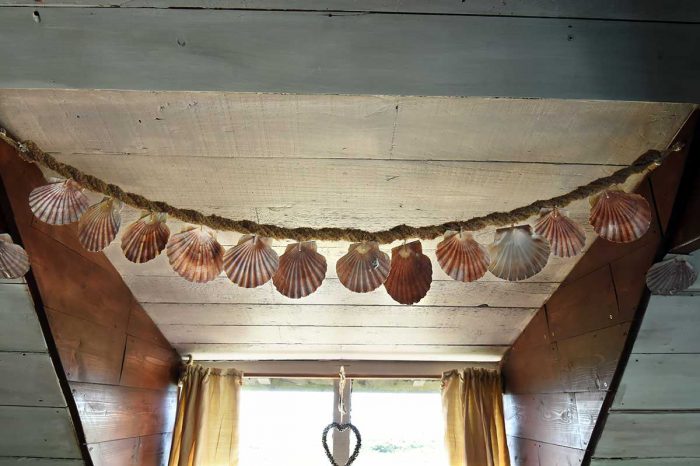 "On one of our island adventures, we discovered some old wood in a derelict building belonging to the ferryman, so we made a deal with him and exchanged our trailer for his wood and used it for our creation in the bathroom and for the kitchen worktops."
Sourcing the new windows also presented a challenge. "We eventually found a joiner in Skibeeren who came out to the island to measure up. The thick wooden framed picture windows with double-glazing look amazing. We brought them over to the island in a small fishing punt with 'Fisherman Joe'. It took a couple of trips, which was an adventure all on its own. We decided to fit them ourselves as it was hard to find an installer on our small budget."
"All of our deliveries, from the washing machine to floorboards, were brought in by boat. Dropped off on the mainland pier, carried down the pier steps and into a waiting boat. Then transported across the channel to midland pier on the island where the reverse of what happened on mainland took place on the island," adds Tracy.
"Pure manpower and determination. Where there is a will, there is a way…the island way. We wouldn't have been able to do it without the help of the islanders, their fishing boats and the ferry. Our new two seat sofa was brought over in a small fisherman's punt with the fisherman sitting back on the sofa enjoying the ride whilst I manned the boat. Great memories."
"It's not just the fact that everything has to be brought in by boat but we also have to bring the stuff up the dirt track to make its way to the cottage. We have an old island vehicle that came with the sale of the house.
There is a rope that holds the bonnet down and another to keep the back door closed… but it works – that's how we got everything half a mile uphill. Nothing was easy but that was all part of the adventure." Considering the amount of work this project represented, it's a great achievement that it only took less than two years. "We now grow most of our own vegetables. We have carrot, parsnip, potato, cabbage, spinach and six hens joined us in May. They provide great entertainment as well as a plentiful supply of eggs. We try to bring in as little as possible from the mainland with our aim being to become self-sufficient as best we can," says Tracy.
"Fruit trees will come next along with a polytunnel when funds allow. We are now saving up to start our next project, which will be to restore the old byre dwelling. We are now thankfully more clued up as to what needs to be done and know that the roof will be the biggest expense. We're desperate to get it watertight. The walls are good so it will be a question of bringing it back to life after that."
The cottage's B&B (castawayeast.com) profits will see the byre dwelling renovated. "This experience taught us to be ever more resourceful, we'd never done anything like this before, but with a 'can do' attitude, some research, and not being afraid to ask people for help, anything's possible."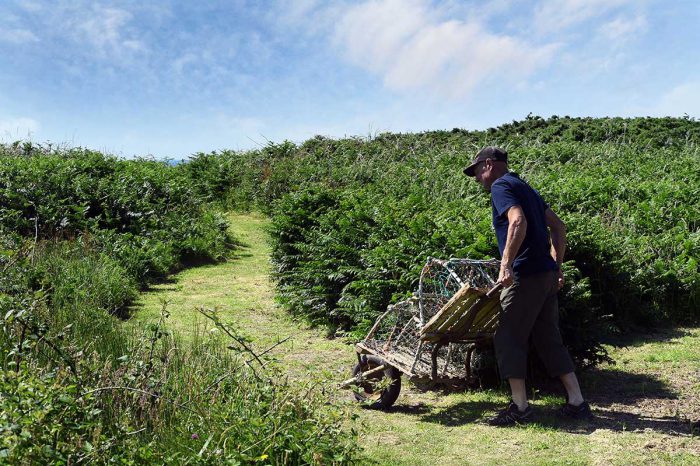 Top tips
Would you do it again?
We're saving up to do the byre dwelling next so a big yes. I think if we had known what we were letting ourselves in for we probably wouldn't have done it in the first place, yet the dream was so strong as was the belief that we could make it happen. I am so glad we made it.

What would you do differently?
We used a limewash on the walls in the house and painted over it with regular masonry paint. So shortly after it started to peel and present signs of mould. The pain of inexperience cut deep. We had to scrape it all off again; that was my low point of the build. It was soul destroying to have to go back over something that you had done already. It felt that we were going backwards and that we weren't achieving anything. As long as you can see progress it's not too difficult to stay motivated.

We ended up in the paint shop in Skibbereen with despair breathing down our necks until these guys saved us. They had all the right information about painting onto lime and the right paint. We ended up using a chalk based distemper.

What's your favourite part of the house?
The kitchen. It's always the heart of a home. The old range is still there but no longer in working order. We are looking to restore or replace it in the not too distant future. I love the open plan feel to the kitchen. The views out to the ocean are breath taking. The kitchen is a big room by our standards as we used to have a galley kitchen in our narrow boat. The boat was a great stepping-stone to coming to live on an island.

What surprised you?
The biggest surprise was how physical it was, but the rewards were far greater than the turmoil. Every day I'm amazed at how liberating an experience this has been, we've simplified everything in our lives. It's much more enjoyable than having a big house. We have the security of having no debt, I think mortgages weigh on people more than they realise. We have found that simplifying our life has made us feel like millionaires. The freedom it gives you is priceless.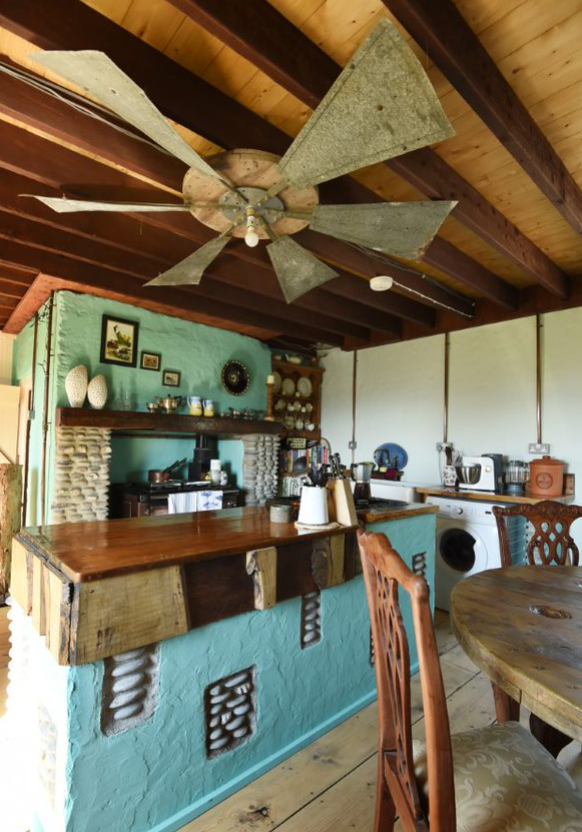 Be creative.
Colours bring a home to life. Let yourself be bold, experiment. The project has boasted many firsts and that included me starting to make blinds and curtains. It was an interesting process and if I may say so myself, quite a successful one at that. The curtains in the kitchen are all nature themed. I love them.

Reclaim and repurpose.
The kitchen dining table is made from part of an electrical cable drum that was washed up on the shore. We discovered some lovely old chairs in a charity shop that had claw and ball chair leg. The chairs were heavily lacquered so we stripped them down to the bare wood and they look amazing. In the guest bedroom we have a reclaimed bed with lovely hand carvings; we believe that the old stuff was made to last so we love to go hunting for new treasures in second hand shops

Never be afraid to ask.
The guys at the paint shop really helped us sort out our challenge of painting onto a limewash. That was our only regret, not researching this aspect enough. If you're using something you're not accustomed to, ask people who know. Same went for the plumber's merchant. I did most of the plumbing myself. The guy at the merchants was so patient with me and talked me through the basics so that I could do the work…brave man.

Appreciate the achievements.
Take time to look back over how far you have come, as it's so easy to become transfixed on what still needs to be done. When we did come up for air we were able to put the 'big stick' down of not achieving and give ourselves a pat on the back as to what we had already accomplished.

Suppliers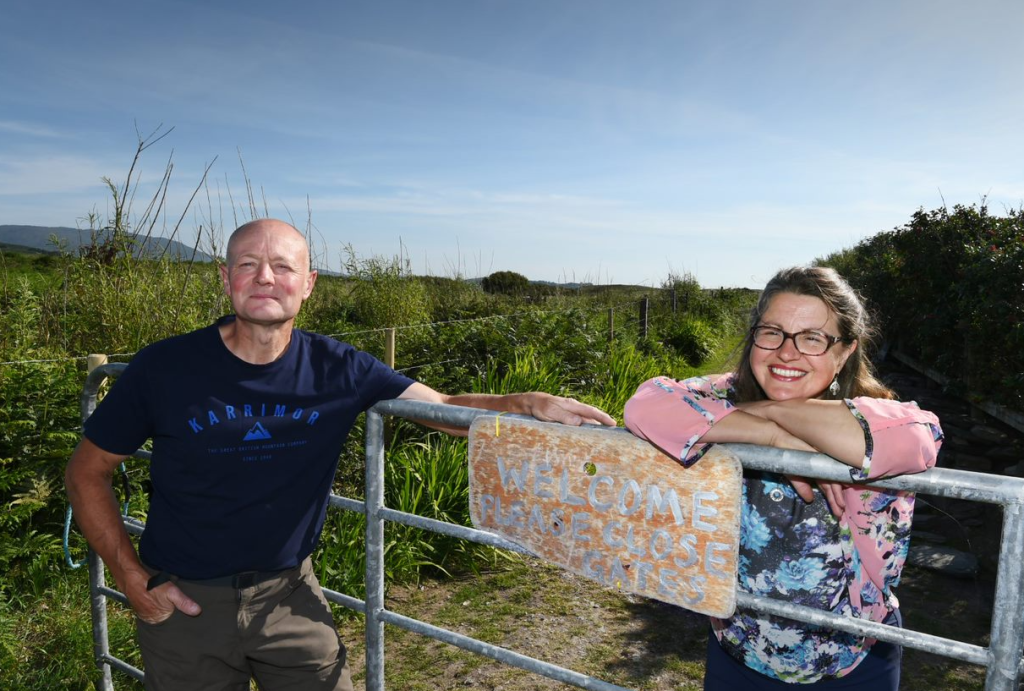 Paint shop: Fusion Home Interiors, Skibbereen, Co Cork, fusionhome.ie
Bathroom: Buckley's Tiles & Bathrooms, Skibbereen, Co Cork, buckleystileandbath.ie
Windows: Ted O' Driscoll Joinery, Skibbereen, Co Cork
Builder's merchant: Barry Brothers, Skibbereen, Co Cork
Plumber's merchant: Michael J Walsh Heating & Plumbing Supplies, Skibbereen, Co Cork

Tracy now runs a camping site on the property, you can book here.