It's not just entrepreneurs who get their best ideas when relaxing on holiday — so do self-builders and this Irish self-build with sea views certainly has a international feel.
In this article, Colin and Barbara Barry of Co Down explain how they self-built their grand family home with sea views including:
Design inspiration from Italy, including symmetry, and how to adapt it to this Irish build
Planning permission process
Choice of build for thermal details
Reasons behind their choices for the multi source heating systems
Details of automated systems including the blinds
Details of motorised components for easy cleaning
Interior design choices including colour palettes
Full specification and supplier list
House size: 372sqm
Site size: 2 acres
EPC (SAP): B (83)
Airtightness: 2.73 ACH
Colin and Barbara Barry had always wanted to self-build on a site with sea views, and when a large plot in Co Down completely open to the sea on three sides came up for sale, they didn't hesitate in taking this once-in-a-lifetime opportunity.
When you have, as Colin and Barbara did, a very clear idea of the setting and type of house you want to build, getting it all together is quite a tall order. The germ of the plan took hold when the couple were on holiday in Italy, as Colin explained:
'We spent a holiday at Lake Garda in northern Italy and just loved the way the villas are built around the steep hillside bordering the Lake. The setting is fantastic and I knew exactly where, back home, we could get the same feeling, so when the site was put up for sale in 2006 we moved quickly to secure it.'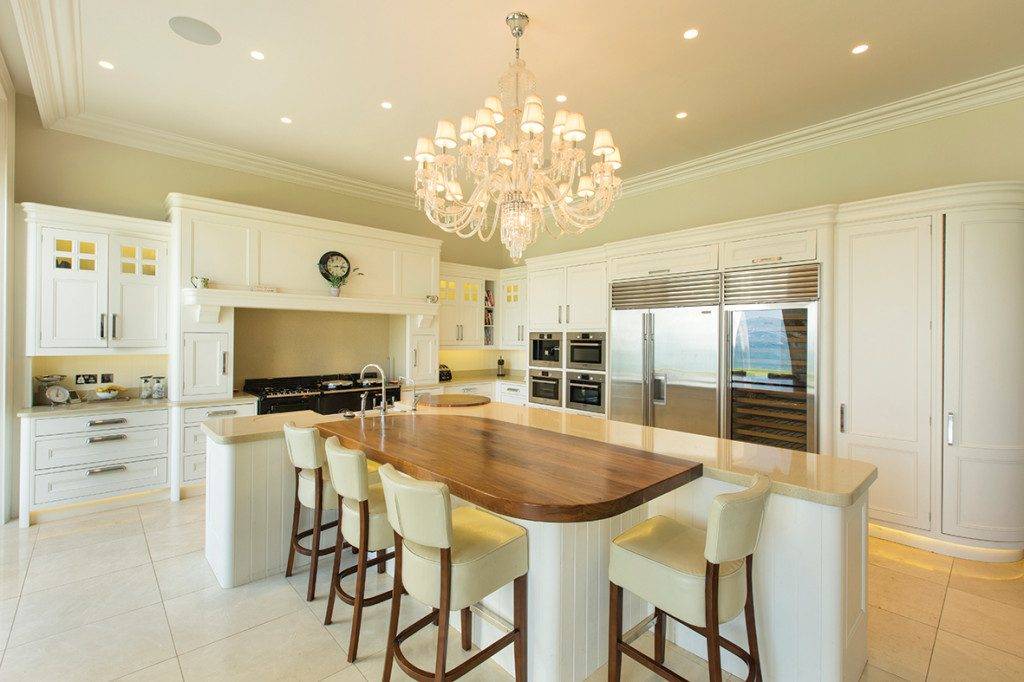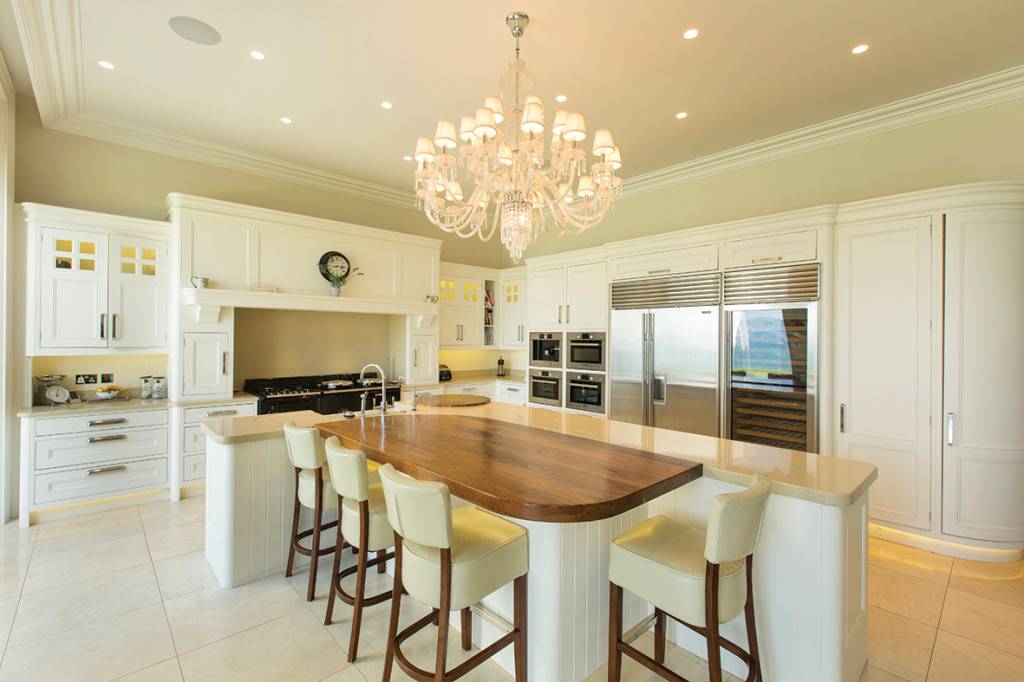 From the facades and layout of the house it is evident that the influence of Italy was more than a sense of place, the style is, as Colin described it 'Irish Palladian'.
'I love the symmetry of the ancient buildings in Rome and especially those of Andrea Palladio, but also, in the modern era, the fabulous Art Deco period villas on Long Island, New York state, and Miami.'
Self-build with sea views
The result is a house with an international feel yet quite distinctively Irish.
Although new to self-building, the couple had plenty of experience of building as they had completely restored the house they were living in, a Listed building, and prior to that, renovated a modern house. In his day job, Colin has a background in large residential and commercial building. With this knowledge and interest, was it not tempting to do the designing himself? Colin was emphatic in his response:
'Designing and building a house are two very different things and I had no hesitation in using an architect. It was his job to make all our ideas work in practical terms as well as distilling our thoughts on style into a form that we were happy with and that would work. The architect we knew because he'd already built a house for my brother in the area and the builder had worked for our family before on other projects. We were very fortunate in having these connections already established because it was quite a complicated build, and good communication and understanding were essential.'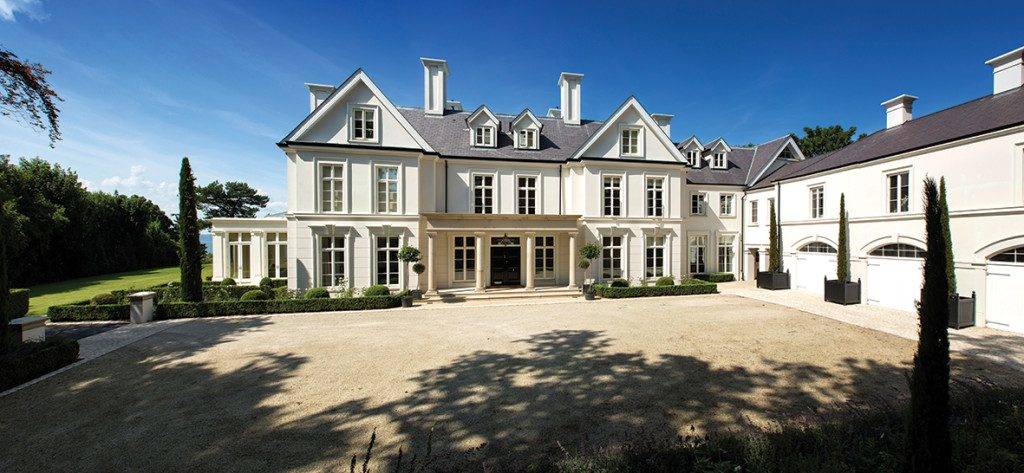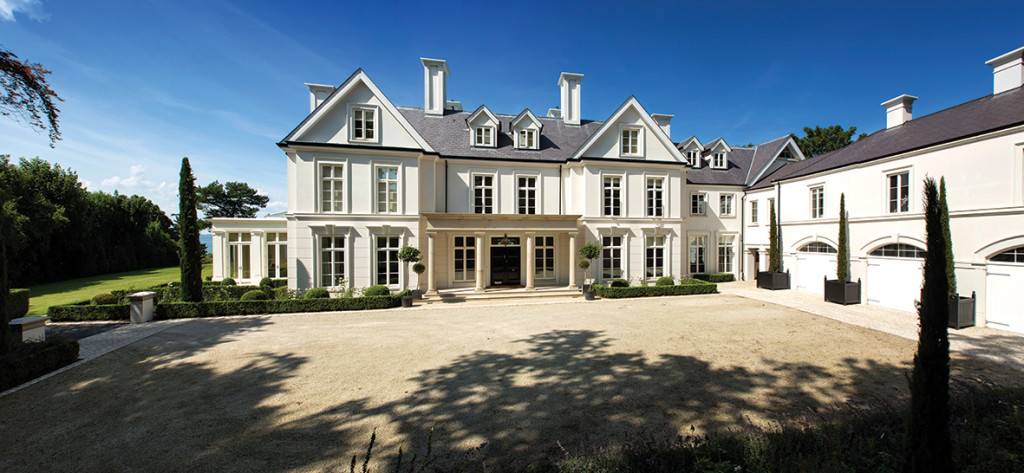 Given the unusual design, its size and location, it would not have been a surprise to hear that gaining planning permission was a long, tortuous process, but not so. The site had originally been passed for the erection of two separate dwellings so the change to one large family home represented considerable planning gain, and permission was granted following some minor adjustments to the design.
The house is of masonry construction using 9"/230mm concrete blocks laid flat for sound attenuation and to create thermal mass. With three teenage children, the couple were particularly aware of the importance of both of these.
'We wanted them to be able to bring their friends to the house but without us feeling as if we were living in a hotel!' explained Colin. 'The children chose what they wanted in their bedrooms which are large enough to have several people staying over, as well as which, on the top floor we have a multi-purpose room with a cinema screen; it's also a place to play loud music without everyone else hearing it. The concrete beams and insulation between the floors means we can still enjoy peace and quiet downstairs.'
Wish list
The family were allowed a 'wish list' of what they wanted, which is at first glance surprising for what they left out.
'We have plenty of space for a swimming pool and tennis court' Colin continued, 'but nobody was enthusiastic. The tennis court we'd had at our previous house and I admit it was rarely used, the swimming pool might have been voted for if they'd been younger. Nowadays kids prefer to have their friends round or to go out.'
Predictably though, they all requested showers with body jets and in their rooms, a TV screen and internet access.
The question of using renewable energies was considered in the same way as the fabric and interiors, from a very aesthetic as well as practical point of view.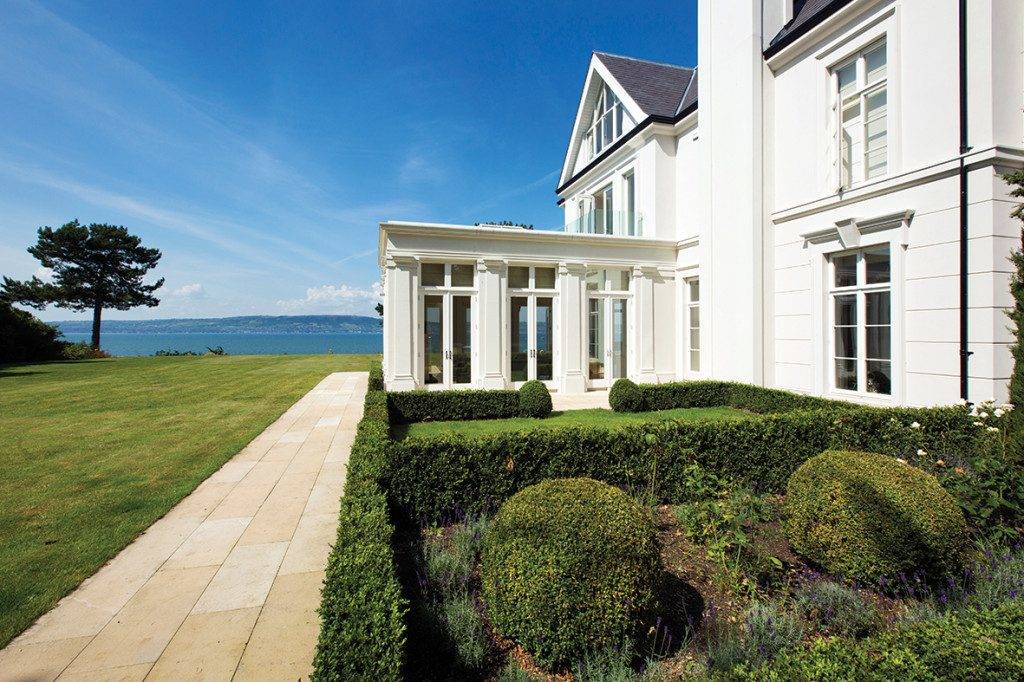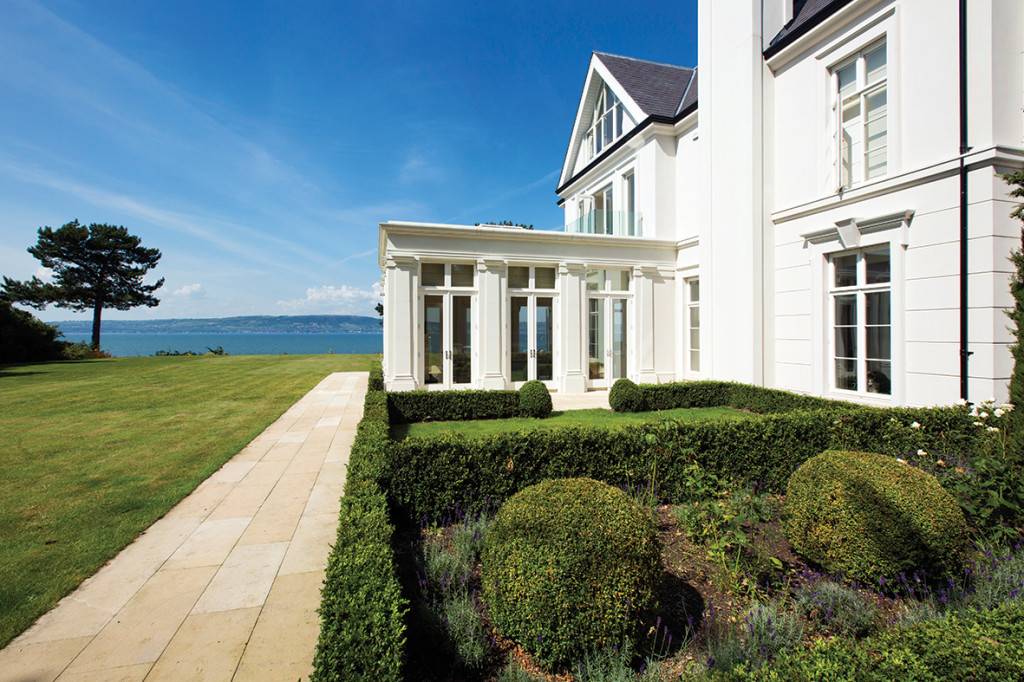 'We looked at having both solar panels and a geothermal heat pump, but the panels would have been an eyesore on the roof and the cost of digging down for the heat pumps was huge. What we have been able to do, apart from fully fill the wall cavity with insulation, is to use an air source heat pump for hot water in summer.
Otherwise it is a mains gas boiler and, apart from an open fire in the hallway – which we've yet to use – there are gas fires in the living areas and it also powers the AGA cooker. Although it cost an extra £800/€1,020, we put in a management system for the AGA and that has proved very effective in controlling the timing and temperature.'
Living the life
The warm roof construction ensures maximum use of the space inside and out with the projecting balconies a magical place to sit and watch the sun go down across the Lough and the hills beyond. As darkness falls, the blinds lower and curtains close; both are part of a system that's clever enough to adjust to the time of sunset throughout the year, automatically.
Even if the weather is poor, huge windows, (these and the Bangor Blue roofing slates were among the more significant parts of the build), provide almost the same experience.
The curved glass in the projecting bays softens the seaward façade and contrasts with the geometric gables and tall rectangular chimneys. These curves are echoed inside with the wide sweeping staircase leading to a semi-circular balcony, giving access to the upper rooms.
Whilst her husband was keeping a watchful eye on site, Barbara was busy at her computer sourcing the fixtures and fittings for the interior, one of which is a stunning chandelier. Many a stately home owner must envy the motorised lowering for easy cleaning.
A Grand Design this home may be, but the use of marble flooring throughout and soft tones with splashes of colour create an interior whose stylish simplicity highlights the inventiveness of the design. Few changes were made in the course of the build, but one very visible as you walk through the front door, is the use of curved walls which just ask to be followed, to find out what lies behind and beyond.
In the classic 1960s film La Dolce Vita, the main character (a journalist), searches in vain for 'the sweet life' in Rome. If the film were to be re-created, then Colin and Barbara's wonderful house and location would provide the perfect set, only this time the story has a happy ending
Self-build with sea views: Specification
Wall: 465mm: inner leaf 215mm concrete block/150mm cavity fully filled with Eco Bead blown insulation/100mm outer leaf. U value 0.13W/sqmK
Floor: 150mm K3 rigid thermoset phenolic insulation board, self levelling floor screed over underfloor heating pipes. U value 0.16W/sqmK
Roof: Warm roof construction: 150mm Kooltherm K7 insulation between rafters and 72.5mm Kooltherm K17 insulation below rafters. U value 0.15W/sqmK
Windows: Timber double glazed, argon filled U value 1.5W/sqmK. Timber triple glazed, argon filled U value 1.3W/sqmK
Hot water: Air to water heat pump runs on demand and the gas boiler acts as a top up as and when needed, two hot water cylinders.
Central heating: Mains gas fired boiler.
Ventilation: Mechanical ventilation with heat recovery 95% efficient.
AV: Integrated fire detection, smoke and carbon monoxide detectors looped, alarm, lighting, heating, TV, security.
Suppliers
Architect: Des Ewing, The Studio, 13 Bangor Road, Holywood, Co Down BT19 0NU tel. 9022 0500 desewing.com
Builder: MG Construction, 3 Ballytrustan Road, Downpatrick, Co Down BT30 7AQ tel. 4484 1368 mgconstruction.com
Windows: Dask Timber Products Ltd., Meenan Mill, Dublin Road, Loughbrickland, Banbridge, Co Down BT32 3PB tel. 3831 8696
Stone cladding & porch: McMonagle Stone, Turrishill, Mountcharles, Co Donegal tel. 074 973 5061
Sanitary ware, AGA: Haldane Fisher Ltd., Shepherd's Way, Carnbane Industrial Estate, Newry, Co Down BT35 6QQ tel. 3026 3201 haldane-fisher.com
Kitchen: Robinson Interiors, 10 Boucher Way, Belfast BT12 6RE tel. 9068 3838 robinsoninteriors.com
Granite worktop & marble tile flooring: A Robinson & Sons, 14 Main Street, Annalong, Newry, Co Down BT34 4TR tel. 4376 8213 arobinson.co.uk
Slates: Lagan Building Solutions Ltd., 11b Sheepwalk Road, Lisburn, Co Antrim BT28 3RD lbsproducts.com
Plaster moulding: Nicholl Plaster Mouldings, 81 Knockbracken Road, Belfast BT6 9SP tel. 9044 8410
Audio Visual & Sonos sound system, alarm, home cinema: iHome, 43 Ballynafern Road, Banbridge, Co Down BT32 5BW tel. 4065 1331 i-home.co.uk
Bedroom carpets: Martin Phillips, 9a Portaferry Road, Newtownards, Co Down BT23 8NN tel. 9181 8227 martinphillipscarpets.co.uk
Structural Engineer: Structures 2000 Ltd., 9 Grange Park, Magherafelt, Co L'derry BT45 5RT tel. 7963 3876 s2kltd.com
Quantity Surveyor: Naylor & Devlin, 95 Malone Avenue, Belfast BT9 6EQ tel. 9066 9118 naylor-devlin.com
Mechanical & Electrical: Dynamic Design, 20A Newry Street, Banbridge Co Down BT32 2HA tel. 4062-3377 dynamicdesign.org
Insulation: Kingspan Insulation, Castleblaney, Co Monaghan tel. 042 979 5000 kingspaninsulation.ie
Landscaping: Park-Hood, Hawarden House, 163 Upper Newtownards Road, Belfast BT4 3HZ tel. 9029 8020, parkhood.com
Instantaneous hot water tap: Quooker www.quooker.co.uk
Photography: Paul Lindsay at Christopher Hill, 17 Clarence Street, Belfast, BT2 8DY, tel: 9024 5038 paullindsayphoto.co.uk